Tattoos have never really gone out of fashion and the demand for it has increased if anything else, especially for the young generation. In Liverpool, especially, which offers a variety of artistic modes to express your passion, the emergence of tattoos has gone higher. The artists here have mastered a particular theme that they use to make your dream turn to reality.
A large number of tattoo artists have opened up their own studios which provide a great resource for the tattoo enthusiasts. A tribal tattoo, a realistic tattoo, or any watercolor effects are now easy to make. These artists are quite effortless and excel in anything from old school tattoos to the new school. Besides not compromising on the quality of the tattoo, there are other measures that the artists from Liverpool keep in their mind like hygiene and cleanliness.
Each tattoo artist and their studio is pretty different and unique in its own special way, and here's a list of the top 10 tattoo artists in Liverpool.
1. Holly Rice (Holly Dolly Tattoos)- The Painted Ladies
The Painted Ladies is established in Hope Street which can be found between Everyman Theatre and The Pen Factory which are quite popular establishments in themselves. The Painted Lady is a unique tattoo studio, which quite a distinctive name too. However, it can be expected because it can be found in the most creative district on Hope Street. They have 7 skilled professionals working for the, and excel in a variety of styles, that is, from traditional to macabre and realistic designs.
The Painted Ladies was opened in Apil 2015, and it is a fairly new tattoo studio that is opened by a group of women. Holly Rice, the owner of the studio and who likes to tattoo under the name Holly Dolly Tattoo, started The Painted Ladies after striving to choose what to do with her artistic abilities. In an interview, Holly said: "I could never engage with anything at school, which led to a huge loss of confidence at university, but I realized that there's no wrong answer with art – it is what I want it to be."
The studio is pretty chic surrounded by walls that are covered with a lot of different patterns to show the creative side of the studio. It also has some furniture that promotes the vintage style and comfy couches to relax in. You will find candies in the waiting room for you to indulge in while you wait. Holly is a tattoo artist who has a long list of creative skills which include textile, printing, and painting besides tattooing. However, she feels most at home with tattooing. She likes anything colorful and kitsch. Her forte is to focus on details and she makes sure that her design pays attention to intricate details. She loves to work with mythical creatures like mermaids. The pink-haired professional can whip up anything from an intricate skull to creatures with flowers ejecting from them.
Another artist, Helios Bernal who goes by the name, @helios_bernal on Instagram account posts pictures that shows a series of stunning black and white illustrations, crafted with realism and proper regard to detail. He also does a lot of illustration that includes planets, mountains, and some times, cherubs.
The tattoo artists who go by the name, @frank.white.tattoo on her Instagram page, showcases colorful and intricate dragons, birds, tigers, and more. Skulls have been given a quirky edge too with colorful elements like snakes and butterflies.
The artist, Sophia Hold who goes by the name, @sofia.tattoo, on Instagram, shows a variety of designs too. She specializes in the vibrant depiction of frontline workers and beautiful creation where she pays attention to the details of waves and mermaids.
Emma Newman is another talented artist at The Painted Lady who is a mixed media artist, an illustrator, and a printmaker. She loves to create linear illustrations with bold strokes. Her Instagram account which goes by the name, @emma_newman_ink showcases a plethora of stylistic designs that include photorealism too.
If you want to get some amazing realistic effect in your ink tattoo, @rahtattoo is the one for you. Her page on Instagram is full of designs that have skeletons, patterns, and some hyper-realistic images which are inspired by nature.
Location on Google Maps:
2. Design 4 Life
Design 4 Life is a great tattoo studio that has won multiple awards. This Liverpool tattoo studio has a whopping team of 15 artists and thus can easily manage walk-in clients. They already have a portfolio made for you with over 7,000 designs that you can choose from. They have both male and female artists in the parlor along with piercers so it makes it a one-stop-shop. Each artist has their own portfolio too where you can study their work before you connect with them. They are extremely cost-effective. The owner explains, "A High-Quality Multi-Award Winning Tattoo and Piercing studio in Liverpool City Centre. We have 15 tattoo artists and Walk-In tattoos can be accommodated on most days. We aim to provide you with a piece of art you'll be proud to wear…Please check out our galleries, if you want the best then this is the place to come."
They have artists who excel in art forms such as Portraits, Realism, New School, Black Ink, Traditional, Biomechanical, Religious, Black and Grey, Colour, Graffiti, Asian, Oriental, Dot-work, and Tribal. They put a lot of emphasis on customer interaction because they believe that making a tattoo is a unique experience. They also give out leaflets explaining the aftercare. If you have any doubts, do not hesitate and ask the artists.
They have taken the perfect health measurements. The studios have been vetted and approved by the local health authority. They also believe in following strict health procedures in the studio which is approved by the Chartered Institute of Environmental Health. Tattoos and Piercings are done in different rooms which are dedicated to a special purpose. The concept of private rooms is also to make sure that your privacy is intact.
They also offer coverup services to replace your previous design. The versatility of the artists is pretty commendable. Combining all these with years of experience, one feels much safer in their hands.
Here are some of the tattoo artists in the studio that is worth mentioning.
Artist Pablo Sotillos, who goes by the name @sotillos_tattoo on Instagram excels in realistic and intricate pattern work. His Instagram is filled with beautiful designs that comprise lions, realistic portraits, and everything else worth a scroll.
@auristattooart is another talented tattoo artist who will win your heart if you are interested to make realistic or anime designs on your skin. Artist Jade Brennan who goes by the name, @never_smile_tattoo does some really stunning letter work. He also recreates things from comics. His Instagram page is worth the scroll because you might just end up spending hours on it. Megan Ford is an exceptional tattoo artist in the studio who works for a social cause besides the artistic cause of the tattoos. The tattooist who goes by the name, @meganfordtattoo on Instagram offers beautiful designs on the page which agrees with Mental Health Awareness Week to confer the artist's support of those experiencing from any mental health. Her forte is in making flowers that are intricate and other designs that have faces and animals in them.
Artist Reb McComb produces an extraordinary array of designs on her Instagram account, @rebxtat, right from wonderfully artistic yet realistic whales to more miniature, characterful figures. She excels in dot work and adding a variety of colors to her design. Emma produces astonishing maze-like geometric mandala which includes beautiful dot work sleeve designs, along with some stand-alone designs that are just as creative as the Mandalas. Here's her Instagram to check out her designs: @embeetattoo
Location on Google Maps:
3. Pete Colwell- Dermagraffiti Tattoo
Dermagraffiti is one of Liverpool's most popular and old tattoo studio that has made its reputation for giving high-quality work. The artists in this studio have a combined experience of more than 70 years. The studio is established in Bold Street with a large and modern interior and thus offering a comfortable atmosphere. They have a huge portfolio with more than 100,000 designs to choose from! That's quite phenomenal taking into account the kind of experience that they have. Their Instagram page is regularly updated with impressive designs and the creativity of tattoo artists.
The artists here excel in skills such as Custom Work, Cover-Ups and Reworking of Old and Crude Work, Fantasy, Birds, Traditional, Grey, Animal, Script, Black, Natural, Full Custom, Skull, Geometric, Memorial, Sleeve, Large & Haida Tattoos. Dermagraffiti is one of Liverpool's most recognized, well-respected, and the oldest established tattoo studios with a perpetual name for showing the highest quality of tattoo work. They also offer gift vouchers and free consultations from time to time.
Location on Google Maps:
4.Richie Clarke- Forever True
Forever True's owner and resident artist, Richie Clarke, has been inking people for quite a time since 1995 in his own studio. He takes inspiration from tattoo legends in the past centuries especially the 19th and early 20th centuries. Although he produces his own unique designs, he also reproduces long lost designs from the people in the older centuries. His favorite artists of the past are, Bert Grimm, Joseph Hartley, George Bigmore, Tom Berg to name but a few. Thanks to his impeccable research that these long lost designs are now available to be inked on your skin.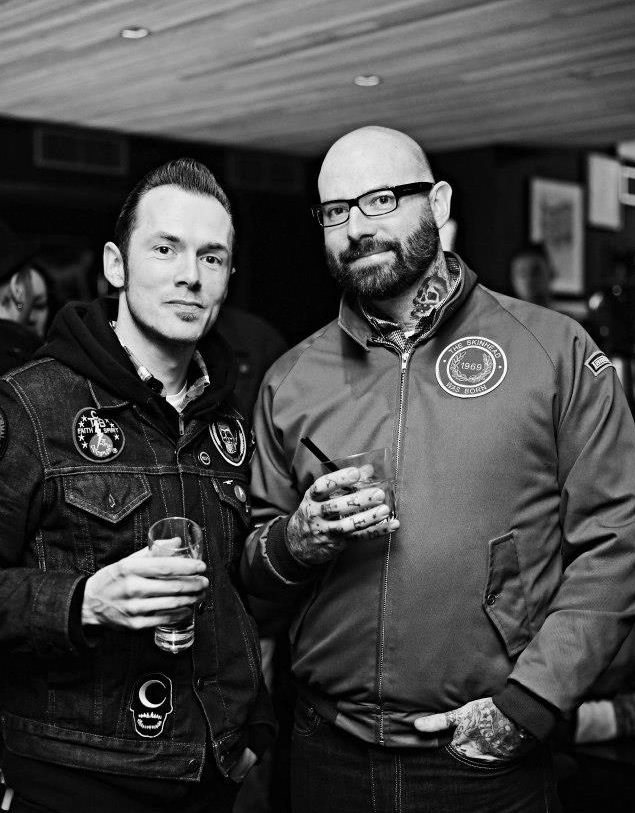 For Richard, it is the wish to see the classic designs amalgamated with modernistic skills and produce an altogether different work. For him, every tattoo must hold a significance and must be inspired by something great rather than copied from the internet. In his words,
"Why spend hours trawling the Internet for hours when you could go home with a genuine piece of heritage on your arm, a tattoo is something to be earned not downloaded. Every tattoo told a story, a seasoned veteran, a grieving son, a lost love, and it's no different now, clients still want names of their children, lovers, symbols of life or death, memories or aspirations, but people struggle to find good designs and search the Internet finding images they think are original but in reality probably adorn thousands of others".
Richard describes a great tattoo by saying that it must always outlive the artist who designed it. He says,
"They need to trust the old artists, the names who brought tattooing to the West and fashioned classic designs that forged the modern tattoo world. A good tattoo is forever and should outlive the artist & client and that's what these designs have done. I'm a craftsman first and foremost not a fine artist, a folk artist maybe, part of a long line before me. I'm not trying to reinvent the wheel…"
So no matter if he is working with a custom idea that is given to him by his client or is getting some inspiration from the old legends, Richard is mindful of his place in the lineage and tradition of tattooing. He says, "As a tattooer, you must always bring your 'A' game regardless of the tattoo but when you tattoo a Sailor Jerry Collins design, you better do it with respect as if old Ironside himself is standing behind you watching."
Location on Google Maps:
5. Dan Banas and Olga Banas- Bananas Tattoo
Bananas Tattoo was established by Dan Banas and Olga Banas in 2010 who have many tattoo awards accredited to their name. Dan is remarkable perfect with styles such as portrait tattoos, realistic designs, and black and grey tattoo designs. His focus is mostly on creating portraits and realistic work. Their aim is to offer the best possible standards for service and hygiene. They do not mind offering their own expert advice when it is necessary. Their aim is to create unique designs for each customer and what tells a story.
Even though they might be a specialist in making portrait, black and grey, neo-traditional, and traditional artwork, they are always ready to combine different styles and choices in any artwork they are engaged in. They work on custom designs only so that it can suit the preferences of the clients. They, in fact, encourage their clients to bring in their ideas and designs when they come for a consultation so that the artists could be built upon it. For them, it is a two-way process.
Location on Google Maps:
6. Adam and Darryn Daggers- Northern Soul Tattoo
Northern Soul Tattoo, 265 East Prescot Road, L14 2DB, is built in the center of Knotty Ash just down from Alder Hey hospital, by the Nazda, and opposite the Kwik Fit! Originally in Prescott, they moved to a bigger location in Knotty Ash in November 2010. They have some award-winning tattoo artists including both males and females. They are also certified with the Liverpool Health Authority so you know that you are in safe hands.
They share a portfolio with more than 1000 designs so that once can easily choose from it. They also offer custom services and so if you have any ideas or designs, you can bring it in.
Their studio is considered one of the most friendly studios in Liverpool. They have a coffee machine, treats, and references. They consider it pretty "modern enough." However, they excel in the traditional school of the tattoo. Yet their skills are great enough to explore other styles like Japanese to black and grey shading effects.
Adam Daggers, the shop owner, and artist began with an apprenticeship at Dermagraffiti back in the School Lane Quiggins days, and who have made an appearance internationally in tattoo magazines, assessed at various tattoo conventions, apprenticed some wonderful artists, makes tattoo machines and drinks strangely strong black coffee!
Darryn Daggers on the other hand is known for his awesome European style of traditional tattooing, blasts solid tribal, and everything else in between them! Darryn did begin his work under Adam but clearly has his own method! He loves to skateboards and drinks a lot of lattes with twists.
Location on Google Maps:
7. Mariusz Ditka (Mario)- Golden Hands Tattoo
The studio is professionally equipped with high tech equipment and follow rules and regulation to meet the best possible hygiene and sanitation standards. Mario has more than 16 years of experience in making tattoos and creating illustrations. He first began tattooing in Poland where he co-owned a tattoo studio with a friend. His interest in tattooing turned from a hobby to a career choice and is now a part of his life.
Over these years, he has gained exceptional experience in this field and has been since tattooing in different countries all over the world including Poland, Italy, and Germany. He finally settled in the UK. For him, tattoos have a certain charm and power to transport you to another world. They can represent many things in life including triumphs, achievements, etc. They can also be a reminder for someone or something in your life. It has several connotations.
Location on Google Maps:
8. Sean Lysaght- Creative Element Tattoo
Sean started his career with an apprenticeship in 2013 with inking in many different styles until he found that his passion lies with black and grey ink realistic tattoos. He quickly became addicted and now excels in it. He became quite a name with his loyal customers. He then established his own studio by the name of Creative Element Tattoo in 2015 which renders a custom and high-quality tattoo services.
The artists in the studio specializing in black and grey realism, color, neo-traditional, and various other styles. However, before making an appointment, clients are required to bring in photo ID on the day they want to get inked. They only accept cash, so make sure that you are prepared. A non-refundable deposit is to be made to secure a spot beforehand. If you want to cancel or rebook any appointments, a 72-hour prior confirmation is necessary.
Location on Google Maps:
9. Rachel Baldwin and Nick Baldwin- Bold As Brass Tattoo Co.
Rachel Baldwin and Nick Baldwin are tattooing since 2005 and specialize in skills such as solid black, solid color, solid lines tattoos. They also amalgamate more than one design to create a unique style. They have traveled all across the globe including Australia and Europe. They take part in tattoo conventions that happen all over the world. The studio also offers customized designs.
Their tattoo studio is actually a very mysterious one, hidden away in some basement. However, they provide high-quality tattoo that reflects their passion and dedication for tattoo making. They take special measures to look after the cleanliness and sanitation measures. The studio offers a variety of styles that can be made on your skin. Make sure to check out their social media on which they are super active and keeps it updated. Prior confirmation is necessary to set up a meet.
Location on Google Maps:
10. Artistic Tattooing
Artistic Tattooing is a licensed tattoo studio established in Liscard on the Wirral in Merseyside. Their forte is to provide maximum comfort and security to their clients so that they can have the best experience of their lives. Their first studio was started in 1980 by Cliff Upton, a popular regional tattoo artist who, in the past, had possessed and operated thriving ateliers in New Brighton, Wrexham, and Upton.
This new tattoo studio is based in Wallasey, Wirral and they specialize in custom work and strive for a diversity of techniques including Japanese, Bio-mechanical, Black & Grey, Colour, Traditional and New school, Tribal and Freehand work. They constantly post a lot on their social media so you can keep updated with their new techniques. 
They also do piercing and so health and safety are of utmost importance to them. They are registered by the local Health Authority. All devices are vacuum autoclaved and needles are just for one-time use only. The piercing is actually done in a separate studio which is called, Creative Body Piercing by John, who works in the studio most of the days but does work in shifts. Thus, making an appointment is extremely necessary before you land in there unless you want to face disappointment.
This tattoo studio is also responsible for organizing a lot of popular tattoo conventions in Chester and North Wales. It also welcomes some guest tattooists from all over the world and displays their work in their portfolios. Some of the designers that they include are Paul Booth, Bernie Luther, Edward Lee, Jack Rudy, Mordenti, Rats&Rube, Brian Everett, Valdeck, Coop, Frank Lee, Bugs, Alex Binnie, and Shane Hart to name a few! They also have designs that are made by Cherry Creek, Jenny Clarke, and Official Tattoo Brand ranges. "We're a friendly, highly accomplished tattoo studio located in Wallasey, Merseyside, with more than 40 years of industry experience, training, and time-served expertise," says the owner. The specialty of the artists lies in custom work and offers a variety of styles including black & grey, colorful tattoos, Japanese, bio-mechanical, tribal, traditional, and new school, and freehand work.
Location on Google Maps: