Janko Tipsarević is a famous tennis player of his time. He is a Serbian retired tennis player who has won 4 ATP World Tour titles, one ATP doubles title, three Futures, and 15 Challenger titles. Janko has got few interesting body tattoos not forgetting the writings on his arms. Let us explore his multiple body tattoos and their hidden meanings.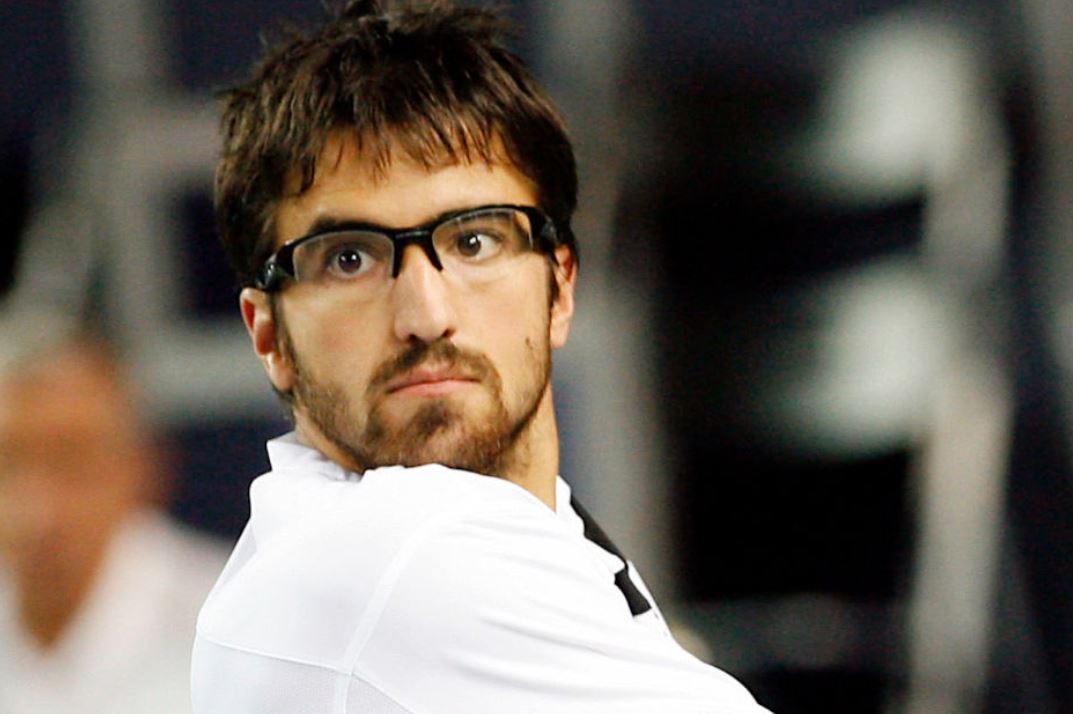 1. Writing on Left Arm
Tattoo: On his left arm we can see some Japanese writing inked.
Meaning: The writing actually is a quotation in Japanese inspired by Dostoyevsky, 'The Idiot'. The tattoo stands for 'Beauty will save the world' when translated into English.
"They're very powerful thinkers and I believe that what they have to say deserves to be seen (in ink) all the time," he said with a wide grin.
2. Back Tattoo
Tattoo: On his back, there is another writing tattoo inked in Japanese. The Japanese writing hereby represents some quote from Arthur Schopenhauer, a famous German Philosopher.
3. Bicep Tattoo
Tattoo: On his left inner bicep, Janko has got the names tattooed around the bunch of flowers as, 'Biljana' and 'Emili'.
Meaning: The names are of his wife and daughter. Biljana is the name of Janko's wife, as inked on the top followed by the name of his daughter, 'Emili' tattooed on the bottom of flowers. Also, flower tattoos are considered to be the symbol of love, fresh beginnings, and hope.
4. Flower Tattoo 
Tattoo: Another big flower is tattooed on Janko's left bicep.
5. Flowers Tattoo
Tattoo: There is another bundle of flowers inked on the inner forearm of Janko.
Meaning: Flowers symbolize beauty and feminism.
6.  'Dagger' Tattoo
Tattoo: On his left forearm there is a tattoo of a dagger inked. On the dagger, there is a banner wrapped on the top with some roman numerals inked inside it. that has some roman numerals inked on the top and 'BC' inked on its top.
Meaning: Dagger is the symbol of loss, betrayal, and danger. However, most commonly it symbolizes bravery, courage, confidence, and a token of protection.
7. Leg Tattoo
8. Left Leg Tattoo
9. 'Persistence' Tattoo
Tattoo: 'Persistence' inked on the inner side of his left forearm.
10. Right Arm Writing Tattoo
Tattoo: There is another Japanese writing tattoo on his right arm.
Meaning:
 The writing is speculated to be the collective symbolism of the FIRST TWO initials of his family members' names. The n
ames
of
his
father
, 
his
mother
, 
himself,
and
his
brother
, 
in
Katakana (A well-known JAPANESE writing form).
11. Back Tattoo
12. Writing on the left arm
Tattoo: On the inner side of his left forearm, Janko has got the famous quote inked. It says, Silence is golden, Talk is cheap.
Meaning: It is a well-known fact that whatever the person says is cheap and holds no value if he doesn't value his said words, however, the silence is the best killer and considered Golden.
12. 'Globe with angel wings and a compass' Tattoo
Tattoo: On Janko's left shoulder there is a huge globe with angel wings tattoo along with a compass. Also, there is a mark for all four directions, i.e. 'N, S, E, W'.
Meaning: Globe is the symbol of adventure and compass on the other hand is considered to be the good luck charm. It is used as the symbol of directing an individual in the right direction and path. it prevents you from losing your way and lead your life on the right path. Wings represent freedom and liberty. Angel wings are also considered to be the 'guardian angels'.
13. 'KEEP DIGGING' Tattoo
Tattoo: 'KEEP DIGGING'  is tattooed on the corner of Janko's left hand.
14. 'Angel wings' Tattoo
Tattoo: Angle wing is inked on his left pec.
Meaning: Angel wings in this picture represent the globe tattoo itself. They are the part of Globe with angel wings. The tattoo covers his left shoulder and chest area.
15. Left Leg Writing
16. Bicep Tattoo