Is it really that tattoos have been around everywhere these days only? Because believe it or not, they've been around forever—so how did they become so prevalent? Why the unforeseen resurgence? Going back to the Neolithic era and indigenous tribes, tattooing was formerly practiced during the religious ceremonies and as a rite of passage. It was not until Christianity, which regarded tattoos to be part of the Wiccan faith, that they acquired an "unfavorable" status. Today, gradually, social acceptance has eased the tattooing industry to grow even larger. Right from the genius of today's tattooists, to the improvisation in the ink and the tools that make their artwork possible, the sky is the limit for souls who want their bodies to be a canvas.
MEANING
This sun sign is governed by Uranus, the planet that oversees creative innovation, technical bending and impromptu events. Uranus excellently mimics Aquarius's idiosyncrasies, complementing their peculiar nature. Aquarians are profound thinkers, and in the process, they tend to neglect their immediate surroundings. Hence, they are imminent in obtaining a reputation for being distant and detached.
Aquarius is a zodiac that symbolizes water, the mystical healer who bestows water or life, on earth. But don't be misled by the word "aqua," Aquarius is, in fact, the last air sign of the zodiac. This makes Aquarius the most altruistic astrological sign. These are revolutionary in their thinking and denotes sovereignty. Aligned to social progression, they aspire to change the world through their radical thoughts.
This visionary sign always strives towards betterment. Although, beware! because like it or not, they are quick into dragging people into their matters. Working towards perfection is a collaborative effort for Aquarians.
DESIGNS
Despite being an air sign, the oceanic indentations are principally used instead. Seekers of complexity can combine both the wind and the waves in your design. Diligent participants of their horoscopes also employ the sign's planetary ruler, which is Uranus. The Ganymede constellation is a robust essence that can be featured.  Aquarius is the sign which is expressed by the 'water bearer' or often by an urn overflowing with water. One can explore unless they are certain about what they want on their skin, for it's a matter of eternity. For a craftier scheme, you can ask the tattoo artist to incorporate all the planets that directly influence your zodiac. In case one who is personally an astrology enthusiast one can craft their own Aquarius tattoo so that not only it remains unique but significant too. If minimalism is your thing, you may just get the word 'Aquarius' imprinted in classic fonts.
IDEAS
Aquarius tattoo designs for both men and women include the water bearer – a beautiful female pouring water out of an urn, or, alternatively, two wavy lines. Some people also show interest in an Aquarius constellation tattoo. The best tattoo depends on its placement and dimension. Not to forget, the style and ink color is fairly important too. Your Aquarius tattoo is here to stay for a long time. So, analyze your personage and lifestyle, and how sincere you are towards your Aquarian spirit. We provide aid in this situation by presenting some ideas for the interested.
DIFFERENT TYPES AND DESIGNS
Aquarius Tattoo on Forearm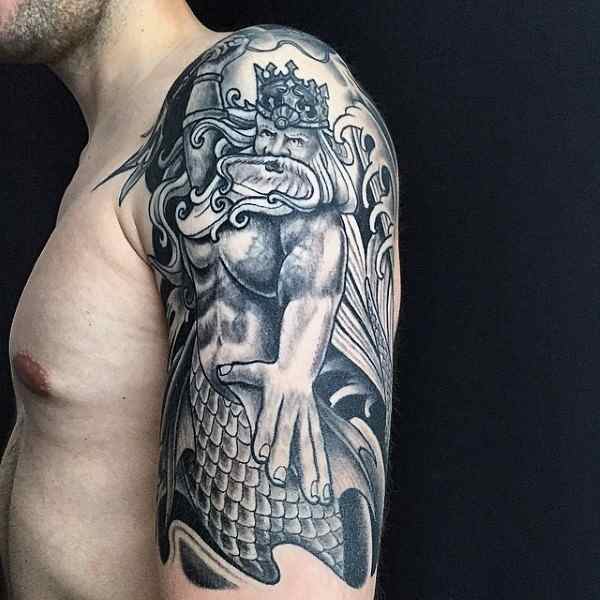 As a full-blown Aquarian, this tattoo speaks of majesty and fantasy, all at once! Here, you can notice the independence and self-esteem, the fundamental attributes of a true Aquarian.
It's great if you want to represent the Gods but this is a fabulous neck tattoo and the one that will set you apart from the crowd. The waves pouring down from two urns is a spectacular sight.
Aquarius Tattoo Covering the Back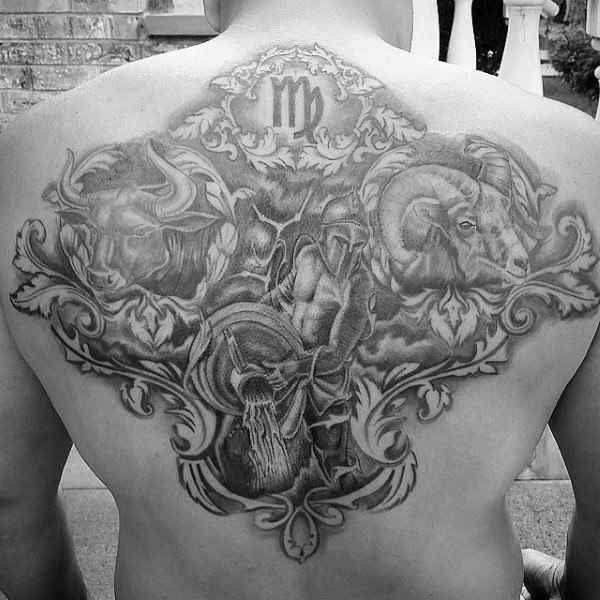 3D Designs for Aquarius Tattoo
This 3D tattoo design is quite unconventional and is different from the rest and screams of innovation and creativity. Being the creative one, this perfectly suits the Aquarians.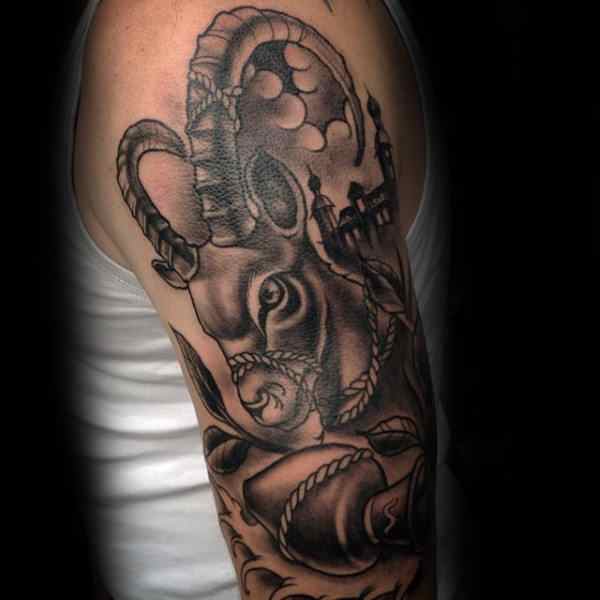 Ram Aquarius tattoo on the Arm
Another very different tattoo, this popular tattoo is one of the most loved one too. The color, the layout and the intensity of it is very eye capturing.
How about supplementing the symbol with some color? The uniform color of the water bearer is blue. Popularly known, the blue color symbolizes water which mimics the nature of an Aquarian to adjust to circumstances, like how water flows.
While all sorts of depictions and expressions are 'one of its own kind' way of attesting that you are a true Aquarian, getting one inked right across to show off is apparently the most awesome way. With a tattoo like this, it stands true that there is no better sophistication than simplicity.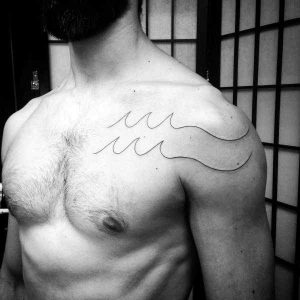 If you are searching for a comprehensive yet colorful tattoo then you might want to contemplate on an image like this one. The colors are stunning and would certainly catch the onlookers' eye. The colors are intense and fascinating. Foresee a big tattoo, because this isn't the variety of designs that you can make a small tattoo with. It would make an exquisite back or shoulder symbol. You could even use it for a full arm design as well.
Black and White Water Bearer Tattoo
Colorful Aquarius Tattoo With Flower
This is not a doubt a very unconventional tattoo and one that you are certain to admire. The blue waves just take us back to be soaked in water. It is another instance of placing this blue wave design.
If you prefer the best of both worlds then you have surely landed on the right spot. We love the purple shade that is involved here. It also has the word 'Aquarius' inscribed right below to embody their love for the sign.
Watercolor Aquarius Symbol
This is a really simple design that symbolizes the waves, although the bright blue watercolor effect makes it stand out from the rest. This tattoo design is the perfect size to be placed anywhere. The arm definitely suits the position or the placement the best and we just can not agree more.
It is quite apparent that the simple waves seem to be the most prevalent way of representing the Aquarius symbol. The area of location of the tattoo is exemplary for this kind of design. You have the choice of showing it off or keeping it under wraps.
Minimalistic Aquarius Tattoo on Wrist
This tattoo would not take up much time to be completed. It can fit anyplace as well so that you can keep it burrowed inside if you want. These bold designs are a representation of waves. If you fancy a low-key tattoo then this can be one of your options.
Colorful Aquarius Water Bearer
Images related to water being poured are a standard Aquarius tattoo idea. This one showcase the 'aqua-woman' executing the task while the tattoo is looking straight on.
This picturesque scenery makes for a stunning tattoo design. It is not complicated yet it gives you the feeling of being in Zen. These tattoos are desirable because they resemble portraits than anything else. It is a great tattoo and the one that will not fade away for a long time.
Aquarius Symbol in Mandala
If you are aiming for a bigger tattoo design, like on a sleeve, then you certainly are going to love this pattern. It has got an amazing intricacy to it. If you love deep colors then this is the look for you as it gives the pattern a mystic look.
Traditional Tattoo on Arm
The water and the water-bearer are intense in this tattoo and you can notice that there is a lot of energy to the design too. If you want a tattoo that displays the power in you, then this is the tattoo for you. There is no color needed for this design, rather it is better with black and white shades.
Here is another illustration of the wave tattoo but in a different position. The waves are quite attractive and the blue watercolor hue makes it really stand apart.
Aquarius Tattoo with Planets
You don't require an enormous tattoo design to signify your Aquarius nature. It is a convenient design that can be placed almost anywhere. Miniature versions of your full-blown designs are quite trendy these days. If you want to represent the Aquarius values but still don't want to make a big issue about it, then this idea is perfect for you.
If you are seeking a subtle design then you are sure to love this innovative heart-shaped wave design. This one is sure to create an impression. If you want something elegant, yet a little more creative, then you will cherish this design.
In case you are looking for a badass layout then this is surely the one for you. It is not only dark and fierce but really gets to the core of the matter. The hues of dark colors it has makes it one of a kind.
The rib cage has a huge area where a proper display of any tattoo design can be implemented. This tattoo represents that pretty well.
This ink has a twist to the traditional urn and water design. It is quite a refreshing pattern that looks attractive on such a visible area as the forearm.
The Aquarian Constellation
If you love gazing at the stars in night then you are sure to hold onto this design. The constellation tattoo has always been a popular one which can make a place for itself on absolutely any part of the body.
Aquarius Symbol with Birthdate
Don't you just love the wave design incorporated with some Roman letters to give it more meaning? You can personalize your tattoo using any technique that you want to. Creativity truly does not have any barriers. Inscribing birthdate with your zodiac sign will just make it more memorable.