Out of any other bonds, I think the brothers and sisters share a great one. You must be extremely lucky to have a great bone with your siblings to understand what we want to imply. It was different when we were younger, they seem to have drove us insane, however, things change as we grow up and we see not only a friend in them but a protector too. We often seek to make them feel special by means of various gestures.
Getting a tattoo is not just restrained to couples or BFFs but more and more siblings have been getting into this notion of getting inked to show their love and affection for each other. A tattoo is something that will always remain with them no matter what. It becomes a symbol of their devotion to each other and in a way for commitment too. However, it is not always easy to grow up having a sibling because they are annoying and we often have to share stuff with them especially if you are the elder one. But there is no second doubt that whenever you are in a fix, a sibling is someone you run to for help. You can share your innermost desires and thoughts with them.
For your favorite siblings, we have created this list of 100+ tattoos so that you can tell your annoying brother or sister that you love them.
This wrist tattoo has some skyscrapers and other buildings which can be a reminder for your home town or someplace that you both love or is closer to your heart.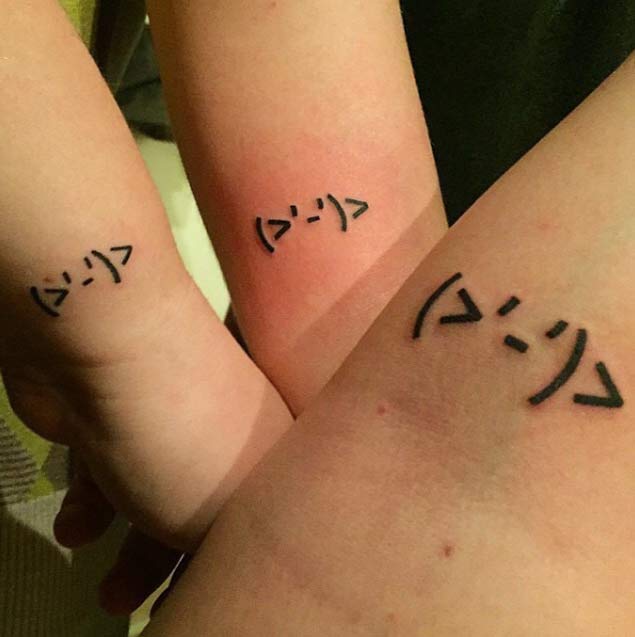 You can get a smiley tattoo no matter in what design. The smiley tattoos are amazing at displaying emotions and this one is a dancing smiley, which I think would represent your playful nature.
A beach scene inside a rhombus is pretty great as a tattoo idea. You both can do it on the same or contrasting parts of your skin.
This is a witty tattoo. The moon design is, of course, very ornamental, however, the lines are both cute and funny.
These matching heart tattoos look amazing and represent your love for each other…or anatomy?
Both the designs are similar yet opposite. I love the bold blank ink that enhances the richness of the design.
Infinity With Initials Tattoo
The initials of the siblings have been incorporated in the infinity tattoo and it makes the bond even stronger.
Probably you bot are a wildlife enthusiast and enjoy some wild side. I think the fox also represents your true nature. You can get it done in the same color but I think getting different colors is a great idea.
Lilo and Stitch are cute, notorious and playful and if this represents your relationship with your sibling, there is no other better tattoo design for you.
Well, you gotta be a super cool pair to do what the sibling pair has done in the pic!
In times of need, you gotta tell your sibling that you got this…together.
Probably anything that might be of your interest would serve as a great design.
Bart and Liza are cute and adorable, but like any other normal siblings, they get into fights and tease each other. So if you think this pair represents your bond, there should not be any second thoughts about this one.
A crazy superman fan if you are, I think you must get your shared passions inked.
This is quite creative. Only that triangle is shaded that represents the order of the siblings.
No matter wherever one goes, one must not forget where they have come from.
Getting a birthdate tattooed on your skin is one of the most traditional designs that you can get for your siblings.
It is not necessary that you have to get both the birthdates inked, instead, you can get each other's done on yourself.
Being a sibling means that you would never ever leave your brother's or sister's side.
The quote on this tattoo is quite reassuring. I think the arm is a great placement option for the quote tattoo. You can also write it across your chest.
A puzzle tattoo if you fit each other like one.
The colored shamrock here represents the number in line for each sibling. So if you're the eldest, you will have the first shamrock colored and so on.
I think bugs look really cute and hippie when inked.
Do you remember drawing linear figurines when you were little? Why not get the same drawing inked as a representation of your childhood.
A triangle is a symbol of the three major qualities that represent you and your siblings.
The bark of the tree is done in a DNA shape which means that you are evolving together not as two separate entities but as two people sharing the same DNA.
Well, now you know who are you taking along in the tomb!
Anchors represent stability and strength and by getting an anchor tattoo you are representing the same thing for your sibling.
Getting a date of the loved one or your siblings is a great way to honor their existence in your life.
For the crazy sci-fi siblings and have binged watched ET together when you were kids, this tattoo is perfect for you.
A family is your strength and your pillar of support, especially your sibling. To honor a sibling that you love is a must with this amazingly beautiful tattoo design on the back.
The sun and moon are two quite opposite things but still, they are extremely close to each other such that they can not be without each other.
Peanut butter and jelly sandwiches that you might have had in your childhood..or maybe till the present day, is a great way to incorporate as your tattoo to generate the childhood memories back as you look at it.
Doesn't it come naturally with being a sister or a brother that your siblings are your responsibility?
When you make a great duo, it is quite natural that you won't leave each other's side during any difficulties through life.
These fireflies are quite magical. Love the watercolor effect that is quite abstract and yet the shape of the fireflies has been given with the black ink.
A smile tattoos serves as a reminder for each other to forget your sorrows and curve your lips in a way that looks the best.
The cute leg tattoo is great if your both are open to getting a witty tattoo idea for each other.
Being grateful and thankful is the best way that you can honor the love and support that your siblings provide you with.
A tree stands for growth and wise nature, and I think it's a great tattoo idea to motivate each other.
These palm trees are bent in an amazing shape that eventually turns out to be a heart.
You can get all sorts of nature-related things if you enjoy nature together. Probably it will remind you of your childhood adventures in the forests or any camping trip that you took together!
Heartbeats are a very intimate tattoo design to express your true love to your favorite loved one.
One of the siblings is often considered to be the protector and the other is usually nonchalant.
So we have all cracked butt jokes with our siblings when we were children and some even persist to date. So probably this one could be to honor your best butt-ies.
You must admit that your sibling is your number one guardian angel.
We have all enjoyed watching this movie and know what adorable creatures these two are.
Infinity and Beyond Tattoo
You can get an infinity symbol or better, you share a single tattoo which is complete when read together and says "to infinity and beyond".
With this, you can literally mark yourself as being the eldest or the youngest sibling.
For any relation, peace is the most important factor. You can get it incorporated with a sun design that represents strength and energy.
A heart and an infinity symbol amalgamated into one is a great way to double or triple or take it to an infinite number.
Wolves are a really cute and smart way to represent your bond. You stick with each other just like a pack of wolves and it's amazing!
Before you get any boyfriend or a girlfriend for yourself, you must know that your brother or sister is your number one king/queen.
Getting a map is great if you both have decided on a special place to visit together or maybe your home country.
A simple moon tattoo is quite beautiful to look at. Ankles are a great placement option for a tiny tattoo like this one.
This tattoo can serve as a reminder for you and your sibling to take care of each other.
Minimalistic Anchor Tattoo
Minimalism is quite on the rise and these significant tattoos are a great way to represent your strong and stable bond with each other.
You must cross your finger and swear to each other that you're not letting the secret of who broke mom's favorite vase out after all!
This a great and intricate tattoo design that you both can enjoy provided that you share the same interest.
Simple Sun and Moon Tattoo
A simple sun and moon tattoos look pretty cute. They are quite a duo, just like your sibling relationship!
Getting DNA inspired ink is one of the classic ideas to honor your sibling bond but I love how this one has been made vibrant and colorful by adding this watercolor effect.
This tattoo has incorporated quite a lot of elements to the design. You can add all of them or choose anyone which one will express the same intensity of your love.
Airplanes can represent many things right from your travel enthusiasm to the motivation to be successful and achieve greater heights.
Elephants are great companions and if you share the elephant bond, this tattoo is one of the most beautiful choices for you.
It is such a creative way to show the number of siblings that you have and which category do you belong to.
For all the outer space and alien lovers, this tattoo is pretty cute. I love how simple it is just made by black ink outline.
You both can get the outline of your pet or probably the one that you want.
The Earth Protectors Tattoo
Maybe you both share a certain concern for nature and mother earth and this tattoo is great for it. You can basically get it at areas like arms, legs, and chest.
You would pretty much feel like an inmate because with your siblings, you're pretty much stuck and therefore, you might need to get yourself numbered.
Like every other sister and brother, you might be each other's first playing partner. You can get this one to honor your favorite pastime and your favorite video game!
Promises are important and what is more important is to keep them. This tattoo can cement your bond.
You can get a tribal symbol like this one along with each other's date tattooed on your back or nape of the neck.
Using fingerprints to make a heart is a beautiful and poignant way to show your love for your sibling.
You can get the initials of all your siblings or your parents incorporated in this beautiful arrow design.
If you both loved Disney when you were young this is a great tattoo idea. You can probably get it done to show your Disneyland trip which you might have taken together or are planning to take.
Winnie and Piglet are inseparable! In this tattoo design too, the words convey a lot.
It is quite innovative that one of you can get a bow and the other one can have an arrow design inked.
Simply getting the initials of your loved one can be a great way not to go overboard with your tattoo design. It is pretty simple and cute.
The coordinates can represent your place of birth or maybe the place where you wanna travel in those tiny little cute paper planes tat you made as kids and have ever since wished of flying in them.
You will always have an infinite love for your family no matter what the situation.
A Pheonix is known for rising from its own ashes and if you and your sibling represent the same strength in your bond, a phoenix tattoo would be perfect!
The use of arrows can be done in multiple ways and this is one of them. You can add the exact same details or can change according to your likings.
An abstract design looks quite in trend when it comes to tattoos. I think this deer design is pretty unique and the beautiful watercolor effect is what makes the whole thing look more attractive.
If you have been as notorious as these two little monkeys, this tattoo is an apt representation of your both. So go ahead with this one. In spite of being a little naughty, they are exceptionally adorable!