The ideas for tattoos are many, but what they have in common is the same subtext. A tattoo can designate a group's identity—mariners or pirates, veterans, inmates, gang members, motorcyclists, and other such groups. It can memorialize a personage or an incident and as a virtual archive of snapshots of tattoos exhibiting names and faces of deceased loved ones. Sometimes getting inked is a whole new story. They happen by rough peer pressure, a set of 20-year-olds on Friday night getting drunk, not knowing what to do until an uncanny idea pops up and one of them blurts, "Let's go get inked!"  Tattoos don't need a reason. They just exist.
Reason or no reason, what seems to be trending these days is the zodiac tattoos. With the world turning more towards the hippie culture, the bend towards spirituality and astrology has sharpened. And that's exactly why some like to get it engraved on themselves as a token of their dedication.
MEANING
Cancerians are born between June 21 and July 22 and belong to the Water element of the zodiac, in addition to Pisces and Scorpio. Water signs are not only passionate and intense, but they are also extremely instinctive and sympathetic.
Cancer is managed by the moon, the astronomical figure that serves comfort, self-care, and parental energies. They are known to be incredibly sensitive and just like the crab, they can have incurred some very thick shield to help them deal with the constant commotion in the world. The innermost feelings of cancer can be quite profound and mysterious, their outer appearances hiding the depth of their feelings. They don't like too much revelation and are rather obscure in their communication. There are many apt reasons for the crab to epitomize a true Cancerian. Just like a crab, they hold on tight to what they love and often have trouble letting things go.
To get a concept of the typical Cancerian personality traits and attributes, we need only to look at some of the most famous crabs: Princess Diana, Ariana Grande, Selena Gomez, Solange Knowles, Nicole Scherzinger, and Lindsay Lohan. You can undoubtedly say that all of these people wear their heart on their sleeve.
DESIGNS
There are numerous alternatives possible for people with cancer zodiac sign for their tattoo designs. They have the option of getting a crab tattoo and since they are a water sign, they can have a water sing. In addition to this, they can also incorporate crab and water in one pattern. The Cancer sun sign is governed by the moon and so they can even experiment with a beautiful moon tattoo. The variety is immense. Since these people are born artistic, they can explore different tattoo designs and devise a zodiac tattoo to their accord. This sun sign is known to have overflowing emotions and tattoos represent those emotions effectively.
Inscribing Lily or Lotus is also a great idea since both the flowers are associated with the cancer zodiac sign and can be suited to anyone who has a subtler taste. Although, getting a crab tattoo is common for people who are born with cancer zodiac sign but one can still go ahead and get a crab tattoo if your zodiac sign is compatible with the cancer sun sign.
IDEAS
The crab tattoo can be anyplace, it could be a petite and dainty tattoo on your hand or it could even be a full-blown back tattoo that looks remarkably fashionable. You can even get a crab tattoo with amazing adornments and cool text to give your tattoo an intimate touch. The choices are multiple, however, it is the decision to pick one up for your body where it'll be inscribed for life!
Different Types & Designs
Imagine if a crab was forever inked on your foot. With this minimalist outline design, this crab would be omnipresent. It's like a pet you don't own.
This dreamy and celestial work of art represents Cancer's planetary ruler, la luna. This is a romantic tattoo that any sensitive Cancer will adore.
If you like the color blue, then this is the tattoo for you. In addition to this, the blue color signifies water. It makes sense supposing that water is the Cancerian element.
Many desire something intricate to be inscribed on their body. This tattoo is not only complicated in a way but also a gentle reminder that the moon is in your field.
Upside-Down Constellation
This tattoo design can befool anyone who will think it is just an upside-down 'Y'. However, one will have to connect the dots, quite literally, to infer the meaning of this pattern.
Resembling Mr. Krabs, this tattoo is great for couples or friends who share the same zodiac signs.
This tattoo is so picturesque that it is sure to grab anyone's attention. The beautiful blue hue in which the crab is embedded gives it an easy flowing look which resembles water.
You don't always have to go all-in with your crab tattoo because sometimes it is just better to leave things a little simpler. You can just get a simple illustration of one on your skin and call it a day.
This is another symbolic tattoo of the Cancer sign, the crab. This tattoo, however, is more playful and child-like which a youthful Cancerian should love.
This is yet another vivid tattoo and it's perfect if you're a science lover too. For someone with a Cancerian curiosity, the sky is the ultimate destination and the moon is in their clutches.
Cancers are artistic and highly sensitive to musical notes. Perhaps, some may want a metaphorical tattoo that's classier or easier to hide. This tattoo with a Cancer sun sign joined with a musical note is the perfect one for you.
Probably you want something simpler, but probably you don't. Probably you want something extravagant. This tattoo is the perfect one for both the moods.
You might think if it's really a Cancerian symbol or a normal flower tattoo? The answer is that it is the best of both worlds. Although the floral pattern gives this Cancerian constellation a girly look, it looks equally crafty on boys too.
Being a minimalistic design, it's pretty easy to hide. For all the minimalistic lovers, who'd rather keep it simple than anything boisterous, this design suits best for you.
This tiny tattoo can be hidden easily. If you want something sweet and simple, this one is the go-to. No second thoughts.
This one is not too simple but not too complicated either. This is mostly preferred by girls as a tribal design, however, it can be suited for anyone in the hippie culture.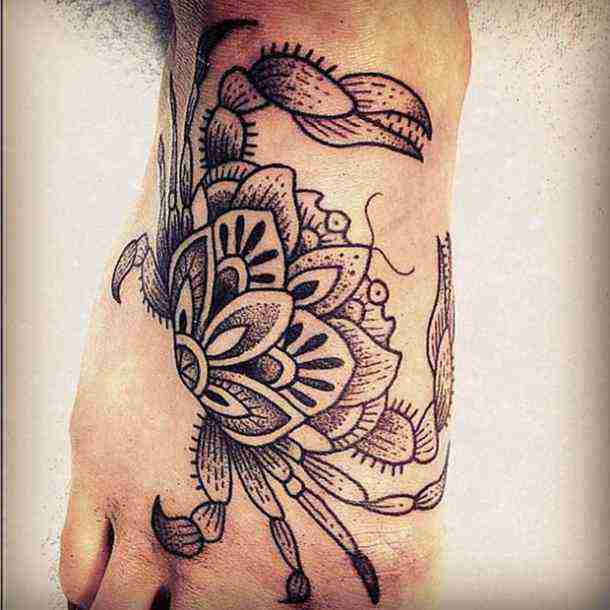 The cancer symbol is the easiest way to remind yourself of your genesis. So without any second thoughts, get this classic cancer symbol tattooed. The nape of the neck is one of the best placement ideas.
In case you're in a fix about which tattoo pattern to choose, go for this delicate outline design.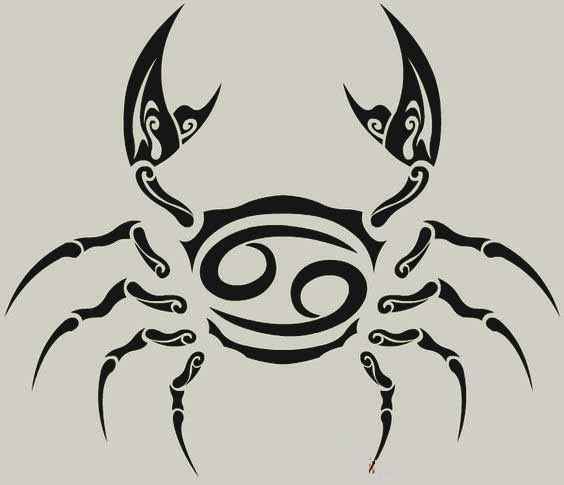 The hues of green and blue are a perfect representation of marine life. Crab, being a part of the marine life, is best suited to these shades.
The gothic designs are perfect if you want something profound and sentimental for your body. The shades are quite dark, yet it looks extremely cool.
Sketchy styles give any designs an artistic effect. If you're leaning towards something innovative, this kind of design is the best-suited one.
Besides all these patterns, there are numerous other designs which you can innovate yourself. You can simply club any of the above designs or can create a brand new one exclusively for your own self.