Kenneth Dwayne Kenny Vaccaro famous by the name of Kenny Vaccaro is an American football safety for the Tennessee Titans of the National Football League (NFL). During his school time, he played football and was moved around six different positions on the field. Besides football, he has also competed in running and field athletic events. Kenny Vaccaro is a huge tattoo lover which is clearly evident from his body that is covered with multiple inks. Let us see what tattoos he has on his body and the meanings they hold for him.
A lot of guys get tattoos just to have ink on them, but I can explain everything on my body. I wait until I get a truly great idea and have had a plan for everything I wanted to get.

The majority of my tattoos are Christian and family-based. My first one I got when I was 17 years old [on my upper right arm] for my father who passed away two years before. It is a cross with the words `I thank my God upon every remembrance of you.'
1. 'WALK BY FAITH NOT BY SIGHT' Tattoo
Tattoo: Kenny's right and the left wrist is inked with the words, "WALK BY FAITH", "NOT BY SIGHT", respectively.
Meaning: The words have been taken from the Bible Verse – 2 Corinthians 5:7 which reads from the Greek text, "for by means of faith we walk, and not by means of sight." Hereby The WALK represents the way and manner of our life, as to how we conduct ourselves. This ink basically represents his strong belief in Christianity and its beliefs. Kenny believes in taking everyday timely decisions of his life by keeping strong faith in God with respect to the outcome of his decisions. We should have faith in God for everything.
2. 'Cross with letters K.D.V. Sr.' Tattoo
Tattoo: Kenny has a huge cross inked on his right bicep. The cross has the words K.D.V.Sr. (Kenny Dwayne Vaccaro. Senior) inked under it. Followed by the writing, "I thank my God upon every remembrance of you.".
Meaning: Kenny was very young when his father died. He was very close to his father and on his demise that too when Kenny was just 15 years old led him to get his father's initials inked along with the cross and this quote.
"This was my first tattoo. My dad passed away when I was 15. The inscription says, 'I thank my God upon every remembrance of you.' I mean, anytime I'm going through something, any type of adversity, it's a reminder that my dad is watching me. Anytime I'm going through anything, I talk to him spiritually. Especially during the football season, week in and week out, it reminds me of what I'm playing for. Before he passed, he told me to always take care of the family. That was when I was like 15. We come from nothing. We were dead broke. But he always told me I would be the key to getting us out of poverty. Anytime I want to quit, anytime I want to not work as hard as I need to, I always think about what my dad told me. It's kept me going all these years. I support my whole family. Putting both of my sisters through college, taking care of my brother, taking care of my mom. Basically, the whole family rides on my back."
3. Illustration on Leg Tattoo
4. 'ITALY Map' Tattoo
Tattoo: On his left forearm, Kenny has the map of Italy inked along with the word, ITALY.
5. 'Red Heart with Traditional Roses' Tattoo
Tattoo: Kenny has a huge ink on his left bicep which shows a red heart and big traditional roses inked above and under it. The red heart has a banner wrapped around it which contains the word, "ALESIA" inked in it. Alesia is the name of Kenny Vaccaros's mother.
6. 'Checkered Flags' Tattoo
Tattoo: On the backside of his neck, Kenny has words written, and additionally, he got two checkered flags cross hanging with each other.
8. Chest Tattoo
Tattoo: On his chest, Kenny has a huge masterpiece inked all across his upper chest part. The design includes the large feathers that cover his chest and also has few words inked over and under it. "Signore, il mio Salvatore" is inked through the feathers whereas "I Desire Passion" is tattooed under the feathers. "Signore, il mio Salvatore" is the Italian phrase which stands for "My Saviour My Lord". This tattoo is another dedication to his strong love and faith in Christianity and Jesus Christ.
9. 'Angel' Tattoo
Tattoo: A small baby angel is inked right on Kenny's right shoulder.
10. 'Blessed and RELENTLESS' Tattoo
Tattoo: Kenny has two words inked on both of his forearms which include 'Blessed' and 'RELENTLESS' inked on his right and left arm, respectively. RELENTLESS because he is known to be too determined and strong enough to achieve all that he desires in life.
11. Angels on Right Arm Tattoo
Tattoo: On his inner right arm, Kenny has very intricate tattoos inked all over his forearm. There lie angels on the inner side of his right forearm.
12. 'Lakeeta' Tattoo
On the inner side of his left bicep, Kenny has got the word, Lakeeta inked followed by some quote written below it. Small eagles flying in the clouds are also inked on Kenn's left bicep.
13. 'Stars' Tattoo 
Tattoo: Kenny's right shoulder has been inked with multiple stars which surround the flying angel inked there.
14. 'Chi-Rho Symbol' Tattoo
Tattoo: Kenny has got a tattoo on his left forearm which is the Chi-Rho Symbol.
Meaning: This is the most common symbol in Christian Art. the symbol is used by the Greeks to mark the passages which they consider important. Hereby, the symbol is formed with the letters Chi and Rho denoting 'Chreston', that means 'good'. Chi Rho is one of the oldest symbols used by Christians which is formed by superimposing the first two letters of the word "Christ" in Greek, chi = ch and rho = r. It is the invocation of the crucifixion of Jesus as well as the symbolism of the statue of Christ.
15. 'Cross with Rosary Beads' Tattoo
Tattoo: Right on the upper part of his left bicep, Kenny has a small cross inked along with the rosary beads. This is another ink on his body which depicts his belongingness to Christianity, and more specifically, that he is a Catholic.
Left Arm Tattoos
16. 'MCM and MXCI' Tattoo
Tattoo: Just above his left elbow, Kenny has another tattoo which shows the roman numerals, MXCI inked and similarly on the front side of his left forearm exists the tattoo of the Roman Numerals MCM.
17. Jesus Christ Portrait Tattoo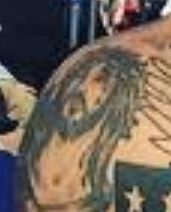 Tattoo: Right on his left shoulder there lies a portrait of Jesus Christ.
18. 'Scorpion' Tattoo 
Tattoo: Right below the Jesus Christ ink, Kenny has a tattoo of the scorpion inked on the backside of his left arm bicep. It also has few stars inked below it.
Back Tattoos
19. 'Eagle' Tattoo 
Tattoo: There is a massive Eagle inked in the flite mode on Kenny's back. The eagle is carrying the football in its claws.
2o. 'NFL, Texas Long Horn Logos, and 4' Tattoo
Tattoo: On his back, Kenny has the logos of NFL( National Football League ) and Texas Long Horn inked along with a big 4, tattooed on the left and the right side of his middle back, respectively.
21. 'K.D.V.III' Tattoo
Tattoo: On the top of his back, Kenny has the tattoo which says, K.D.V.III.
22. 'Roman Numerals' Tattoo
Tattoo: There exist few roman numerals which are inked on Kenny's lower back. It consists of "I V X V" inked on his lower back followed by some patterns on their base.
23. 'Mountains with Bright Sunrays' Tattoo
Tattoo: After getting the eagle inked, in order to give the whole meaning to his eagle tattoo, Kenny got the background of Eagle Tattoo covered with the mountains which are shining with the bright sun rays which seem to be coming from the rising sun hidden behind them. Thus giving an impact that the eagle is rising high from mountains all brightened up with rays of the sun.
24. 'Stomach Tattoo
Tattoo: There is an unknown tattoo on the left side of his stomach.