Face tattoos have always been quite a thing especially among celebrities who have raised the trend so much that it has become quite mainstream. In 2002 only many stars started this trend and since it is 2021, the trend has only risen with celebs like Chris Brown, Presley Gerber, and Amber Rose all breaking the internet over their eccentric tattoos.
Well, getting a face tattoo does not mean that all face tattoos are alike. For example, Chris Brows features a huge Nike Air Jordan 3 on his face while Gerber only dons some text on his cheeks. Amber Rose on the other hand paid a tribute to her children with their names etched right on her forehead. While some celebs have face tattoos that might be subtle others have a full-blown tattoo on their face. For example, Justin Bieber got the name "Grace" on his forehead, right above his eyebrow which is quite subtle. But on another hand, Aaron Carter got a huge portrait of a medusa tattoo design.
But more or less, face tattoos have been more or less a source of drama with the roots reaching to the forehead tattoos that have been quite common now. Like when Amber Rose shared her forehead tattoo, the social media definitely tolled back on her. But here are some subtle and not so subtle forehead tattoos.
List of Celebrities with Forehead Tattoos
1. Angie Forehead Tattoo Design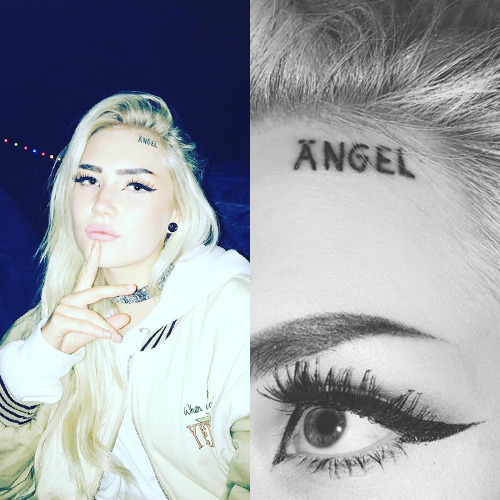 Ängie has the term "angel" etched on her forehead with simple black ink that looks pretty sharp!
In Feb 2012, Allison had a great WTF tattoo inked on her forehead which was done by her sister Melissa Marie Green. The tattoo on her forehead was done in blacklight which means that it can only be visible when it is watched under ultraviolet light and is not visible in more circumstances.
3. Amber Rose Forehead Tattoo Design
Bash Slash was inked over the forehead of Amber Rose by tattoo artist Jacob Ramirez in 2020 for her two children, Sebastian and Slash. However, this Forehead Tattoo Design created quite a buzz among her followers as she captioned her picture on Instagram "When your mom lets you draw on your barbie."
The backlash she faced was because of the placement choice which was felt to be too eccentric. There were also questions about the realness of the ink and according to people it was kinda fake. However, Amber rose immediately backlashed at the people who said it was. She quotes, "For the people that are telling me I'm too pretty for a face that are the same people that would tell me I'm 'too pretty' even if they thought I was ugly and lie to me. Lol. Or they would just tell me I'm ugly. So either way the moral of the story is do whatever the f*CK you want in life," she wrote on her Instagram story.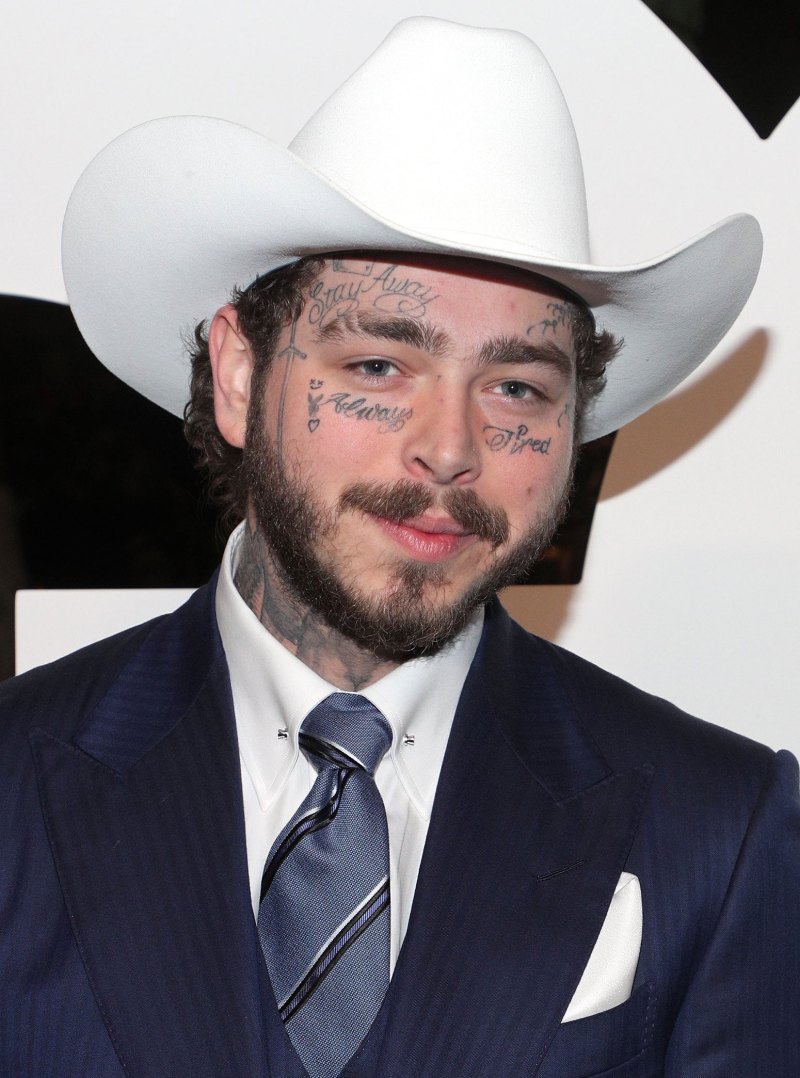 Post Malone has multiple tattoos all over his body and especially his face. He says that he has been inspired by Justin Bieber to get his first face tattoo. He debuted his first tattoo right before his New Year's Rockin' Eve Performance in new york. The tattoo on his forehead was made by the tattoo artist Kyle Hediger.
The singer Justin Bieber, has a tattoo on his forehead which he made in November 2018, and finally showed it off two months later n his Instagram post. He got the word "grace" inked right on the forehead just above his left eyebrow.
The year 2018 was also the time when the one Direction singer, Zyan Malik got his head shaved to get a huge tattoo etched which followed his upper forehead, and extended to the left part of his face.
7. Kat Von D Forehead Tattoo Design
The famous model, tattoo artist, and Tv personality, Kat Von D had a series of iconic black stars that begins from her forehead and extends to her side face.
8. Mike Tyson Forehead Tattoo Design
Mike Tyson is mostly known for his tribal tattoo design which he made in 2003, besides being a wrestling champion. He believed that a lot of good stuff happened with getting this design that is all done in black ink.