In a matter of the past few years, more and more stars have made face inks, right from Presley Gerber to Lil Wayne and Amber Rose. While on the other hand there are also artists who have refused to ever meddle with their face claiming that it would have adverse effects in their business and personal lives, others have no missed with it. Getting ink is a pretty huge deal in any case. They are an extremely common option between celebs but are yet a permanent deal of your skin and body. That's huge, ain't it?
Tattoos might come in all shapes and sizes and there are varying degrees of intensity and commitment when it comes to having the perfect kind of tattoo. It is not just the size of the tattoo- too small or too big- that makes a difference but also that where they are placed on the body. There is no denying the fact that getting a tattoo on the face is a deal on its own.
However, still, you will find that many celebs are getting face tattoos, especially under eye tattoos, without any second thought. And it does look cool, by the way. We all know Post Malone who has multiple tattoos over his face and even Justin Bieber who is a pop artist. Not just men but women celebs too have left no stone unturned when it comes to having face tattoos. She has her signature paper plane tattooed right under the eye. Amber Rose, Kat Von D, and a bunch of other artists have all kinds of beautiful designs that they have made and proudly show!
Today, tattoos have become more normalized in society, thanks to the celebrity trends that have popularized the whole concept. Although inking the body parts has become mainstream, tattoo on the face is a whole different thing but it is coming in motion with each day passing and celebs influencing their fans.
Here are 22 celebs who are not shy of getting their face tattooed, especially the region under the eye which is notorious for being sensitive. So take a look ahead, and see if it dares you to get one for yourself:
1.The Game Under Eye Star Tattoo
Following the death of Bryant in a plane crash in January, The Game inked a tribunal tattoo for him right above his eyebrow which symbolizes the sideways number 8 that could stand for an infinity symbol and thus Bryant's infinite moments in the journey. He also has the LA Dodgers logo with a teardrop right below his eyes too which adds to his number of face tattoos.
2. Post Malone Under Eye Smiley Tattoo
Post Malone is one such rapper who likes to add tattoos to his whole face. His famous tattoos include the phrase "Always Tired' and barbed wire on his forehead. He also has a bunny (which is a playboy sign and a smiley with "x" eyes under his eye where he also has the infamous quote tattooed.
According to Post Malone likes to cover himself in ink because he feels that he is "an ugly-ass mother—–," and the ink "maybe come from a place of insecurity." Post Malone told in an interview, "I don't like how I look, so I'm going to put something cool on there so I can look at myself and say, 'You look cool, kid,' and have a modicum of self-confidence when it comes to my appearance."
3. Lil Wayne Under Eye Tear Drop Tattoo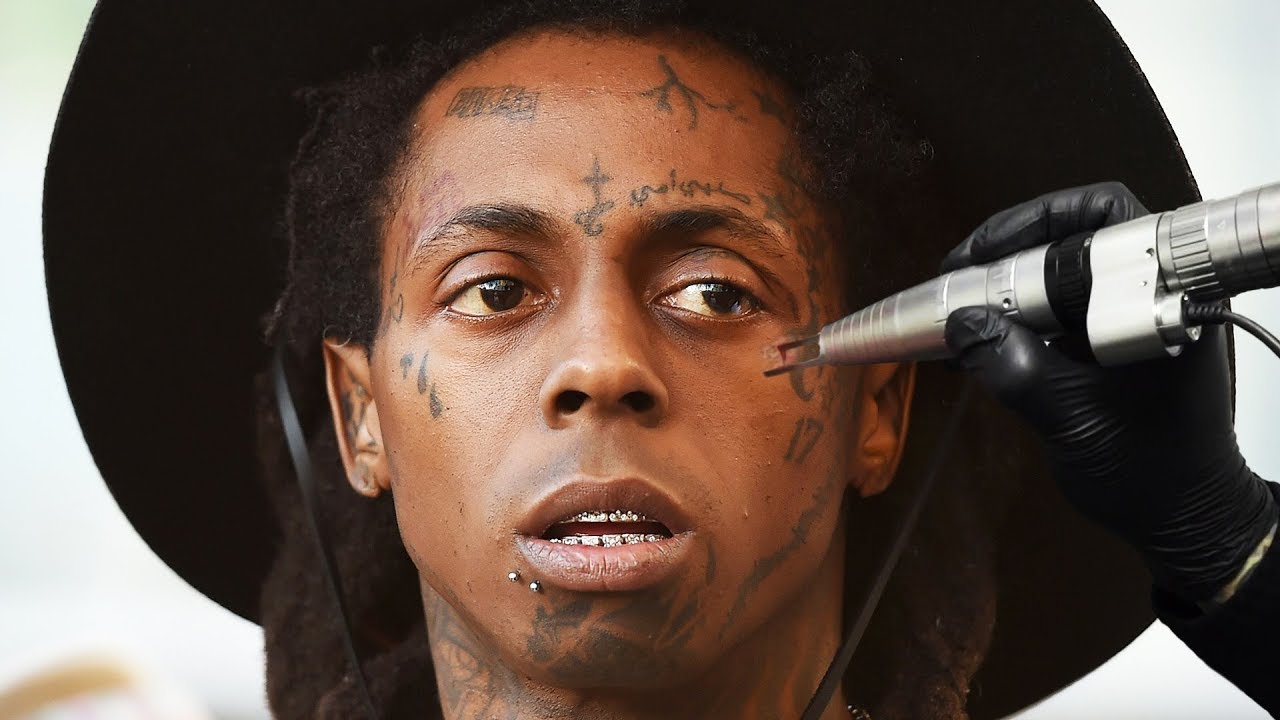 Lil Wayne has inks all over his profile, that includes elements like a cross, stars, the word "misunderstood," 17, and more. The rapper has many inks  on his face, that might include a peace sign, the region of Africa, and the expressions "I Am Music." The father of four, who issued his 13th album called Funeral, in February 2020, also has the words "Fear God" printed in a script font inked on his eyelids. Besides this, the "I Don't Sleep" rapper has at least 86 tattoos, according to multiple trusted sources all over his body which are also most iconic in the industry!
4. Gucci Mane Under Eye Icecream Tattoo
As funny as it might sound but Gucci Mane notoriously has an ice cream cone on his cheek right under his eye. The "Lemonade" rapper has one of the most eccentrics inks in the Hollywood industry which is an ice cream cone and which first waves in 2011. The ink is "a reminder to fans of how he chooses to live his life. Cool as ice. As in 'I'm so icy, I'll make ya say Brr,'" his spokesperson commented in a recent interview.
5. Lil Pump Under Eye Rocket Tattoo
Lil Pump has an alien, a UFO, a rocket ship, 17, and more tattoos spread all over his face. Overall, the rapper has more than 25 tattoos all over his body. Most surprisingly, one of the substantial amounts of tattoos is on his face.
6. Presley Gerber Under Eye Misunderstood Tattoo
Presley Gerber lately got the term "misunderstood" inked right below his eye. "Most and a lot of people can get a facelift, change genders, lip injections, etc and it's offensive to say anything in today's age but I get a little face tattoo and now people love to hate me…," the model, who is the offspring of Cindy Crawford, posted his picture with this caption on Instagram.
7. Lil Xan Multiple Under Eye Tattoo
Lil Xan has many face tattoos, that include a beautiful eulogy to his fellow Mac Miller. The SoundCloud rapper, who shortly dated Noah Cyrus before their climactic social media separation, has three zs tattooed right below his eye, right over the term "LOVER" in all caps. Lil Xan has a different design over his eye which comes out to be, "Memento Mori," which alters to "Remember that you will die," which gave a eulogy to Mac Miller after his death. Lil Xan got the Latin expression "Memento mori" over his eyebrow after his compatriot and fellow rapper Miller went away from this world in September 2018 because of an overdose. The expression coarsely interprets as "Remember you will die."
8. Kat Von D Under Eye Star Tattoo
Kat Von D has a bunch of stars on the left part of her face. Von D is also a tattoo artist herself who also hosts shows on TLC. She said that the star tattoo which begins from her forehead and covers her under-eye "is a symbol of being able to be heavily tattooed and still carry yourself in a feminine way," according to her in a recent interview.
9. Kehlani Under Eye Paper Airplane Tattoo
Kehlani is famous for her beautiful tattoos that include the phrase "Espiritu Libre" which means a free spirit along with others on quite visible parts of the body. However, her most iconic tattoo si the airplane tattoo right under her eyes, on her cheekbones. She also has four small dots beside the little paper plane tattoo, two on each side.
10. Aaron Carter Under Eye Greek Tattoo
Much of Aaron Carter's face is done with beautiful ink designs. In most recent times, Carter got a picture of the Greek mythology character, Medusa. The medusa tattoo begins from his forehead and covers his cheeks going through the part under his eye too. "Medusa is my protector. If you want to come at me with some negativity, my Medusa will stare you in the eye and turn you into stone," he made a statement in a recent interview.
11. Amanda Bynes Under Eye Heart Tattoo
Amanda Bynes has a simple black ink heart tattoo on her cheeks. She has it done with simple black ink that is placed right under her eyes. Since this picture, she has also inked one more heart which is right above her eyebrows. She is not too active on social media but she shared her heart tattoo pictures with the rest of the world.
12. Anwar Hadid Under Eye Dots Tattoo
The three tiny little dots below the eyes of Anwar Hadid, who is a model and brother of supermodels Gigi Hadid and Bella Hadid, are just some of the most unique designs that he has on various other parts of the body. He also includes a cross-chain necklace that encircles his worst and a number 55 which is there on his chest. He also a phrase that reads "the world gold" on his neck. "I have so many weird tattoos that at one point meant something to me, but no longer do," he told in an interview quite recently. "I find it so beautiful that at one point I could have cared about something so much to have gotten it tattooed on my body. I have to respect who I was at that moment," he continued.
13. Offset Under Eye Kulture Tattoo
The Migos member, Offset has several face tattoos along with other ones on his whole body. He also has "Kulture" written which is the name of his daughter with his wife Cardi B in script font which is placed between his cheeks and jawline. Besides this, he also has some great designs under his eyes.
14. Mike Tyson Under Eye Tribal Tattoo
You can't speak about face tattoos without mentioning Mike Tyson and his famous face tat. In his 2008 documentary, Tyson, the boxer announced he got the tribal pattern on his face because he assumed it was "cool," according to some popular and trusted source. The tribal design is unique and goes under his eyes. He continues, "I just thought it was hot," he said.
15. Tekashi 6ix9ine Under Eye 69 Tattoo
Notorious rapper Tekashi 6ix 9ine is no alien to getting inked, especially on his face— in fact, it might be important to his trademark. He has varieties of the numbers 69 located all over her body as well as others that include Billy the Puppet from Saw, spiderwebs, and more.
16. Trace Cyrus Under Eye Cross Tattoo
Miley Cyrus's brother, Trace Cyrus seems to compete with his sister with his own designs. His face has many designs that include a cross under his eyes and the word "Ashland", some stars, and a rose is done in black ink.
17. Travis Barker Under Eye Blessed Tattoo
Travis Barker, recognized as the drummer for the popular band Blink-182, is practically masked in tattoos. His face, apparently, is no exemption. He's got the word, "Blessed" below his eye, an anchor, and last but not least, a star right on his face which looks unique.
18. Justin Bieber Under Eye Cross Tattoo
Justin Bieber really has two face ink designs, the first of which is has a tiny cross near the bottom part of his eye. The small cross by his left eye is so ingenious, it took fans ages to even find it. This photo revealing the tat came into the media in August 2017, but this one confirms it all the way behind in May 2016. The cross comes as a gift and skill of JonBoy of Bang Bang tattoo shop in New York City, a famous tattoo designer amidst the celebs. He has also made Justin's other tattoos which includes another one of his face tattoos.
19. Birdman Multiple Under Eye Tattoo
Throughout his profession in Hollywood and the music industry, Birdman has had no lack of face tattoos. The rapper spread on his head and face a glorious amount of tattoos, that might include everything from stars to teardrops and across, amongst loads of others.
20. Rick Ross Unique Under Eye Tattoo
Rick Ross is clearly ready to take all the risks when it comes to face tattoos. In fact, he has plenty of designs that include both his face and body. In 2015, he got at least 5 face tattoos at a New Jersey tattoo studio on different locations of his face that includes Miami Heat Crest, The letter W, and cross symbols.
21. Ceelo Green Cross Under Eye Tattoo
CeeLo Green's face ink is not much noticed by his fans but he actually had many tattoos on his face. He has a cross done in black ink tattooed on his eye and even the world TRILL which is placed right on his ear amongst the other tattoos on his face.
22. Sinéad O'Connor B and Q Under Eye Tattoo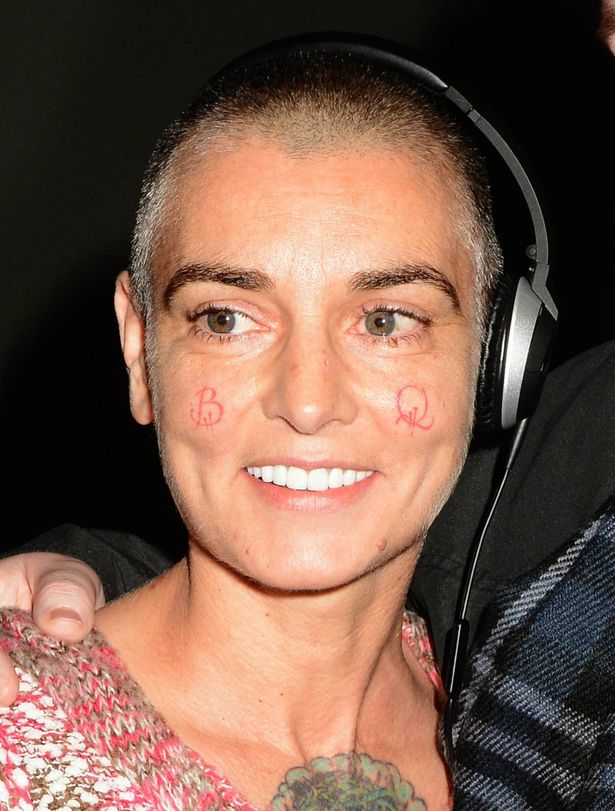 Though this listicle contains celebs who do not regret having face tattoos under the eye at all, she is the one who thinks that she shouldn't have gone as far as getting herself a face tattoo. In 2013, Sinéad O'Connor presented to the world, two new face tattoos, a "B" on her right under the eye and a "Q" on her left under the eye. The words were reportedly intended to recall the contention she had with ex-Brendan Quinlan. After less than a year, she also said got her tattoo surgically removed because according to others, the ink had become "stupid [expletive] on my face."