Piercing, just like tattoos are not only fun but a great thing to get addicted to. Some people just can't get one and want another right afterward. For people who already have their helix's, their septum's and their tragus' punched, they will know that after it will come to the rest of the body parts – the belly, the nose, the nipple, and perhaps a dermal piercing? (Or to those who are in the medical field, a transdermal implant.) But even before you read about where you should get one, you must read all about it.
Unlike regular cartilage or indeed belly button jewel, a dermal piercing is what's distinguished in the field as a 'single-point surface piercing'. Not to jargonize it further, this suggests that it's more complicated to adjust, tidy up and attend to because it doesn't penetrate the skin, fairly it's planted in and remains inside the dermis layer with a hook holding it in its original and desired position. There's no exit point in this kind of pricing.
But how does it happen? and why do people, especially celebrities go for it? Well, a qualified and experienced expert would sterilize and clean the area and will then use a dermal punch machine to remove a bit of flesh. He can also use the needle to create an L shape hole and then using the dermal forceps he will insert the anchor inside the area with space.
A dermal piercing is then held onto the position and is used to keep the piercing in place which is preferable at the 90-degree angle. It acts as an anchor and makes sure that the piercing does not experience rejection or migration. Anyway, get inspired by the list of celebrities who tried their hands on dermal piercing too!
Surface Piercings
Surface collar bone piercing is different because they have an entry and an exit point which is made by removing a small piece of the flesh using a needle. A surface bar is pushed inside the created space and it comes out from the other end. Each end of the bar has some kind of jewel that remains exposed, the bar, on the other hand, remains inside the skin.
Surface piercings are more prone to migration and rejection because they are super close to the surface of the skin. But the good news for the people who get their surface piercing done on their neck has lesser chances of getting their piercings rejected. No matter where you get your piercing done, looking out for a skilled piercer and following good aftercare will definitely help you avoid any kind of problems that are related to a piercing gone bad.
Dermal Piercings
Dermal piercing is the kind of pricing that goes deep within the layers of the skin by piercing the dermis. It is not like Surface piercing which has an open and exit point and has only one single point for fixing in the jewel. The jewel sits on top of the skin while the piercer puts in the anchor in the removed part of the skin,
Usually, dermal piercing is done using a dermal punch and people wear a diver with it which has a sharp edge and a very decorative top that could be any material available. Other methods of punching in the skin can be done by using needles and a small scalpel. The anchor is then inserted inside the space which runs parallel to the skin. The decorative top of the jewel gets attached to the anchor.
The anchors are better chosen by people because the jewels get changed in this kind of piercings. Thus you can change whatever the jewel according to the occasion. Many people get multiple piercings in a row and mix the designs. On the other hand, if you decide to go with the dermal punch and diver, keep in mind that you'll require to exclude the jewelry completely if you fancy switching things up.
List of 28 Celebrities With Dermal Piercings
1. Cardi B Dermal Piercing
Seems like Cardi B has spent a lot of her time adding some fresh piercings and making some tattoos on her skin which she says is an artistic journey. The female rapper flaunted her newly pierced dermal piercing through a post on Instagram in which she not only shared the picture of the final product but so documented the whole process. Well, you might not wanna watch it if you will freak out a bit.
In the first two videos, Cardi is viewed relaxing back in a comfortable seat in her Atlanta home puncturing her skin with two dermal piercings in her chest, appending to the one she possessed before. She shared the experience saying that dermal is not like other pairings. The piercer makes a hole in a  flat surface because this kind of piercing does not have an entry and exit point. The dermal are then inserted in the middle layer or the skin. One can get it any place they want but the skin must be quite flat for this which includes your face, fingers, etc. They look like you have diamonds studded on your skin.
As per the video, one can also notice that the pain was there, based on Cardi's reactions but to be honest, it all boils down to each's own pain level tolerance. However, one can see Cardi's husband, Offset, holding her hand all the time throughout the video for a little support. In the next video that came after she is also seen getting a labret piercing in the lower part of her lips.
2. Keyshia Cole Dermal Piercing
Keyshia Cole has a dermal anchor piercing at the side of her right eyebrow which looks as if it is just a beautiful diamond-studded. It is a small jewel that looks awesome.
3. Melissa Marie Green Dermal Piercing
Melissa Marie Green has a dermal anchor surface piercing just below her right eye which is medium in size and looks quite interesting.
4. Debby Ryan Dermal Piercing
Debby Ryan's right ear tragus piercing is done using dermal piercing. It is a great one which looks like she has a medium-size diamond pierced through her ear!
5. Danielle Bregoli Dermal Piercing
Danielle Bregoli wears a single tragus piercing in her right ear which looks pretty cute. She also has other kinds of jewels which enhance her look!
6. Carah Faye Charnow Dermal Piercing
Carah Faye Charnow wears spirals in her elongated earlobes and the round studs in her tragus piercing which is not too huge ins size but looks cool.
7. Lexus Amanda Dermal Piercing
Lexus Amanda has gotten her tongue punched three times now. The most recent one was in September 2014. She took to Instagram to share her experience, saying, "3rd time getting this done, still super uncomfortable… I'd rather suspend! haha"
Lexus Amanda wearing a silver ring in her nostril piercing and a tiny jeweled stud that looks like a diamond in her Monroe.
8. Lucy Hale Dermal Piercing
Lucy Hale got her left ear punched with a beautiful dermal piercing at the New York Adorned parlor by Professional piercer Keylan Levine.
9. Cassie Ventura Dermal Piercing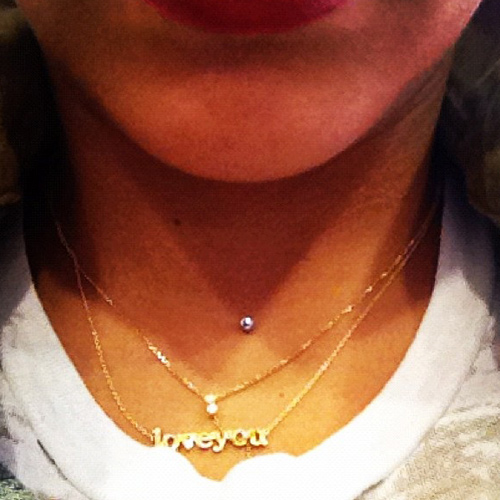 Cassie Ventura dons a whole of seven piercings in her right ear: three in her forward helix, one cartilage piercing, two upper lobes, and one lobe earring, which is almost all done with dermal. She also has a dermal piercing done right in her throat! I wonder how painful that might be!
10. Zhavia Ward Dermal Piercing
Zhavia Ward has a septum nose hoop and a medusa stud done in dermal piercing style in the "Candlelight" music video.
11. Mutya Buena Dermal Piercing
Mutya Buena has a Monroe piercing above the left side of her lips which is done in the dermal piercing.
12. Rihanna Dermal Piercing
Rihanna has two earlobe piercings and a tragus piercing on her right ear which she has decorated with a beautiful tiny stud that looks cute.
Rihanna has three piercings in her left ear lobe done in dermal piercing which looks very elegant.
13. Nina Dobrev Dermal Piercing
Nina Dobrev has both of her ears punched and she also has a tiny stud on her right upper lobe done in beautiful silent studs that look cute.
14. Zoë Kravitz Dermal Piercing
Zoë Kravitz wears a large jeweled stud in her helix piercing, a cuff in her conch piercing, a small ring in her tragus piercing, and drop earrings in her lobe. Besides, she also has a three-pronged hold stud in her tragus piercing and a hoop with a charm in her daith piercing.
15. Chantel Jeffries Dermal Piercing
Chantel Jeffries dons a total of five piercings in her right ear: a gold Hamsa jewelry in her lobe, a little jeweled bar jewelry in her upper lobe, a petite elegant stud jewel in her auricle, another beautiful stud in her cartilage, and the round barbell in her front cartilage.
Chantel Jeffries dons in her left ear a tragus piercing, one rook piercing, an auricle/rim hoop, and a large lobe jewelry bar with a large teardrop chain at the bottom.
Chantel Jeffries loves to don a ring piercing in the front helix cartilage, nine jewels prolonged piercing in her lobe accompanied by a sole jeweled stud, and a ring in her auricle/rim.
Chantel Jeffries also had her lobe punched with a triangle and a square jewel, her helix cartilage with a hexagonal stud, and her right ear's front helix perforation with a ring.
16. 
Dimples Darlingx has piercings on her cheeks, neck, and septum all done in the dermal piercing style.
17. 
Jodie Marsh loves to don her amazing dermal pierced neck to her fans!
18. 
Urraka Braun has her septum, nose, medusa, and bridge punched as well as her earlobe gauged, her tragus and helix are also done with dermal piercing which looks uber cool.
19. 
Thystil has a dermal piercing on her forehead, in addition to the unique corset piercing, fastened collectively by a ribbon on her chest.
20. 
In Horror Land has some of the most amazing dermal piercings like the septum, snake bites, angel bites, nose, cheeks, and labret which she loves showing off!
21. 
Piercing in Pink has dermal piercings which are clearly visible on her  septum, and her lip as well as a stretched ear lobe
22. 
Leonora Gabriella has tattoos are done in dermal style and other beautiful piercings.
23. 
Caia Suicide kept it plain with an elegant Medusa lip piercing done in dermal.
24. Lilly Singh Dermal Piercing
Lilly Singh showed off her cartilage cone piercing, a tragus little stud piercing and a star earring in her right ear lobe at the Los Angeles opening of 'Mike And Dave Need Wedding Dates' which took place at the ArcLight Cinemas in Hollywood, Los Angeles, California on Wednesday, June 29, 2016.
Lilly Singh has other kinds of piercing in her ear lobe in which she donned a "love" ear jacket, one tiny stud punch in her tragus, and a triple jeweled ornament in her cartilage.
25. Raven-Symone Dermal Piercing
Raven-Symone has cartilage piercings which are done in dermal and lobe piercings with hoops on them in both her ears.
26. Justine Skye Dermal Piercing
Justine Skye has a total of four piercings just in her right ear that includes two jeweled stud earrings in her lobe and helix/cartilage and two hoop piercings in her helix/cartilage and auricle.
Justine Skye dons four piercings in her left ear too which includes two jeweled stud earrings in her lobe and helix and two hoop piercings in her helix/cartilage and auricle.
27. Blac Chyna Dermal Piercing
Blac Chyna has a dermal anchor piercing right in the center of her chest which is beautified by a diamond stud.
28. Cassie Dermal Piercing
Cassie has her throat pierced which looks awfully painful! She has decorated it with a diamond stud.