Getting inked is gradually becoming a fashion trend rather than being just body art. Everyone who has a tattoo has a story behind it, or the tattoo has some sort of relevance for them. Tattoos represent some one's opinion or point of view. It is a gateway to a person's mind. The meaning of a tattoo always depends on the wearer because it is ultimately his own choice that holds some relevance.
Dove tattoos are some of the greatest kind of tattoos because of what they stand for and what they represent. It fits both men and women perfectly. It is not limited to being something girly. It promotes both masculine and feminine trends. The interpretation, however, is based on how you want to depict it.
Meaning of Dove Tattoo
As it might seem, dove tattoos are inked mainly for the purpose of beauty. But besides this, it is also used for the purpose of depicting some meaning, to show some relevance of it. It could absolutely anything and that totally depends on the wearer that how he wants it to be. Similarly, there are more conventional meanings, for example, we all know that dove stands for peace and harmony. Therefore, there are many meanings associated with dove tattoos in general. Read on to find more:
Success – Success is one of the things that it symbolizes apart from the general themes of "love", "peace" and "harmony". However, it can be success in love too. It is rather believed that getting a dove symbol will allow for success to knock on your door and that's probably why many people choose dove tattoo for themselves.
Fresh Start – Another thing that the dove stands for is a new beginning. It is symbolic of letting go of past experiences and flying forward. Probably your tattoo can depict the same and the incident and experience related to it. There is a story behind why dove symbolizes a fresh start and it represented by Noah in the bible.
Family – Doves are something great to have because it represents a family. The reason is that a dove is often seen with a partner. It is for this reason that a pair of dove is always romanticized. So if you want to depict your love for your family, a dove is a great option to portray your feelings.
Ideas
Just like it is with other tattoos, the placement of the dove tattoo matters to convey the meaning. Where the dove is placed depends on its size and the kind of design it has and primarily, the choice of the wearer. It is totally upon the individual's preference if he wants a small design that is not too visible or something that is out of the box, and probably even something overwhelming. For professional or other reasons, it should be easily concealed too.
Talking of huge tattoos, it should be placed on areas like stomach, back, ribs, thighs, and chest. The smaller ones, on the other hand, must be placed on the leg, wrist, anywhere on the finger, nape or side of the neck. When it comes to the intricacy and aesthetics of the tattoo, it totally depends on the tattoo artist.
Dove, as a tattoo design, makes for a great choice for someone who is not super into tattoos or is a first-timer. The dove tattoos are perfect as it balances out between aesthetics and symbolism. Extensive research is recommended before you go into getting something permanent for yourself because this tattoo will then stay for life-long.
Included in the mythicism of the Native American Blackfoot race, doves were usually allied with security and returning from battle harmless. It is because of this that various soldiers oftentimes added dove feathers to their uniform or took them on their person when they took off for war. A dove quill tattoo can be characteristic of security for this purpose. The feather has a very realistic touch to it.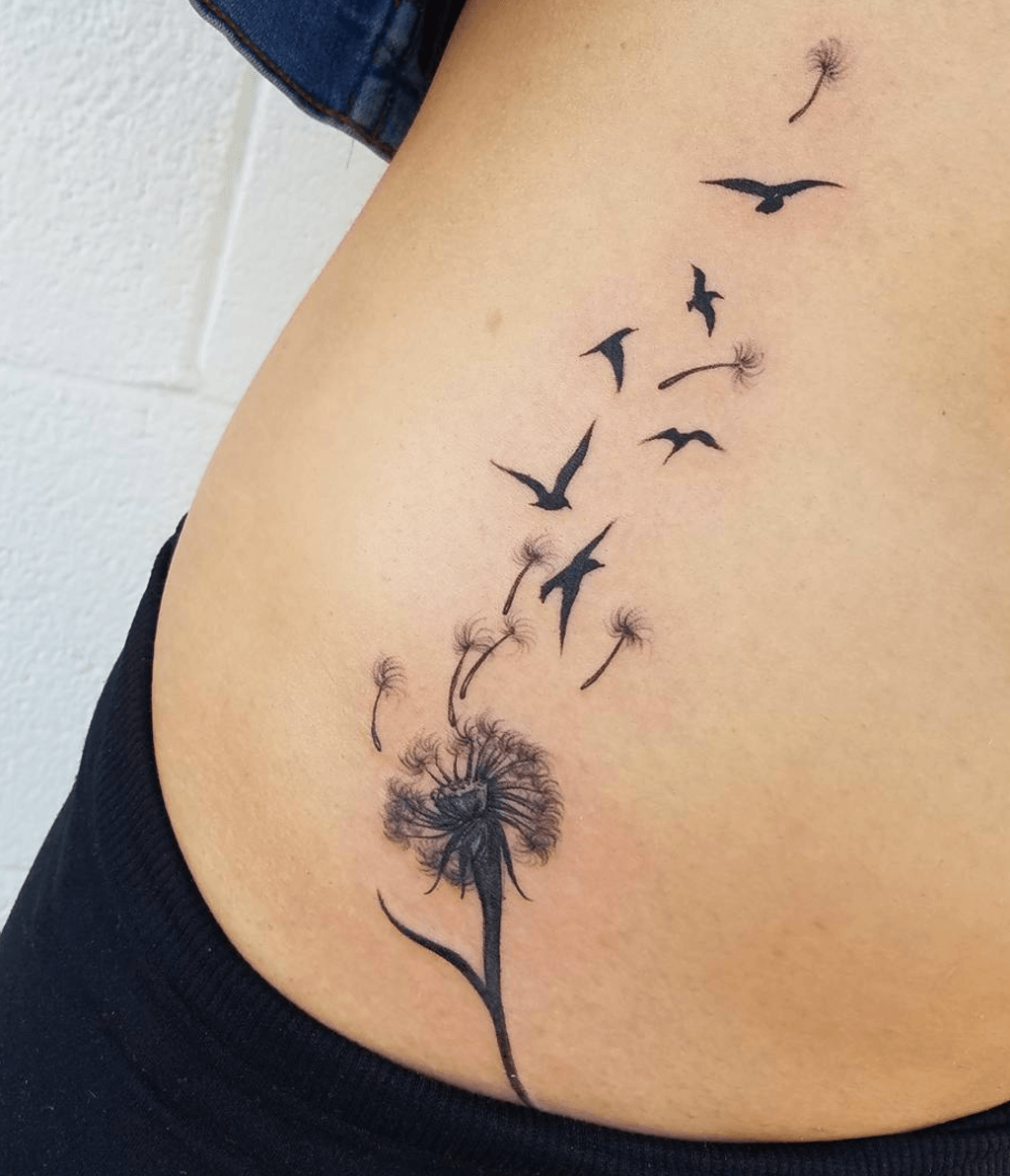 A dandelion transforming into a dove tattoo, which is usually a dandelion puff whisking away and converting into doves in the distance, is a prominent logo for the innocence of spirit, as both the objects are a representation of simplicity and chastity. Dandelions and doves can also both be symbolic of fresh starts.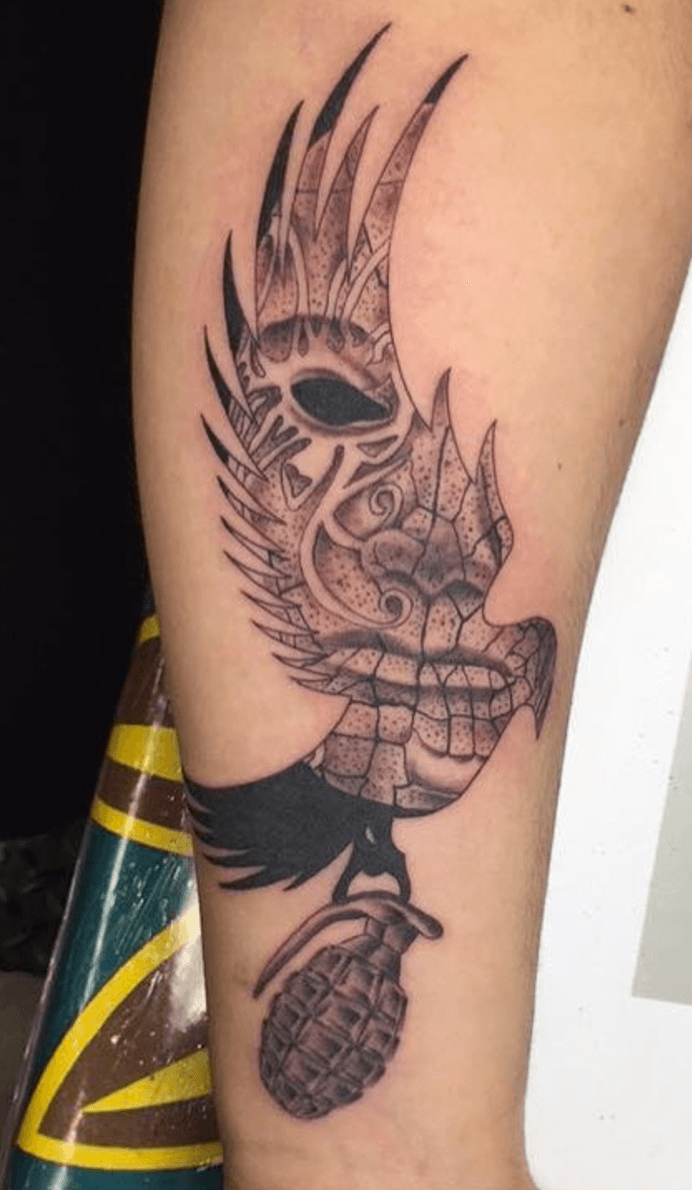 Dove and Grenade tattoos are a witty take on the quintessential illustration of the dove carrying the olive branch, which is a representative for reconciliation. This tattoo pattern can be considered as a sarcastic farce, or as an affirmation of the duality of individual communication: looking at it generally, we can say that peace cannot subsist without the times of war because it is only after night that we can see the dawn.
The model of a dove holding a shell is likewise a representation used massively by the band called, The Hollywood Undead.​
The lock and the key, and the dove are both symbolic of independence. There is also a divine relevance of this design. The lock and the key, in Christianity, symbolizes the opening of the gates of heaven held by Saint Peter. Here, the dove gives a spiritual touch to the whole lock and the key design. The shading effect makes the tattoo look very real.
Doves and a cage have a deeper association as they are symbolic of victory and affection. A bird flying out of the cage, in general, represents breaking free from some bondage or a negative experience of your life which can be an abusive relationship, mid-life crisis, or a bad job experience. It is gravely representative of freedom from the clutches or a strict stance against subjugation. It is a motivating factor that keeps you reminded of your freedom.
If you are searching for a dove tattoo that means loss or passing away of someone, then a dove and skull tattoo is a great way to go. As suggested previously, doves can be symbolic of spirits who have passed away, but besides, it can also be representatives of life as well. A dove and skull tattoo achieves this equilibrium betwixt life and death, and in a theological way, it can also express the relationship between redemption (the dove) and condemnation (the skull). A dove and skull tattoo can also be celebrated as an edgy memorial design. The shaded contouring gives the tattoo a gothic effect.
Like the Yin and Yang, the dove and the raven represent the two opposites. It balances the significance of life and death. You can also replace the raven with a crow which has a similar meaning to the raven. The shading on this particular tattoo design makes the whole tattoo look quite realistic.
Apparently, the dove is a relevant image in several of the religions around the globe, but in present-day civilization, it is now most ordinarily connected with the Christian religion. The dove is one of the most influential and permanent symbols of Christianity and was a great trademark of the church even before the Cross attained fame. The dove symbolizes the Holy Spirit of God (as observed in the gospel of Matthew 3:16, when the Spirit of God descended upon Jesus while his baptism "like a dove"). For Christians, the peacemaker is also a representative of God's forgiveness and compassion; this is taken from the part when Noah assigned a dove out three times subsequent to the flood to observe if the waters subsided (Genesis 8:8-12). The picture of the dove coming back with an olive branch in its beak has now grown into an almost universal logo for love and harmony, not just in the Christian association but globally.
A cross is a sign of Christianity and so is a dove. Together they become something profoundly religious. They are a reminder of the sacrifices made by Jesus Christ to save humanity and his ultimate death because of the sins of humanity. The dove here stands for the divinity of Christ, while the cross is symbolic of crucifixion due to his intense compassion for humanity.
Flying Dove on Upper Back
The tattoos representing doves soaring hight look charming on the upper back, whether you like one tiny dove, a succession of miniature doves, or some bigger doves floating collectively. There are some tattoo enthusiasts who desire to utilize dove tattoos to reveal their affection and they don't wish to show their tattoos off to others at their workplace or somewhere else. The upper back is an ideal placement in this case, as you can disguise the tattoos with regular clothing and at the same time, there is a huge area available for the creatively devised floating dove tattoos.
Tattoos can be a great way of showing someone that mean so much. Some people prefer to utilize a tattoo to show their eternal love for the death of a loved one. A dove tattoo can be personalized by adding a name or initials on it and it becomes a really suitable way to show the profound and long-lasting inclination and wish for the beloved member to rest in peach and live peacefully always in heaven.
Dove and some saying very frequently go synchronically in a tattoo. I guess it is partially because the dove contains such a profound significance of passion and harmony, and also the contour of the dove just somehow seems very fine with the text. It is an excellent concept to represent a credo or a piece of information with your desired and essential quote and make it seem pleasant by connecting with some winged doves in a gorgeous tattoo design.
Dove With A Bunch of Keys
Dove with keys tattoo design is seldom selected in the memory of someone. The keys have the application of bolting and unlocking, and in this case, it signifies fastening some good and significant memory in a unique place in your heart. And by the means of the keys, you can unhitch that section of your heart and return to that extraordinary part of remembrance in your mind anytime you desire. When dove carrying keys tattoo is not done for commemorative purposes, it also has a figurative application of unbarring your clandestine power for the motive of love and connections.
Dove Tattoo On Inner Wrist
The wrist is a perfect placement option if you need something small and cute to wear. A dove tattoo will look really adorable on the wrist. The dove is not only symbolic, but it is also quite creative. A hint of colors would make the whole design pop out even more. However, it is not recommended to overdo the design by adding more stuff to it. To add more elements to your design, you need to have a bigger placement area, like chest or bicep or even back.
Rose and doves are quite a romanticized version of a normal dove tattoo. It is also one of the most popular tattoo ideas that people prefer to have. Both the roses and dove stand for love, beauty and affection and together in a single design, they just enhance the meaning. The best placement ideas for such a design are the back, the chest or the bicep.
Since the dove is linked with a lot of profound, powerful one-word meaning, such as admiration, hope, love, peace, and harmony, it is very fashionable to have terms like "love" and "faith" added in a dove tattoo. Addition of words that have relevance enhances the meaning of the tattoo design and even clarifies the meaning.
Dove With Bible Verse Tattoo
Now that it has been mentioned many a time before, it has become a well-known fact that dove is seldom linked with the holy bible and Jesus Christ. This is one of the reasons why some people like to add biblical verses of sayings to the tattoo design to express the religious faith.
The olive branch also possesses a metaphorical definition of peace, so it makes absolute sense to place a dove and an olive branch collectively in a tattoo design. As you can discern from the above image, they truly look entirely adorable and attractive. This is just an outline of the dove in black ink, whereas, you can also fill in some colors to give it a vibrant look.
A dove with a vine tattoo is a slight variation of the dove with an olive branch inside her beak, but it has an entirely different meaning to it. Vine is representative of being able to survive and grow in a difficult situation and finally rise through all the difficult times. Clubbing the vine and dove tattoo is a great definition for survival and improvement despite any challenge life throws towards you.
Celebrities With Dove Tattoo
Molly Brazy has a set of doves inked on the right side of her lower neck.
Rita Ora has inked a pattern of a dove traversing from the back of her neck onto her right collar bone.
Colleen D'Agostino has a tattoo of some musical notes covering both of her wrists.  On her left wrist is an additional dove bearing an olive branch which is a Christian emblem of peace.  In the biblical account of Noah's ark, Noah recognized that the flood had ended when the dove that he flung out retorted with an olive branch in its beak.
One of Jenna Ushkowitz's oldest and most beloved tattoos is the contour of a dove on the interior of her right wrist. Doves are a universal emblem of peace.
Lena Headey has a pack of birds inked on her left arm. There is a couple of doves that are a conventional figure of peace.
Catt Sadler has an outline of a dove inked on her left forearm, just below the interior part of her elbow. In red are the first letters of the name of her two sons: "AK" for Arion Kyle and "AW" for Austin William. She got the design after her separation from her children's father, Kyle Boyd in 2008. The dove is a popular representation of peace.
Catt described the tattoo's significance in a post on her blog:
"The tattoo on my left forearm came shortly after my divorce. I've always loved birds and the dove to me has really always represented peace & tranquility. That time in my life was especially turbulent and coming out of that darkness really required a resilience on my part – a commitment to peace and love and forgiveness. I couldn't think of anything more perfect than a dove and my children's initials in red. Arion Kyle, my baby and Austin William, my firstborn."
Zoë Kravitz has inked the nape of her neck which states "YES" in-between two doves looking in the opposite sides.