The tattoo mania for Hebrew patterns has never waned, and they have encouraged people around the world to get tattooed over the years. Even if you don't understand it, the Hebrew script and language will captivate you. There is a lot to be said for the unique script and aesthetics as well as the old language's rich connotation.
Meaning of Hebrew Tattoo Designs
Tattoo enthusiasts who cover their bodies with the art are known for using Hebrew letters and symbols. What a conundrum, considering that Jewish law prohibits tattoos in any form! When applied to the skin, though, we can't help but be drawn to its beauty. Due to the Kabbalah Movement, Hebrew has become a popular language in many countries. Even legendary and theological interpretations can be traced back to it. Celebrities like Britney Spears, Madonna, Elizabeth Taylor, and Paris Hilton helped Kabbalah gain a wider audience.
For Hebrew designs, simple words or brief phrases are most commonly employed. There is a lot of use of words like love, peace, joy, and God. There are no further visuals or details included because the written form of the language is beautiful and sophisticated on its own. However, simple line work can be applied to enhance the text by creating a richer image. The Torah, Hebrew Bible, or other Old Testament passages are often used for larger tattoos. The final book of the Hebrew Bible, Song of Songs (or Song of Solomon), has the popular statement "I am my beloved's and my beloved is mine." There are no restrictions on the phrases that can be translated into Hebrew for an eye-catching design; but, in order to keep their original meaning, they must refer to the sacred texts or figures they depict.
Don't forget to interpret anything you don't understand before getting it tattooed. Here are some of the most popular tattoo designs that you can use as a starting point for your own design.
Ideas For Hebrew Tattoo Designs
Most common Hebrew tattoo designs include Hebrew letters and Biblical motifs such as the ram's horn. If you're not fluent in Hebrew, having a Hebrew tattoo might be tricky since you may wind up with a misspelled tattoo or a tattoo that has an entirely other meaning. There are a few basic Hebrew letters and their meanings you should familiarise yourself with before diving in. The following is a list of some of the most commonly used Hebrew symbols and their meanings:
Hebrew Anchor Tattoo
Hebrew tattoo trends include the anchor, which is one of the most popular tattoos in this language. The Bible verse "We have this hope as an anchor for the soul, steadfast and secure" provided the inspiration for the symbol. As a mark of their Christian faith, many people get this tattoo.
Hamsa Tattoo
It is said that the Hamsa represents God's hand or Miriam's hand. It is considered to bring good fortune, health, and prosperity, and to fight off evil spirits. Other floral symbols or short Hebrew prayers are popular additions to the Hamsa.
Menorah Tattoo
For centuries, the menorah has served as a symbol of the Jewish faith. It is a gold-plated seven-branched candle. Moses is credited with putting it in the mobile sanctuary. Only the purest olive oil was allowed to be used in the burning process because of the oil's hallowed status. When discussing the Talmud, the only light that remains on is the one in the center. Even though they ignited it first, they'd put in plenty of oil to ensure it lasted as long as possible. A menorah tattoo is a terrific way to honor the Jewish holiday of Hanukkah.
Where Should You Get Hebrew Tattoo Designs
For Women
Ankle
Wrist
Finger Spaces
Hands
Shoulder Blades
Behind the Ears
For Men
Chest
Biceps
Legs
Neck
Back
Forearms
List of Hebrew Tattoo Designs & Meanings
Heart Hebrew Tattoo Design on Arm
A Hebrew calligraphy tattoo is a great choice if you're a fan of fine penmanship! It is possible to get delicate and refined looks with the use of Hebrew calligraphy tattoos. This heart-shaped calligraphy design has a Hebrew word written in calligraphy.
'God is Gracious' Hebrew tattoo Design on Forearm
As a symbol of your faith and identity, the phrase 'God is gracious' can be an excellent choice for an indelible and permanent reminder of your faith. Forearm tattoos are a great way to show off this design.
Unique Hebrew Tattoo Design on Bicep
In addition to tattoos with Hebrew patterns and designs, tattoos with Hebrew lettering can also look classy. What's the point of trying to fit in when you were created to stand out? So if you want to go for something new and unique, then here's your pick.
Ancient Hebrew Tattoo Design on Back
Tattoos based on ancient Hebrew designs are very beautiful and unique. Kabbalah tattoos are becoming increasingly popular as a result of renewed interest in the subject. These designs are aimed to convey an individual's spirituality and express it to the world. You can look sophisticated with a full-sized ancient Hebrew tattoo down your back.
Shalom Hebrew Tattoo Design on Arm
Shalom, which in Hebrew means "Greeting," is another popular tattoo design. In this way, you can demonstrate your warmth and friendliness to all who encounter you. The basic word of greeting gets a stylish makeover in the form of a tattoo. As a further bonus, Shalom connotes a sense of calm and serenity between two people. As a result, the tattoo is more than just a pretty face; it also conveys a meaningful message.
Love Hebrew Tattoo Design on Arm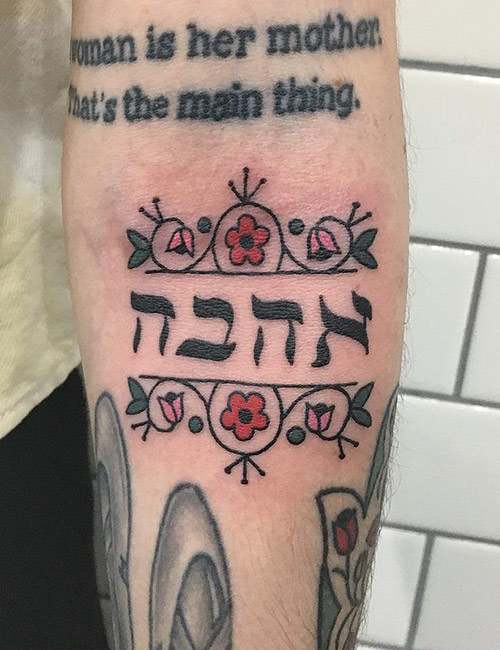 Have you had enough of the same old romantic platitudes? Get a Hebrew tattoo to let the world know you're in love. Teenagers enjoy getting Hebrew love tattoos. To express your love in the most meaningful and succinct manner, the language has a number of words that can be used.
Motivational Hebrew Tattoo Design on Amr
Having a motivational Hebrew word tattooed on your body is a long-term solution. Make your Hebrewphrase tattoo stand out by using a delicate typeface or an elegant lettering style. Everything goes wrong for the better, according to this motivational body piercing's message.
Christian Hebrew Tattoo Design on Arm
The term "Holy Language" has become synonymous with the Hebrew language. It's no wonder that those who want to obtain Christian tattoos use it as their preferred language. Hebrew texts and words such as Adonai, Hallelujah, and Adonai Elohim are popular Christian Hebrew tattoos. "God watches me" is written in Hebrew on the tattoo depicted above.
Inspirational Hebrew Tattoo Design on Arm
If you want something out of the ordinary, consider getting an inspirational Hebrew tattoo with a quote on it. Pick a phrase that reflects your current mood, a life lesson that resonates with you, or a meaningful moment in your life. "Exhale the past, inhale the future" is the Hebrew translation of this phrase.
Family Hebrew tattoo Design on Bicep
For some people, nothing compares to the importance they place on family. For those who want a tattoo that honors and celebrates their ties to their families, a Hebrew tattoo of their names would be a perfect choice. For those who want to obtain matching or coordinated Hebrew family tattoos, you can do so as well.
Faith Hebrew Tattoo Design on Arm
When it comes to tattoos, they don't always have to be complex. Even a simple word like 'faith,' when rendered in Hebrew, takes on a whole new level of eloquence. If you want to show off your Hebrew tattoo, consider getting it on your forearm.
Fine Line Hebrew Tattoo Design on Shoulder
Shoulder tattoos are a great way to make a fashion statement and enhance your overall appeal. In spite of the fact that a Hebrew tattoo on your shoulder can be seen from a great distance, it can also be easily covered up. "Don't look back, don't stop," reads the tattoo.
Tree Hebrew Tattoo Design on Bicep
Geometric Hebrew tattoos are a terrific option if you prefer symmetry and precision in your body art. Geometric tattoos can only be done by a professional tattoo artist with a lot of experience. Your design may look sloppy if the forms and lines of a geometric tattoo aren't exactly aligned.
Faith Hebrew Tattoo Design on Forearm
The Hebrew word for faith, Emunah, can imply different things to different people. Inspiring thoughts can be generated by having the word "inspiring" tattooed on your bicep. The Hebrew word for "faith" carved on a piece of jewelry can produce a beautiful design for someone searching for something simple but important.
Sleeve Hebrew Tattoo Design 
Hebrew sleeve tattoos encompass the entire arm and are a great choice for tattoo enthusiasts who want to stand out from the crowd. If you decide to have a Hebrew sleeve tattoo, be prepared for a more ornate design. Make sure that you choose a design that has a personal value or significance to you before you buy it.
Hamsa Hebrew Tattoo Design on Back
In addition to its unusual shape, the hamsa is a powerful symbol of spirituality. A hamsa tattoo could be the correct solution for you if you want to create a strong fashion statement. You can show off a large hamsa tattoo on your back, or a delicate one on your ankle if you want.
Tribal Hebrew Tattoo Design on Shoulder
Hebrew tribal tattoos have a classic, elegant appearance. Bold patterns may be found in some of them, making them stand out from the crowd. Getting a Hebrew tribal tattoo done in a unique shape like this ring is a great way to make a statement with your body art.
Anchor Hebrew Tattoo Design on Foot
It's no secret that the Hebrew anchor is a popular tattoo design. This is a tattoo that conveys a sense of resiliency and optimism. Choose a Hebrew anchor tattoo and get it colored to make it stand out from the crowd.
Bible Verse Hebrew Tattoo Design on Arm
You can show off your religious beliefs with an ink tattoo of a Hebrew Bible verse. Get a tattoo of your favorite Bible scripture in Hebrew and use it to encourage those around you with words of love, faith, and hope. The phrase "Let there be light" is inscribed in black ink on this arm.
Geometrical tree Hebrew Tattoo Design on Body
I think Kabbalah tattoos have their own appeal. Intricate designs and a variety of shapes and styles are common in Kabbalah tattoos. A tattoo of the 'Tree of Life Kabbalah is a great way to make a bold statement about your personal style.
Cute Hebrew Tattoo Design on Back
It is possible to use back tattoos in a variety of ways. A more sensual look can be achieved with either a large canvas design on the upper back or a smaller pattern on the lower back. The tattoo represents a declaration of independence for the wearer, as well as a statement to other females. Not based on a verse or a well-known expression. Design-wise, these are Hebrew letters that are written neatly and without faults.
Black Ink Hebrew Tattoo Design onWrist
It's possible to achieve a fashionable yet subtle look with a black ink Hebrew wrist tattoo. When coupled with a delicate and detailed design, blackwork is enchantingly gorgeous. It reads, "Always remember to appreciate," in Hebrew.
In the field of tattoo art, Hebrew tattoo designs remain one of the most popular. People still want to be tattooed with them since they're so popular. Even if you can't read it, the script and language are beautiful to look at. Design elements such as lettering and motifs convey messages. Paris Hilton and Britney Spears are just two of the celebrities who have endorsed these tattoos, as well as David Beckham and Victoria Beckham. However, if you're considering having a Hebrew tattoo, do your homework and learn the script well before getting it done.