Jeffrey Nero Hardy, better known as Jeff Hardy, is an American professional wrestler and musician. He is currently signed to WWE and performs for the SmackDown brand. Hardy used to play baseball and football when he was young. He had to leave baseball due to an injury during a motorcar race. Later, he was asked to choose between wrestling and football, so he ended up selecting wrestling. Jeff has a unique collection of body tattoos. Let us see why the art on his body is close to his heart so much.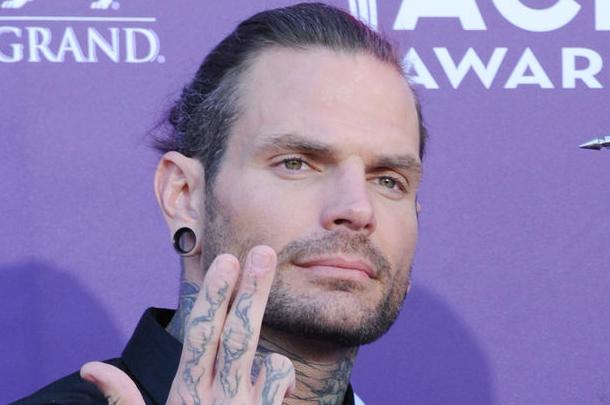 "I am so obsessed with the tattoos; I like how you select what you want, then you bear the bear, and then the happiness of seeing the ultimate result."
1. Cross on Neck
Tattoo: There is a huge cross inked on the backside of Jeff's neck.
Meaning: Cross tattoo is the symbol of Jeff's religious beliefs and faith.
2. Back Tattoo
Tattoo: After winning his fight against King Corbin, Jeff revealed his back ink in an interview. It is an enormous back piece which Jeff calls to be 2020 version of himself, since he got it inked in March 2020. The tattoo shows an enormous devil face inked in blue on the left side of his back followed by yellowish flames design on the bottom.
It's good to be back and by the way, this is the 2020 version of Jeff Hardy," Hardy said. "I started it in July and wasn't able to finish it because it was torture to get it done, but this is good enough. I've always wanted a back piece and here it is."
3. Dragon on outer Leg
Tattoo: There is an outlined black colored dragon inked on the outer side of his left leg. However, the tattoo is still incomplete as he wishes to get it colored someday. This was Jeff's first body tattoo, which he got at the age of 18 years.
Meaning: Dragons are the symbol of depicting the freedom of power and fearlessness.
"When I was 18 i got my first tattoo. You know my dad was totally against it, but I still got it done from the tattoo world. Here is a tattoo on my outer leg, I got a dragon inked."
4. Roots on right arm
Tattoo: Jeff's right arm is totally covered with roots which can be seen going back towards his back and also towards his ribcage on the right.
Meaning: Jeff is a nature lover and believes that not he only but all of us have a very deep-rooted connection with the nature and mother earth. He says that roots in the ground are just the way of giving life to the earth and to the plants, and so are the veins which are the source of keeping us alive and supplying blood to our body and brain. Veins and roots are equally important, and thus, he has deep-rooted love for roots.
"I am a landscaper at heart, I also design my own yard. Roots are just like our veins. Just like blood flows through our veins similarly, the water flows through the roots to the earth and keep it alive. Roots are the veins of a tree and I am obsessed with plant life."
5. Demons on Neck
Tattoo: Both sides of Jeff's neck are tattooed with the demons.
Meaning: Jeff, in an interview, said that he never wanted to have demons inked. It was never a planned idea. But when it was complete, he realised that this is something he needed. Demons on either side of his neck has turned out to be an important aspect of controlling him and keeping him together and also, in overcoming his addiction.
"When I got demons, I didnot realise what I was getting until I realised and see both sides of my neck. They are the two things that completely control me and have kept me under control and locked up together."
6. 'Snake' Tattoo
Tattoo: There is an enormous rattlesnake inked around his right arm and the right side of his ribcage. The snake is all wrapped around the roots system inked on the same location.
Meaning: Jeff said that he never really thought of getting this snake inked since he is afraid of snakes a lot. But, when people kept on asking him and mistaking the colored roots as the snake this motivated him to get something creative, and thus, he got a giant rattlesnake inked in green.
"There is a snake that wraps around my roots system. This goes to my back too. It is the biggest piece that I have ever got. Everybody used to ask me if there is a snake at the side of your roots because of the colored roots and I always said no. But then i thought of getting a rattle snake which now goes along all the roots till my back."
7. 'Octopus Strangulating Bunny' Tattoo
Tattoo: On his leg, Jeff has got the tattoo of the octopus strangulating the bunny at his neck. He got it done on the Ink Master show and he claims that this took nearly six hours to be completed. He got the tattoo done from Jesse Smith.
8. Tattoo on Left Wrist
Tattoo: On Jeff's left hand's wrist there lies a large tattoo which is actually a symbol of two letters attached. Here is the video where he revealed about its relevance for Jeff.
Meaning: Jeff claims this tattoo to be the symbol of love and attachment for him and his wife. It is actually the cursive letter J and the lowercase letter 'e' combined together to form this tattoo.
"That was my wife's first tattoo. A cursive J and lower case regular E. She got it on the back of her neck and it was her first tattoo so I got it on my wrist because I wanted us to be bonded together like we are."