Ermias Joseph Asghedom, professionally known as Nipsey Hussle, was an American Singer and Songwriter. He emerged from the West Coast Hip Hop scene in the mid-2000s and was nominated for Best Rap Album at the 61st Annual Grammy Awards in 2019. He was shot dead in his hometown, Los Angeles on 31 March 2019. Now when we look back to his tattoo, it looks like his tattoos say something and relate to his untimely death!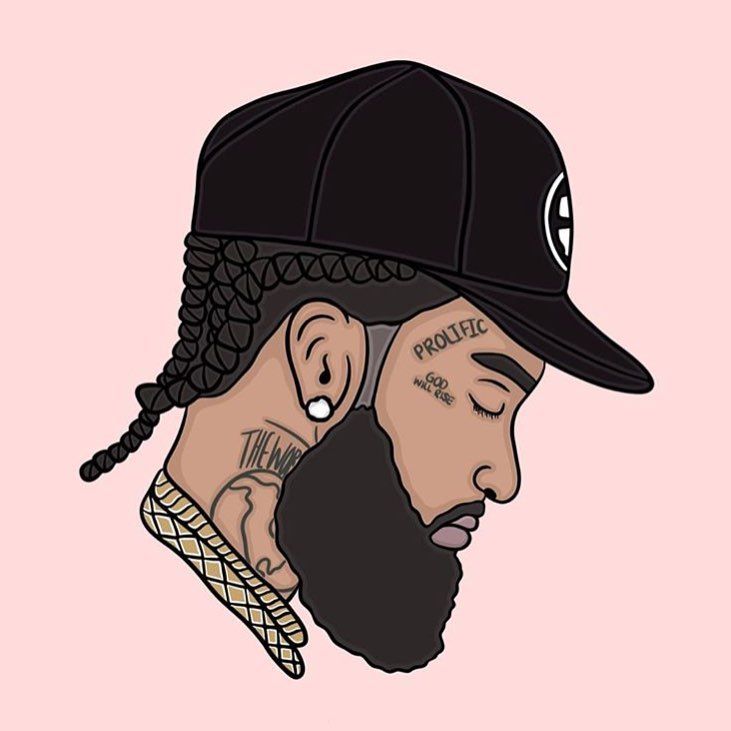 1. 'Emani Dior' Tattoo On Neck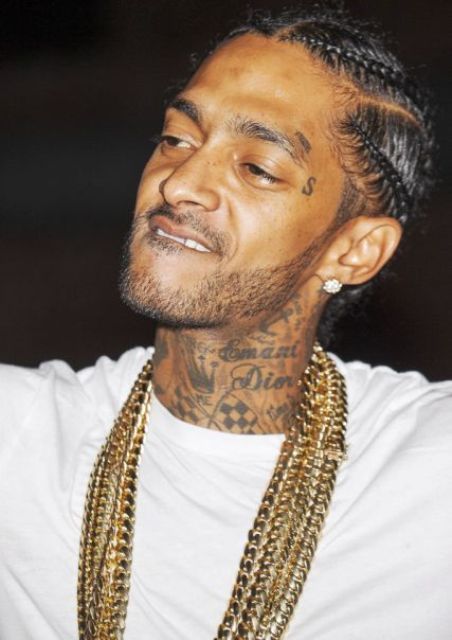 Tattoo: Nipsey had "EMANI DIOR" inked on his neck. Emani Dior is the name of his daughter.
2. KING Tattoo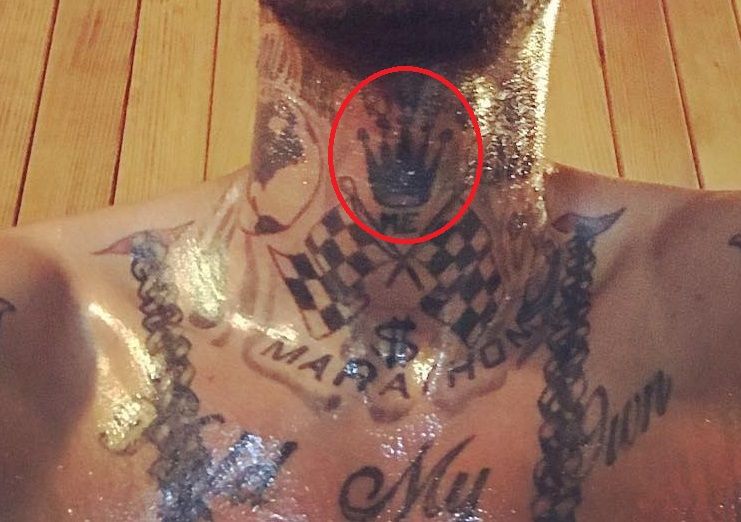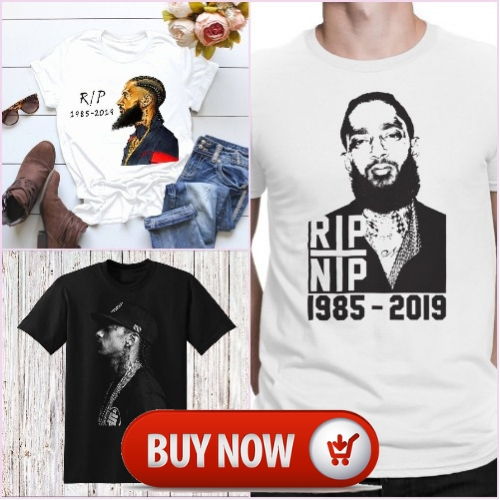 A crown along with "King" and "Me" was inked on his neck which clearly reflects Nipsey considered himself no less than a King.
2. "HOODSTA" Tattoo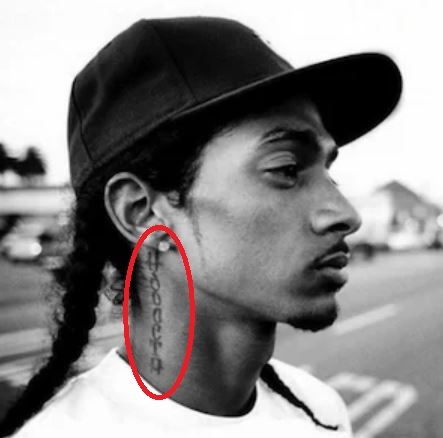 Tattoo: Below his left ear, Nipsey got a tattoo which says, "H60DSTA", this is what neighborhood crips call each other. Slauson boys are a Rollin 60 clique. This tattoo is one of his first tattoos. He even released a song in 2013 with the title- "Hoodstar."
3. "WORLD IS MINE" Tattoo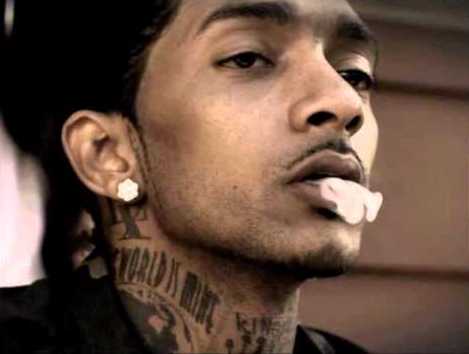 Tattoo: On the right side of his neck, Nipsey got "WORLD IS MINE" inked along with Earth design.
4. Anchor Tattoo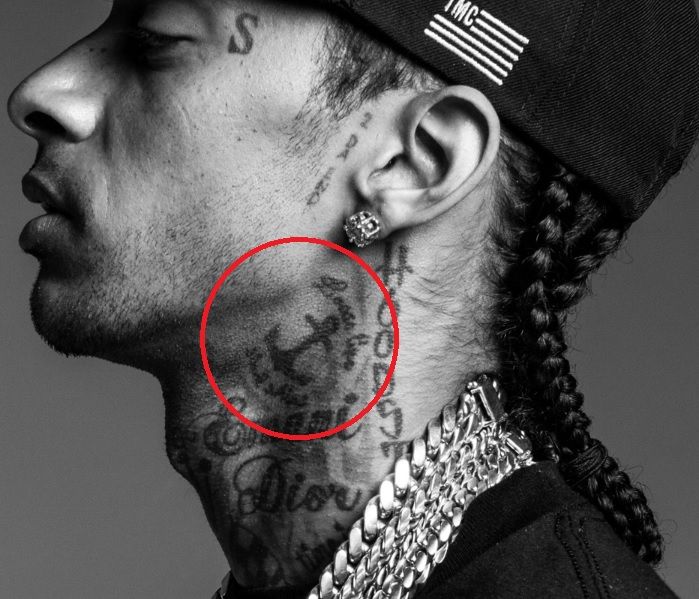 Nipsey had Anchor tattoo on his neck along with "Loose lips, sink ships" text.
5. "PROLIFIC" and "GOD WILL RISE" Near Right Eye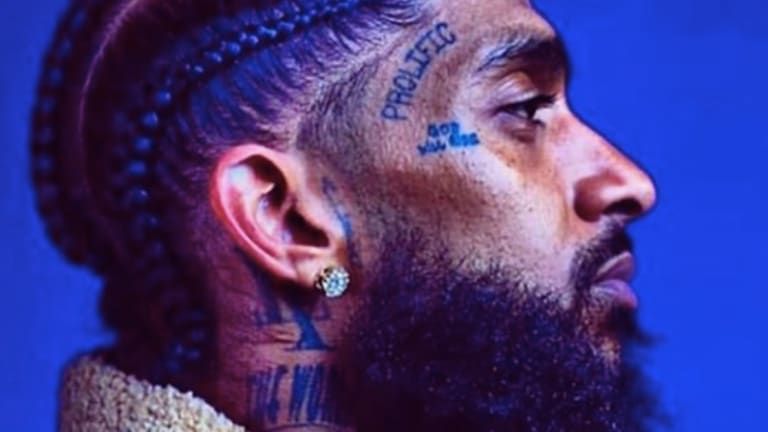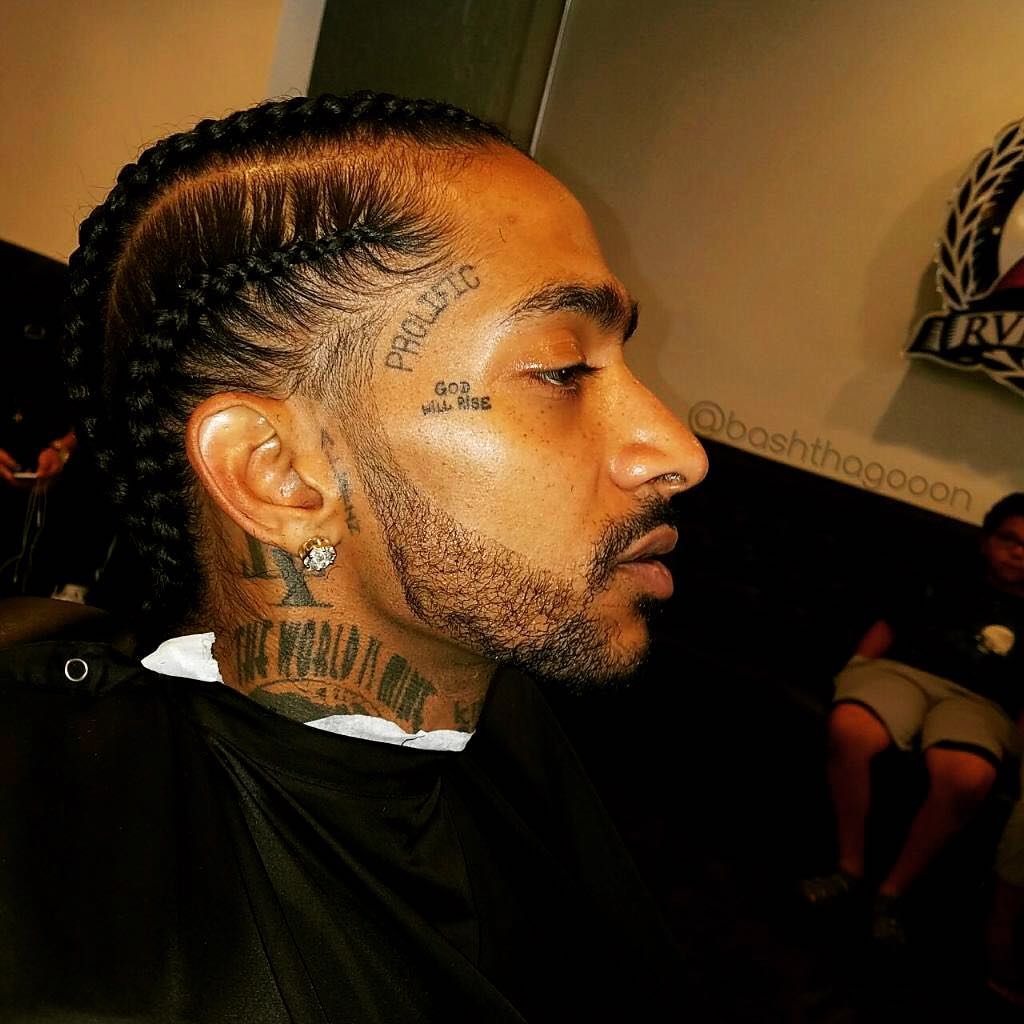 6. "2 DA END" Tattoo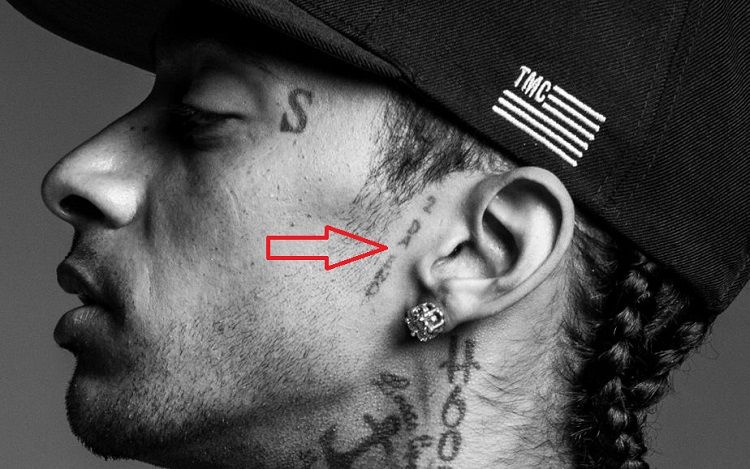 Just near his left ear, he got "2 DA END" (to the end) inked in vertical fonts.
7. 'S' Tattoo Near Left Eye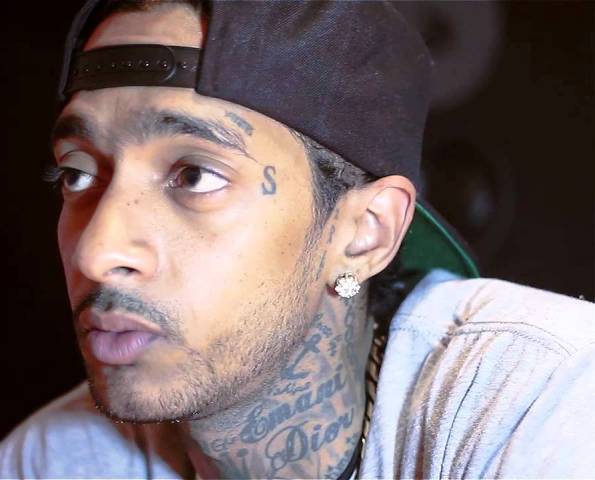 Tattoo: Apart from an inscription just above the left eyebrow, there is an English letter, 'S' is written near his left eye.
8. "Hood Unit" On Hand
He had inked "Hood Unit" on the back of his hand along with many small designs, which includes a cross symbol as well.
9. "GOD GOT ME" Tattoo
10. Logo of Record Label
Nipsey inked his record label's (All Money In) logo on his left forearm.
11. Faces of Children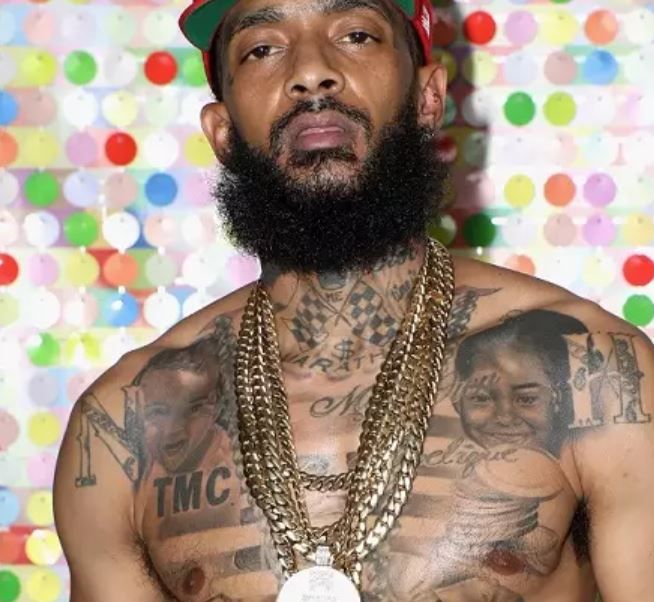 Nipsey had a son and a daughter, he had their faces inked on his chest.
12. SLAUSON BOY Tattoo on Back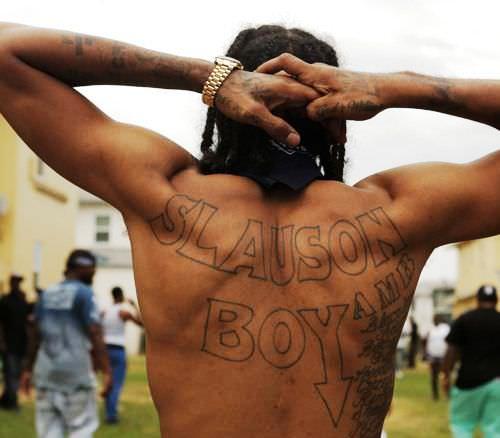 'Slauson Boy' has been written on his back along with other inscriptions. Slauson Boy was his first mixtape.
13. "Slauson Boy" Tattoo on back of right hand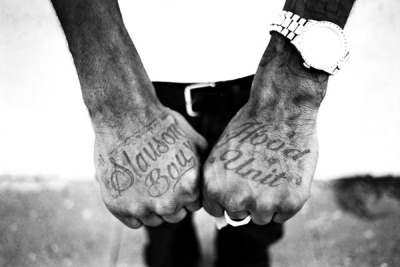 14. "Slauson" Tattoo on the left side of the waist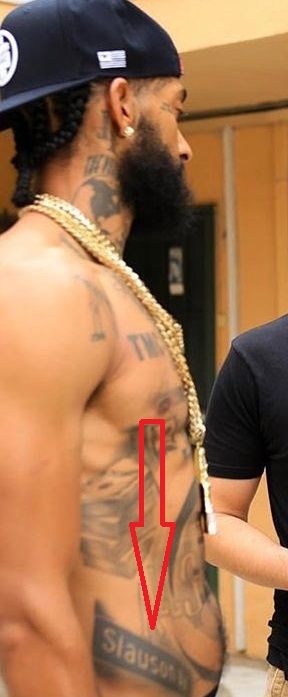 15. List of Names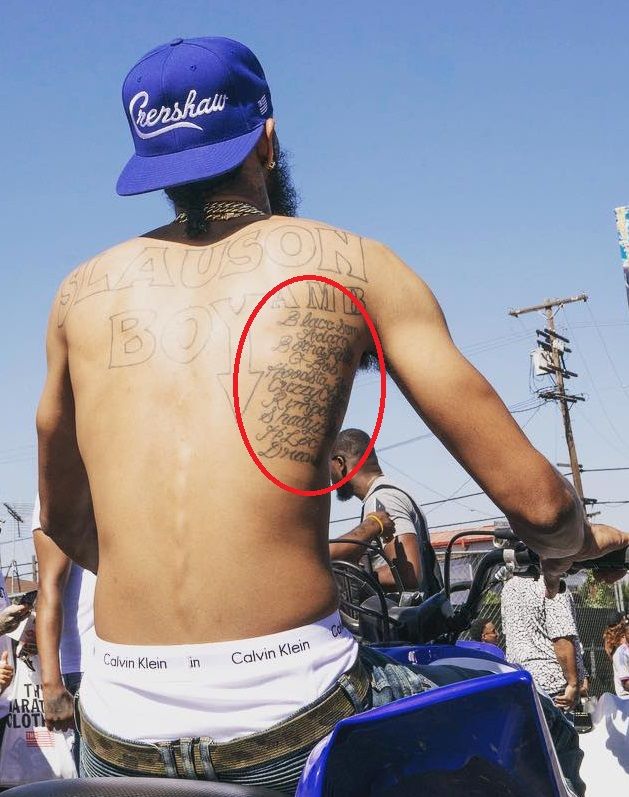 Nipsey had inked the list of the names of his close ones on the back. The first name on the list is of his brother, Blacc Sam.
16. Star Tattoo Design on right forearm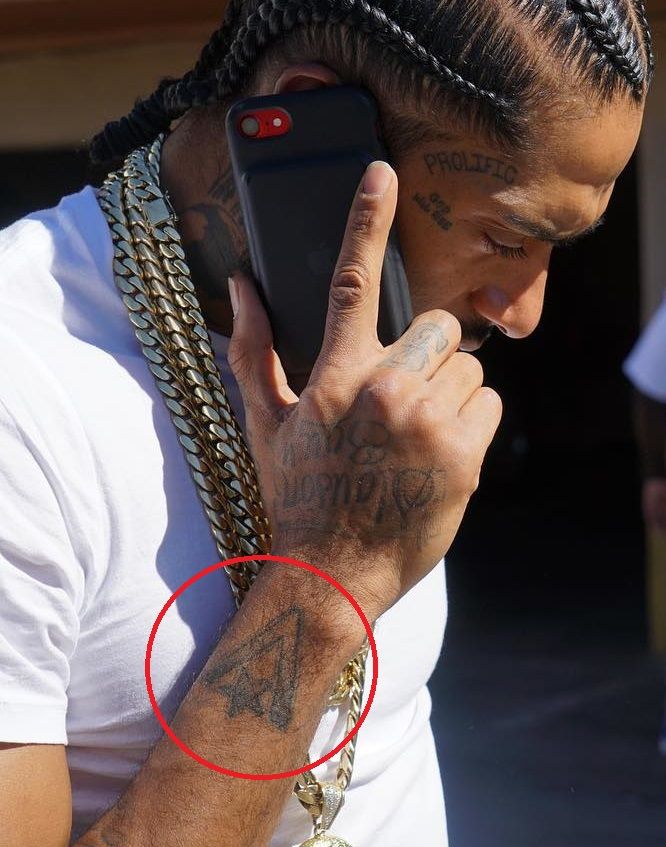 17. God Willing Tattoo with a Cross Symbol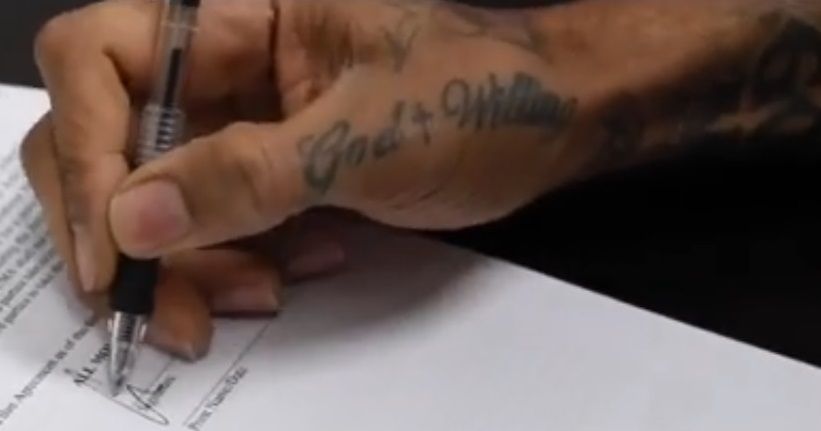 18. "N" and "H" on Shoulders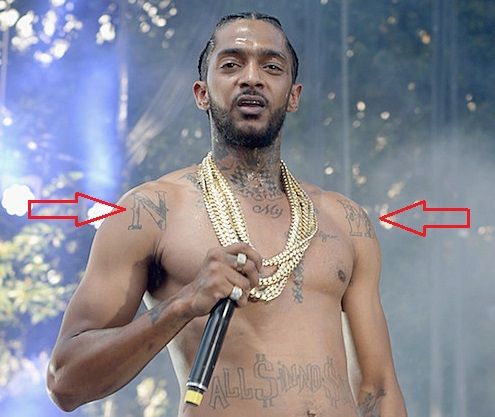 Nipsey got "N" and "H" inked on his left and right shoulders. NH means Neighborhood, Nipsey was a Westside Rollin 60 Neighborhood Crip.
19. Hold My Own Tattoo on Chest
20. Marathon Tattoo above the Chest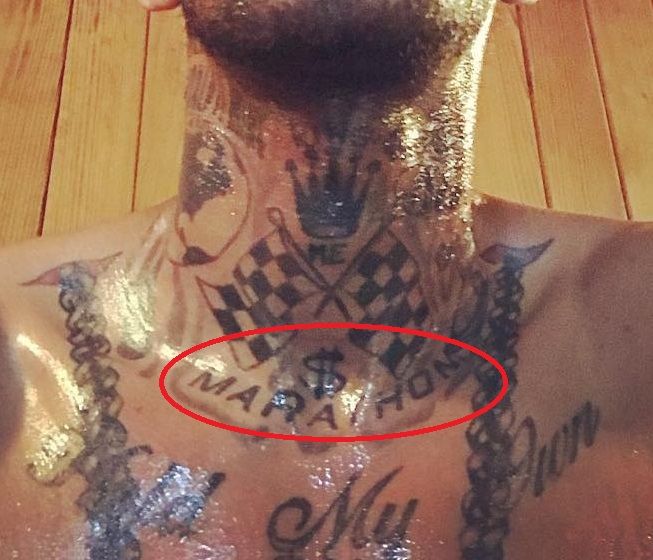 This tattoo was dedicated towards his mixtape, "The Marathon"
21. "$" Tattoo at the center of Chest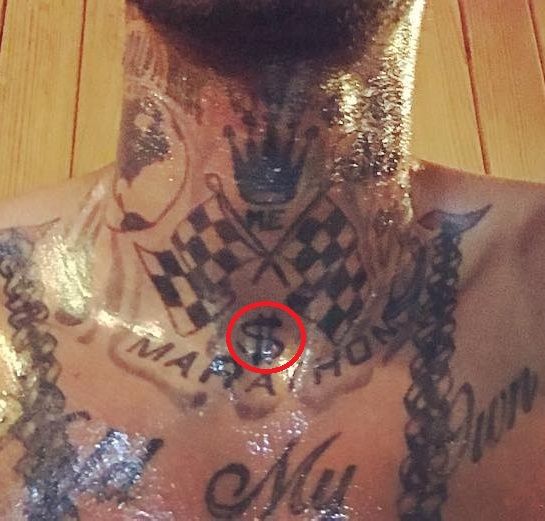 22. "FREE AT LAST" Tattoo on hand
23. "ALL $ IN" Tattoo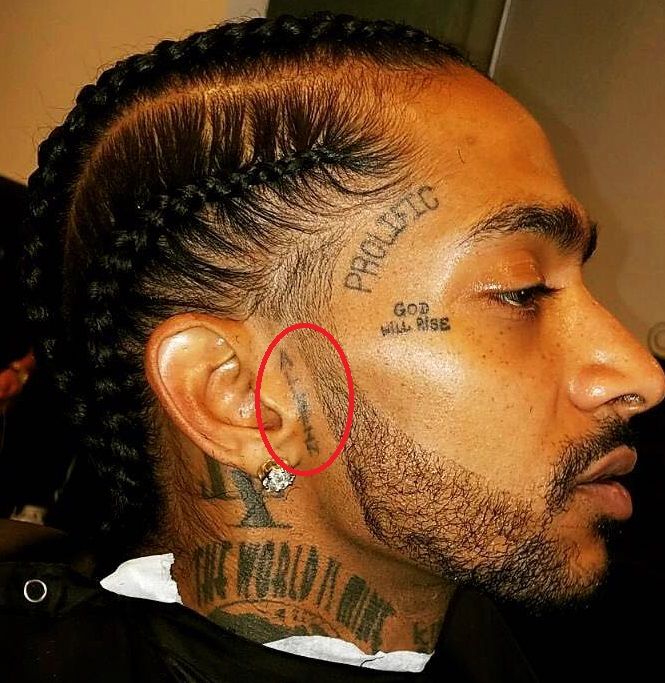 This tattoo also reflects his record label's name, "All Money In."
24. Tattoo on Middle Finger of Right Hand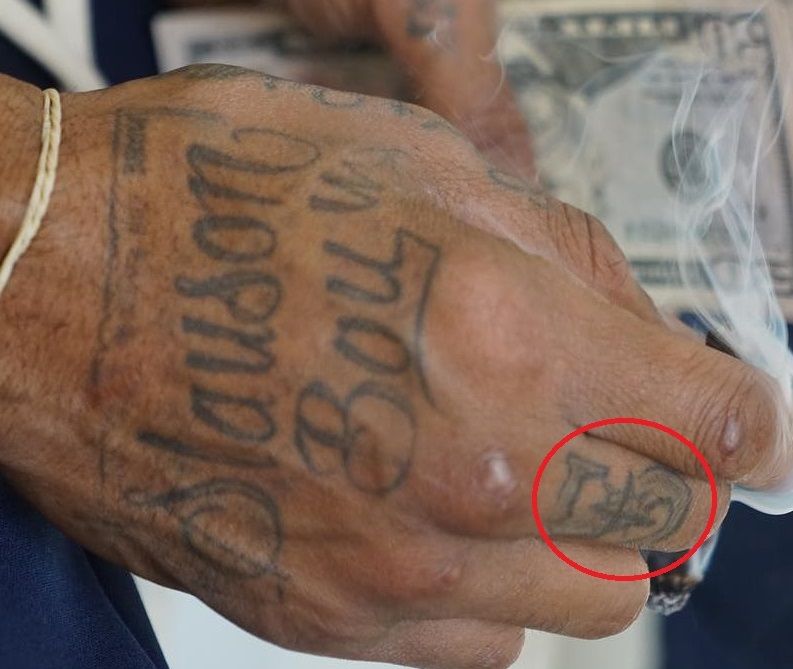 25. Chain Tattoo on Neck
26. Racing Flag Tattoo Above the Chest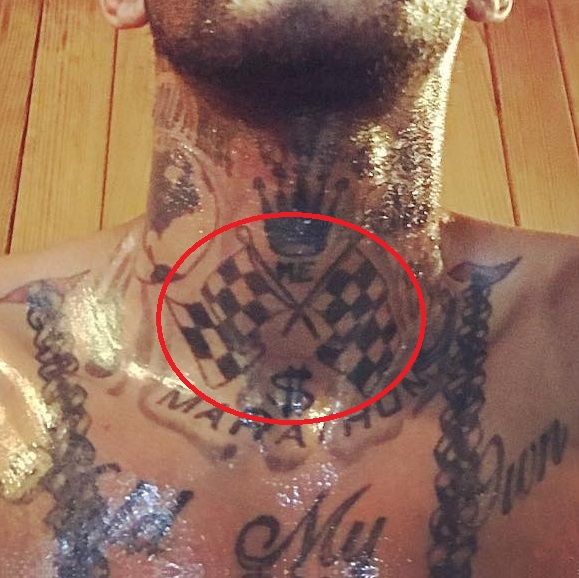 27. "S", "C" Tattoo
Nipsey had the letters "S" and "C" linked to each other in the tattoo. SC is a College school logo but it stands for SIXTY CRIP.
28. "TMC" Tattoo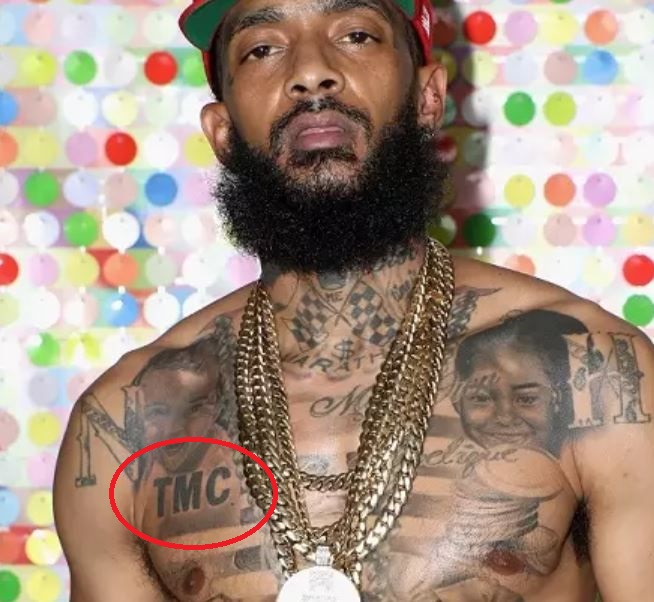 Nipsey's clothing brand, "The Marathon Clothing" short form is TMC.
29. "Fly Crippin" Tattoo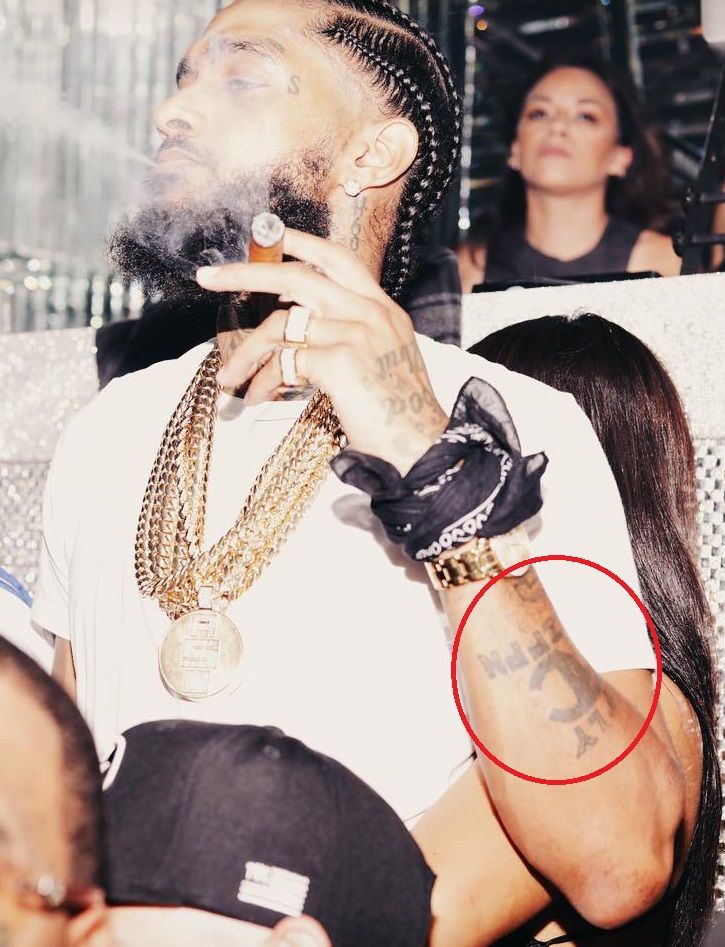 Nipsey dedicated this tattoo to his song, "Fly Crippin."
30. Tattoo on Stomach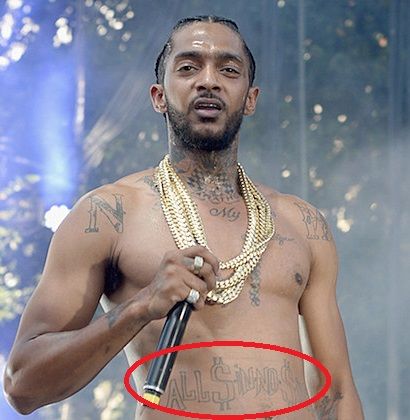 He had a big tattoo on his stomach written in big English design fonts.
31. "All Money In" Logo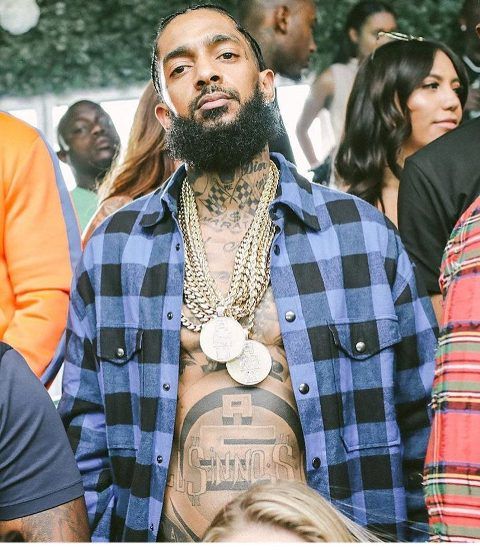 Nipsey again got his record label's logo inked in the background of his existing tattoos on the stomach.