Joe Jonas, from the best-known trio pop-rock band The Jonas Brothers, is the biggest ladies' man and the second out of the four sons. He is a good actor as well. Being the most stylish of all the Jonas Brothers, he has got various exciting tattoos on his skin. Let's explore his tattoos: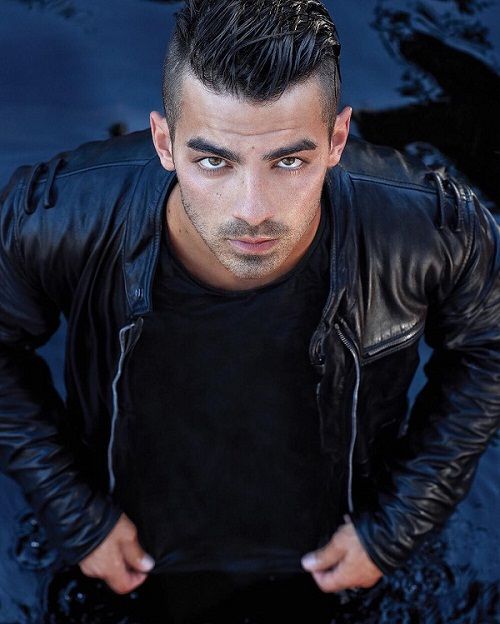 1.  A Knot of Two Ropes on his Right Forearm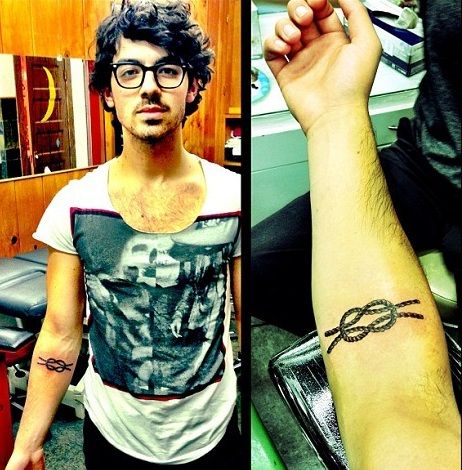 Tattoo: A knot of  two ropes
Meaning: Joe has inked his right forearm with two ropes tied two each other making an inseparable or a strong bond. The two ropes represent his Parents and the four ends which represent, four Jonas brothers. In his one of the Instagram post, he captioned the pic: two ropes(parents) makes four ends (Brothers).
2. "Help Me Help You" on the Backside of Right Forearm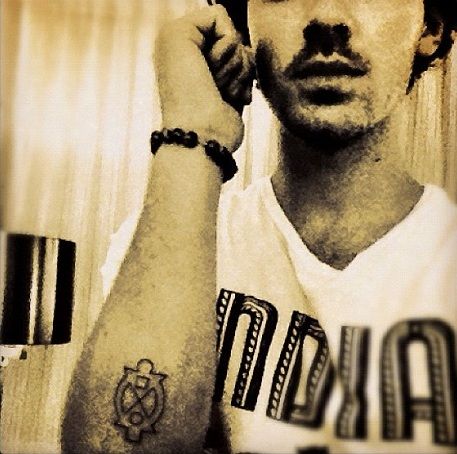 Tattoo:  West African Adrinka Symbol Tattoo
Meaning:  Joe has got his backside of arm inked with the west African Adrinka symbol tattoo symbolizes his humanitarian works in Africa. "Help me and let me help you" is the illustration of this symbol.
3. "Cake by the Ocean" on the Backside of his Left Forearm
Tattoo: Cake by the Ocean
Meaning: Joe inked the slice of cake on the back of his left forearm which has some waves inside it. This tattoo typifies the song "Cake by the ocean." Joe posted a picture with this tattoo on his Instagram and captioned it with "I keep on hoping.'
4.  A triangle with a hand inside it on his Left Forearm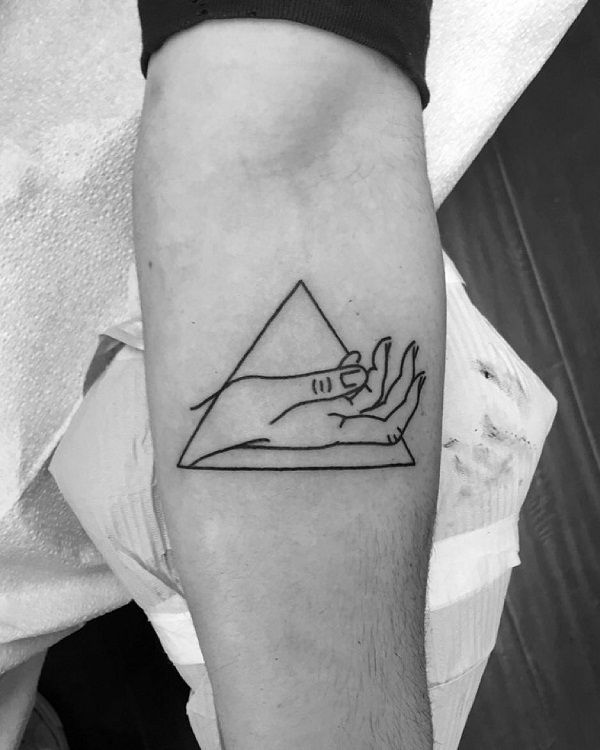 Tattoo: A triangle with a hand inside it
Meaning: Joe has tattooed his left forearm with a triangle and a hand inside it. In Christianity, the triangle can be used to represent the holy trinity that is the father, son, and the Holy Spirit. For Christians, this tattoo can be used to show their devotion to these important deities or as a symbol of their faith. Other trinities that a triangle can represent include father, mother, and child and mind, body, and soul. In Greek culture, the triangle is used to mean a doorway to the pearl of the higher wisdom.
5. A Circular Phrase on his Left Forearm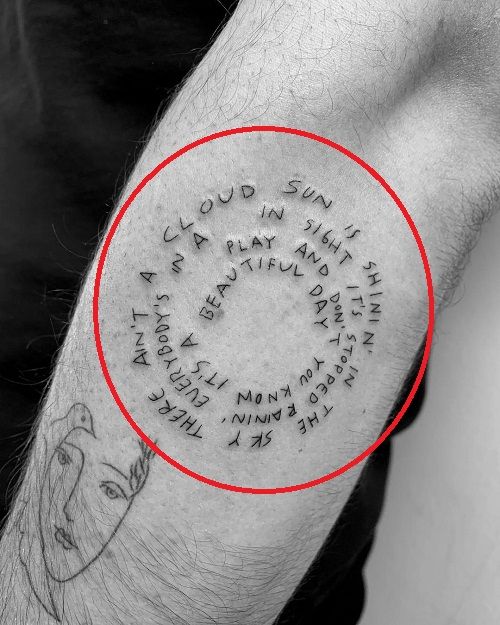 Tattoo: "Sun is shinin' in the sky
There ain't a cloud in sight
It's stopped rainin' everybody's in a play
And don't you know
It's a beautiful new day"
Meaning: Joe has tattooed this fancy phrase circularly on his left forearm. These are the lyrics of the song Mr. Blue Sky sung by the Electric Light Orchestra (ELO.)
6. A bird and a three triangular Design on his Left Arm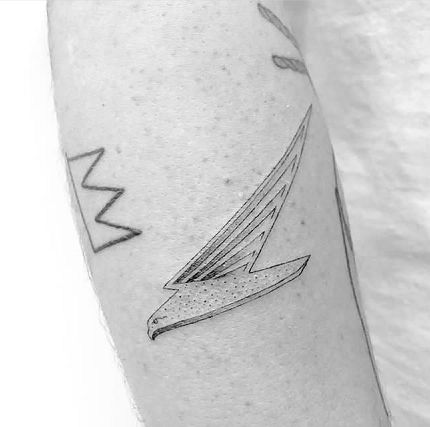 Joe got his left arm inked with a bird and three triangular flag kind of design by the Tattoo Artist, Winterstone.
7. The Persistence of Memory Logo in his Right Upper Arm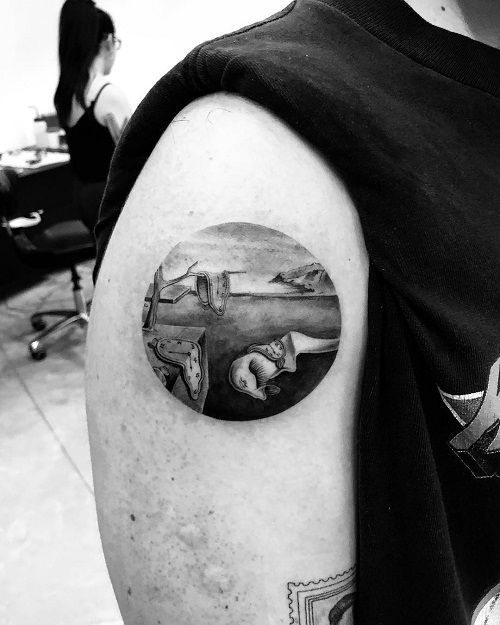 Tattoo: The Persistence of Memory logo
Meaning: Joe has tattooed his right upper arm with the logo of the persistence of memory by the tattoo artist, Eva. This tattoo is derived from the iconography of Salvador Dali. This painting of Dali refers to the dream he has experienced in sleep or the eye of the dreamer. In this, the melting clocks mirror for the loss of their powers along with the passing time.
8.  A Portrait of his Grandfather on his Right Forearm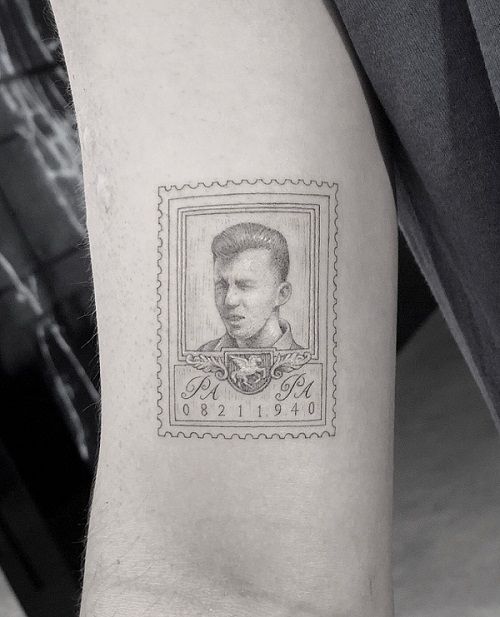 Tattoo: A portrait of his Grandfather
Meaning: Joe has tattoed the portrait of his grandfather on his right forearm. He has uploaded a picture on his Instagram account and added a caption to it as: "For Papa Miller." This tattoo is made by Tattoo Artist, Mr. Keith in New York City.
9. Numeral 15 on his Ring finger
Tattoo: Numeral 15
Meaning: Joe has tattooed numeral 15 on his ring finger again done by the Artist, Mr. Keith. The number 15 represents his engagement date to his girlfriend, Sophie on 15 October 2017.
10. AXE near his left Wrist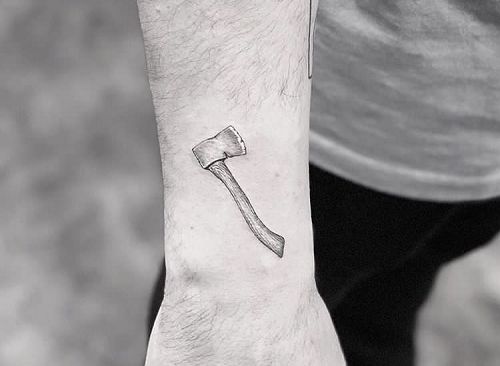 Joe has inked a figure of Axe near his left wrist which is again inked by the tattoo artist Mr. Keith.
11. A Lady with a bird and a Bird outline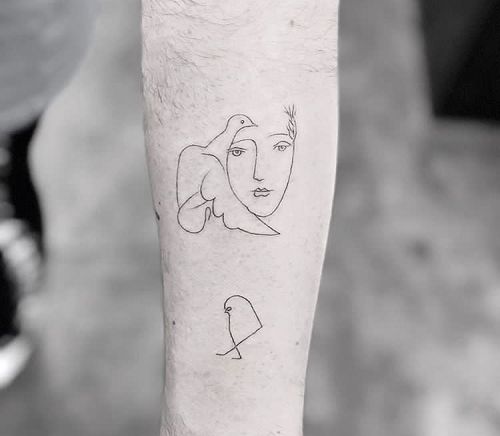 Joe Jonas has beautiful and fine tattoos inked by Tattooist Mr. Keith. There is an outline of a bird and a lady with a bird on his left forearm.
12. "To Infinity" on his Wrist.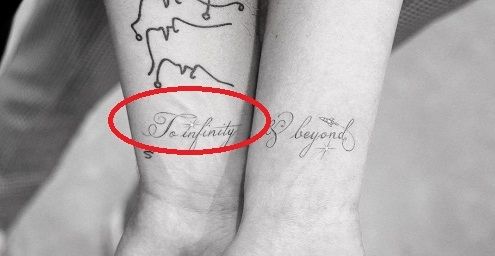 Tattoo: "To infinity"
Meaning: Joe along with his girlfriend, Sophie got inked their wrist together by the tattooist Mr. Keith. On Jonas' wrist are the words "To infinity," and on Turner's wrist is "& beyond," with a tiny, delicate spaceship. Either the lovebirds are big fans of  Toy Story (the original) or they simply feel like their love is limitless.
13. Outline of a Sitting Women on Left Forearm
Tattoo: Siting women outline
Meaning:  Jonas unveiled this tattoo on Instagram, featuring a simple outline of a sitting woman who's tilted forward with her knees pulled up under her chin. Though the outline is mostly in black, the right upper-hand corner is drawn in a rich red. It's beautifully done, and we can't help but notice just how similar the woman looks to his fiance Sophie Turner and, specifically, her  Game of throne character, Sansa Stark. This tattoo is done by tattoo Artist, Curt Montgomery.
14. Four Faces on his Righ

t Forearm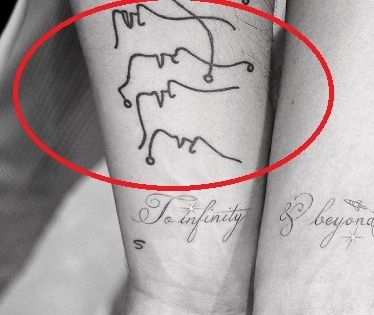 Tattoo: Four Faces
Meaning: Joe got his forearm inked with four faces which symbolize the 4 Jonas Brothers.
15. Infinity Logo on his Left Forearm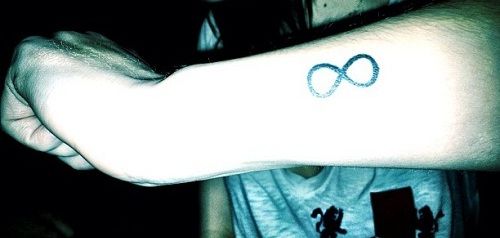 Tattoo: Infinity Logo
Meaning: Joe Jonas has infinity logo inked on his left forearm which he has also posted on his Instagram account with the caption "forever and ever."
16. Letter S on his Right Wrist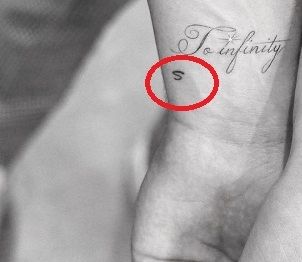 Tattoo: "S"
Meaning: Joe Jonas has inked letter S on his right wrist which represents the name of his fiance, Sophie Turner.
17. 'Portrait of Lina Cavalieri' Tattoo
Tattoo: 'Portrait of Lina Cavalieri' on his left forearm.
Meaning: In October 2020, Joe got the tattoo of the 'portrait of Lina Cavalieri' inked on his arm.