Kanye Omari West better known as Kanye West is an American Singer, Songwriter, Record Producer, Rapper, Fashion Designer, and Entrepreneur. The Chicago born has recorded and produced several hit songs over the years and is always in controversy due to his remarks on music and fashion. Kanye has 4 tattoos. Let us look at his tattoos and their meanings.
1. 'The Roman Numerals' Tattoo
Tattoo: The Roman Numerals XI.XV.XIII is inked on the underside of West's right wrist and VII.XII.XLIX is inked on his left wrist in the same fashion.
Meaning: The dates on his right wrist represent Kanye's daughter, North West's birth date and the ones on his left one represent his mother, Donda West's birth date.
2. 'The Favorite Songs' Tattoo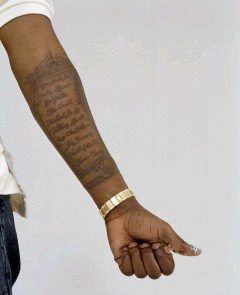 Tattoo: The outer side of the singer's left forearm contains the names of some of the songs he has recorded and produced.
Meaning: Kanye has got the names of songs such as, "My Life, You Made Me, Izzo" among others inked because they're special to him.
He said, "I put a lot of the songs on here that changed my life, that means something at a point in my career. That way when my family is in a million dollar home… I'll say this tattoo is why we're here."
3. 'The Dragon' Tattoo
Tattoo: There's another tattoo on the singer's left forearm and it's of a dragon.
4. 'The Lady and The Child' Tattoo
Tattoo: There's a tattoo of a woman holding a child on West's right forearm.
Meaning: The tattoo represents Kanye's mother holding him as a child. West loved her very much and got this ink to show his love for his mother.
5. 'Four-m design' Tattoo
Tattoo: On the outside of Kayne West's right forearm there is a tattoo of the 13th century symbol for the Virgin Mary!
Meaning: The tattoo features four lines in the shape of a diamond with a lowercase "m" at each corner. The tattoo is said to have been done for representing his film, "So Help Me God".