When it comes to getting inked, New Yorkers are just one such lot who can be called a moving piece of art. Its definition does contribute to the varied aesthetics of the city- know that it gave birth to graffiti art which can be observed all over the city. Native Americans have been said to practice this form of art for thousands of years, the modern generation of NYC is no behind. The first tattoo shop in NYC was dependably Matin Hildebrandt in 1870 on Oak Street (remember, it was when Brooklyn Bridge was still unfinished!) While tattooing was illegal in Nyc until 1997, it doesn't stop rebellious artists to perform what they love.
Currently, more than 49 percent of Americans above 18 years till 29 years are linked. The city has moved and celebrated this form of art by honoring all its tattoo artists, working in tattoo shops near you. However, that is not the only kind of body art you will get in NYC. There are also many piercing studios too. Since tattoos are no longer stigmatized as they were before, the craze and passion for tattoos have grown by manifolds. Hollywood celebrities have definitely given it more push. Social media to have contributed to proliferating this art form which showcases hundreds of famous tattoo artists showcasing their works.
Because now they are more accepted by people, the tattoo has been recognized as an art form more than ever and is no longer simply expressed as rebellion, teenage angst, or shortsightedness. Tattoos have begun to be perceived as how they truly are with each tattoo artist bringing something unique to the table. Thus this article talks of one of the well-known and most believed tattoo artists of New York City which is a huge tattoo hub. Read on to know more and decide better for your next tattoo!
1. Keith McCurdy (Bang Bang), Kevin, Michelle, & Georgia- Bang Bang NYC
Keith McCurdy is one of the most popular tattoo artists because of all the celebs he has inked by now. For example, he has inked "Shh.." behind Rihanna's finger and the famous "love yer brain" on Miley Cyrus' arm and other famous examples. Keith McCurdy's forte is in things like realism so he likes to draw flowers, animals, and other figures which would really help with the creativity and likeability of the clients. He has no shame in admitting that he also gets inspiration from pics. Many people bring in pictures of the designs but the result is usually different, something better.
Perhaps the most striking property of McCurdy's work is its realism. Flowers, animals, and other figures pop off his clients' skin, so it wasn't surprising to learn that he finds inspiration from photographs. Sometimes people bring photos to his studio, although the final product usually comes out differently. "If it looks impossible to tattoo, I probably want to do it," he said, sharing that he loves to take up any new challenges.
Other popular inks he's given involve Rihanna's gun and Cara Delevingne's lion. He's also tattooed (and been inked by) Kylie Jenner. "She was actually really good. I was surprised," he said. Keith McCurdy's leg now dons Kylie's trademark "K" with a crown to signify her nickname (King Kylie)
This tattoo studio is great if you are looking to make your tattoo by some celebrity-approved artist. The team of artists here is pretty massive and the artists here work for both small and big designs. They specialize in fine-line script, illustrative realism, and ornamental designs. Yes, it is pretty much everything that you might expect. But not only this, you can hang out afterward in their chill studio.
Kevin whose forte is in minimalism and blackwork says, "Being surrounded by such amazing artists motivates me to excel and expand my range of styles. I'm always pushing my own boundaries and limits."
Another great artist at Bang Bang is Michelle who specializes in the single needle and fine line. She was actually a tattoo artist in Colombia, to begin with. She is still very passionate about improving and making her designs work for her. Michelle says, "It's hard work, a lot of focus, and a lot of trial and error. When I decided to grab a machine for the first time, I never wanted to stop."
Georgia who specializes in watercolor and traditional American tattoo designs says, "Since I could pick up a pencil I have been drawing on everything. My Barbies, shoes, walls, and friends would wear my art for fun, but when I finally got my first tattoo I knew this was something I wanted to pursue."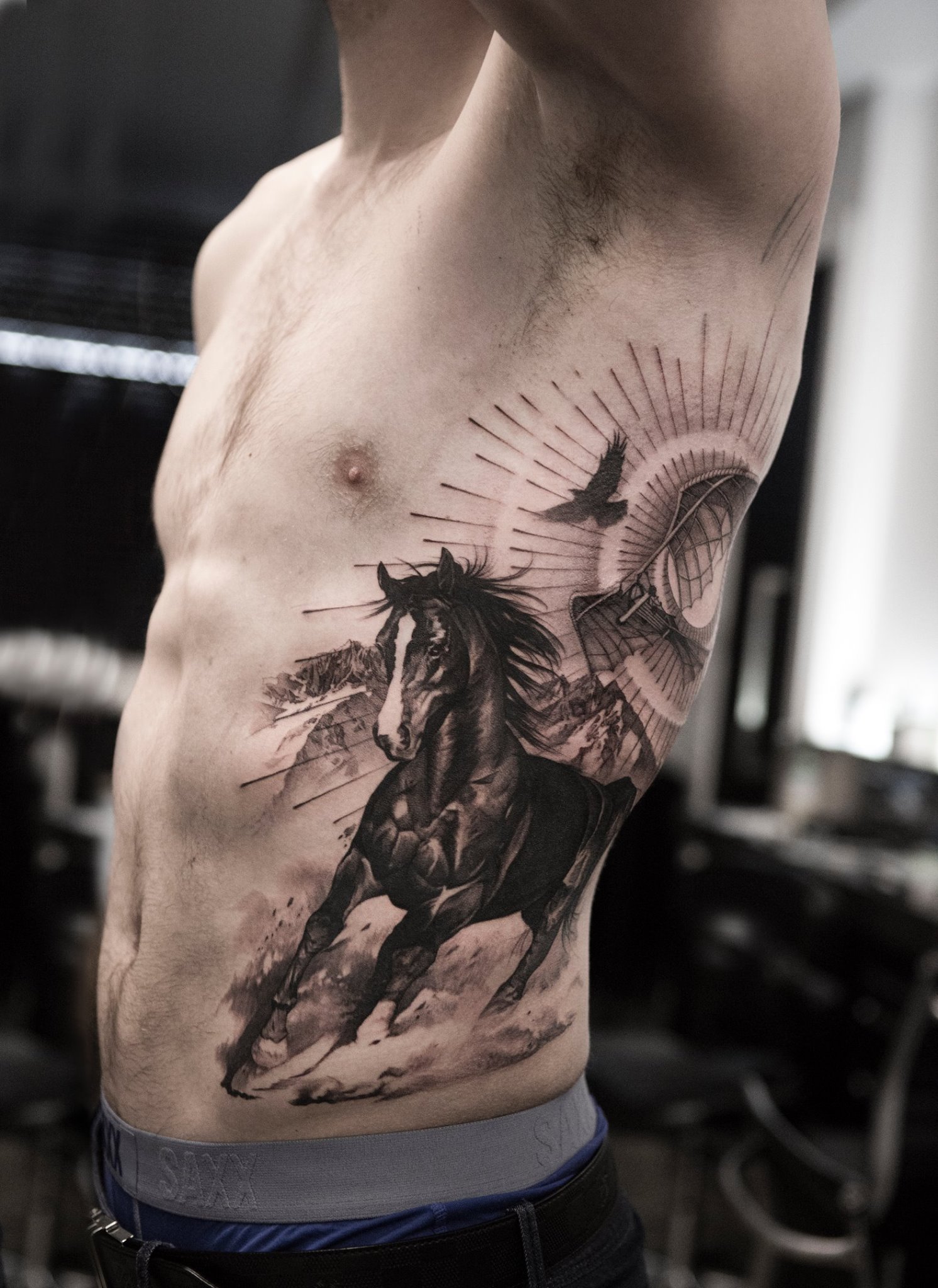 Location on Google Maps:
2. Jonathan Valena (Jon Boy)- West 4 Tattoo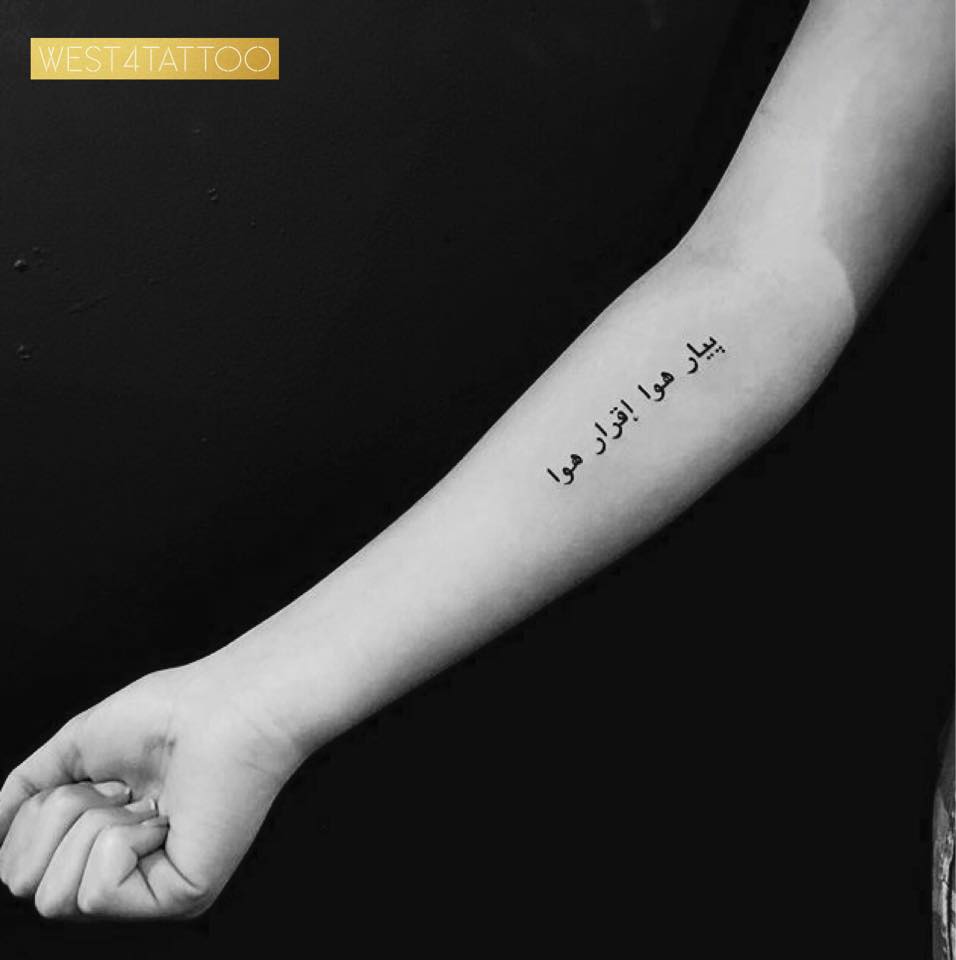 Jon Boy, if you didn't know the name already has worked for some celebs like Kylie Jenner and Zyan Malik and is popular for his intricate designs. He started to do small designs because for him it was a part of the tattoo industry that was always neglected as they were delicate in comparison. In his words, "Having a huge interest in the fashion world, I love that these timeless tattoos are worn as understated accessories."
One more thing that Jon Boy loves to do is include religious imagery in his designs. He designed the cross below Justin Bieber's eye and even go to the same church in Hillsong New York City to pray together. "It was an amazing moment connecting with him over our shared faith," Jon Boy remembered.
Jon Boy also got a little piece of ink from Kylie Jenner and her friends Justine Skye and Jordyn Woods. Just like Bang Bang, he got the King Kylie logo. "Kylie is hilarious," Jon Boy said. "We had an awesome time that night."
Anthony who is another great artist at West 4 Tattoo specializes in fine line, single needle, and black and gray realism. He began his career in Florida but then moved to NYC to improve on his style of inking. His black and grey realism is pretty interesting as it endows a mix of greek mythology and a touch of ancient sculptures. He believes all skin tones to be perfect for his kind of designs. He adds a modern twist to his designs.  Anthony says, "I think the representation of black artists is important in the industry, I'm here to contribute to that and make my mark!"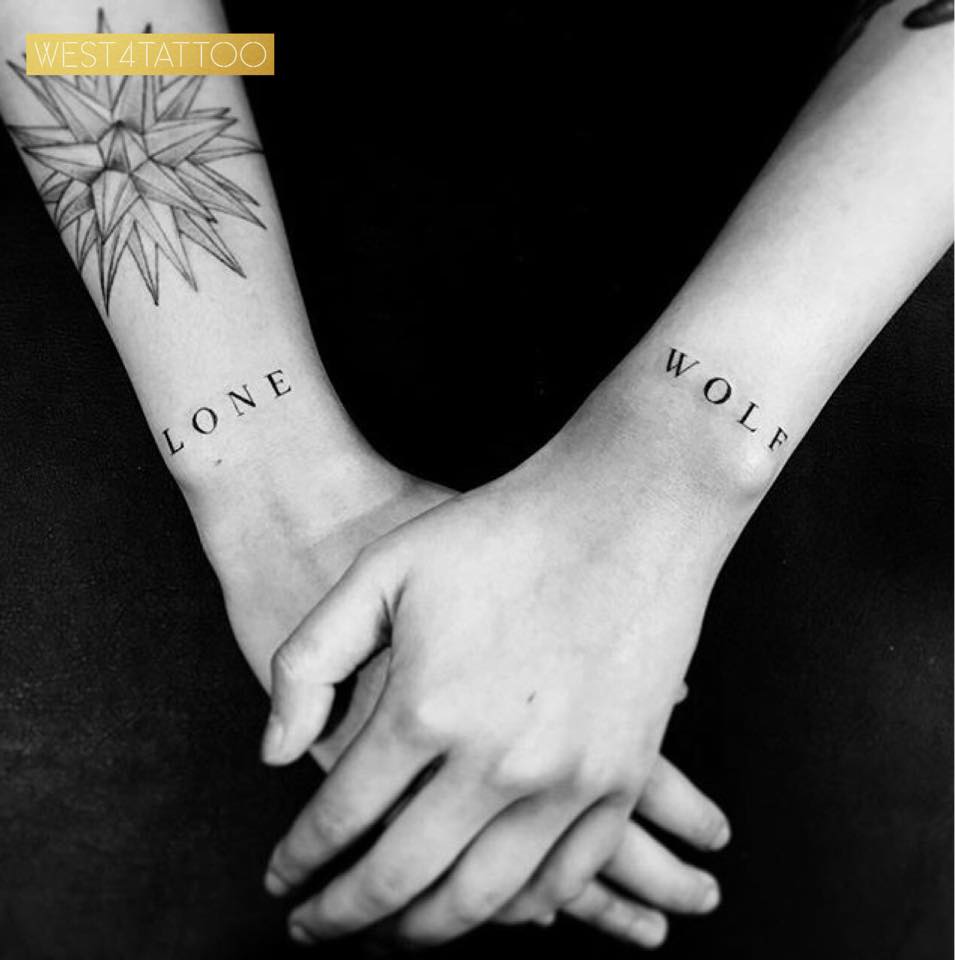 Chang at West 4 Tattoo is a specialist in fine line, single needle, and micro style. He has more than a decade of inking experience and has worked in West 4 Tattoo since it was first opened. He is quite a popular tattoo artist in NYC especially for his floral designs and delicate lettering. His ability to imitate handwritten notes to the body is very well known. His intense attention to detail and line work has made him one of the most memorable tattoo artists and very significant to his clients.
Chang accumulates over ten years of tattooing experience and has been with West 4 Tattoo since its first opening. He is widely known and sought after for his intricate floral foliage along with delicate lettering which accurately imitates handwritten notes from loved ones. With his intense attention to detail and precise linework, he has the ability to create everlasting mementos that are significant to each client.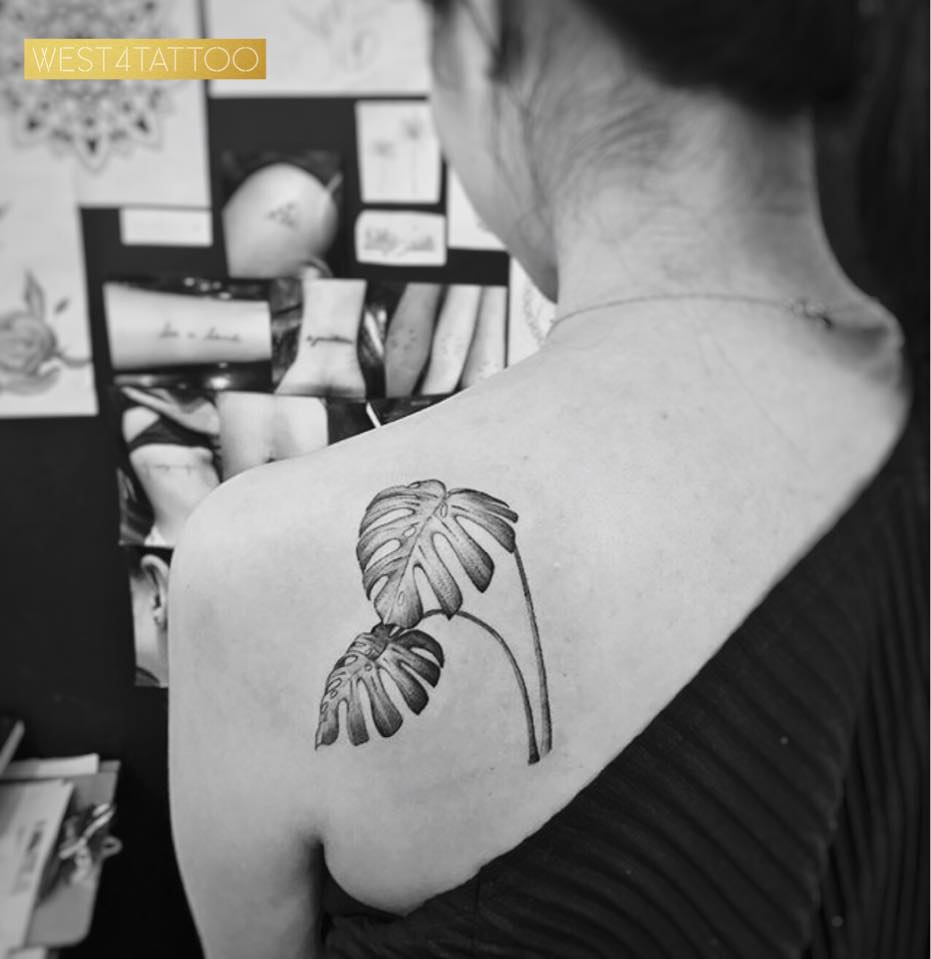 Christ, another great artist at West 4 Tattoo specializes in fine line, single needle, geometric, and black and gray realism. One can say that he is the jack of all trades as he has mastered all the styles. He continues to build his portfolio with new stuff and unique designs and one can easily say that he is proud of it. His art shows geometrical designs, lively black, and grey realistic tattooist, and his own little touch to his work. He has created a certain reputation and a unique connection with his clients and is always enthusiastic about his next project.
Shop Name: West 4 Tattoo
Address: West 4 Tattoo, 163 West 4th Street, New York, NY 10014, United States
Email: [email protected]
Contact: +1 212-924-8080
Facebook: West 4 Tattoo
Instagram:  @anthologytattoos, @tattoobychang, @khoky.padgr, @tattoovasquez, @vaztattoo, @mause22, @west4tattoo
Yelp: West 4 Tattoo
Pinterest: West 4 Tattoo
Website: west4tattoo.NYC
Timings: Mon-Sun 1 pm – 10 pm
Location on Google Maps:
3. Sue Jeiven (Sweet Sue), Duke Riley- East River Tattoo
Established at some time in the summers of 2000 by Duke Riley, East River Tattoo is placed on Brooklyn's historic Greenpoint Waterfront. The artists here are perfect if you are looking for high-quality customized designs especially if you are looking for maritime folk art, 19th-century nautical charts, woodcuts engravings, and scrimshaw. Duke began as a tattoo artist under the guidance of Steve Williamson in Art Freak Tattoo in Providence, RI, and has ever since worked in many locations all across the world like Massachusetts, Rhode Island, New York, and New Zealand. Besides tattooing, his work is popular in many kinds of mediums and is even exhibited at museums! He has his own permanent collection in Brooklyn Museum.
Sue Jeiven, most commonly known by her name "Sweet Sue," is another great tattoo artist at East River Tattoo who is so dedicated to delivering every tattoo unique that she throws into the trash every sketch once the tattoo is complete. She has never in her life created the same design twice. Every single detail is designed according to her customer's personality even if it is a single petal of a flower.
After training in Richmond, VA at Red Dragon Tattoo,  Sue Jeiven who was born in Brooklyn moved to Boston, where she operated with a society of tattoo professionals and the ACLU to authorize getting inked in the state of Massachusetts, all the while making tattoos for her clients at American Tattoo in Newport, R.I. In 2004, she began her own studio by the name of Regeneration Tattoo in Boston. However, she quickly became homesick for NYC and returned there in 2009 and since then she has been working in East River Tattoo. She loves a good black linework design.
Sue is really famous for her nautical-themed tattoos like a ship in bottles and mermaids. One of the greatest tales that she experienced was when she gave a man an elaborate sea-inspired tattoo who quit his job in a research lab and left for Spain to learn how to command ships. It can be easily said that people who get inked by Sue are usually in such a phase of their lives where they are getting loads of transitions. In her words, "They just can't explain it in words, so it's almost an obsession to them," she said. "They have to get the tattoo because it's a physical image of something about themselves that they can't explain, and it's really cool to make that happen."
Jenna Bouma, aka, Slowerblack, who comes from Edmonton, Canada is the predominant guide in the contemporary renewal of hand-poked designs. Besides this, she is also very versed about everything American traditional style tattoo and Japanese Tebori tattoo, she has her own personal style.
Lara Scotton is another artist, painter, and traveler who hailed from Italy and moved to NYC in 2011. Her experience has traversed a decade. She is both comfortable with colors and black and grey designs. What inspires her are Chinese and Japanese art, victorian art, nouveau and classical art, and has a deep interest in comic illustrations. She is rather versatile and is always open to challenges.
Alisa Bugashova first started making tattoos in Russia in early 2010. She started to develop her skills and collaborated with studios all over the world. Once she was being told that she couldn't even draw a line and it impacted her so much that she has worked hard on getting her linework perfect. Besides tattooing, she loves vintage postcards, oriental cats, and Ivan Chai Tea.
Shop Name: East River Tattoo
Address: East River Tattoo, 1047 Manhattan Ave, Brooklyn, NY 11222, United State
Contact: 

+1 718-532-8282

Email: [email protected], 

[email protected]

, 

[email protected]

, 

[email protected]

,

[email protected]

, 

[email protected]

, 

[email protected]

, 

[email protected]

Facebook: East River Tattoo
Instagram: @eastrivertattoo, @dukerileystudio, @slowerblack, @rachelhauer, @larascotton, @victorjwebstertattoo, @alisatattoo
Yelp: East River Tattoo
Flickr: East River Tattoo
Twitter: @EastRiverTattoo
Website: eastrivertattoo.com
Timings: Mon-Sun 12 pm – 8 pm
Location on Google Maps:
4. Tamara Santibanez, Scott Campbell- Saved Tattoo
For Tamara Santibanez's clients, it is not really about pretty flowers and dandy tattoo designs but is more prone to have insects and reptiles creeping over their skin, or chains and ropes coiled throughout it. Santibanez gets much of her influence from the BDSM association. "I wanted to make tattoos that people involved in the subculture, myself included, could wear and feel accurately and tastefully represented," she said.
Born and grown for most of her life in Georgia, Santibanez exposes her Mexican culture with tattoos of several  Chicano art motifs. She also assembles Lowrider and Teen Angels journals, as well as fetish lists, for motivation.
Campbell is another artist who is known for his thin and monochromatic intricate designs. He has before inked Heath Ledger and Orlando Bloom who are in awe of his designs. He likes to draw the dark and defiant side of his as he loves to draw monsters, and skulls to grim reapers for his clients.
"My personal relationship with skulls goes back to when I was first carving them into my desk in middle school or scribbling them on the back of my textbooks," Campbell said. "I grew up in a kind of conservative religious environment, and skulls became the symbol of me pushing back against my surroundings and establishing myself as an individual (as every kid going through puberty is trying to do). It started as a childhood rebellion and has been a reminder to stick to my guns."
Campbell also has a bit of advice for people who wanted to get ink, especially for the first-timers. He says, "Keep it fun. Don't overthink it," he suggested. "So many times, you get people coming into the shop wanting their first tattoo, and they feel like they have to summarize their entire identity in one little symbol or one little thing. At the end of the day, the best tattoos are the ones that are just sincere and spontaneous and fun."
Location on Google Maps:
5. 

Craig Rodrigue

Becca, 

Anna Sea,

Genné-Bacon- Hand of Glory Tattoo Studio
Hand of Glory Tattoo Studio is one of the most premier tattoo studios in NYC. It was started in 2001 by Craig Rodriguez and his wife Anna Sea. It is inspired by a long tradition of heritage and tales of NYC and the historical modes of tattooing. Craig was catcalling one of the first tattoo artists in NYC and began his apprenticeship in 1994. He was also the first one to get his tattoo license when it became legal in 1997.
He and his tattoo artist at Hand of Glory Tattoo Studio understand the history of tattoo and work in the same spirits of inheritance of the glory of  Brooklyn Blackie and Brooklyn Joe Lieber. Although the art of tattooing like that has been modernized enough and has matured into something new, the artists at Hand of Glory Tattoo Studio merge the old designs with the new form of tattoo art. This leads to some new kind of work altogether. They also specialize in customized tattoos and work on an appointment basis.
Being the owner of Hand of Glory Tattoo and Oculo Visitant Gallery, Craig Rodriguez has been in this practice since 1994. By 1997 when the government started issuing the license for tattoos, he was one of the first 50 people to get their tattoo license issued. He has inked all over the world and has been studying to improve his form in Japan, Europe, and South America. His passion and love for art made him create two other companies: Defiance Mfg. and Tekori Systems. Both these companies specialize in both innovation and development of tattoo machines. He loves to do Japanese and traditional American styles of tattoos.
Ron Mor another tattoo artist in 
Hand of Glory Tattoo Studio began his career as an artist in 2006. He started his first work in Hand of Glory Tattoo Studio and calls himself lucky enough to be a part of the park slope community and serving many world traveling tattoo collectors.
He explains his passion for art saying, "I've always been fascinated by the human face and form and after spending some time studying classical art and academic drawing at Chelsea Classical Studio in New York City, I find my favorite style to tattoo is photo-based tattoos creating a realism effect usually in black and grey." The kind of art he likes are portraits of loved ones and pop culture figures like certain musicians, politicians, actors, and anyone famous in the industry. He calls himself quite a versatile tattoo artist saying, "However, my career has made me quite versatile, and I can offer American traditional, Japanese, even etching-style or other tattoos. I'm always happy to discuss new and interesting ideas. Please feel free to reach out for a consultation."
Becca Genné-Bacon is another artist at Hand of Glory Tattoo Studio whose forte lies in bright red, yellow, green, and blue tones that make her tattoo look like their crayon boxes, Her designs resemble a coloring book and are super vibrant and she loves to work in traditional American styles.
Genné-Bacon gets her inspiration and motivation from 1900 tattoo styles. She even has one of the most distinctive and unique tattoos that she made which was a human head. She says, "I love them because they are so classic-looking and never go out of style. You can have so much variation with the same subject matter, so I never get bored of drawing them."
Another interest that she has is creating flowers and bords and anything that is pretty in nature. She also likes to work with southwestern themes like cowgirls and cactuses. She limits her color palets to 4 basic colors and thick outlines.
Location on Google Maps:
6. Roberto Castillo, Tasha Rubinow, & Austin C Fusari Pratt- Sacred Tattoo
Sacred Tattoo was founded in 1990 and holder one o the most important artists of NYC for nearly 2 decades. Owner of the tattoo shop and artist, Wes Wood has been recognized as one of the most influential people to contribute in the history of NYC tattoo and also a supported for his philosophy of "Tomorrow's Trends Today"
Sacred Tattoo, established at 424 Broadway is established between NYC's Chinatown and SoHo. The spacious studio is located in such a way that is more than just a traditional tattoo studio. It has a wide variety of tattoo artists who specialize in all kinds of artwork.
This tattoo shop is filled with tattoo experts and many guest artists which you definitely can't miss if you are here in NYC. Sacred Tattoo is not here to brag but actually make a great piece of art for their customers, The dedicated artists work their way through to give their best to each client. The artists are also super friendly and always ready to put their best foot forward. Their specialty lies in traditional, neo-traditional, and photorealism.
Roberto Castillo has his forte in all kinds of realism, no matter black and grey or a full color, but obtains his enthusiasm in recreating pre-Columbian and  Mesoamerican stelae and stone reliefs.
Tasha Rubinow adds folk aesthetics to traditional and neotraditional styles of art. She uses earthy tones and softer shades of color. It can be a great addition to her body. Her favorite kinds of designs include animals, floral designs, and traditional tattoo designs, American folk art, and natural scenes.
Austin C Fusari Pratt was born in NYC but has been working all over America for more than 15 years. He is famous for this black and grey work and specializes in making floral illustrations n other designs, turning them into a perfect fit for his clients. He works on a consultation basis which makes it easier for him to assemble.
Location on Google Maps:
7.  Big Steve, Simone, & Preston- Fun City Tattoo
The one thing that is really amazing about Fun City is that it is an underground studio which is situated in the basement and has one of its own kind of artwork. It opened its second studio in East Village where the oner himself has lived since the 80s. It is a rather unofficial landmark where you can go for some punk rock designs which are clubbed with modernistic styles and innovation of various artists who work here.
Steve Pedone and Maxx Starr have a respect for the old tradition which allows them to combine the old school with the new and improve the tattooing experience by adjusting to modern times. "Our goal [when we bought Fun City] was to be very respectful of the shop's history while carving out our own niche within the industry," explains Maxx.
He continues, "We're probably the most versatile tattoo studio in New York because we pride ourselves on an intensive mastery on all tattoo forms, whether it's lettering or portraits. Celebrities and musicians come to us because we're low-key and don't make a big spectacle like most of the competition. We're very relaxed and oriented on getting the job done perfectly."
Big Steve explains the aim of Fun City saying, "Our goal is to make our clients happy. No ego, no attitude, just a good positive mental attitude with a hint of sarcasm." Born and raised in Queens, NYC, Big Steve started his tattoo journey with an apprenticeship with Jonathan Shaw at Fun City where it has been 15 years that he is been inking his clients. Big Steve is one of the most well-recognized tattooists in the world with many celebrities as his clients. He is also super versatile with his talent and work.
He is only available at Fun City on Tuesday and Friday by a prior appointment only.
Maxx Star is the co-owner of Fun City Tattoo. Besides he is also a great entrepreneur and a tattoo artist here at Fun City. What he loves about the shop is its history and spirit. He also wrote a book called, Freedom, Told Through Line and Color gives the readers an insight into NYC which is not tainted and authentic. The illustrations in the book show the journey of the tattoo industry while the text accompanies them. His work has a narrative style which the critics call close to jazz.
Location on Google Maps:
8. Kelli Kikcio, Tea Leigh, & Evan Paul English- Welcome Home Studio
Contemporary, LGBTQ supportive- and POC-friendly, and aesthetically pleasing, Welcome Home Studio is loaded with like-minded artists from all over the place who specialize in a variety of techniques and styles. They work hard in both hand poke and machine-style techniques which will bring home the tattoo that their clients would cherish for a long time.
However, because of their finesse, booking an appointment is quite tough here because the artists are usually jam-packed! So keep an eye on their Instagram for booking an appointment and put down a certain deposit to book your place. The rest of the money is paid after the tattoo has been completed. They discourage walk-in customers.
Welcome Home Studio is a comfortable place that was opened in June 2017. The studio is a warm and friendly place for both the artists and the clients who come here. The place is queer-friendly because most of the artists in Welcome Home Studio belong to that particular community of people. "Our staff individually offers sliding scale or reduced rates to marginalized folks in recognition of the inequalities that exist due to living in a capitalist and oppressive society," said the owners.
Tea and Kelli opened Welcome Home Studio after they quietly taught their team of artists how to tattoo and create a niche in the industry for them to prosper. They call their studio a necessity and a challenge which was then placed in front of them. In the words of the owner,
"Welcome Home was established out of the necessity to create and hold space for ourselves and the collective community in an industry which is historically fraught with gatekeeping and which upholds white supremacy. Finding and then holding space in an oppressive and incredibly misogynistic, homophobic, transphobic, racist, fatphobic, ableist, etc. industry has been a challenge… and in trying our best to be inclusive, we also acknowledge how our privilege as white, cishet passing people has allowed us to be young business owners who inevitably have made errors along the way."
Besides being just a tattoo studio, Welcome Home Studio also stands against any kind of inequality and racism. It is hard for them too but they get through it together. In the words of the artists,
We admittedly have both made (and will continue to make) mistakes and have learned tremendously about our own internalized racism, misogyny, fat-phobia, and ableism. We are committed to actively standing up against said oppression as well as participating in dismantling a system that was built to favor us. We acknowledge that anti-racism work is life long and remain committed to this work both in our individual lives as well in our industry.
Welcome Home Studio is home to artists who are not only hardworking and expressive but also very thoughtful and strong. For them, the tattoo is a healing process besides being an expression of our thoughts. It is self-care. All the artists come from varied backgrounds which has lead Welcome Home Studio to be an alive and colorful community.
Erika Vendette is one of the artists in Welcome Home Studio and specializes in black and grey, high-detail figurative, flora, and fauna mashups and likes collaborating and mixing various subjects, methods, and techniques into the whole. She left her job in the corporate sector and now likes tattooing, Rum and Cokes, escape rooms, Royal Dansk Danish Butter Cookies, old school sci-fi horror movies, private karaoke rooms, and cheesy fries.
The moth is yet another genderqueer tattooist from Nebraska. Their artistic work represents strongly elemental romance and queerness as a bond to nature. The drawing process is intuitive and involves playing with the moments and being quick with thoughts that they come across in their general life. Because Moth was a former dancer, their relation to tattoos is also liked to movements. The movement and curves of the line ha become one of the most innate parts of their existence. The tattoo is seen as a mode of expressing the views and as a self-healing process. It is a radical process that goes deep inside the skin and heals from within.
Sanyu Nicolas believes that art has a saving power and bridges the gaps that usually occur within oneself when someone leads on to the road of self-discovery. It also enlivens the deaden spaces that are inside the human heart. In Sanyu's own words,  "My greatest passion is holding space through art for people to reimagine and re-perceive themselves in shameless, healthy, peaceful, and complete ways.  As a tattoo artist for over 10 years I have provided a cathartic and somatic approach to uplifting and self-acceptance of one's body through this ritualistic act while also providing a range of healing modalities to people including poetry, drawing, and tarot readings which aim to guide people to the most thoughtful and empathetic approach to life circumstance.  I believe in autonomy and self-governance of everybody within art, through art and because of art."
Rosa Laura is another great artist in Welcome Home Studio from Sao Paulo, Brazil. Right now she works in the crossing of painting, xerography, tattooing, and performance, their education is in Architecture and Urbanism. Rosa operated a Private Art and Tattoo Studio for two years in Sao Paulo. During this point, they were also studying tattooing with Jun Matsui, who is a well-known Japanese-Brazilian artist. In 2018, Rosa worked in other great tattoo shops all across the USA and even Europe. She joined Welcome Home Studio in 2019 in Brooklyn. They also advocate for gender equality and diversity both offline and online.
Tea Leigh is another multimedia collaborator, musician, tattoo artist, grief counselor, astrologer, and is currently studying to be a trauma-informed tattooer and grief doula. They are a non-binary, genderqueer, trans, disabled horse girl from Denton, Texas. Mixing her experience of listening to stories from people who have suffered in their own community and self lived experiences, Tea forms a deep spiritual connection with her clients which helps her express her art better. This is how they express Tea's views in Welcome Home Studio:
It is through storytelling, intersectionality and through sharing our lived collective experiences that we can truly grow together and learn of ourselves from one another. With tea's Venus and Mercury in Gemini in the 4th house – tea has a heavy focus on familial history and trauma, encouraging their clients to communicate and move through the hardships that accumulate there. tea's moon in Libra is in their 8th house giving them deep emotional insight into death and other taboos that our culture refuses to truly acknowledge. Having suffered an immense amount of personal grief and loss, they aim to help guide folks through their grief. tea understands grief looks like many things and does not only surround death but many other situations and traumas.
Being in this tattoo industry for more than 6 years, tea has found her purpose inc connecting at a much deeper level with her clients.
How they do that? They focus on natal chart reading with their tattoos and encourage their clients to understand the location and movements of their planets by gently guiding them. Tea has noticed a deep change in her relationship with her clients through this. They are so grateful for this skill of tattooing in a gentle way.
Kelli Kikcio belongs from central Canada and has always preferred using hands as contrary to the machine. In 2012, Kelli got a BDes in Fashion Design at Ryerson University and started serving as a designer and production manager in 2015, ultimately co-founding Boneset Studio, a great design company. In 2014, Kelli began attempting machine-free inking both as a form of art and aesthetics and a method to build a feeling of self-freedom. As a Trauma-Informed artist, Kelli acknowledges both the private communications with her customers and the chance to confidently commit to their understanding of oneself and body restoration. Her designs are reflective embellishments that evoke sensations of acquaintanceship and honor being at home in one's body.  Besides tattooing, Kelli continues her multidisciplinary training by the means of garment design/construction, hand embroidery, illustration, clay work, and floral maintenance. Kelli resides with her cats, Noah and Benny, enjoys some music on cassettes, biking throughout Brooklyn, and killing time with her dearest companions.
Location on Google Maps:
9. Mike Bellamy- Red Rocket Tattoo
Red Rocket Tattoo is located right in the middle of Midtown Manhattan and is the second studio that has been established by Mike Bellamy over 14 years ago. Red Rocket Tattoo changed its name in 2006 and has since grown manifolds in popularity and prowess and has a set of talented artists and some resident dogs too. Red Rocket Tattoo is opened 7 days a week and specializes in the new school to old school to even Japanese-inspired designs for their customers.
Basically from Denver, Colorado, Mike Bellamy traveled to New York over 22 years ago to visit Parsons School of Design for illustration. He started inking more than 20 years ago in the clandestine times of NYC, and the Tattoo Society conferences at CBGB's Gallery. Mike has been in the tattoo industry for a while and the quality and history of the studio and his works depict the same. Mike recalls the whole thing who it was all different when he started:
"This was all before the horrors of West 4th St., and the tattoo explosion nationwide. Long before before '(insert city here) Ink' television shows. I have worked at Crooklyn's Cave, Huggy Bear Tattoo in Brooklyn, Inkline Studio, and Sacred Tattoo in Manhattan. In 1998, I started Triple X Tattoo with a partner, which we ran for 8 years until we separated. I kept the location, but changed the name to Red Rocket Tattoo. We've been going strong and growing steadily ever since."
Mike Bellamy inked his clients from all over the world, which includes countries like Austria, Germany, Spain, Poland, Japan, and throughout the United States. Not only this, but he has also featured in many tattoos, art, and lifestyle magazines from all over the world and has worked to connect the  New York City Tattoo Convention and the New York Department of Health. He has moreover made and participated in more than 30 galleries which showcases his works. He also has his own website for his artwork and illustrations.
He also loves to travel the world to keep himself updated.  Besides tattooing, he is a mountain climber and has tried his hands on four of the summits, Kilimanjaro in Africa, Elbrus in Russia, Denali in Alaska, and Vinson Massif in Antarctica. He has endeavored Aconcagua in Argentina two times but has still not climbed the way to the summit. Mike started climbing in Colorado and has greatly cut out on all 54 of the 14,000+ ft. tops. He also loves taking endless strolls on the beach!
The other artists in the Red Rocket Tattoo come from a variety of backgrounds. They have completed degree programs and some have even completed tattoo courses in the best studios in the world. At least once all their works have been published in various magazines all over the world and they keep up with the participation in the world tattoo conventions.
The artists are all licensed by the City of New York Department of Health and have been given knowledge about the area of pathogens, cross-contamination, and proper sterilization to prevent all the problems. Red Rocket Tattoo has a relaxed and welcoming atmosphere that helps its clients to have a great time while getting inked. They have clients from all walks of life because of their skillful work.
Shop Name: Red Rocket Tattoo
Address: Red Rocket Tattoo, 78 W 36th St 3rd Floor, New York, NY 10018
Contact: (212) 736 3001
Email: 

[email protected]

, 

[email protected]

, 

[email protected]

, 

[email protected]

, 

[email protected]

, 

[email protected]

Facebook: Red Rocket Tattoo
Instagram: @mikebellamytattoo , @michaelbellamy88, @redrockettattoo, @NYCHRISTATTOO, @EricaFlannes, @ShannonRitchie1138, @gregthehypman
Yelp: Red Rocket Tattoo
LinkedIn: Red Rocket Tattoo
Twitter: @buddhajohson
Timings: Monday-Saturday – 12 pm -8 pm; Sunday – 12 pm -6 pm
Location on Google Maps:
10. Mgreathai Bakaty, Mike Bakaty- Fineline Tattoo
Fineline Tattoo was established as an underground tattoo studio in NYC when tattooing was banned which was from the 1960s till the 1990s. Fineline Tattoo was established in 1976 as one of either illegal tattoo shops. It was based on an appointment-only formula that was sure to offer professionalism, creativity, and a hygienic atmosphere.
Fineline Tattoo was formerly produced out of a separate attic, on the nefarious Bowery in the middle of the East Village, till 1997 when the city eventually uplifted the 30-year ban on inking. Fineline Tattoo NYC changed its location to the First Avenue storefront where it remains to grow to this day. There is no more than stigma and paranoia about getting inked and running an illegal business. Fineline Tattoo offers its customers a friendly atmosphere which gives it is a bucket full of loyal customers.
Mehai Bakaty is a second-generation tattooist who began inking more than 2 decades ago. He was born and raised in New York in the Lower East Side where he worked with his father, Mike Bakaty during the ban days. Mehai has a forte in the contemporary and traditional American style of a tattoo with a hint of Japanese touch to tit. His work is so great that has been shown in many galleries and museums, He has been on shows like The Learning Channel and other US and foreign television programs.
Miek Bakatay, his father was an activist who used to show sculptures in Soho galleries when it was an epicenter of NYC. He realized that none of his colleagues would create a quality tattoo and finally walked out of a fine art profession to become of the most successful artists of the day. He was also a superb draftsman and made many drawings which eventually turned out to be beautifully tattooed enjoyed by people all over the world.
Mike Bakatay was one of the first in new york to have a master's degree in fine art by opening his own tattoo studio. Fineline Tattoo is thus one of the longest-running tattoo studios in new york city. He was also the first person to get the license issued to make his shop legalized. He has ever since worked hard to raise the bar for more than 50 years and never lost his enthusiasm for doing it.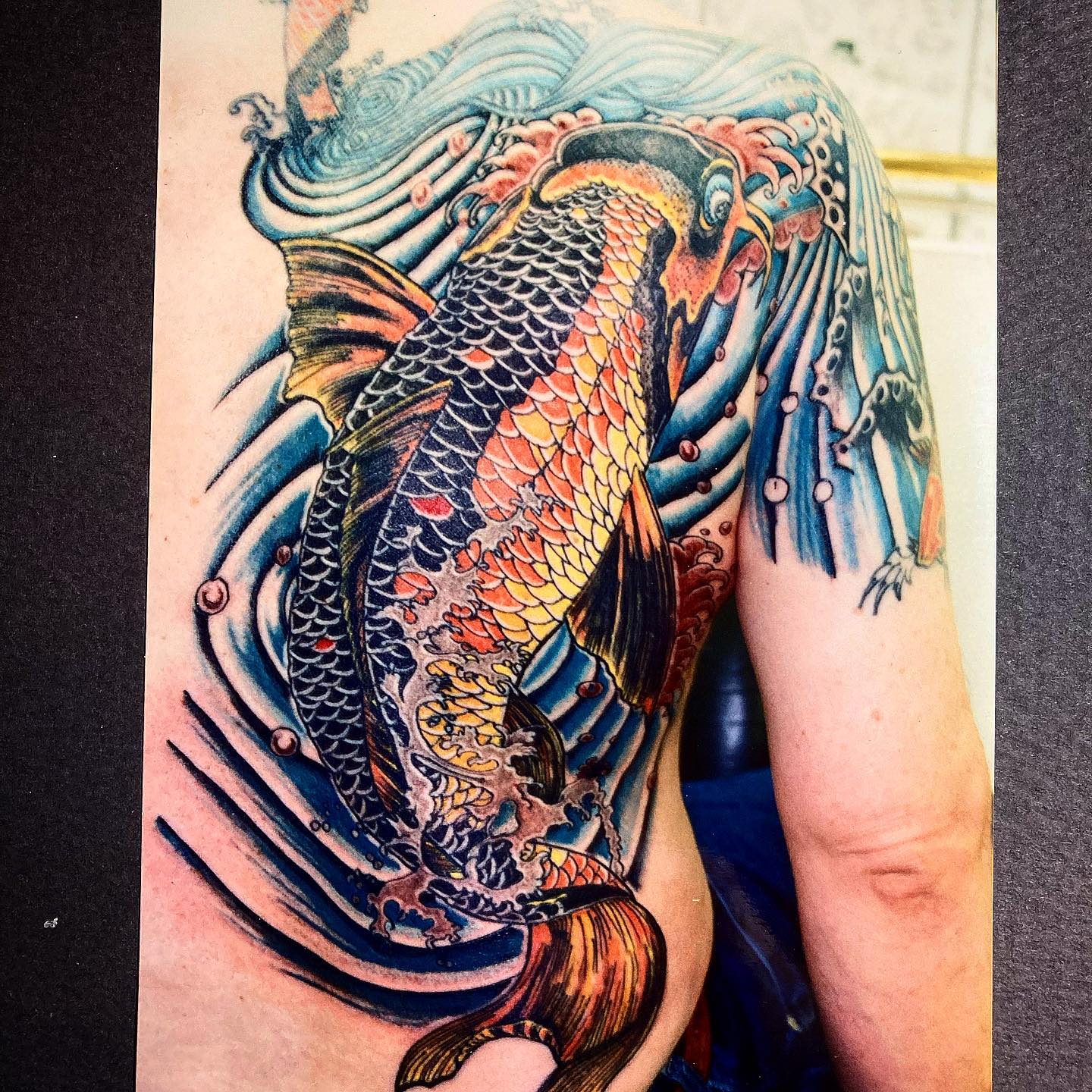 Mike Bakaty tutored and gave apprenticeship to Mehai Bakaty, who is no walking in the footsteps of his father. It was since the age of 19 that Mehai has been working in the tattoo shop. The amazing duo worked together in the same stuff for more than 25 years and brought in customers who are now a permanent client base for them.
Mike Bakery is no more but he has touched people all over the world with his kindness and humanity, and of course, his great talent of fine lines. Many have had the honor of wearing his art on their skins.
Location on Google Maps:
11. Brad Fink- Dare Devil Tattoo
Dare Devil Tattoo is the best place for you if you have the slightest interest in history. The studio specializes in American traditional tattoos besides another genre of tattoos.  Besides being a  studio, Dare Devil Tattoo is also a tattoo history museum that will leave a lasting impression on your mind and would help you connect better with your own design. It completed its 2 decades quite recently. "We opened when tattooing was legalized in New York City," says co-owner Michelle Myles.
The walls are comprised of artwork by tattoo creators such as Samuel O'Reilly and Sailor Jerry, in addition to the antique tattoo machines and old-time banners from the previous era of the tattoo industry. There are absolutely no charges to see the museum. The museum at Dare Devil Tattoo is definitely one of its kind.
The co-owner of this studio, Brad, works at two tattoo shops, Iron Age in St Louis and Dare Devil Tattoo in NYC. He is especially known for his Japanese style of tattoo which involves bright and intense colors. He only works by appointment.
Co-owner Michelle Myles began tattooing in 1991 when the tattoo business was mostly underground in NYC. When it finally got legal in 1997, Michelle Myles and Brad opened their shop in Ludlow Street. Myles work by appointment too.
The Dare Devil Tattoo Museum is made out of Brad Fink's own personal collection of memories that he has been successful in collecting ever since the city was under a ban. His compilation highlights artifacts from the ancient origins of contemporary tattooing with original artwork by Samuel O'Reilly, Bert Grimm, August "Cap" Coleman, George Burchett, Sailor Jerry, and several more. Old tattoo machines, real photos, news articles, and sideshow pennants are also involved in the selection. In the words of the owner himself, "We are proud to share our museum collection with visitors. The museum is part of the tattoo shop and is viewable on a limited basis by appointment during the current pandemic crisis. There is no admission fee."
Besides .getting inked, one can really enjoy the museum, especially Thomas Edison's patent on a device that is very similar to how the modern tattoo machine looks.
Other than the ink, go: To see Thomas Edison's patent on a device that is essentially identical to today's tattoo machines.
Location on Google Maps:
12. Matt Marcus – Three Kings Tattoo
The Three Kings Tattoo is the best place if you want a professional look out for your tattoo in a classic studio. The artists at Three Kings Tattoo makes the process of getting inked super easy by being supportive and making you feel comfortable.
Three Kings Tattoo has been handled by 3 generations of tattoo artists. There are two floors in Three Kings Tattoo which comprises 15 talented tattoo artists. Matt Marcus, the owner of the tattoo studio accepts walk-ins for seven days a week, but some of the tattoo artists in the studio are booked throughout the year. Thus a prior booking is recommended. Three Kings Tattoo also welcomes star tattoo artists as a guest from all over the world. The artists here are well versed in almost every kind of design style.
Each artist has their own portfolio where you can select your designs. At Three Kings Tattoo, you can be assured that your designs are going o be taken seriously as they take time out to break down different styles and then work on them.
Location on Google Maps:

13. David Sena- Sena Tattoo
Sena Tattoo is one such studio that is best if you are a globe trotter. The studio specializes in the traditional Japanese style of tattoo, even though it is miles away from Japan! The studio has everything Japanese-inspired. Thus, you will get a lot of koi fish, fu dogs, tigers, dragons, waves, Japanese clouds, and wind. In fact, it is the Japanese who can be thanked for bringing ink into existence which led the Britishers of the victorian era to run to japan to get a spot of ink done.
The same designs are still taken forward now and show off the rich culture and important history of tattooing. While many tattoo shops in NYC are well versed with this form of tattooing, the artists at Sena Tattoo are unbeatable.
Besides getting inked, one can also enjoy the bright and luminous atmosphere that the tattoo shop offers. It is sure to make you super comfortable when you are getting inked.
Other than the ink, go: For artfully designed light fixtures that put your lampshades to shame.
Location on Google Maps:
14. Dave Tevenal- SoHo Ink
If you do not want to compromise on your standards of getting a tattoo, SoHo Ink is the place for you. It offers a variety of styles, brings one of the most popular shops in NYC, and great customer service too.
This show works on an appointment basis. It has resident artists and guests artists who are here from all walks of life and from all over the world. The tattoo experience is more like a transformative experience. The studio is clean and hygienic while the staff is super chill. No matter if you are a first-timer or have your 10th tattoo made, you will be taken care of.
Besides just tattoos, one can visit SoHo Ink and check out their dope collection of jewelry, T-shirts, and other apparel.
Dave Tevenal is one tattoo artist in SoHo Ink who is inspired by comic books, pop culture, contemporary arts, and Japanese tattoo imagery. His assistant handles most of his appointments on his emails because he is most of the time booked.
Logan, another tattoo artist in NYC SoHo Ink entered the tattoo industry only when he was 14 years old and when he met tattooist Rony Perez who made him fall in love with the tattoo culture. His specialization occurs in black and grey photo-realistic images, and his Japanese style of tattooing.
Pon, another artist at SoHo Ink has been in business since 1999 and has been an artist for his whole life. His work is famous for its bold lines, shading techniques, and use of vibrant colors. He specializes in American traditional art. He loves himself a good challenge which allows him to be a better artist than before. He has been in the season of Ink Master.
Luiz Lopes is a resident artist at SoHo Ink and joined it after he came here from Brazil with an impeccable folder of tattoos and his art which specialized in realistic black and white designs. He can bring to life any picture on his wearer's skin.
Michela Bottin is one of the new members of the SoHo Ink team and hails from Italy. Her style is quite bold. In her own words about her art, "Originality: Its main interest is to create a unique and unrepeatable work, leaving a mark on the skin that follows the customer's desire and at the same time satisfies his need to characterize it and make it personal." Michela is all things Disney and anime and has been designated as "Tattoo Queen".
Besides the wonderful artists who would leave no stone unturned to assist you and make you feel comfortable throughout the journey, the SoHo Ink tattoo studio also has a reputation for being utterly hygienic and clean. This allows the customers to feel authentic and relax in a high-quality space. Every step is taken with precision and while being extra careful. Whether you are here for the first time or have been linked several times, be assured that you are going to be given equal treatment at SoHo Ink.
Location on Google Maps:
15. Eric Rignall- Inkstop Tattoo
Inkstop Tattoo has been in the NYC tattoo market for more than 20 years. Each artist at the tattoo shop has more than a decade of experience. It is also a tattoo salon that is certified by the Board of Health. They are very immaculate when it comes to cleanliness and uses new needles for each client. They also have an autoclave test performed by a certified lab each week. It has also been featured in various tv shows and magazines like MTV2 and Mad Magazine. They would require you to show your age proof when you make an appointment.
Inkstop Tattoo is undoubtedly New York's one of the most trusted shops and specializes in clean and professional outlook to their clients. They work in various forms of designs right from realistic to black and grey to traditional American design and contemporary illustrations. Each artist understands that every customer is unique and tries to stick to their requirements and needs. They also do customized tattoo designs for their customers which is boasted by their customers.
Eric Rignall is a famous tattooist at Inkstop Tattoo and has been graduated from Philadelphia College of Art for Illustration. He is the owner of Inkstop Tattoo and has worked hard ever since he opened Inkstop Tattoo in 1997. He also completed a two-year apprenticeship before he opened the studio.
In his words, "I believe this is done by working with each customer closely and placing the emphasis on high-quality artwork for every design. I can work in all styles but specialize in fine line, detailed and realistic pieces."
Location on Google Maps: