Sean John Combs is a Puff Daddy-style American rapper, musician, record executive, and entrepreneur (also known as P. Diddy, Diddy, or Puffy). Born in New York City, he began his career as a talent director at Uptown Records before launching his own record company, Bad Boy Records, in 1993. Combs is the producer of MTV's Making the Band and the recipient of three Grammys and two MTV Video Music Awards. Combs has a total of six children. Combs also has an apparel brand, Sean John, that was launched in 1993.
A neck tattoo has been shown by the stylish hip-hop rapper. This is a word tattoo that says God's Child and is inscribed in curving cursive script on the left side of his neck. Sean has a right arm tattoo with the word "Bad Boy" carved in a beautiful cursive double outline font.
1. 'Pops Mom' Tattoo
Tattoo: On the inner side of his wrists P Daddy has got the tattoo for his mother and father as quoted by their short forms, 'Pops, and Mom.'
2. 'Harper Luke' Tattoo 
Tattoo: On the right side of his body, he has got the tattoo of the words, 'Harper Luke' along with the number, 1:37.
3. Arm Tattoos-New York
Tattoo: Across his forearms, Diddy has got the New York city's name tattooed. The tattoo is his dedication of love for his birthplace, Harlem, New York, United States.
4. Back Tattoo-Madonna and Child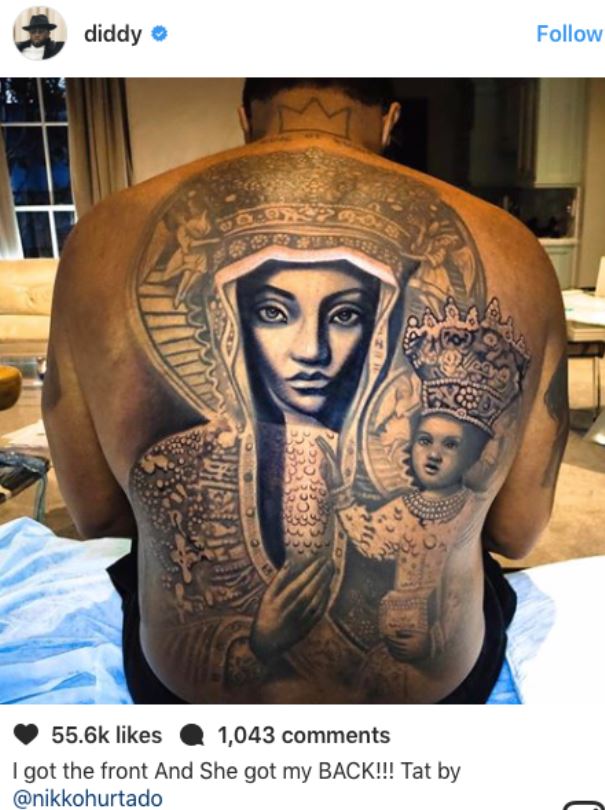 Tattoo: The tattoo on his back depicts the Madonna and child.
Sean Combs showed his latest collection of tattoos, a work of art on his back by renowned tattoo artist Nikko Hurtado. The large-scale black-and-grey artwork depicting Madonna and Child spans Puff's whole back.
"I got the front, and she got the BACK," Diddy captioned the photo.
5. 'Bad Boy' Tattoo
Tattoo: Diddy's right bicep is inked with the most meaningful tattoo, as we would like to call that; it says, 'Bad Boy.'
6. 'Cross-Life After Death' Tattoo
Tattoo: On his left upper arm, there is a cross inked along with the words, 'Life After Death.'
Cross tattoos can represent your devotion to a religion or faith. The cross is a holy symbol in Christianity since it represents the sacrifice and Jesus' crucifixion. It also symbolizes Jesus' unconditional love and sacrifices for the human species.
7. Left Pec Tattoo-Skull
Tattoo: On his left pec, there is a tattoo of an angel holding flags, as speculated by many however, as per our belief, the tattoo seems to be of a skull wearing a helmet wrapped with a band that contains certain words.
The skull has always been regarded as the rebel's trademark, which is why many people view it as a sign of death and mortality. But skulls aren't just for the horrific; they may also represent positive concepts like conquering hurdles or safeguarding assets. They can mean strength and power, as well as provide protection to the wearer.
They might represent the end of an old existence, a defeated past, and a positive transformation in one's life.
8. Pair of Horses Tattoo
Tattoo: On his shoulders, Diddy has got one horse inked, on each.
Horse tattoos represent the freedom and strength that horses are known for.
Other connotations for horse tattoos include courage, elegance, majesty, and friendship. As per the beliefs, the black horse represents death and a white horse represents nobility.
9. 'Mohammad Ali' Tattoo
He has a chest tattoo with the signature of "Muhammad Ali" whom he claims to be his Godfather with honor. Diddy had revealed the tattoo with that said, 'every tattoo on my body mean something to me. This one especially'. He said that he had told Mohammad Ali that he needed his signature and there it is, on his chest.
Muhammad Ali was a professional boxer and activist from the United States. He is hugely respected and many people consider him to be their life idiol. He is widely considered as one of the most prominent and renowned sports figures of the twentieth century, and is usually listed as the best heavyweight boxer of all time, earning him the appellation "The Greatest."
10. Bible Verse Writing Tattoo
Tattoo: On the inner side of his right forearm, Diddy has got a tattoo of the Bible Verse, Psalm 27, that says "Whom shall I fear if the Lord is my light and my salvation?"
Whom should I fear if the LORD is the stronghold of my life? When nasty men come to consume my flesh, when my opponents and foes come to assault me, they will stumble and fall.
12. God's Child Tattoo
Tattoo: Towards the left side of his neck, Diddy has got the tattoo of the words, 'God's Child'
Meaning: This tattoo is believed to be highly close to Diddy. he claimed that he is greatly thankful to Jesus Christ for his blessings and support and has a huge role to play in his success. Thus, he belives himself to be God's special child.
13. Writing on Shoulders