Ahmedabad is a great city that is situated in India and besides shaving much historical and cultural significance, it has many tattoo parlors too. Out of all these historical and cultural attractions, it is the tattoo parlors that have been gaining a lot of significance over the years which is because of the modernization of art and people. However, it is not as rampant as in other parts of the city.
There has not been as fast growth in the number of tattoo studios in the city and some tattoo studious here have gained prominence too for their phenomenal work. This tattoo studio houses many amazing tattoo artists that are established in Ahmedabad and who take pride in their work and have a huge fan following too.
Thus we have curated this list of amazing tattoo artists in Ahmedabad whom you could select for your next tattoo adventure.
1. Pankaj Sharma- 1920 Tattooz Hub
This studio, 1920 Tattooz Hub offers painless tattoos at a very affordable price. It is both convenient and not too heavy on the budget so naturally, this tattoo studio is one of the best tattoo studios in the city. They provide an extremely comfortable environment to make your tattoo in. Their hygienic standards are maintained to the optimal levels which are necessary for their valuable customers. The equipment that they use is also of top-notch quality so that they could meet the satisfaction level of their customers. They do welcome general walk-ins too but prefer if you take a prior appointment.
However, the specialty of 1920 Tattooz Hub lies in some particular kinds of designs like Heart, Shivan, Building, Colour Work, Dog, Wolf, Memorial, Birds, Feather, Crown, Floral, Geometric, Small & Large Tattoos.
Location on Google Maps:
2. Mr. Dharmesh Magra- Black Stain Tattoo Studio
Black Stain Tattoo Studio is quite a friendly tattoo studio which is located in Ahmedabad. The studio features a nation-level artist who has their own portfolios and has thousands of designs in the, You can customize the idea and suit your design. The shop has amazing kinds of equipment which are modern and latest in design. They also give a lot of importance to hygiene standards. Te Black Stain Tattoo Studio has a professional work ethic that would leave you super impressed with their work.
The kind of work that they specialize in includes, Traditional to New School, Spiritual, Portraits, Flowers, Color Line, Animals, Lettering, Black Steel, Cover-Ups, Shading, Black & Grey Tattoos.
Mr. Dharmesh Magra is the owner of the Black Stain Tattoo Studio and has accomplished the dreams by working hard behind closed doors. Dharmesh Magra, who was born in a little city called Junagadh in Gujarat, has worked hard to achieve his dreams. He who has worked all over the country is a veteran tattoo artist however the journey has not been quite easy for him. He also faced a lot of criticism because making tattoos were the task of boho and hippies and he began his pursuit of being a tattoo artist when he was just 18. A bachelor by qualification, he tried laboriously to obtain the gear, even delivering up a part-time job.
It is easy to say then that Dharmesh is a self-trained profession. Ever since he was s a kid he has been sketching. His talent and knack for sketching have led him to be famous with his audience. With a little guidance from reliable and interested friends, not to forget his own physical self, he presents an essentially mystifying Ambigram on his left arm which is also the primary tattoo he ever made in his lifetime. With this, Dharmesh set off to capture the Art of inks. Day and night of patients, exploration of thoughts, dedication, and resolve admitted their compensations. It would create an amalgam of tattoo techniques, varying from classical to new school and pictures. Individually, Dharmesh loves to do black and grey shading the most. This leads him to open his own studio, Black Stain Tattoo Studio, at the heart of the youngsters in Ahmedabad, called Vastrapur Lake.
"A tattoo always has a meaning," he reflects. "It's on your skin, after all – if you get a tattoo, you wear an attitude on your skin. To people, you are what your tattoo means," he continues.
Possessing profound skill, Dharmesh has followed many a well-known design with his fingers, but this has not prevented him from aesthetically researching and developing his own designs. In fact his patron, Priyanka Mishra said a few lines speaking on his skill and abilities. She says,
I – Priyanka Mishra, as his patron, have followed his career closely, and I hold nothing but profound admiration for Dharmesh. He lets his art speak for him. Dharmesh has come a long way from a boy who had a dream to a man who, after realising that dream, is now one of India's most promising young tattoo artists.
Location on Google Maps:
3. Aaryan- Aaryan's Tattoo Studio and Body Piercing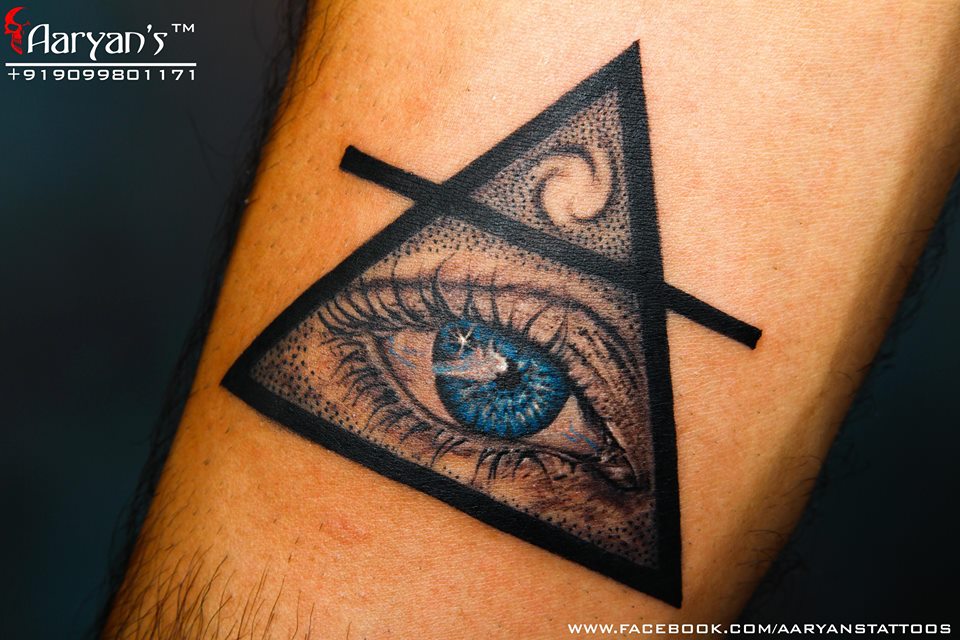 Aaryan's Tattoo Studio and Body Piercing offers amazing tattoo designs using world-class artists and professionals and modern techniques and USA based equipment. The owner of the tattoo studio, Aaryan, holds a degree from MSU, Baroda and is a professional tattoo artist from International Tattoo School, Thailand. Aaryan's Tattoo Studio and Body Piercing has a crew who specializes in custom tattoo art and also in body piercing. The studio offers a lot of creative teams and body piercing with a lot of hygienic and sterile environment.
The professionals at Aaryan's Tattoo Studio and Body Piercing specializes in certain styles that include, Dot work, Black and Grey, Realistic, Small, Maori, Portrait, Scorpion, Biochemical, Spiritual, Traditional, Religious, Geometric, Watercolour & Script Tattoos.
Aaryan's Tattoo Studio and Body Piercing is a World of Inked Art. It is registered in Ahmedabad, Gujarat, Aaryan's Studio has emerged as a team of experts training in customized as well as Aaryan's Artworks tattoo art and body piercing. It was commenced with an aesthetic theory of presenting artistic designs in different customs and themes and body piercing in safe, clean, and hygienic conditions.
Today the owner of the studio is proud because of the satisfied clients and the support that it has earned from its lovers in Gujarat. Aaryan signifies "one who skillfully assembles & is noble." With over seven years of skilled tattoo designing knowledge Aaryan the patron of Aaryan's Studio, has powerful artistic roots in this field. Born and bred in Baroda the artistic and creative city of Gujarat, since their youth, he was attracted to pencil sketching, watercolor art, oil painting, sculpture art, glass painting, body art, etc. Following in his early adolescence, he began attempting tattooing as a hobby later which was grown into a fully-fledged business.
Aaryan is also a degree holder in Fien arts. Having gained all this experience he also has work experience of being working with International Tattoo Studios. His tattoo of preferences includes styles such as Portrait Tattoos, Realistic Black and Grey, Colours, Biochemical, Black & Grey, Realistic, Tribal, Polka Trash, Maori(Polynesian), Spiritual, Indian. Aaryan has trained in extra fine and complex tribal tattoo artworks. Nevertheless, with his broad spread of knowledge and able work profile, he has learned over other forms like classical Maori, Tribal tattoos, coat/hide up tattoos, Vitiligo tattoos, etc.
In Aaryan's Tattoo Studio and Body Piercing, a customer has the freedom of choosing his own design customizing it himself. It can be further customized base on the suggestion of an expert artist. Aaryan also provides his expert advice in this field. With this in mind, Aaryan has seen a future where this kind of fo body art could help fascinate each other's lives and be a motivation to others to identify themselves with body art. Shortly he would be growing into other fields of body art like skincare, beauty and also has programs to increase his network of ateliers with the help of franchise chains.
Location on Google Maps:
4. Mr. Jack and Robby (Raju)- Black Poison Tattoo Studio
Black Poison Tattoo Studio is a great awesome tattoo studio and sterile tattoo studio that is based in Ahmedabad. They take pride in their client service. They have pretty reasonable tattoo services but they also try to make each design style and original. At this tattoo studio, the professionals work together and purpose the same goal of creating amazing tattoos and learning and growing with each other. Both learning and making art is a never-ending process and they aim for putting their best foot forward each day to learn more and strive for more.
Black Poison Tattoo Studio has been in the business since 2009, and the first Black Poison Tattoo Studio was set up in Ahmedabad. They specialize in custom tattoos and body piercing. They are working hard each day to proliferate their work in Ahmedabad and other states of the country. They have all worked in a different part of the country and thus know each state and its custom designs.
They also give their help and consultation which has no charges. They want that their customers must get the best kind of tattoo that they deserve and will be proud to wear too. They offer a clean and friendly studio so that they can make the tattoo experience for their clients to enjoy. They also provide you with 100 percent privacy! At Black Poison Tattoo Studio, you will only find a pleasant, polite, trained staff committed to the art of Tattooing & Body Piercing. They actually care about the art that they create.
At the studio, they use the best kind of equipment that is available in the market. The world-class standard of hygiene is met there. Even the needles are one time used and opened in front of the customers and after the completion of your design, you can either take it with you or can throw it away. Be assured that everything that touches your skin is new like the needles, ink caps, gloves, razors, etc to make your tattooing adventure a vision for a lifetime. Black Poison Tattoo Studio stars a tandem of extremely experienced artists, who share an enthusiasm for tattooing and for combining with clients to effect their creative concepts to life.
Black Poison Tattoo Studio is a committed team of workers who work hard towards the growth of tattoo culture in the city of Ahmedabad. We understand all the prominent centers of India have previously permitted the potential of this skill. Rendering essential knowledge to anyone who demands will certainly maintain this art taking the justified Love and Respect. Our intention to present you with a portion of art you will be happy to don on your skin. At Black Poison Tattoo Studio, you will be offered a spotless, helpful, and professional staff to guarantee that your tattoo adventure is as pleasant as possible.
Mr. Jack and Robby (Raju) together have more than a decade's experience. They are full-time artists and together they depend up this studio in 2010, so the studio has been more than a decade old. The standards have only improved since then.
Location on Google Maps:
5. Jagruti Parmar- La Nina Tattoo Studio
Built-in 2003 by Jagruti Parmar, the owner, La Nina Tattoo Studio came into being the first-ever licensed tattoo salon in Gujarat. With her creative abilities and deep understanding, she was listed and interviewed by many national and international media like Wall Street Journal, TLC, BBC, Times of India, Zee TV, GTPL, which are just one of the few channels. She has created 2 world records by making inks on 451 people in 24 hrs. and 651 people in 50 hrs. without stopping or taking a break for which she got her name published in Limca Book, Asia Book, and World records for which she also got a letter of recognition from PM Narendra Modi. Her clients extend from being all over the world. She has honest and reliable clients from everyone from UAE to Italy as they know that her work is adept in quality and she provides a very hygienic environment.
Her hard work and skilled crew of the professional have made La Nina one of the best tattoo studios and now the most influential one too. Not only she is the most accomplished tattoo professional, but she is also the cosmetic and medical tattoo specialist in La Nina Tattoo Studio. Name anything and she won't say no to it. Her clients are the only appointment based so don't wait to schedule your time slot. In her words,
Let us create a fresh tattoo for you exactly where you want it. You tell us what to do, and we've got it under control. We know you've got many choices when it comes to tattoo studios in Ahmedabad, but for custom designs, there's only one La Nina Tattoos. We look forward to earning your trust and creating a beautiful Custom Tattoo Design for you.
They specialize in Minimalist tattoos which are a growing trend. For those who want grace and a classy design, minimalist patterns are ideal for you which are composed of brusque black edges and negative space to carry a design that's precise and easy. It gives a detailed look at your tattoo and looks fashionable. You know what they say, the most innocent words can effect the greatest delight.
La Nina Tattoos is one of the most novel tattoo shops in Ahmedabad. The warm and relaxing environment combined with excellent customer service has made the La Nina Tattoo Studio better than any average tattoo shops in the city. As the owner says, "Our artists design beautiful Color Sleeves tattoos on demand — we'll let our imaginations go wild for you!"
They also provide cover-ups for your previous tattoos which might be faded or which you probably regret making in the first place. Artists at La Nina Tattoo Studio are specialists when it comes to cover-ups. What is its mission? Well, you might wanna listen to it in the words of the founder herself. She says,
We founded La Nina Tattoos in 2003 with one mission: to bring creativity and artistic quality to the tattoo and body piercing scene. We know how to make you feel relaxed and comfortable. If you're a first-timer, you're in the best hands. Our staff is made of seasoned pros ready to bring your vision to reality, no matter how complex. Want a tattoo but not sure which is right for you? Desire a new piercing but not sure where? Stop by to talk with one of our artists — let us design your dreams.
Shop Name: La Nina Tattoo Studio
Address: La Nina, First floor 4, Chinmay Crystal tower, Above Apollo Store, Vastrapur Lake, Vastrapur, Ahmedabad, Gujarat 380015, India
Contact: +91-9662941966, +91-9824146423
Email: [email protected], [email protected]
Facebook: La Nina Tattoo Studio 
Instagram: La Nina Tattoo Studio
Youtube: La Nina Tattoo Studio
Pinterest: La Nina Tattoo Studio 
Website: laninatattoos.com
Timings: Mon to Sat 11 am to 8 pm, Sun 2 pm to 8 pm
Location on Google Maps:
6. Aliens Tattoo Studio
Aliens are established in Ahmedabad to redefine the whole meaning of tattoos. If you are someone who would like a chic and kickass story to go with your crazy cool tattoo design, Aliens Tattoo Studio would work the best for you.
Their extensive studio has 10 tattoo stations and a private space where one can just chill out, this tattoo studio has made a benchmark for all other tattoo studios not just in the city but the whole country. The beautiful environment and friendly setting is not the work of a single man but the whole team. Thus they come with a  great promise to provide the best to you.
Their specialty? Well, it lies in making the best and realistic kinds of tattoo designs. In their words "Even our minimalist tattoos look absolutely refreshing, just like a blooming flower. When it comes to photorealism or hyperrealism our customers swear that their tattoos literally talk to them. So, what makes these tattoos life like? The answer is perfect shading and impeccable, razor-sharp outlines."
Their custom designs are especially to die for and I am sure they will give your 100 percent assistance when you go there to get etched.
The owner of the place, Sunny Bhanushali is acknowledged all over the world for his performance on photo-realistic tattoos, hyper-realistic tattoos, and conceptual tattoos based on Hindu Mythology. He is one of the scouts to effect realistic tattoos in India. He has acquired many prizes in several global convocations.
Sunny Bhanushali's conceptual designs and tattoos are placed first place on google searches because the demand for his work is huge and searched by people throughout the world. He has been starred in London's top tattoo Magazine, i.e. Total Tattoo Magazine. He has been in the news and media on various occasions for his offering to the Indian Tattoo Industry. He is the patron of India's first Tattoo School which is the Government acknowledged school called Aliens Tattoo School. He has assisted more than 600 artisans to assist them to acquire knowledge on advanced tattoo art and try tattooing as a profession through this school.
The team at Aliens Tattoo Studio understands that each tattoo design is special and important to the wearer and maintain its authenticity and originality. They look forward to collaborating with different kinds of artists who are skilled at a particular design and bring out the best to customize the design for their studio and their brand.
The device heads, Sunny Bhanushali and Sameer Qureshi, known as the Best Tattoo Designers, have designed multiple tattoo ideas that are positioned at the top on Google Images and Pinterest for the style. The designs are tailor-made to suit the clients' tattoo concepts. Aliens Tattoo has been the guide to lead the Double Exposure tattoos in Indian tattoo culture.
What do they understand about the tattoo? Learn what Sunny Bhanushali himself has to say:
It doesn't matter if the tattoo request is small or huge, it's about creativity and originality. It's an experience to get a tattoo from Aliens Tattoo, it's not just about inks and needles, it's about connecting to our clients to a deeper level to understand the very core purpose and emotions attached to the tattoo, and bringing it to life in the form of tattoo design. Be it small tattoo ideas, tattoos for girls, tattoos for boys, or tattoos for men, we've executed some of the best kind of designs that you can find in our portfolio.
Shop Name:
Address: 105, First Floor Devashish Business Park, above Mocha Cafe, Bodakdev, Ahmedabad, Gujarat 380015
Contact: +91 96733 33212, +91 98330 65209
Email: [email protected], [email protected]
Facebook: Aliens Tattoo Studio, Aliens Tattoo Ahmedabad
Instagram: Aliens Tattoo Studio, Aliens Tattoo Ahmedabad
Youtube: Aliens Tattoo Studio
Pinterest: Aliens Tattoo Studio
Twitter: Aliens Tattoo Studio
Website: alienstattoos.com, alienstattoo.com/ahmedabad
Timings: Mon to Sun 12:30 am to 9:30 pm
Location on Google Maps:
7. Ahmedabad Ink Tattoo Studio
This tattoo studio is named after the city where it is located, Ahmedabad Ink Tattoo Studio is full of dazzling and innovative ideas that would make a customer fall in love with them. It is perfect for people who are not scared of difficult design and dare to experiment with themselves. The studio has a set of various artists that specialize in a specific kind of tattoo design and will be able to assist you in any kind of need.
In the words of the owner of Ahmedabad Ink Tattoo Studio himself,
You are looking at the work of one of the finest tattoo studios in Ahmedabad. We are a creative team of tattoo artists, illustrators, painters, and digital artists lead by professionals. we are rated as the most creative and best tattoo artist in India. This visionary Ahmedabad is known for jaw-dropping realistic and hyper-realistic tattoos. Take a look at our portfolio and mind your jaw-drop, it might happen 🙂
While they were a pretty hygienic and clean freak, they are now following more protective measures especially since the time of covid. Here are some safety precautions that they follow strictly:
1. All customers are requested to use a mask.
2. Only 1 person will be let in with the customer.
3. The tattoo will be only on an appointment basis.
4. The discussion will be arranged over the telephone before your appointment.
5. They will ask you to stay home or reschedule if you are not feeling well.
6. They have strictly prohibited bringing any food items in the studio not do they provide them.
7. They are currently not taking walk-in appointments and they would want to be contacted via any of the social media platforms, phone number, or email. They are following precautionary measures so that they could provide their customers with a safe and hygienic environment.
8. They would appreciate it if everyone would follow the guidelines and then make the services of people better.
Location on Google Maps:
8. Raj- Raj Tattoo And Body Piercing
Raj Tattoo and Body Piercing is one of the most amazing studios in the city and it is purely because of the kind of tattoo designs that they make and provide. They also provide top-notch facilities and use modern equipment that is safe on the skin. You will surely leave with the kind of tattoo that will put a smile on your face and would cherish it for a long time. He is the best tattoo artist in the city.
Shop Name: Raj Tattoo and Body Piercing
Address: Raj Tattoo and Body Piercing, Sankalp Apartment, 10, Nyay Marg, opp. Corporate House, Bodakdev, Ahmedabad, Gujarat 380054
Contact: 

090999 36227

Timings: Mon to Sun 10:30 am to 9 pm
Location on Google Maps:
9. Evilz Tattoos
Evilz Tattoo Studio was established in 2013. It provides all its customers with amazing tattoo services and designs. They believe in the highest level of satisfaction for their customers. At the studio, they use the best kind of material that is accessible in the market. The world-class measure of hygiene is met there. Even the needles are one time used and unfolded in front of the customers and after the achievement of your design, you can either take it with you or can dispose of it away. Be convinced that everything that touches your skin is new like the needles, ink caps, gloves, razors, etc to make your tattooing experience a concept for a lifetime. Evilz Tattoo Studio also has a tandem of extremely skilled professionals, who share an interest in tattooing and for connecting with clients to produce their imaginative notions to life.
Location on Google Maps:

10. Dhanraj Thakkar- Dhanush Tattoo Studio
Dhanush Tattoo Studio is one of the studios that are in the league of running to be one of the best in Ahmedabad. It provides services like permanent tattoos, body piercing, tattoo removal (for if you have regrets about any of your previous tattoos!), and tattoo cover-ups! The tattoo artist at the studio is pretty skilled at all these things.
Besides making designs, they also provide tattoo training to people who want to learn and establish their own business in this realm. It is a great tattoo studio that focuses on the hygiene of its customers and customer satisfaction which is of utmost importance to them. They also provide top-notch facilities and use modern equipment that is safe on the skin. You will surely leave with the kind of tattoo that will put a smile on your face and would cherish it for a long time. The artists here are some of the best tattoo artists in the city.
The hard work and skilled crew of the professional have made Dhanush Tattoo Studio one of the best tattoo studios and now the most influential one too.
Location on Google Maps: