The history of tattoos is pretty rich in the city of Chicago, In the 30s, the navy men flocked in Chicago to get themselves inked at one of the few shops that were present there at that time. Chicago was also the reason to rocket careers of some of the most talented artists of all time like Normal Collins or Sailor Jerry and Cliff Raven whose Chicago Tattooing and Piercing Company has been one of the most iconic studios in the history of tattooing.
A tattoo is forever and so we must focus not only just on the design but also on the way it has been designed too. One must pay attention to all the details of the tattoo and notice how a perfect tattoo should be. It includes the fine lines, the curves, the presentation of colors, and scabbing or scar tissues which can represent an untrained hand. Make sure that you are not choosing someone because of the design but their skills and art proficiency and the quality of the work that they render.
Only if finding a good tattoo artist was as easy as finding your favorite chocolate at your local drug store! There is no second chance when it comes to your ink and so it is a matter of commitment and research from the very beginning. Chicago is a hub of great tattoo artists and if the windy city has been your inspiration for your first (or tenth) ink, then here are all the Chicago tattoo shops that you must try!
1. Patrick Cornolo- Speakeasy Tattoos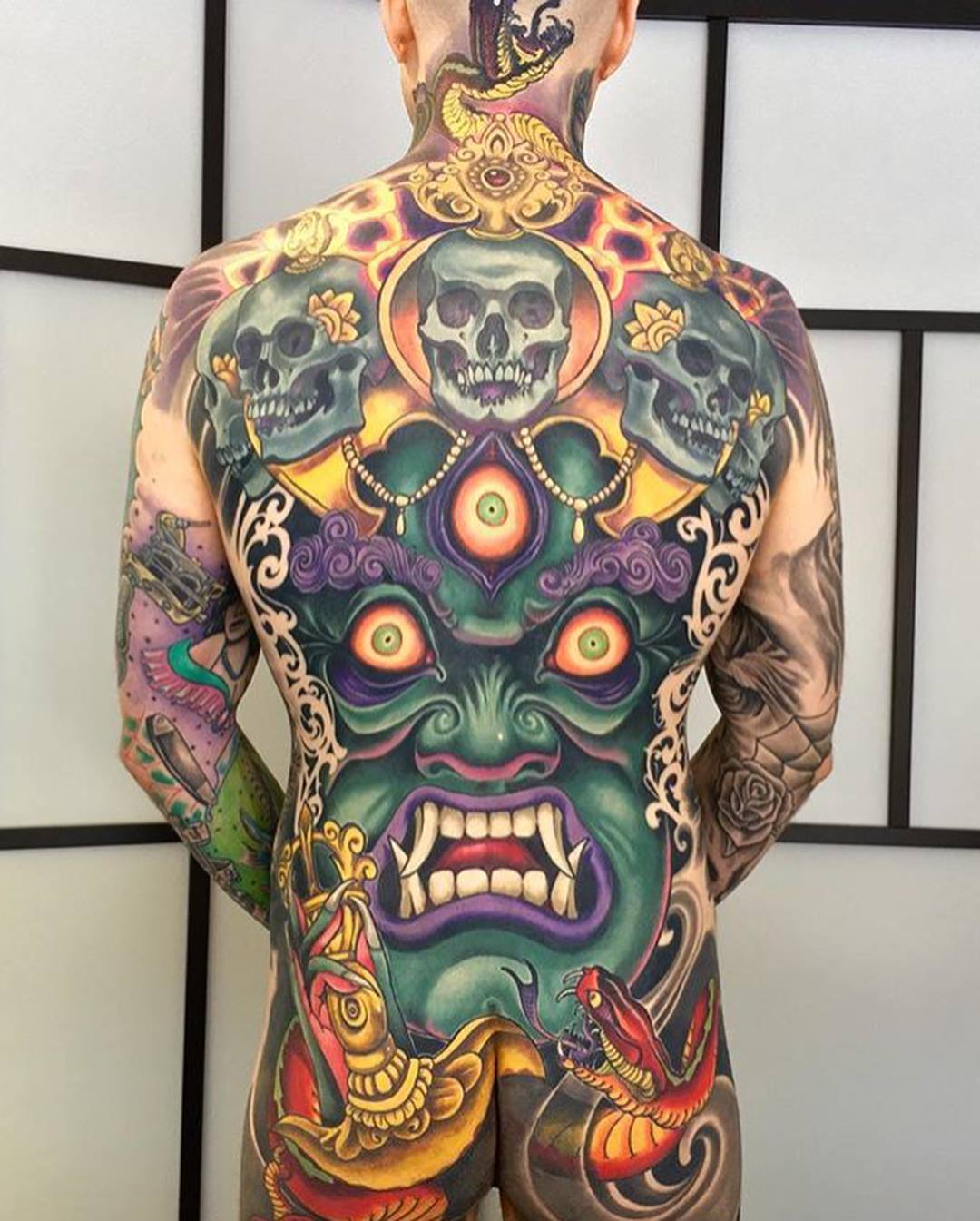 Speakeasy Tattoos is one of the largest tattoo studios in Chicago in the Eicker Park area which brings together a set of different and varied artists from all over the globe into one spot. The found and owner of the tattoo studio, Patrick Cornolo's more than 2 decades of experience in Japanese line art to other styles is the reason for Speakeasy Tattoos' success.
Tine Defiore is another tattoo artist at Speakeasy Tattoos which has an incredible command over geometric styles and strong skills in pointillism. There are other artists at Speakeasy Tattoos who can help you achieve your dream.
Once you choose your perfect design either by research, artist portfolio at their official website, or by consultation, you can discuss your artwork and schedule your appointment. You can directly reach out to your favorite tattoo artists at Speakeasy Tattoos that includes, including Patrick Cornolo, Sean Adams, Mike DuBois, Colin O'Keefe, Brigitta Mathe, Zen (Gyungwook Kim), Gady Mercado, buddy., Matt Atkinson & David Sugihara.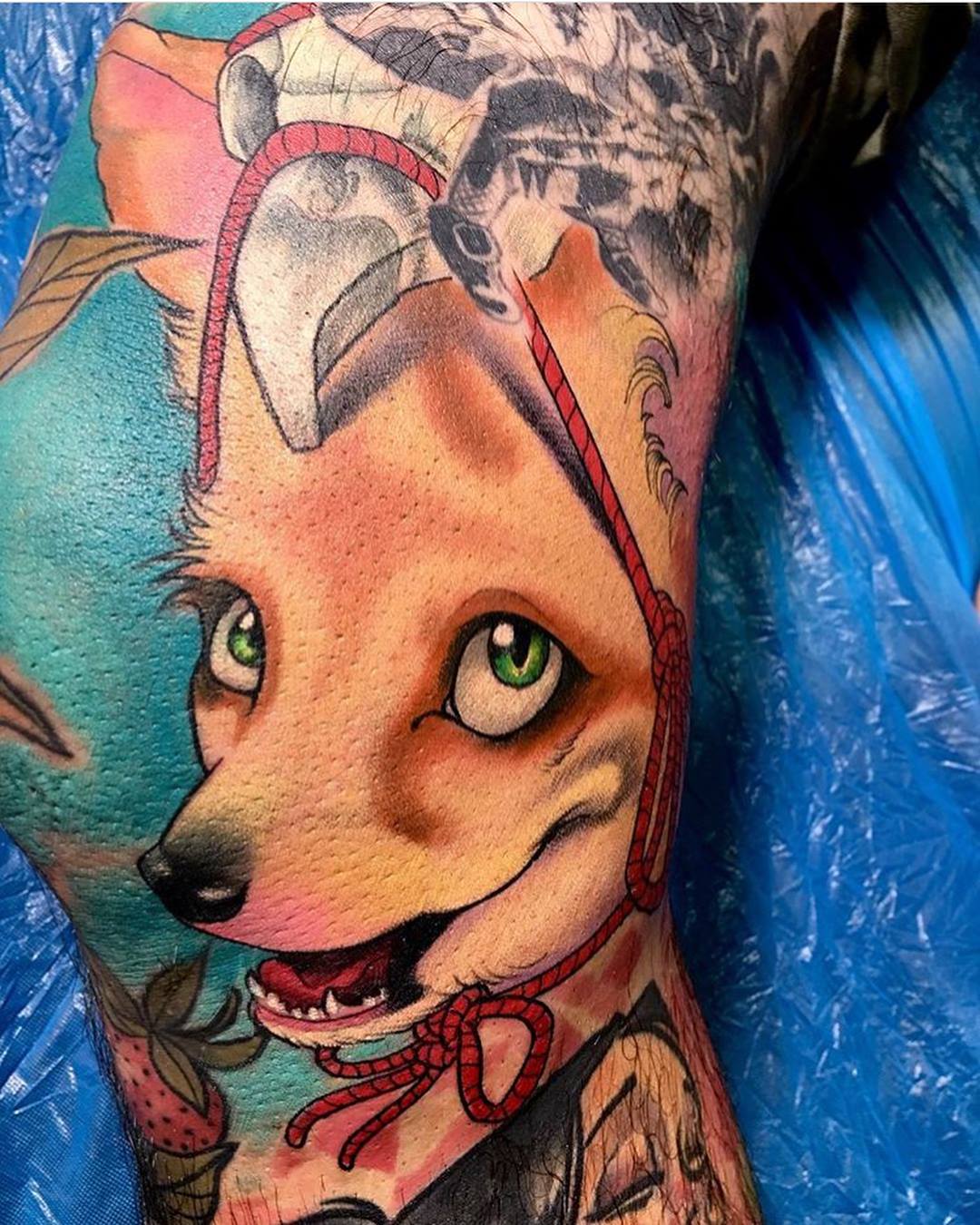 Location on Google Maps:
2. Jason Hoodrich- Family Tattoo
If you have a vague idea about your next tattoo design in your mind but are unable to put it into words, then you have to go no further than be in Family Tattoo which has amazing artists that will help you achieve your dream. Their supervision will help you understand your dream come to life. The colorful contrasts that the artist at Family Tattoo works with help your tattoo to stand out.
Tattoo artist Rich Marafioti is one such artist at Family Tattoo who has brought his decade of experience to modify customer's imagination and maintain close connections with the musical themes.
One of the super clients of Family Tattoo is WWE superstar and Chicago area native CM Punk who got himself some ink in 2011 from the famous tattoo studio.
Location on Google Maps:
3. Dale Grande and David McNair- The Chicago Tattooing & Piercing Company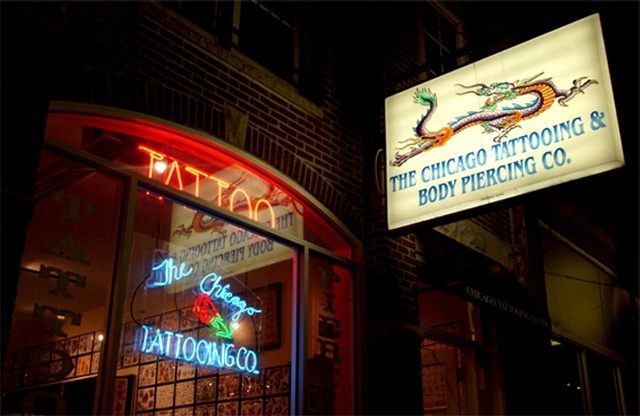 The Chicago Tattooing & Piercing Company is one of the oldest tattoo studios in Chicago and contributes a whole lot to Chicago's undeniable tattoo history which is rich and wide. The Chicago Tattooing & Piercing Company opened originally in the 60s at 900 W. Belmont Ave. Chicago Illinois as Cliff Raven Tattooing. Cliff operated with a few distinct artists then involving  Buddy McFall and the late Tatts Thomas.
The Chicago Tattooing & Piercing Company was the only one who held to their grounds after the Illinois government raise the tattoo age to 21 in the 1960s. They were very helpful and fought hard to reduce the age back to 18 years. They also improved their cleanliness and hygiene standards which helped them achieve different success in their career.
Dale Grande who still works at The Chicago Tattooing & Piercing Company began work under the owner Cliff Raven over 40 years ago before he became the owner of the studio himself. While many artists learned at The Chicago Tattooing & Piercing Company but it was David McNair who stayed in the place for more than 30 years. Grande along with other artists like McNair worked hard to get The Chicago Tattooing & Piercing Company to where it is now.
Location on Google Maps:
4. Stephanie Brown – Black Oak Tattoo
Stephanie Brown at Black Oak Tattoo is definitely one of the friendliest tattoo artists in Chicago. If you want a tattoo studio that will make you feel at home, Black Oak Tattoo is the place for you. Just one thing make sure, you must already have an appointment. Stephanie is a literal paint artist but she has the capability to capture the beauty of the canvas onto the canvas of the body that is the skin. Her design is precise enough that they might seem like they will come to life instantly.
Shop Name: Black Oak Tattoo
Address: Black Oak Tattoo, 3419 W Fullerton Ave, Chicago, IL 60647, United States
Instagram:@blackoaktattoo
Timings: Monday- Sunday 12 PM- 8 PM
Location on Google Maps:
5. Ryan Flaherty- Pioneer Tattoo Studio
Pioneer Tattoo Studio was started by Tim Biedron and Harlan Thompson in the Spring of 2010. He has a whole portfolio at the official website of Pioneer Tattoo Studio which makes it one of the pioneering shops in the Chicago tattoo industry.
Ryan Flaherty is another tattoo artist at Pioneer Tattoo Studio whose focus and interest lie in realism. He has so much to post as his portfolio on his social media and this portion on the official website that it becomes hard for these clients to choose one. Although he also does customized designs for his clients which suits their individual personalities better.
Location on Google Maps:
6. Molly Emrick- Ash and Ivory Tattoo
Molly Emrick is definitely, without a doubt, one of the best picks of tattoo artists in Chicago. She works in Ash and Ivory Tattoo which is one of the most renowned tattoo studios in Chicago and her work is primarily based on lines and entirely ethereal, tinkering in abstract themes and applying unparalleled consideration to particularities. She is booked for most of the year, you can still keep an eye for any openings or just enjoy her extensive work on her social media.
Location on Google Maps:
7. Esther Garcia- Butterfat Studios
For those who are smitten by subjects like that of natural and botanical designs, Esther Garcia is acknowledged for her stunning and unusual interpretive style. Earlier the proprietor of Butterfat Studios, a special, all-female artist-driven tattoo shop in Chicago's Logan Square neighborhood, Garcia has organized her abilities into complicated projects such as Flower Thieves – a textile and commercial design collaboration with graphic designer Kyle Letendre.
Esther has been working as a tattoo designer since time being in Chicago. She is predominately taught by herself which brings in a very unique curiosity about her. She has tried to investigate all the methods of the techniques and styles that come in the tattoo industry. Her tattoos are very much recognizable because of her unique touch and because of the botanical imagery along with body placement ideas.
Butterfat Studios has grown in popularity by leaps and bound just because of the unique styles and methods of Esther who have been in the tattoo industry for more than 2 decades. However, she has turned her attention to other major projects. She is also planning to run a series of seminars that helps to promote education based on the tattoo and the tattoo industry among young tattoo artist. It will also helo her to encourage the young talented artists to find their dreams come true by choosing their own unique style and create a sustainable and healthy business venture.
Location on Google Maps:
8. Michael Lopez- Ageless Arts Tattoo & Body Piercing
Established in 2002, Ageless Arts Tattoo & Body Piercing has two places in Oak Park and Chicago to help the surrounding areas get inked. The group is one of the most grown tattoo shops in Chicago and concentrates on producing high-quality artists and piercers for their customers. The jewelry sold by the shop matches the Association of Professional Piercers and ASTM criteria. The clients who have been inked in Ageless Arts Tattoo & Body Piercing speak highly of their professional behavior and friendly atmosphere which makes this one of the best tattoo studios to be considered if you are looking for a professional tattoo design inked.
Michael Lopez was Osborn in new york and work her in Ageless Arts Tattoo & Body Piercing. His specialty lies in black and grey realistic tattoos and other designs. He has been tattooing for over a decade. He charges at least $100 for an hour to $175.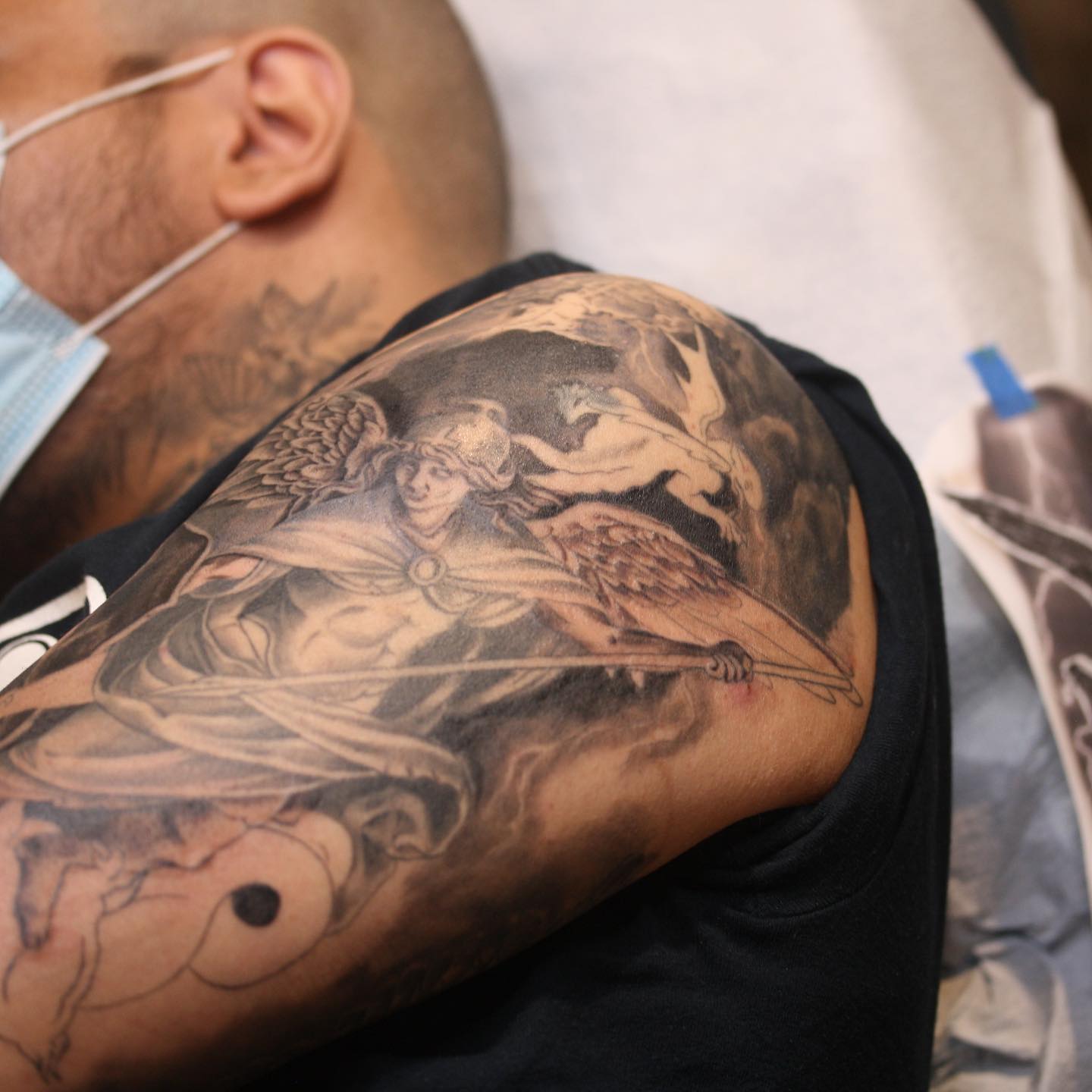 Location on Google Maps:
9. Max and Marshall Brown- Brown Brothers Tattoo
Located in Chicago, the Brown Brothers Tattoo is a cash-only tattoo studio that has been established since 2014. The tattoo artist in the tattoos specializes in portraits, black and gray, cover-ups, custom, illustrative, fine line, mystical, space-age, unknown, sensitive, realistic, tribal, cartoon, classic, horror, gooey, sinister, creepy, Japanese, American traditional, and more. they have a huge client base that speaks highly of the artists who work in a very professional and excellent manner with the utmost knowledge and in a clean and comfortable environment.
Max Brown, the owner and tattoo artist in Brown Brothers Tattoo specializes in dragon, panther, skull, snake, hawk, eagle, demon, reaper, wolf, devil, rose, alien, sword, dagger, scimitar, tiger, panther, gorilla, scorpion, spider, owl, and eyeball tattoos. A Gemini. In Chicago. In Humboldt Park.
Marshall Brown, the owner and tattoo artist at Brown Brothers Tattoo specializes in hot dogs, boobies, sun, moon, pizza, monkey, bear, clown, cat, snakehead, horse, spider, ufo, heart, Jesus, fox, owl, cupcake, bacon, log cabin, and dog tattoos. A Pisces. In Chicago. In Humboldt Park.
Micah Paul St. John who is a tattooist at Brown Brothers Tattoo trains in eagle, snake, panther, dagger, skull, flower, spider, web, girl head, pinup, clipper ship, tiger, man's ruin, wolf, butterfly, devil, dragon, mermaid, and salamander tattoos. An Aquarius. In Chicago. In Humboldt Park.
Natasha Bertram, another talented artist at Brown Brothers Tattoo has her forte in making designs that include a monkey, daisy, spider, pinup, clown, lady head, reaper, Kim Kardashian, John Carpenter, casket, bleeding heart, crustacean, scorpion, Seinfeld, boobs, hotdog, rose, parrot, butterfly tattoos. A Gemini. In Chicago. In Humboldt Park.
Josh Adams who has his interest lied in the acid trip, roses, panthers, girl heads, pinups, mutated animals, rodents, hearts, celestial beings, horses, circus, gorilla, sci-fi, horror, sci-fi horror acid trip, skull, dagger, mushrooms, insects, eagles, snakes and hand tattoos is also ana acclaimed artist in Brown Brothers Tattoo. An Aries. In Chicago. In Humboldt Park.
Eddy Rivera who has been in Brown Brothers Tattoo for quite some while now has his hands deep in clown, corn, tribal, feet, frog, scorpion, penguin, reaper, wolf, devil, rose, alien, sword, dagger, scimitar, tiger, panther, flaming butterfly, portrait, spider, owl, and eyeball tattoos. A Pisces. In Chicago. In Humboldt Park.
Shop Name: Brown Brothers Tattoo
Address: Brown Brothers Tattoo, 904 N California Ave, Chicago, IL 60622, United States
Contact: 

+1 773-252-9575,

 

312 684 2622

Email: 

[email protected]

, 

[email protected]

, 

[email protected]

, 

[email protected]

, 

[email protected]

, 

[email protected]

Instagram: @brownbrotherstattoo, @maxwellstreettattoo  @marshallgarfieldbrown @mpsjtattoo @natashabertram @u.adams_ @bimtast @ed.riv
Yelp: Brown Brothers Tattoo 
Twitter: @browntattoo
Website: brownbrotherstattoo.com
Timings: Monday- Sunday 12 PM- 8 PM
Location on Google Maps:
10. Omar (Oms)- Revolution Tattoo
Revolution Tattoo is a Chicago-based tattoo company that focuses both on the comfortableness of the client and the customer. It is a tattoo shop that has been ins service since 2014, so almost more than a decade. It specializes in creating custom tattoos, allows walk-ins, and creates custom pieces that clients will love. The space at the studio is entirely devoted to creating a tattoo and the art gallery is devoted next to the tattoo shop.
The clients love this tattoo shop because of the reasonable pricing, talented artists, the welcoming staff and their accommodating behavior, the knowledge the artists possess, professionalism, non-judgemental attitude, supportive behavior, excellent collaborating skills, and making the first-timers feel at home.
Omar, aka oms (pronounced with an 'h'), is a part arcane mystic and part tattooist who has been tattooing in Chicago for over 2 decades. With the help of his wife Cheri Basak, he opened Revolution Tattoo in 2004. Since then he has been making their customers feel proud of themselves and their tattoos with beautiful and finely detailed tattoos. Oms is an extremely versatile tattoo artist whose forte lies in colorful and bold illustrative pieces as well as black and grey realism, neo Polynesian and tribal, traditional American, and black and grey realism designs. Voila, extremely versatile, right?
When he is not working in Revolution Tattoo he likes to draw, paint, playing guitar and travel the world with his wife and see rock band perform live!
Jess Noble is another tattoo artist at Revolution Tattoo and a rock n' roll basically from Milwaukee! They practice in European/American traditions, with muted tones, and heavy black. Besides being a corgi owner, Jess is also a queer, black tattooer and is very accepting of all walks of life and all skin colors.
Shop Name: Revolution Tattoo
Address: Revolution Tattoo, 2221 N Western Ave, Chicago, IL 60647, United States
Contact: 

+1 773-486-8888

Email: [email protected]
Yelp: Revolution Tattoo 
Website: revolutiontattoo.net
Timings: Monday – 12 pm– 8 pm
Tuesday – 12 pm– 8 pm
Wednesday – OFF!
Thursday – 12 pm-8 pm
Friday – 12 pm-8 pm
Saturday – 12 pm-8 pm
Sunday – OFF!
Location on Google Maps: