A goalkeeper for American club Colorado Rapids and the United States National Team- Timothy Matthew Tim Howard is an American soccer player. Tim has a heavily tattooed body. He was an unaccustomed provisional for the 2006 World Cup but later entrenched himself hard as the first-choice keeper of the United States' international tournament games which kick-started with the 2009 FIFA Confederations Cup, in which the U.S. concluded as runner-up against Brazil. Tim Howard latched on at both the 2010 and 2014 World Cups, beginning in all their matches. This guy has a tattoo monstrosity too. Let us find about his body inks below.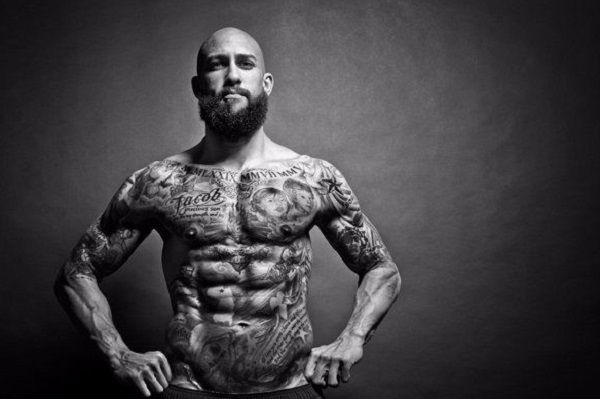 1. Portraits on Thigh
2. Right Leg Tattoo
3. Roman Numerals Tattoo
4. Shoulder Tattoo
5. Skull Tattoo
6. Spider Web Tattoo
7. Thigh Tattoo
8. Star Tattoo
9. Writing on Stomach Tattoo
10. Tattoo on Left Thigh
11. Thigh Tattoo
12. Couple Tattoo
13. What is past is past Tattoo
14. 'illmatic' Tattoo
15. Bicep Writing
16. '36' Tattoo
17. '1979' Tattoo
18. Bicep Tattoo
19. Burning Candle and Cross Tattoo
20. Butterfly Tattoo
21. Eagle and Butterfly tattoo
22. Inner Thigh Tattoos
23. Cross Tattoo
24. Crown Tattoo
25. Elbow Tattoo
26. Angel Tattoo
27. Virgin Mary Tattoo
28. Flower on Knee
29. Flowers Tattoo
30. Flying Birds Tattoo
31. Flying doves Tattoo
32. Eagle Tattoo
33. Grandfather's Portrait
34. HONOUR Tattoo
35. 'Jacob' Tattoo
36. Japanese Themed Leg
37. Jesus Christ Tattoo
38. Portraits on Thigh
39. Magnet tattoo
40. Mother's Portrait
41. 'NAS' Tattoo
42. Neck Tattoo
43. Neck Writing
44. 'NSNO 1878' Tattoo
45. 'Olympic Rings' Tattoo 
46. Pair of Swallows Tattoo
47. Portrait on Arm
48. Portraits of Children Tattoo
49. Superman Tattoo
Tattoo: There is a logo of superman tattooed on Tim's right bicep.
Meaning: Superman tattoo is one of the oldest pieces which Tim has. It was in 1996 when he got it inked that too by using his brother's fake id. The Superman tattoo is the symbol of strength, endurance, honor, stableness, and brute force. Tim got this as his first body tattoo because he thought it was cool to have this one!
"I was 16 years old and I went down to this place in Jersey with my brother's fake ID," Howard laughs. "It was 1996 and I think Superman was a thing. I think Shaquille O'Neal had a Superman, so I was like, 'I'm gonna get a Superman.' It wasn't the smartest idea, but I was cool the next day in school. At least I thought I was cool, everybody else probably thought I was an idiot (laughs)."
50. Dragons
"Hold in awe" type of creatures are dragons according to the Asiatic culture. Any sort of dragon, be it Chinese dragon or Jade dragon, reflects acumen, sanity, willpower, strong arm, longevity, lastingness, prosperity, and fortune.
51. Crucifix
The crucifix is a heart and across. It is one of the most beautiful and significant combinations for any person to consider if he or she is going for a decent tattoo that holds some faith. Being a more popular design in case of women, it depicts a blend of emotions. To generalize, a cross hooked up with a heart can symbolize a clasping of love and belief, or even can be understood as a token of remembrance of somebody dear to you but has now is no more with you.
52. Woman and A Man
Also, Tim Howard includes a young woman and a man, as his own mother and grandfather in a military-civil code. We have known for the fact that he got this tattoo from Aurora Studio in Lancaster in the month of May. Co-owner Sam Wisniewski explicitly says, "He brought in some photographs to work from. He had obviously thought about what he wanted and he sat down and talked about it. If the design is really personal and we know the full story, that makes the design much better." The peculiar point here is, Howard doesn't unbutton his shirt after matches.
 he also has portraits of his children, his grandfather and others—the tattoo with the best story behind it is the piece of script on his hand. "I'm a product of the golden era of hip-hop and Nas is the greatest MC of all time," Howard says. "I'm not a 'wanna meet you' type of person, but I had to meet Nas. I pulled out all the stops, talked to a bunch of friends, and I ended up going backstage and meeting him."
Hand Tattoos
"I was like, 'Yo, this might be a little weird, but if you sign my hand I would love to get it tattooed,'" he continues. "So he signs my hand. It's midnight, I'm calling all over Denver trying to find one of my tattoo artists but no one is open. So I had to sleep with my hand off the bed to make sure it wouldn't smudge. So that's my favorite. For sure. Easily."
Below you can find few pictures of inked Tim Howard: