Basketball is a team game played by two sides with five players in each team. It is played on a rectangular court where a team tries to put a 9.4 inches ball into a ring with is around 10 feet in height.  It is the national game of Serbia and is widely popular among several other countries globally. Each time a ball goes into a ring, two or three points are given to the team depending on the distance of the thrower to the basketball ring. There are several ways to put a ball into a ring such as a layup shot, jump shot, or dunk shot. The five players on each side are positioned at five playing positions. Here the tallest player is usually the center while the shortest player remains at the shooting guard or the point guard. The first basketball game was played on 21 December 1891 in Springfield, Massachusetts, United States. FIBA means Federation Internationale de Basketball Amateur.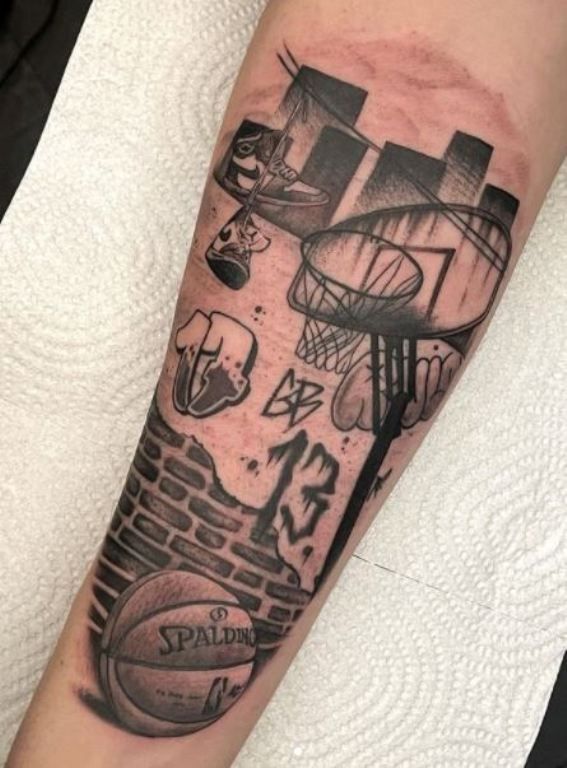 Meaning of Basketball Tattoo
Basketball is one of the most popular sports in Southeast Europe. For some, the craze for basketball is the same as that of a cricket game in India. Inking a permanent tattoo has become a trend nowadays. Almost every celebrity has a tattoo on some part of their body. There is a variety of different tattoos and a basketball tattoo is one of them. It is generally inked on the visible part of the body. People inked this tattoo to showcase their immense love and passion for the sport. It also holds several other meanings where few are mentioned below.
Commitment
Commitment is defined as the deep dedication and a firm decision to do something. In simple words, it is a pledge to do something in the future or to stand firm in achieving the goal. Inking a basketball tattoo is a synonym to dedication towards the game. Basketball for many is an emotion rather than just a game. Basketball game requires immense concentration and hard work to play. Hence, to be more focused, you need to be more committed to this sport.
Obsession
Obsession is the constant thinking about something or someone every time. The person holding the basketball tattoo is obsessed with this sport. As for playing basketball, you require a rectangular court with a ring on both ends. This basketball court is not accessible to many. So, to showcase their obsession for the sport, they inked the tattoo on their body. Such obsession is meant to symbolize that basketball remains close to their hearts and mind.
Height
The basketball ring is 10 feet from the ground. Hence, to put a ball in the ring, you require a taller height of up to 7 feet. It is worthy to say that a player possessing a greater height can able to play this sport more swiftly. As it is easy for the player to put the ball into the ring.
Where Should You Get Basketball Tattoo Designs?
For Women
Arms
Rib Cage
Calf
Shoulder
For Men
List of Basketball Tattoo Designs and Meanings
Kobe Bryant Basketball Tattoo on his Back
Kobe Bryant was an American professional Basketball player who played for the country for twenty years. He was one of the legendary basketball players who died on 26 January 2020 due to a plane crash at an age of 41. Black Mamba was his nickname and the person who has inked this tattoo on his back is a die-hard fan of Bryant. Hence, he has written on his back 'Mamba Forever.'
Basketball Colored Tattoo on the Body
This simple yet colorful tattoo looks excellent on your body. The brown and green color combination looks excellent whereas a basketball is a colored brown. You can easily flaunt it wherever you go.
Cartoonish Basketball tattoo
In this cartoonish tattoo, an animated character Lola Bunny is shown who has the basketball in his hand. Lola Bunny has appeared in The Looney Tunes Show. Besides this, she has also appeared in the 1996 film Space Jam. This tattoo looks gorgeous on the visible part of the body. Here, Lola Bunny doesn't want everyone to call her a doll.
Basketball Ring Tattoo on the Arm
This tattoo looks realistic and original to the naked eye. Here number seven is inked, which is the shirt number of legendary basketballer Kevin Durant. The wearer of this tattoo is a huge fan of Kevin Durant, and to show his immense love, he has inked this tattoo on his arm. This tattoo also denotes the passion of its wearer towards this game.
Basketball Heart Line Tattoo on the Arm
This heartline basketball tattoo on your arm looks amazing and stunning. It denotes your immense passion for basketball sport. The heartline here shows that your heart beats for the game. It is a great addition to your tattoo collection.
Basketball Line Tattoo on the Leg
This simple basketball line tattoo on the leg is not easy to make. It requires considerable hard work and concentration to get this tattoo done. It symbolizes simplicity, innocence, and transparency.
Basketball Old School Tattoo on the Arm
This old-school tattoo looks appealing to the eyes. A basketball is tattooed with an intricate pattern that has covered the entire arm. It is in black and grey color. If you want to flaunt the tattoo that should be simple and cover the entire body part, then this tattoo is for you.
Basketball Space Tattoo on the Body
This black and grey tattoo symbolizes that the wearer of this tattoo is interested in both basketball sports and astronomy. He wants to explore our solar system and the entire universe. This tattoo shows an astronaut holding a planet Saturn and trying to put the planet into its rings. It shows that he is a basketball player, yet he also wants to become an astronaut.
Burning Basketball Tattoo on the Body
This tattoo shows a burning basketball on the body. Fire provides warmth during the winters. It symbolizes the burning arrogance inside a person due to immense wealth.
Kobe Bryant Tattoo on the Leg
Kobe Bryant is a former American Professional Basketball player who died in 2020 due to cardiac arrest. He was one of the most popular American basketball players. He has a great fan following globally. The tattoo of Kobe Bryant is inked on the legs by one of his fans. He wants to showcase his immense love for the legendary player.
Michael Jordon Tattoo on the Body
Michael Jordon is known as one of the greatest all-time basketball players. Besides being a basketball player, he is also a renowned businessman. He was integral in popularizing NBA during the 1980s and 1990s. One of his fans has inked his tattoo on his body. He wants to showcase his immense love for the legendary basketball player.
Sean Elliot Basketball Tattoo
This tattoo is a cartoonish tattoo of yet another legendary basketball player Sean Michael Elliott. Sean Elliot has played basketball for America from 1989 to 2001. Thirty-two is his jersey number. This tattoo is designed in such a way that Elliot's back is visible with the number. The basketball is expressed as the planet Saturn with surrounding rings. It symbolizes that the wearer is spiritually strong.
Sword Basketball Tattoo at the Back
Having a dagger inserted inside a basketball symbolizes both victory and death. Either the wearer has won a game or has conquered the anger or lust inside him. It can also be seen as the symbol of protection, sacrifice, and bravery. Spiritually, it signifies cutting the bond of ignorance.
Basketball and Football Tattoo on the Body
This amazing tattoo looks great on your body. It looks simple yet elegant, and you can showcase it. Here, basketball is highlighted with football and skating board. This means that the wearer is passionate about both football and skating along with basketball. They want to represent their love for sports.
Basketball with the Lion Tattoo on the Body
In this tattoo, a lion is running while dribbling the basketball. It is been shown as an animal who is running like a human being. This denotes the courage and bravery of the wearer. They want to show that basketball can be played by everyone irrespective of their age and caste.
Basketball Loyalty Tattoo on the Arm
This basketball is of Spalding brand. Spalding brand has been one of the most popular brands since 1876. To denote its dedication, a tattoo is inked where a basketball is shown with Loyalty written below it. It means that the Spalding brand is one of the most trusted companies in producing basketballs.
A Crab holding a Basketball Tattoo on the Ankle
In this tattoo, a Fiddler crab is holding a basketball. Crab symbolizes happiness, strength, renewal, virility, prosperity, adventure, and loyalty. Also, it has gripped a basketball which signifies that it is a game that should be played as a challenging game where all the ten players should compete without any fear and worry.
Hercules Holding a Basketball on the Leg
Hercule's tattoo conveys the symbol of power and physical strength. Hercules in Greek mythology is denoted as the son of Jupiter, and Jupiter is known as one of the largest planets of our solar system. Here, Hercules is holding a basketball which is synonyms to planet Jupiter. It means that the wearer of the tattoo wants to show that he loves playing basketball to full strength and power. He is ready to play it as a challenging game.
Basketball Jersey with the Floral Design Tattoo on the Body
Basketball is a game that is loved throughout the world. Flowers are the symbol of love between the two people. Any sports we play teach us to be united and remain confident all the time. Basketball is a team sport which is played among ten players; five players in a single team. It teaches us a lot of other things like respecting your opponent, sportsman spirit, and believing in yourself. Here, it's a jersey of basketball with flowers. It represents courage, affection, and passion for the sport.
Street basketball California vibes tattoo on the Biceps
California is one of the most famous cities in the United States. It is also known as an entertainment city. Playing outdoor sports is also a kind of entertainment. Basketball is an outdoor sport played on a rectangular court. In this tattoo, a player is playing this sport in a court located in California city of United States. It covers the entire biceps and looks pretty appealing. It symbolizes the fun and joy the wearer has in playing this sport.
A Basketball under a Broken Skin Tattoo on the Back
In this tattoo, a basketball is placed under the broken skin, which symbolizes the passion the wearer has for the sport. He can play this sport without getting tired and exhausted. He is highly enthusiastic about this sport.
Daffy Duck Basketball Tattoo on the Biceps
Daffy Duck is an animated character created by Warner Bros, who has appeared in Looney Tunes and Merrie Melody's animated shows. It is a widely popular animated character. In this tattoo, Daffy Duck is holding a basketball and is trying to hide it behind his back. It is in black and grey color, which denotes the playful and childlike character of the wearer.
A Skull holding a Basketball on the Thighs
A skeleton tattoo symbolizes your ability to overcome hard times and carry strength. In this tattoo, a skeleton is holding a basketball which shows the rebellious attitude of the wearer while playing a basketball game.
Celebrities with Basketball Tattoos
Mike Scott
Snoop Dogg
Snoop Dogg has inked this tattoo on his right wrist to pay tribute to the renowned basketball player Kobe Bryant.