Billy Ray Cyrus is an American singer and songwriter. He began his career in 92′ and has released over 16 albums and 53 singles since then. His song, "Achy Breaky Heart" became the first song ever to reach the triple platinum status in Australia. Cyrus has also appeared in many films and TV shows such as The Nanny, The Spy Next Door, Love Boat, and Disney's Hannah Montana. He is also a multi-platinum artist with 8 of his songs, reaching the top 10 on the US Billboard Hot 100. Billy Ray Cyrus has many interesting inks on his body. Let us look at the ones he has and the meanings behind them.
1. 'Eagle and Dreamcatcher' Tattoo
Tattoo: The upper right arm of the singer contains a tattoo of a dreamcatcher on it with an eagle's head emerging from behind it.
Meaning: The dreamcatcher helps avoid unpleasant dreams and evil spirits. He got the eagle tattooed next to it as a symbol of his American culture and heritage.
2. 'Stars' Tattoo
Tattoo: The upper side of his right forearm contains a tattoo of three stars on it.
3. 'Chief and Band' Tattoo
Tattoo: The inner side of his right forearm contains a tattoo of a Red Indian Chief on it, holding a rifle. There is also a band tattoo near his wrist made up of beads and feathers to carry the Indian Chief Theme.
Meaning: The Indian Chief in the tattoo is Chief Joseph. Most of Billy's tattoos represent Native American and Red Indian culture as he is influenced by that which is also shown in his songs. He has another tattoo of Chief Joseph on his other arm too, as you'll soon find out.
4. 'Cross Design and Tribal' Tattoos
Tattoo: The left shoulder and upper arm of the singer is covered in a large circular design inspired by tribal and warrior designs with a cross in the middle. There is also a tattoo of a band of tribal design right below this one. There are also a few words tattooed near his tribal band that translate to, "Music Changes Everything"
Meaning: The cross represents the religious views of the singer and the designs are inspired by Red Indian culture just like most of his other tattoos.
5. 'Circular Design' Tattoo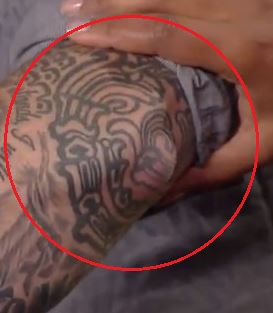 Tattoo: The area around Billy's left elbow is covered by a circular design full of different geometrical lines.
6. 'Eagle and Heart' Tattoo
Tattoo: The inner side of his left arm, around his bicep, contains a tattoo of an eagle on it. The eagle is not a traditional one and is tattooed in shape using tribal lines. The inner side of his left forearm contains a tattoo of a heart on it with a banner wrapped around the heart with a name on it.
Meaning: The eagle tattoo represents his love for his country and Native American culture, which made him choose the tribal design to get the bird made.
7. Believe Tattoo
Tattoo: The word, "Believe" is tattooed on his upper left arm, right below the wing of his tribal eagle tattoo.
8. Chief and Quote Tattoo
Tattoo: The side of his left forearm contains another large tattoo of a portrait of a Red Indian Chief on it with a quote tattooed around it that reads, "From where the sun now stands, I will fight no more forever". The rest of his sleeve is completed by tattoos of feathers and tribal patterns.
Meaning: The tattoo is of one of his favorites, Chief Joseph, along with a quote he said when Nez Perce was forced to surrender to Colonel Nelson Miles after the battle of the Bear Paw Mountains.
9. Heart Tattoo
Tattoo: There is a tattoo of a small black heart on the left hand of the singer.
Meaning: There is an interesting story behind this tattoo. Billy's daughter, Miley Cyrus, drew the heart with a pen when she was little and Billy got that permanently inked on his body the next day. The tattoo represents the love and bond that the two share. Miley got a similar tattoo on her body too.