Beatrice Annika Miller, often known as Bea Miller, is an American singer and actor. She was just 13 years old when she rose to prominence after ranking ninth on season two of The X Factor (US), which got her her first contract with Hollywood Records. Her debut EP, Young Blood, was released in 2014. When it comes to releases and fan following, Bea is not your typical celebrity. Today, we are not going to discuss her professional accomplishments, but rather her other attractive element, specifically her body tattoos.
1. Trees Tattoo-Left Upper Arm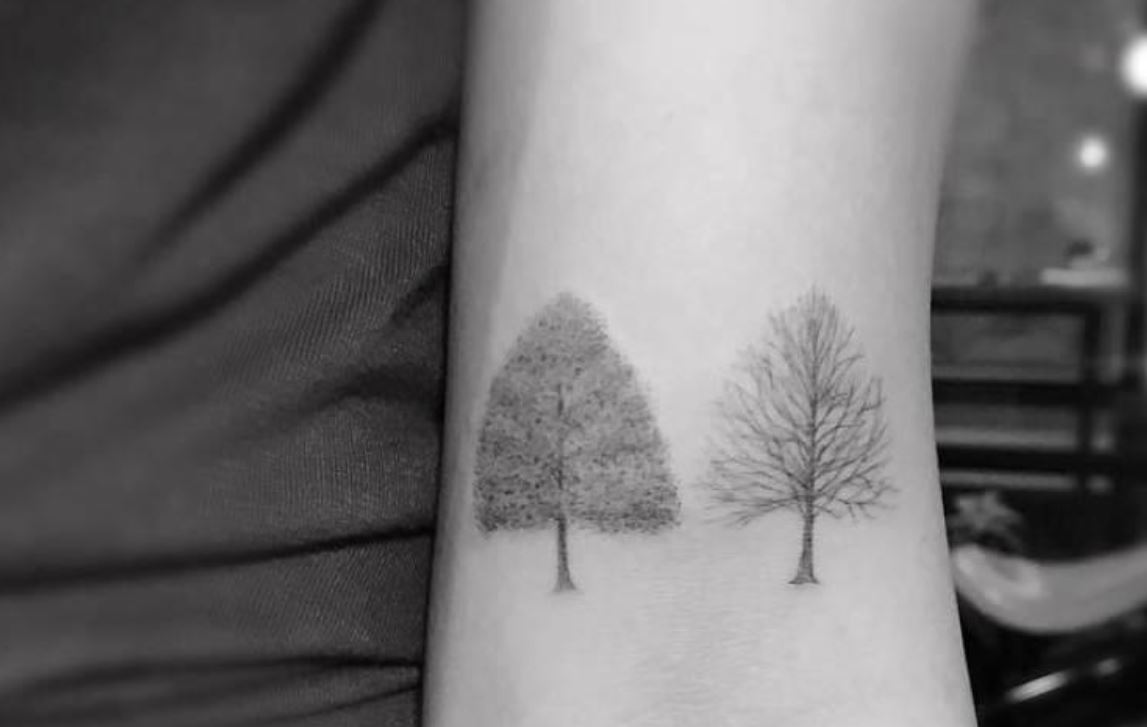 Tattoo: On her left upper arm, Bea has got a tattoo of two trees. The trees have been inked by the tattoo artist named, Dr. Woo. She got it done in March 2017 from Hideaway at Suite X, Los Angeles.
Meaning: Tree tattoo designs typically represent knowledge, development, and enlightenment, as well as being associated with fortitude, devotion, sustenance, immortality, reproduction, and independence. However, Bea's motivation for getting these trees tattooed is a little unusual. Bea's hometown of Maplewood, New Jersey, and the two specific seasons, are represented by the trees.
It represents "spring maple and winter maple," according to Dr. Woo, Bea's tattoo artist.
2. Ghost Tattoo-Right Forearm
Tattoo: On her right forearm, there is an outlined ghost tattooed. She got it done by the tattoo artist, Chawat from Generation 8 Tattoo, Los Angeles in May 2017.
Meaning: The tattoo of a ghost on her arm has a question mark over one of its eyes. As revealed, the tattoo is inspired by the Paramore song "Misguided Ghosts." Paramore is said to be one of Bea's favorite bands, not missing the fact that she has also performed covers of some of the band's songs like "Ain't It Fun" and "The Only Exception."
3. Portrait on Left Arm Tattoo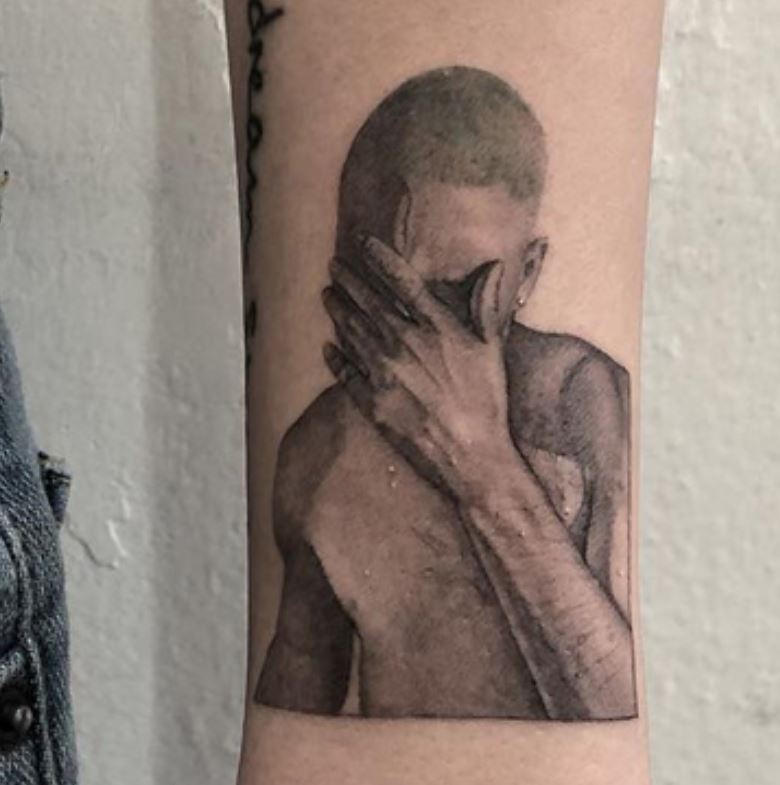 Tattoo: On Bea Miller's left forearm, we can see the portrait of Frank Ocean. The portrait design is inspired by his Blonde album cover.
Frank Ocean is a well-known American singer, songwriter, and rapper known for his avant-garde styles and elliptical lyrics.
4. Rubric Cube Tattoo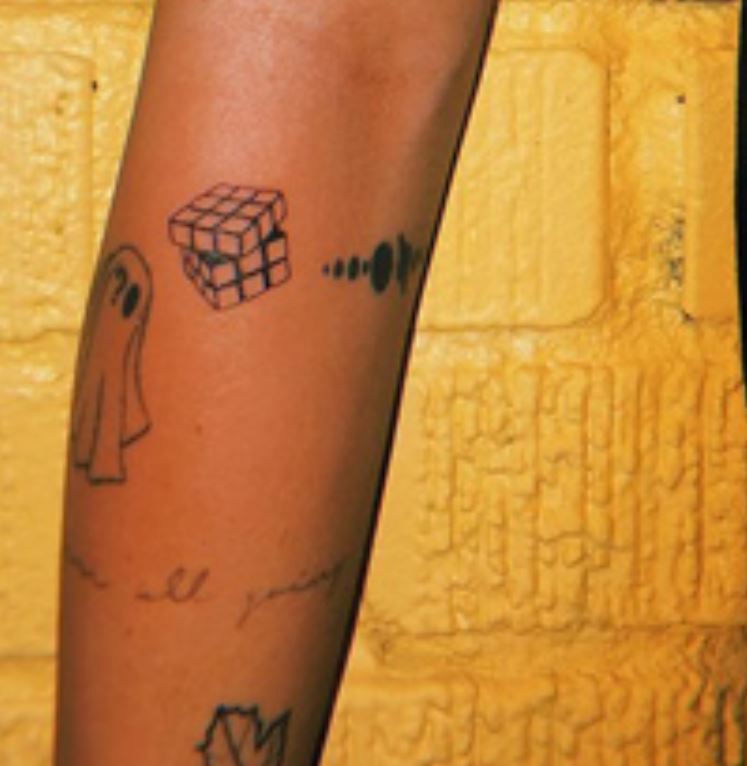 Tattoo: On her right forearm, there is a tattoo design of a Rubik's cube. The tattoo was done by the tattoo artist, Jon Boy.
Meaning: A Rubix Cube can represent your intellect, vigor, and adaptability. Many people get a Rubik's cube tattoo to reflect that they are interesting and intellectual people.
 5. Heart Tattoo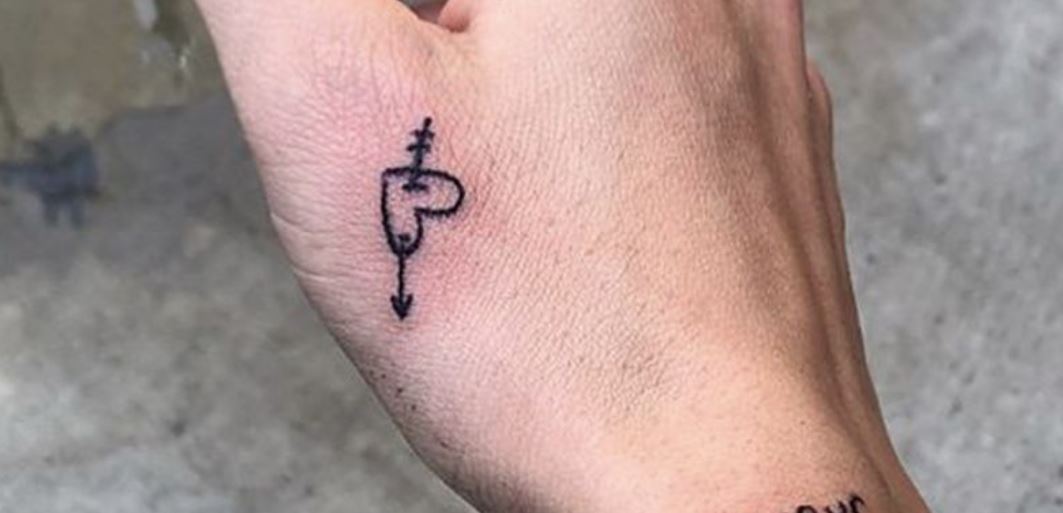 Tattoo: Bea Miller has got a tiny heart tattoo with an arrow piercing through it on her right hand.
Meaning: The heart is the way of expressing love for your loved ones. The tattoo on Bea's body is her dedication of love for her twin siblings but, with a twist that it shows the heart that was drawn by one of her younger twin siblings Elliot and Georgia drawings.
6. Equal Sign Tattoo

Tattoo: On her hand, she has got another tiny tattoo which is certainly a unique design. It shows the symbol of equality as represented by an equal sign.
Meaning: The equal sign on her left wrist of equal rights, and gay marriages all over the world. She got the tattoo done on July 25th, 2015. This is specifically the same day when the US Supreme Court legalized same-sex marriage across 50 states by invalidating bans on them.
The personalized reason for getting this significant body tattoo is Bea's parents who are actually two lesbian women. Bea got it inked at the mere age of 16 only to realize two years later that the lines of the equal sign had thickened.
 "Though it was the perfect day to get this tattoo #LoveWins" she tweeted.

"I have two moms, gay uncles, lesbian aunts and many LGBT friends. I will always happily support all of them ❤️," she had tweeted.
7. Writing on the right hand-"keep your head up high"
Tattoo: On her right hand, there is a tattoo of writing that can be read as, "keep your head up high".
Again, this is her tattoo inspiration directly from the drawings of her younger twin siblings, Elliot and Georgia. The actual message written by one of her siblings was, "be proud of yourself, and keep your head up high".
8. Tiny Finger Tattoos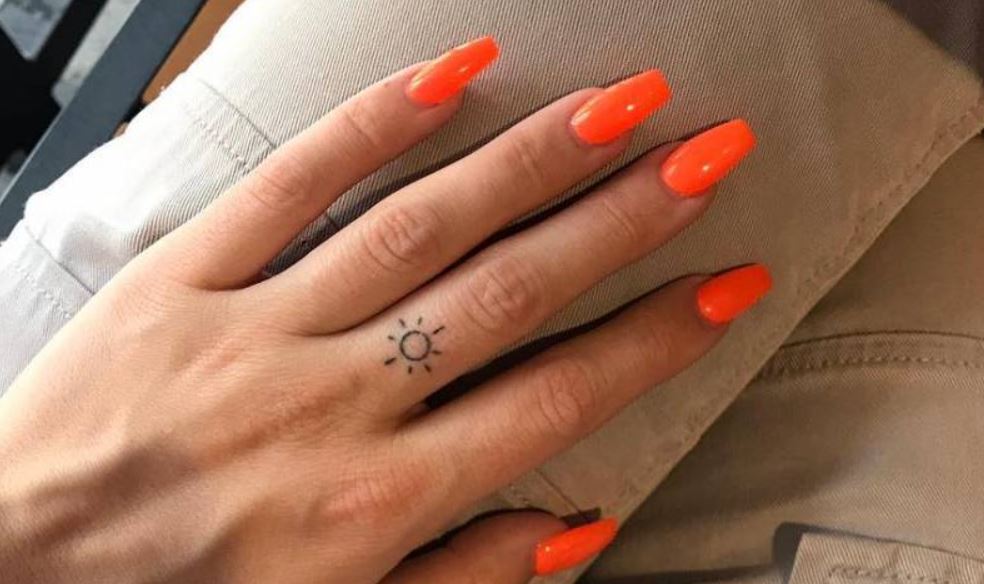 Tattoo: On her hands, we can see tiny tattoos across her middle fingers. There is a tattoo of the sun on her left hand and a cloud on her left. This is another of her tattoo from the Generation8Tattoo artist Chawat Chutikul. Bea got this tattoo in March 2017.
Many people see the sun tattoo design as a way to represent transitioning from the dark times of their life towards the brighter days and times. The sun is the biggest indicator of light, vitality, male strength, and memories related to your family.
On the other hand, clouds are linked with curiosity and mysteries. Light clouds might signify happy and joyful times ahead, but stormy, dark clouds can represent an impending threat or emotional hardship in life.
But, the combination of the cloud and the sun tattoo is known to evoke feelings of optimism and contentment.
9. Planets Tattoo-Right Arm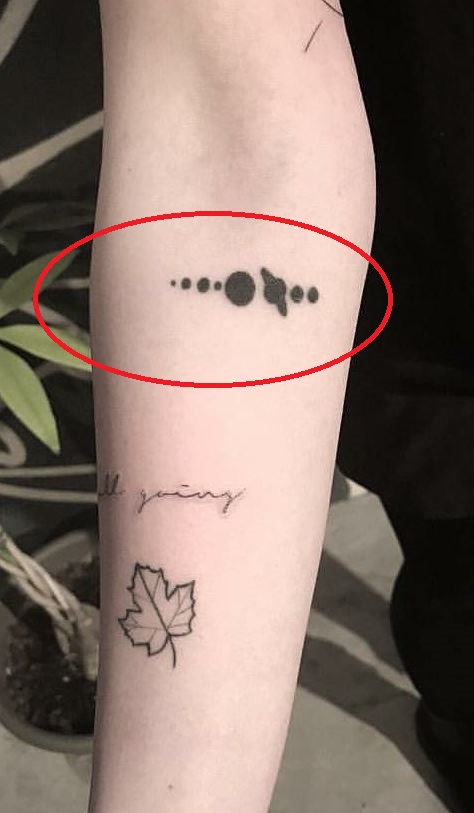 Tattoo: On her right forearm, there is an interesting ink that shows the seven planets of our solar system with respect to their distance from the sun.
As we see from the left to right represents Mercury, Venus, Earth, Mars, Jupiter, Saturn, Uranus, and Neptune.
10. Red Square Tattoo-Left Hand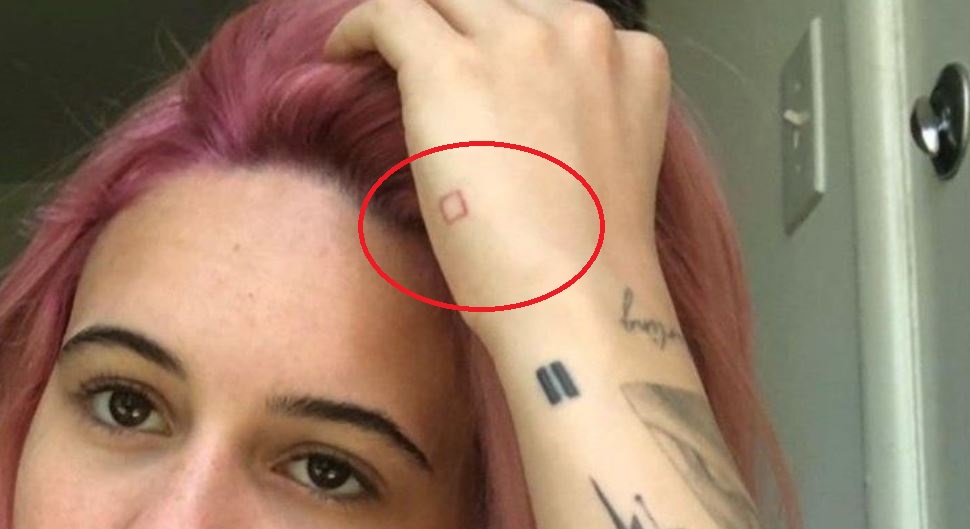 Tattoo: There is a red outlined square geometrical tattoo on her hand.
Bea Miller got this tattoo as a matching one with other three members of her crew i.e., her makeup artist, hairstylist April Bautista, social media manager Becky Sake, and digital marketer Kelley Fox.
According to her, the four sides of the square represent the four of them.
She had revealed her tattoo on her Instagram with the caption, "my team > urs".
11. Maple Leaf Tattoo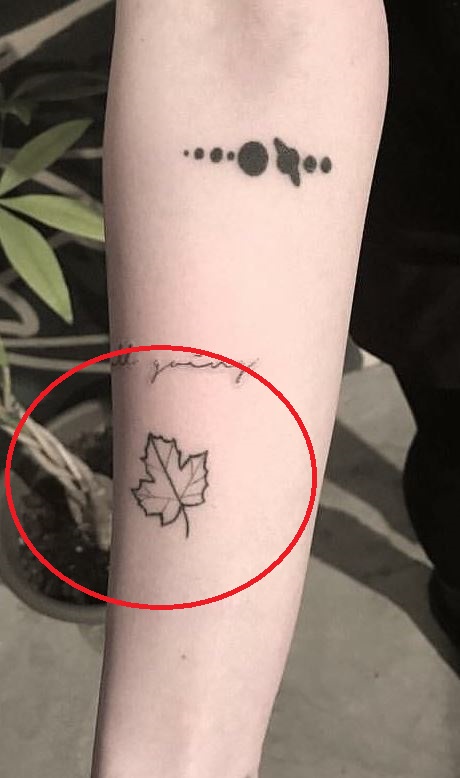 Tattoo: There is a very clean tattoo of a maple leaf on Bea's body, to be precise, you can look for it on her right forearm.
This tattoo is another of her matching inks with her friend from her hometown, Maplewood. She got it done with her friend, NJ, in April 2017. NJ, her friend, got it inked on her rib cage while Bea, got it on her arm. The tattoos were done by one of the tattoo artists named, Dave Hatton from the Generation8Tattoo, Los Angelis, US.
12. Writing on Arm- Dreams Sweet Dreams
Tattoo: This is a very precious tattoo for Bea, as it quotes the lines from the song that her mother used to sing to her every night.
Bea got this tattoo on her 18th birthday as a matching ink with her mother, on February 7, 2017.
The tattoo says, "dream sweet dreams" on their forearms which have been inked in each other's handwriting.
"From the song my mom used to sing me every night when I couldn't fall asleep, mine in her handwriting and hers in mine," Bea had tweeted while revealing her tattoo.
13. Anatomical Heart with a Brain Tattoo
Tattoo: On her arm, there is the tattoo of another heart rather, an anatomical heart with the brain. It can be seen on her upper left arm. Bea got it inked by the tattoo artist, Guillermo J Gonzalez in February 2017. This is indeed another special tattoo as she got it when she first visited her favorite tattoo parlor i.e., Generation8Tattoo.
The tattoo has a human heart in red ink on top of a brain outlined in black ink. It represents the conflict between two important aspects of every human being and his very existence i.e., his emotions and his logic. The heart is related to emotions whereas the logical sense is the task of our brain.
14. Astronaut Tattoo
15. Lightning Bolt Tattoo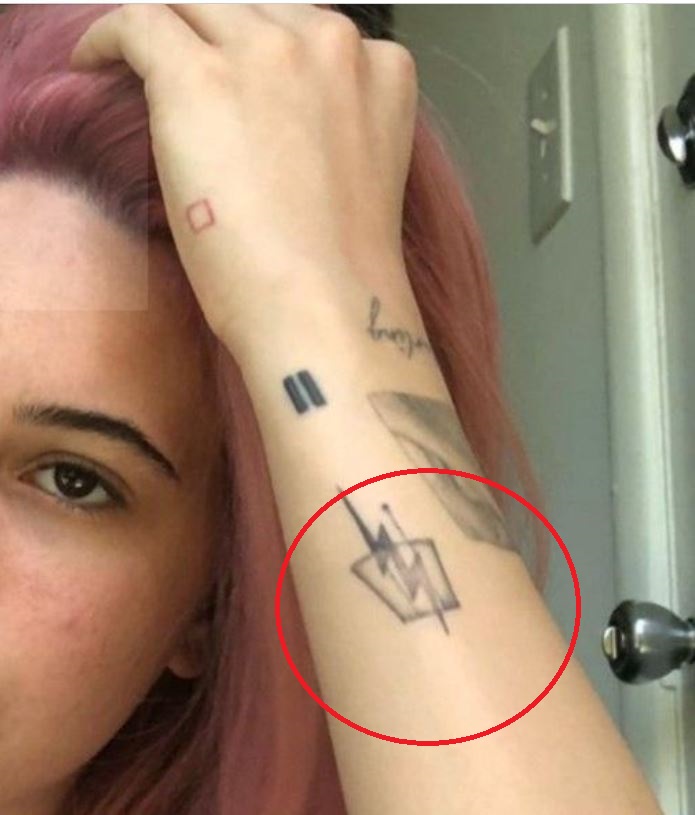 Tattoo: Bea's left forearm has a tattoo of the lightning bolt.
The lightning bolt is a powerful tattoo symbol as it represents stability, assertiveness, and intelligence.
16. Bee Tattoo
Tattoo: There is a tiny bee inked on Bea's left wrist.
Meaning: A be  tattoo repres nts commitment, devo ion, and honesty. These l ttle insects.  s well known to us, are devoted to th ir hivemates and the queen.
A bee tattoo on your body is the indication of the fact that you are a loyal person. Addiotionally, it can also represent your honour and responsibility to your life's passion, and ambition.
17. Arm Tattoo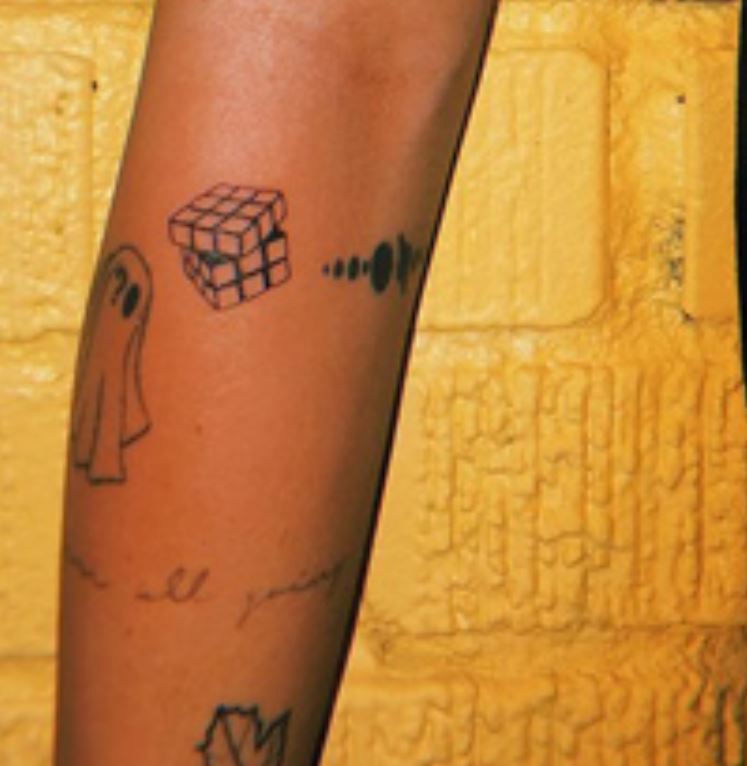 18. 'Peaches' Tattoo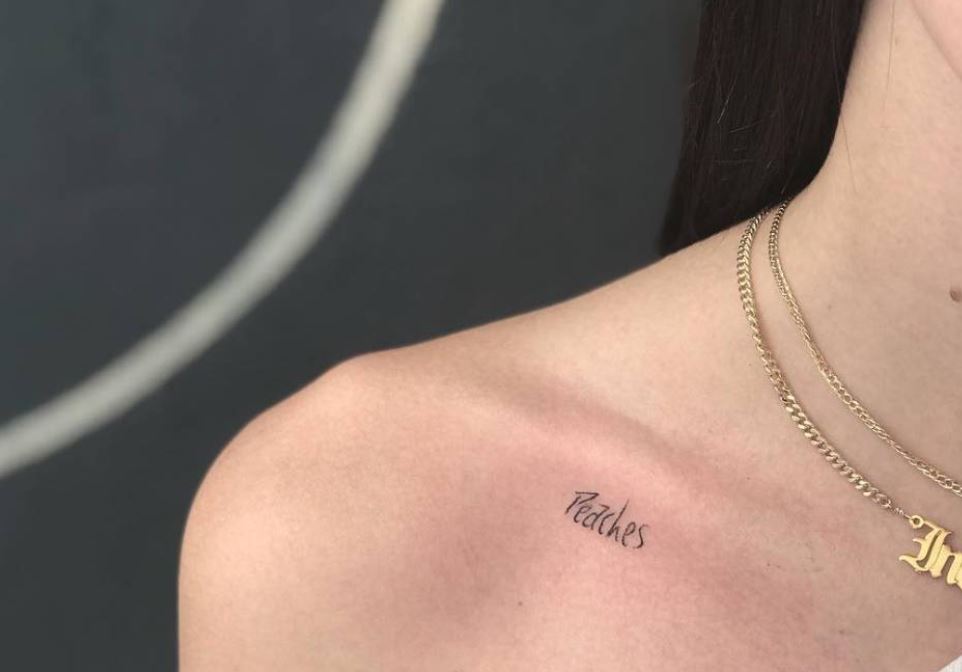 19. 'Hand Writing' Tattoo
20. Arm Tattoo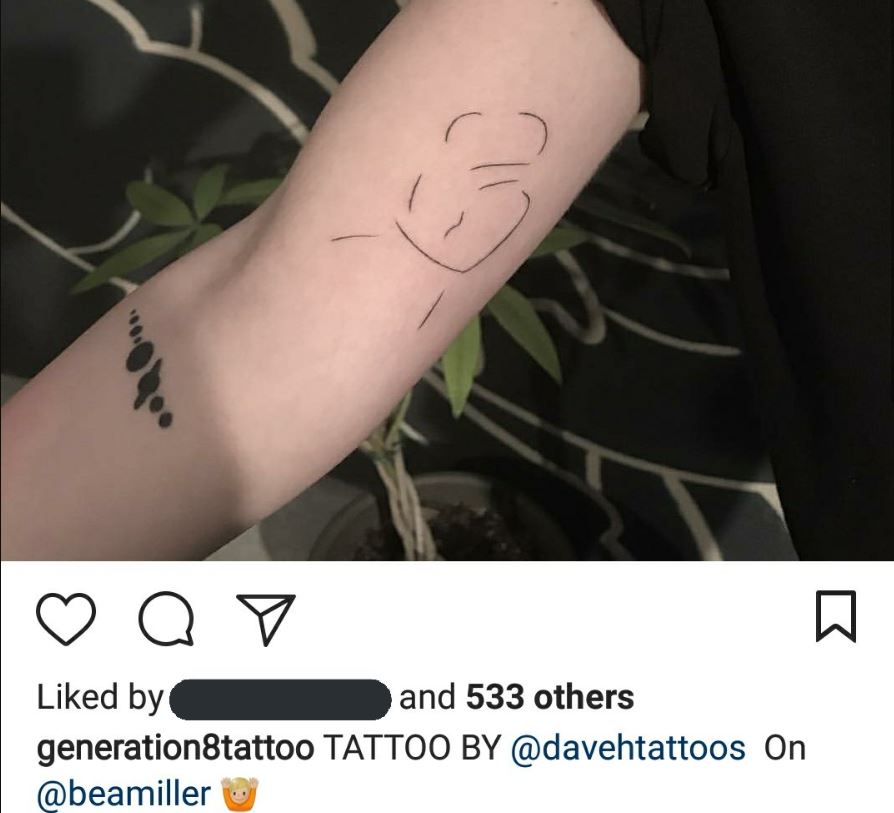 21. Darling Tattoo
Tattoo: On her left wrist, Bea has a tattoo that says, 'Darling.'
 22. Cherub Tattoo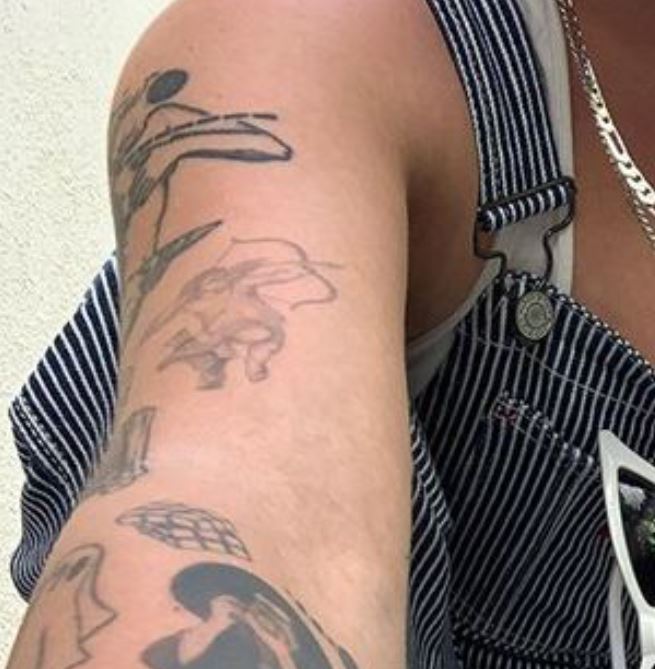 Tattoo: On Bea's right upper arm, we can see the tattoo of a baby angel; cherub.
A baby angel is symbolic of innocence and serves as a connection between heaven and earth. It can also represent God's love and protection.
There are many people who use baby angels as the way to commemorate a child's birth or, to mark their untimely death.
23. Arm Tattoo