These miniature works of art prove that size doesn't matter when it comes to ink. Small tattoos might be discreet and dainty, but they're still standout works of art. A tiny tattoo can have a great deal of meaning and can greatly influence your style. Kendall Jenner and Hailey Baldwin, for instance, got matching designs as a way of symbolizing their friendship. In fact, Kylie Jenner has already proved her affinity for minimalist tattoos by adding multiple to her body (and counting). In other news, Manday Moore got an ink to celebrate her mountain-climbing exploits, and the women of Pretty Little Liars all got ink together.
Here are our favorite celebrity examples of small tattoos so you can get inspired if you're debating getting one yourself or just looking for a few ideas.
List of Hidden Celebrities With Hidden Tattoo Designs
Selena Gomez's Cross Tattoo Design
Selena Gomez debuted her new cross tattoo from celebrity tattoo artist Keith Scott "Bang Bang" McCurdy on April 15, 2021. In an Instagram video, he showed off the singer's simple new tattoo, perfectly placed along her collarbone. "We heart @selenagomez," he wrote.
Hailey Baldwin's J Tattoo Design
In honor of Justin Bieber, celebrity tattoo artist Mr. K recently inked Hailey Bieber's left ring finger with the letter "J.". "It was PLEASURE [sic] for your trust on this meaningful piece," he wrote on Instagram. 
Kaia Gerber and Cara Delevingne's Matching Foot Tattoos
Fellow model Kaia Gerber revealed in a birthday post to Cara Delevingne that the two friends have matching tattoos on their feet that say "solemate." We see what you did there, ladies.
Miley Cyrus's Sibling Tattoo
Several new tattoos appeared on Miley Cyrus' Instagram story and closely resembled a compass. Rather than pointing north, south, east, or west, each point is designated by the first initial of one of her siblings: Brandi, Braison, Trace, and Noah Cyrus.
Vanessa Hudgens' Flower Tattoo
We're in a new decade, so we're getting new tattoos. Her newest tattoo is a small yellow flower on the side of her breast, which Vanessa Hudgens unveiled on Instagram. As reported by the New York Post, the tattoo, done by Dragon of Bang Bang Ink in New York, comes amid a number of major changes for the actor, who has reportedly recently split with longtime boyfriend Austin Butler.
Demi Lovato's 'Me' Tattoo
Taking to Instagram to showcase her newest ink, Demi Lovato has a tiny me on her finger. Her caption reads, "Thank you @winterstone for my new forever reminder," she wrote.
Mandy Moore's Mt. Kilimanjaro Tattoo
According to her Instagram, Mandy Moore, who is now 19 years old, has dreamed of climbing Mount Kilimanjaro for as long as she can remember. The tattoo, which she received from tattoo artist Daniel Winter on her right foot, commemorates her trip to the summit in 2019.
Shay Mitchell's 'Honey' Tattoo
Mitchell is no stranger to the tiny tattoo lifestyle (see the rest of this slideshow), and she added another tattoo to the family at Coachella 19. Among Jon Boy's latest works for her is this all-caps honey declaration. We have no idea what it means.
"You say 'loser', we say 'Halsey'." It's not of our own volition, but hers: thanks to Jon Boy, the singer's etching says, "I'm a loser baby."
Hilary Duff's Bette Davis Tattoo
Earlier this year, tattoo artist Dr. Woo shared a design he created for Duff. It reads "Take Fountain," referencing Old Hollywood icon Bette Davis, who once famously suggested that approach to breaking into show business to Johnny Carson.
Bella Thorne's Arm Tattoos
A few weeks after Los Angeles tattoo artist Daniel Winter customized Thorne's tricep, she posted another photo (at right) to her Instagram. Fans are not sure of the meaning behind the new elbow tattoo on the singer, but do you see the penlike, hand-done lines? He's a stick-and-poke tattoo master, so that's par for the course for Winter's minimalist work. It's understandable why she keeps going back.
Shay Mitchell's Roman Numerals
Mitchell posted a photo of himself with fresh ink courtesy of Jon Boy on Instagram. A tiny tattoo of Roman numerals for one, four, and three (though the number of letters in four and three stands for "I love you") is made up of the roman numerals for one, four, and three, but she hasn't revealed their meaning.
Solange Knowles's Delicate Constellation Tattoo
Thanks to the artistry of New York City's Bang Bang Tattoos, Solange adorns the inside of her arm with a delicate constellation tattoo.
Dakota Johnson's Flower Forearm Tattoo
This semi-crumpled flower is a tribute to the artist Egon Schiele, according to Dr. Woo. Dakota Johnson was quoted as saying, "It's f-cked up, but it's still a flower, like me.".
Sasha Pieterse's Floral Forearm Tattoo
To achieve lines as crisp and detailed as Pretty Little Liars actress Emily Field's requires a lot of needlework. It's not surprising, however, that's what Daniel Winter's art is all about. He is so dainty and adorable.
Lucy Hale's Lightbulb Tattoo
A brilliant thought: Anything illustrated by L.A.'s most famous tattoo artist, Dr. Woo.
Ashley Benson's Biceps Tattoo
Jonathan Boy provided Ashley Benson with a tiny script adornment on her biceps. According to the caption, it reads "Muggsy"-as to what that might mean, we are all guessing.
Ashley Benson's Inner Wrist Tattoo
Benson's "Muggsy" tattoo was also created by Jon Boy, and she paired it with a clean-lined star on her inner wrist.
Selena Gomez's Tiny 13 Reasons Why Tattoo
As the executive producer of 13 Reasons Why, Selena Gomez has been outspoken about her love for the cast and crew, and she recently took that love to the next level. The tiny tat she has on her arm is a sign of her lifelong friendship with her friends and her solidarity with those who struggle with self-harming thoughts.
Bella Thorne's Tiny Emoji Tattoo
May 2017 was a tattoo-centric month for Bella Thorne, who added a delicate stick-and-poke emoji to her collection of tiny tats.
Miley Cyrus's 'Freedom' Tattoo
Daniel Winter (aka Winter Stone), the tattoo artist to the stars, shared the singer's latest ink on his Instagram. She got the word freedom tattooed across the back of her hand. As a result of Cyrus' separation from ex-husband Liam Hemsworth in 2019, many people have begun to deduce a lot from her vocabulary.
Adwoa Aboah's Tiny Wrist Tattoos
The tiny wrist tattoos worn by Adwoa Aboah are just as meaningful and delicate as they are small. On the model-activist's Instagram page, her latest tattoo is entitled "All the women.". In me. Are tired," is a sign of solidarity for women and girls who feel isolated. Tiny script and solidarity are what we're for, and the internet is with us.
Cara Delevigne's Meaningful Snake Tattoo
Cara Delevigne has new ink to show off every other day, but the thin, super-subtle snake tattoo she got early last year is both delicate and edgy. From the edge of her palm to her middle finger, a snake slithers down her hand, with the word feral appearing at the end of its tail. In addition to being an eye-catching design, Doctor Woo's creation also has a special meaning. Delevigne told The Sun that "it's about reinvention, shedding of old skin, new beginnings, new life." Awesssssssome.
Demi Lovato's Tiny Pinkie Tattoo
The pop star has about 30 tattoos, including some that cover her entire body! It is impossible to pick out the most delicate smiley on her pinkie, but this one strategically placed on the tip is definitely one of our favorites. Previously she said that her tattoos range from serious symbols to fun designs, but perhaps she best explained this one in her August Instagram post that revealed the new tat: "Cause life's too short not to tattoo your pinky," she wrote.
Ariana Grande's Tiny Finger Tattoos
At the end of August 2016, "Dangerous Woman" revealed two new delicate finger tattoos, each done by celebrity tattoo artist Doctor Woo, who is responsible for creating intricate artwork for many other top celebrities. To start with, the vocalist was given the symbol for female on her left middle finger. In addition to that, she received a tattoo of the letter A on her thumb. As she revealed the new tattoo, Grande said on Snapchat, "I got an A for my best friend and me.". That's adorable and meaningful.
The Pretty Little Liars Matching Finger Tattoos
It wasn't just us who felt the need to pay tribute to this TV magic when the final season of Pretty Little Liars was around the corner. The six main cast members of the show-Lucy Hale (Aria), Shay Mitchell (Emily), Ashley Benson (Hanna), Troian Bellisario (Spencer), Sasha Pieterse (Ali), and Janel Parrish (Mona)-got matching tattoos to commemorate their time on the show. On each finger of their characters, the Liars inked the first initials of their names. Her Instagram post showed the designs and drew our attention to the best detail: the teeny tattoos on each girl's "shh" finger.
Maisie Williams's and Sophie Turner's Matching Date Tattoos
Speaking of tattoos matching costars, Sophie Turner and Maisie Williams got inked in September 2016 for their role as the Stark sisters. As a way to commemorate the day they found out they were cast on the show, the Game of Thrones actresses got tiny tattoos of the date August 7, 2009. (Remember that in the U.K., dates are written day/month/year, so theirs actually read 07.08.09.) The TV sisters decided to get their tattoos while the show was on hiatus, so they didn't want anything bad to happen to their characters in the upcoming season. "We don't know if we're going to make it, so Maisie and I were like, 'Let's get these ones before anyone kills us,'" Sophie joked on the Emmys red carpet.
KeKe Palmer's Tiny Arm Tattoo
KeKe Palmer moves forward, and she moves forward strongly. One of her latest tattoos, "Nobody gets it right on the first try," was inspired by an ex-boyfriend, and KeKe isn't shy about giving him credit for inspiring-and living up to-her tiny tattoo.
Ariel Winter's Tiger and Tiny Elbow Crook Tattoo

She has sported numerous fake tattoos for her upcoming film Dog Years (such as this spider tat), but these subtle designs are real. What makes us so sure? Apparently she stopped by the Shamrock Social Club in LA to meet celebrity artist Dr. Woo. Though we haven't seen a close-up of that elbow-crook ink, we think everyone can agree it's the next place we should consider adding art. Right? Right.
Kylie Jenner's Tiny Red Tattoo
At her 18th birthday party in August 2015, Kylie debuted the first of four minuscule red tattoos she has.
Bella Thorne's Tiny '93' Tattoo
Bella Thorne did not give us any explanation as to why she got a delicate 93 tattooed on her arm back in January of 2017, but we know we love it. She probably loves it just as much as her sister Dani, born in 1993.
Bella Thorne's Tiny Shoulder Tattoo
This small heart tattoo was called Thorne's "baby tat" when she was younger. We loved how it was placed on the front of her shoulder in a unique way.
Simone Biles's Tiny Olympics Tattoo
As she revealed her first tattoo, Simone Biles was all smiles. It was a simple black-and-white representation of the Olympic rings. Biles brought home many medals from the 2016 Summer Olympics, so we think it's an excellent choice for her first tattoo
Miley Cyrus's New Dog Tattoo
The singer's latest tattoo pays homage to one of her dogs, and it's no secret that she loves animals. It's no secret Emu the Sheltie has fans, and her latest tattoo only adds to the cuteness of the #emufanclub.
Paris Jackson's Gender-Role-Defying Tattoo
The matching small tattoos Paris Jackson and her brother have defied gender norms. As opposed to getting the traditionally masculine and feminine sides of the ancient yin and yang tattooed on their ankles according to their gender, the siblings swapped it up.
Kylie Jenner's Tiny 'M' Tattoo
Kylie's most recent ruby-red tattoo is a curly letter M, which she got with her best friend Jordyn Woods at West 4 Tattoo in New York City in May. Her visit included a visit to celeb tattoo artist JonBoy, who got a K-with-a-crown tattoo on his forearm.
Bella Thorne's Tiny Best Friend Tattoo
Aside from this, Bella Pendergast, one of her best friends and fellow Bella, also got a "B-squared" tattoo.
Kylie Jenner's Tiny 'Mary Jo' Tattoo
Kylie's tattoo on her arm might be her sweetest. Mary Jo Campbell is inscribed in her maternal grandmother's handwriting to honor her maternal grandmother, Mary Jo Campbell.
Hailey Baldwin's G Tattoo
The delicate lowercase G behind Hailey Baldwin's ear is among her numerous tiny tattoos, but this one is particularly cute.
Hailey Baldwin's Tiny 'Baldwin' Tattoo
Hailey and her model cousin Ireland Baldwin both have matching Baldwin tattoos on their middle fingers.
Hailey Baldwin's Coordinating Finger Tattoos
The tiny tattoos on Hailey's fingers, which spell out pray when her hands are clasped together in prayer, are even more special because they were designed by Hailey's best friend, Kendall Jenner. In May, Baldwin picked up this tattoo, but both girls also have a broken-heart best friend tattoo on their fingers.
Kelly Osbourne's Tiny Word Tattoo
Osbourne's latest tattoo on her scalp carries a significant meaning. In remembrance of the 2016 shooting in Orlando, she posted the photo to her Instagram account with the caption: "Solidarity: 'Noun. There is a unity of feeling between individuals who share a common interest or purpose. Individually, we have rights and unique gifts. Together, we have strength and powerful harmony. I have wanted to get this tattoo for a long time. The tragedy in Orlando devastated me and reminded me that every moment of our lives is precious. Every human is precious. Love hard. Live gracefully, authentically and with conviction, respect, purpose and compassion. Together we achieve what is impossible to those who stand alone. Those of us who embrace and respect freedom stand together, progress together, celebrate together and grieve together. You are not alone." She has a twin version of this tattoo on the opposite side of her head that reads, "Stories."
Kendall Jenner's Lip Tattoo
In addition to Kendall's own tattoos, the model has a few herself, including this one inside her lower lip that reads "meow." Artist JonBoy posted the snap to his Instagram in September, but it wasn't until a few months later that Kendall explained the tattoo to the world. "I really didn't ever plan to show my newest 'meow' tattoo!" she wrote. "I got it done back in July by JonBoy in New York, and I didn't plan on telling anyone. There's no real meaning behind it, I just wanted to be able to say that I have a tattoo 'on my face!'"
Cara Delevingne's Tiny Diamond Tattoo
It is possible that this supermodel's tattoo pays homage to her good friend Rihanna. Within Cara's right ear there is a diamond surrounded by three small stars.
Miley Cyrus's Wave Tattoo
Her latest little tattoo features a minimalistic wave that she shares with her sister-in-law, Elsa Pataky (who is the sister of Liam Hemsworth's ex-wife), and Kelly Slater's girlfriend, Kalani Miller (Slater actually designed the wave for the ladies).
Lea Michele's Tiny Music-Note Tattoo
Lea has a pair of dainty music notes on the back of her left shoulder, one of 12 tattoos she has.
Lea Michele's Coffee-Cup Tattoo
The actress paid a touching tribute to her late grandmother, who made Lea her first cup of coffee in the early 1900s, with her latest tattoo
Lea Michele's Tiny '5' Tattoo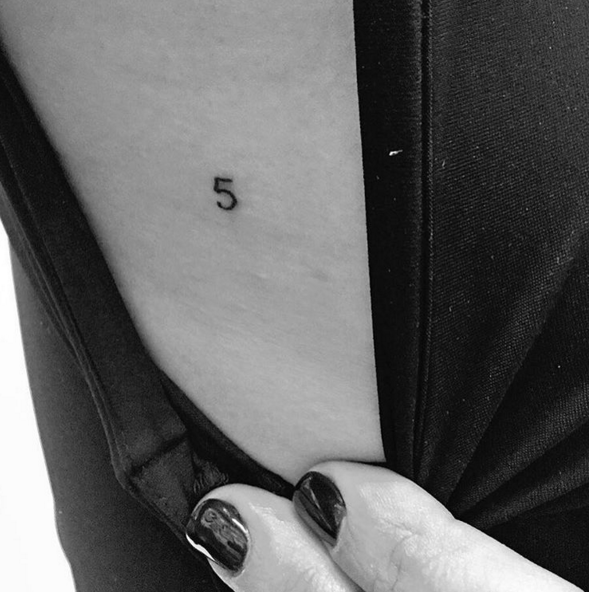 In memory of her late boyfriend Cory Monteith, Lea got a tattoo. He wore number 5 on Glee as the jersey number of his character.
Ariel Winter's Initials Tattoo
Although Ariel Winter has a small collection of delicate designs, we love this one the most. The letters represent the initials of her nieces and nephews. Aw!
Ellie Goulding's Delicate Rib Cage Tattoo
The ribcage ink on Ellie Goulding's ribcage is the work of Dr. Woo, the ink whisperer beloved by celebrities. Unfortunately, we won't be able to just fly to California and get a copycat version directly from Woo; his wait list is reported to be six months long.
Rita Ora's Tiny Sideboob Tattoo
A brand-new tattoo has been unveiled by Rita Ora, done by Bang Bang NYC's JonBoy – and it's the tiniest, daintiest one she's ever had
Drew Barrymore's Wrist Tattoo
In honor of her daughters, Drew Barrymore got a tattoo, captioning it, "A lifetime note for Olive and Frankie.". How cute is that?
Jourdan Dunn's Tiny Arm Tattoo
A quote that appears on Jourdan Dunn's lower arm reads, "Fear is not an option." And since she is all about empowering women, it makes perfect sense.
Hailey Baldwin's Pinkie Tattoo
Hailey Baldwin adores tiny tattoos-so much so that she got her 17th tattoo at Coachella, where her go-to tattoo artist, JonBoy, was tattooing festivalgoers at the Revolve party. She kept this one simple and sweet with two small arrows pointing out from the bottom of her pinkie finger.
Miley Cyrus's Biceps Tattoo
The tiny (and not-so-tiny) tattoo game is nothing new to Miley—there are bumper stickers all over her Bentley. However, that does not make the sunflower on her inner arm any less significant. She said she wanted the tattoo to symbolize her commitment to veganism, with the design taking inspiration from the Vegan Society's logo.
Hilary Duff's Forearm Tattoo
"Had a little sit with @winterstone today♥️ thank you for my ☀️ she's a bright addition 😉,, In an Instagram post, Hilary Duff talked about her latest tattoo. She's also got a tattoo of her son, Luca, in the picture. Even though she's had that tattoo for a while.)
Ashley Benson's 'Squish' Tattoo
Ashley Benson's latest tattoo, courtesy of tattoo artist Jon Boy, appears to be a tribute to the nickname she used to call her partner, Cara Delevingne: Squish. On April 8, 2019, Delevingne posted a throwback photo, and the caption read, "Once a squish, always a squish." Jon Boy also tagged Delevingne in the post, and he wrote, "I love love.".
Hailey Bieber's Hand Tattoos
A celebrity favorite tattoo artist, Dr. Woo, showcased his work on Hailey Bieber's hand and fingers. It is reported on Page Six that the stars, moons, and decorative dots accompany the letter B on the back of her hand, just below the third knuckle.
Zac Efron's "yolo" hand tat
Jennifer Lawrence's "H20" hand tat to remind her to drink water
Priyanka Chopra's "Daddy's lil girl…" tat
Jen Aniston's tribute to her dog "Norman"
Amanda Seyfried's "minge" foot tat
Helen Mirren's hand tattoo
Reese was discovered to have a cool little tattoo of a star flanked by two birds above her bikini line during a vacation in 2011.
You might not believe it, but American sweetheart Mandy Moore has a tattoo of exactly what it looks like on her ankle. Those are indeed sperms that she has tattooed on her ankle. An inside joke she and her band had while on tour is the reason for the surprising tat. Apparently they had a rule about not masturbating in the shower because nobody wanted "babies on their feet." They wrote a song about it. As a joke, she tattooed the small sperm on her body to commemorate their time together.
Upon closer inspection, you can see a small "C" right below Gwyneth's bikini line. During her marriage to Coldplay's Chris Martin, she inked it on as a tribute to her then-husband.
The tattoo you see on Chris' left arm was originally a simple "G" that served as a tribute to his then-wife Gwynth Paltrow. His name was changed, however, to read, "God is Love," after he and the woman broke up in 2014.
Back in 2010, when Jamie Foxx debuted this curious head tattoo, it was assumed it must have been a temporary tattoo for a movie. However, as the years rolled by and the ink lingered, fans were forced to accept the horrible truth that the installment was permanent. Despite no one quite knowing what this odd choice means, some speculate that Jamie adorned it on his head as a 40th birthday gift.
With the exception of Zoe and her hot Italian husband, no one knows where all the actress' tattoos are located, but she has admitted to having ten tattoos on her body. "I'm running out of private places to put them on," she told David Letterman.
Amy Adams and Cate Blanchett sparked the interest of fans everywhere when they met up at a tattoo parlor in West Hollywood one day after the Academy Awards, accompanied by their significant others. She was seen leaving the parlor with a bandage on her wrist, though nobody was quite sure what she got tattooed on.
The mysterious "883" tattoo Penelope got above her right ankle was when she was considering a relationship with Tom Cruise. Even though there have been many theories about it, the actress has never stated what exactly it means. She said, "It's not the different things that have been said.". "I don't think anyone cares. It's my own tattoo."
It's true, even Julia has a little ink, the topic of which she spoke of on Ellen once. All of her children's names are embroidered on her lower back, including her husband's initials. Additionally, she revealed that both she and her husband, Danny Moder, got tattoos of their initials before their wedding in 2002.
It is estimated that she has more than 25 tattoos on her body, some hidden, some obvious. On the upper butt area of her body, she has a secret tattoo that means "love" in Tibetan. The nipple of her hip is also pierced, and she wears a wrist band with an ink tattoo. The above Instagram photo was posted in 2012, and fans were curious as to what she was trying to convey.