Thousands of years have passed since people have used arrow tattoo designs on their bodies. For centuries, tattoos have served as a form of treatment for pain, or as a symbol of passage from childhood to adulthood. Additionally, tattoos are thought to keep the wearer safe from harm and ward off evil spirits. The popularity of arrow tattoos is slowly on the rise. Because arrow tattoos come in so many different styles, shapes, and sizes, they can mean almost anything – or have a wide variety of meanings – depending on who wears them. In the past, Native American tribes used arrow tattoos to keep track of their family members as well as to record their history. However, the meanings and intentions of the tattoo would also vary depending on whose tribe the recipient belonged to.
Here is a list of almost 50 celebrities who have inked an arrow on their skin for some reason or the other. So take a read and see why some of your favorite people have inked this sign. PS it can be an inspiration for you too!
Bea Miller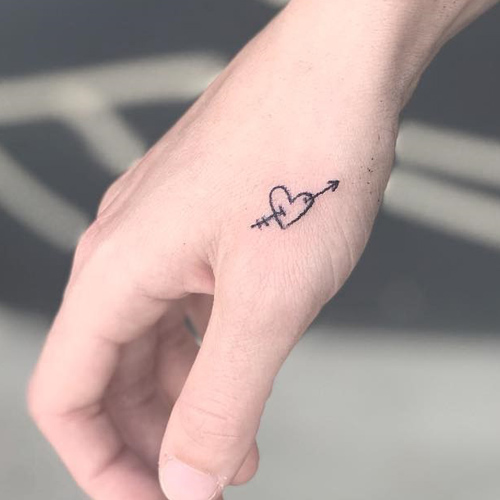 A heart and an arrow are tattooed on the back of her right hand by the actress Bea Miller. Elliot and Georgia were her younger twin siblings who drew the heart.
Molly Brazy
On the right side of Molly Brazy's thigh, she has a beautiful rose design.
Eleanor Calder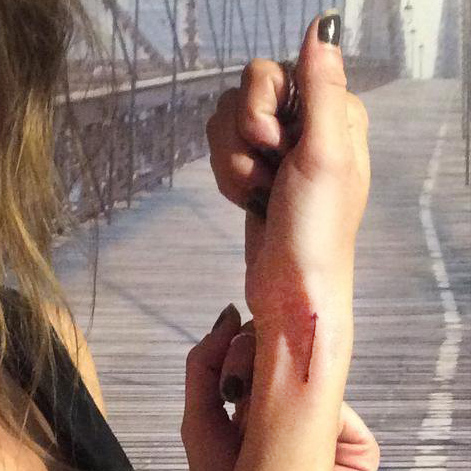 Before covering her arrow tattoo with the feather tattoo, Eleanor Calder had a tattoo of an arrow on her right wrist.
Sia Furler
The stick-and-poke arrow tattoo is located on her right forearm
Lea Michele
The right middle finger of Lea Michele bears a tattoo of an arrow.
Lili Reinhart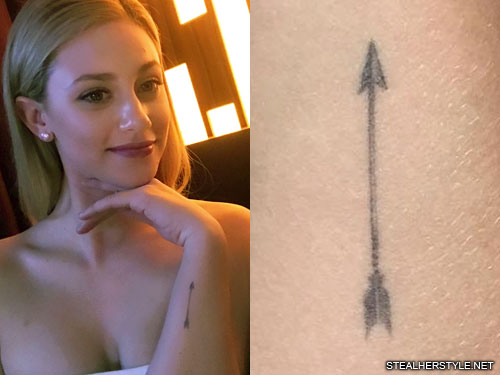 Lili Reinhart has a tattoo on her forearm of an arrow that represents her struggle with depression and anxiety. She has struggled with mental health problems since she was 12 years old and has used both therapy and medications to manage them. Others are encouraged to take charge of their own mental health, to seek out the support they need, and not to give up on themselves. In an interview with People Style, she said:
"The arrow represents mental health awareness. I talk a lot about depression and anxiety and my own struggles with it, so I wanted to get it. I saw a quote, it's kind of like…' an arrow can only go forward by being pulled back, so when you're going through a hard time, being pulled back, it only means you're about to experience something greater and bigger.' So that's what that represents to me. That was a mantra that I would say to myself when I was going through a hard time, that it only means it's going to get better."
While landing the iconic role of Betty Cooper on Riverdale, Lili had her own moment of being pulled back. "Riverdale came into my life when I was going through the worst depression I had ever experienced. And in the end, it completely saved me," she tweeted. At age 18, the aspiring actress moved to Los Angeles on her own to pursue her career, but her anxiety kept getting worse. The situation got so bad that she had to leave and move back home so she could focus on her mental health. At home, she began taking a new medication and resumed seeing her old therapist so that she could work on rebuilding herself. When she was at home, she recorded her first audition tape for Riverdale but was rejected. When she was healthy enough to move back to Los Angeles, she did so with renewed vigor. An audition for Betty Cooper was conducted in person, and she was given the role.
After going through the worst times in her life, she finally made her big break, but she wasn't sure how everything would turn out till she got that arrow tattoo. This was perhaps more a symbol of faith that she so desperately needed at the time. In June 2015, shortly before she left Los Angeles, she got a tattoo from artist Dr. Woo. "Thank you, @dr_woo_ssc! I waited for months and finally got my tattoo today (second one to date)," she wrote.
On Riverdale, Mädchen Amick, who plays Lili's mother Alice Cooper, has a matching tattoo by the same artist, but it's purely coincidental. Mädchen's arrow symbolizes her zodiac sign, the Sagittarius. When they first met during a rehearsal for Riverdale, they noticed the matching tattoos and instantly bonded.
Chiara Ferragni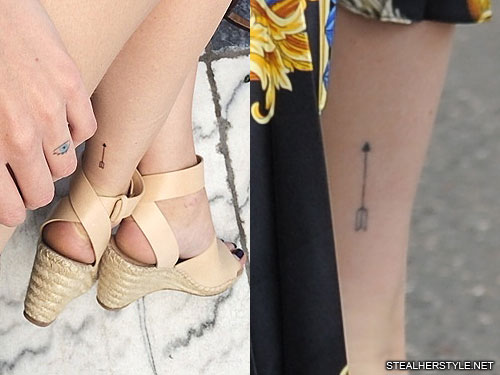 In June 2014, Chiara Ferragni tattooed an arrow on the back of her right ankle to represent how progress comes from struggle. In her Instagram post, she explained:
An arrow can only be shot by pulling it backward. When life is dragging you back with difficulties it means it's going to launch you into something great. So just focus, and keep aiming.
Lynn Gunn
On March 15, 2018, Lynn Gvnn got a tattoo as part of her 24th birthday celebration.  In addition to a Roman numeral tattoo on her wrist, PVRIS drummer Justin Nace got a tattoo of Roman numerals from local artist Mason Chimato while on tour in San Antonio, TX.
She chose to have an intricate Eye of Providence design on her upper back. God's all-seeing eye has a halo of radiating lines that represent rays of light.  It is a replica of the woodcut print made by American engraver Alexander Anderson in the early 1800s, which shows four arrows and a leafed branch below the eye.
Kate Del Castillo
Kate Del Castillo has an arrow tattoo on her left bicep.
Rumer Willis
On both of her elbows, Rumer Willis has two tattoos of an arrow on a diamond shape.
Frances Bean Cobain
On her wrist, Frances Bean Cobain has an abstract design of dots and lines.
Zosia Mamet
In the middle of Zosia Mamet's middle finger, there is a tribal arrow tattoo.
Miranda Lambert
The right hand of Miranda Lambert is tattooed with an arrow.
Jenna Ushkowitz
Above her elbow tattoo, Jenna Ushkowitz added a triangle and an arrow with a circle design that reads "NYLA".
Jessica Szohr
Jessica Szohr has a curved arrow tattoo on her right shoulder.
Addison Timlin
Addison Timlin has a heart with an arrow inked on the inside of her left elbow.
Jana Kramer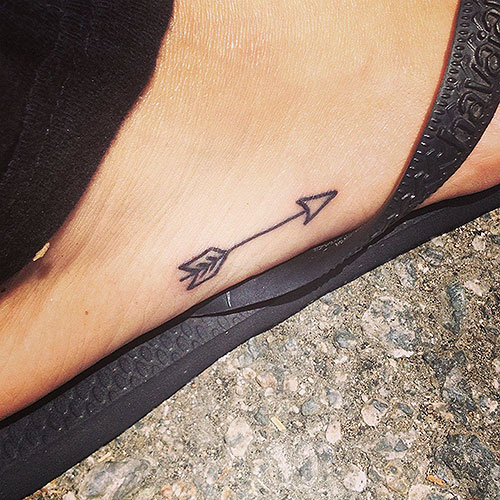 On her right foot, Jana Kramer has a tattoo of an arrow that was inked in June 2013. This tattoo represents taking steps forward as it points to her toes. "My new tattoo! Meaning for me is forward steps and no regrets! Do ya like?!?!" she wrote on her Facebook page.
Frances Bean Cobain
Among her friends, Frances Bean Cobain got friendship symbol arrow tattoos.
Hilary Duff
Hilary Duff has a tattoo inside her right bicep featuring a crescent moon and star, as well as a triangle cut out by a pointed down arrow.
Florence Welch
Autumn 2008 saw Florence Welch get a second tattoo on her left arm below the "Sad Sack" bird. A traditional-style red heart with an arrow runs through the new tattoo, which is the smaller of the pair.
Juliet Simms
Juliet Simms has an arrow tattoo along the outside of her left pinkie finger.
JoJo Levesque
In August 2015, JoJo added another tattoo to her right wrist just below her serenity prayer tattoo. Artist Adam Daniel inked swirling arrows around her wrist like a bracelet, with arrows going all the way around it. She told her Instagram followers "if you're in LA go see him. He has a quick, light touch and does beautiful original work."
Sierra Kusterbeck
As Sierra Kusterbeck explains, she has a traditional-style heart and banner tattoo on the inside of her left ankle, which reads "Older Men." She explains this by saying,
Yea so I never really told you all about this tattoo because it's an inside joke. Oliver Peck has been trying to give me this tattoo for 2 yrs. He has "younger girls" in a sacred heart on his knee. I was in Dallas on a day off after Warped Tour and I went to my friends place and realized Elm Street Tattoo was a block away. That's Oliver's shop. I ran there to say hi and ended up, somehow, finally getting this tattoo. I love it and it always reminds me of Oliver and Monkeybird. Some of the best people I've ever met. Plus, I love older men 🙂
Sierra Kusterbeck
Sierra Kusterbeck has a single arrow on the outside of her right index finger. A friend of Melanie Hawkins, also known as a monkey bird, has a matching tattoo.
People always ask about the arrow tattooed on my finger. Besides the fact that I like arrows, I'm also a Sagittarius–-everyone in the band is-–and the tattoo always points me in the right direction. [source]
Sierra Kusterbeck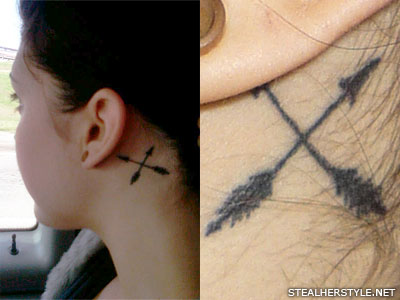 The tattoo artist at Tampa Bay Ink in Dunedin, FL, Jeffy, tattooed this crossing arrow design behind Sierra Kusterbeck's left ear in October 2010. It was her second arrow tattoo after the one on her finger. The crossed arrows are a symbol of VersaEmerge and appear on a variety of merchandise designs and tour posters. Some fans of the band have gotten tattoos of the crossed arrows. Temporary tattoos of this design were even sold by the band.
Riley Keough
Riley Keough has a crescent moon with an arrow threw it and stars tattooed on her right foot
Ireland Baldwin
Ireland Baldwin has a tattoo with an arrow on the back of her left upper arm.
Jordan Hinson
Jordan Hinson has a tattoo of two crossed arrows on her right arm
Charlotte Crosby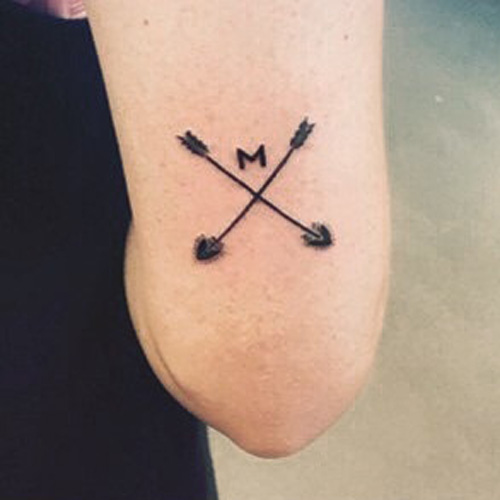 During her relationship with On-and-Off boyfriend Mitch Jenkins, Charlotte Crosby tattooed two crossed arrows on her arm and the initial M.
Ashley Rickards
Ashley Rickards redesigned the arrow tattoo she had on her left forearm by artist Luc Suter in October 2015. What was once just a simple arrow is now adorned with leaves, swirls, dots, etc. "New ink!! Thanks, @lucsuter for bringing this to life!" she wrote on Instagram.
Emily Osment
Bethany Cosentino
At the center of Bethany Costentino's chest are two crossed arrows attached to a bow
Jessica White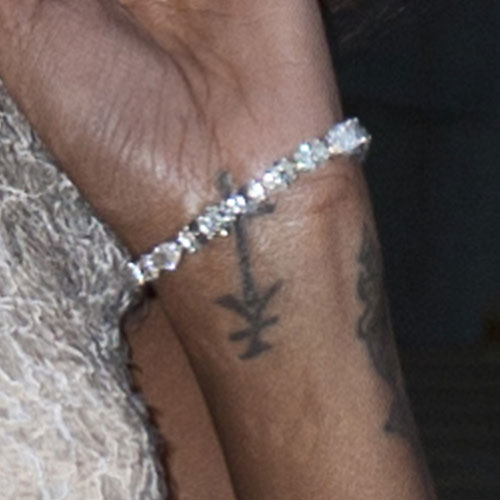 Sarah Hyland
At Shamrock Social Club in March 2015, Sarah Hyland and two friends all got arrow tattoos from Max Hanson. "What did I do this weekend? Got some ink with my best friends. 3♐️s," she wrote. Every pal got its own unique design in different places. Sarah's arrow (left) is located in the center of her back. The tattoos on Stephanie Branco's (right) forearm and Dominic Sherwood's (below) bicep are the same. 
Zoë Kravitz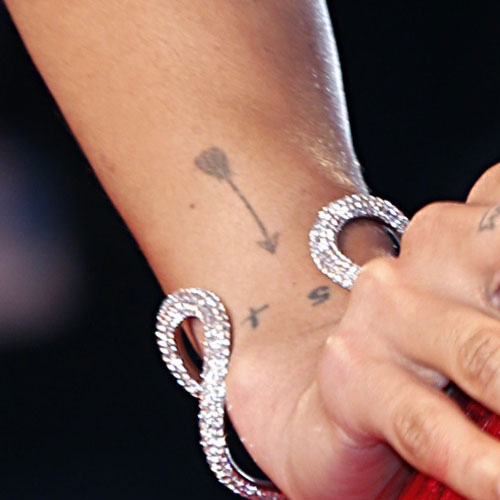 Zoë Kravitz has a tattoo of an arrow along the back of her right forearm
Lacey Sturm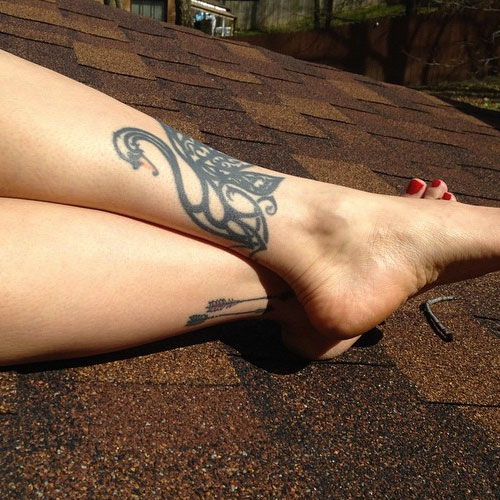 Lacey Sturm has a swan tattoo on one leg and arrows on the back of her other leg
Jemima Kirke
There is an arrow and other tribal-looking designs on Jemima Kirke's left arm. She got this tattoo removed starting in 2017 and wrote that she "Supports your tattoo addiction". She just wants you to get better ones."
Zosia Mamet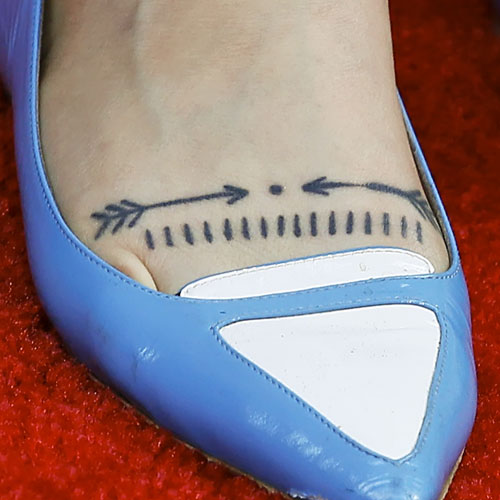 Zosia Mamet has a tattoo on the top of her right foot of two arrows pointing at a dot with a series of short parallel lines.
Ashley Rickards
Applied to Ashley Rickards' left wrist in August 2014, the arrow tattoo is inscribed with her name. She tweeted: "New tat: arrow -'sometimes you have to be pulled back to go forward' thank you (u know who u r) for the idea :)"
Linda Perry
Linda Perry's left arm features a heart and arrow, the phrase "Don't Think, Just Do It," and the logo of her band 4 Non-Blondes
Lynn Gunn
Lynn Gvnn has a tattoo of an arrow along her left forearm
Ellie Goulding
On her right index finger, Ellie Goulding has an arrow tattoo in white ink. Although she got the tattoo in June 2013, she had planned it for years before getting it done. Back in 2011, she filmed a video at Salvation Tattoo Lounge in South Beach Miami, where she asked the artist to design arrow tattoos for her. "I was thinking about getting an arrow — whether it be red, white, brown," she said. "I'd love to see some different kinds of sketches of different arrows. Because there are so many, I'd like to compare them." The tattoo has faded considerably and is no longer visible at all. 
Rita Ora
Rita Ora has a tattoo behind her right ear of a bow and arrow.
Pink
Pink has a tattoo on her right wrist that states "What goes around comes around."
Zoë Kravitz
On both her hands, Zoe Kravitz has arrow tattoos on her ring fingers. She has an arrow on her left hand pointing outwards and one on her right hand pointing inwards.
Zoë Kravitz
In order to guide her in the right direction, Zo* Kravitz has compass arrows tattooed on the insides of both of her feet.  She has an arrow on her right foot pointing towards her with a letter "S" for "South," while the one on her left foot points northward with a letter "N."
Jessica Origliasso
Jessica Origliasso wears a heart and arrow with the names "Brieanna + Laura" on her arm in honor of her two best friends Brieanna Jean Elva and Laura Shepherd.