Whether the tattoos hold a special place to your heart or simply because they look really chic on the skin, the tattoos are a great way to showing your innermost feelings by being really quiet about it. But getting something permanent on your skin is also a huge deal and you would surely want it to look great rather than it being an attempt at your skin by your roommate. So if you live in Toronto, we got you covered.
While it is true that all the artwork is pretty subjective and os is the skill of making a tattoo, but here we have selected some artist who is, in the view of residents of Toronto, one of the best in the city and who have left a mark (literally and metaphorically) on the whole tattoo community which might compete at international levels.
Toronto is famous in the whole of Canada for some rather fabulous tattoo shops, right from Ink & Water to Holy Noir. The best shops in the city could be found all over the city as they are scattered and provides various styles and techniques right from traditional art to contemporary designs. No matter what your taste is, you will be able to find something for yourself at these hot spots.
If you have a design in mind and you have been looking all over the web for the best tattoo shops in Toronto, let me tell you that you have finally landed in the right place! It is the hardest part of the journey and to make things a bit simpler for you, we have curated this list (of course not in order) of people who have made a chink in the tattoo community by their incredible tattoo skills and their immense dedication levels with their unique thinking and imagination. Take a look.
1. Danny, Tristen- Chronic Ink
Chronic Ink is one of the best tattoo shops because of a reason. The artist at Chronic Ink is some of the most talented tattoo artists you can find in the city. They are experts in their fields and especially Asian/oriental designs, Fineline, and black and grey realistic tattoos. The shop is located in downtown Toronto, Ontario.
Christian, one of the artists at Chronic Ink is a pretty great tattoo fanatic and his artistic skills can say to be unique which will exceed your expectations. He will bring you the idea to life with his unique sketch. Chronic Ink also provides exceptional piercing services to their clients while following all the hygienic and cleanliness protocols. They also provide removals services by some certified technicians. The consultation before tattoo making is free of cost and you are free to inquire about the design and techniques that they use.
Lastly, they also provide jewelry for their customer which are great in quality. They offer a huge variety of designs.
The artist at Chronic Ink mainly specializes in techniques and designs such as Flowers, Black and Grey, Eye, Birds, Pet Portrait, Old School Americana, Asian, Fish, Blackwork, Nature, Large and Small, Fine Line, Script, Religious, Tribal, Horror, Color Realism, Illustrative, Cover-Ups, Piercing, Watercolour/Brushwork, Realistic, Fantasy and Western Tattoos, Laser Tattoo Removal & Scalp Micropigmentation.
The artist at Chronic Ink is an award-winning tattoo artist in Canada. The experts will align you with your preferred tattoo artist and who will specialize in the kind of technique you want your design to be in. They also have 5 locations in Toronto so they are scattered all over the city and you can create any design that you like.
The artist at Chronic Ink will work with their clients right from their first consultations till the very end. The owner tells in his own words, "Our artists work with you every step of the way, from initial conversation and brainstorming on your idea, to matching you up with the right artist for the tattoo style you want. Chronic Ink Tattoo's dedicated tattoo artists use their skills to create beautiful art that will astonish you."
If you want to get oriental or Asian-inspired tattoos at Chronic Ink, Danny and Tristen Zhang are the perfect choices for you.
Danny practices in Neotraditional Asian-style tattoos. His detailed design is pretty interesting as they depict images of fantastic, heroic, mythological figurines and creatures who are bold and done in a broad selection of hues. His portfolio is present on the official website of Chronic Ink but his Instagram is also very updated as he keeps on posting his ideas done on arm sleeves, leg sleeves, large chest and back pieces, and full-body tattoos.
Tristen Zhang is a co-founder of Chronic Ink and is an expert in making Asian-style tattoos. Tristen's extremely intricate designs picture images of wonderful, fearless, and fictitious figures and animals represented in the fabulous Asian characteristic. Tristen has an extended selection of arm sleeves, leg sleeves, large chest and back pieces, and full-body tattoos.
The Asian style tattoos have evolved significantly over the years with modern shops like Chronic Ink working in neotraditional styles.  Most Asian tattoos normally include the three primary components or motifs of wind, waves, and fire. Most Asian inks have some or all of these themes already in their illustrations. Modern Asian-style tattoos fall into two principal classes: traditional and neotraditional.
Traditional Asian tattoos are best recognized for full-body tattoos with elaborate, intricate patterns. Traditional methods ensue a disciplined formation that represents the edges of the pieces. On the other hand, the Neotraditional Asian tattoo designs practice conventional designs and motifs, but are less structured and support the fundamental silhouettes of the body. They use strong lines and color hues, and contemporary modifications on classical patterns and ideas to make individual components stand out.
Chronic Ink's best Fine Line tattoo illustrators are Jojo and Alexandra. Jojo is an expert in fine line tattoos that are very detailed and uses intricate patterns. Her portfolio on the official website features many fine line text, scripts, illustrations, equations, and 2 D and 3D objects too. Her texts and script are very fine and readable too even if it is a tiny one.
Alexandra is an expert artist in Fine Line and Flora tattoos. Her skills highlight very specifically, fine-line renderings of flowers, herbs, birds, and other animals. Her precise drawn flora and fauna tattoos are beautiful. She also does fine-line designs of text, script, and symbols.
Fine line designs use straight or curved thin lines to make 2D or 3D objects. These tattoo illustrations feature form and shape and not really color, shading, and texture. They create very detailed and structured tattoos that are minimalistic and not that show-ey. They look pretty elegant and discreet and are placed in small places like fingers, or ears.
Chronic Ink's best Blackwork tattoo illustrators are Sebastian and Zeke. Sebastian is a master in Blackwork tattoos. His collection highlights highly specific, stylized, complex designs of animals, skulls, symbols, figures, flora, and geometric patterns. His detailed drawn patterns come in a mixture of sizes.
Zeke is an expert in blackwork, dot work, and pet portrait tattoos. Her selection highlights extremely complicated, stylized, composite images of animals, skulls, symbols, figures, flora, geometric patterns, and pet portraits. Her darling pictures are finely represented images of your loved mate done in beautiful features.
Blackwork tattoos are rather bold tattoo ideas that are done in black ink and resemble drawings. They often represent some kind of geometric shapes and figurative forms and objects. They also became commonly known as the modernistic interpretation of Polynesian Tribal tattoos. They have evolved into a variety of styles.
Some of the more successful blackwork tattoo techniques are:
Geometric
Blackout
Negative Space
Dot work
Tribal
Chronic Ink's best Illustrative tattoo artists are Amber and Lynsey. Amber specialized in illustrative design which is the file with bright colors and shows off her skills. Her portfolio is filled with highly stylized and detailed designs of subjects which are abstract, fantasy, sci-fi, mythology, as well as figures, animals, and floral designs. This is what makes her design very attractive and eye-catching.
Lynsey is a specialist in illustrative design along with watercolor effects. She is skilled at a broad range of designs. Her portfolio has plenty of colorful images and old-school traditional designs, floral, animal, and abstract designs. She has also incorporated watercolor into her designs so that it gives a gorgeous effect to her design. They can be done in any size.
Illustrative tattoos can signify anything ranging from traditional to realism. The style however has a specific bold outline and very intense colors. They can be made hyper realistically and technically and also with watercolors.'
Chronic Ink's best Realism tattoo artists are George, TK, and Martin. George is a pro at Black and Grey Realism tattoos. His file highlights an extensive variety of materials and sizes, all done in glorious aspect. His complex compositions combine designs of animals and figures from the familiar world and worlds unexplored.
TK is an expert in Black and Grey Photorealism tattoos. He works with a stunning array of images that have people, animal, nature-inspired world and other objects which are rendered with details. His subjects and themes involve a lot of real-world stuff and fantasy which appears as if they will really step out from the image.
Martin is an expert in Black and Grey Photorealism tattoos and his portfolio has a too of images that are large and small done in deep detail. His tattoos show off people, animals, figurines, symbols, flora, and fauna. His sketches incorporate photo-realistic images of family members, pets, animals, religious figures, famous works of art, as well as classical and inventive characters.
Realism, also recognized as photorealism, applies to complete and detailed images of real-life comparison. These images are distinguishable from a photo but even though it is hard to master on paper. They spend years to perfect this style/ They can do it in black and grey or just colored. The black and grey image creates similar effects to the black and white photo. Colored realistic images need more details to produce the effects.
Chronic Ink Tattoo and Piercing has four tattoo studios in the Toronto area: Downtown, Eglinton, Markham, and Mississauga. The owner of the says, "We are known for our professionalism and the incredible artistry of our staff. Our artists create eye-catching, beautifully rendered tattoos. We pay close attention to detail so your tattoo is as close to your imagined design as we can get. Come in and see why we have the best tattoo shops in Toronto."
Location on Google Maps:
2. Lean Steven- New Tribe Tattooing & Piercing
New Tribe Tattooing & Piercing has been opened in the city since 1994 and is there in the industry for more than 2 decades. They have 7 talented and skilled young artists who offer a huge variety of designs and skills. They are also very well versed in hygienic and sterilization practices. There are experts in designs such as tribal, Japanese, and watercolor tattoos.
The needles and equipment used in the studio are a single-time use only. They also pre-sterilized their equipment before any appointments. They help the clients to feel safe and secure in this environment and use highs standard materials too. They offer jewelry at their studio which has a variety of options that you can select.
New Tribe Tattooing & Piercing is also regularly inspected by Toronto Health Board and has never been failed. They also provide services such as piercings, touch-ups, piercing check-ups, and consultation for all its faithful clients.
The talented team at New Tribe Tattooing & Piercing specializes in things such as Cover-Ups, Tribal, Flowers, Traditional, Fine Line, Nature, Black and Grey, Haida, Traditional American, Religious, Portraits, Blackwork, Asian, Memorial, Lettering, Fantasy, Script, Realistic, Large and Small, Custom, Japanese, Celtic, Watercolour, Floral, and Animal Tattoos & Piercing
Lean Steven is one of the talented artists at New Tribe Tattooing & Piercing and says, "Hi! I'm Leah Steven's and I'm a full-time tattoo artist. I love doing line work, American/neo-traditional pieces, and anything involving color, so send your ideas my way."
Nate, another artist at New Tribe Tattooing & Piercing has been graduated from arts foundations and graphic designing and so he has a great understanding of colors, textures, technical skill, and how to compose these designs. His knowledge and skills have been paired with his love for art and an immense inspiration from nature which makes Nate one of the most promising artists at New Tribe Tattooing & Piercing.  He loves working with colors but his pieces are not limited to just colors, he loves to work with grey and black and monochromatic designs.
Location on Google Maps:
3. Pravin Arudsothy, Dakota- Black Line Studio
Black Line Studio has been in the city since 2006 and is an upscale shop that will cater to the needs of their customer pretty well. They offer an exclusive range of collections which is based on your needs. The tattooist and piercers are very skilled at their work and aim to give the best experience to their customers.
Pravin Arudsothy is the studio's Tattoo Master who has a specialization in black and grey and animal portrait designs. At Black Line Studio, they work with hygienic equipment that is single-use and sterilized. They aim to give you the best version of their designs. The studio is pretty huge and very extensive. It is rather spacious than others and thus has a private room facility too. BlackLine Studio also gives out complimentary consultation and gift certificates for their service to regular clients.
The artist at Black Line Studio have really honed their skills in the design such as  Custom and Flash, Large and Small, Body Art, Blackwork, Flowers, Traditional, Script, Nature Tattoos, Cover-Ups, Acne Scar, Removal, Airbrushed, Religious, Black and Grey, Piercing, Hollywood Carbon Peel, Piercing & Reviv IV Treatment.
When you want to get permanent skin on your body you would want to think long and hard before you get the design. You will be sure that you are happy and satisfied with the ink that you have got so that you do not have to rush for covering it up or removing it later. Thus, you must do your research right, and with Black Line Studio you won't have to doubt the abilities of the artist. The owner of the Black Line Studio says,
Here at Black Line Studio, each of our tattoo artists are well-versed in a unique style. We highly recommend booking a complimentary consultation between you and the artist; during the appointment, you and the artist will fine-tune the piece for the size and location that you are after while explaining any flaws in the design and suggesting alternatives…
Pravin Arudsothy was born in Toronto, Ontario, and began drawing from an early age and finally get himself admitted to the University of Waterloo for Fine Arts where he developed his aesthetic experience and skills. Pravin is really committed to improving his skill set, eager to discover and analyze new things. After serving as a mural painter, Pravin began in the business as a tattoo training in 2013 where he promptly exceeded. He has been tattooing ever since. Although Pravin is a specialist at black and grey portraits, he is also known for his broad and extensive skill set and his eagerness to learn more with his clients, no matter if it is a detailed work or just a script tattoo.
Dakota was born in Bellville Ontario and has been a great drawing enthusiast since he was 10 years old. He has a passion for arts since he was a kid but he decided to pursue an education in film at Toronto Film School. He studied photography videography, he wanted to change his career path and join the tattoo industry where he has been working for more than a decade now.
He always strives to be the best version of himself and is known for his bold use of colors. However, he sometimes adores making gothic designs, romantic images, and vivid illustrations that will make an impact. He is easy-going and quite friendly with his clients. He wants his clients to wear his work proudly.
Location on Google Maps:
4. Pearl Harbour Gift Shop
The Pearl Harbour Gift Shop will definitely show you a lot of influences from the south pacific region. Not only does it have an extremely talented team of artists but it also has beautiful art stuff and apparel for sale too. Thus it is a tattoo shop and a gift shop all at once. The products are hand-designed by the artist of the studio.
Many of the tools and equipment used in the Pearl Harbour Gift Shop are designed by the artist too. The Pearl Harbour Gift Shop is located at the Kingston Market and specializes in a lot of Japanese and world war 2 era art.
Location on Google Maps:
5.  JD, Kevin- Ink and Water Tattoo
From amazingly intricate miniature tattoo designs to detailed line craft, these Bloordale and Yonge and Eglinton tattoo studios have got it all. The artist at Ink & Water Tattoo is continually inking up their chic customers in a welcoming, expansive, and (most importantly) Instagrammable tattoo studio. From fantastic neon signs outside the shop to its calming pink and white rooms, you are certain to feel satisfied with their famous and skilled tattoo artists like Prairie Koo and Michael George Pecherle.
Ink & Water Tattoo is one o the best tattoo shops in Toronto. It is inspired by the idea of individuality and the subjective nature of each persona and excellence. They also take pride in their crafts and skills along with their professional attitude. The body for them is a whole and creates amazing designs so that they flow together coherently with the skin.
For the artist, at Ink & Water Tattoo each step is very important and they take immense pleasure inc correcting each step. In the words of the owner, "Ink & Water Tattoo is a custom studio. All our work is unique to the individual. We will work with our clients until they are more than satisfied with our designs before we proceed to further steps."
JD, a tattoo artist at Ink & Water Tattoo is excelling and has a lot of customers in things like Illustrative, Blackwork, Pop Culture, Floral, Script, Religious, Statues, Animals, Skulls, Weapons, Cartoons. While Kevin is another artist at Ink & Water Tattoo and has specialization in Blackwork, Illustrative, Spooky, Animals, Nature, Insects, Skulls, Character Design, Gothic Script, Blackout.
Location on Google Maps:
6. Holy Noir
Holy Noir is an all-female-run tattoo studio in Toronto. It is a multi-disciplinary studio which means the artist here specializes in more than one particular style. They also create a lot of contemporary tattoos. The studio is near Trinity Bellwoods and the studio boasts of a huge list of guest artists too who are some most talented artists in the world.
Location on Google Maps:
7. Cysen- Golden Iron Tattoo Studio
Established in the center of Downtown Toronto, Golden Iron Tattoo Studio has expanded to three comprehensive areas which consist of over 20 artists contributing a tremendous assortment of various techniques. This simple little place flaunts professionals that diversify in tattooing styles, including black and grey, tribal, and portrait style professionals. Like all enthusiastic professionals, the crew at Golden Iron is committed to securing themselves into the most beneficial they can be, so you know your tattoo is growing from an extremely experienced professional.
Golden Iron Tattoo Studio was established in 2011 and is located near the heart of Downton Toronto. It has since grown into three large studios with different locations so that you can access it whenever you want to. The artists too are very skilled in different kinds of designs. They all share the same passion for learning and cultivating awesome designs.
The artists at Golden Iron Tattoo Studio are experienced in both contemporary and traditional designs in which they have also won many awards and acclamations. This is because the tattoo artist at Golden Iron Tattoo Studio spends most of their time find developing their master skills and evolving as an artist. They constantly push themselves to produce the best kind of art that the studio is known for. Golden Iron Tattoo Studio has been this way since the time beginning. The owner says, "The path has strengthened us, grew us, and have made us into the studio that we are today; it's not an easy climb, but we wouldn't have it any other way."
Cysen, an artist at Golden Iron Tattoo Studio, was enrolled in art school at the young age of four. His skills and liking for the arts have never been a matter of issue and extend to begin wholeheartedly every time. Cysen has taught himself the art of tattoo who familiarized his way through this business on his personal level, without training. He says, "It was tough, but also fun in a masochistic way; it was like a puzzle that I had to piece together on my own". His ruthless approach, consideration to feature, and determination are what gave him the power and talent to not only get results in this trade; but to scale his way to the summit.
Cysen started his own business in 2011 when he worked for some time in some small studio in Toronto for one and half years. It was there that he learned more about tattoos and when he started his own business, he learned through hit and errors. He wanted to give the best experience to the artists who share his dreams. He also started training other artists who want to learn tattooing in 2012 a now has two tattoo studios in Toronto with a wide array of artists who are as passionate and dedicated as he is.
He got his first prizes at the Toronto NIX tattoo convention back in 2013 for the position such as the best small and large black and grey tattoo. This sparked in him a fire to be more productive and to do better than he has to sever done every single time he gets a new project. He says, "You don't need to be a perfect artist; if there is even such a thing. I find that there is always room to grow and that there is never a limit to learning."
He began as an excellent artist where he started excelling in Asian traditional designs but then he grew fond of realism and black and grey styles. Thus he has been pretty much interested in various kinds of design and excels at a variety of them. It is because of his love and passion for his work and his hard work that he has won many awards at conventions which have to lead him to have an endless journey that is full of learning and improvements.
Cysen's goal is to create a space for this client as well as his artist where they can express their ideas and work on the designs together as a team. He needs to leave his clients satisfied. In his words, he explains, "There is no feeling more rewarding than helping individuals bring their ideas to life; whether it be to commemorate a loved one, tell a story, or simply embellish their bodies with beautiful pieces that help exude a certain confidence."
It has been more than a decade that he has been in this tattoo studio and has grown into just as an artist but also as a person. He is constantly learning and developing ever since and strives for perfection in everything. He calls it his evolution. It is something that also differentiates him from others in his field of work. His ultimate dream is to helo perfect the art that he has chosen to make his life in and continue to build his knowledge and skills based on this kind of design and with an award-winning portfolio.
Location on Google Maps:
8. Chyba Ty- Okey Doke Tattoo Shop
It is quite an intrusion to know that Okey Doke Tattoo Shop was once a super fun shop where the guests would get what they get tattoos. This means that they would get the designs that have been given to them by vending machines. But now, they do both custom designs as well the concept of getting what you get a design which is very popular and amusing. Okey-Doke Tattoo Shop encourages both walk-in and prior appointments.
Okey-Doke Tattoo Shop asks their customers to actually rely on the artist to give their best shot at things. They also give their clients proper guidance and advice for the betterment. In the words of the owner,
You can rely on each of our artist's expertise and creativity to create a unique design just for you.Our team offers advice and guidance throughout the whole tattoo process, helping you conceptualize your idea, find the perfect placement and finally get that sweet, sweet ink! You give us a concept we make it happen! Contact us in the section below or hit us up on social media.
The owner and director of Chyba Ty Tattoo in Katowice Poland, leone began his mission as a graffiti artist before finishing art school. His style is very much inspired by his traditional and roots and reminds him of home. He loves to draw with watercolor,  freehand sketching, and graffiti. His bold lines, soft shading, and color hues emerge in aesthetically and conceptually awesome designs.
Having been in the tattoo industry for quite a while now, Kolanko has always been quite a traditionalist and has paid homage to American traditional designs. He has decided to combine a lot of bold thick designs with his favorite array of colors to make his piece very lively and interesting. He also used black and grey effects which makes it the right choice for his style.
Location on Google Maps:
9. Lizzie Renaud- Speakeasy Tattoo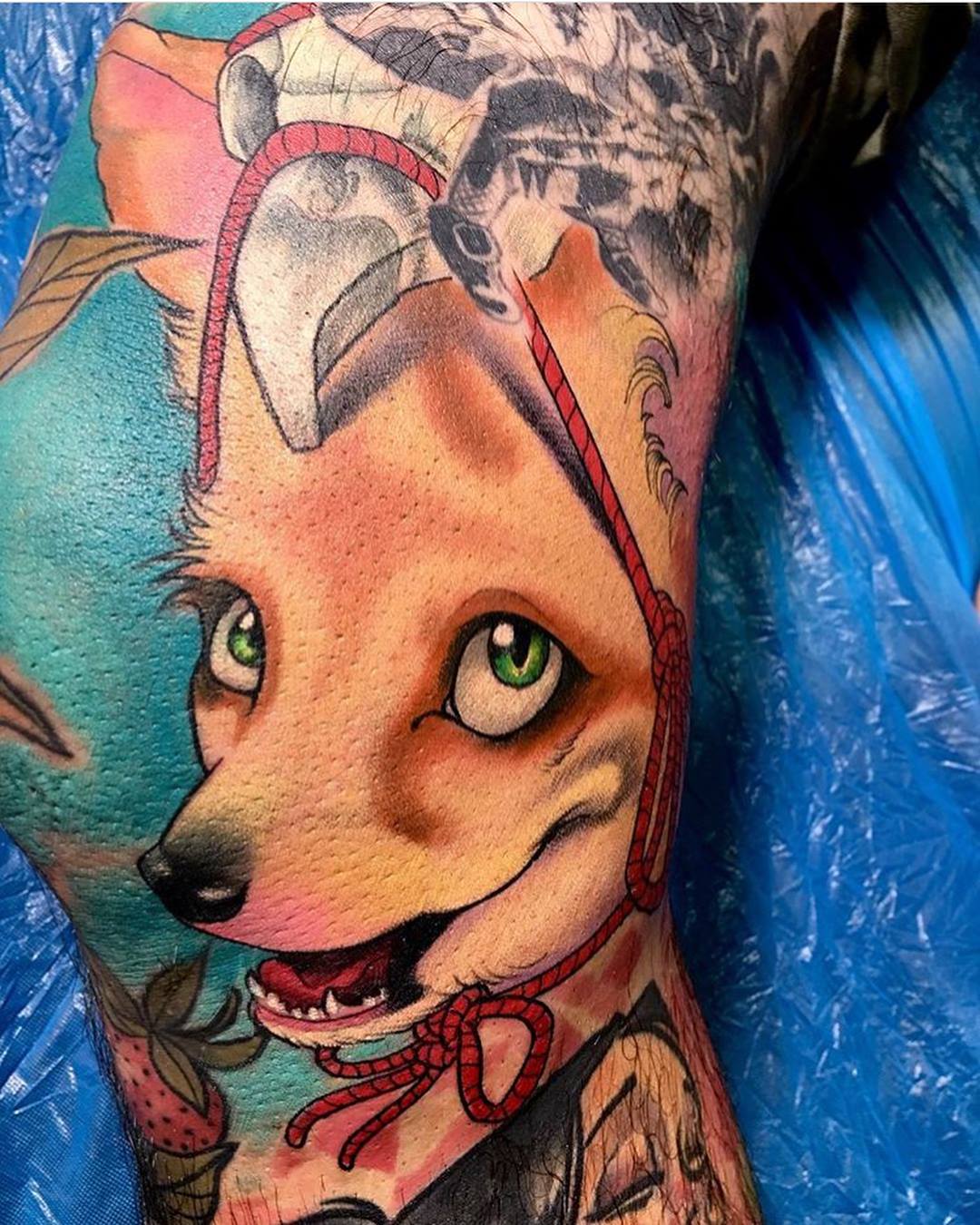 Speakeasy Tattoo is one o the spots if you want to go back to the basics and get something hipster. It really focuses on the artist for the design. It is opened till late at night so it can cater to everyone's needs. It has artists who work with both traditional and contemporary styles and even hand-poked designs. With an appointment, they will work at any time of the day to provide the clients what they seek.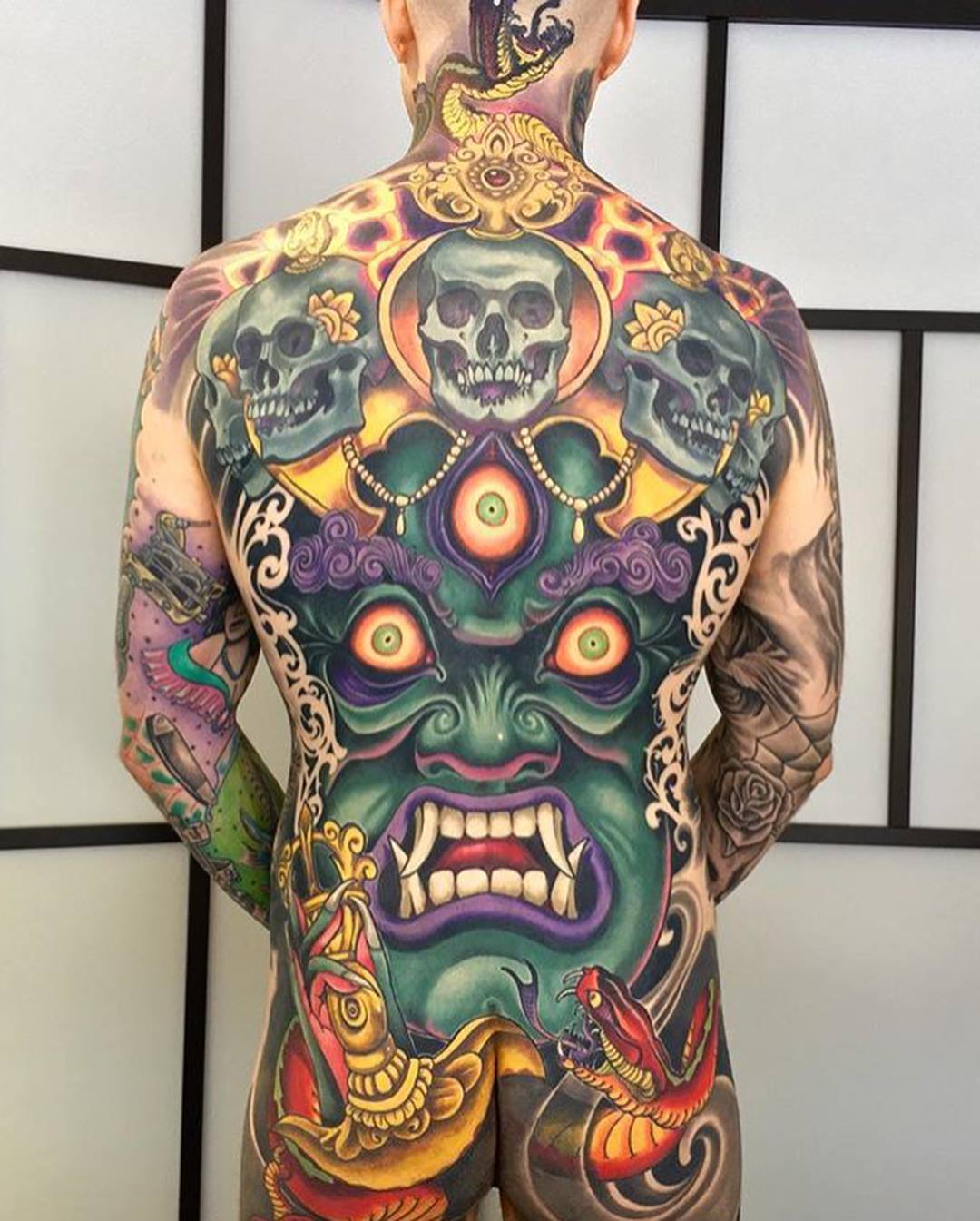 Location on Google Maps:
10. Jay Decator- Passage Tattoo
Jay Decator is the owner of the Passage Tattoo shop and has been tattooing for more than 25 years. The shop is pretty friendly and gives a high-quality design out to their customers. You can not go wrong with your tattoo in Passage Tattoo. They have some really awesome shadings skills which make the tattoo design come to life.
Location on Google Maps:
11. Todd Santos- Bamboo Tattoo
Bamboo Tattoo was spent in 2009 when Todd Santos, a Canadian student studying in Australia heard of traditional that tattoos which actually lead him to go further into this business, He then decided to go and explore this ancient method of tattooing. He traveled to Thailand to explore this Thai art.
He found this thousand years old art form where the needle is applied to a bamboo stick and is tapped into the skin. He got a full sleeve bamboo tattoo design in that technique. It took him 5 days and 45 hours to complete this design in Koh Chang. This session was an eye-opener for him and the benefits that he go were amazing and apparent. This method got no bleeding and scabbing. The healing time was very less too and thus he was pretty impressed with it.
The art of bamboo tattoo has been changed ever since it came into the present era but it still needs precision and time to give the best results possible. It was pretty prevalent in Thailand but here in North America, it was unknown. Angelina Jolie brought this art forward when she flew to Thailand to get this kind of tattoo done with the style and techniques of the bamboo tattoo, it gained prominence in the western culture too. Todd knew that it was also his time to learn the art and bring it to America and Canada where it will be appreciated.
Thus in 2009, he brought the art of bamboo tattoo with him to Toronto and immediately got success. It has helped bring hundreds of people's dreams to life with beautiful dream-like imagery to their skin using both the bamboo method and machines. The owner has views and aims of expanding his business which would bring him more experience.
They not only do the ancient art of tattooing with bamboo sticks but also do the normal tattoo procedure with the machine. However, bamboo art is worth a try.
Location on Google Maps:
12. Khan J- Tattoo People
This tattoo parlor was started in South Korea, and now has a place for itself near Bathurst and Dupont. They have stayed true to their roots and have different styles that are rich in Asian designs. They, however, give their customers options to make American-inspired styles and floral designs. They are also known to be quickly filled with customers because they are pretty high wind demand. Thus they encourage to make appointments.
The story of the tattoo studio, Tattoo People is way back up to Seoul in South Korea when it was opened in the Hongdae which is the capital city of Korea. Khan J depends on this first Tattoo person there and shortly after, he opened one in Busan which is his hometown.
While the tattoo industry was proffering in the rest of the world, South Korea was still not accepting the tattoo culture. It was still underground and many people have to open illegal businesses.  After he met his wife, Jaclyn, they decided to move to Canada and open Tattoo People there in Toronto in 2014. Thus this is how they were successful in sharing their passions across the country.
Location on Google Maps:
13. Abstract Arts Tattoos & Piercings
As soon as one comes into Abstract Arts Tattoos & Piercings, they feel entranced by the magical atmosphere of this studio. It is chic and super comfy. Many people just come for its friendly and super amazing vibes which are really awesome. The friendliness of the artist in Abstract Arts Tattoos & Piercings is on another level. They are an extremely talented, humble, and really cool set of people that you will meet and who would make you feel at home.
Abstract Arts Tattoos & Piercings is located in the heart of Toronto's Art district. Abstract Arts have been a steadily committed reference for artistic tattoos and licensed piercings in Toronto. In the words of the artists, "We are Health inspected, experienced, professional and we pride ourselves on being the friendliest studio in Toronto. Open 7 days a week, late-night appointments are available on weekends!"
They have artists who are skilled in many designs like Neo-traditional, realism, trash polka, dot work/geometrics, vibrant colorwork, and blackwork. However, custom work is their specialty. Their piercers are also formally trained by the best and very experienced set of people who use the highest quality of equipment to guarantee the best results. They use titanium and niobium jewelry mainly for their initial piercing. Anodizing is also available within the studio.
Location on Google Maps:
14. Seven Crowns Tattoo
This tattoo studio is very well deserved for its customer service and the highly skilled artists who are not just good at their skill of art but also great in developing relations with their customers. No matter if you are going for your 1st design or your 10th one, they will make you feel at home. They make sure that your tattoo experience is as enjoyable as possible.
They are very professional and the quality of art that you get will leave the theme nothing short of high. It is not wondering why this amazing tattoo studio is one of the best and deserves a special spot on this list of top 15 tattoos artist in Toronto.
Shop Name: Seven Crowns Tattoo
Address: Seven Crowns Tattoo, 2499 Yonge St, Toronto, ON M4P 2H6, Canada
Contact: 

+1 519-943-0161

Email: 

[email protected]

, 

[email protected]

, 

[email protected]

, 

[email protected]

 

[email protected]

, 

[email protected]

, 

[email protected]

Facebook: Seven Crowns Tattoo
Instagram: @sevencrownstattoo, @georgebrowniii, @revmatt73
Yelp: Seven Crowns Tattoo
Website: sevencrownstattoo.com
Timings: Mon-Sat 11 am-7 pm
Location on Google Maps:
15. Seughyun Jo, Keegan- FY Ink Tattoo Studio
There must be many fewer people who will leave this studio less than satisfied because the artist is very skilled here. They are not just attracted to the amazing skilled work but also the ambiance of FY Ink. The artists at FY Ink will take as long to consult as they want to. Besides this, the quality of the design would never be compromise don which will make it very very instagrammable.
The evolution of FY Ink started with some fancy wallpapers and some really cool things. The name was born and from that, a shop was built on the spot. With some serious hard work and dedication, the  FY Ink has snow grown and evolved into so much more than just the standard tattoo studio.
In the words of the proud owners explaining their change in name from Forever Ink to FY Ink, they say, "Our Shop has grown too big for our previous location, so after months and months of searching, a new one was found. The New location is deserving of a new name and the expansion of our tattoo shop continues with FOREVER YOUNG INK as known as FY INK."
FY Ink is modern, clean, and pretty safe and will only use quality supplies that will render you great stuff which is done with disposable stuff that is best for the safety. The artist is also great when it comes to design skills.
They are skilled in their own ways and the owner of the FY Ink says, "Our staff can help you bring any idea to life, through our custom tattoo designs, we can make any of your ideas into reality. Visiting us will help you understand and determine the right tattoo design idea for you. With a wealth of experience, you can be comfortable knowing that you are safe and will get exactly what you want."
Location on Google Maps: