Roses are of of the most famous and oldest tattoos that are still popular and will remain so for a very long time. A rose tattoo could mean a lot of things and it depends from person to person, on what they would want to represent through it. In ancient times they were always associated with gods and goddesses and hence had a very spiritual meaning. They were also a great subject in renaissance art because of their beauty. They have also been a symbol of unconditional love and a way to express your love for someone. A rose could also mean a love that has been won or lost. So whether you like them for their beauty or love roses for what they represent, these celebrity rose tattoos will definitely inspire you to get one yourself.
Justin Bieber's Rose Tattoo on the Neck
The singer revealed his latest tattoo through an Instagram post where he tagged 'Dr. Woo' who is a tattoo artist and thanked him for his latest rose tattoo. This was on September 7, 2020, and a lot of fans speculated if the tattoo was a tribute to Selena but the singer clarified in an interview with Vogue that it is symbolic of his rocky journey through life as a strong message in the form of a rose tattoo. Justin told Vogue that the rose on his neck reminds him of self-acceptance. As he tells it, the tattoo reminds him that beauty shines through rough edges even when one is flawed.
Lady Gaga's Rose Tattoo on the Back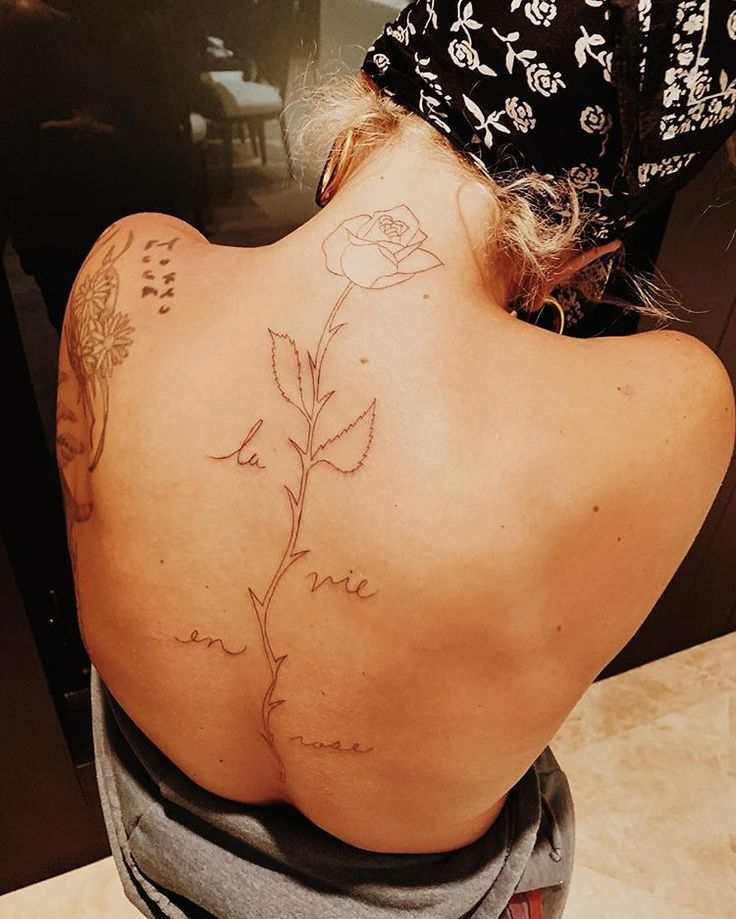 Gaga posted this picture on Instagram wishing her fans a 'Happy Valentines Day' and thanking her tattoo artist joking, "Happy Valentine's Day. A tattoo toast to "la vie en rose" by the beautiful @winterstone my spinal cord is now a rose". The tattoo extends from the nape of the neck, all the way to the lower back, and has a very deep meaning. According to Gaga, "La Vie En Rose" is the song, that her character, Ally, sings in a bar before she meets Bradley Cooper's character, Jackson, and hence a tribute to "A Star is Born". Gaga also sang this song at the opening of the Parker Institute for Cancer Immunotherapy in 2016, which Cooper considered when he decided she was the one for the role.
Demi Lovato's Rose Tattoo on the Finger
Demi Lovato posted about this beautiful rose tattoo on February 1, 2019. It was the time when she was celebrating her 6 months of being sober. The rose could depict her being reborn just as flowers do. Although she did not give an official explanation for her tattoo artist, during an interview said, "She didn't give me the exact meaning behind it, but it seemed as though [it was a nod to celebrating her sobriety]," Stone told Us. "The flower, the thorn, it was kind of a rebirth and how flowers kind of die and come back, so I feel like that could mean something, for sure. … That's kind of the feeling that I got."
Dua Lipa's Rose Tattoo on the Arm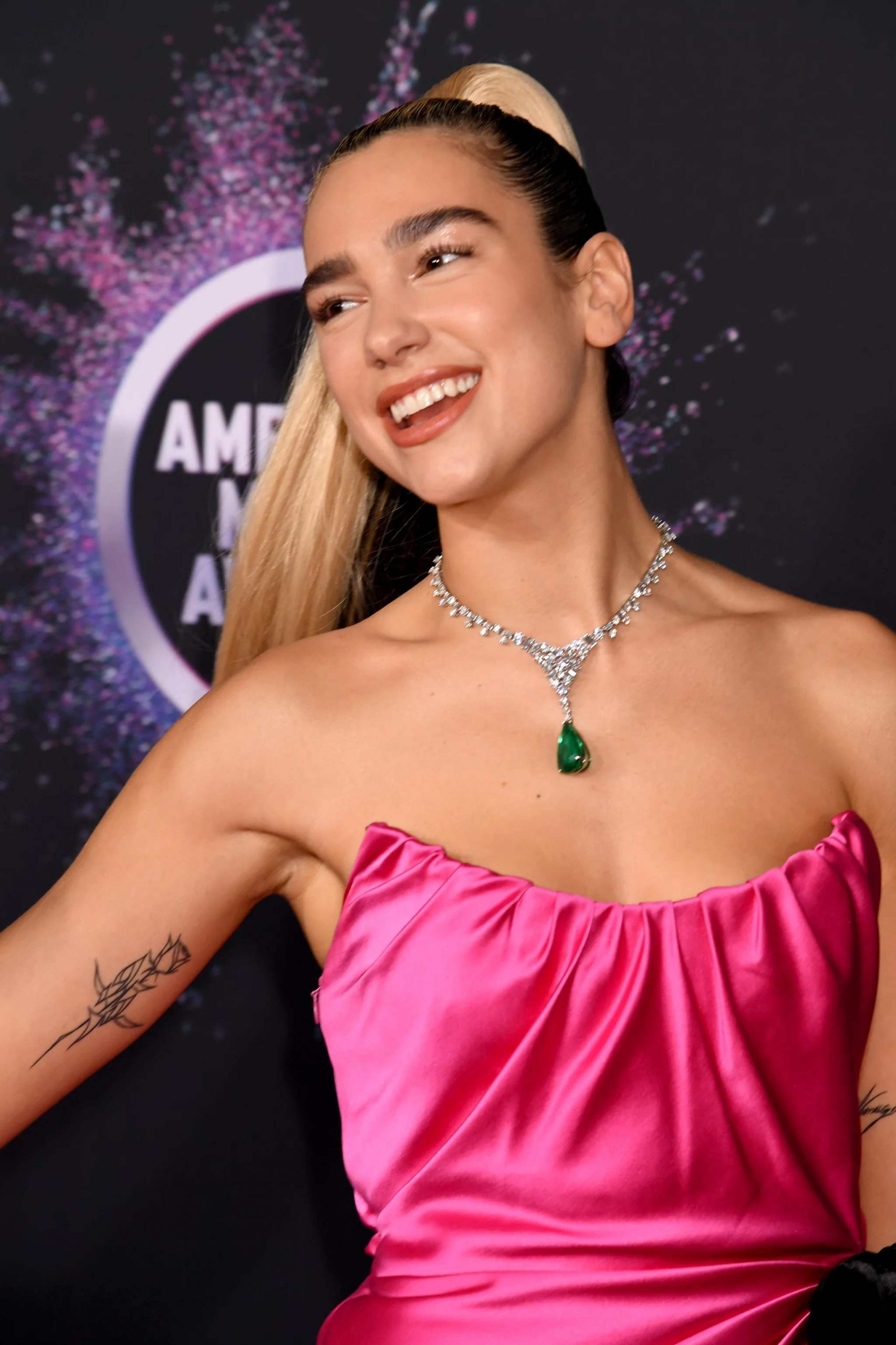 This electric and abstract rose on Dua Lipa's biceps was tattooed in 2018 by Madame Buraka in Paris. The singer announced on Instagram that she got this tattoo at 2 AM. She never talked about what this tattoo meant to her but it definitely made a core memory in her mind reminding her of the streets of Paris. The tattoo is inked in all black and is very unique compared to the traditional rose designs.
Lily Collins's Rose Tattoo on the Foot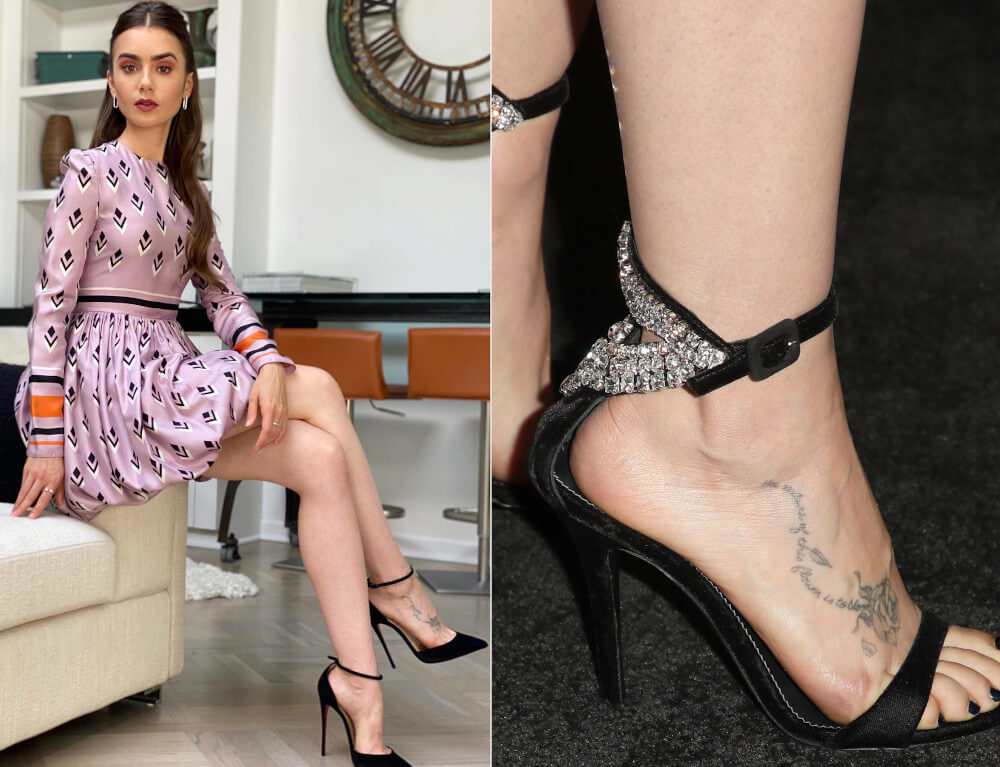 The talented British actress got this rose tattoo along with the text on her right foot in 2014. The rose faces downwards along with the text that reads, "the nature of this flower is to bloom," which is a quote from author Alice Walker. She captioned her picture as "Rosies in bloom today" which shows her love for the roses as well as the fact that she believes in herself.
Selena Gomez's Rose Tattoo on the Back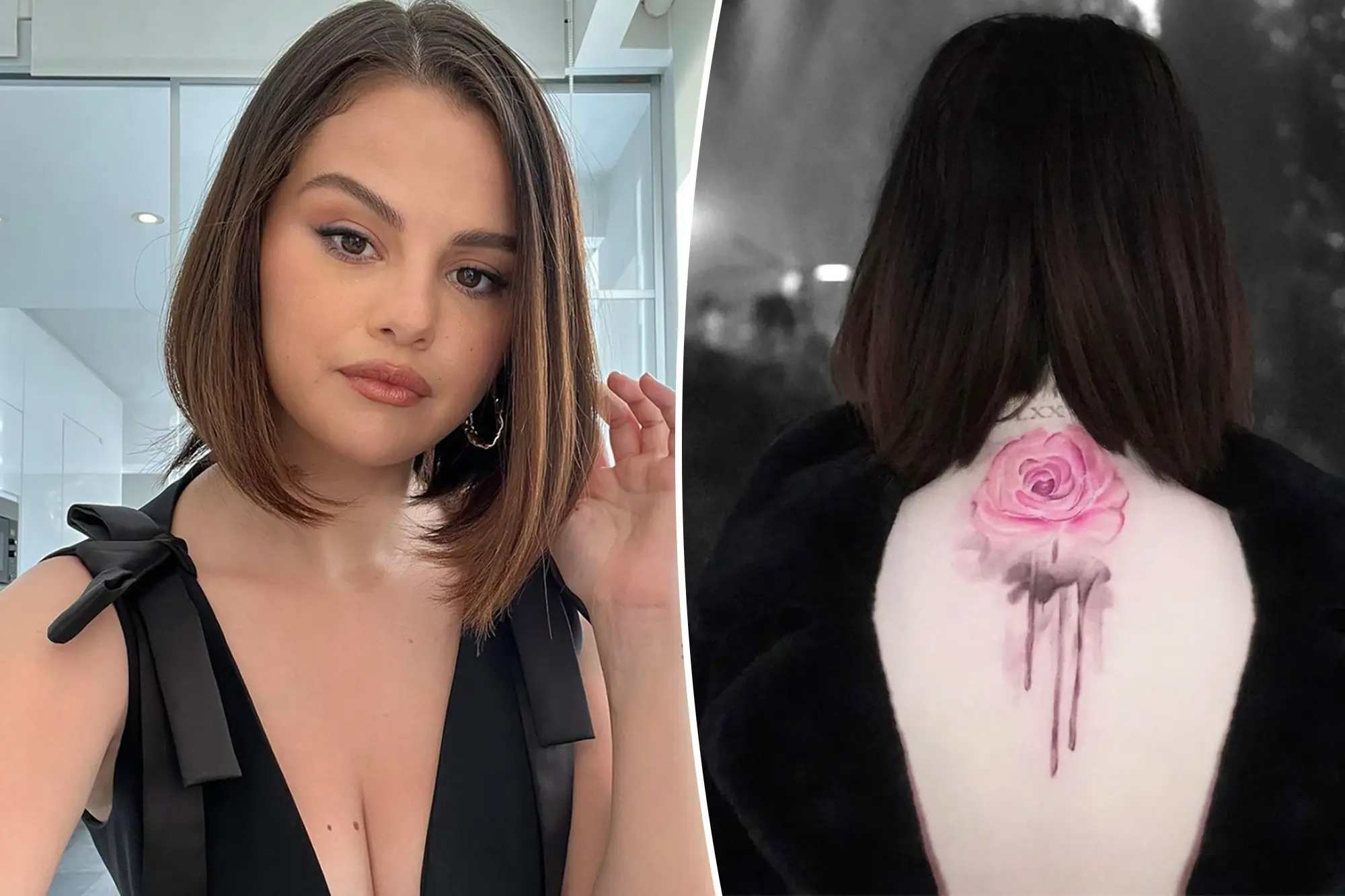 Selena Gomez and Cara Delevingne got matching tattoos last year, which shows how strong their friendship is. The 'Only Murders in the Building' co-stars got the same watercolor rose tattoo that seems to be dripping and it means a lot to both of them. "It means a couple of different things," Gomez shared on Live With Kelly and Ryan, calling Delevingne one of her "best friends" and also indicating that the rose tattoo has multiple meanings for her. She also added, "She calls me 'Rosebud'… and I've always wanted a rose and now I got one and I love it," she said.
Cara Delevingne's Rose Tattoo on the Side Chest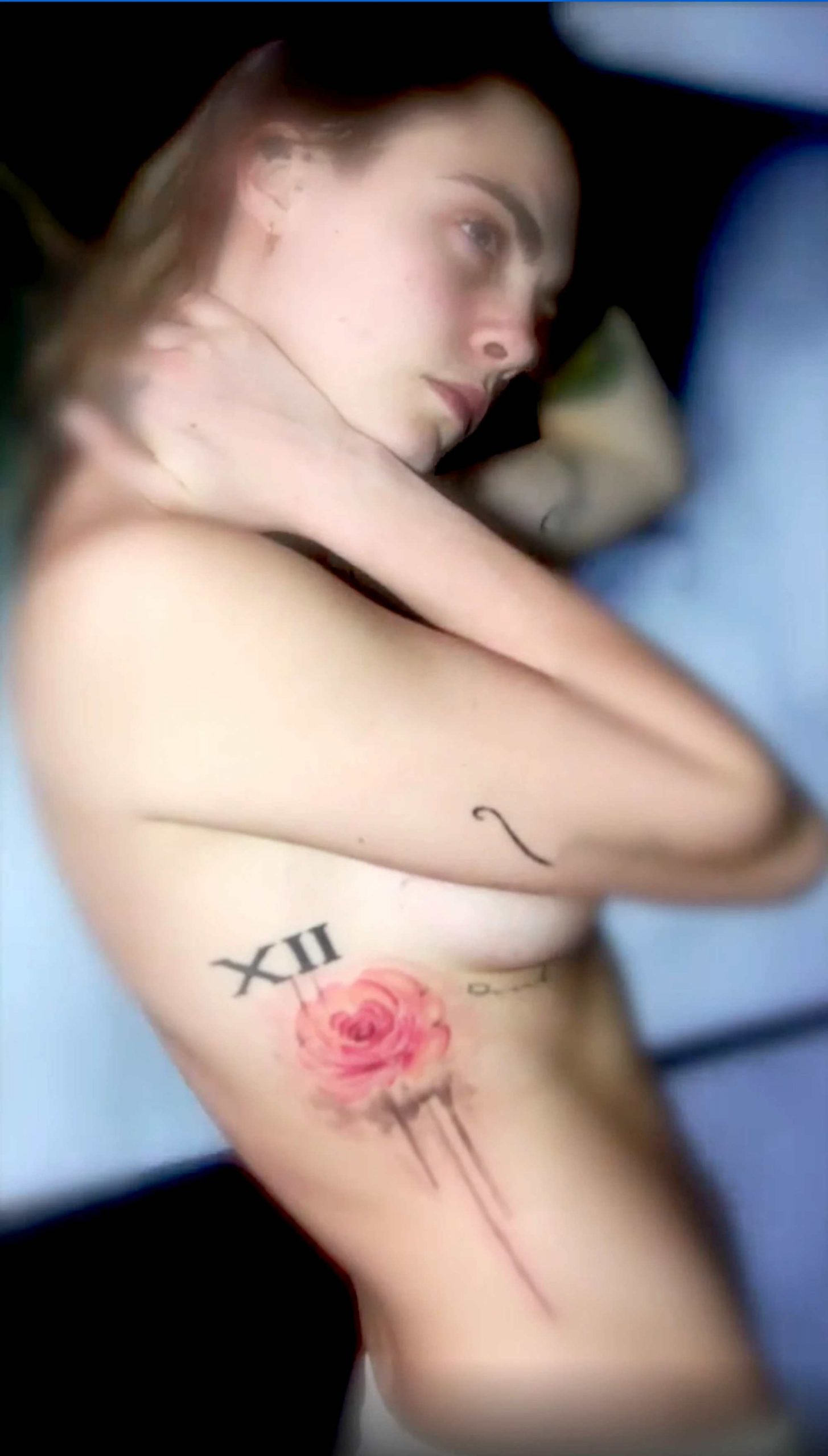 Cara got this watercolor tattoo similar to Selena's from the same place whose Instagram handle 'Bangbangnyc' was the first one to reveal the matching set of tattoos that both of them got. Cara Delevingne and Selena Gomez have been close for years and although the tattoos aren't placed in the same area, their getting it together totally makes sense. The faded look from the watercolor effect makes these tattoos even more natural looking.
David Beckham's Rose Tattoo on the Neck
Everyone knows Beckham's love for tattoos and his latest one is this rose tattoo right above the tattoos for his adorable daughter Harper. It was his wife who revealed this tattoo captioning it as, "Happy Friday x kisses from Los Angeles x ? vb." Although Beckham never talked about its meaning, it is suspected that there must be a familial symbolism to this tattoo or representing his love for someone in the family since it's right next to the 'Pretty Lady' tattoo for Harper.
Harry Styles's Rose Tattoo on the Arm
Harry Styles got a big rose tattoo on his left elbow in black and grey ink. It is placed right under the ship tattoo that Styles got when he was with Taylor Swift. Although he has clarified that the Ship tattoo does not symbolize anything about their relationship, there has been no comment on the symbolism of the rose tattoo.
Miley Cyrus's Rose Tattoo on the Arm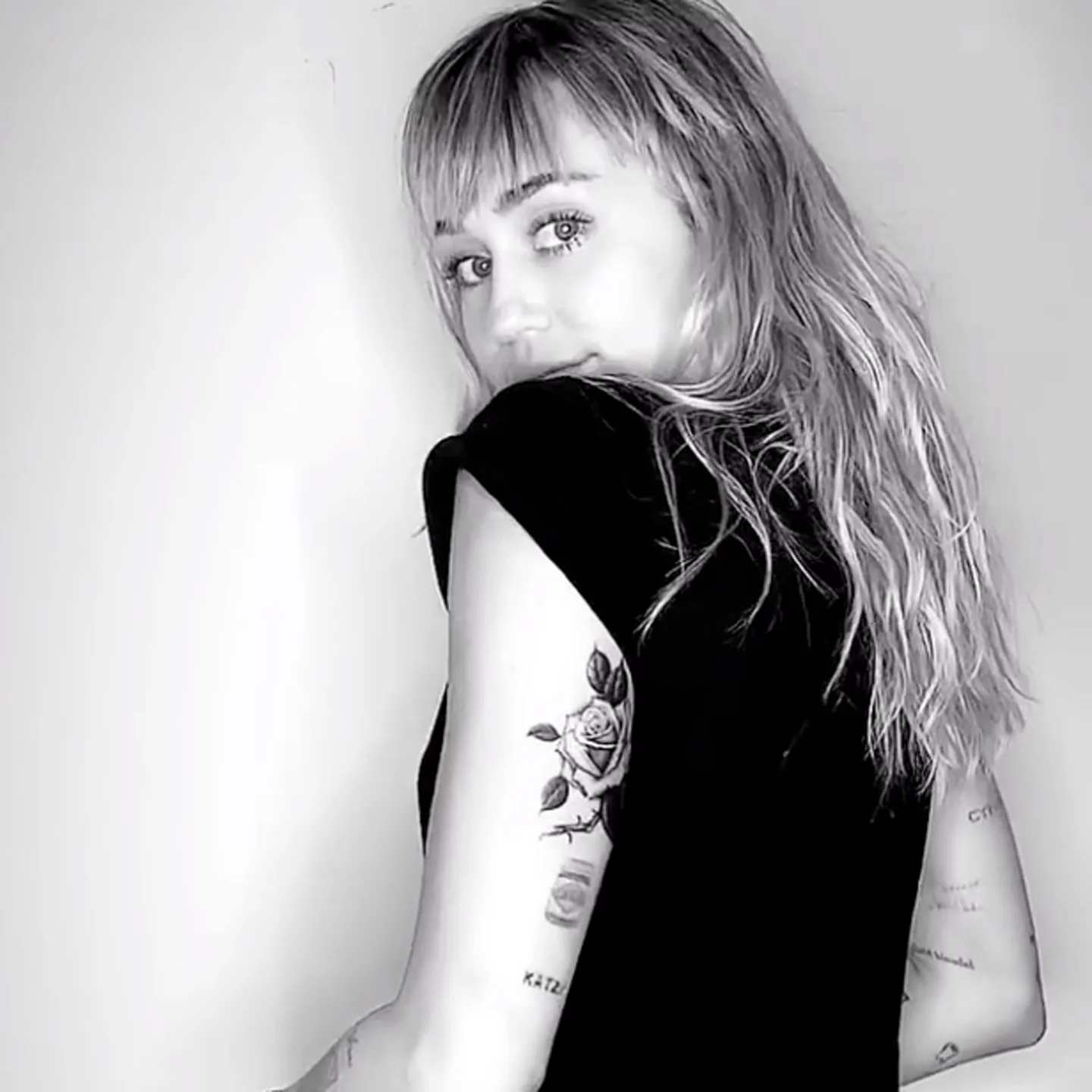 Miley got the rose along with the thorns and leaves tattoo on October 23, 2019, and is said to have tattooed it over her previous avocado tattoo. Her caption for the black-and-white video, which showed thorns and leaves on the rose on the back of her left arm, read: "When asked if what you say and do is done with purest intentions and only LOVE inside the heart?" She then shared another video with the caption, "Every. Rose. Has. Its. Thorn", which could be a tribute to her song.
Amber Rose's Rose Tattoo on the Arm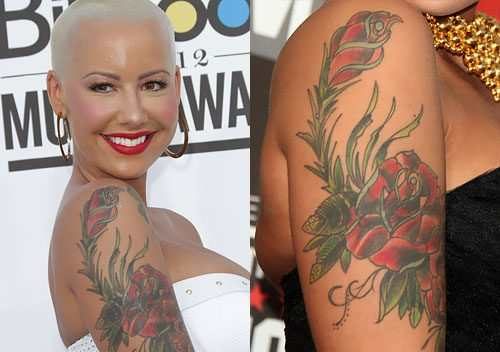 In 2014, rose added another tattoo to her collection, and yes this one is literally the element in her name. Her rose tattoo extended from shoulder to arm. She has not talked about what it means but she has had more rose tattoos before as well. Her tattoo artist once posted a picture in 2015 of one of her rose tattoos captioned, "Opposite side of @amberrose arm. Rose is healed the locket is fresh".
Scarlett Johannson's Rose Tattoo on the Back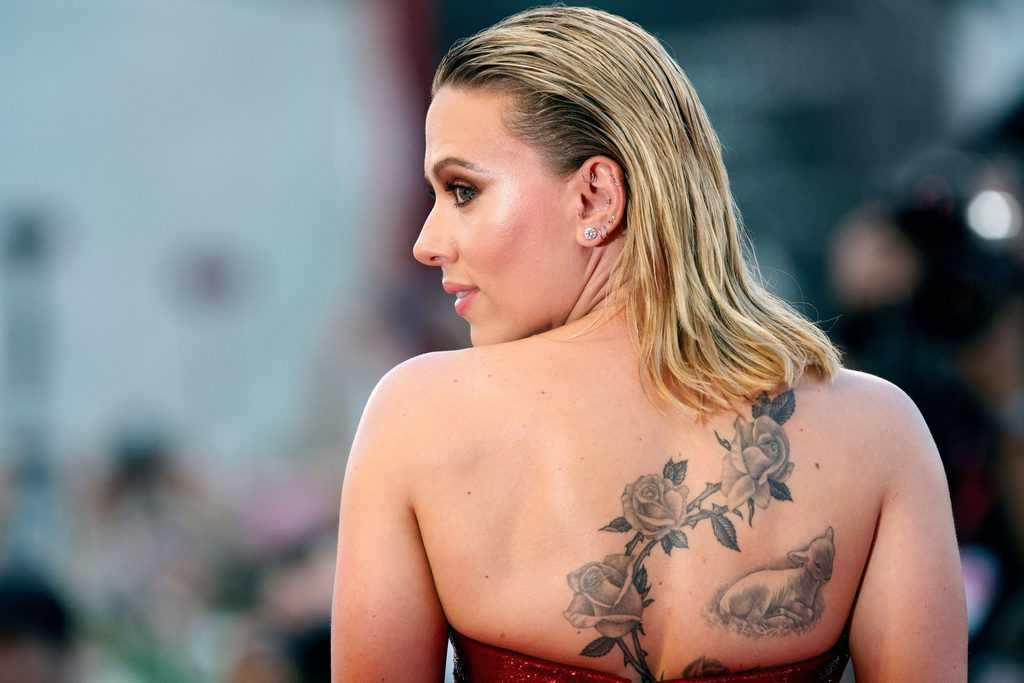 As mesmerizing as she is, so are her tattoos and she gives a good peek from time to time at her tattoos to her fans. She first revealed her back tattoo of roses and a lamb at the 2018 Met Gala in a beautiful red dress. It is not known what the meaning behind Johansson's black and white tattoo is, but she has a daughter named Rose Dorothy Dauriac. She has another rose tattoo on the side of her chest that looks smaller than the one on the back.
Bella Hadid's Rose Tattoo on the Arm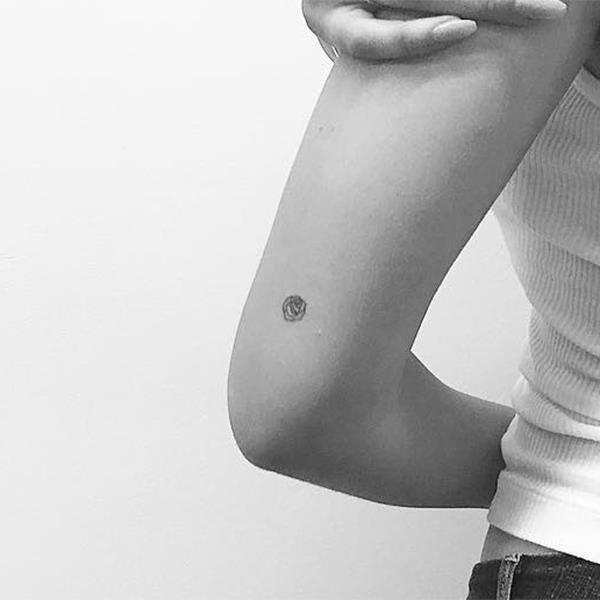 Because the flower that Bella got tattoos on is tiny and depicted from above, it would have gone unnoticed had JonBoy not pointed it out on Instagram. It's unclear whether roses have a special meaning for her or if they are just her favorite flower. When Bella posted about it she added a lot of rose emojis to the picture. It's hard not to admire her minimalist ink theme.
Noah Cyrus's Rose Tattoo on the Arm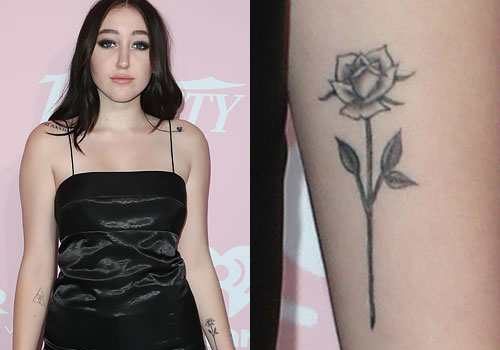 Noah Cyrus and her boyfriend Tanner Drayton got matching tattoos in August 2017. They looked adorable and what better way there is to express love through a permanent rose tattoo? She shared a picture of the tattoos on both of their forearms with a caption: "love you, T."
Cardi B's Rose Tattoo on the Thigh
The roses in Cardi B's latest tattoo are a part of her overall floral tattoos. It extends from the top of her back all the way down to the back of her left thigh. The blue roses are what was noticed a lot which is a bit unique as compared to the most common red ones. It was by the artist Jamie Schene.
Zayn Malik's Rose Tattoo on the Back of the Head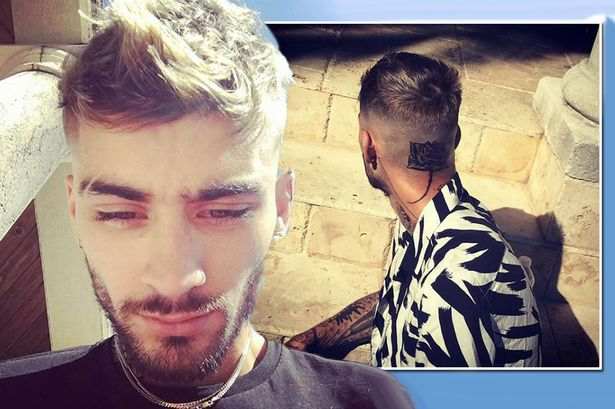 Zayn got this tattoo of a huge rose on the back of his head, the branch of which extends to the neck. This is a very unusual place to get a tattoo and for that reason, it definitely stands out. The tattoo was observed just a little time after he and Gigi Hadid broke up giving rise to the rumors about this tattoo being symbolic of losing Gigi. He has not clarified the meaning of the tattoo himself.
Vanessa Morgan's Rose Tattoo on the Side of the Chest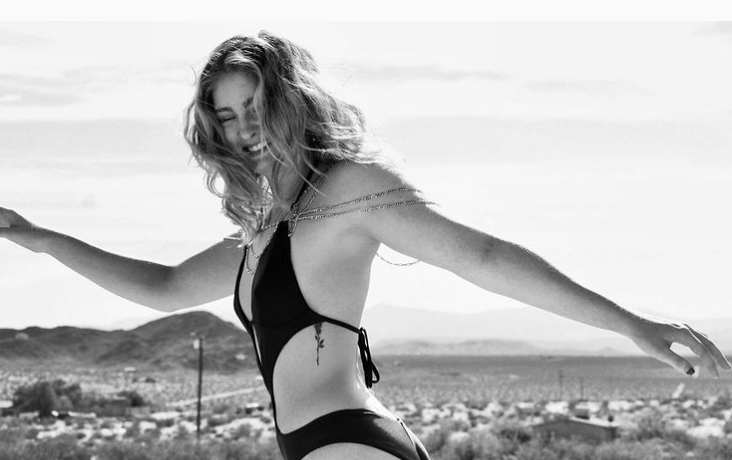 Vanessa got a small rose tattoo on her left side in February 2018. The 'Riverdale actress posted on Instagram with a caption that said, "He who wants a rose must respect the thorn."
Lili Reinhart's Rose Tattoo on the Arm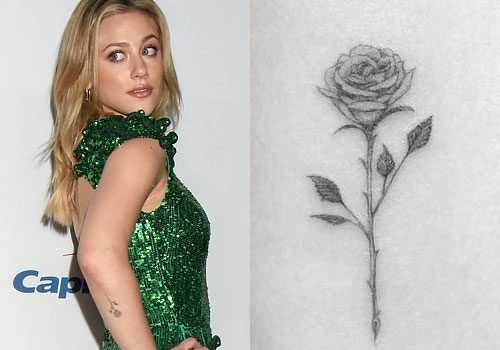 Another one of the Riverdale celebrities got a rose tattoo on her arm. Reinhart said she got the tattoo because she loves roses and that it represents her "heart on her sleeve."Her exact words in an interview with PEOPLE Style: "I love roses, and I don't want to stay it's that basic, but also I got the rose to represent that I'm kind of a warrior for love. I wear my heart on my sleeve. I've learned a lot about myself in the past year and I've learned that I really just — I do wear my heart on my sleeve and that's what it represents a little bit, that I love love."
Snooki's Rose Tattoo on the Back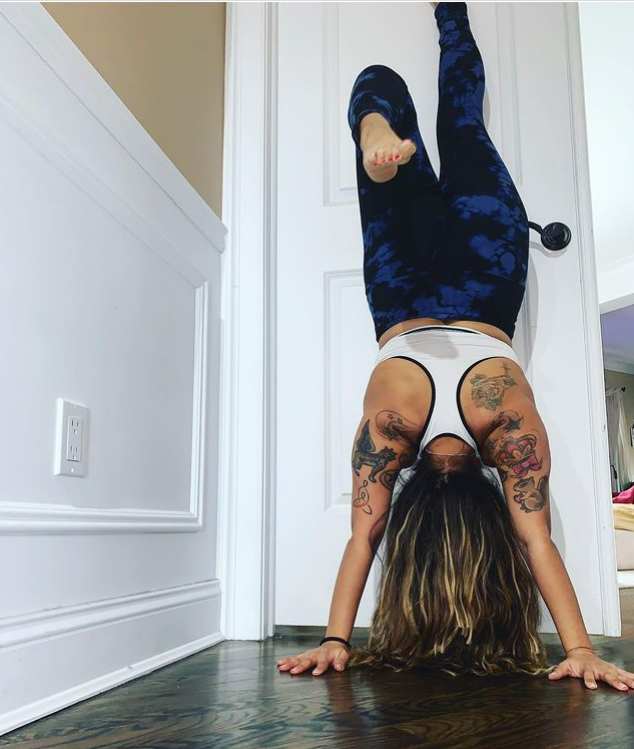 The 'Jersey Shore' star has a rose and a rosary bead tattoo on her back near the shoulder blade. She says that most of her tattoos were inked when she was drunk and she does not regret them but this rose tattoo reminds her of her grandparents.
Willow Shields's Rose Tattoo on the Side of the Chest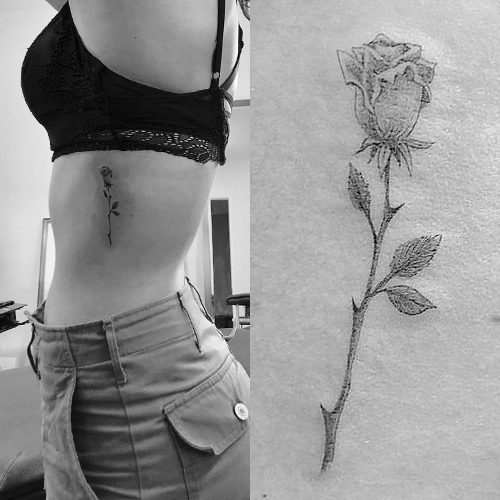 The celebrity tattoo artist Winter Stone tattooed this minimal rose tattoo for Willow Shields but she has never talked about what it means personally to her.
Avril Lavigne's Rose Tattoo on the Arm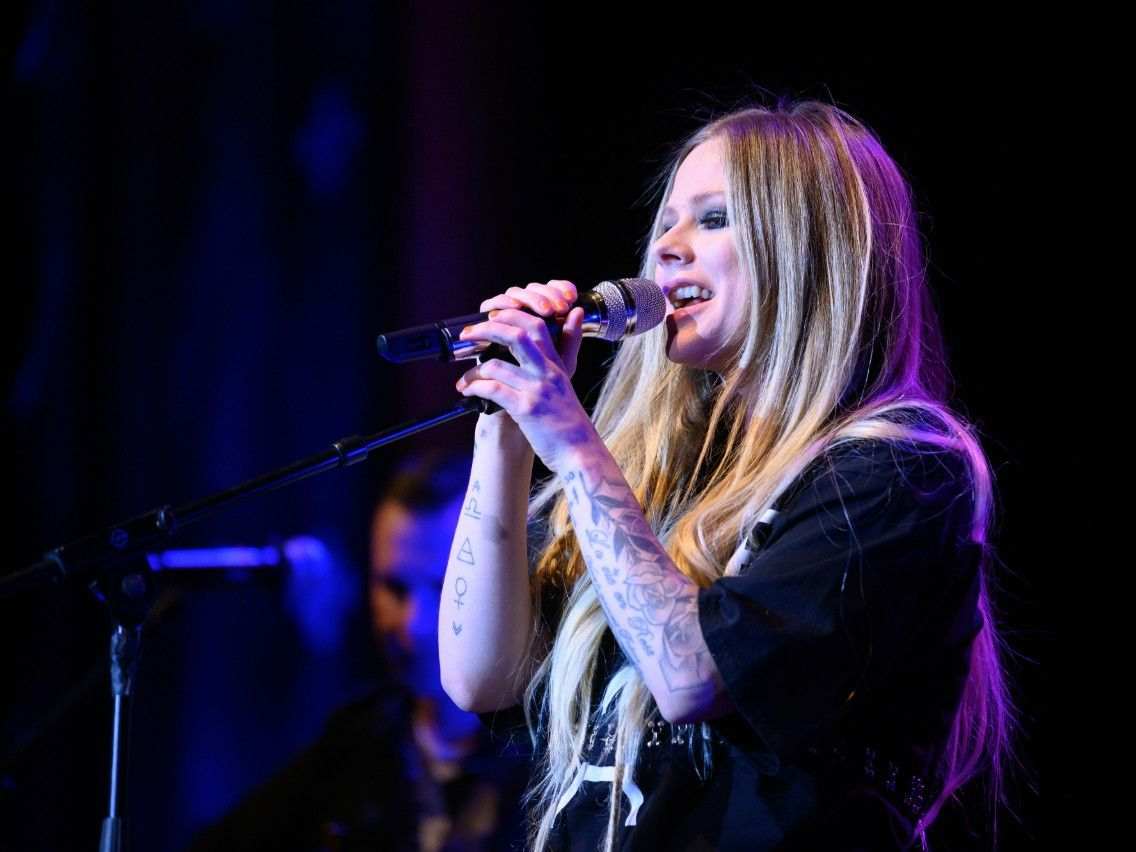 Across her left forearm, Avril has a large tattoo of a rose. She wears the tattoo that extends from just below her elbow all the way to her wrist, and it has solid black stems and leaves. During a November 2017 visit to Michael Kortez, she had some spaces on her left forearm filled in. In one sitting, he inked the rose, a cross, and a dagger.
Halsey's Rose Tattoo on the Shoulder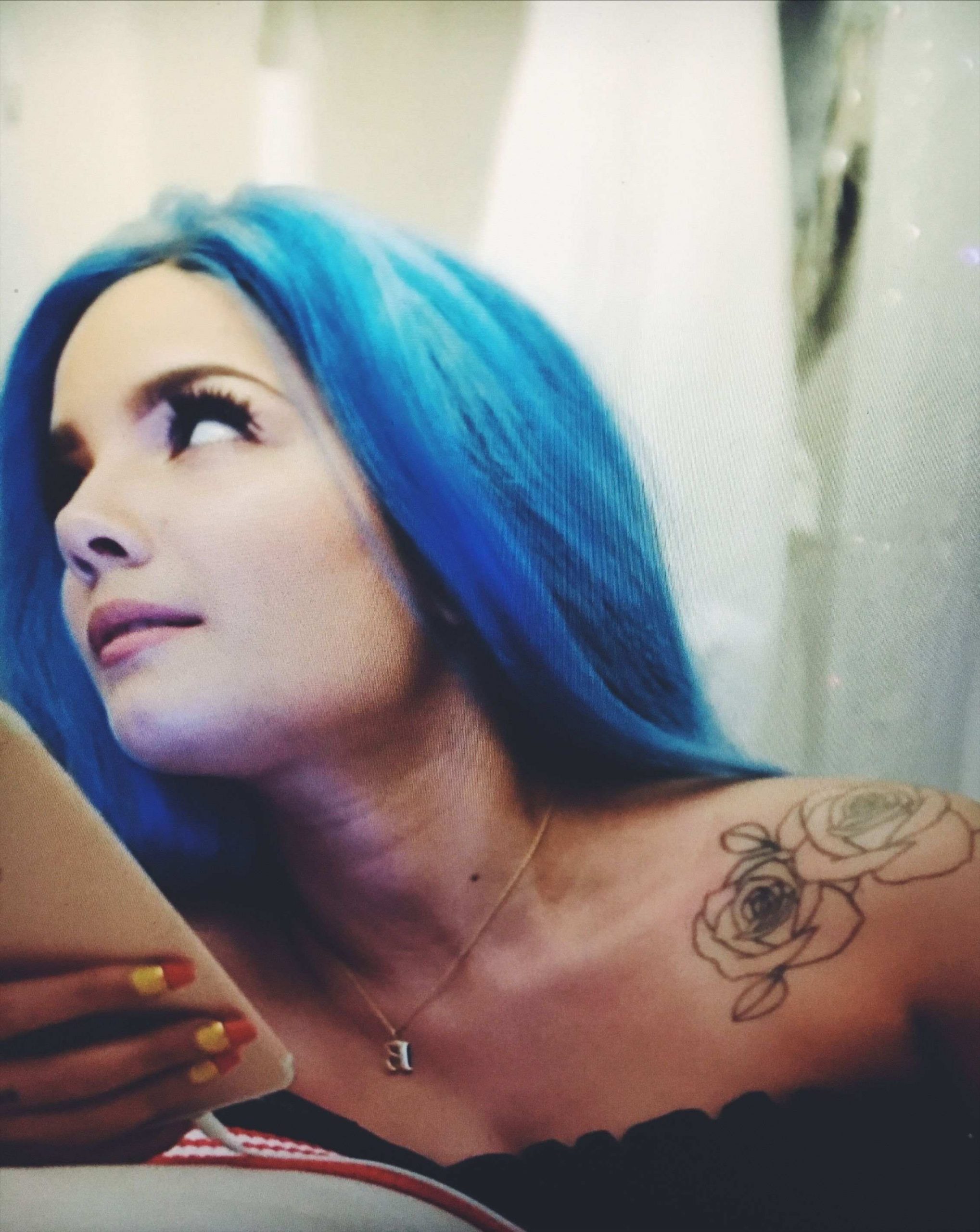 Halsey got a beautiful outline tattoo on her left shoulder when she was 16 years old and was in high school. She wanted to do a lot more with the tattoo like add some colors but said that she could not do it at that time because of her school rules. She tweeted, "I got my rose tattoo when I was a sophomore in high school." In another tweet in June 2013, she wrote, "my rose tattoo is my favorite! Had it since the beginning of my senior year of high school! I can't bring myself to color it!" But only a few weeks later, she wrote, "I neeeeeed to fill in my rose tatttooooo! And get tons more! I want half a sleeve by Fall! I'm determined." She later also admitted that she was bored of that tattoo and wish she didn't have it because it has become 'too common now.
Hilary Duff's Rose Tattoo on the Arm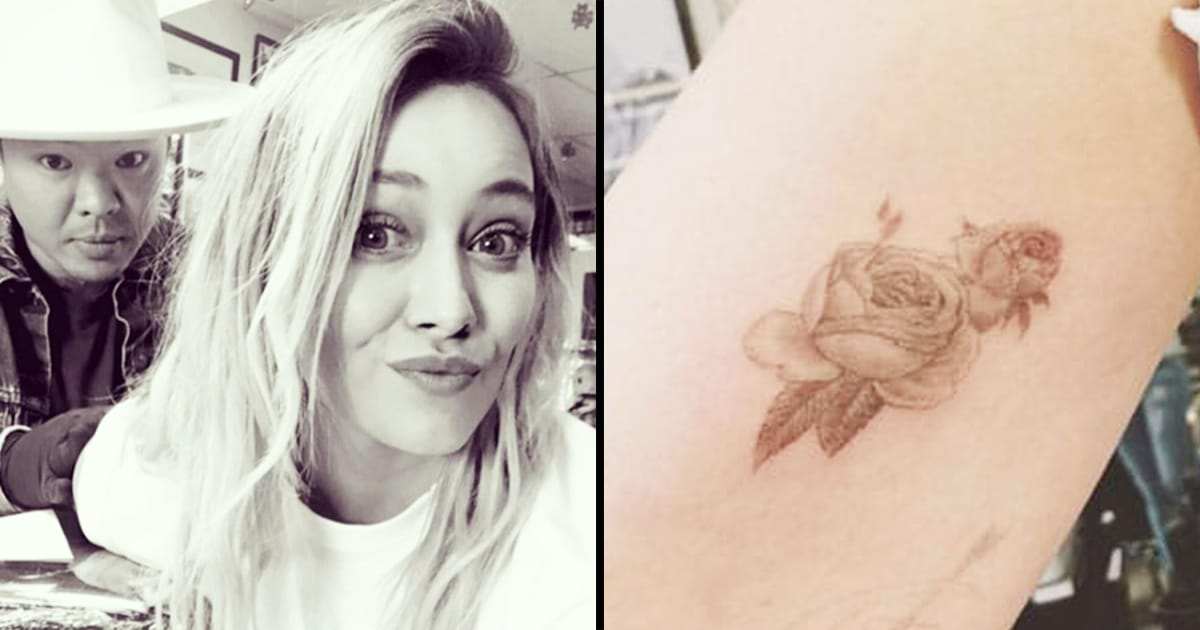 Duff has always loved getting inked but told Ellen de Genres once that she does not like the idea of them being permanent. However, she does have a good amount of incredible tattoos and one of them is a rose. "Had a good hang with @dr_woo yesterday and I'm loving my rose," Duff wrote when she posted a picture with Dr. Woo.
Jamie King's Rose Tattoo on the Arm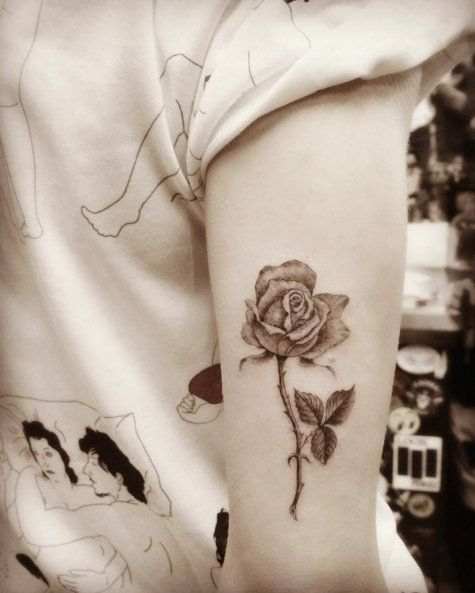 Another one of Woo's clients, King recently got an intricate rose tattoo by a celebrity tattoo artist and shared the picture of it on Instagram."Just getting down with my brother @dr_woo_ssc — arguably one of the best artists of our time," King wrote as the caption. She says that the tattoo is for her sons, James and Leo. "A beautiful rose for my babies," she wrote.
G-Easy's Rose Tattoo on the Neck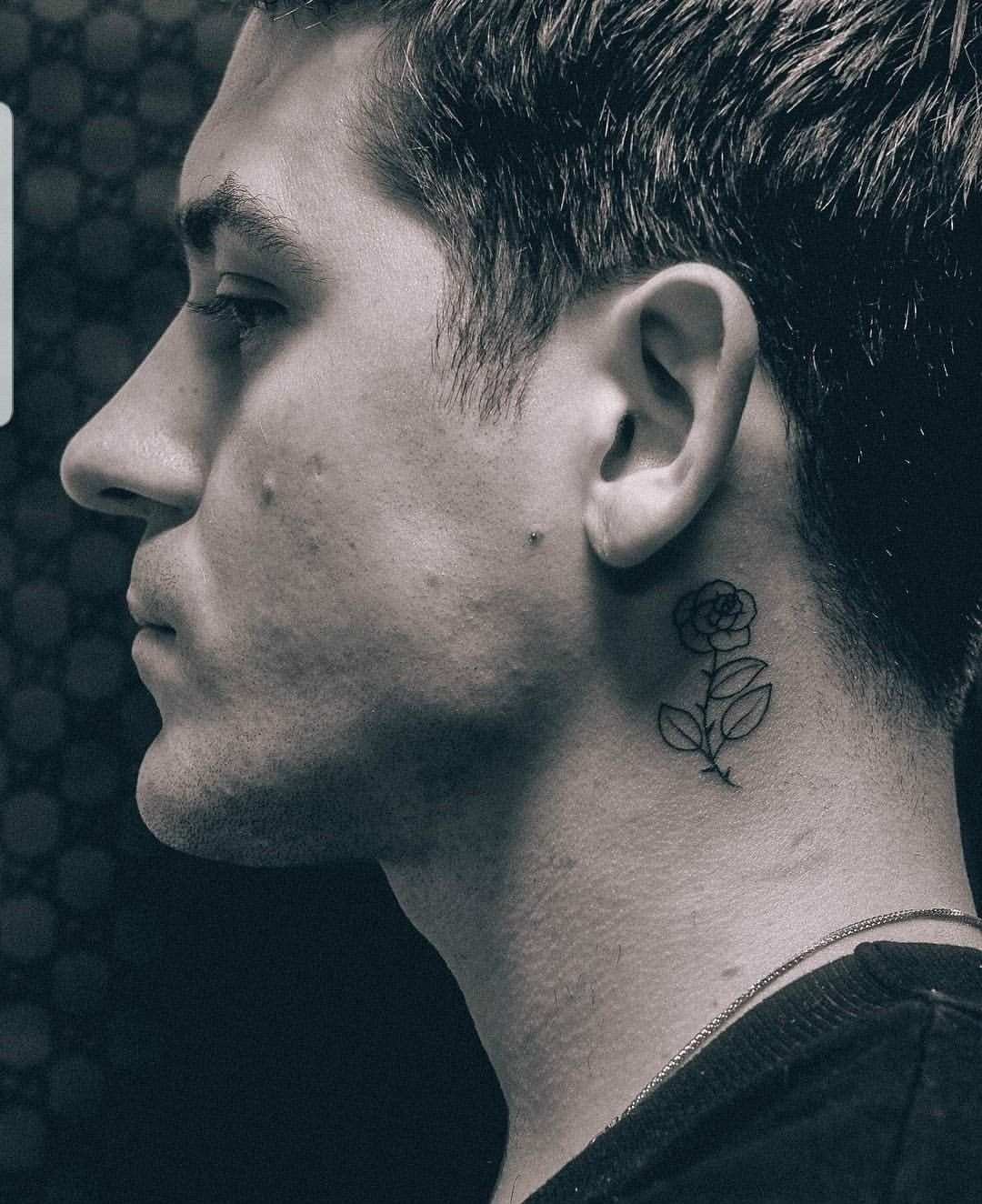 G- easy got this tattoo of a rose with thorns and leaves behind the ear. Some people speculated that the tattoo was for his ex-girlfriend Halsey or that they could have come together again after a rough patch. G-easy however did not give an official explanation for his tattoo. Explanation or not, this tattoo design is definitely something to consider.