Star tattoos are popular among both sexes because of their adaptability and the wealth of meanings they can represent. Dreams and aspirations, direction and guidance, hope and mystery, and even desire are all connected to the stars. The North Star, one of the night sky's most prominent and well-known stars, has been a reliable navigational beacon for explorers and travelers for generations. It's a symbol of success, guidance, and fortune. And there's always the shooting star, a symbol of luck and success. In spite of the apparent simplicity of the shape, a minor inking or adding additional pictures can greatly enhance the quality and intricacy of the final product. You can get a tattoo of a star on your hand or cheek, or you can get a small one hidden behind your ear.
Stars, as embodiments of light and the possibility of unknown travel through the night, are widely revered as symbols of truth, protection, guidance, and spirituality. Each star in the constellation may represent a different facet of these potent groups that can be carried for protection in the form of a tattoo. Here are some celebrities and their star tattoos.
List of Celebrities with Star Tattoo
Avril Lavigne's Five Point Star Tattoo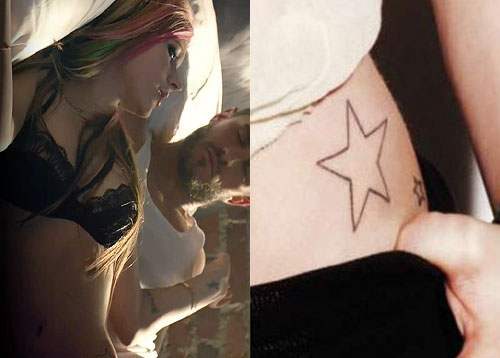 Two stars are partially visible on Avril Lavigne's left hip. Although she has several stars on her body, this particular one is the biggest.
Zoë Kravitz's Unique Star Tattoo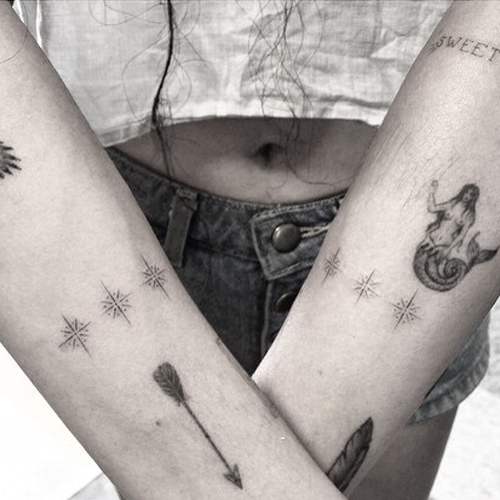 The most obvious reason someone would get a tattoo of such stars is a deep and abiding fascination with space. Many people are intrigued by the unknown ocean because of the mysteries connected to its vastness.
Ruby Rose's "Here" Star Tattoo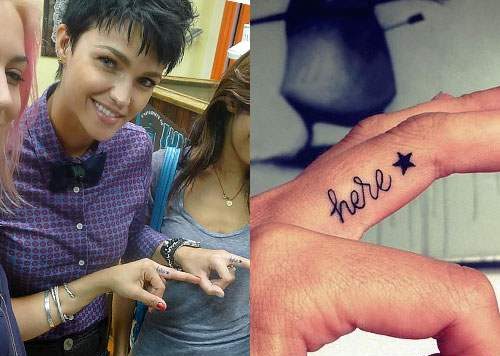 For good measure, Ruby Rose also sports a matching tattoo on the lateral side of her left middle finger: the word "here" and a little black star. She doodled, "Some matching ink with my sis SaSa." She got it inked on her in October 2011—a full year before she received any of her other tattoos on her hands.
MØ's Star Tattoo on Wrist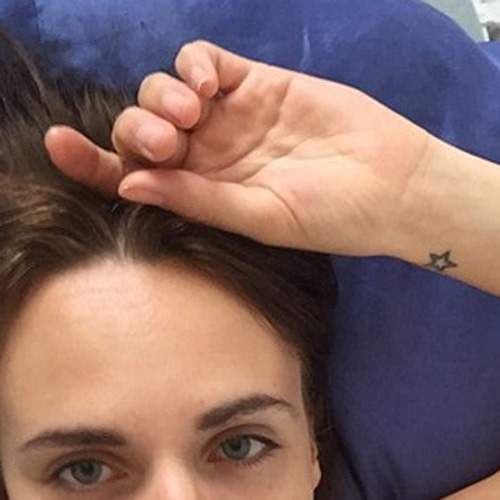 MØ's single star tattoo offers safety and direction because the North Star was used to lead captives to freedom. A little star is a universal sign of hope and guidance toward a better life.
Mariahlynn's Red Star Tattoo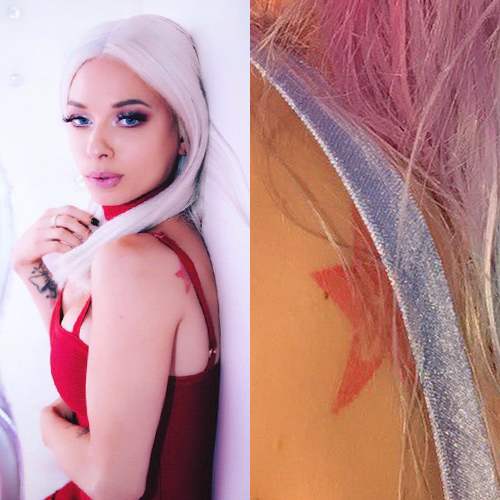 Red star tattoos were traditionally worn by sailors to signify that they were assigned to the left (port) side of the ship. The stars have evolved into a symbol of both masculine and feminine power.
Carla Howe's Literal Star Tattoo
On her left wrist, Carla Howe has the word "Star" and a small star design inked.
Fearne Cotton's Blue Star Tattoo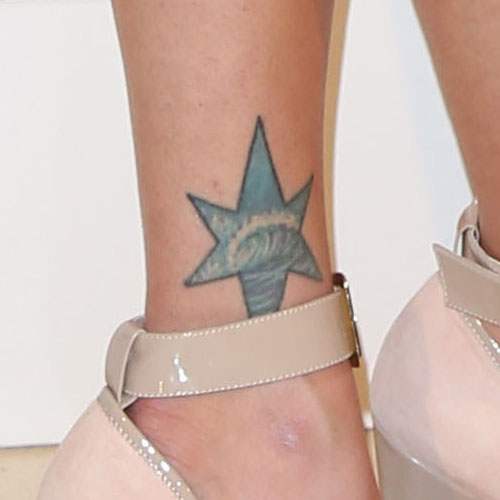 A tattoo of an irregular six-pointed star adorns the inside of Fearne Cotton's left ankle. The ink of ocean waves in blue and green fills the interior.
Jasmine Sanders's Star Tattoo on Thigh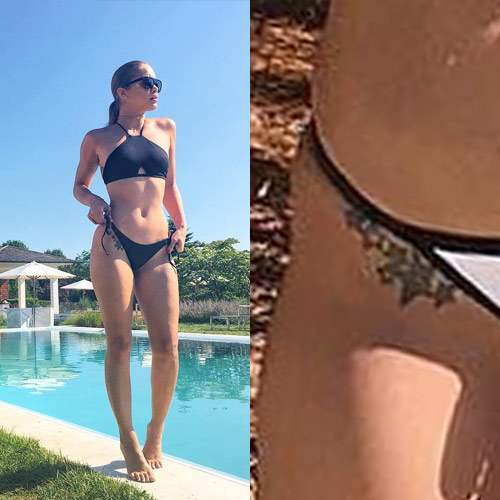 The right hip of Jasmine Sanders is covered with tattoos of stars. These tattoos appear powerful, capture the eye, and are an intriguing design option for those with a connection to the United States. It's common to see this pattern on people's backs and shoulders.
JoJo Leveque's Red Star Tattoo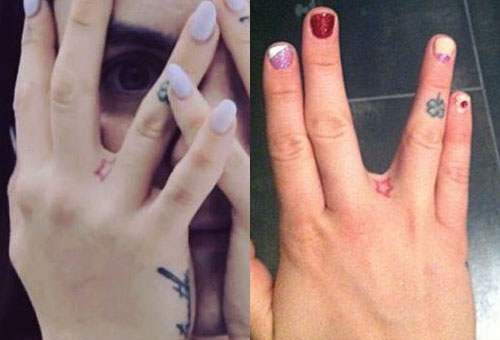 JoJo Levesque has a tattoo of a red star in the web space between her ring and middle fingers on her right hand.
Lauren Elizabeth's Star Tattoo Body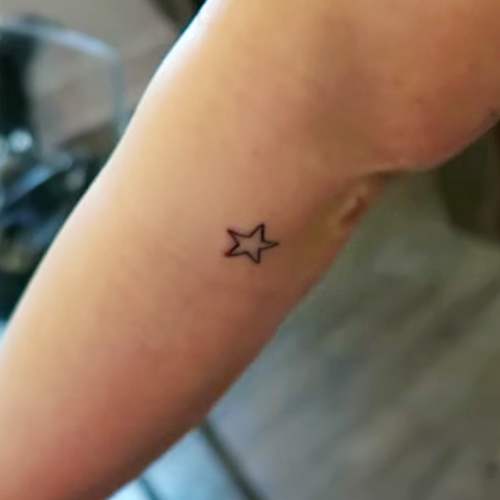 On her right arm, Lauren Elizabeth has a little star tattoo. Early Christians also used the pentagram as a symbol; its five points stand for the five wounds that Christ sustained during his crucifixion.
Avril Lavigne's Cupcake Star Tattoo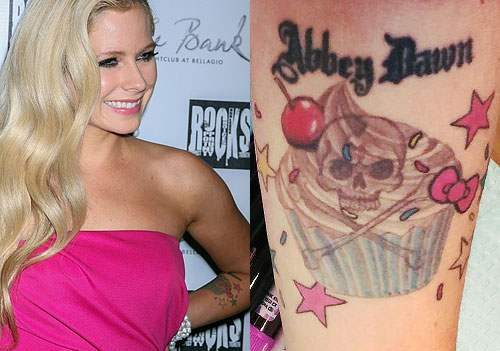 Avril Lavigne's cupcake tattoo on her left arm partially hides the skull and crossbones design. It has a Hello Kitty bow on top and is encircled by colorful stars and sprinkles. On her 2013 self-titled album, Avril sings "Hello Kitty."
Yasmin Yousaf's Three-Star Tattoo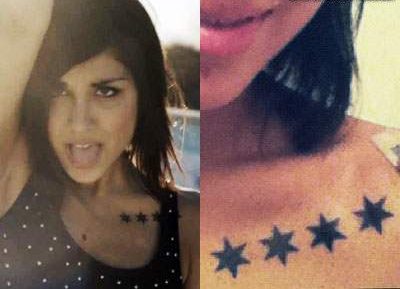 Yasmine Yousaf, who hails from Chicago, Illinois, wears four black six-pointed stars on the left side of her chest. Chicago's city flag served as inspiration for the design of the star.
Riley Keough's Star Tattoo's Foot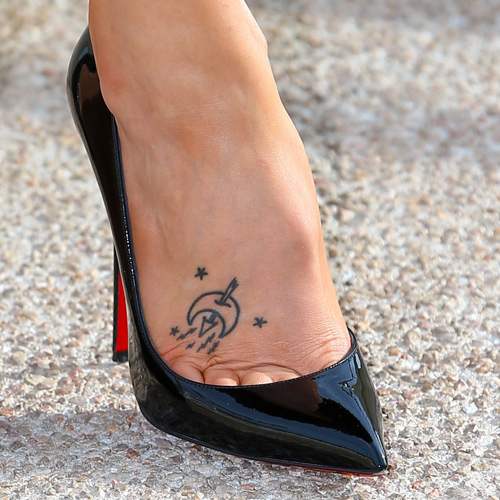 On her right foot, Riley Keough has a tattoo of a crescent moon with an arrow through it and stars.
Mixi Alecia Demner's  Shooting Star Tattoo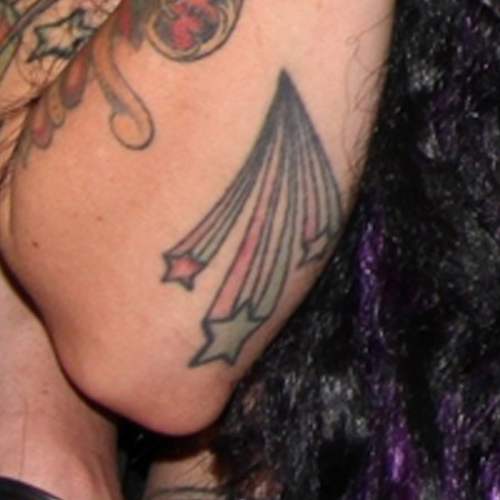 Mixi has shooting stars tattooed on both her elbows. Manifesting your destined good fortune and living the life of your dreams are all intertwined with this concept.
Maria Brink's "We Shal"l Star Tattoo
Maria Brink has the words "We Shall" and "Overcome" tattooed on the inside of her right and left wrists, respectively. In addition to the black stars and crimson skulls that cover her entire sleeve, she also sports small red crossbones.
Cardi B's Star Tattoo Behind The Ear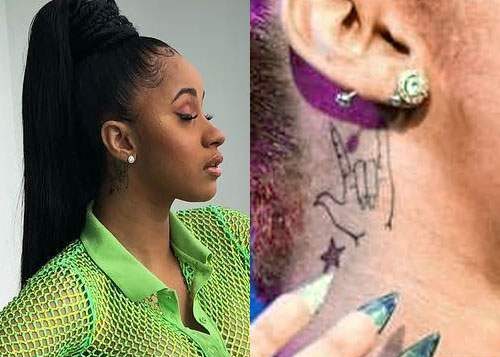 Cardi B has a tattoo of an American sign language hand signal for "I Love You" and a tiny black star placed behind her right ear.
Fearne Cotton's Intricate Star Tattoo
Fearne Cotton has a large tattoo that runs from the top of her right foot to the inside of her ankle. The largest of the three stars is colored green and is surrounded by curling vines.
Jamie King's Tiny Star Tattoo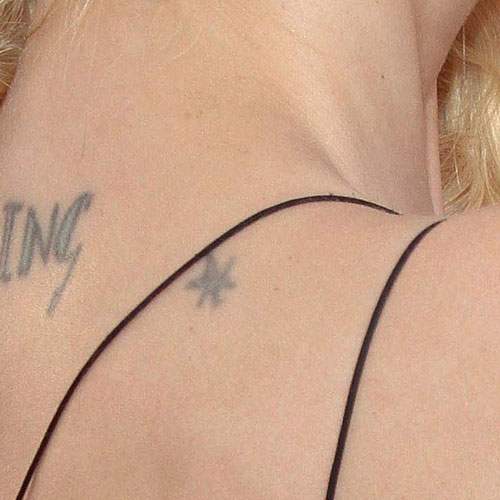 A misaligned six-pointed star sits atop Jamie Alexander's "KING" tattoo on her upper back.
JoJo Levesque's Bunch of Stars Tattoo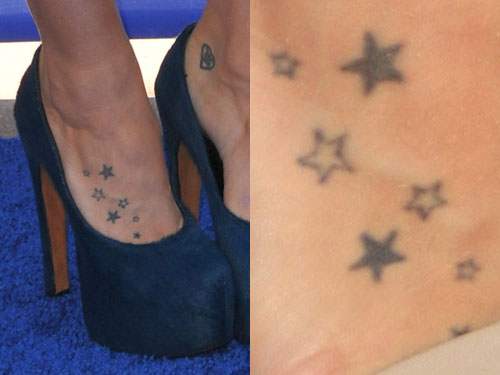 There are seven-star tattoos of varying sizes on JoJo's right foot; three are black and four are white. Stars, being embodiments of light and the possibility of future travel, are widely revered as symbols of truth, protection, guidance, and spirituality.
Krysta Cameron's Star Tattoo on Arm
On the inside of her right arm, Krysta Cameron has two tattoos that are connected to music. The lyrics to the Björk song "All is full of love" are encircled by a red heart below her elbow. The phrase "Against Demons" and a sand dollar that resembles a star in a circle from a Radiohead album cover is engraved on her wrist. However, the sloppy appearance of the words and images is a reflection of the original artwork. This was one of her earliest tattoos and has a much heavier black effect than her more recent work.
Asian Doll's Star Tattoo on Hand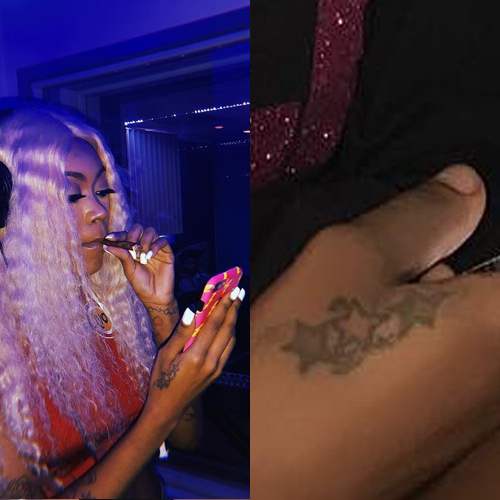 The three stars on the right hand of the Asian Doll are tattoos. If the stars are arranged in a row, with each successive star being larger than the one before it, the tattoo signifies a voyage.
Xenia Adonts Star Tattoo on Finger
Jon Boy tattooed tiny outlines of a star, moon, and sun onto Xenia Adonts' left fingers. According to an Instagram post she made, "Anzeige * Wow got my first tattoos." The universe has my faith. As far as I'm concerned, you get back exactly what you put out into the world. From what I've experienced, energy is truthful. Oh, so that's what all these tattoos represent… from the master himself, @jonboytattoo.
Rihanna's Trail of Stars Tattoo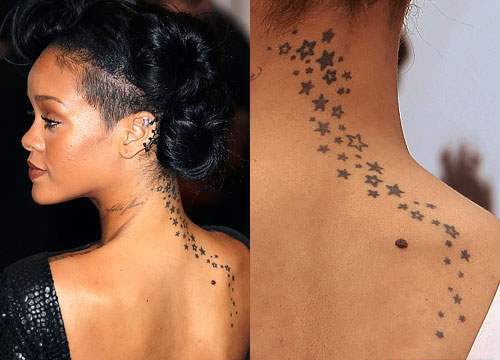 In 2008, Rihanna got a tattoo that has become one of her most recognizable features. Somebody in Los Angeles did the initial work, and her go-to tattoo artist in New York, Bang Bang, polished it up. In this case, the stars are a match for the triple of stars that sit behind ex-boyfriend Chris Brown's ear.
Mixi- Alecia Demner Stars and Saturn Tattoo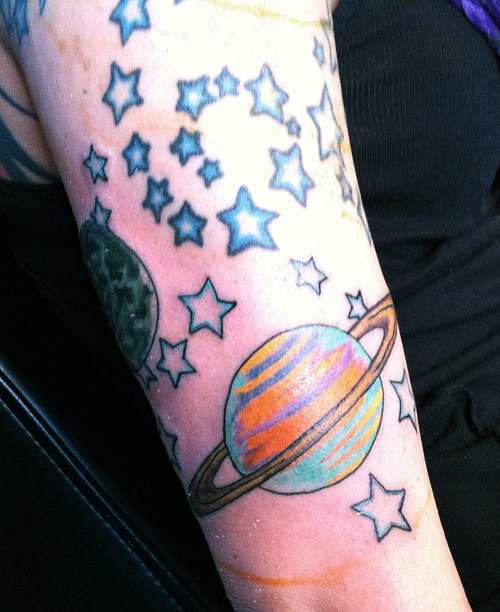 Mixi's upper arm is covered with a lot of stars along with Saturn. Stars, being embodiments of both illumination and the possibility of unknown adventure in the dark of night, are widely revered as symbols of truth, protection, direction, and spirituality.
Maria Brink's Elaborate Star Tattoo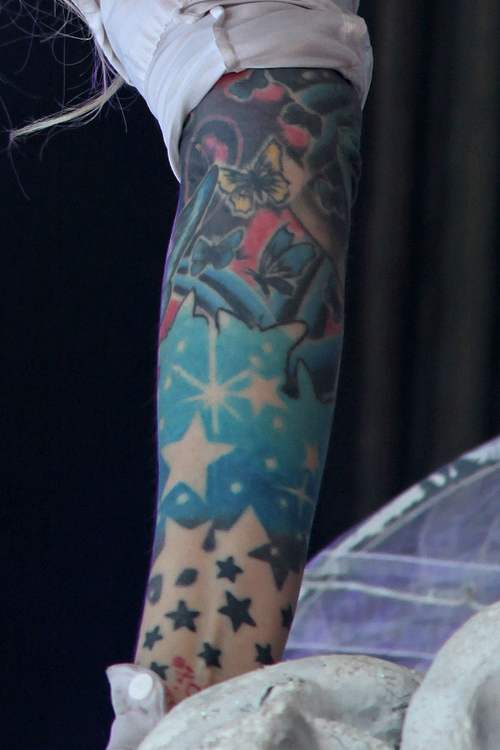 Maria Brink has a full-sleeve tattoo of a scene with pink and blue butterflies that fade into a starry night sky, and the transition between the two is denoted by butterfly-shaped outlines. The tattoo changes again further down her arm. The night sky fades, as the stars go from being colored on a black background to bringing black dots on a white skin background.
Cara Delevigne's Star Tattoo on Ear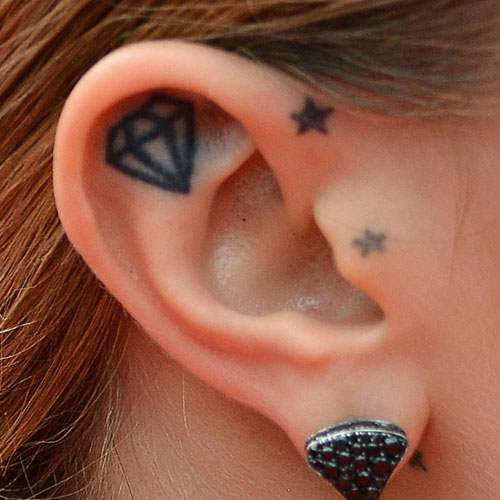 Cara Delevingne has three tattoos: a diamond on the inside of her ear, a small black star on her tragus, and another one on her helix, all of which are located close to the perimeter of her face.
Mindy White's Three Star Tattoo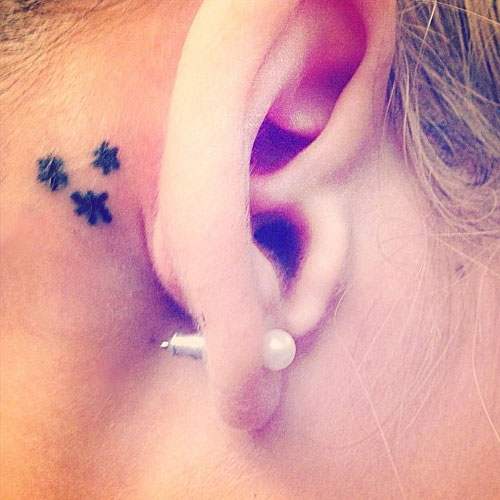 Mindy White has a tattoo of the three stars from the Harry Potter books, which can be seen behind her right ear. She posted a photo of her new tattoo on Instagram with the statement, "Well, I'm now a nerd."
Jahan Yousaf's Intricate Star Tattoo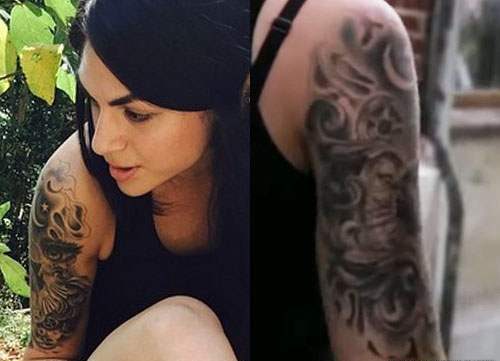 Jahan Yousaf's right upper arm is covered in a detailed tattoo. The Islamic crescent moon and star are included in the design along with gears and an eye. Jahan was raised in an Islamic family and attended Islamic education. Both her parents are Muslims; her Pakistani father is Muslim and her American mother is of German and Lithuanian ancestry but converted to Islam before they got married.
Fantasia Barrino's Beautiful Star Tattoo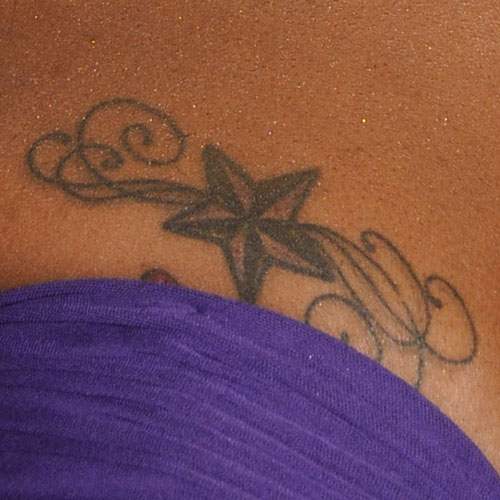 Fantasia Barrino's tattooed chest art is a nautical star and swirls. A tiny red heart may be seen beneath her dress.
Rihanna's Star Tattoo on Ear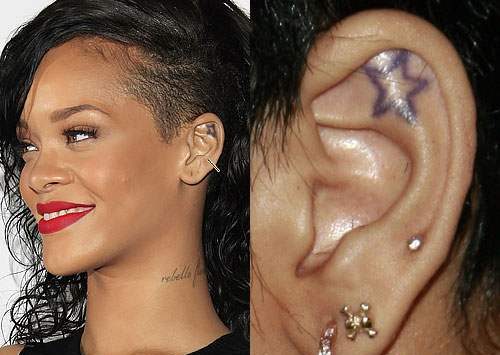 Rihanna got a tattoo of a star outline behind her left ear in August of 2006. It has been reported that Rihanna said: "Since my best friend is visiting from Barbados, we wanted to do something wild. Even she was able to score one."
Vannesa Ferlito's Star Tattoo on Wrist
Vanessa Ferlito has a tattoo of the words "Dad" and a star on her left wrist as an homage to her father.
JoJo Levesque Star Tattoo on Ear
JoJo's right ear is decorated with musical notes and small red stars. 'These are basically musical notes,' she explains in one of her interviews. In addition, many assume falsely that these are freckles." There are only three specks of red. I have no idea why they are there; I only find them attractive."
Keyisha Cole's Star Tattoo on Shoulder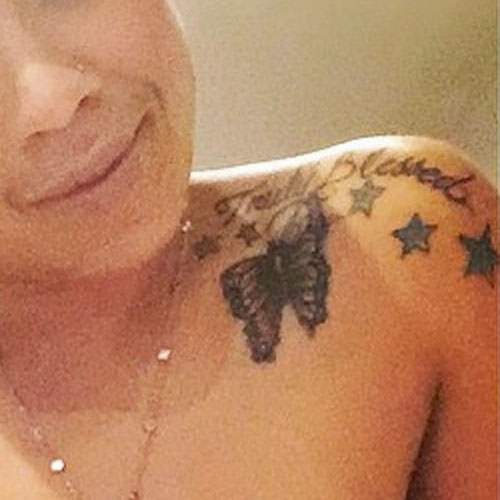 A blue star and a butterfly flutter around the words "Truly Blessed" on Keyshia Cole's left shoulder.
Ashley Tisdale's Tiny Star Tattoo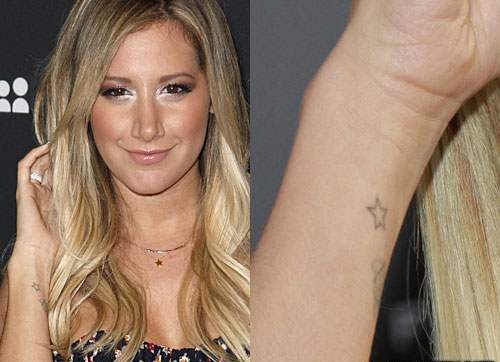 Ashley Tisdale has a tiny star tattooed on the inside of her right wrist, close to where she previously had the word "fearless".
Kesha's Rainbow Star Tattoo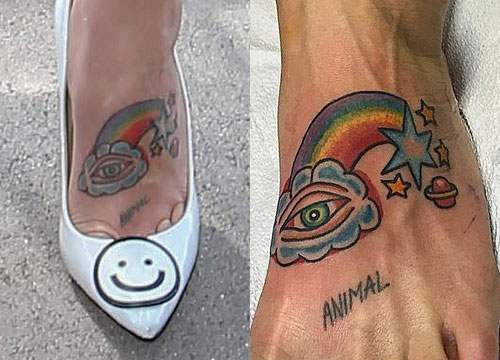 In May of 2015, Kesha got this rainbow tattoo from artist Robert Ryan on the top of her foot. An eye-shaped cloud may be seen at the far end of the rainbow. On the other side, you'll see a ringed planet similar to Saturn and a cluster of stars.
Maria brink's Blue Star Tattoo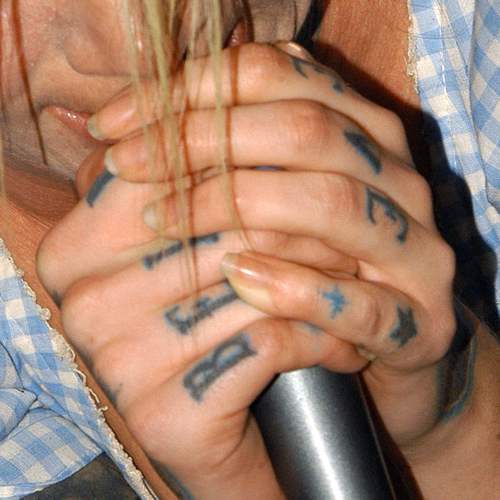 Maria Brink has a tattoo on her knuckle that reads "BELIEVE" in black and blue ink, with stars filling in the space on her pinky finger.
Eiza Gonsalez's Colorful Stars Tattoo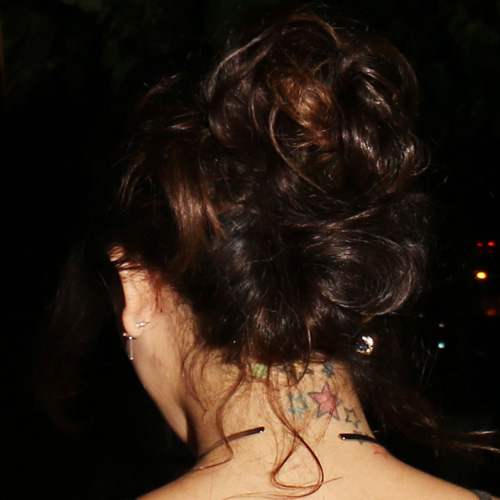 Eiza Gonzalez's neck is covered in a bright star design tattoo. Because it is a more personalized star, this tattoo is typically found on smaller, less obvious body parts, such as the finger or the back of the neck. You may use any color you like to make a little star, and they're usually just filled in or outlined.
Candice Accola's Star Tattoo on Foot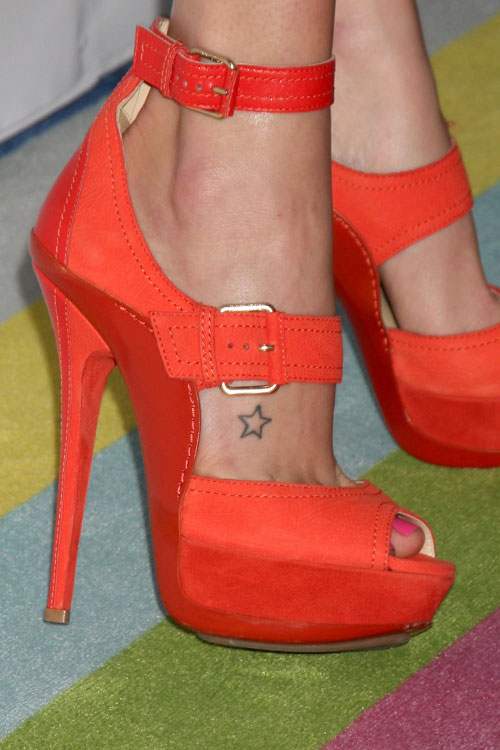 Candice Accola, who plays Caroline, in The Vampire Diaries, has a star tattoo on the upper part of her right foot.
Heidi Klum's Line of Stars Tattoo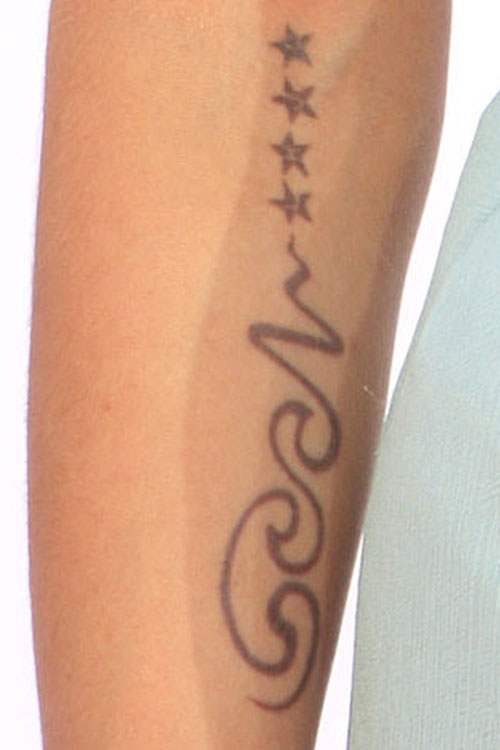 Heidi Klum's huge tattoo on her forearm may look like a simple swirl, but it actually pays tribute to her late husband and their two children. She got a tattoo of a stylized version of the name "Seal," in tribute to her ex-husband, the singer Seal Samuel. Each of her children is represented by one of the four stars, which also bears one of their initials. The children's initials are displayed in the order of their birth: "L" for Helene (sometimes known as "Leni"), "H" for Henry, "J" for Johan, and "L" for Lou.
Joey King's Bear Star Tattoo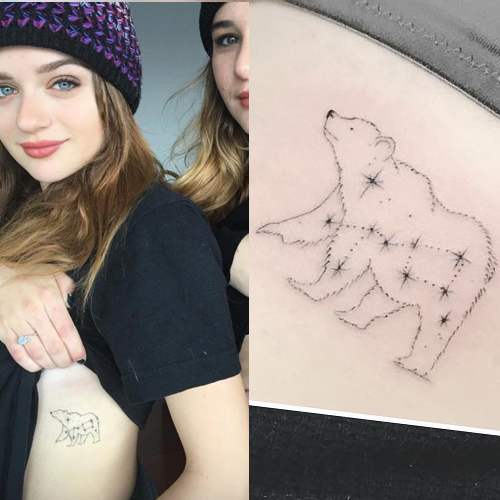 Joey King and her sister Kelli both have tattoos of the constellation Ursa Major on their left ribcages, which they acquired at the same time.
Ashley Benson's Star Tattoo on Wrist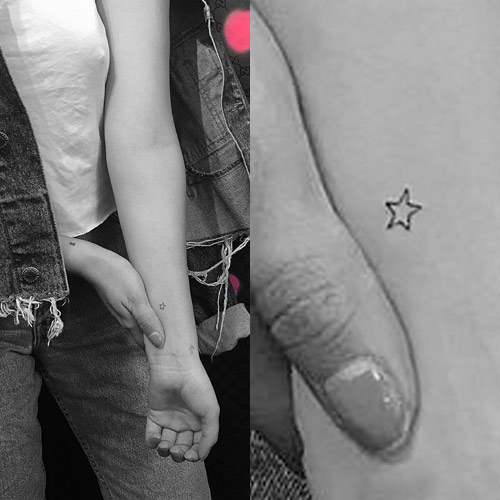 On June 22, 2017, at Jon Boy's tattoo studio, Ashley Benson got a small outline of a star tattooed on her left forearm.
Kelly Osborne's Star Tattoo on Neck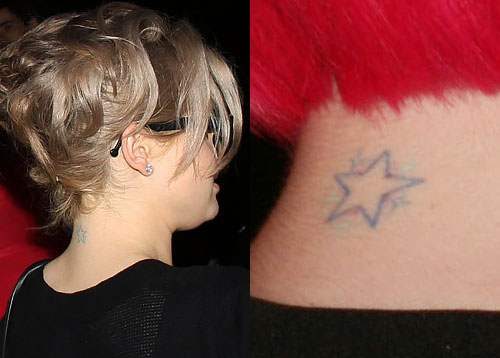 The back of Kelly Osbourne's neck is inked with a star. Diverse colors of blue, purple, and turquoise ink are used to create the outline.
Jessie J's Star Tattoo on Waist
Tattooed on Jessie J's right hip is a phrase from her song "Who You Are": "Don't lose who you are in the swirl of the stars." There is a typo in the tattoo; it should read "loss" rather than "loose." Jessie recognized that it was her fault and apologized for the error. "It was misspelled on purpose on my part… "I'm sorry, it's my fault."
Tila Tequila's Pentagon Star Tattoo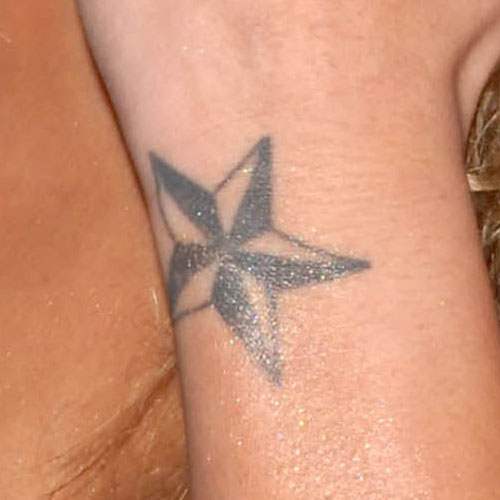 Tila Tequila's wrists are tattooed with identical nautical star designs. Both of her tattoos are black, however, the one on her left arm is flesh-colored, while the other is red.
Poppy Montgomery's Star Tattoo on Foot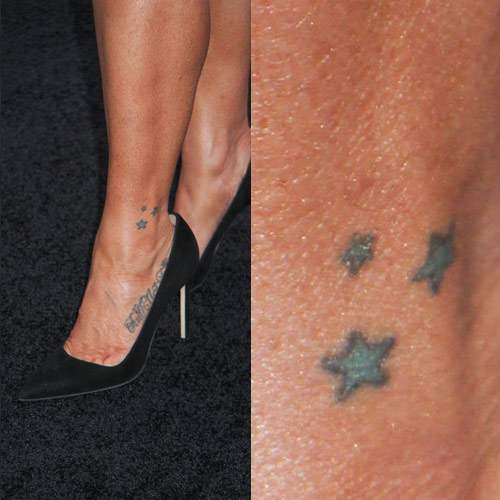 The three stars are tattooed on Poppy Montgomery's left ankle. This tattoo symbolizes a journey taken if the stars are arranged in a line, with each star getting bigger than the last. To commemorate their transition from small-town performers to A-list movie stars, an actor or actress might get this tattoo.
Hazel- E's Nautical Star Tattoo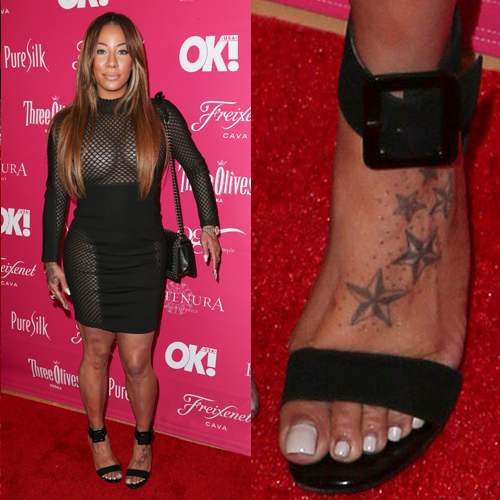 Hazel-E has an elaborate tattoo of stars on her left foot. The nautical star can take on a number of different forms. The star with five points, in both dark and light tones, is the simplest. It can also be visualized as a compass with eight points. On a watercolor ground, the colors might be anything from all black to all crimson.
Debra Wilson's Bold Star Tattoo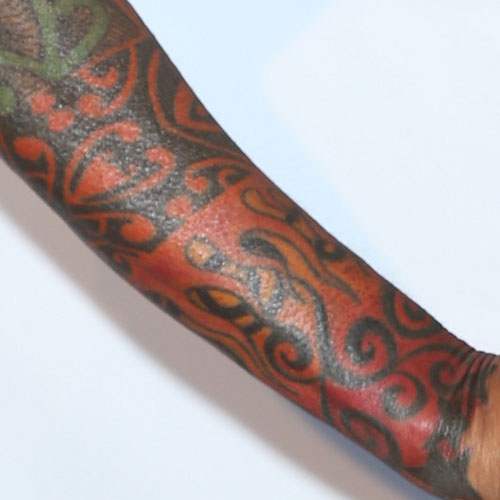 Tattoos on Debra Wilson's right forearm feature bright shades of red and orange. She has a red wristband with black stars and swirls on it. A tribal pattern in black and orange with central flames decorates the area over her elbow.
Maggie Lindemann's Adorable Star Tattoo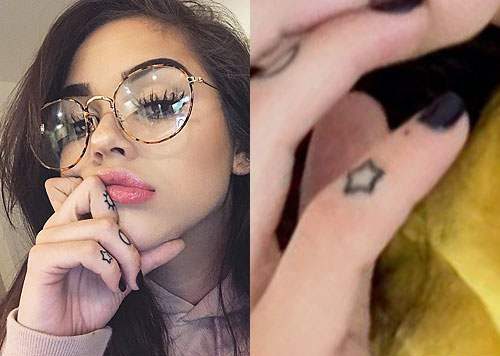 Maggie Lindemann finished up her space-themed knuckle tattoos with this star design on her right pinky finger on October 16, 2016. She then painted a single dot just beneath her fingernail.
Billie Piper's Star Tattoo on Wrist
On Billie Piper's right wrist, a star is tattooed.
Mabel Mcvey's Constellation Tattoo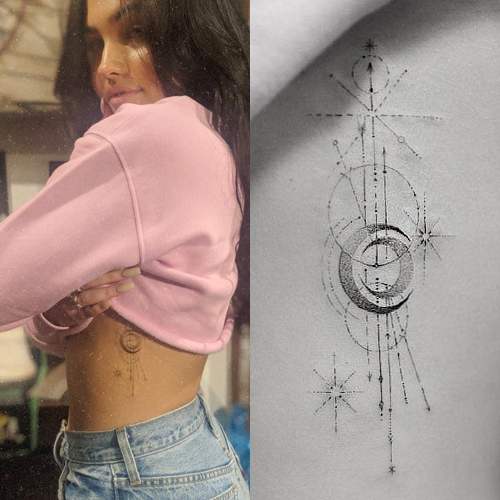 Mabel McVey has a tattoo of a celestial composition designed by tattoo artist Dr. Woo on her left side. Constellation tattoos, thanks to their versatility in shape and size, can be placed anywhere on the body.  Colorful constellation tattoos are striking.
Dawn Richard's Star Tattoo on Hand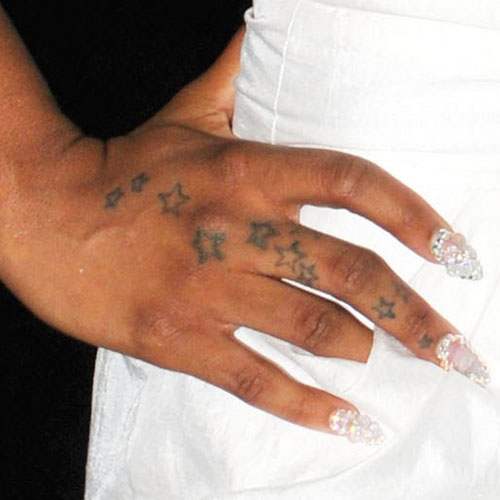 Stars extend from the back of Dawn Richard's right hand down the length of her middle finger in a beautiful tattoo.
Hanna Beth Merjos's Five Star Tattoos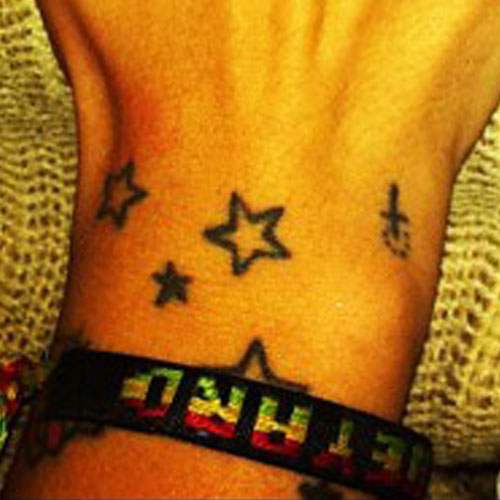 Hanna Beth has a tiny holy cross from July 2010 and a group of stars tattooed on the back of her right wrist.
 Jessica White's Star Tattoo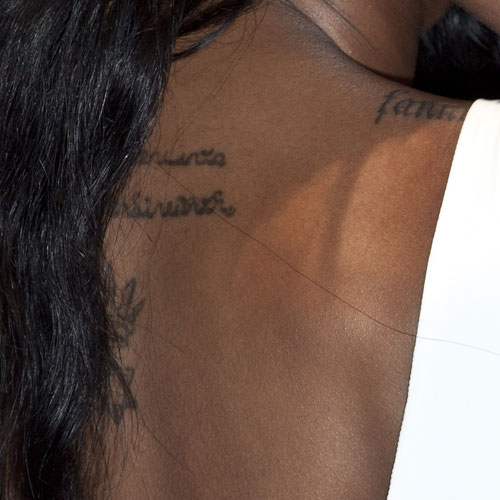 Jessica White has several tattoos on her back, including text on her shoulder and upper back, as well as a crown and a star of David (a Jewish star).
Olivia Wilde's Constellation Tattoo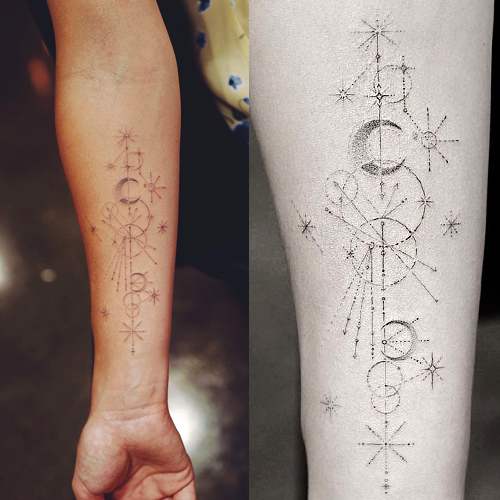 On her right forearm, actress Olivia Wilde has a tattoo of the cosmos. It is a constellation tattoo including a crescent moon, sun, stars, and planets.
Melissa Satta's Star Tatoo on Body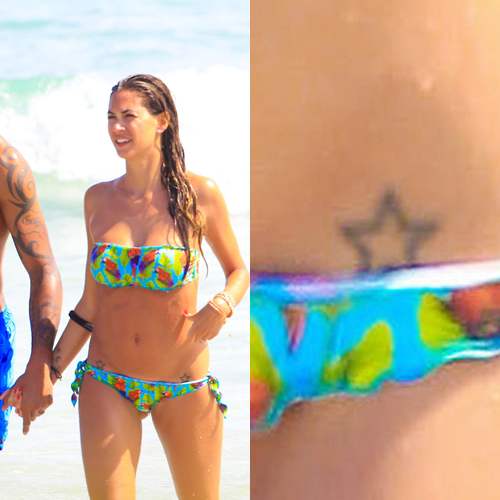 On her left hip, Melissa Satta has a tattoo of a star with an outline. Stars in the shape of a pentagram are among the most intriguing. They are not typical of Satanists or Satanism, contrary to popular opinion. As a matter of fact, the pentagram has been appropriated by death metal and other subcultures.
Ashlee Simpson Star Tattoo on Wrist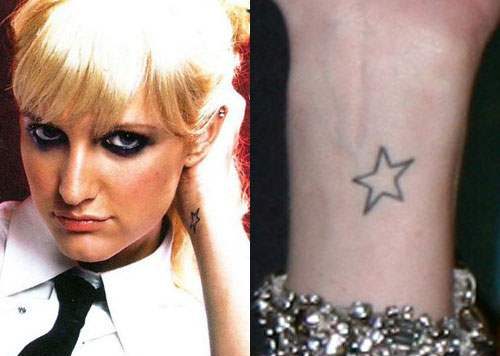 The black outline of a star on Ashlee Simpson's left wrist was her first tattoo, which she got to mark the completion of her debut album Autobiography in 2004. Her first tattoo was a star, which she received alongside some of her closest friends, as she told MTV. "When I finished my first album, I had that, and when I finished my second album, I had "Love."
Kellie Pickler's Star Tattoo on Arm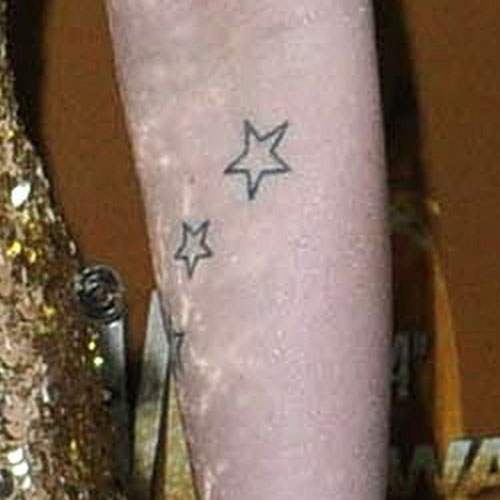 Just 
below 
the 
elbow, 
Kellie 
Pickler 
has 
a 
tattoo 
of 
stars 
on 
her 
left 
forearm. The USO, or United Service Organisation Inc.,
which 
entertains 
American 
troops, 
is 
represented 
by 
the 
stars. Kellie has performed at USO events all over the world for American service members stationed abroad. The three stars are supposed to stand in for each of her USO tours.
Michelle Branch's Cute Star Tattoo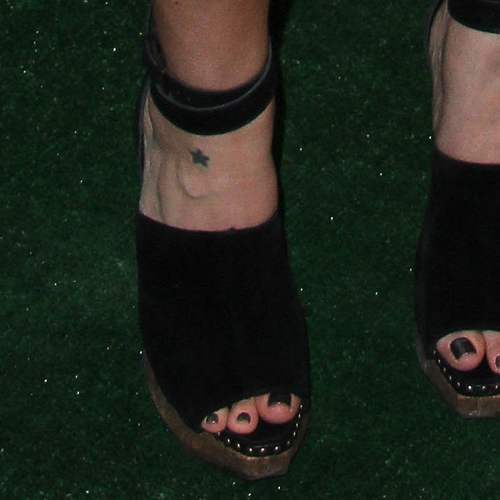 Michelle Branch celebrated her Grammy Award nomination by getting a star tattooed on her right foot. At the age of 19, she received two nominations in 2003. For their smash "The Game of Love," she and Carlos Santana won Best Pop Collaboration with Vocals. Additionally nominated, she was beaten out by Norah Jones for Best New Artist.
Bella Thorne's Moon and Star Tattoo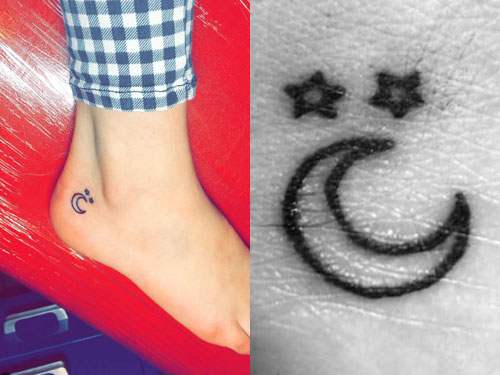 On January 20, 2016, Bella Thorne and her older sister Dani Thorne went to Body Electric Tattoo in Los Angeles to celebrate Dani's 23rd birthday by getting matching tattoos and new ear piercings. Bella's second tattoo, a crescent moon, and two stars are on her ankle, while Dani's is a planet at the same spot.
Anna Worstell's Star Tattoo on Wrist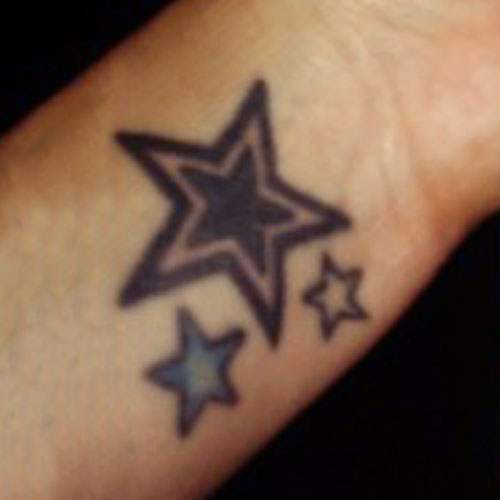 On her left wrist, Anna Worstell has three stars. The three stars very popular style of tattoo and hold a lot of symbolism in various cultures.
Snooki- Nicole Polizzi's Star Tattoo on Back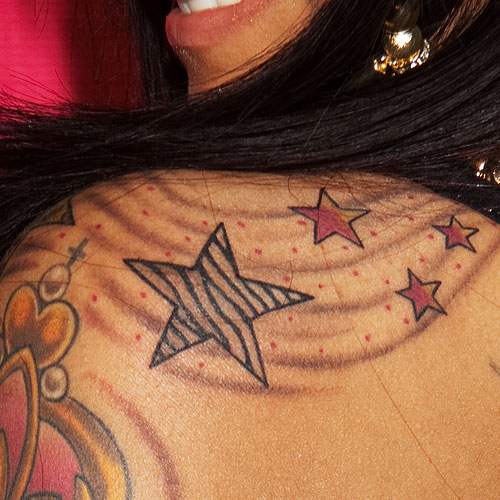 Both of Snooki's shoulders are covered in tattoos of stars. It revolves, so, in her words, "it's kind of like a galaxy of animal print stars. On her left shoulder blade, she has a big zebra-print star on top of three little red stars. It's not unusual for her to get tattoos when under the influence.
Olivia Holt's Unique Star Tattoo
In April of 2017, Olivia Holt got her first tattoo from artist Daniel Winter: a star on her right wrist Numerous cultural traditions attribute various meanings to the seven-pointed star (or septagram, heptagram, etc.). The seven planets were a symbol of the cosmos in ancient alchemy. In this more modern sense, the star acts as a compass, pointing in the directions North, South, East, West, Above, Below, and Within. In Christianity, the seven-pointed star has been used to represent a number of different concepts, including the seven days of creation, the perfection of God, protection from evil, and the seven gifts of the Spirit (which include wisdom, understanding, counsel, might, knowledge, reverence for the Lord, and delight in the Lord).
Melissa Satta's Star Tattoo on Body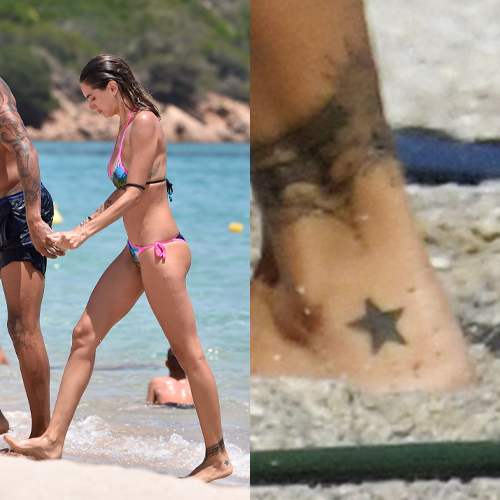 Melissa Satta is marked with a star design on her left heel.
Danielle Lloyd's Star Tattoo on Wrist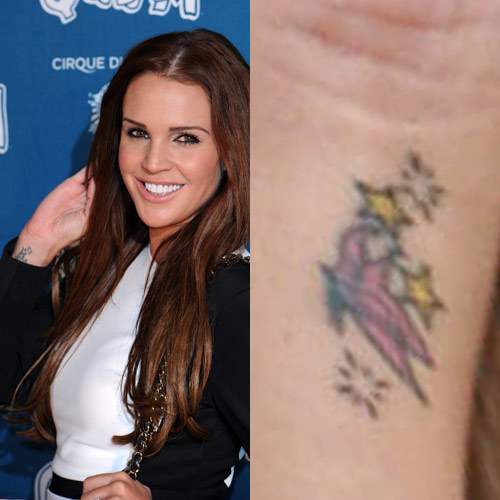 Danielle Lloyd's right wrist bears a vibrant star tattoo.
Noah Cyrus's Five Star Tattoos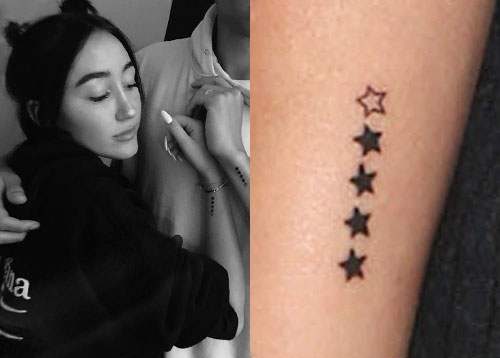 Artist Jon Boy tattooed Noah Cyrus and her boyfriend Tanner Drayton aka Tanner Alexander with identical stars in June 2018. There are five stars total in the design, but only four are filled in with black ink, making it look like a four-star rating. One of her photos was captioned by Noah with the phrase "four out of five," implying that the tattoos were inspired by the Arctic Monkeys' new single.
Hailey Baldwin's Star Tattoo on Finger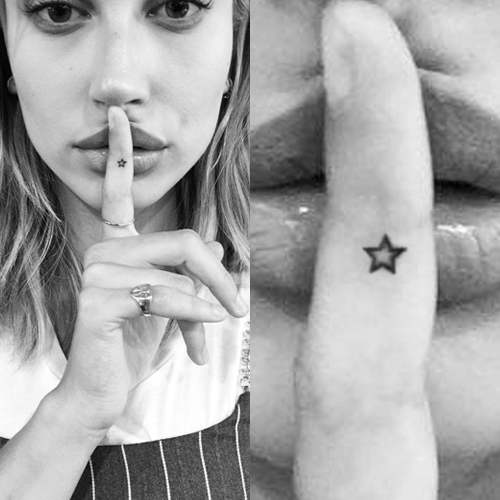 On the index of her right hand, Hailey Baldwin has a small outline of a star tattooed.
Jess Glynne's  "Joy" Star Tattoo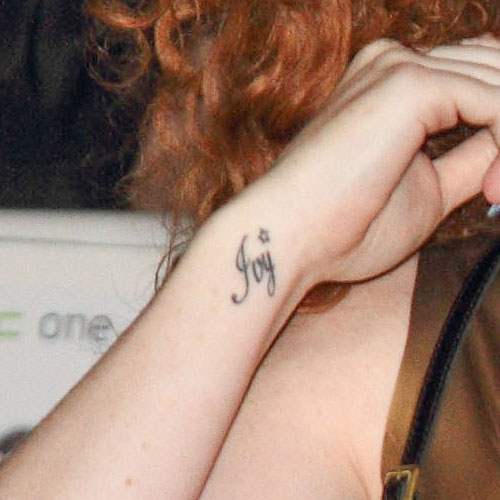 On the side of her right wrist, Jess Glynne has a tattoo that reads "Joy" and has a tiny star right next to it. She stated in an Instagram post, "When I see that name I remember to smile."
Katie Waissel's Star Tattoo on Ankle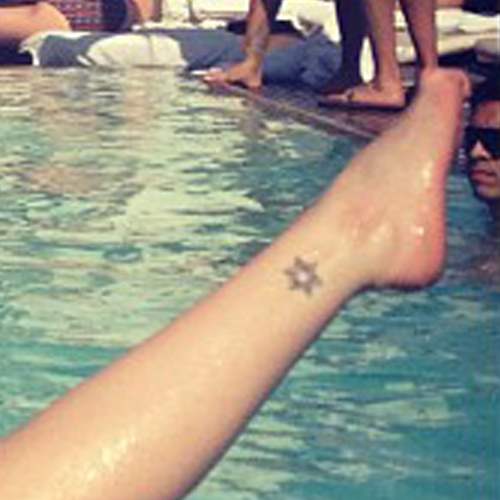 Jewish tattoo artist Katie Waissel has a Star of David or Jewish Star inked on her right ankle. The six-pointed star is a common representation of the Jewish faith.
Lindsay Lohan's Star Tattoo on Body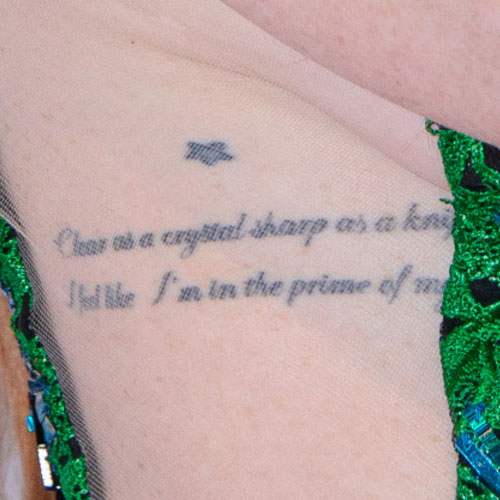 A tiny black star with the words "Clear as a crystal sharp as a knife / I feel like I'm in the prime of my life" from the Billy Joel song "I Go To Extremes" is inked on Lindsay Lohan's right side.
Bai Ling's Bunch of Stars Tattoo
Bai Ling's right foot is tattooed with a moon design comprised of five stars of varying sizes. Some people choose to have a tattoo of a crescent moon with a few stars in it to symbolize the constellations of their loved ones.
Amy Macdonald's Star Bunch Tattoo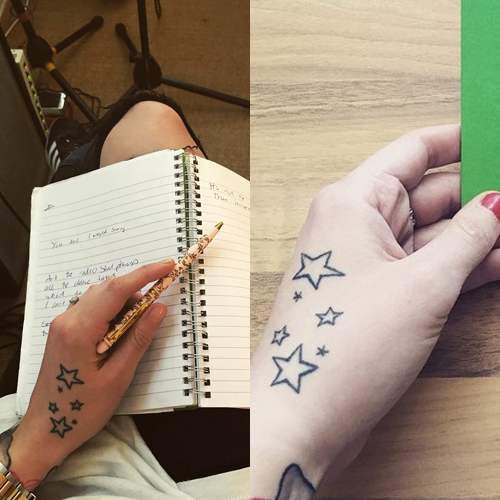 Amy Macdonald has several outline stars of various sizes inked on her left hand.
Snooki- Nicole Polizzi's Animal Print Star Tattoo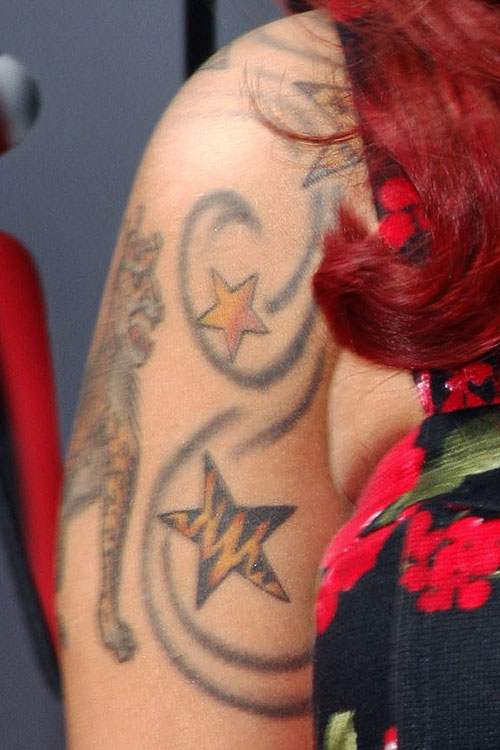 Snooki has tattoos on both of her shoulders that feature swirls and animal print stars. The animal print star tattoo looks very unique and attractive.
Megan Fox's Moon and  Star Tattoo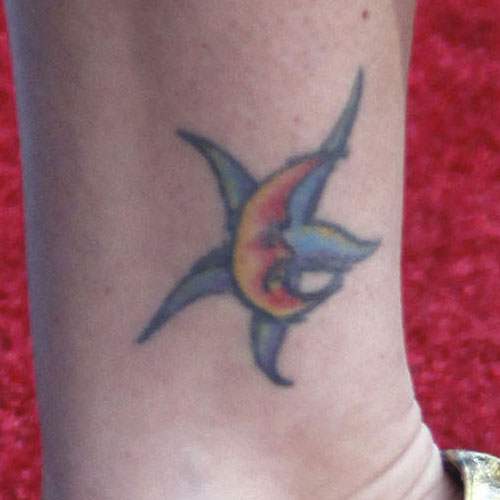 Megan Fox has a vibrant tattoo of a yellow and orange crescent moon with a face perched atop a bright star on the inside of her right ankle.
Kash Doll's Star Tattoo on Stomach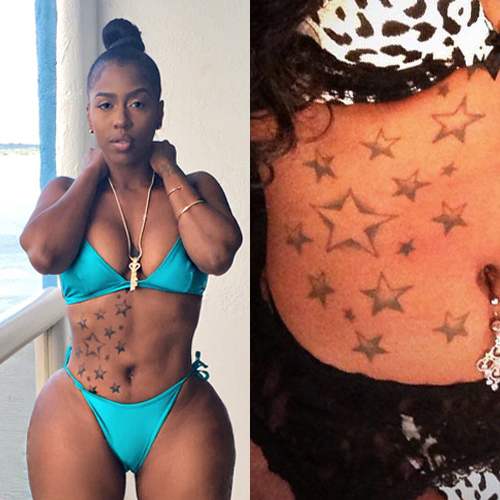 Kash Doll's tummy is covered with star tattoos. Many people go for this style so that they can add another star whenever they reach a new personal best. However, this pattern can also be chosen for merely aesthetic reasons or to represent something else important to the wearer (such as their location in the universe or love of space).
Jenna Ushkowitz's Constellation Tattoo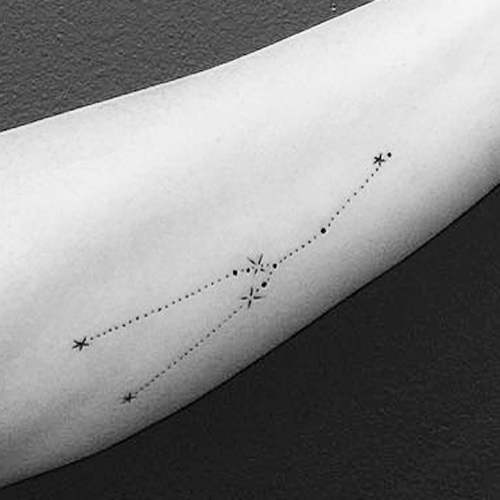 On her right forearm, Jenna Ushkowitz has a fresh piece of ink art. On May 31, 2016, Jon Boy at West 4 Tattoo inked the star constellation.
Lindsay Lohan's Star Tattoo on Body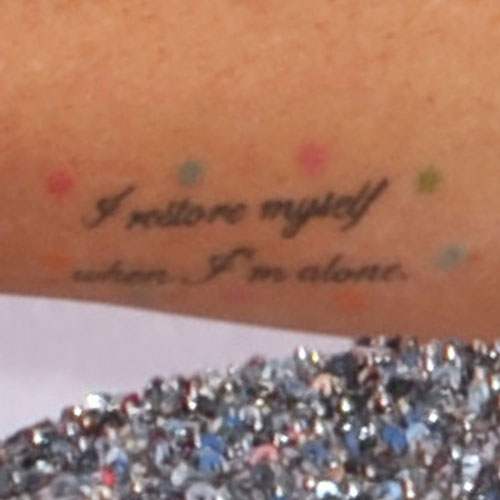 The phrase "I repair myself when I'm alone" is inked on Lindsay Lohan's right forearm and is encircled by vibrant stars. It is a quotation from Marilyn Monroe that also appears on her other arm.
Frances Bean Cobain's Star Tattoo on Hand
On her left hand, Frances Bean Cobain has a tattoo of a star.
Daisy Ridley's Star Tattoo on Foot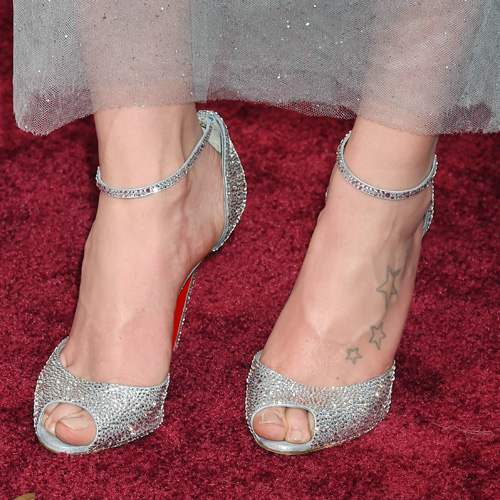 On her left foot, actress Daisy Ridley has three tattoos of outlined stars. The star theme is entirely coincidental, despite the fact that it would seem connected to her breakthrough performance as Rey in Star Wars: The Force Awakens.
Bakha Rodriguez's Star Tattoo on Finger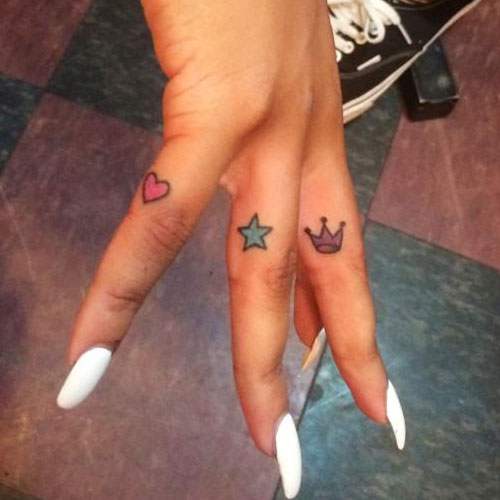 Only a week after getting her first tattoo, Bajha Rodriguez got her second one in August 2014. Her right-hand finger has three symbols on it that stand for the three members of her R&B girl group O.M.G. (formerly known as The OMG Girlz). Each of the girls has their own nickname and hair color. Breanna Womack, also known as "Miss Babydoll," Zonnique Pullins, also known as "Miss Star," and Bajha herself, also known as "Miss Beauty," are each given a purple crown, a blue star, and a pink heart, respectively.
Alexis Skyy's Sparkling Star Tattoo
Alexis Skyy has three red color star tattoos in succession on her back.
Scheana Maria Shay's Star Tattoo on Wrist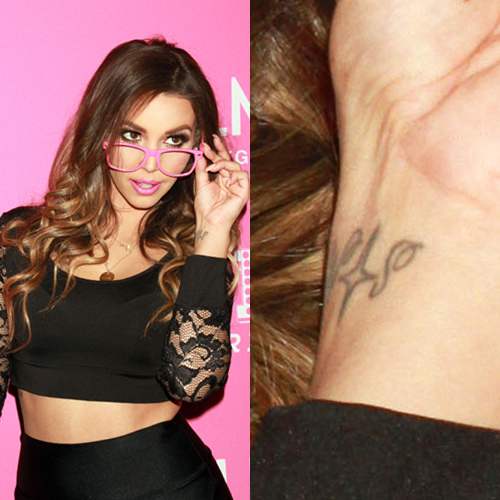 Scheana Marie Shay bears an inked star on her left wrist. The star shape is so basic that getting a tattoo on it is a breeze, making it ideal for a quick and painless decoration of something diminutive and uncomplicated. Stars are a powerful symbol of hope and aspiration, and this is a wonderful way to keep them front and center in your life.
Jemima Kirke's Snake and Star Tattoo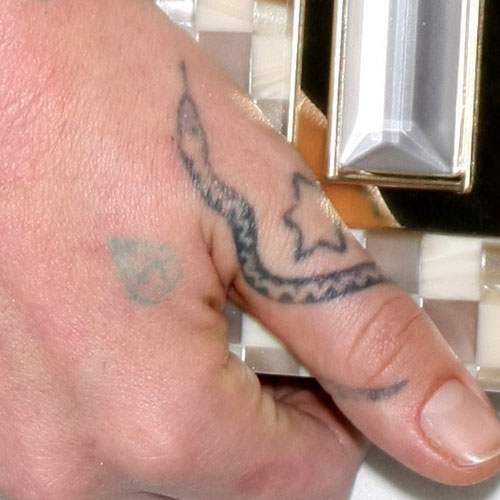 Jemima Kirke has three tattoos: a six-pointed star on the back of her right thumb, a snake winding around it, and a faded green diamond between her thumb and forefinger.
Lena Heady's Star Tattoo on Arm
On her right forearm, Lena Headey has a tattoo of an open door in an upside-down old birdcage. It is a very vintage-style tattoo.
Martine McCutcheon's Intricate Star Tattoo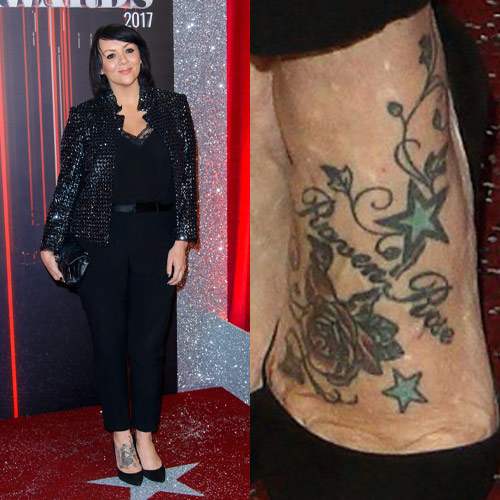 Beautiful artwork featuring the words "Raven Rose," teal stars, a red rose, and winding vines up Martine McCutcheon's ankle are tattooed on the top of her right foot. She tweeted, "Just went to studio IX in Manchester and had a fantastic tattoo on my foot as a treat. To put it simply, I adore it! Way cool! This is my third time tweeting "#Imayhaveaproblem." A few days later, she emailed the tattoo parlor: "The Tattoo is wonderful thank u…" Progressing well… I finally feel like the teeny-tiny rock star I was born to be!"
Neon Hitch's Star Tattoo on Hand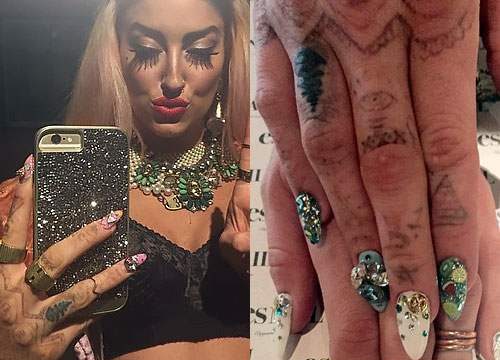 Neon Hitch's right hand's back is covered in several tattoos, including a variety of motifs on her fingers. To give the tattoos a henna-like appearance, watered-down ink is used. There are chevrons and dots on her pinkie. She already had a much darker-colored knuckle tattoo and a vine on her ring finger. She has a star, an om sign, an eye, and "XXX" on her middle finger. An Egyptian pyramid may be seen on her index finger.
Frances Bean Cobain's Star Tattoo on Finger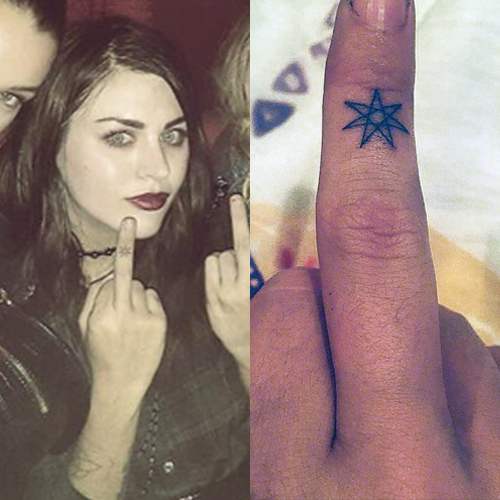 The star on Frances Bean Cobain's middle finger is one of her most recent inks.
Claudia Selewski's Star Tattoo on Arm
Inside Claudia Sulewski's left arm is inked a tiny star.
Avril Lavigne's Star Tattoo on Arm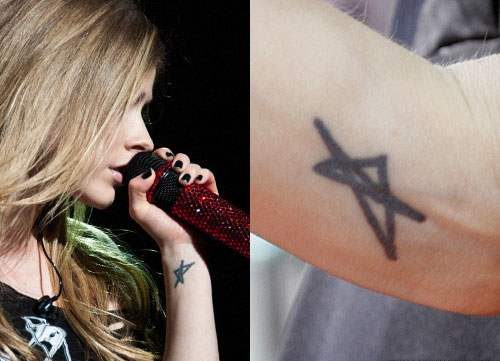 On the inside of her left wrist, Avril Lavigne got her first tattoo, a star resembling the cover image of her Let Go album. In 2004, when she was working on her follow-up record, she got the tattoo. She co-wrote the song "Nobody's Home" with the guitarist for Evanescence Ben Moody, who also received the same star tattoo.
Ajiona Alexus's Star Tattoo Behind the Ear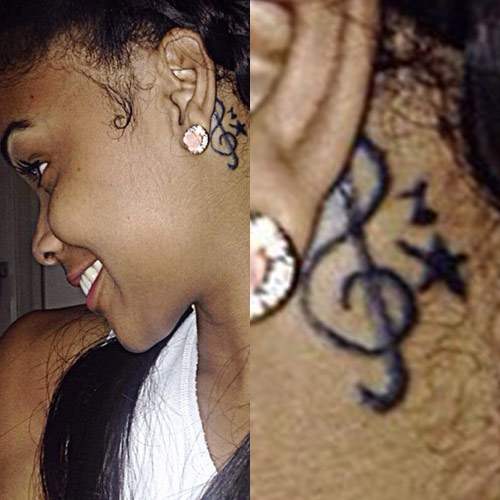 In October 2014, Ajiona Alexus had this inked behind her left ear. It has a big treble clef with a star and a tiny musical note behind it. The straightforward black ink drawing has a hand-drawn appearance. Ajiona is both an actress and a singer, while she is most known for her starring role as Sheri Holland on 13 Reasons Why. She started hustling after releasing her first 2-song mixtape, Radio Ready, back in 2012, and regularly posts covers on her YouTube and SoundCloud profiles.
Ruby Rose's Colorful Star Tattoo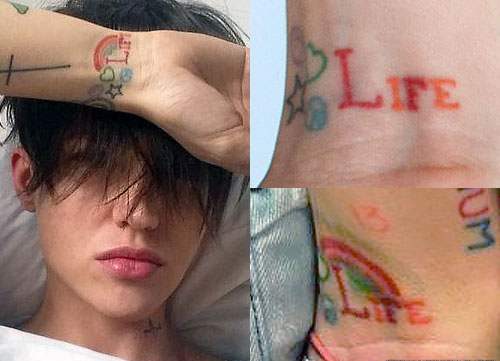 Ruby Rose has "LIFE" scrawled in red and orange ink on her left wrist. Symbols of various colors, including a purple smiley face, a green heart, a black star, and a blue peace sign are written next to it. Later, as a mark of LGBT pride, she added a rainbow to the tattoo. As part of a custom whereby tattoo parlors provide reduced tattoos of the number 13 every Friday the 13th, she received a number "13" in April 2012.
Karis Anderson's Star Tattoo on Leg
"Watch over me" is a tattoo that Karis Anderson has on her right forearm. The words are encircled by vines that resemble the letter "S," her Nana's initial.
Lea Michelle's Golden Star Tattoo on Body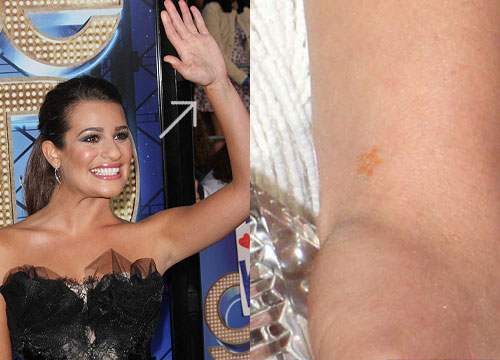 Lea Michele honors her Glee character Rachel Berry by getting a gold star tattooed on her wrist. You might giggle since Rachel always signs her name with a gold star after it in the first episode of the program, but metaphors are crucial. "My golden stars serve as a metaphor for MY stardom."
Mariahlynn's Stars Tattoo on Arm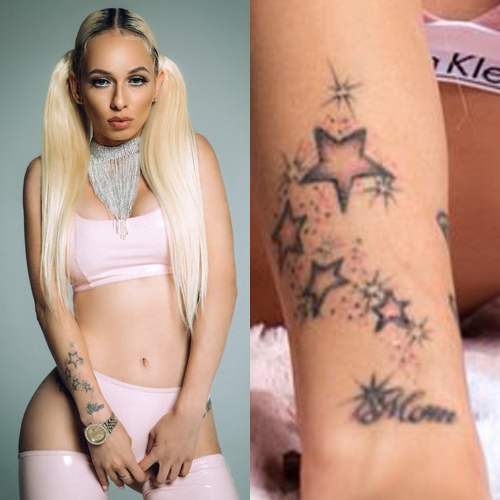 On Mariahlynn's right forearm, there are numerous stars inked.
Naya Rivera's Shotting Star Tattoo
On the top of her right foot, Naya Rivera has a pink and purple shooting star tattoo.
Jeannie Mai's Star Tattoo on Foot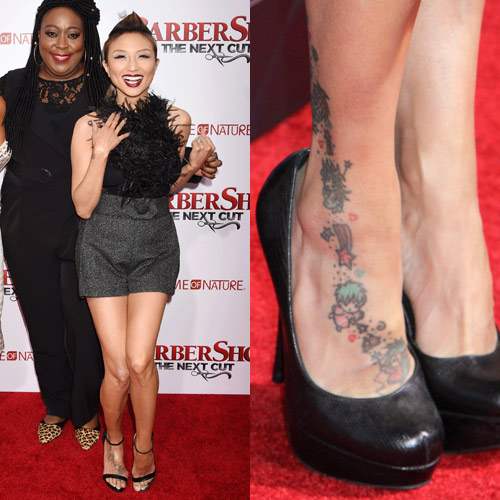 Jeannie Mai has numerous brightly colored doodle characters, stars, and shooting stars tattooed all over her body, from the bottom of her foot to the back of her leg.
Florence Welch's Star Tattoo on Finger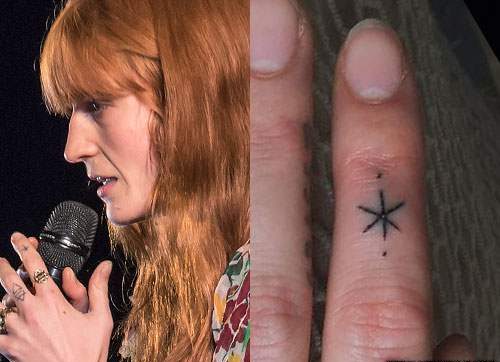 On her left index finger, Florence Welch has an inked asterisk star that she got inked when performing in Melbourne, Australia, in November 2015. The artist Miso penned, "Homemade tattoos: magic finger for Florence."
Catherine McNeil's Star Tattoo on Wrist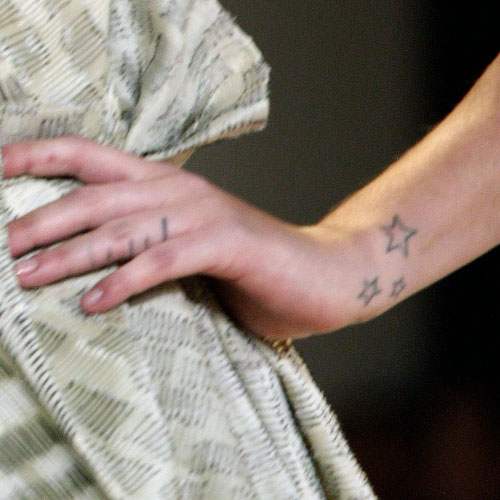 Catherine McNeil, a model, has parallel lines and a cluster of stars tattooed on the side of her ring finger and left wrist, respectively.
Carly Chaikin's Star Tattoo on Back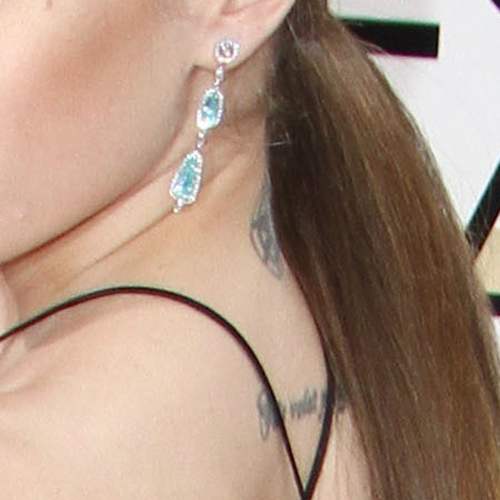 Carly Chaikin has a tattoo of an eight-pointed star and a written phrase a few inches below on the back of her neck.