Celebrities are often known to have a unique sense of fashion so much so that they are seldom considered to be a "trendsetter" for the young boys and girls who follow their styles. Piercing is something that has been around in the "reel world" for quite a few years! Nose piercing is one such niche that has interested a lot of people to look edgy over others. Piercings and other body alterations are often considered as something which attracts the attention and speaks for itself. After all, celebrities are just like regular people! They crave attention too! And oftentimes, it is a matter of who has an edge over the others….it's quite competitive.
Besides such fashion trends as nose piercing that are popular amongst the women, the men of the industry have also shown an uncanny interest towards body piercings and especially nose piercing, which is seldom considered to belong to the women's sphere. It can range from a small nose stud while others take it to the next level with huge hoops. Showing all the uniqueness, we have created a list of nose piercings featuring 00 celebrities and their creativity in showcasing them. Take a look and let us know which celebrity fashion trend resonates with your own.
In the first picture, you can see Zhavia Ward spotting a two hoop nose pin in her septum and another one in her left nostril. In the video, "Candlelight", she added a medusa stud along with her two piercings.
This picture is from the 59th Grammy Award which is an annual award function where you can see Paris Jackson spotting a nose piercing.
In the first picture, you can see Tasia Alexis wearing a cute little stud on her left nostril and in the second one, she has replaced it with a hoop piercing. Both the looks suit her pretty well.
This picture has been taken from her music video "First", where Gabriella DeMartino has featured a cool stud pierced on her left nostril.
Lauren Jauregui got her right nose pierced. She believes in mixing and matching her jewelry and therefore you can see her in both the "stud" and the "hoop" looks. According to me, she rocks both her looks!
If you need to see a celebrity (and get inspired by her!) who is having the best of both worlds, it is Wolftyla who got both sides of her nostrils pierced. On the left side, she is wearing a piece of hoop jewelry whereas on the right side she is donning a beautiful diamond stud.
This was captured at the 2016 Soul Train Awards during the month of November in Orleans Hotel and Casino which is located in Las Vegas, Nevada.
This is Ruth B's little stud piercing on her right nostril taken at 64th BMI Pop Awards, 2016, which is held annually at Beverly Wilshire Four Seasons Hotel in Beverly Hills in California in the month of May.
This is Neon Hitch's tribal piercing look with a piece of ornamental gold jewelry on her left nostril. It was taken during her album release, 'Anarchy' in the month of July 2016, at Bootsy Bellows in Los Angeles, California.
Tinashe has a piercing on her left nostril. These pictures are taken in three different instances. The first one is a small stud done on the left nostril. In the second picture, you can see her wearing a retainer. The third one is from the Soul Train Music Awards of 2014 in the month of November, where Tinashe was spotted wearing a gold nose ring.
Maddi Bragg got the left side of her nostril pierced. In the first picture, you can see a piece of ring jewelry, while in the second one, she is wearing a stud piercing and a septum piercing. I think both these styles give her a unique look.
Sara Forsberg decided to keep it simple by wearing a piece of small stud jewelry on the right side of her nose.
Lilly Singh has had a nose ring since the beginning of time. It is a part of her identity for a long time and it suits her really well, too!
Sirah has her left nostril pierced and she chooses to wear a medium-sized gold nose stud to finish her look.
Chantel Jeffries has the nose pierced on the right side with a piece of double-colored ring jewelry in the first instance. In the second picture, she has a little black stud which looks quite adorable.
Anissa Rodriguez has a hoop styled jewelry on the left side of her nostril which she got pierced.
Snooki has always had her left side of the nose pierced with a tiny stud.
Mary Lambert's piercing on the left nostril gives a certain attractive feature to her face.
Becky G got herself a birthday gift by getting the right side of her nose pierced. Her birthday is on March 2nd but she got the piercing a few days before the event on February 21, 2015. It is quite special to her because it was her 18th birthday. After getting it done she even posted a picture of her with the caption, "Change is good."
Kristin Maldonado has the left side of her nose pierced where she usually flaunts a tiny silver jewel.
Mahogany Lox likes to mix and match with both studs and hoop jewelry. She got her nose pierced way back in 2011.
Leah McFall can be often spotted wearing a stud on her right nostril. In the second picture, however, you can see her wearing a nose jewel with the infinity sign.
May Whitman has kept it pretty simple with a classic hoop nose pin.
Melanie Martinez took it a notch higher by wearing a tribal-inspired gold ring in her left nostril as seen in the second picture instead of the simple hoop piercing in the first one.
Yasmine Yousaf has a simple stud on her right nostril.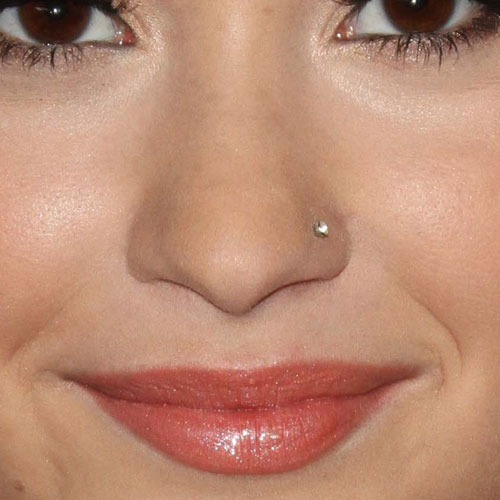 Although Demi Lovato got her left nostril pierced way back in 2012 when she was often spotted wearing cute studs, she left wearing any jewelry altogether after that.
Neon Hitch dons a classic gold hoop jewel on the left side of her nose.
Miley Cyrus got her nose pierced shortly after her sitcom Hannah Montana. She is often seen wearing either a stud of a hoop style jewelry.
Katy Perry's nose piercing is as old as when she was just 13 years old. It was done on the right side of her nose. Perry stopped wearing any jewelry on her piercing before she started on with her music career. However, surprisingly, she got the piercing done again in August of 2014 at the same spot. She was spotted wearing a piece of gold hoop jewelry on the red carpet for the MTV Video Music Award in the same month.
Keyshia Cole has kept it to the minimalism by just wearing a small stud on her right nostril.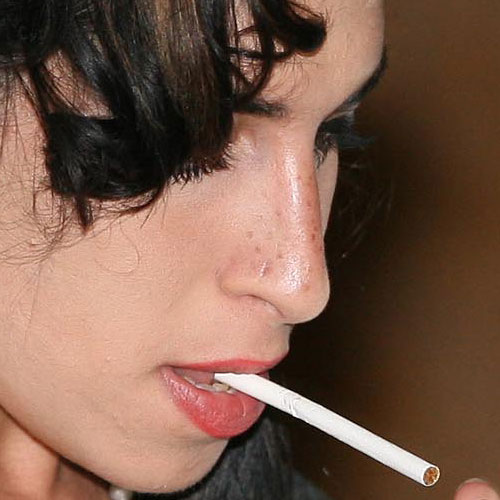 Like Katy Perry, Amy Winehouse too got her first piercing when she was just thirteen years of age. Although she did not wear any jewelry afterward, a scar on the spot was always visible.
Christina Aguilera is known for her over the top styles and everyone is aware of her multiple piercings which she got in the early 2000s. You can see her nose and chin pierced but she has stopped wearing them now.
Lexus Amanda has multiple piercings on her face which include that on the right side of her nostrils, her septum and her Monroe piercings. She usually wears a stud on her Monroe piercing. She wears both studs and hoops on her right nostril. You can see her wearing a septum hoop on the first picture.
Kreayshawn has all parts of her nose pierced, including the right and the left nostrils and the septum. She is often seen wearing a piece of hoop jewelry on her right nostril while a stud on her left one. Many times, she wears both of them together with her septum piercing.
In the first picture, you can see Keke Palmer wearing clear studs on both sides of her nostrils. It was during the meet and greet after the performance of her musical, "Cinderella" in November 2014. The musical was held on Broadway in New York City. In the second image, you can see her from the premiere of the Blended Los Angeles in May 2014. She wore a stud on one side and a piece of hoop jewelry on the other one.
The first picture features Sierra Kusterbeck donning a silver septum and two studs in both her nostrils. The image is from 2009, July 8. The second picture features her wearing two rings on both the nostrils in 2010. The third one portrays another fashion statement where she is wearing a stud on one nose and a hoop on the other one. The image is from the years 2008.
Audrey Kitching has a septum piercing along with a stud on her left nostril.
Jhene Aiko has two nose pins and interestingly, both of them are on the single side of her nose, the right one. The top hole has a stud while she wears a hoop in the lower one.
Jenna McDougall has a silver ring on her right nostril piercing.
Kesha is known for her badass attitude and although she has mellowed down significantly, she still has a piece of ring jewelry on her left nostril.
Tay Jardine has a piece of simple-looking ring jewelry on her left nostril.
Lynn Gunn has a piece of small ring jewelry on her right nostril.
Allison Green has both the sides of her nose pierced and she flaunts them with tiny studs. Interestingly, she got the right side pierced first in 2012, while the left side of her nose was pierced two years later in February 2014.
Perrie Edwards has kept it quite chic with a silver ring on her right nostril. This picture is taken in 2013 when she first got the piercing.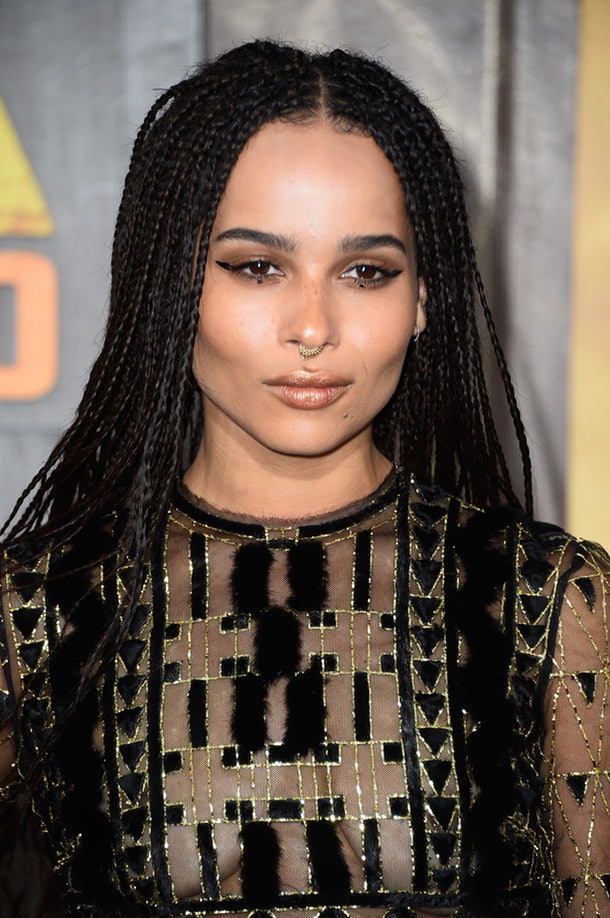 You might know Zoe Kravitz for her role in the small screen show, Big Little Lies. Apparently, she has a septum piercing which she likes to flaunt on her red carpet appearance. Although she does not wear it that often, it gives her look an edge over the others. I think the fans appreciate it very much!
The Kardashian and Jenner sisters are popular for their fashion statements and are a huge hit in the world of Instagram and Facebook. It was all over the news when Kendall Jenner got herself a huge nose piercing during the Coachella season. Although it looks extremely pretty, but the fact that it is a bit over the top can not be denied. Fortunately, the nose ring is not real and was just to make a fashion statement. It is a fake piercing. The nose piercing is inspired by the 90s fashion when al the big celebrities were going all-in for it. I think such a boisterous look is pretty reasonable for a music and art event like Coachella, however, I would not really advise it if you are wearing it to regular places, like the mall! It will attract a lot of attention.
Zayn Malik has always been big when it comes to fashion and his relationship status all over the news. And although the fans wanted for him to have an "always and forever" fairytale love life, we sure know what's going to stay on forever- his nose ring. His style statement is also inspired by the 90s fashion trend, although it was women who were getting pierced more than the men. Besides this nose piercing, Zayn also has both his ears pierced. What completes his vibes are his tattoos that go along with his badass look!
Justin has been in media for far too long whether it is his on and off relationship with Selena Gomez or his addictive new songs. However, what's new is his bold new look with a nose piercing which features a little stud on the right side of his nose. His look is inspired by the 90s craze about piercings. Justin has also been known for his tattoos which spreads to all over his body and there is no doubt that he is man of self-expression. Besides this, Justin also has his ears pierced.
Nicole Riche is a name that has passed through everyone's lips seeing her transformation from 'The Simple Life' to being a brand ambassador for Urban Decay. It is pretty obvious that she got the chance due to her fashion sense. The brand apparently saw her risk-taking and unique attitude when it comes to fashion. In a recent review about her role, Vanity Fair wrote that the company chose Richie because of her playful and yet smart-ass attitude. There is no doubt that it reflects well in her style of fashion too! She is living quite a boho lifestyle inspired by the 70s and 90s fashion sense which includes her idea of getting her nose pierced.
Lady Gaga is known for her boisterous fashion sense, and if it is mellowed down, it is not Lady Gaga. This image definitely reflects what I am talking about with her bold septum piercing.
Scarlett Johansson is a very versatile actor. One moment you see her in a girl next door role and in the other moment, she is kicking the evil. This piercing look that she adopted is quite badass.
Candice Swanepoel got this tribal look with the septum piercing. It looks quite fashionable for events, however, it needs to be mellowed down for daily wear.
Chloe Grace Mortez has a piercing on the left side of the nose which she adorns with a  small stud.
So now who remembers Jessica Beil's 2013 Met Gala look which involved a badass septum piercing.
This is a picture of Zendaya featuring a septum ring at the 2014 American Music Awards.
Kelly Clarkson's breakup songs were all over the place when she decided to be a strong, independent and a badass woman. As a sign of self-expression, she probably got her nose pierced too and adorned it with a tiny nose pin. However, it was not long after she gave it up as she stepped into motherhood.
This is Cameron Diaz sporting a nose piercing on the left side of her nostril.
Jordin Sparks got the left side of her nose pierced and adorned it with a sparkly stud.
Joss Stone has the right side of her nostril pierced which gives her a hippy look.
Pink is also a badass singer who has been known for expressing her out every time. She has multiple tattoos and piercings which includes her nose piercing too. There is no doubt about the fact that she has mellowed down after stepping into motherhood.
Jessie J also has a tiny stud on her left nostril. A pretty badass addition to her outlook!
Debby Ryan has always been known for her cute girl next door look but all her fans were shocked when they saw Debby with a nose piercing at Nickelodeon Kid's Choice Award.
Rumer Willis has had her nose pierced and adorned with this sparkling stud for a while now and the fans are pretty impressed with her looks!