Christopher Keith Irvine, an American Canadian Professional wrestler is better known by the name, Chris Jericho. He is a musician, author, actor, and also an entrepreneur. Currently, he is signed to both All Elite Wrestling (AEW) and New Japan Pro-Wrestling (NJPW). He has acted in a number of television shows and also hosted the ABC game show Downfall, the 2011 edition of the Revolver Golden Gods Awards, and also UK's  Metal Hammer Golden Gods Awards in 2012 and 2017. He is known by different names such as 'Lionheart', 'Cowboy', 'The Sexy Beast', 'The (self-proclaimed) Living Legend' etc. Chris is known for his few but eye-appealing tattoos. Let us explore his collection.
1. 'F' Tattoo
Tattoo: On Chris' left hand we can see the letter 'F' tattooed.
Meaning: The letter F here denotes Fozzy which is Chris' band. Chris being its lead singer, along with the guitarist Rich Ward formed the band in 1999 in Atlanta, Georgia. Chris has always been inspired by Ozzy Osbourne and thus named his band as Fozzy Osbourne. He got this idea for getting this tattoo from James Metfield who also wears the initial of his band Metallica, 'M'. Chris got the tattoo inked in June 2011.
2. Wife's Name Tattoo
Tattoo: On his ring finger, Chris has got his wife's name inked.
Meaning: Chris' wife's name is Jessica Lockhart. He revealed in an interview that he keeps on losing his ring finger and thus, to keep his love alive and also to symbolize his relationship with his wife he ultimately got her name tattooed in order to rid himself from the trouble of wearing and losing his rings. Additionally, he said that he has a kind of a broken knuckle so it becomes difficult to wear a ring otherwise. This was his first body tattoo.
"I kept losing wedding rings, and I have kind of a broken knuckle, so it hurts to put the ring on and off, so I got the tattoo there."
3. 'Tribute to the Band-Queen' Tattoo
Tattoo: On his left arm there is a huge masterpiece tattooed. It is an artwork by an American sci-fi artist Frank Kelly Freas which shows the robot holding a dead man.
Meaning: Chris Jericho's tribute to his wrestling career as well as to the British music band, Queen. The artwork was later used by the British rock band Queen, for its album "News of the World" which was released on 28 October 1977. Chris got this ink done as his tribute and love for the band. He got the tattoo done by the Tattoo artist Flaco but, with a moderation. The original cover image showed the robot clothing the four members of the queen Band. However, Chris got it changed and his tattoo shows himself in the place of the robot who Is seen clutching the four avatars of himself from four different eras. This is Chris Jericho's tribute to his wrestling career as well as to the British music band, Queen.
4. 'Sin and Bones Album Cover' Tattoo
Tattoo: On his left bicep Chris has got a unique colorful tattoo of skull and bones.
Meaning: It is a winged skull and bones emblem that denotes the album cover of 'Sin and Bones' which is actually the fifth album produced and released by the Fozzy band. Fozzy is Chris Jericho's band.
5. 'Fish Bones' Design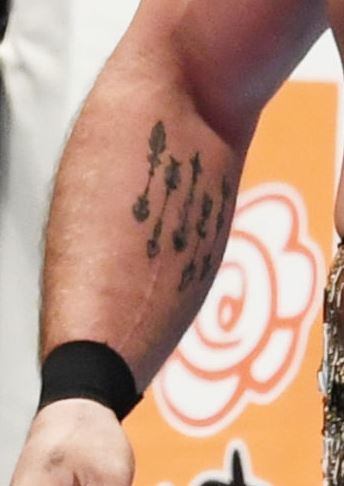 Tattoo: Chris has never revealed anything related to this tattoo on his body. It can be seen that these are fish bones
6. 'Jason Voorhees' Mask and Canadian Flag' Tattoo
Tattoo: On the inner side of his left bicep Chris has got the mask of Jason Voorhees inked. Behind that, there is a huge tattoo of the Canadian flag.
Meaning: Jason Voorhees is the main character of the famous television series, "Friday the 13th".
7. ' Lake Monster and Rolling Stones Logo' Tattoo
Tattoo: On his left forearm there is a hissing sea monster snake inked along with pair of lips.
Meaning: Chris, in an interview, revealed that he has always been a fan of the sea and night monsters and thus, on his body, he has got the makeup sea monster inked along with the logo of Rolling Stones i.e. the red lips. The Rolling Stones is an English rock band that came into existence in the year 1962, in London. His love for music and various iconic bands is the reason he wears their logos and symbols on his body as his permanent tribute to them.
8. 'Jack-o'-lantern' Tattoo
Tattoo: Yellow Haloween pumpkin of the left forearm.
Meaning: Chris along with his friend M Shadows got the matching tattoo. M Shadows (full name-Matthew Charles Sanders) is an American singer, songwriter, and musician. Chris and Shadows are close buddies and thus, together they got the tattoo inked which shows Jack-o'-lantern i.e. The Haloween Pumpkin. Shadows worked with Foozy (Chris' Band) in the track "Sandpaper" from the fifth album Sin and Bones. Pumpkin otherwise is the symbol of keeping away evil and bad dispositions from oneself.
9. 'Blood Drop' Tattoo
Tattoo: On the inner side of his left hand's index finger, Chris has a red blood drop inked.