Even if you do not have yourself tattooed yet, chances are that you might have considered getting a tiny one at some point in life. Tiny tattoos are cool because they are small and so can not be seen much. They will not cause any sort of offense to anyone. You can hide it or reveal it at your own will. If you are worried about these tattoos lasting for a long time, you can check out this list which will assure you that it does.
Not only for girls, getting a small tattoo is equally popular for boys too. The reason is that not everyone wants a large piece to tattoo on their skins. People who like to get small tattoos usually choose simple and meaningful designs that look beautiful and even have some significance to remind them of import events or people through it.
When you look at something meaningful, you will be instantly reminded of the exact events or people who are associated with those memories. When you look at your tattoo design, you will wish that it stays for years to come. Small tattoo designs are in fashion and look effortlessly beautiful too. Here is a list of 30+ awesome dainty small tattoo designs with meanings and placement ideas.
Celebrity Inspired Dainty Small Tattoo Designs
Small tattoos are so popular amongst people on Instagram and other social media platforms that these miniature tattoos make a statement that size does not matter after all. Small tattoo designs have greater meaning and are influenced by larger events in your life. Many celebs have also adopted this style. For example, Kylie Jenner has multiple small tattoo designs all over her body. Supermodels like Kendall Jenner and her BFF, Hailey Baldwin have matching tattoos that represent their strong bond and everlasting friendship.
Many celebs also get themselves tattooed with their favorite things, like, Mandy Moore, who got herself a mountain tattoo because she loves mountain climbing. The Pretty Little Liars cast got themselves inked together with a small tattoo to represent their bond. So, it is quite clear that the trend has really caught on with everyone and even the most stylish celebrities are going with the small tattoo flow.
Dainty Small Tattoo Ideas and Designs
The question is, what makes a perfect small tattoo design? Is it a traditional rose pattern on your feet which might be there for aesthetic purposes or something deeper with a grave significance. Sometimes expecting mothers get small tattoos to honor their pregnancies too.
Many people get these tiny tattoo designs on to their unexpected body parts like on the ear, which includes both behind the ear and inside the ear, along with shoulder blades or even fingers and knuckles. To be honest, there is no right or wrong body part that can be selected. Tiny tattoos are unique for each individual and they can select a style that matches their own personality weather if it is indicated, minimalistic, colorful or black and white.
Are you thinking of getting a dainty small tattoo too? Well, that is pretty nice considering there are so many options to choose from. With the help of this list, you can get inspired and come down to choosing some really adorable pieces of tattoos. There are so many cute options to choose from like stars and hearts to tiny pet paws to beautiful but small quotes or just one or two powerful words. The choices are endless. Here are some of the designs that you can get inspired from.
Dainty Small Tattoo Designs List
Awesome Dainty Small Tattoos Designs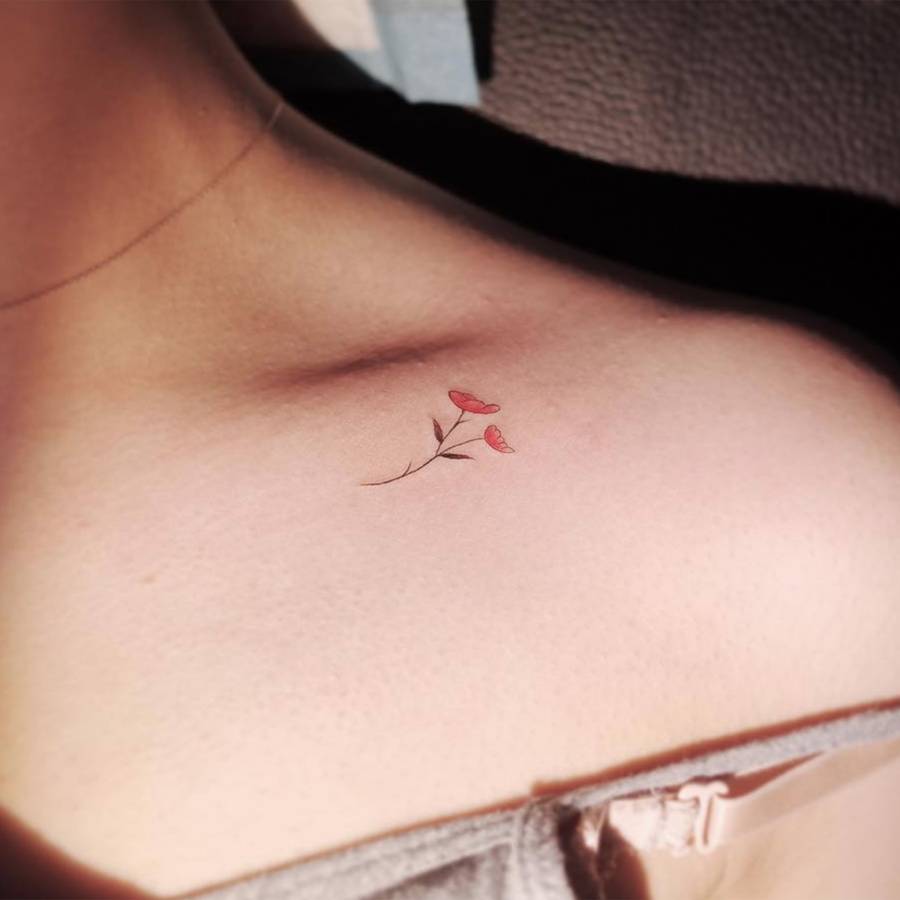 This cute flower design on the shoulder blade looks pretty amazing. It is a pattern that is specially designed for girls because it is quite soft and delicate to look at. It is a pretty design that can be worn on any delicate part of the body. Flowers are leaves are often associated with the feminine side and so it is perfect for a girl who wants to show her feminine side.
Autumn Leaf Dainty Small Tattoos Designs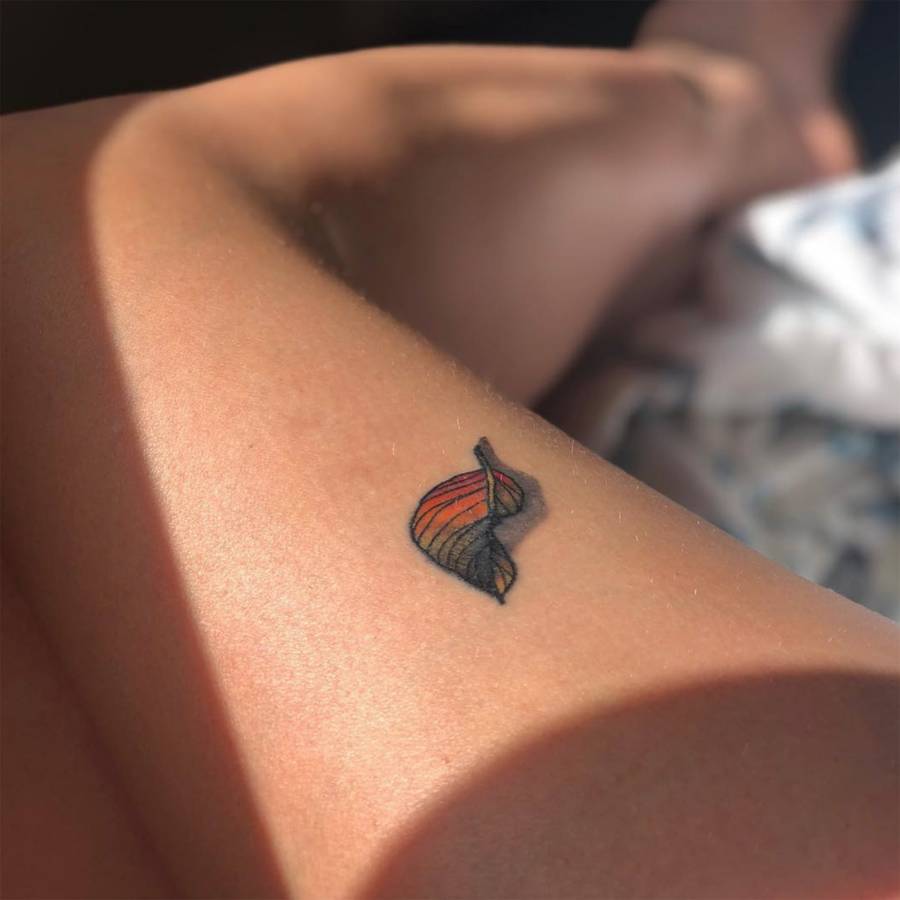 If you want to honor your love for autumn weather because it might be your favorite one, you can get a tattoo like this. This autumn leaf has a lot of significance considering we have many poems and songs on autumn leaves. It represents falling of old and bad memories and it is replaced by the beautiful leaves of spring.
Planets Dainty Small Tattoos Designs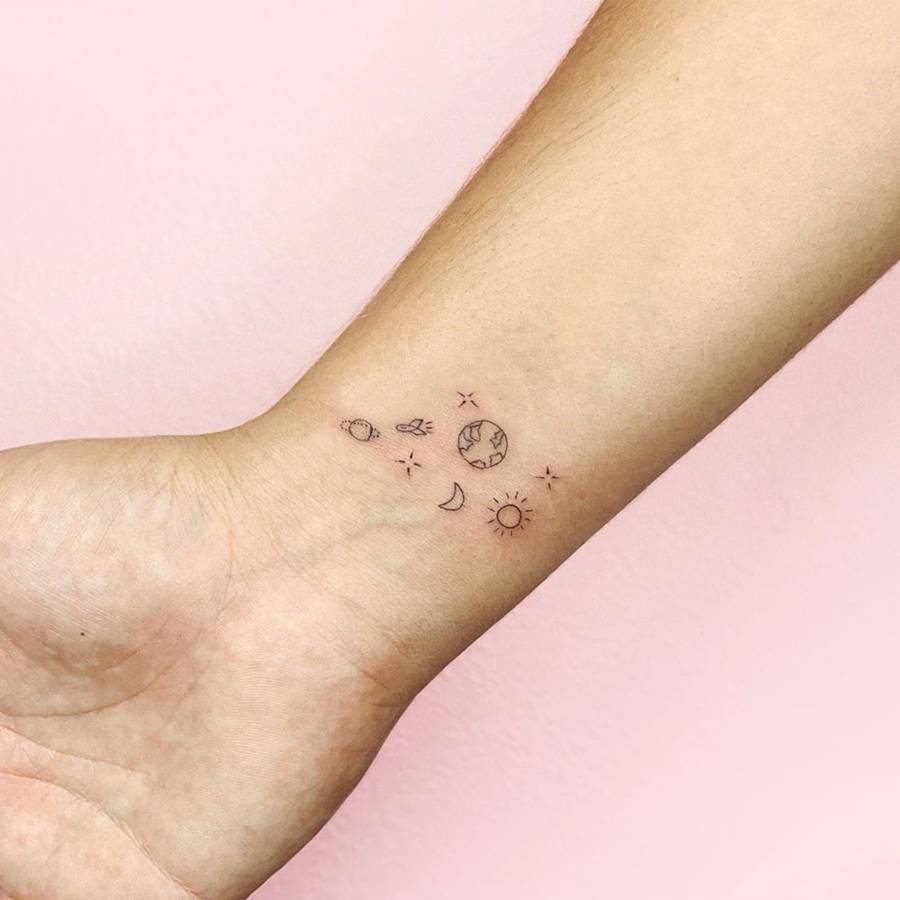 Who said you can not have a galaxy of stars and planets on your skin? This tiny dainty tattoo design is a perfect example of how you can get such beautiful design with few stars, sun, moon, and main planets on your wrist. I like the fact that these planets have covered the whole wrist even though it is a tiny tattoo design.
Anchor Dainty Small Tattoos Designs
This anchor tattoo is small and unique. It is merged with a cute little heart on top of the structure. It looks pretty cute with the bold ink design that it has. The anchor is very significant in meaning. it means stability and trust. The addition of a heart makes it apparent that the person got this tattoo because of the value of trust in any relationship that he or she has.
Cat Dainty Small Tattoos Designs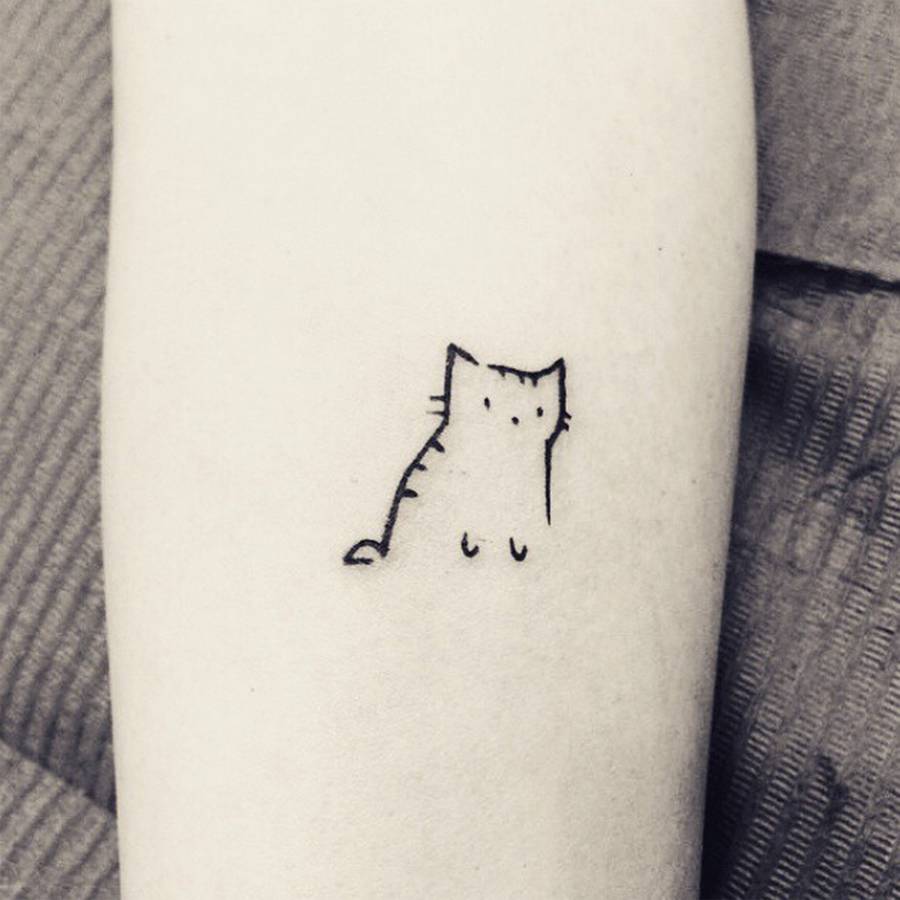 If you have a cute little kitty cat that you love at your house, this tattoo is the perfect design. It is pretty minimalistic so it would not require too many elements. It is easy to make and is made up of only the outline of a cat. It is pretty adorable and would look super attractive no matter where you plan to get it etched.
Avocado Dainty Small Tattoos Designs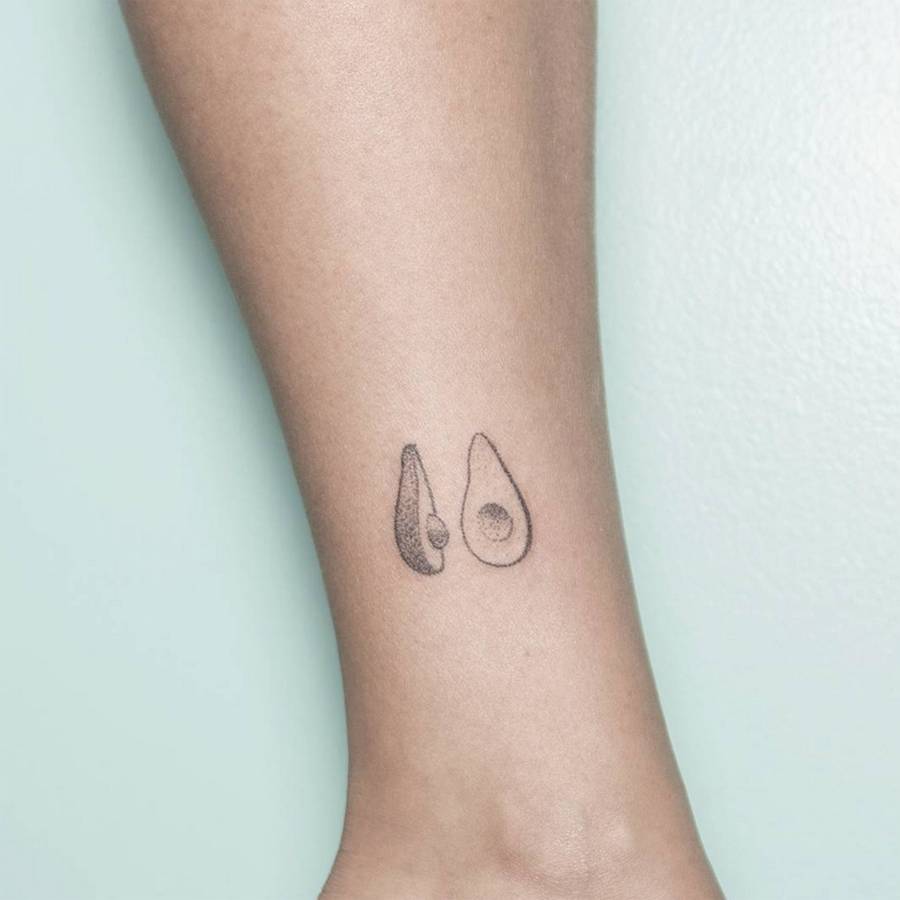 Many people like to get a tattoo of the food that they love. This person has decided to get the picture of an avocado etched on their skin. This fruit has been quite trending for something and if you love it too, especially the avocado toasts in the morning, you must honor your cravings. It is a pretty chic design that looks perfect on the arm.
Simple Wave Dainty Small Tattoos Designs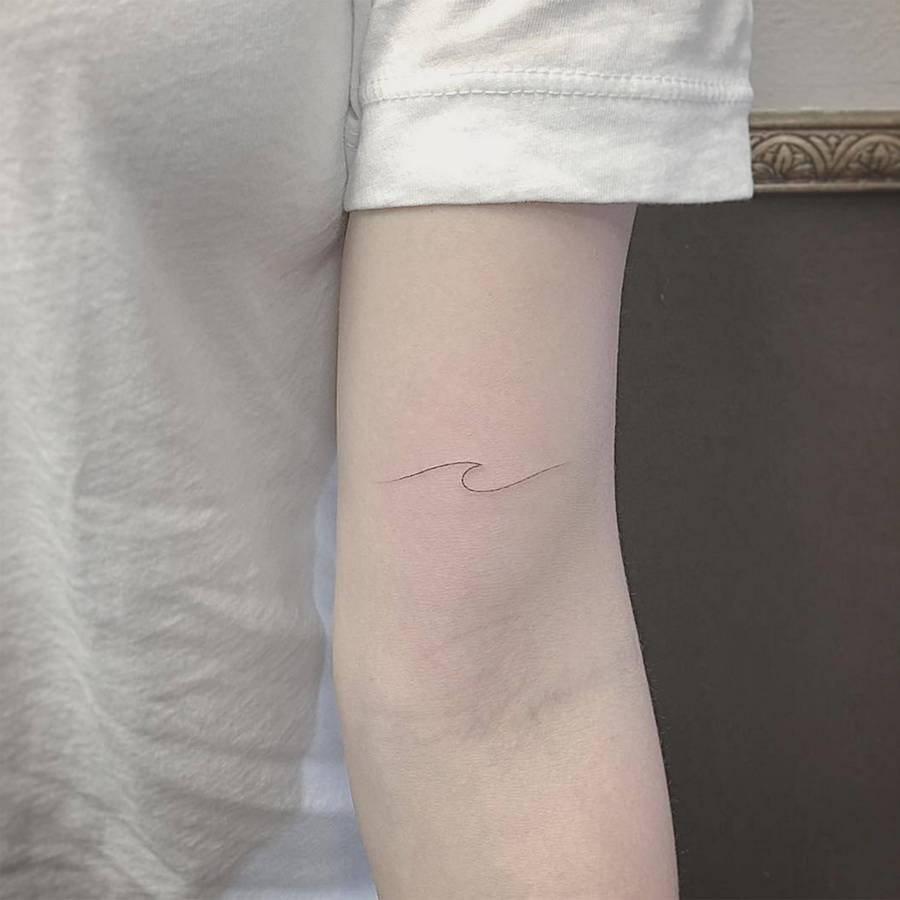 You do not have to get an over the top tattoo to show the things that you love. This simple and delicate tattoo design looks pretty awesome. You can express your love fo the vast ocean or sea through this delicate and tiny wave tattoo. It is a great idea to get it someplace where it is visible.
Quote Dainty Small Tattoos Designs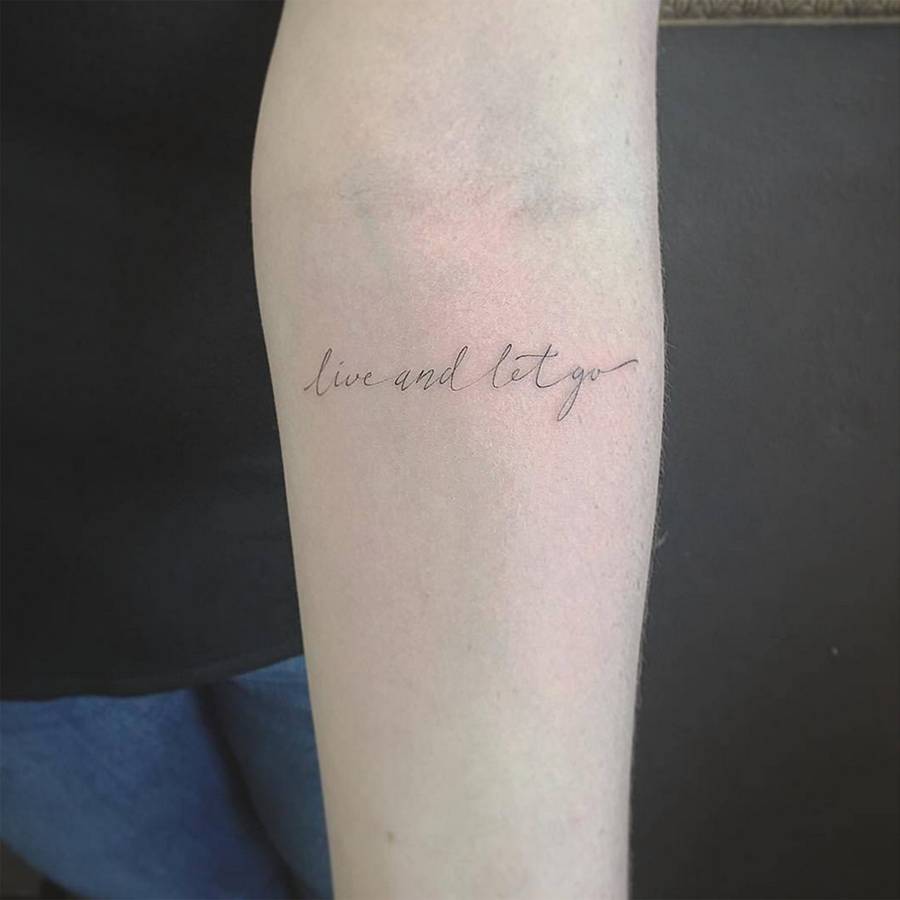 Many people like to get themselves inked with some positive quotes or objects that remind them that everything will be right. Some people like to feel optimistic and while there are not many people to tell you this, you can hello yourself by getting yourself inked with a positive tattoo design. This tattoo asks the wearer to focus on positive and let go of the negatives.
Animal Paw Dainty Small Tattoos Designs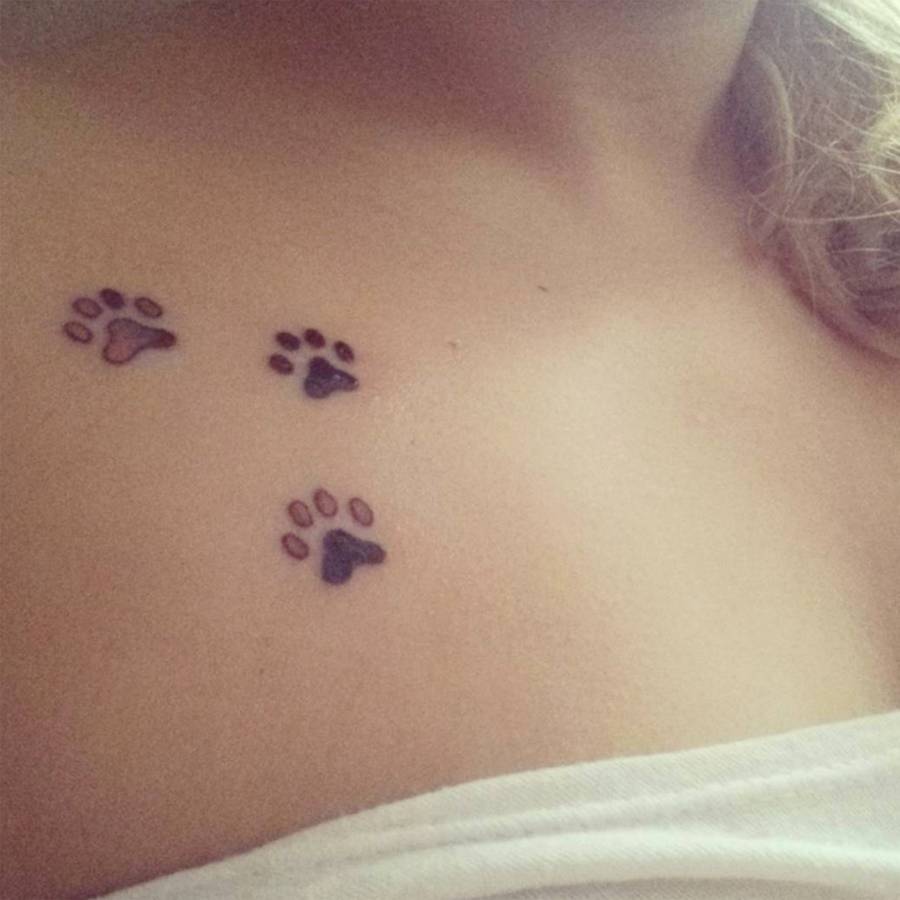 You can either get your pet inked on your skin as it is or you can ink a symbolic representation of your pet that would represent the same feeling of love and affection. This design representing the paws of the pet looks super adorable. It is nearer to the heart and would serve as a beautiful reminder for your pet dog. It is super cute.
Joy Dainty Small Tattoos Designs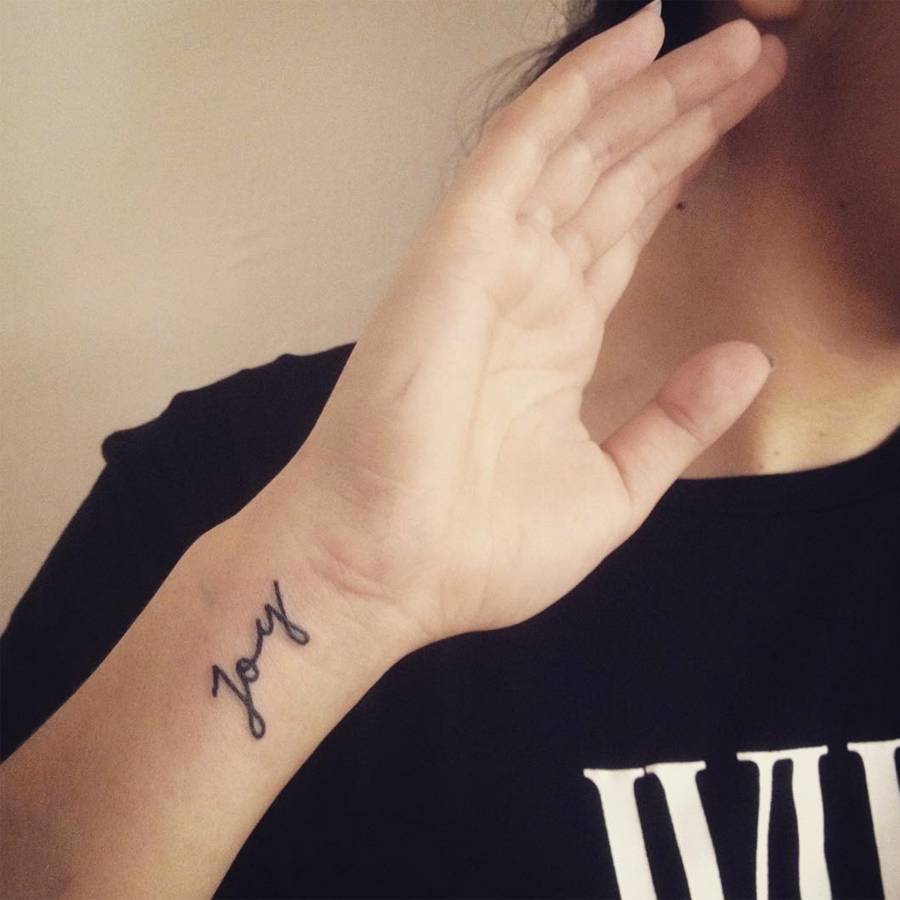 When life gets down and drab, all you need is a reminder to focus on the positive side of it. This tattoo design would help the wearer do just that. This tattoo says "joys" which is the opposite of pains and turmoil. So if you want something that would pick you up in your low time and would motivate you, getting inspiration from this tattoo design is a great idea for you.
Feet Dainty Small Tattoos Designs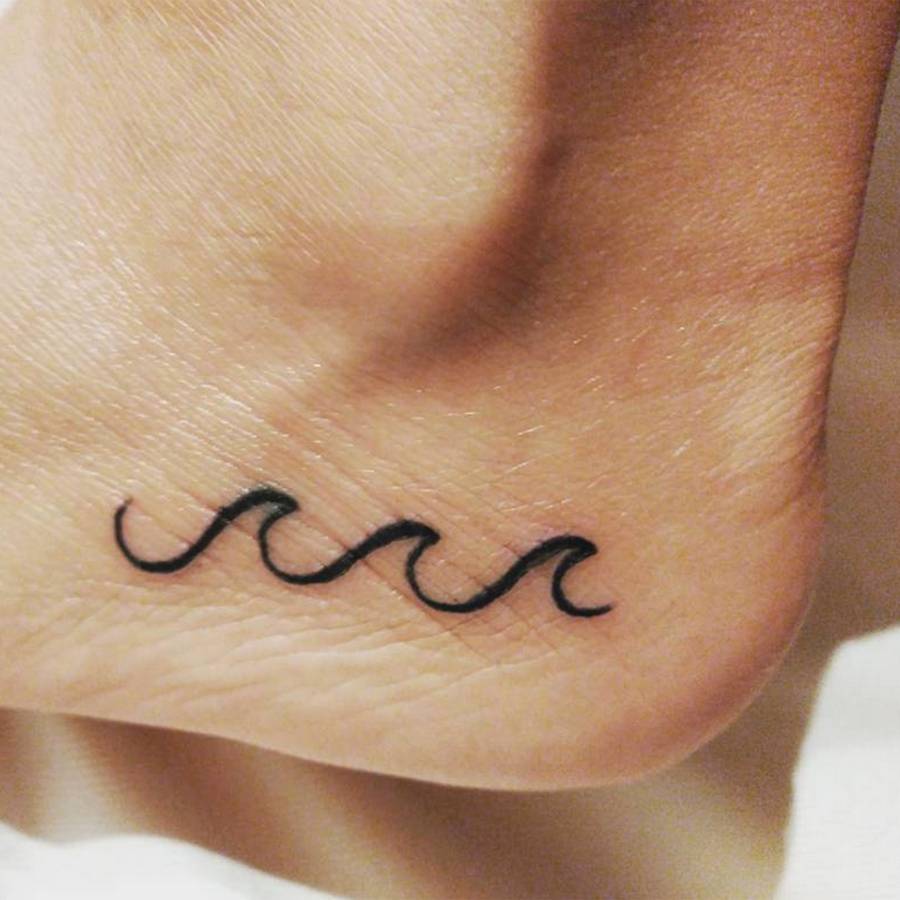 Waves are a very great tattoo design if you are a nature-loving person. The meaning of waves is deep. It represents the boundless ocean which is not stopped by anything. It excuses energy that is positive and strong. It is limitless and so the wearer represents the same thoughts. It is the symbol of freedom and breaking boundaries.
Skyline Dainty Small Tattoos Designs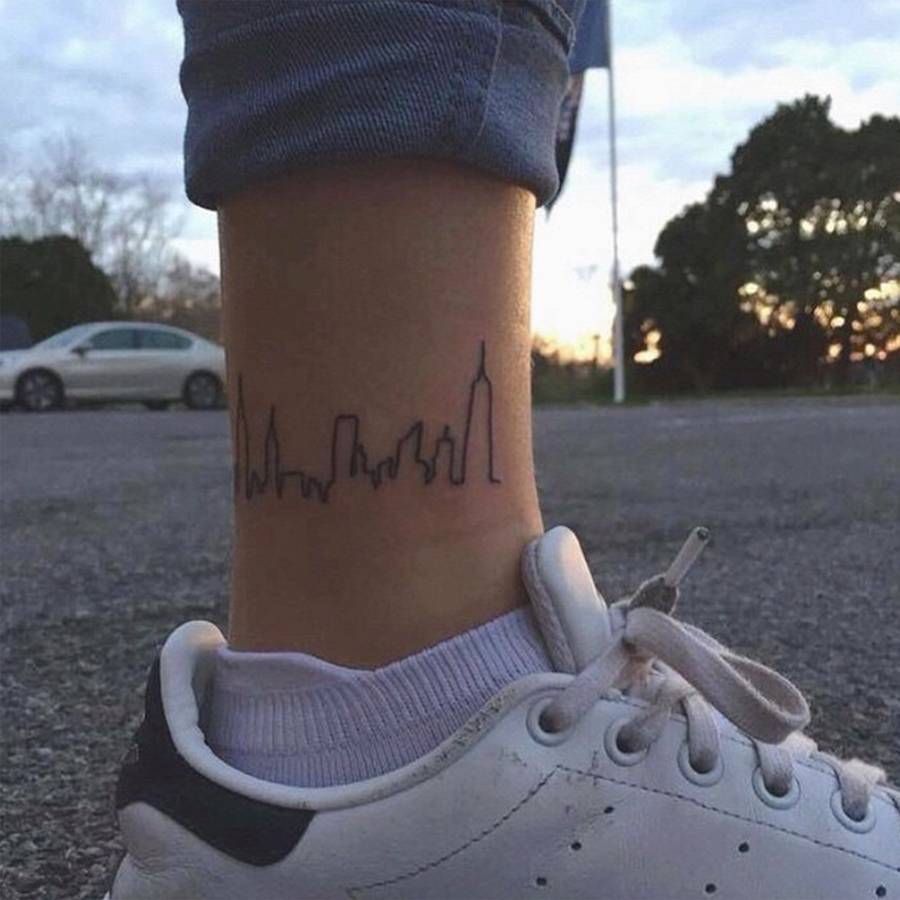 This tattoo of skyline looks pretty beautiful. You can't your own birth state represented in a similar way. However, this tattoo looks very chic, it encloses the ankles in a very stylistic way. Such tattoos serve dual purposes; one, to serve as a reminder, and second, to serve an aesthetic purpose.
Thigh Dainty Small Tattoos Designs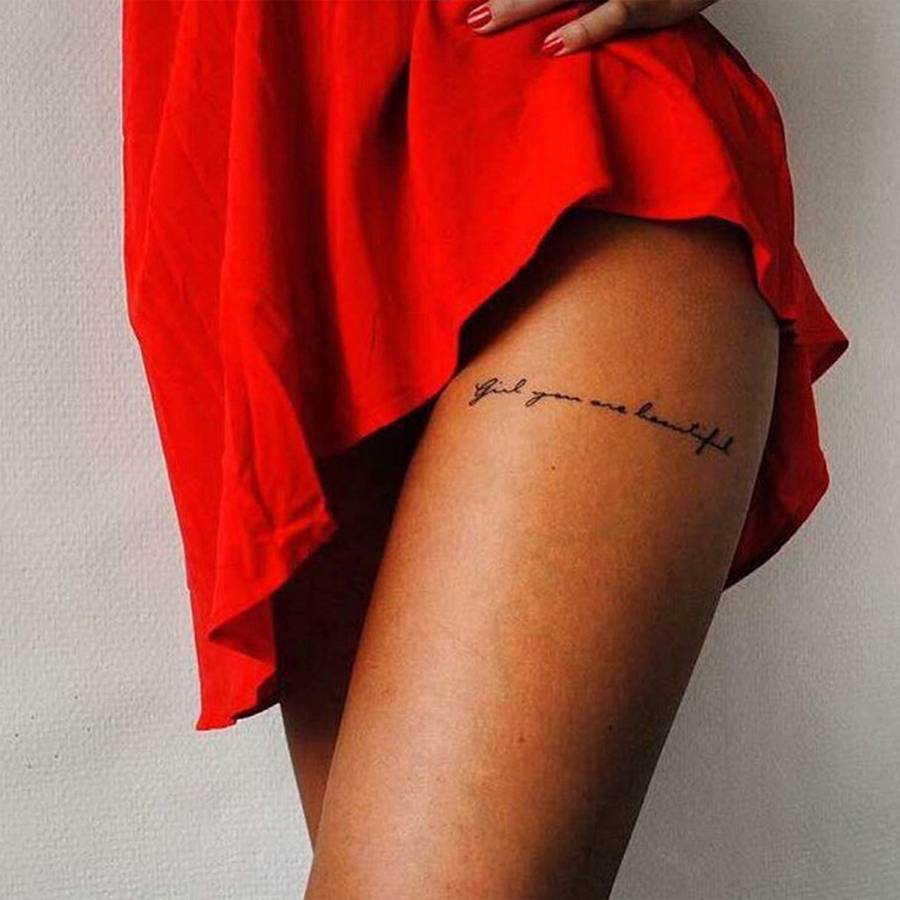 You do not need anyone else to tell you that you are beautiful when you can tell your own self that. Such tattoos are a beautiful reminder and a source of inspiration for many girls and guys who wants to feel empowered and strong and not let down by the rules of society. It is a pretty piece.
Sea Horse Dainty Small Tattoos Designs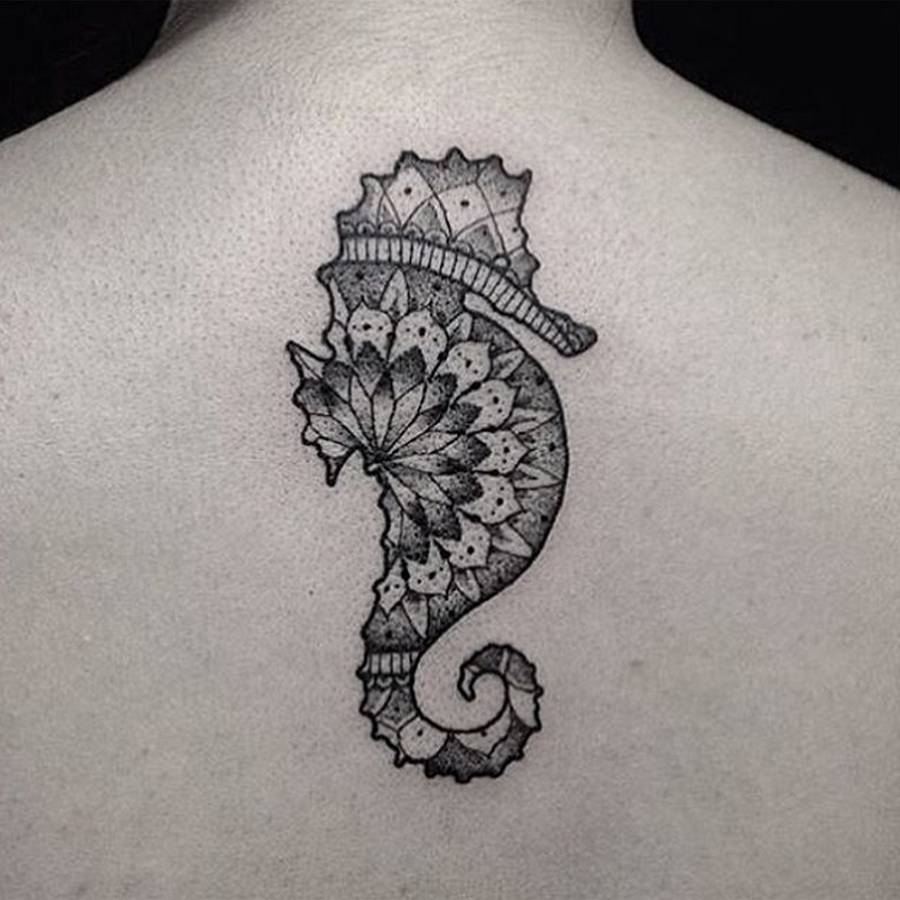 This sea horse looks beautifully made on the back of the wearer. It looks pretty awesome and chic because of the mandala design that it is filled with. It is a great way to ditch the standard designs and go for something different. You can also add some colors to your mandala patterns to make it look more attractive.
YOLO Dainty Small Tattoos Designs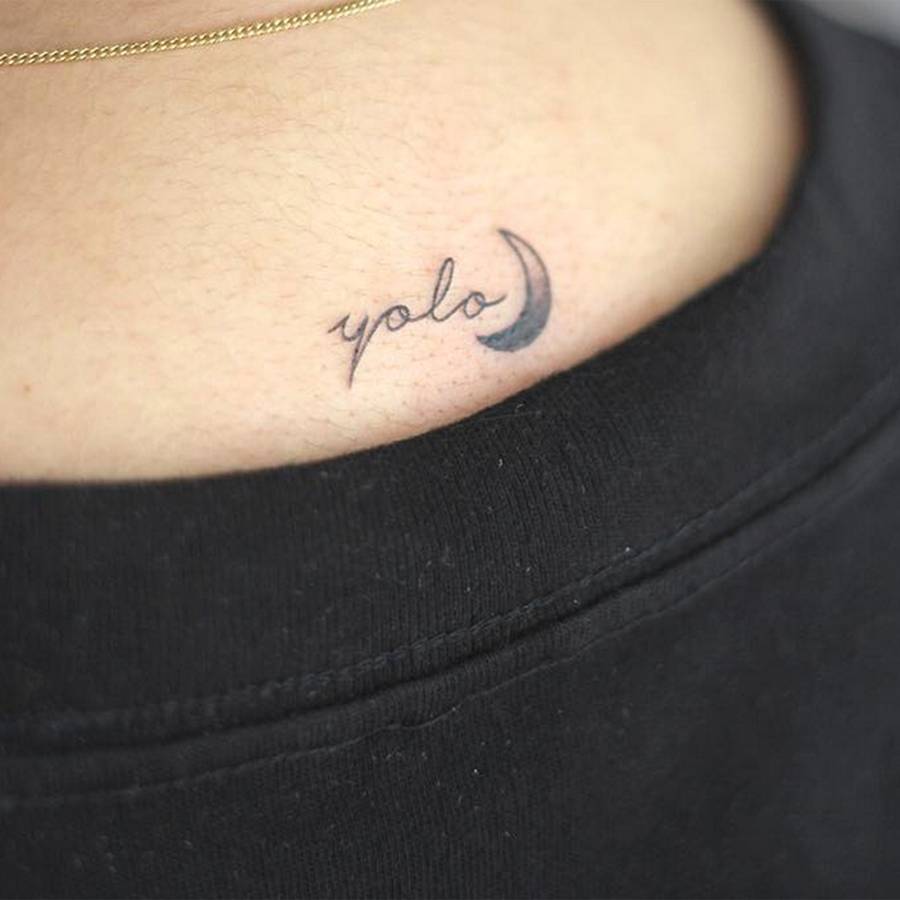 YOLO is one of the most trending terms that our generation has seen. It is so chic that many people decide to get this tattooed on their skin. If you want something ultra-cool, you must also consider getting this design. YOLO means, you only live once. Thus, it is a great tattoo for some optimistic fuel and to do whatever you want to do!
Heart Dainty Small Tattoos Designs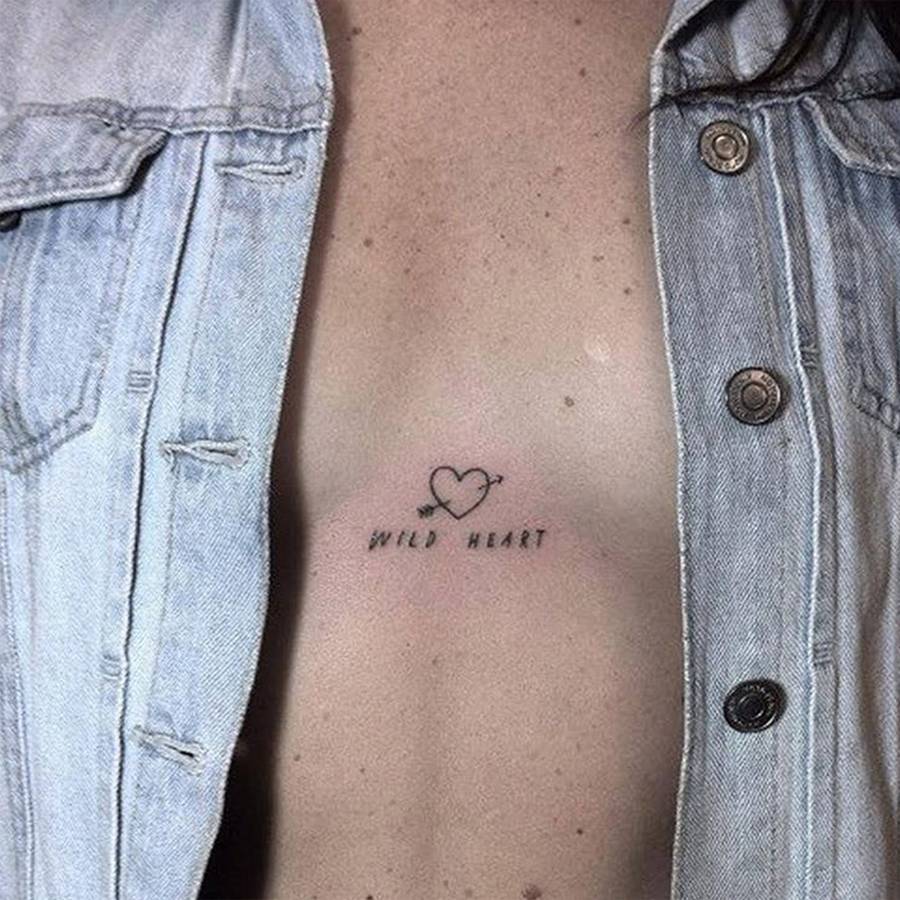 This is such a creative dainty small tattoo design. It represents a small heart right where the actual human heart belongs and along with it are written some words which probably might represent the personality of the wearer. "Wild Heart" means that the wearer believes in freedom in every aspect of life.
Balloon Dainty Small Tattoos Designs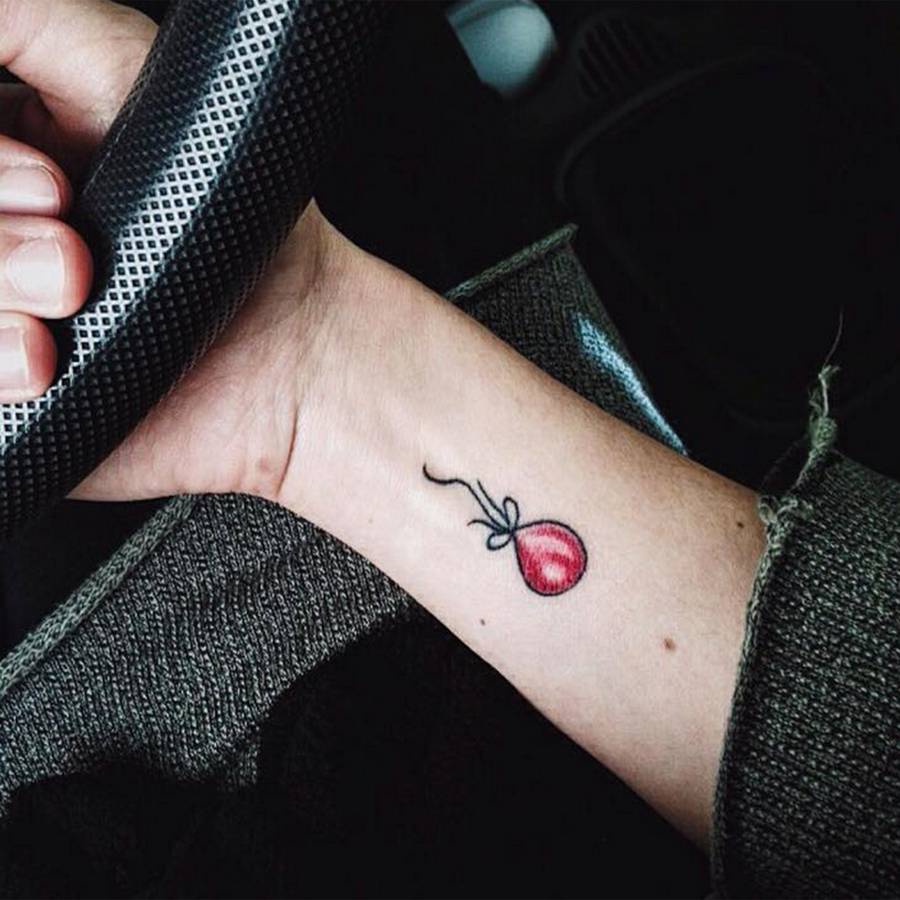 This small balloon design looks pretty awesome. It reminds one o their childhood and is a great tattoo if you have had some special childhood memories with you. It is a great design, although simple, but full of various sentiments. You can change the colors if you want and select yoru favorite one.
Butterfly Dainty Small Tattoos Designs
This butterfly tattoo design looks very feminine and delicate. The purple color looks very much inspired by the spring season. Butterfly holds a lot of significance It means a very deep and strong representation of life and being. Interestingly, the Christians see the butterfly as a symbol of soul and Ressurection.  Around the globe, people see the butterfly as symbolizing strength, transformation, faith, and growth.
Dog Dainty Small Tattoos Designs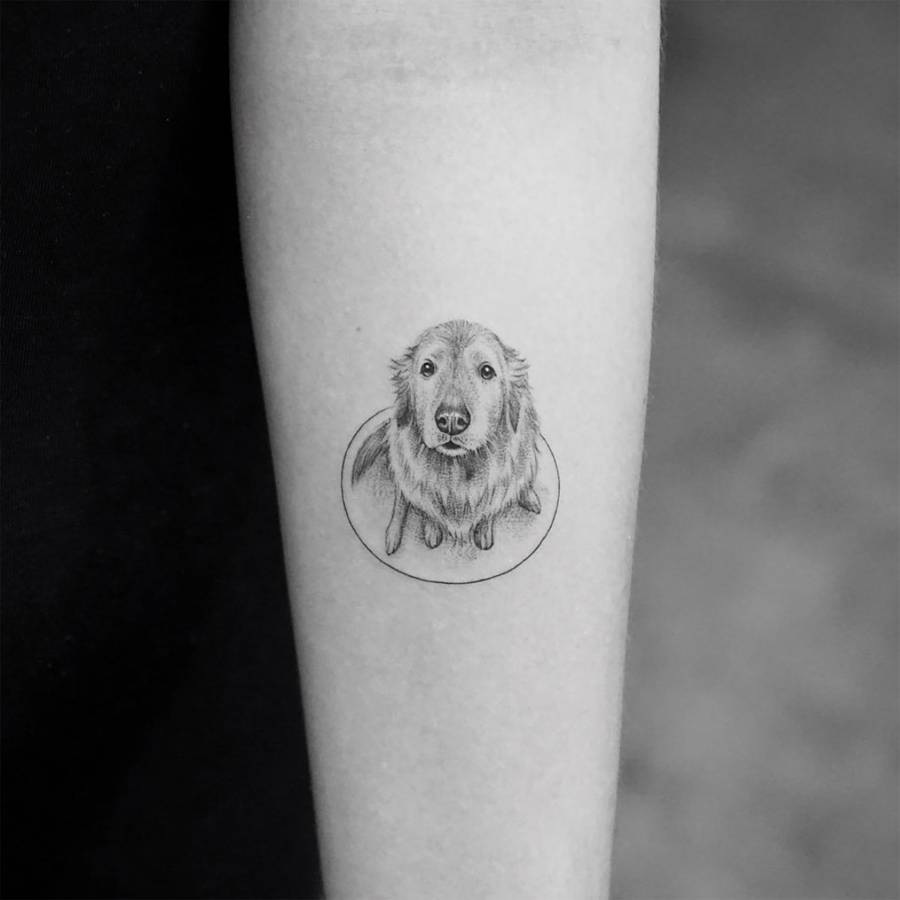 If you have a cute little pet at your house, you can honor his unconditional love by getting him inked permanently on yoru skin. This design looks pretty amazing and beautiful. The artist here has done a beautiful job with the strokes making it look very realistic. It is definitely worthy of praise.
Finger Dainty Small Tattoos Designs
Finger tattoos are very much in trend. It looks pretty cool to have each planet or star inked on each finger. The small tattoos very chic and impressive on the finger.
Rainbow Dainty Small Tattoos Designs
Multicolored tattoos like the rainbows are very much in trend. It is for the only reason that it signifies happiness and hope. The rainbow analogy also serves as an apparent representation of love and peace. These impressions are usually elicited when looking at a rainbow. More significantly, this spectrum is frequently observed after a rainstorm when the sun pierces through the clouds. This presents us with a rather strong and powerful message.
Lemon Dainty Small Tattoos Designs
It is quite a famous saying that when life gives you lemons, make lemonade. or probably get it inked. It is quite a positive take on life. You can also use this lemon design to represent the freshness of spring and beauty.
Pinky Promise Dainty Small Tattoos Designs
Pink promise designs are one of the most common designs used by girls who usually get themselves inked with their partners or best friends. So if you have a sister or a best friend, you might wanna get such tattoo designs to represent the trust and faith in yoru friendship.
White Ink Dainty Small Tattoos Designs
White ink looks pretty cool because they are far from the usual patterns. It is a great way to do something unique when it comes to getting tattooed. This person has got a thunder tattoo on the finger. It looks beautiful because thunder also symbolizes fierceness and strength. It is a representation of freedom.
Rose Dainty Small Tattoos Designs
This small dainty rose flower covers the ring finger. Both the ring finger and the rose flower has a strong association with love and romance. The ring finger is also the finger of marriage and is said to be connected to the heart. The rose represents love and purity of feelings. It is a great design, overall.
Pizza Dainty Small Tattoos Designs
I have seen no one who does not enjoy a good slice of pizza. But then there are also some obsessed crazy pizza lovers who get pizza inked on themselves. If you are one o those pizza super fans, it is a pretty chic idea to get the tattoo etched on your skin where it shows yoru love.
Ear Dainty Small Tattoos Designs
Behind the ear is a great place to get a tattoo but this tattoo design is pretty unique because it covers the whole of the ear. It is a beautifully made tattoo design with a lot of colors. Seems like, with such design, you won't really need any earrings. However, a diamond or pearl earring would look pretty decorative.
Trademark Dainty Small Tattoos Designs
This is the heights of self-love. If you love yourself and are proud to show it, you better get this tattoo done. It is a great tattoo design for someone who believes that treating yourself right is part of their life. With such a tattoo you can also show that you are one of a kind person.
Airplane Dainty Small Tattoos Designs
A small airplane tattoo is great for someone whois into traveling and wants to honor his or her traveling love. Small tattoos are great because they are easily hideable and looks very chic.
Sunflower Cute Dainty Small Tattoos Designs
This sunflower tattoo looks very hippie although it is very simple and simple without any colors. Not only beautiful, but they also have deep meaning to them. While they are stunningly gorgeous, they also are intense in antiquity and significance. Sunflowers signify love, integrity, and persistence. Much of the application of sunflowers derives from its namesake, the sun itself.
Adorable Dainty Small Tattoos Designs
If you believe in birth signs or sun signs, you can get your sun sign inked on yoru skin. You can get the whole word or the symbol or you sun sign on your skin which would look ultra-cool. You can also get some elements linked to the sun sign. For example, the lion is the symbol of Leo, so you can get a lion's head inked too.
Sweet Dainty Small Tattoos Designs
Getting a ladybird tattoo can mean that you are leaving all yoru worries behind you and walking towards happiness. It is a beautiful tattoo design with a ladybird climbing a stem of flowers and leaves. It is pretty cute.
Alphabet Dainty Small Tattoos Designs
A simple alphabet design looks very cute. You can get the initials of your name or someone who is special to you on your skin. The ear seems to be a very good part of such a design.
Free Dainty Small Tattoos Designs
Some simple words can mean a lot sometimes. For example, probably this wearer wants to be free and loves her freedom, that is why she decided to get this simple tattoo design with the word "free" on her hand.
Travel Dainty Small Tattoos Designs
When traveling is yoru passion, you must honor it with something creative. Even if you wish to travel the world or have traveled already, this tattoo design would look pretty awesome on yoru skin. It represents a heart-shaped globe that represents your love for traveling.
Leaf Dainty Small Tattoos Designs
The green leaves represent the love for spring when after the autumn leaves have shed, the trees are full of fresh and new green leaves. They also represent love for mother nature. It is quite a small and delicate design.
Dandelion Dainty Small Tattoos Designs
It is quite a beautiful design to be made at the ankles of yoru feet. It is pretty girly and chic. But, the title of the flower truly originates from a French word and signifies "lion's tooth". While a lot of people view this herb as a bug and a weed, to other people it has some deep significance. The botanical definition of the dandelion is that it is a tribute to a loved one that will give pleasure and is a commitment of complete fidelity.
Ring Finger Dainty Small Tattoos Designs
The ring finger is considered to be the bond of love and marriage because it is during the wedding that the couple exchange rings on their ring finger. If you do are not married yet but want to honor yoru love for someone, you can get a heart inked just like this one as a romantic gesture.
Dove Dainty Small Tattoos Designs
This dove tattoo on the waist of the wearer looks pretty amazing and cool. Dove has been a popular symbol since the time being. Inf fact, it is one of the most popular ones. Doves, normally white in color, are employed in many contexts as tokens of love, peace, or as angels. Doves rise in the analogy of many religions too, like Judaism, Christianity, Islam, and Paganism, and of both military and radical groups.
Lavender Dainty Small Tattoos Designs
This lavender tattoo design on the ankle looks heavenly and beyond beautiful. Besides aesthetics, it also has deep meaning. Lavender flowers are recognized to symbolize innocence, calm, love, tranquility, forgiveness, and composure. In addition to the flower's meaning, its purple color also occurs with a great metaphor. Purple is the shade of authority and talks of grace, elegance, and luxury.
Tiny Dainty Small Tattoos Designs
These little colorful flower tattoos are very beautiful. They are pretty unique and might mean something very valuable for the wearer because they are pretty personal. The ankle is a great place to get such delicate patterns.
Camera Dainty Small Tattoos Designs
You can express your love for your hobby or yoru passion with many things. For example, this person has got himself or herself a camera etched on their fingers. It is quite a great idea. You can choose among many things that you can get tattooed on your skin and especially your finger if you want an aesthetically pleasing design.
Behind the Ear Dainty Small Tattoos Designs
This beautiful rose tattoo design looks pretty real with all the color and shading effects. The technique by which it is made is commendable too. Roses are most usually connected with passion and fantasy. Roses can also denote privacy or confidentiality. The phrase "sub rosa", indicating under the rose, originates from ancient times. You can also add the phrase "la vie en rose", which means that life is beautiful. It is a pretty optimistic approach if you ask me.
That is all about the awesome dainty small tattoo designs that you can get inspired by. Just make sure that you do your research well before you get something permanent for yourself. Even though it is a small design, it has the same amount of significance as a bigger tattoo design.