Chris Motionless, an American Musician is most popular among us all as the founder of the metalcore band named, Motionless in White, which was established in the year 2005. Chris is the lead vocalist of the band. Chris is also popular by the name, Chris Cerulli. The best part of his life as he always claims to be are undoubtedly the multiple body tattoos that he has. He has been receiving them since the mere age of 18 years. Chris has got his whole body tattooed with hundreds of tattoos out of which many do not even hold any special meaning for him. Let us explore his hugely tattooed body and see what meanings do they hold for him.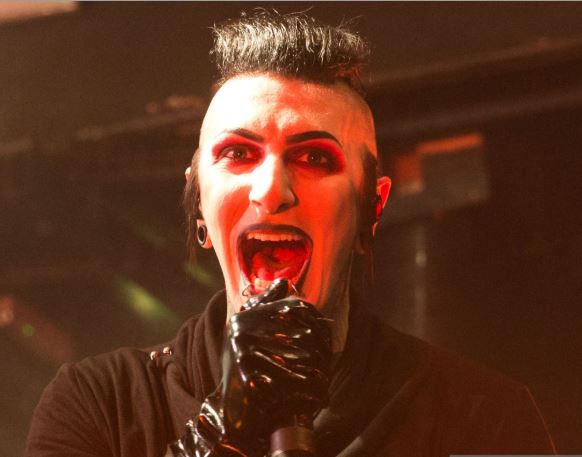 "I grew up seeing people with tattoos I was naturally intrigued by them, I can't really answer why somebody likes seafood or somebody like colors, I know I like tattoos, I like how they are done and colored, I know that sounds cliche. I have a large tattoo which represents a big part of my life which is music."
1. 'Star' Tattoos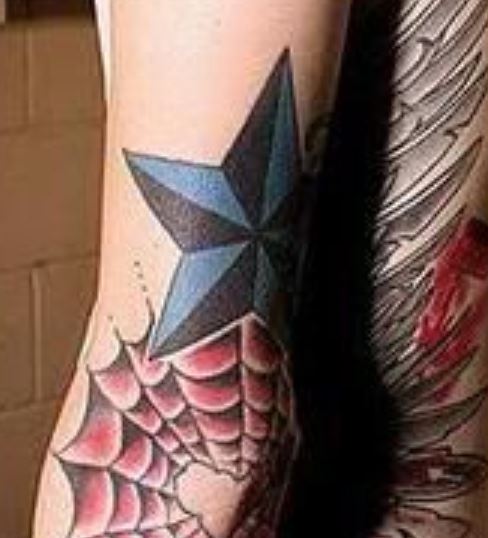 Tattoo: There are two nautical blue colored five-pointed stars inked on the backside of both of his upper arms, one on each, respectively.
"My first tattoo was actually two tattoos which I got in a single sitting as I wanted to get something big, so I got these two stars inked on my arms here. At that time nautical stars were something were prominent and they were synonymous with all the bands that I listened to. But with time as I grew older, I did not like them anymore."

"I got this tattoo on my 18Th birthday, and after that, I kept on getting tattoos, do not know how I sucked it in. I do not know how many tattoos I have if this star is one then maybe 20 to 40, but probably more because I have a whole lot of tattoos on my whole body."
2. 'SpiderWeb' Tattoo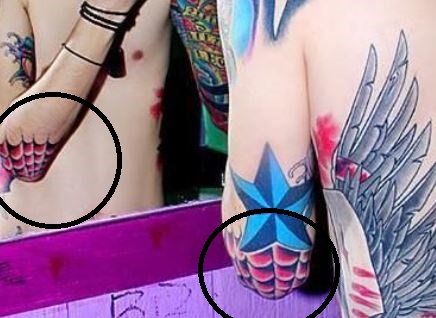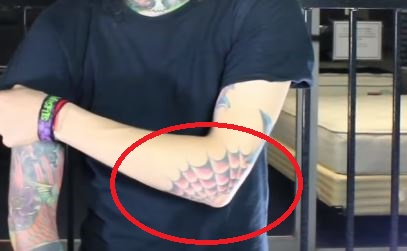 On the elbow of his left arm, Chris has got a spider web tattooed in shades of red and black. Spider webs are the most common symbol of showing that you have been trapped or imprisoned. However, contrastingly, they are the way of encouraging oneself in the way that we can handle and web our lives ourselves just like the Spiders do it.
3. Guitar on Leg Tattoo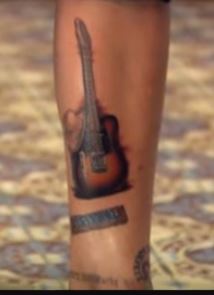 Tattoo: On the front side of his right leg, Chris has a colored guitar inked.
Meaning: Chris got this guitar tattooed from New York from his ex-girlfriend cum friend. In an interview, he said that this tattoo is his dedication to his late grandfather who was a driving force in his musical journey.
HAND TATTOOS
4. Halloween Hand Tattoo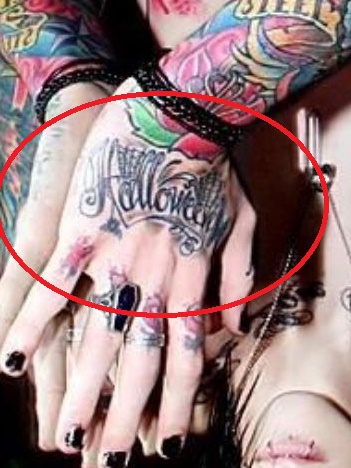 Tattoo: Chris' right hand is tattooed with the word, 'Halloween'.
"If I tell about the most meaningful tattoo that is my hand Halloween Tattoo. I think it describes the best of me, I do not know what Halloween's are but I think I live such life and I love it completely."

"I kind of wish I did not get it but at the same time, I actually loved it."
5. 'LOST BOYS' Tattoo

Across the knuckles of his hands, there is a tattoo that says, 'LOST BOYS', written across his right and left hand, respectively.
Meaning: The Lost Boys is a 1987 American horror film of which Chris has been a big fan. Not only this, but his song 'WeOnly Come Out At Night' has also been inspired by the movie and its concept. Chris said that he always wanted the 'LOST BOYS' tattoo, and here is the proof that we see on his fingers.
6. 'KISS KISS' Tattoo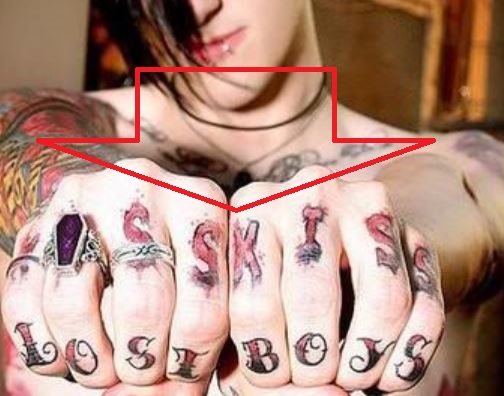 Tattoo: The first knuckle tattoo which Chris got was the words, 'KISS KISS' inked. However, when he got the second row of the knuckles tattooed he never realized that the second-word tattoo, 'LOST BOYS' would connect, thus making it as, 'KISS BOYS' vertically. Now, he is undergoing laser treatment for its removal.
"Oh man yes, it's pretty embarrassing, but it's being taken care of now," Cerulli told Noisecreep. "For years, I've had the words 'kiss kiss' tattooed on my knuckles. And then about a year ago, I wanted to get the second row of knuckles tattooed. I knew I wanted 'Lost Boys,' but never thought about linking the first row with it. So after I got it tattooed, no one in the room noticed that my left hand then said 'kiss boys.' I couldn't believe it when we all realized it after it was done. But I'm currently getting the 'kiss kiss' lasered off.
7. 'BONA DRAG' Tattoo

Tattoo: Across the lowest portion of his fingers, Chris has the word, 'BONA DRAG' tattoed.
Meaning: Bona drag is the name of a compilation album by Morrissey which was released on 15 October 1990. This tattoo is another clear visual of the deep love of Chris for Morrissey and his music. Besides, BONA DRAG also means a nice outfit.
8. Shark on the left arm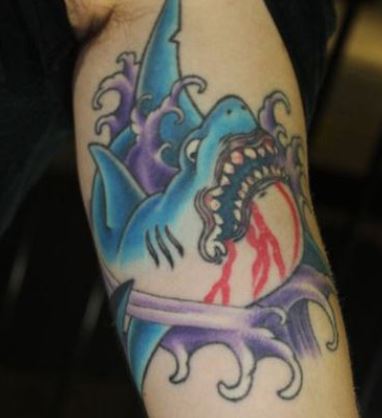 Tattoo: There is a fierce-looking blue colored shark tattooed on the inner side of Chris' left bicep.
"Most of my tattoos are inspired by sticker collection because I never really did proper planning."
9. Scary Pumpkin Artwork Tattoo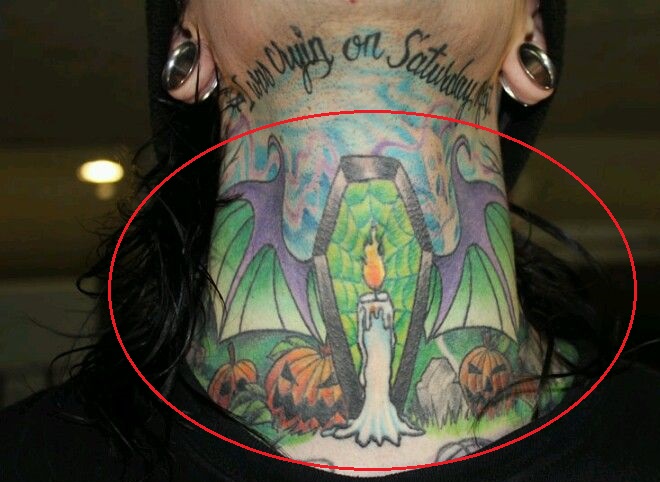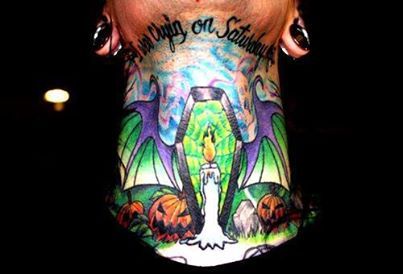 "I really love this tattoo and I am happy that my favorite tattoo lies on my neck and I can easily boast it off. I never really wanted anything in specific but it is  A Scary Pumpkin Artwork which as kinda crazy."
10. 'I was crying Saturday night' Tattoo
\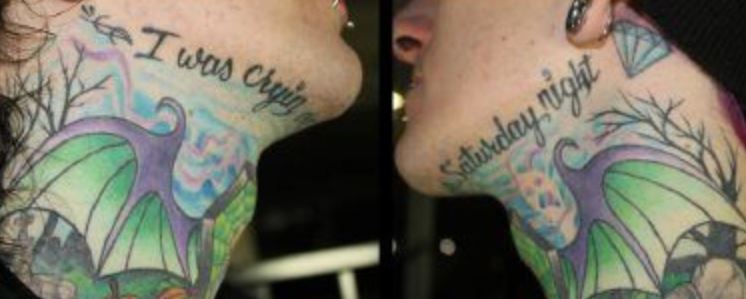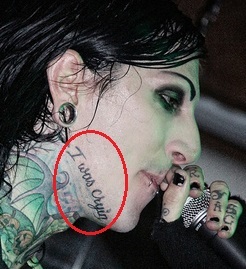 Tattoo: Chris has got a line inked just around the lower part of his jawline which says, 'I was crying Saturday Night'. The line is the part of the lyrics of the Misfits song named Saturday Night. In an interview, Chris had revealed his love for the Misfits band and this is his tribute to their amazing song collection.
"I also have the lyrics, 'I was crying Saturday Night' which is the lyrics to a misfits song (Saturday Night). they were just another influence on me just like Morrissey. They were the first band that I saw all dressed up and looked fucking scary."
11. Head Tattoo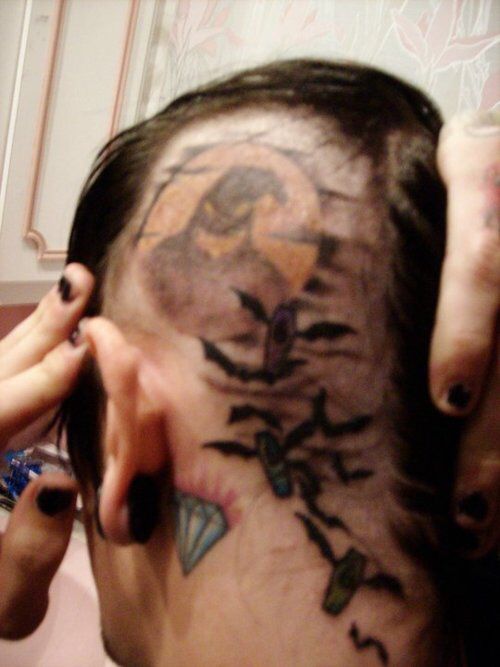 Tattoo: On the backside of his head Chris has another Halloween inspired tattoo which shows us the moon as on the full moon night with a ghost face inside it and multiple flying bats tattooed in dark black ink.
"My most painful tattoo is definitely my head, it is the only tattoo that took two hours and I couldn't tolerate after that. And after that, it is my chin and jawline which is pretty agonizing."
12. Diamond Tattoo
Tattoo: On the backside of his left ear, Chris has a tiny blue colored diamond inked.
Meaning: Diamond tattoos are not only the symbol of wealth and money but also symbolize the inner beauty of the person.
13. Chest tattoo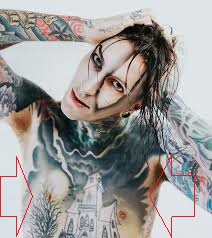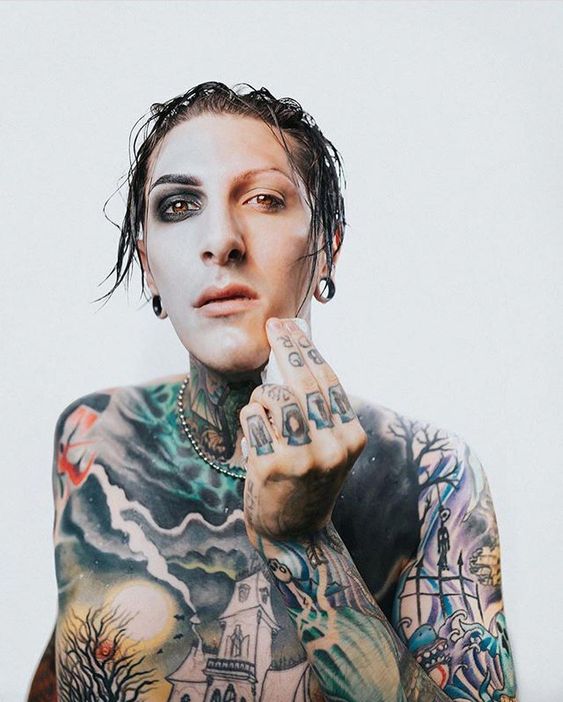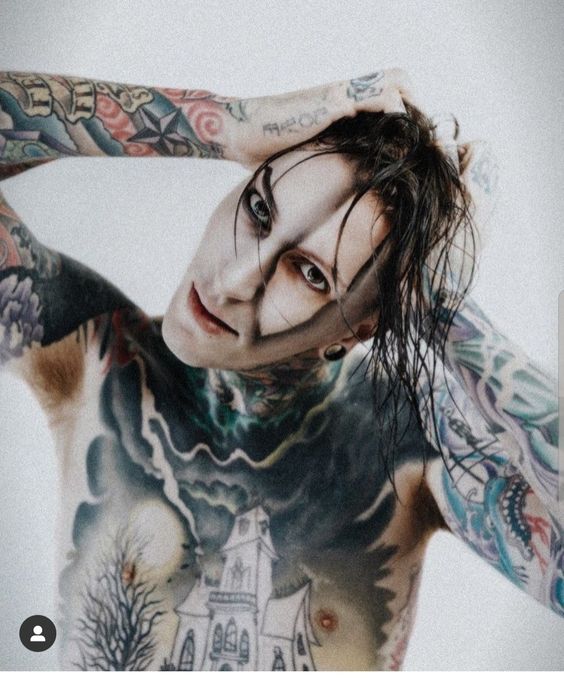 Tattoo: Chris' love for Halloween and its theme is evident from his multiple body tattoos and this one on his chest is another one of his dedication to his love for Halloween and eerie looking tattoos. The tattoo on his chest contains eerie atmosphere depiction, dark black clouds, a huge stranded castle followed by leafless trees. However, there was an alteration done to the tattoo when he got the dark leafless tree turned into a well-lighted one by adding a shining sun behind it.
14. 'Live Love Burn Die' Tattoo
Tattoo: Across his chest, Chris has the lyrics from the album, 'Suicide Notes and Butterfly Kisses' by Atreyu tattooed which can be read as, 'Live Love Burn Die'.
15. 

Tattoo on Lower Abdomen
16. Straightedge Blood spatter Tattoo
Tattoo: Through his, Instagram Chris revealed his tribute for his favorite show by getting a tattoo done on the side of his body. This is his dedication to the show named Dexter, an American Mystery Drama.
17. Back Tattoo
Tattoo: On the side of his back Chris has a tattoo of razor cutting through the wings oozing out blood and also showing the bandages everywhere. He says he got this tattoo to show that though he has suffered a lot in his life he has never done drugs and alcohol.
"I have been straightedge my whole life, and my whole life I have never been tempted by alcohol or anything like that, I have never really made a big deal about it, but when it came to getting a tattoo, I wanted to show that I had never really been involved in that kinda shit. On both my sides I have straight edge ones. On my right is a straight edge razor cutting through wings, with blood, bandages, and stuff everywhere. It shows that even though I have never done drugs and alcohol but still I have been through a lot in my life. It shows that I am a straight edge and have been through a lot in my life."
18. Scorpion Tattoos
Tattoo: On the center of his back, Chris has got the scorpion of wine shade tattooed. Scorpions are the symbol of one's strength and also shows one's loyalty and courage to protect oneself.
19. Bat on Left Arm
On his arm, we can see a bat inked. Bats are the way of symbolizing the transitions and changes in life and to mark the beginning of new times.
20. Black Bands
Tattoo: On his right forearm, Chris has got two black bands inked. Black bands are the symbol of mourning of the lost love, relative, or a dear friend.
21. Fish and underwater Plants and Ferns
22. Five-Pointed Star and A Ghost inside a Heart
On his right forearm, Chris has a tiny black colored heart with a skull inside it and a five-pointed star tattoed by its side.
23. Uncanny Tree
There is a very scary looking tree inked on the inner side of Chris' left bicep. From one of its branches, there is a skeleton seen hanging down.
24. Ferns and Flowers
Tattoo: Multiple colored ferns and flowers are tattooed on the upper side of Chris Motionless' right arm. Chris said that the tattoos on his right arm were never planned. He just kept on getting tattoos and tattoos out of craze not realizing how difficult it would be when he will have to get them removed or covered up.
25. Ghosts Tattoo
Tattoo: There are light shaded blue and orange colored ghosts inked on his left bicep.
"The ghosts and other creatures on my left arm are more or like taken from various collection of my stockers which i had and used to love in childhood."
26. Tattoo on Right Bicep
27. Rose Tattoo
The inner side of his right forearm, there is a rose tattoo. If we see that closely it has actually been placed over the black bands. Thus, it can be analyzed that the rose here is being tattooed to pay his tribute for a loved one who passed away.
28. Purple Flower Tattoo
Tattoo: There is a purple lotus inked on Chris' right forearm.  Purple Lotus is most commonly related to the Buddhist faith and is the symbol of spirituality and mystery.
29. Ghost in Cloak Tattoo
This is another tattoo that is an inspiration from Chris sticker collection and does not otherwise hold any special meaning to him.
30. Home city Tattoo
Across the lower knuckles, Chris has got the name of his home city tattooed which can be read as, SCRANTON. Chris was born in Scranton, Pennsylvania, United States.
31. Design on Left Leg Tattoo
Tattoo: The whole of Chris' left leg is covered with a tribal design. There are also some letters tattoed under it.
32. 'Oogie Boogie' Tattoo
Tattoo: On the left forearm, Chris has got the tattoo of Oogie Boogie inked. It is actually a sinister and voraciously power-hungry creature who looks more like a starfish. Another tattoo from Chris sticker collection.
34. Tattoo on Left Bicep
"I've wanted to get one," he explains, "but I just feel like if I got one now it would kind of be like a kiss of death. Maybe something would go wrong and that [tattoo] would be sealing a doomed fate. I don't want to risk anything like that, so I'll just wait until it's over with and then get one to commemorate the experience."
35. Symbols on Left Hand Fingers
36. Morrissey Portrait on Left Forearm
Tattoo: On his left forearm, Chris has got the portrait of Morrissey inked. Morrissey whose full name is Steven Patrick Morrissey is an English singer, songwriter, and author who gained all the popularity when he rose to prominence as the frontman of the rock band the Smiths, which was active from 1982 to 1987.
"I am highly influenced by some singers, about the things and sing and the lines they say. No one else's lyrics related to me as much as his. I got his portrait because I love Morrissey and I love Smiths."
37. Ghost Tattoo
Tattoo: Halloween theme ghost-like creature is tattoed on the inner side of Chris' left forearm.
38. Tattoo on left Bicep
Another cartoon-like creature with joined hands is inked on the top of his left arm.
39. Left Hand Tattoo
Chris' left hand is tattooed with a tiny green-faced creature that has leaf-like stems coming out from the back of his head. When asked about it, Chris said,
"I myself do not know what this tattoo is about, I just saw it and felt the need to get it done. However, I have no idea what is it actually."
40. 'ANTI HERO' Tattoo
Tattoo: On the wrist of his left arm, there is a tattoo of ANTI HERO which is another cartoon character and one of the favorites of Chris.
41. Left Inner Arm Theme
42. Dark Theme Tattoo Cover Up
Tattoo: The Top right of his right arm as a cover-up for his previous ferns design has been done in dark black color.
"People always go for the white ink cover-ups but I wanted something different and preferred the black cover on my arm as you can see this is how it looks like."
43. Right Inner Arm Theme
The whole of Chris' right inner arm is inked with the floral theme tattoos which include, lotus, roses and green leaves all over.
44. Lotus on Right Wrist
45. Halloween Theme Number Tattoo
The thumbs of both his hands have been inked with the alphabets and numerals as we can see, but, according to Chris and his claims during an interview, these relate to the Halloween theme.
46. 'FROM FLESH 2 STEEL' Tattoo
Tattoo: There is a yellow-colored banner wrapped around Chris' right forearm which carries the words as, 'FROM FLESH 2 STEEL'.
47. Ghost on Left Arm
48. Three X's Tattoo
Just near the thumb of his right hand, Chris has got three X's inked vertically.