Rayne Dakota Dak Prescott better known as Dak Prescott is an American football quarterback for the Dallas Cowboys of the National Football League (NFL). He is famous by his nickname "Dak" actually comes from his middle name Dakota. He has been the part of Football since his school days. Dak is also running an organization named 'Faith Fight Finish Foundation' which he had established in the honor of his late mother who had died battling cancer. The organization focuses on fighting Cancer. Dak has multiple inks on his body which hold great meaning to him. Let us explore them together.
1. 'LEO' Tattoo
Tattoo: Dak's inner part of right bicep contains the ink which says, Leo.
Meaning: Leo is the sun sign of Dak Prescot.
2. 'Sailboat' Tattoo
Tattoo: Dak has a tattoo of a sailboat inked on the inner side of his right forearm. The sailboat is the symbol of peace and represents the way of the life of an individual which is quite similar to that of a sailorman.
Fishing's one of my favorite things to do. I love the excitement of being out on the water and not seeing land. I love how big the world is when you get out there and you look around and you see in perspective how small you and your boat are in that water. It's a thrill, it's a rush, and it's something that gives me peace, I love it. Then when you start to fish, I mean it's truly a game. Depending on what you fish, you have to know exactly how to do it, and how to hit the fish. It's a sport at the same time, allowing me to compete with the water, and compete with myself. That's why I love it so much.
3. 'FIGHT FINISH' Tattoo
Tattoo: Dak has the words, 'FIGHT FINISH' inked on his upper back just close to his shoulders. The words are the source of motivation for him and form the part of those three words ( FAITH, FINISH, and FIGHT ) which were given by his mom to him and his other two brothers. Dak has two words inked on his body whereas the third one that is 'FAITH' which Dak often carries in the form of a wrist band on his left hand which has Faith written on it.
Dak, Tad, and Jace were each given a word by Peggy, and they hold those words close, as well as tattooing their names on each other's bodies. For Jace, it was "Finish." For Tad, "Fight." And for Dak, "Faith."
Those three words were more of what my mom left us for us to continue to live life, with those words, continue to live life being, for Tad, a fighter, for Jace being a finisher, and for me, having faith. But it's also the things that she always saw in us from the beginning. So, those three words are actually near and dear, but I guess I was fifteen when I got my brothers tattooed on me, on each arm. So that makes them twenty, twenty-one at the time, and we all got it done together for a Christmas present for my mom.
4. Brothers' Names' Tattoo
Tattoo: Dak has the words written on the backside of his left and right arm which reads as, TJP and JMP, respectively.
Meaning: The words represent the initials of his brothers Tad and Jace Prescott "TJP" and "JMP" on the backside of his arms. He claims to be very close to his brothers and to honor this bond they all have each other's names inked on their bodies.
He said, we've been through a lot, and we don't have our mom but we'll always have each other, but we're all tattooed in each other's skin and it's even deeper than that.
5. 'DAK' Tattoo
'Tattoo: Dak Prescott has his first name "DAK" inked in the middle of his back. The name also has a crown inked on its top and a rugby ball inked under it. The ball is a clear representation of his passion for football.
6. 'Star and Flames' Tattoo
Tattoo: There exists a huge star inked on Dak's right elbow. The five-point star represents the five elements: earth, air, water, fire, and spirit. It is also the symbolism of five wounds of Jesus Christ. The star has flames inked in patterns above it.
7. 'Pride and Lion' Tattoo
Tattoo: There is a Cartoonist Lion inked on Dak's left shoulder followed by the word Pride inked over it.
Meaning: The cartoon lion on Dak Prescott's left shoulder is the representation for the doodle which his mother was fond of drawing. Dak was very close to his mother and thus, when she fell terminally ill, in order to pay his tribute to his mother, she asked her to draw it one last time and following that he got it permanently inked on his body.
8. Writing on his Back Tattoo
Tattoo: There exists a long quote on his back as, "Every Athlete in Training Submits To Strict Discipline, In Order To Be Crowned with A Trophy That Will Not Last; But We Do It For One That Will Last forever…. God" Corinthians 9:25. The quote from Corinthians 9:25 is written in the banner going from left to right side of Dak's name tattoo.
9. Design On Right Bicep

There exists an intricate design covering the whole of Dak's right bicep.
10. 'Beyond Blessed' Tattoo
Tattoo: Dak has the words, 'Beyond Blessed' inked across his chest.
11. 'Neck and Shoulder' Tattoo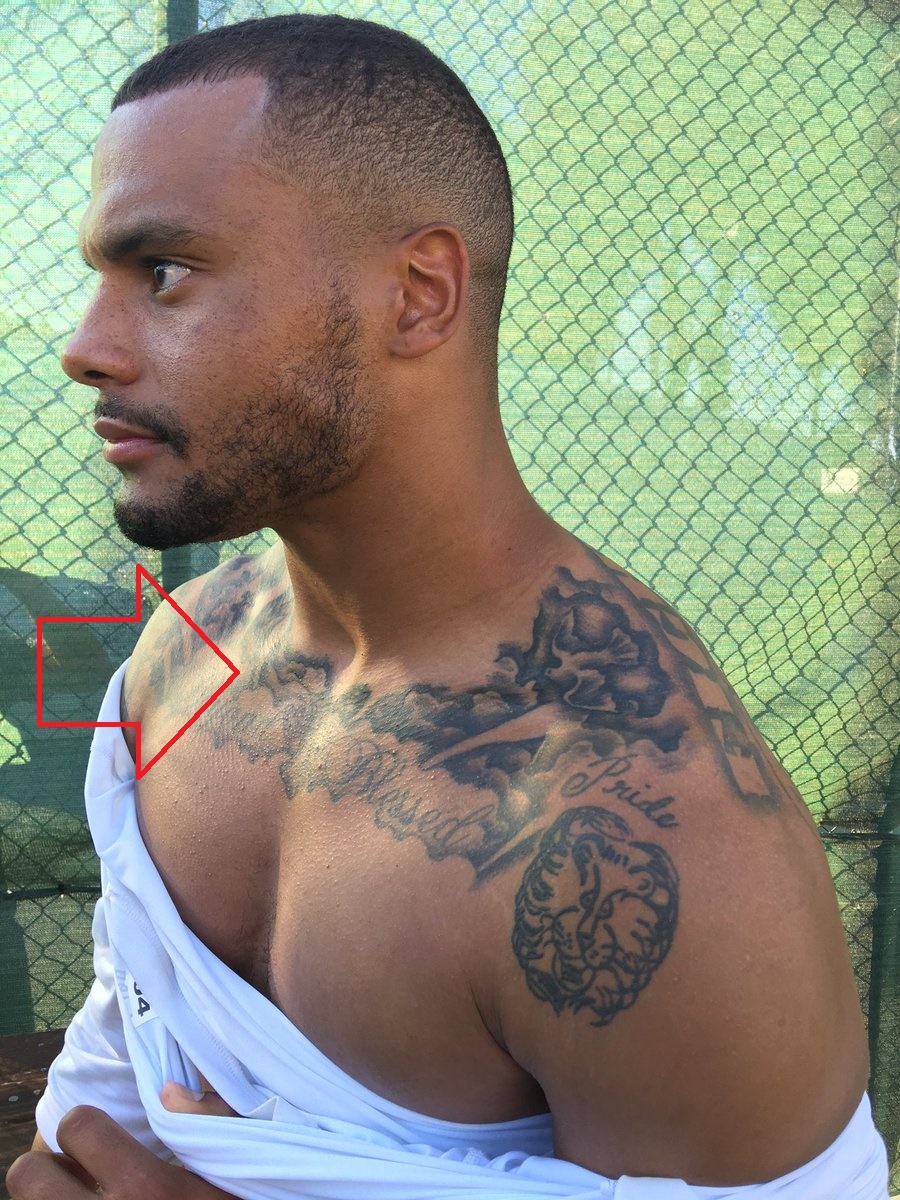 There is a design across his neckline and shoulders which consists of clouds and a bird flying high in clouds.
12. '135' Tattoo

Tattoo: Dak has 135 inked near his right wrist. 135 represents his draft position.
13. Stomach Tattoo
Tattoo: There is an unknown tattoo inked on the left side of Dak's stomach.
14. 'MOM' Tattoo
Tattoo: Dak has 'MOM' inked on his left wrist. He has been very close to his mother. When his mother died of cancer, he got this tattoo inked on his left wrist. His mother away after a battle with colon cancer during his first season with significant playing time (2013).
My mother always drew this cartoon lion. Took her like three seconds. Her whole life she'd just scribble it real quick for me. So our last Easter together I asked her to draw it. A bunch of lions is a pride, so that's why I put 'pride' there. It's not just a tattoo of a lion. It's her drawing of a tattoo, from our last Easter. It really means something every time I see it."
15. 'Est 1993' Tattoo
Tattoo: Dak Prescott was born on 29th July 1993. Thus a tattoo which represents his birthyear lies on his right forearm, which says, 'Est 1993'.