Conor Mcgregor has been at the top of the wrestling scenario since a while now. Apart from his aggressive wrestling style, he is pretty famous for his tattoos. He has some impressive ink-work done on him. Let's dive in to know more about it.
1. Arabic Writing On Heel
The UFC star has Arabic writing on his heel which he doesn't know the meaning of. He was quoted saying-
"This was my first, when I was drunk… I got it in Ayia Napa for €20. It could mean anything."
2. Crucifix On Neck
Conor has a winged crucifix inked on the back of his neck. Due to which he is perceived as a Catholic by religion, to which Mcgregor disapproves saying he does not believe in any religion. He was quoted as saying-
"f*** politics and f*** religion"
3. Thorny Helix On The Back
Below the crucifix, Mcgregor has a helix of thorns going towards his lower back. The meaning behind it is unknown though.
4. Silver Gorilla On His Chest
Conor Mcgregor has a silver gorilla wearing a crown and holding a heart in the mouth inked on his chest. On being asked about the tattoo, Conor said-
"I just like the way it looks."
5. Rose Bush On His Forearm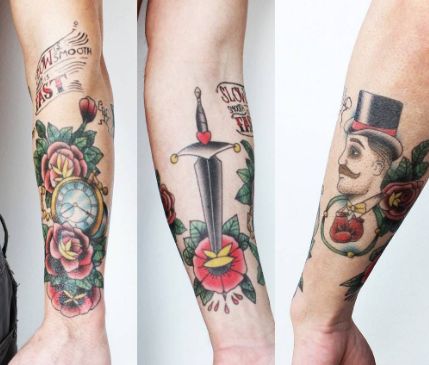 Mcgregor has a rose bush along with a clock showing 3:35 pm (although the significance of which is unknown) inked on his left forearm. The tattoo also has a large dagger through a separate rose on the inside. The back of the tattoo bears a figure of a gentleman wearing a top hat.
6. Motto On His left Elbow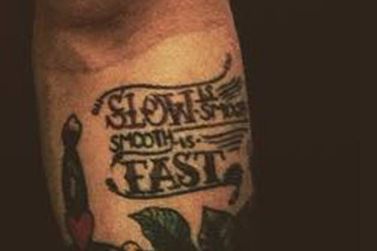 Conor Mcgregor has "slow is smooth, smooth is fast" inscribed just above the rose tattoo. The saying is a common motto of the special training units such as NAVY seals.
7. Tiger On His Abdomen
Conor has a tattoo of a tiger's head on his abdomen. He believes tiger is a very courageous animal. He studies the movement of animals and incorporates their style of attack in his training.
8. Name On The Abdomen
He has "MCGREGOR" inked above the tiger and his nickname "NOTORIOUS" inked below the tiger. Both the words are inked in stencil writing on his abdomen