The geisha tattoo is adored by those individuals who are fond of the Japanese culture.  Most often a geisha tattoo is depicted by a woman wearing a colorful kimono.  Nowadays, only a few women desire to become a geisha due to its rigid and lengthy training.  However, geishas can still be seen in different restaurants and hotels in Japan.  Nonetheless, being a part of the Japanese culture, geisha are commonly used in artworks such as tattoos.  It is considered as a significant part of Japanese tattoos.
A Geisha tattoo is very popular because it represents a woman with a rich history.  A Geisha is a well-educated young lady who entertains men.  Some people think of them as prostitutes but they are entirely different because they are professionally trained.  Their job is to sing, dance or play instruments to men.  Geishas are also knowledgeable about Japanese history and culture so as they can provide an interesting conversation with their male clients.  Geisha tattoos represent the ideal woman which is not only beautiful and sensual but also intelligent and with good manners.
If you desire to have a geisha tattoo for your next ink then here is a collection of fabulous tattoos and designs to inspire you.
IDEAS FOR GEISHA TATTOOS
Just like the other kinds of tattoos, a geisha tattoo also has a number of common body placements. It is common in a way that this is where a lot of people prefer to place their tattoos. Here are some of these body placements that you might want to take into account:
Tattoo on Shoulders – Shoulders are great locations for this tattoo. In fact, a lot of people in the past preferred having this tattoo on their shoulders.
Tattoo on Back– There are some cases that this tattoo will involve bigger designs. This is the main reason why you also need to have a wider body part where you will place it. This is where your back part comes into play.
Tattoo on Chest – Chest is also a good location. It is also the perfect placement if you don't want your tattoos to be very obvious to many people around you.
Tattoo on Legs– Legs can also be great for the location of this tattoo. You can decide whether you want to place the tattoo in the right leg, left leg, or in both legs.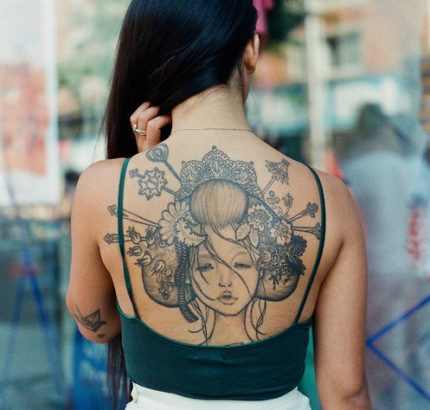 This geisha girl tattoo for the upper back is clearly the work of a master craftsman. Make a note of the authenticity of this tattoo exhibit, when compared to the geisha culture of Japan and look closely at the ornate traditional geisha headgear.
This tattoo definitely has an old-world charm that is hard to beat. Look closely at the subtle use of the color shade soft pink that is almost barely there. The fine shading and the ornate floral motifs only add on to the overall appeal of this fine work of art. Not easily replicated, you would most probably need to spend some time finding the perfect tattoo artist to inscribe this piece of art on your skin.
Very few tattoos with a geisha theme happen to suit men and considering that this tattoo is truly unique. This upper arm geisha tattoo stands out for excellence and its fine artistry. Look closely at the subtle use of color and you are sure to be spellbound.
This geisha tattoo stands out for the vibrant use of colors such as orange, Prussian blue, and coral blue. Make a note of the authentic kimono design that adds to the overall appeal of this awe-inspiring geisha tattoo.

This wrist tattoo effectively depicts a bashful geisha and is sure to have everyone's attention on you. Stick to the authenticity of this piece. If you wish to have it replicated on your skin, then its best to seek out the services of an expert tattoo artist so as not to mess up this brilliant piece of art.
This geisha tattoo with its expert shading and general artwork stands out very unique. For its use of the color charcoal grey that gives this tattoo the quality of an old black and white photograph that has been slightly withered by the ravages of time. This tattoo has great retro appeal for those with a passion for old school art and collectibles.
Contemporary Geisha Design
This contemporary geisha girl tattoo is for those who apparently like to give a modern twist to traditional art and cultures to reinvent and give it a new relevance in today's world. It's not hard to notice that this Geisha with her high heels and abundant cleavage has definite sex appeal.
Traditional Geisha Tattoo
This geisha tattoo is clearly inspired by geisha depictions in traditional art from Japan. It's not hard to notice the ornate and intricate design that the country of Japan is known for.
This geisha doll tattoo is apparently well suited to feminine taste, with a clear cuteness factor this geisha doll tattoo is sure to appeal to a woman's heart.
The geisha tattoo design for men above is entirely adaptable with a mix of numerous elements and hues that mixes great. The customary geisha tattoo beneath looks extraordinary when worn by a man given the multifaceted nature of the configuration with the geisha highlight looking entirely engaging with the lovely outfit and the all-around styled hair. The way the hues have been utilized on the geisha tattoo outline underneath makes it look absolutely breathtaking. Utilizing one shading for every component makes each element on the tattoo to be outwardly improved and predominant. The utilization of dark, red and green makes such an impeccable mix making the entire tattoo look very tasteful.
Sophisticated Geisha Tattoo
The geisha tattoo design meaning underneath is an impeccable articulation of an educated, exquisite geisha with awesome abilities to captivate and impact men. The haircut and the outward appearance is all temptation with the eyes completely centered around her optimal man. The hues utilized as a part of the tattoo looks incredible and mixes well with the wearer's composition. This tattoo looks stunning when drawn as a major tattoo, and any prepared tattoo craftsman will let you know that enormous tattoos look choice when inked on areas like the thighs. The thighs have all that could possibly be needed space, thus you can attract the tattoo any configuration you wish.
The geisha tattoos for women can be utilized to mean polish and excellence in ethnic geisha attires. Everything that a lady expected to wind up a geisha could be educated by others in the business or by ladies who worked in showing young ladies how to become a professional geisha or how to adapt the features of ethnic geisha. Be that as it may, regardless one must be lovely, and there were no two courses about this. Because of this the geisha's were known not extremely wonderful ladies, thus numerous individuals utilize their tattoos to symbolize magnificence. The style was likewise part of being a geisha, and one couldn't succeed in the business without it thus you can utilize a geisha tattoo to demonstrate your polish.
While some geisha are known for their dance skills, some for their beauties and the others for their elegance. Here is a lifelike a geisha tattoo covering the rib side of this woman where the geisha is woven into a platform of elegance and grace with her traditional ties close by to her. Holding onto her umbrella she smiles coyly at the looker while the soft blue passes off a sign of calmness and peace.
Full Geisha Tattoo Designs
This is another geisha tattoo design. The geisha here is shown in her bubble, full length poised to grace with her traditional Japanese kimono and hand fan. The blue floral at the back and the frivoling butterfly adds exuberance to the artwork. With regards to imaginative brilliant body workmanship in the human structure, not very many tattoos can contrast with the geisha. An image of excellence and riddle, wrapped in an energetic brilliant kimono, she is slim in assemble and wears white cosmetics and a dark wig or expansions. It is one of the best geisha tattoo designs for women.
While some geisha are presented soft and doll-like, this geisha is somewhat different than the masses. She has her strong warrior look on. Her hair fringed on the front is pushed up in a traditional hairdo as she rocks a kimono against a floral background. Taking a gander at the level of preparing the Japanese geisha's were to experience to be important for giving organization and amusement to men, it can plainly be seen from the geisha tattoo outline the genuine excellence the young lady's exhibited and advancement in dressing and gems that they enhanced. Relating to geisha tattoo-like in the tattoo outline underneath in to be sure an exhibition of excellence and polish in the character of the wearer.
The geisha tattoo design meaning above looks very rich with the streaming ensemble and the botanical hair outline. The outline fits impeccably well on the back of the body with the facial make-ups and the adornments mixing superbly well. The move moves make the entire configuration look staggering. Geisha tattoos come in various sizes and styles and there is a significant number that the tattoo mates can browse. A portion of the elements that inspire the memory of the Japanese geisha is the dark wig with embellishments, the porcelain face and the wonderful "kimono" which makes an air of puzzle to a geisha. Geisha are known for their great moving aptitudes, thus this tattoo tries to bring this out. Despite the fact that a tattoo is a static picture, it can be attracted a way that will imitate a moving stance thus it will be straightforward the message in the picture just by taking a gander at it.
Geisha are known for their beauty and here is one in her shy pose looking down as her Japanese attire is brought to light through detailed artwork. The floral on top of her head adds zeal to the picture. This is a standout amongst the most delightful geisha tattoo outline that is very much inked with impeccable shading mix to run with it. As a mark with most geisha tattoos, the hair is superbly finished with the joining of blooms and the tree making it look entirely captivating. You can sport this type of geisha tattoos that will give spark attention from others.
Geisha are basically wonderful ladies who are reproduced and prepared in the specialty of seducing any men. This was not as a matter of course confined to satisfying them in bed, but rather is the ideal performer or friend, regardless of the fact that on an impermanent premise. Geisha were required to be all around prepared, rich, capable of singing and moving, knowledgeable in discussion and keep up the capacity to be great audience members. Basically, they were prepared to be the ideal partner, however, their notoriety invalidated their status – since they were shared prizes, they were regularly not allowed to wed. The customary geisha tattoo for women in the picture shows the charming and enchanting look with which the geisha's tempted men with her entrancing. The geisha tattoo outline looks delightful with the whole body secured with lovely aesthetic work. The hues utilized likewise mixes well with the wearer's body composition. This is one of the popular geisha tattoo designs for men.
Here in this tattoo, the geisha has a subtle comical look in her. Geisha are known for their beauty and skills and this geisha is no different. Her beauty is here overpowered by the traditional Japanese headdress with subtle intricate detailing in pearl white that attracts the eyes instantly. Even the background has a slight wooden texture that brings out the geisha in the foreground. This is one of the beautiful geisha tattoo designs for women.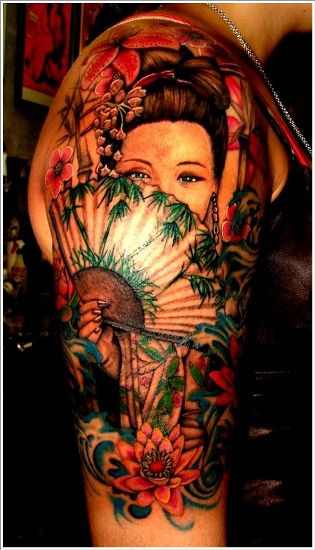 Geisha are traditional Japanese female entertainers known for their beauty and skills when it comes to sing-song and dance. Portraying the same rich Japanese culture, a geisha is shown in this forearm tattoo covering half of her face with the traditional Japanese hand fans while the background showcases a deep floral pattern. The minute details from the hair to the eyes have been executed very precisely.
The Japanese conventional geisha tattoo outlines indicate how complex the geisha young ladies were, however, there is a misguided judgment of the young ladies being utilized for sexual adventures. The young ladies are found out and prepared in their abilities and not the same as the whores. The Japanese geisha tattoo outline underneath looks cool on the women's thighs and the wearer unmistakably relates to the significance of the tattoo.
One thing to keep in mind while opting for a geisha tattoo is the fact that they are quite complicated and need detailed attention as well as expertise. So you must look for such a tattoo artist who has plenty of experience in inking these tattoos and can handle the job to perfection. It is his ability to bring out the beauty and grace of the tattoo which can make a real difference in its quality and appeal.