For those wanting to work on a sleeve or develop a larger piece, nothing quite parallels the vibrant, flowing aesthetic of the traditional-style tattoos of Japan. Drawing from an extensive range of themes and motifs originating from Shintoism, Buddhism, Daoism, and folklore from the Far East, these exquisitely meaningful tattoos can portray one's inner strengths, life ambitions, and spiritual aspirations.
Mixing almost all the Japanese inspired styles of manga, comic books, and anime into the world of tattoos and body art makes it a whole new segment. These quirky, witty and yet cute styles of tattoo are indispensable to this section of the art form. They are unique and stand out from the crowd. Despite being cute and extremely colorful, some of the designs stand for power and strength. On the other hand, if you like, you can also get a black and white design with intricate work done to have a grave effect, but we would personally recommend to get in some colors for that iconoclastic anime effect. The team of One Piece inspired tattoos includes Luffy tattoos, Zoro tattoos, and in fact, Chopper, Ace, and other prominent characters in the show.
This show is among the list of one of the most popular ones and there is no doubt about the fact that it might have millions of fans all across the globe. Fans have known to do crazy stuff to show their love for their favorite artists, shows or celebrities and getting a tattoo inspired by it is no big deal. This might lead you to recall the time when one-piece tattoo designs were in vogue and fans got crazy! Here is a list of amazing one-piece designs that will make you wanna get one immediately.
The straw hat skull looks extremely life-like. It is almost as if the original skull is being inked on the skin. The intricated lines of the skull and the hat makes the whole design worth of appreciation…not to leave the tattoo artist who created it behind!
This skull gives quite a realistic touch to the expected animated vibes out of an anime show.
The Jolly Roger here is looking vibrant with the beautiful color shades that are used to ink this deisgn.
Can you recall the time where these kinds of tattoo were fashionable? And the trend just caught on with the One Piece fans!
This is an amazing tattoo design for people who love to be creative.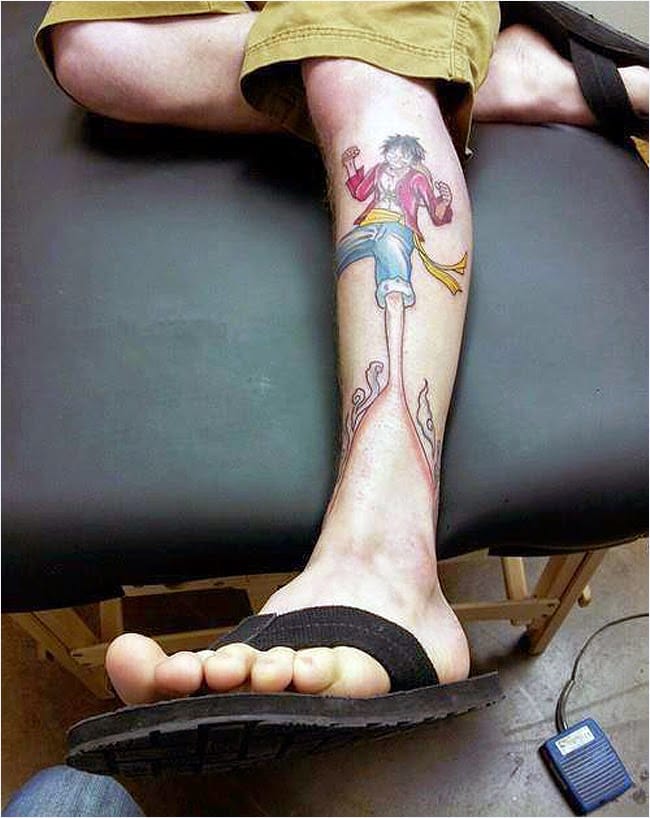 Meet the duo, Luffy and Chopper. Aren't they just playfully cute!?
No one can ever keep Nami out of their memory. In fact, she was the muse behind the Jolly Ranger, wasn't she?
Luffy and Toni Sending a Message
Brotherly Love- Ace and Luffy