Beautiful tattoos of flowers or fruits, when done skillfully, can make you appear more fashionable and calm, in contrast to scarier tattoos such as a skull. Apples and peaches, among other fruits, remain popular sources of inspiration for modern tattoo art. You can find at least one peach design that works for a tattoo on your leg, wrist, or anywhere else.
Meaning of Peach Tattoo Designs
The Taoists adopted the peach as a symbol of life and longevity because of its sweet taste. Peaches have a magical quality in Chinese mythology, and individuals who consume them will live forever. In Chinese culture, the peach represents long and prosperous life. It's a common design element on upholstered pieces, paintings, and ceramics. Those who suffer from diabetes often choose peaches as a regular snack due to their low-sugar content. As a result, many patients with diabetes acquire a peach tattoo to remind them of their condition.
Where Should You Get Peach Tattoo Designs
For Women
Ankle
Wrist
Finger Spaces
Hands
Shoulder Blades
Behind the Ears
For Men
Chest
Biceps
Legs
Neck
Back
Forearms
List of Peach Tattoo Designs & Meanings
Peach in Barbed Wire Tattoo Design on Arm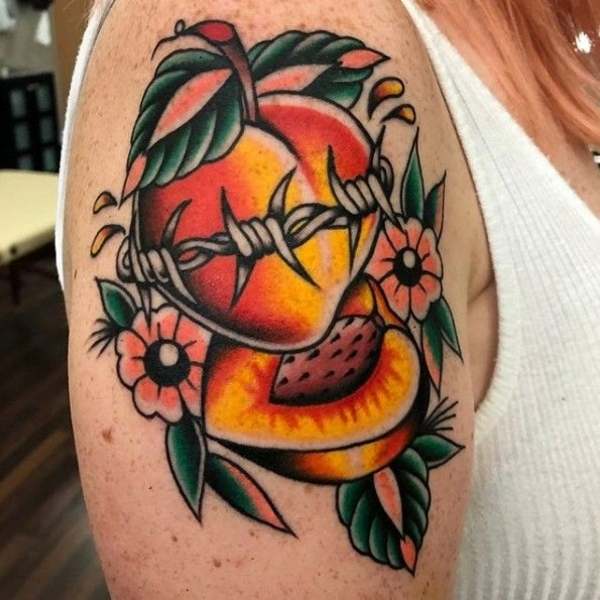 This peach tattoo is unique. The wearer flaunts the tattoo on their sleeve. The upper arm or the sleeve is a very popular place to get tattoos. If you want to go for a big or elaborate designed tattoo, then it will make up for a great place. The flowers along the peach tattoo inside a barbed wire really make this tattoo stand out.
Elaborate Tattoo Design on Thigh 
A peach tattoo on the thighs, which you can only reveal when wearing a bikini, is perfect if you're a woman or a lady who thinks body art ought to be a private matter. This elaborate tattoo looks really attractive on the side of the thigh.
Pirate(d) Peach Tattoo Design on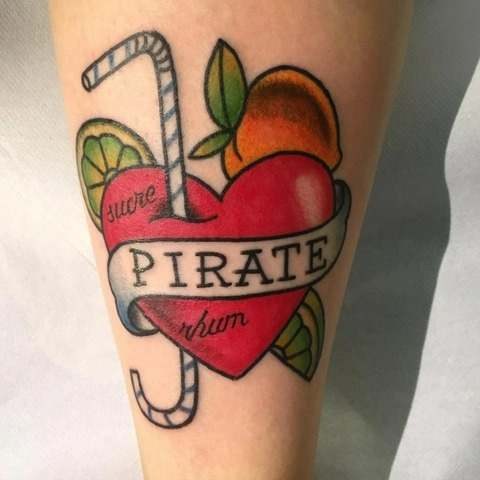 This pirate(d) peach looks really bright with an attractive red heart. There is a school of design that delights in humor and a sense of the ludicrous, even if many peach tattoos remain with the conventional orchard fruit, engraved in either classic black and grey or current realistic color.
Luscious Peach Tattoo Design on Arm
In China, peaches have long been considered a fruit of fortune. Peach blooms, peaches, and peach trees are said to fend off evil spirits, according to numerous ancient Chinese writings. Peach soup is therefore served on New Year's Eve to ward off evil spirits. This gorgeous peach tattoo is ideal for those who believe in the mysticism of peaches because of its vivid colors and fine shading, which makes it look very genuine.
Black and Gray Peach Tattoo Design on Bicep
Black and Gray peach tattoos are also popular. The half peach exposing the seed is a sign of erotic desires and needs. In today's world, where women are breaking all kinds of taboos, a half peach is a great way to express your desires.
Blue Flowers and Peach Tattoo Design on Thigh 
Blue symbolizes commitment, confidence, and trust. It is typically seen as a relaxed, soothing, and energizing tone that denotes intelligence and effectiveness. One of the most popular tattoo ink colors that complement both sexes and all skin tones is still blue. The blue peach tattoo tries to capitalize on the color's foundation and adaptability. Additionally, when getting your body tattooed, blue ink lasts longer on your skin. If you enjoy peaches or are from Georgia, you can get this one!
Peach Blossom Tree Tattoo Design on Leg
In Chinese culture, arrows were shot out of bows constructed of peach tree wood in all directions to drive away evil spirits. The word "peach blossom tree" in Chinese has come to mean "paradise." It continues to be associated with notions of a superhuman utopia in contemporary China. If you believe in the spiritual power of peaches, get this peach tree and peach tattoo.
Simple Peach Tattoo Design on Ankle
Peach is a perfect tattoo to get on places like ankles and wrists. Since it is a  fruit that's small, the tattoo does not occupy much space. This kind of tattoo adds a quirk to your personality. If you're looking for a small tattoo to get on your ankle, then here's what you should go for. If you're not a fan of black and white, then you can add color to it or get a colorful outlined peach tattoo.
Tiger Peach Tattoo Design on Arm
The peach may be more well-liked by females, but it also flatters males. A peach tattoo is lovely and appropriate for both men and women. Small, bright, and realistic in appearance are the tattoos of choice for most people. Like this tattoo is suitable for both genders. The wearer has added the face of the tiger to depict fierceness. You can also try something like this with your peach tattoo.
Butt Emoji Peach Tattoo Design on Leg
Since they are commonly used as a substitute for the butt emoji, it is not surprising that people get it tattooed. Peaches have different meanings in different cultures. In China, they represent long life, whereas in the West they represent virginity, youth, and fertility.
Dotted Peach Tattoo Design on Arm
Some people could decide to get a tattoo of a single peach, but others would prefer a design with several. Incorporate additional motifs like leaves, branches, or flowers into your tattoo design. The thing that makes this tattoo stand out is the dot work. This kind of tattoo can take up a lot of time as the technique is quite difficult.
Vibrant Peach Tattoo Design on Arm
A peach tattoo might symbolize anything different depending on how warmly it is colored. Some people associate this cheerful, kind, and nurturing hue with lust. People find these interpretations to make sense, as it is a fact that being exposed to warm hues can also make you feel warmer on the inside.
Elaborate Peach Tattoo Design on Elbow
Some view the fruit as a representation of fortitude and tenacity. Whatever your perspective, it's crucial that you pick a design that makes you feel good and has significance for you. The wearer flaunts the tattoo on the arm. The dotted work and the shading work done is very clean.
Color Contrast Peach Tattoo Design on Thigh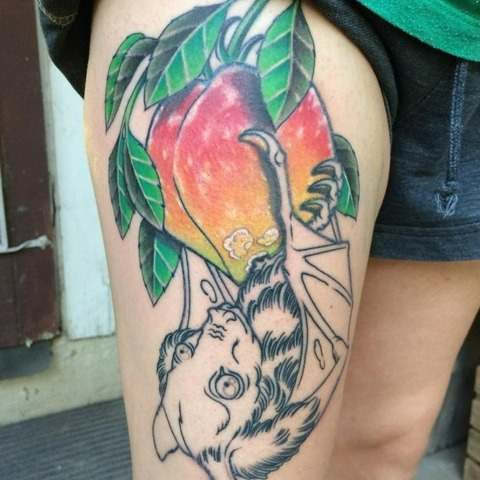 Well, tattoo really stands out from all the other ones.  Animals and Peaches are quite a unique pair. The wearer has placed the tattoo on the thigh and the colorful peach has placed the black and white bat. The bat is hanging on to the peach. The color contrast makes the tattoo look really attractive.
Knife Through a Peach Tattoo Design on Leg
Peaches' bright hues and spherical, juicy bodies are two of their greatest features, and they tend to make just about everyone's mouth wet. Tattoo enthusiasts often seek out "peach" designs since they are known for their vivid colors and striking patterns. here is another example of the peach tattoo with the knife through it.
Tiny Peach Tattoo Design on Chest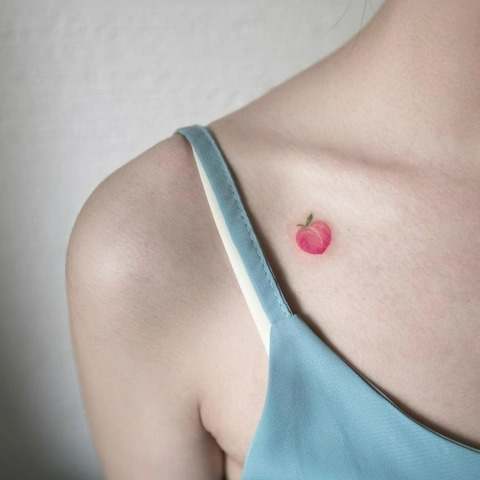 Did you know that a peach is a sign of immortality in Chinese culture? By having a straightforward peach tattoo, you can express your beliefs about money and abundance. The wearer flaunts this cute little tattoo on the collarbone. The small size along with the vibrant color looks very amazing.
Adorable Peach Tattoo Design on Arm
Isn't this tattoo super cute? The dreamy eyes, the face, those lips- everything about this tattoo is absolutely perfect. The leaf of the tattoo looks like a hair flick falling on the fade. If you're someone with a quirky personality, then this particular design is for you.
Bees on Peach Tattoo Design on Arm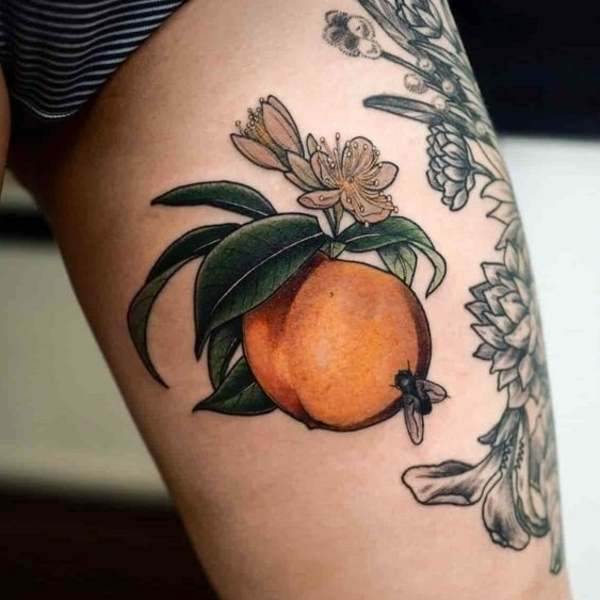 People can create their little peach tattoos in a variety of ways. The peaches with leaves, vines, or a solitary peach on a stalk appear to be the most widely used patterns. Multiple peaches or even other fruits and vegetables can be incorporated into various designs. Peaches are frequently coupled with other symbols like hearts or flowers. The wearer of this tattoo has chosen bees and it really makes it stand out.
Animals Enjoying Peach Tattoo Design on Chest 
A peach tattoo may also represent life itself. With a tattoo of peach, some people choose to convey their secret passion, while others display it more overtly. Women's pelvic or chest region, where they simultaneously reflect sexuality and romanticism, is a favorite location. The wearer of this tattoo flaunts this very elaborate tattoo that includes cute animals enjoying the peach season.
Birght Peaach Tattoo Design on Chest
Tattoos are often done to remember certain things or incidents that changed your life. The peach tattoo is a good way to do it. According to diverse cultures, peaches symbolize a lot of things. Another way to commemorate your loved one is to do with a peach tattoo.
Just Peachy Peach Tattoo Design on Arm
While most individuals choose peach tattoos because of their bright colors and attention-getting details, this black and white tattoo lacks both. Black and white ink have stood the test of time as classic tattoo ink colors; when used skillfully for deep shading, they highlight features and give the tattoo a rusty appearance. Buy this tattoo in grayscale with a witty saying, such as "Just Peachy."
The scenery in a Peach Tattoo Design on Arm
This particular peach tattoo design stands out from the rest. Well, many people pair up peaches with different things like flowers, hearts, etc. this wearer flaunts the tattoo on the arm. Inside the peach, the wearer has chosen a dark red color to probably represent the horizon and a road through it. It stands as a symbol of the "right direction" for the wearer.
Vibrant Peach Tattoo Design on Arm
Both men and women can be seen with the well-liked peach tattoo. Throughout history, this fruit has been linked to a variety of concepts, including love, fertility, beauty, and wealth. The wearer has paired the peach tattoo with various other colorful objects which makes the entire sleeve look really abstract and colorful.
Monochromatic Outlined Peach Tattoo Design on
You can never go wrong with black and white tattoos. This tattoo is an ideal example of how you should get your monochromatic black outline tattoo. This tattoo is crisp and sharp. If you want to get a decent peach tattoo in black and white, then here is your pick.
Tiny Peach Tattoo Design on Ear
An eccentric peach sign can be used to express your playful side or to remember a good occasion. A peach tattoo can also serve as a representation of your appreciation for the fruit owing to its juicy and fuzzy qualities. The wearer has found a distinct placement for the tattoo i.e, the ear lobe.
Bitten Peach Tattoo Design on Back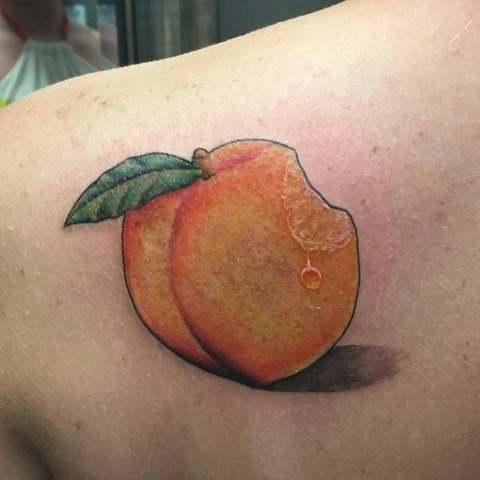 A large peach design can be applied to the sleeves of men who want to show off their masculinity. When professionally applied, the tattoo will stand out against the skin tone, enhancing the beauty of your entire personality.
Arrow Through a Peach Tattoo Design on
We can all agree that peach tattoos are always cute. Well, this one is even cuter. In this tattoo design, there's an arrow going through the peach. The sparking ends of the arrow add a little touch of magic, which is often related to the peach. The tattoo is suitable for first-timers.
Hand Holding a Peach Tattoo Design on Back
You can do a lot with the peach tattoo but some people also overdo it. Well, that's not the case with this wearer. The tattoo design is a hand that's holding the peach. The hand sustains an intricate geometrical design and the red nail paint on the nails also looks really bold.
Blue Flowers and Peach Tattoo Design on Forearm 
Both traditional European painting and Chinese art regularly feature peaches. Since the Renaissance, peaches have been more well-known in the world of art, appearing in works by some of the most talented artists, including Claude Monet, and Van Gogh,   Whereas the fruit shown within these artworks is typically the standard peach in a wilted shape, this colorful and striking peach tattoo design seeks to innovate. The splash of vibrant colors and the overall bold strokes evoke joy and all the good feelings that peaches are known for.
Colored Outline Tattoo Design on Arm
This peach tattoo looks really cute on the arm. This tattoo is perfect for those who are looking to get inked for the first time. You cannot go wrong with this tiny peach tattoo and it will look great too.
Vintage Peach Tattoo Design on Arm
If you don't want too much color and also don't want to go black and white, then you can surely forgot this vintage-looking peach tattoo. As it is already mentioned above the peach has been around for a very long time, so it only makes sense to make it look vintage.
Peaches Tattoo Design on Shoulder 
It isn't always important that you should get a peach(fruit) tattoo made to express yourself. Like the wearer of this tattoo, you can also spell it out. This is quite an unconventional way of expressing your love for the fruit.
Watercolor Peach Tattoo Design on  Leg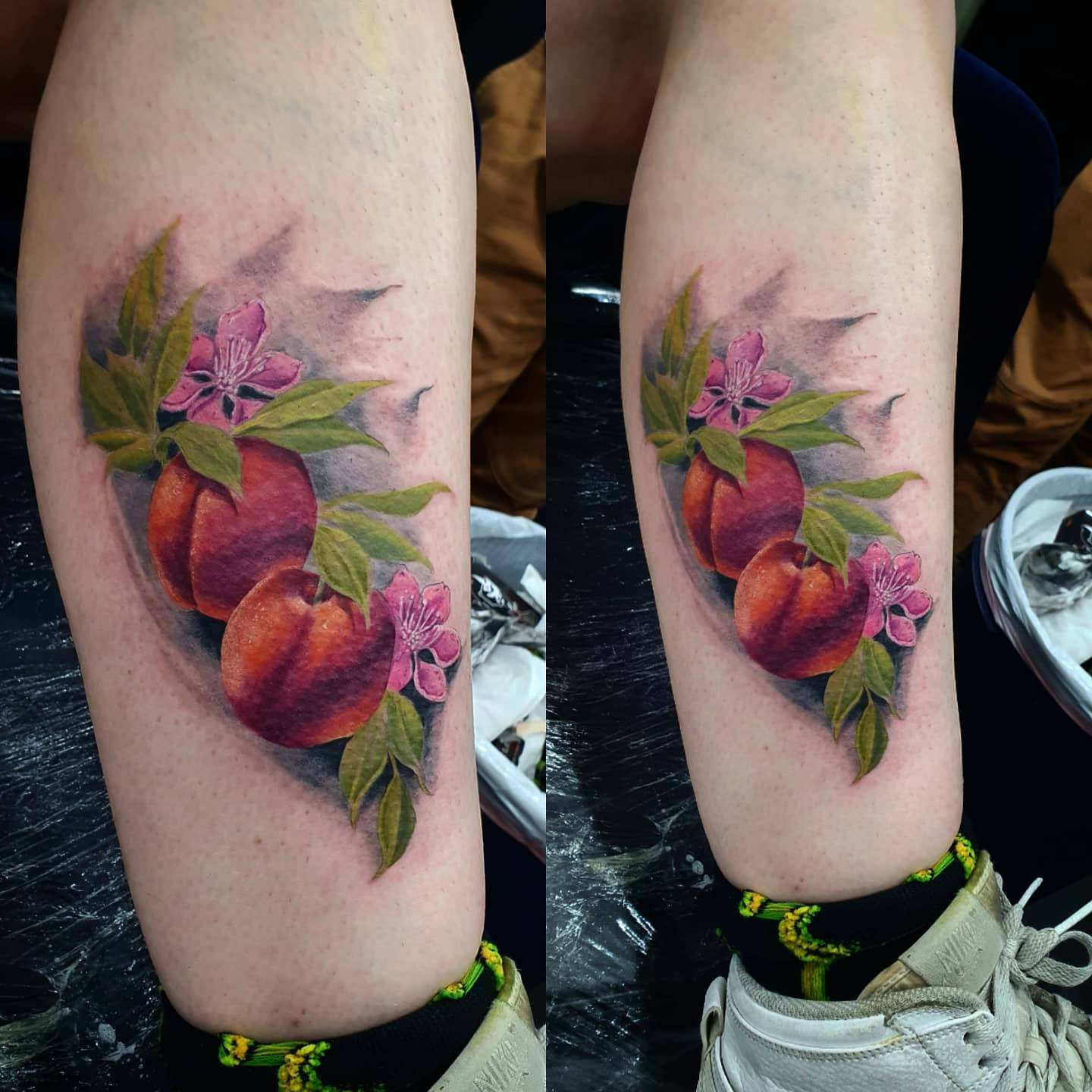 Watercolor effect tattoos are getting quite popular, so why not get the peach in a watercolor effect? The wearer flaunts the tattoo on the leg and has chosen a pair of peaches. The tattoo with its vibrant and dark colors looks quite realistic.
Peach tattoos tend to be smaller in size, with a concentration on clean, well-lined artwork. While you might find them in hip neotraditional tattoos, you're more likely to find them in intricate linework or photorealistic renderings of the human body. Peach tattoos are a great example of a tattooist's color palette diversity, showcasing their skills with neon ink designs as well as gentler watercolor variants for the golden blend of yellow and orange.