Luis Alberto Suárez Díaz is an Uruguayan professional football player who plays as an attacker for the Spanish club, Barcelona and the Uruguay National Team. Luis is regarded as one of the best strikers in the world and has won 18 trophies throughout his career that include which include six league titles, a UEFA Champions League title, and a Copa América.  Suárez has won two European Golden Shoes, an Eredivisie Golden Boot, a Premier League Golden Boot and has 475 goals to his name in his professional career for both club and country. Luis has also represented Ajax and Liverpool football clubs before joining Barcelona in 2014. Luis has some interesting tattoos on his body that tell his story. Let us take a look at the ones he has and explore the meanings behind them.
Neck Tattoos
1. Name Tattoo
Tattoo: The right side of Luis' neck contains the name, "Luis" tattooed on it.
Meaning: Luis represents the footballer's own name, Luis Suárez.
2. Hand Tattoo
Tattoo: The left side of his neck contains a tattoo of a hand doing a gesture with the index finger, middle finger, and the thumb extended out of a fist.
Meaning: This is the gesture that Suárez does to celebrate his goals. It is a tribute to his wife and kids. The celebration was first seen when he scored a hattrick against rival club, Real Madrid.
Arm Tattoos
3. Design Tattoo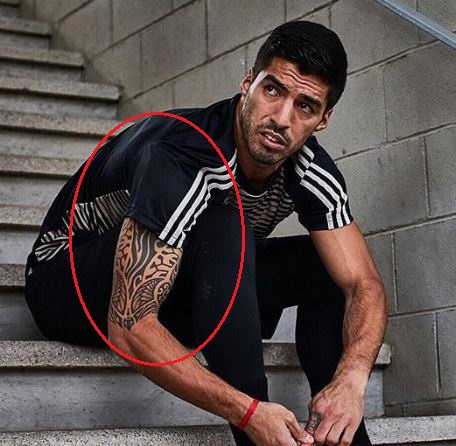 Tattoo: The right shoulder and upper arm of the footballer is covered in a large tattoo design that consists of leaves, vines that cover his upper arm and encase a circular shape, containing a star tattooed on his shoulder.
Meaning: The design was an extension to a tribal tattoo that he used to have on his upper arm and one which he grew bored of.
4. Name Tattoo
Tattoo: The inner side of his right forearm contains three names tattooed on it. The names are, "Lautaro", "Benjamin", and "Delfina".
Meaning: Luis got these names tattooed to show how much he adores his children,Lautaro Suárez, Delfina Suárez, and Benjamin Suárez.
Hand Tattoos
5. Letter Tattoo
Tattoo: The ring finger of his right hand contains the letter, "B" tattooed on it.
Meaning: Luis got this tattoo to show his love for his wife, Sofia Balbi by getting her surname's letter tattooed on the ring finger.
6. Lion Tattoo
Tattoo: The footballer's left index finger contains a tattoo of the face of a lion on it.
Meaning: This is a matching tattoo that he got with his wife, Sofia who has the face of a lioness on her left index finger.
Leg Tattoos
7. 'SOFI' Tattoo
Tattoo: The inner side of Suarez's left lower leg contains the name, "SOFI" tattooed on it vertically.
Meaning: This is another one of his tattoos that represents how much he adores his wife. Luis calls his wife, Sofi and got the same tattooed on his leg.
8. Date and Words Tattoo
Tattoo: The backside of his left lower leg, a little above his ankle contains a tattoo of the date, "27-07-2011" on it. Below the date are the words, "Campeones De America" tattooed.
Meaning: Suarez got this tattoo to celebrate one of the greatest achievements of his career. This is the date when Suarez won the Campeones De America, also known as Copa América trophy with the Uruguay National Team by defeating the Paraguay National Team. Suarez was also named as the best player of the tournament.