The Disney darling turned pop star, Miley Cyrus seems to have a thing for body art and is on tattoo spree since she was 17. The star has already got an impressive collection of tattoos and there is no sign of her stopping anytime. From her very first tattoo "Just Breath" to the most recent ones, here is everything you wanna know about Miley Cyrus's tattoos and their meanings.
1. Just breathe

Miley got her very first tat at the young age of 17. It should not come as a surprise considering her father's love for ink, getting permission would have been a walk in the park. She chose to get the words "Just Breathe" inked on the left side of her rib cage as her first tattoo. It was a tribute to her friend Vanessa who died due to a lung disease in 2007 and her grandfather who also died of lung cancer. Miley says, "It reminds me not to take things for granted. I mean breathing – that was something none of them could do, the most basic thing. And I put it near my heart because that is where they will always be."
2. "Love" tattoo inside her ear
"Love" was inked inside her right ear in 2010. Miley says, "I have 'Love' right here to block out all the crap that everyone throws into your ears…I don't really care about it. (You're) only supposed to hear the things coming from the people who genuinely love you." According to her in this world full of negativity all you need to hear is love as love is what makes the world go around.
3. Heart
Miley Cyrus got her third tattoo in the shape of a heart inked in September 2010 on the outside of her right pinky finger. Rumor is that this tattoo is shared with every adult in her family. Billy Ray Cyrus was the first to get it in 2008. Miley's mother also has a heart inked on her pinkie finger. Her brother and sister are also said to have a similar heart tattoo. Though the meaning behind the tattoo is a bit of a mystery we suppose it signifies love for family and friends.
4. A tiny black cross tattoo
In December 2010, Miley got a tiny black cross inked on her finger making it her fourth tat. Miley has been raised in a Christian family and she feels God's influence on her life, so this tattoo probably symbolizes her deep Christian faith.
5. The Dreamcatcher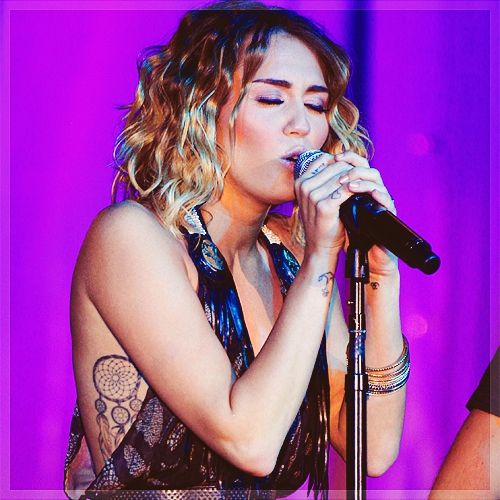 Inspired by Native American imagery, Miley got her fifth tattoo- a dreamcatcher inked on her right side just below the armpit. The tattoo has four beaded feathers hanging from a woven hoop. Each of the feathers represents and protects her four siblings. This tat was inked in December 2011 and has till date been the biggest Miley Cyrus tattoo.
6. The peace sign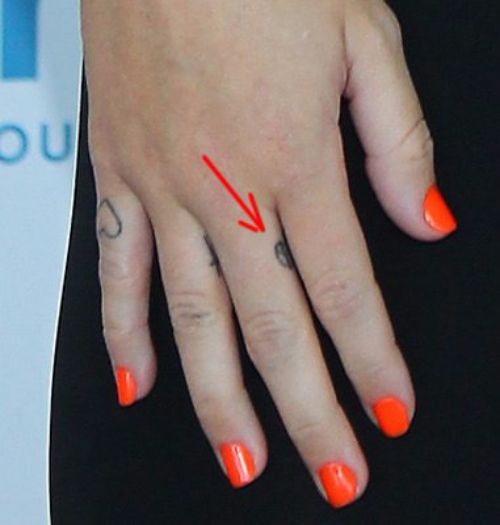 A peace sign was inked on Miley's middle finger of her right hand in May 2011. The tattoo began as a single black line and turned out to be a peace sign a couple of months later. Mysterious huh! Just like the meaning behind it.
7. Anchor tattoo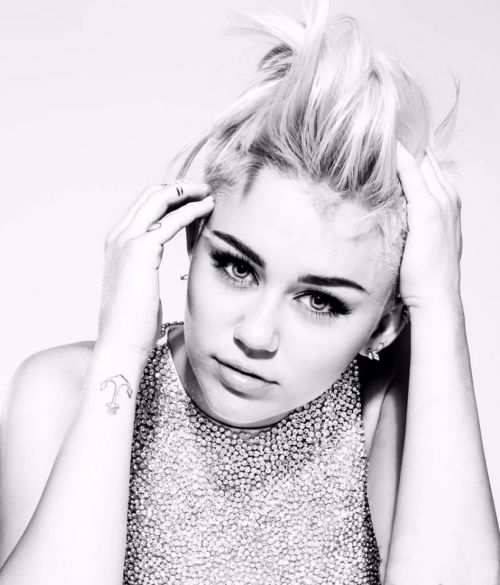 Miley got a small black and white anchor inked on her wrist during her Gypsy Heart tour in Brazil. The tattoo is a reminder to always have your feet on the ground. It also symbolizes a "safe port."
8. "Karma"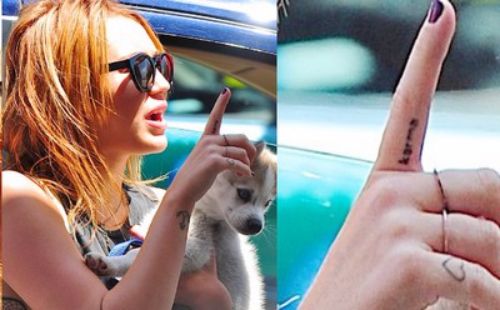 The tattoo on Miley's right index finger reads "Karma" in small, black lower-case letter which she got in July 2011. Karma refers to a Hindu belief that good things will happen to those whose deeds are good and pure while the people who do wrong and bad deeds will be punished.
9. Equal sign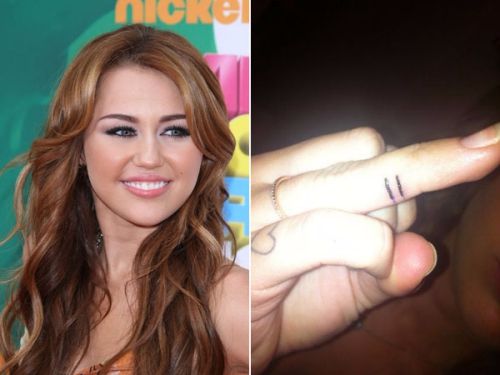 In support for gay marriages and LGBT rights, Miley got an equal sign on her right finger in July 2011. This tattoo is one of her most controversial tats yet. She even received death threats from those who opposed it.
10. The sugar skull
Miley and her fiancé Liam Hemsworth got matching tats of a tiny sugar skull on the inside of their right feet. The lovey-dovey couple was first spotted with the tattoo in August 2011. The sugar skull is a symbol that is linked with the Day of the Dead– a Mexican holiday.
11. 'Om' symbol
In September 2011, Miley got the symbol 'Om' inked on the inside of her left wrist. This tattoo again depicts a Hindu religious symbol that represents the Universe. Being the second tattoo showing Hindu beliefs after 'Karma' the tattoo drew a lot of criticism as some believed that the pop star is embracing Hinduism.
12. 'Love never dies'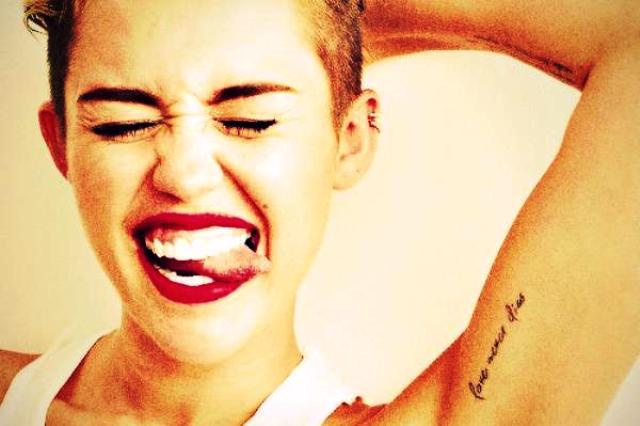 'Love never dies' was inked in small letters on the inside of Miley's right bicep in February 2012. Rumor has it since Miley's boyfriend was by her side when she got the tat, it's possible that Liam was the inspiration behind this new ink.
13. Evil eye tattoo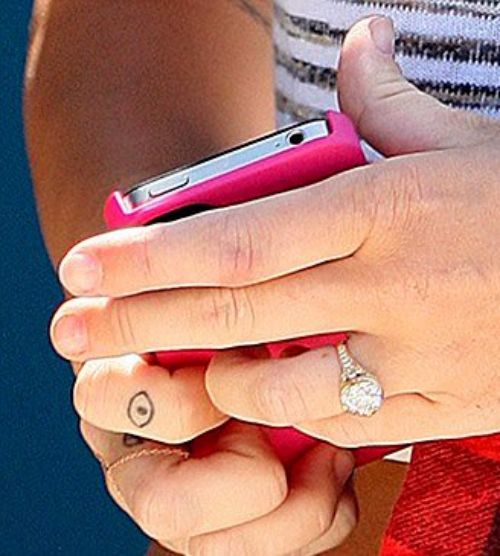 As Miley's 13th tattoo, she got an evil eye inked on her right index finger. It is a Middle Eastern symbol for protection. The tat is believed to protect Miley's beloveds and possessions from the eyes of envy.
14. Roman numeral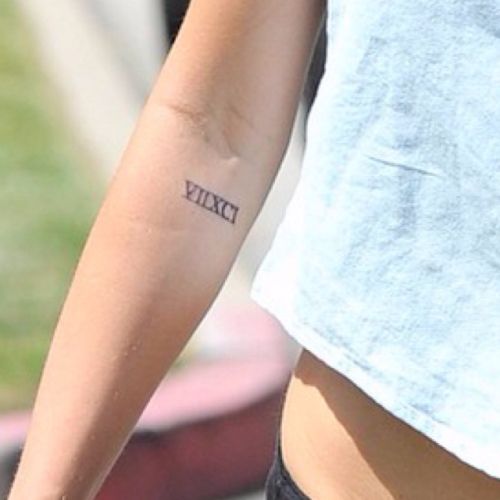 Roman numeral 'VIIXCI' are inked inside Miley's left elbow. The tattoo is a bit of a mystery that needs to be uncovered since Miley has not spoken about the tattoo.
15. Quote by Theodore Roosevelt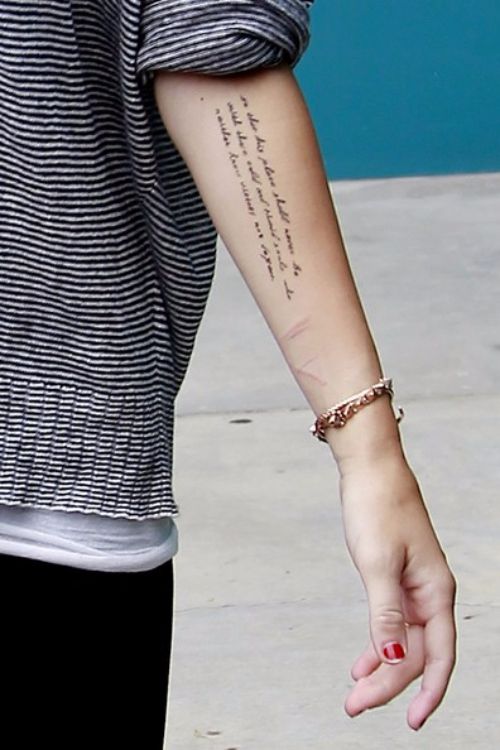 A quote from Theodore Roosevelt "Citizenship in a Republic" saying "so that his place shall never be with those cold and timid souls who neither know victory nor defeat" is inked on the inside of Miley's left forearm. The speech is about the difference between those who try to do things and might sometimes end up failing, and those who just stand to do nothing except criticizing. The tat is a reminder to live life without the fear of failure or criticism.
16. "Bad"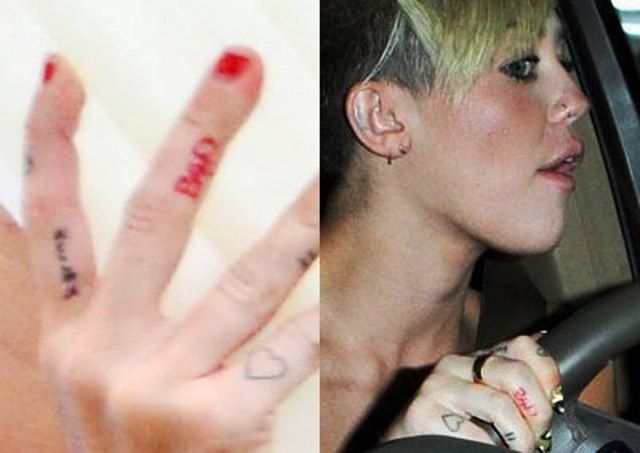 There's no stopping to Miley's finger tats as one more joins her six other tattoos on her fingers. The pop star got the word 'Bad' inked on the outside of her right-hand middle finger in red. The tattoo seems to be an MJ inspired. Bad is the title of one of Michael Jackson's album.
17. Crossed arrows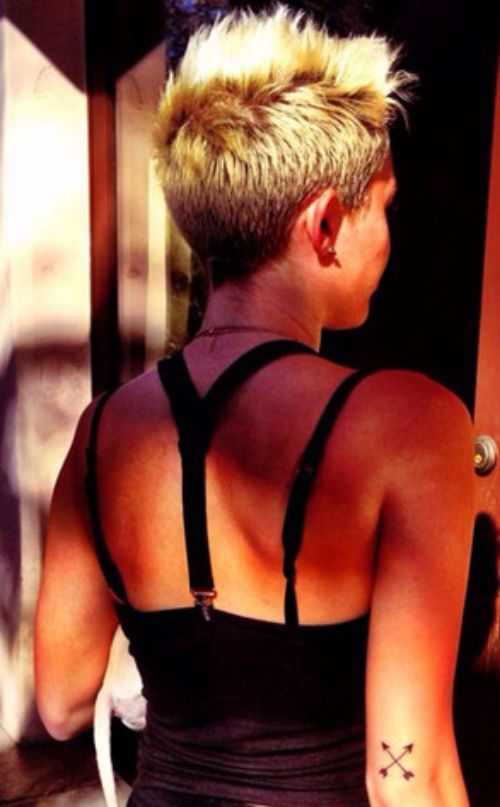 Miley unveiled a new crossed arrows tat on 1st February 2013. The tattoo is yet another symbol from Native American tribes which represents friendship. Miley sure is proud of her Native American heritage.
18. Da Vinci heart drawing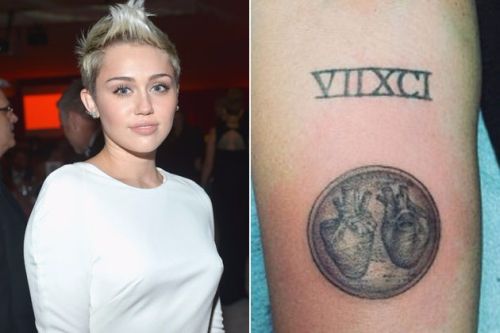 Below the Roman numeral tat on her left forearm, Miley added a circular emblem which is an anatomical drawing of a heart by Leonardo da Vinci. This tattoo too remains a mystery.
19. Claw tattoo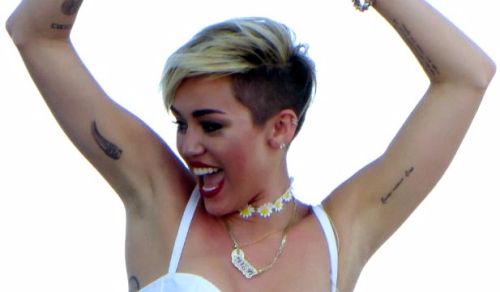 Miley got a claw tattoo inked on her right bicep on August 4, 2013. The tattoo appears to be a bear claw tattoo which represents healing or physical and inner strength.
20. Rolling Stones tattoos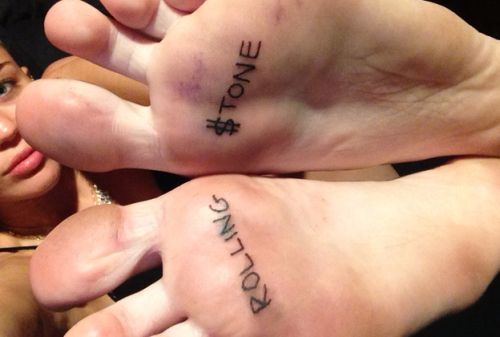 The pop star got the word "Rolling" inked on her right foot and "$tone" on her left foot. The tattoo is said to be a celebration of her featuring on the cover of Rolling Stone Magazine.
21. Grandma's portrait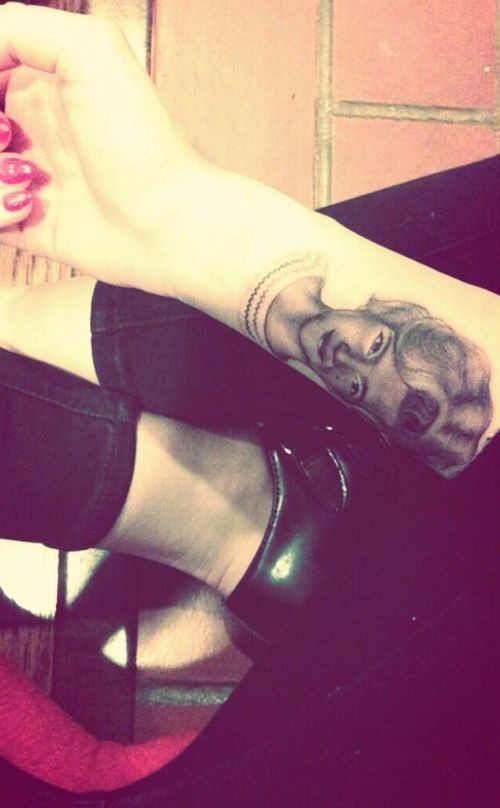 A beautiful and intricate vintage portrait of Miley's grandmother, Loretta Finley decorates her right forearm. Miley shared a pic of her new tat on Twitter with the caption "Because I am her favorite and she is mine." Well, that explains a lot.
22. The sad kitty tat
The pop star got a bizarre tattoo of a sad kitty inked inside her bottom lip. The tat features a small black and yellow kitty with a single blue tear.
23. Tongue tattoo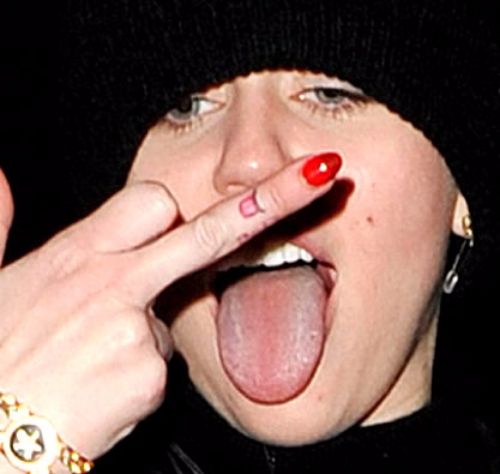 Another one of Miley's finger tats is her small tongue tattoo inked on the outside of her right hand's middle finger. The tattoo features a small black smile with a red tongue sticking out. We are guessing this is how far Miley's obsession with tongue could go.
24. Tribute to her dog Floyd
Miley paid a tribute to her deceased dog Floyd by getting a tattoo inked on her left-side rib cage. The tat features the head shot of her late dog and the title of a song by The Beatles, "With a little help from my friends" in a speech bubble around Floyd. Two of Miley's friends also got the same tat in the same spot with Miley.
25. Triangle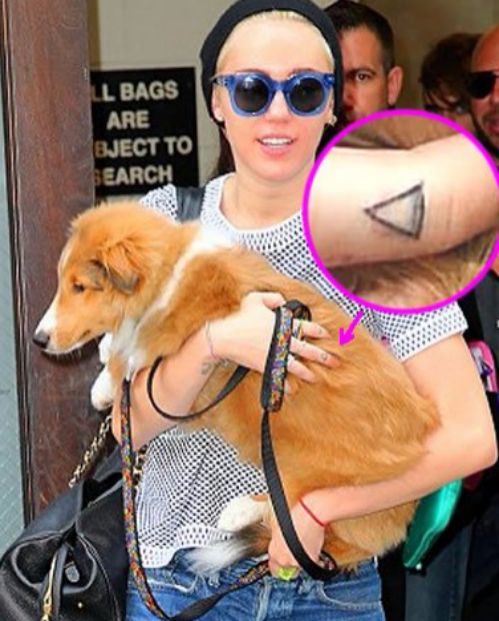 Miley covered up her tongue tattoo with an upside-down black triangle. It seems even Miley has gotten sick of constantly sticking a tongue out.
26. Crescent moon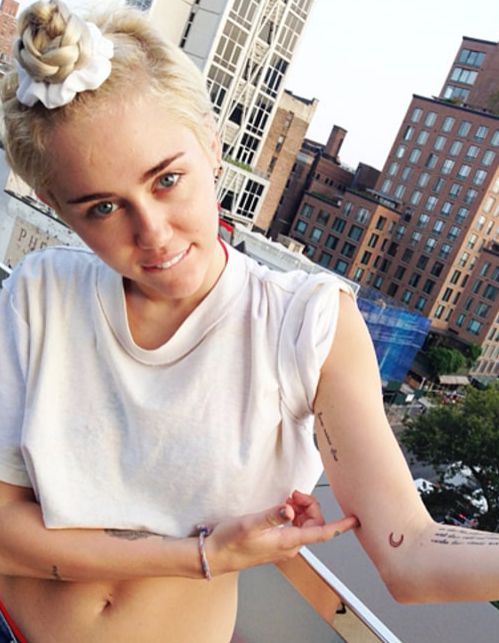 A small crescent moon outlined in black was inked by Bang Bang on the inside of Miley's left arm near the elbow. The pop star calls it a random BFF tat. Miley inked a matching tat on Bang Bang's thumb.
27. "Love Yer Brain"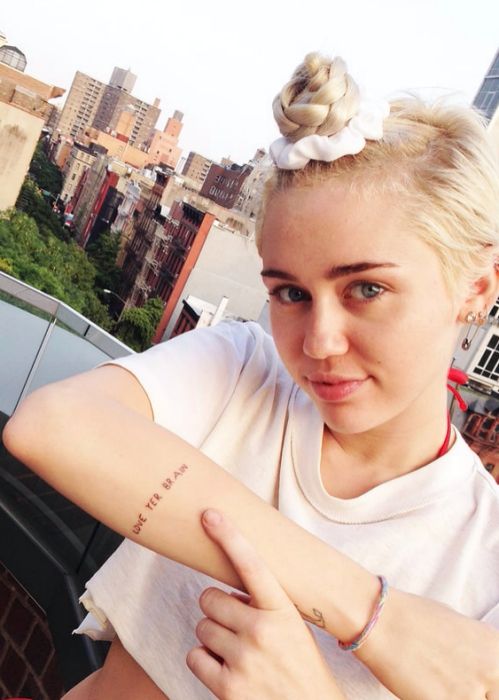 Miley's right forearm features a tattoo in the black capital letter saying "Love Yer Brain." It is a title track of the 1987 album, Oh my Gawd by the Flaming Lips.
28. "I am in your corner"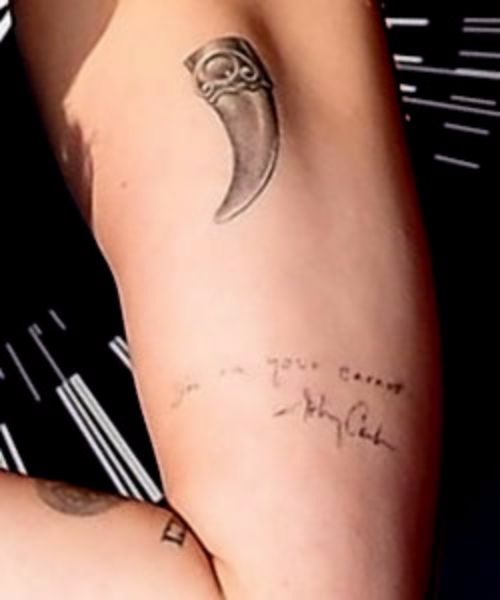 Miley's Johnny Cash tattoo which is inked on the inside of her right bicep is a tribute to her father, Billy Ray Cyrus and the legendary Johnny Cash. The tat features the phrase "I'm in your corner" with Johnny Cash's signature.
29. Brother's nickname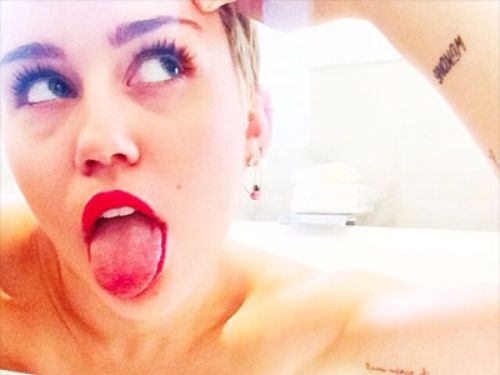 Miley got her brother's nickname, "Wukong" inked on her left wrist.
30. Alien tat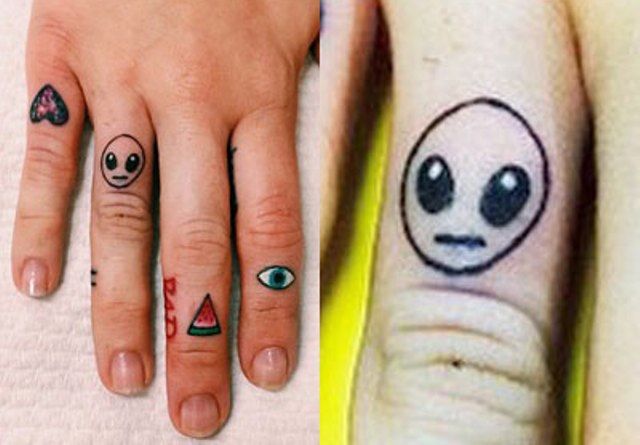 Adding two more tats to her ever growing collection of body art, Miley Cyrus got a new tattoo on her finger. It features an alien face in black and white. She also got a kitty face inked on her arm in grey. While getting this tattoo Miley also decided to add colors to her existing tats. She filled the heart tattoo with galaxy print, changed the triangle tattoo into a slice of watermelon and got the eye on her ring finger colored.
31. Watermelon tattoo
Miley replaced the triangle tattoo which started as a tongue emoji with a slice of watermelon.  The tattoo is now a slice of watermelon in a red/pink gradient with little seeds and a green rind.
32. Yoshimi Tattoo
The pop star with her bestie, The Flaming Lips frontman Wayne Coyne got a matching tattoo of a robot on the inside of her left forearm. It tattoo is the miniature version of the pink robot featured in the album artwork for The Flaming Lips' 2002 album Yoshimi Battles the Pink Robots.
33. Naked woman 
Miley revealed a never before seen tat in January 2015 of a naked woman on her side during a vacation in Hawaii with boyfriend Patrick Schwarzenegger. The tattoo is inked on her left rib cage. It is a tattoo of a nude woman holding what looks like a baby.
34. Little fish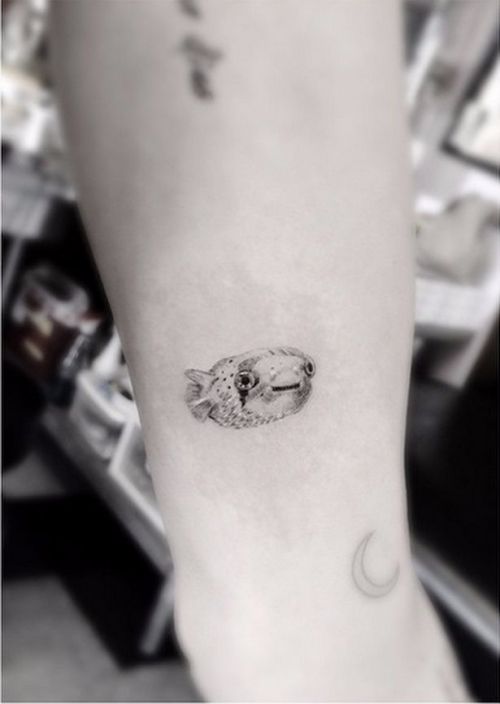 Being an animal lover, Miley got a new arm tattoo of her pet fish on 5th February 2015. Apparently, the pet passed away.
35. BIEWTY
Miley revealed a new tat on 29th March 2015 that reads "BIEWTY" in black capital letters inked on her upper left arm. The tattoo is a tribute to Cheyne, Miley's best friend and personal assistant who has the same tattoo on her wrist.
36. Avocado tattoo
One of Miley's most recent tattoo is a green avocado inked on her left arm. The pop star loves the fruit so much that she decided to make it a part of her body by getting it inked on her.
37. "KATZ" tattoo
KATZ is Miley's pet nickname for her bestie and Wayne Coyne's girlfriend, Katy Weaver. Miley got 'KATZ' inked on the back of her left arm and Katy too has "MEOWTZ" (her own pet nickname for Miley) on her right wrist.
38. Tooth Tattoo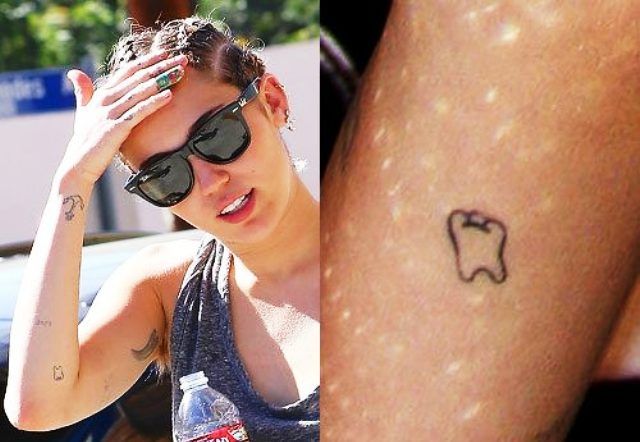 This tattoo of a tooth on Miley Cyrus's right elbow is one of many matching tattoos which she shares with The Flaming Lips frontman Wayne Coyne and his girlfriend Katy Weaver, who are two of Miley's closest friends.
39. WA Heart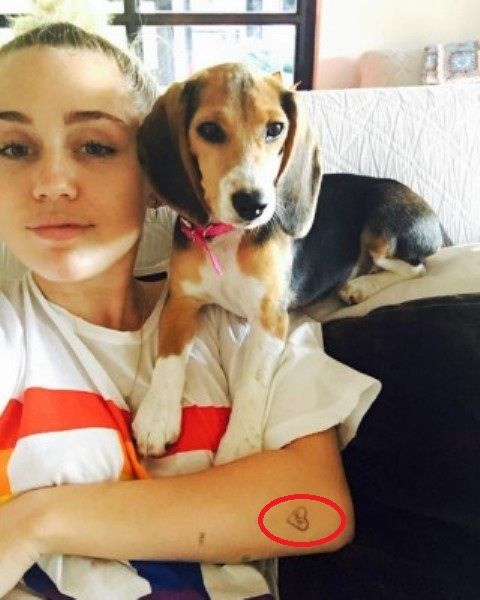 Miley Cyrus has a tattoo on her left forearm of a heart with the initials "WA". It is believed that this tat is most likely a tribute to Woody Allen, who chose the singer to star in his new series for Amazon, Crisis in Six Scenes (2016), their first collaboration.
40. Planet Jupiter
Miley Cyrus got this tattoo of a planet on her left forearm in April 2016 which is of the planet Saturn. Tattoo artist, Lauren Winzer inked this tattoo on Miley's forearm in April 2016.
Fact: Miley mistook the planet name as Jupiter and posted it on Instagram with hashtag- "#lilbbJupiter.", later she removed it when people started trolling her on social media for not knowing the planet name which she got inked.