The Poison Ivy is a plant that doesn't kid around. It can literally even kill you. It contains urushiol, a toxin, and if you breathe in the smoke of burning leaves with traces of urushiol on them, it will cause a rash on your lungs which can be fatal. The poison ivy basically causes rashes, so y'know, read up on your plants and be watchful the next time you go foraging in the forest.
This is what poison ivy looks like in real life.
Well, I know what you're all thinking. There's another poison ivy that most of us know; she is just as deadly as she is sexy. Yes! I'm talking about Dr. Pamela Lillian Isley from Gotham city. Remember that terrible Batman and Robin movie from the late 90s? (George Clooney plays Batman… Arnold Schwarzenegger is Mr. Freeze.) Well, I didn't find it so terrible, in fact, I had it on VHS (ripped from HBO) and used to watch it on repeat. Uma Thurman's Poison Ivy could quite possibly be my first crush on another human being. I was three. I started crushing pretty early.
That's Uma in Batman and Robin (1997)
For this article, we will look at the plant and tattoos of the plant but mostly we will be looking at sensational plant women and tattoos of sensational plant women because that's what most people have gotten. Get ready for a lot of green and red (pretty much my favorite colors) while I go look for an appropriate soundtrack to write the rest of this piece to.
Meaning of Poison Ivy Tattoo Designs
Poison ivy is a type of allergenic plant in the genus Toxicodendron native to Asia and North America. They are well known for causing urushiol-induced contact dermatitis, an itchy, irritating, and sometimes painful rash, in most people who touch it. poison ivy is most often thought of as an unwelcome weed. Poison ivies can grow as small plants, shrubs, or climbing vines. They are commonly characterized by clusters of leaves, each containing three leaflets, hence the common expression "leaves of three, let it be".
"Leaves of three, let it be" Damn! that's intense. and let it be too because this is what it'll do to you
Yikes!
When it comes to Dr. Pamela, there are several themes in her character that people might find meaningful. Let's do a quick origin story-
Partly inspired by the titular character in Nathaniel Hawthorne's short story "Rappaccini's Daughter", she is a misanthropic botanist and biochemist who possesses a poisonous touch, enhanced physical abilities, and a supernatural control over plant life, powers which she uses for the purposes of eco-terrorism. The character's appearance is considered iconic; she is typically drawn barefoot in a one-piece costume adorned with leaves and vines, with occasional variations to her skin tone. She uses plant toxins and mind-controlling pheromones for her criminal activities, which are usually aimed at protecting endangered species and the natural environment from the careless actions of humans. She was originally characterized as a supervillain, but as of The New 52 and DC Rebirth, she has periodically been depicted as an antiheroine as well.
Also, found the perfect music! Today's pick is obscure underground synth player 'Alberto Cardinale'. He's only got 21 YouTube subscribers and about 25 videos. The song playing at the moment is "Ars Regia MMXVI".
So we looked at the term 'eco-terrorism' which is an act of violence committed in support of environmental causes, against people or property. That makes poison ivy a popular choice among earthy people and headstrong women. I mean, I assume. So a poison ivy tattoo can mean that the wearer cares for the environment and also has a hidden, dangerous side to their personality.
Ideas For Poison Ivy Tattoo Designs
Let's look at some art that we can draw some inspiration from.
The different species of poison ivy. Such a pretty page from a plant-book!
Wow! I think I'll draw her, next time I feel like practicing my sketching.
The color green is so deep here, I'm almost zoning out.
Batman's rather compromised here, don't you think?
Wow! This artwork just works! look at those plant eyes. So intense!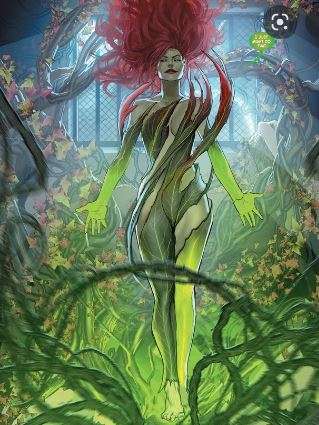 Ivy seems to be resting here. Such a mesmerizing illustration.
A very cute painting of Ivy inside an ivy. A refreshing break from all the sexy.
And we're back I guess (to the sexy, that is.) Another one where Batman is giving in to pure desire. Damn! Batman… but yeah we get it.
A darker shade of green, with olive-ey tones. This wraps up our ideas and artworks.
Where Should You Get Poison Ivy Tattoo Designs  
Well… it's a dangerous and edgy tattoo, get it in a naughty place. That's what I'd do. Here's some simple suggestions though-
For Women
Ankle
Wrist
Finger Spaces
Hands
ShoulderBlades
Behind the Ears
For Men
Chest
Biceps
Legs
Neck
Back
Forearms
List of Poison Ivy Tattoo Designs & Meanings
This woman has red hair, she's already halfway there. There being, destination: Poison Ivy.
A neat left forearm piece. The tendrils of the creeper are a really good fit for an arm tattoo.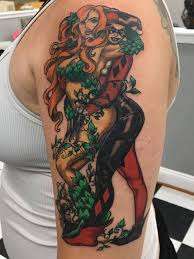 Did you know that Poison Ivy and Harley Quinn were romantically involved at one point? In fact, this is something I wanted to talk about in the 'meaning' section. Poison Ivy is, in a way, a very important fictional character for women (and the rest of us too) as she is pretty much at the forefront of all the major issues of our time. Environmental exploitation, the continued inequality between men and women, and the slow de-stigmatization of non-binary relationships.
A beautiful creeper laid out diagonally across the back. This tattoo is effortless and I love the light green tones used.
Ivy's red hair look like flames in this tattoo. A vine intertwines and circles her entire body as she stretches her body backwards. A great tattoo.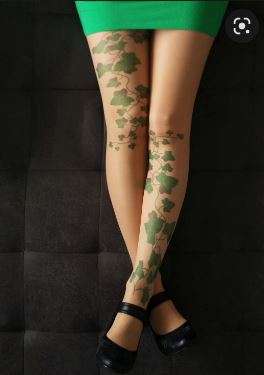 A beautiful set of ivy tattoos on both legs. This is so pretty to look at.
Another take on Dr. Pamela's Ivy. The leaves on the side of her head remind me of a very popular haircut where they trim the sides really short and keep the rest long. I'm sure they have a word for that haircut. This is another great arm tattoo.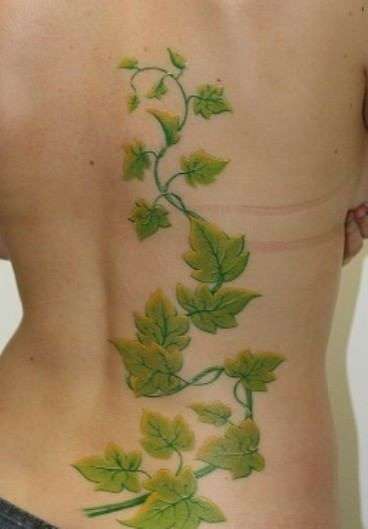 This time, the vine twirls upwards vertically. What a pretty tattoo!
In this rendition, Ivy looks younger and slightly less intense and that's totally okay. A friendly Poison Ivy.
The creeper all creeped up on the back of the shoulder here on this woman. A neat ivy tattoo idea for the back of the shoulder.
An entire arm done in 3 different shades of black. Check out the several different types of leaves in this tattoo.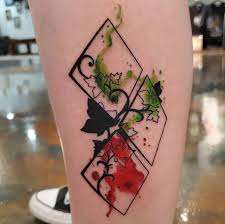 Harley Quinn's deck of cards symbol with Ivy's vine intertwined in it. A representation of their relationship.
Another Quinn and Ivy Piece
A very realistic Poison Ivy and Harley Quinn tattoo (she can be seen to the right.) This tattoo is done on the right arm.
If you want a simple and subtle tattoo that represents Ivy and Quinn's love (or whatever they have, it isn't puppy love as far as I know) this is the one for you.
This woman has Ivy-themed tattoos all over her body. A creeper on the side torso, a branch on the right arm and a lower back illustration of Ivy with her vine.
The three-leaved plant creeps up on this wearer's calf. This is one of the better tattoos that we've seen today.
A beautiful tattoo. The detail here is astonishing. The choice of shade is also very interesting. The artist has picked a cooler shade of green for this tattoo.
The Jessica Rabbit Version of Ivy
The face takes direct inspiration from the Disney animated character- 'Jessica Rabbit' who is quite the sex symbol. The tattoo is simple and effective. There aren't a lot of details and complicated lines. There isn't even a plant around her… hmm… maybe the wearer forgot all about it.
An entire leg theme covering the foot, the calf, and the thigh.
Another cute little poison ivy branch on an ankle.
This tattoo sucks. Seriously, I can't even fake-hype it at this point. If you want something so simple, why even bother with a tattoo!?
Another Dr. Pamela Tattoo
An entire arm piece. Dr. Pamela is at the top and her vine stretches out below her.
This tattoo makes sense. The circling tendrils have a very delicate vibe.
Somebody got Uma Thurman's Poison Ivy tattooed on their arm! Right on!
All the villains in one place. The Ivy here is kinda hot not gonna lie. Oh look! Batman's at the top.
This rendition of Poison Ivy reminds me of Tinkerbell. I love the simple circling of the vine's tendrils around her.
So that's about it folks! About 25 Poison Ivy tattoo ideas (plant and supervillain) for you to ponder over. If you're like me, your mum will probably yell at you if you come home with a raging green beauty tattooed on your arm. So exercise caution. Also, there's a movie of the same name, starring Drew Barrymore. I'm gonna see if I can find a torrent and get my adult on. Later, Folks!