Dana Elaine Owens, popularly known as Queen Latifah is an American Singer, Songwriter, Rapper, Actress, and Producer. Her song, "U.N.I.T.Y" won her a Grammy Award. She is considered to be one of hip-hop's pioneer feminists. She has also won an Emmy Award, a Golden Globe Award, three Screen Actors Guild Awards, and two NAACP Image Awards and has sold over 2 million records. Dana only has two known tattoos on her body. Let us see what they are.
1. 'Butterfly' Tattoo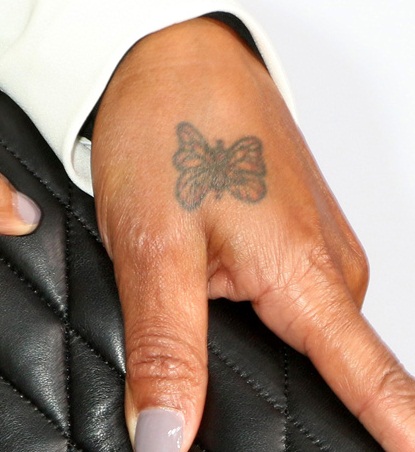 Tattoo: Her left hand contains a tattoo of a butterfly.
2. 'Neck' tattoo
Tattoo: The right part of her neck, just behind her right ear contains a tattoo of two green butterflies.