I think most people just love rain and especially the smell of the rain, that's to die for. For some, it's the most beautiful weather and you just dive right in to get drenched. Don't even forget about the scrumptious food. However, some people like it to the extent that they get rain-related tattoos on them..and of course, they out to be a tattoo lover for that. Undoubtedly, any tattoos having water, whether it is a water droplet, waves or rain, it looks very amazing.
The water element can also symbolize a general flow of life and an easy-going nature. Whatever your reason to get a tattoo might be, I think this list that we have put up would be quite inspiring. So have a look at these 70+ rain tattoo ideas.
This is a great elemental design for your wrist. It looks extremely cute.
This colorful pastel tattoo is so adorable! The cloud looks as fluffy as a cotton candy.
Although it looks as if the tattoo is quite somber-looking, the tattoo itself has been greatly made.
This definitely screams sadness. It looks like the cloud has been crying for help! The message can mean something positive too if you take it as a reminder to not trust everyone.
The tattoo is a little cartoonish in its look, but the bold colors look tremendous.
Thunder and Arrows Tattoo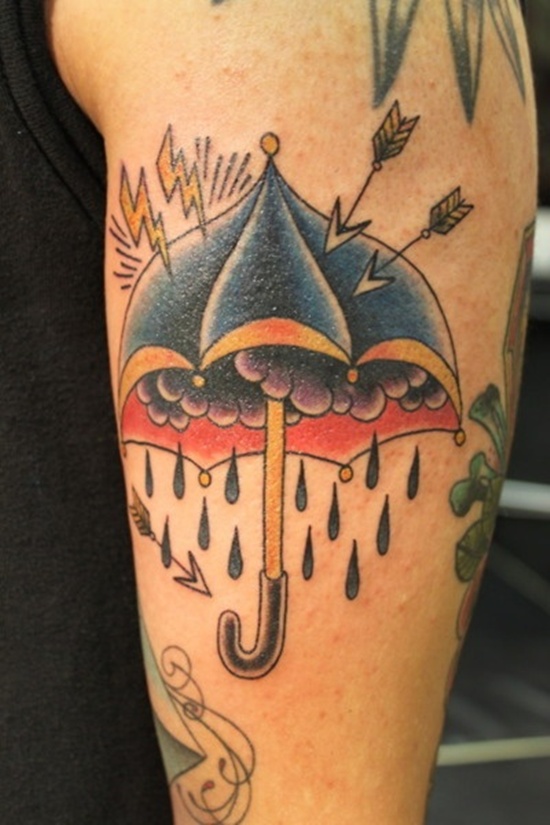 This is a unique sort of design and probably the wearer has some significance for it.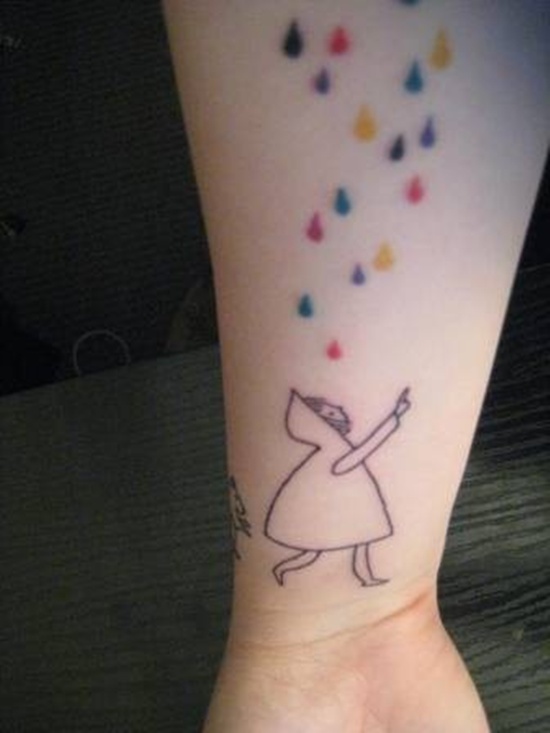 Looks like this little girl is thrilled about the beautiful colored drops falling from the sky.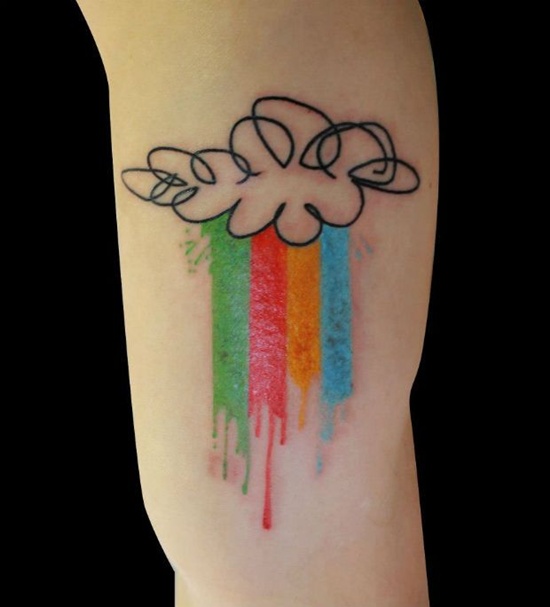 It is raining rainbow over here!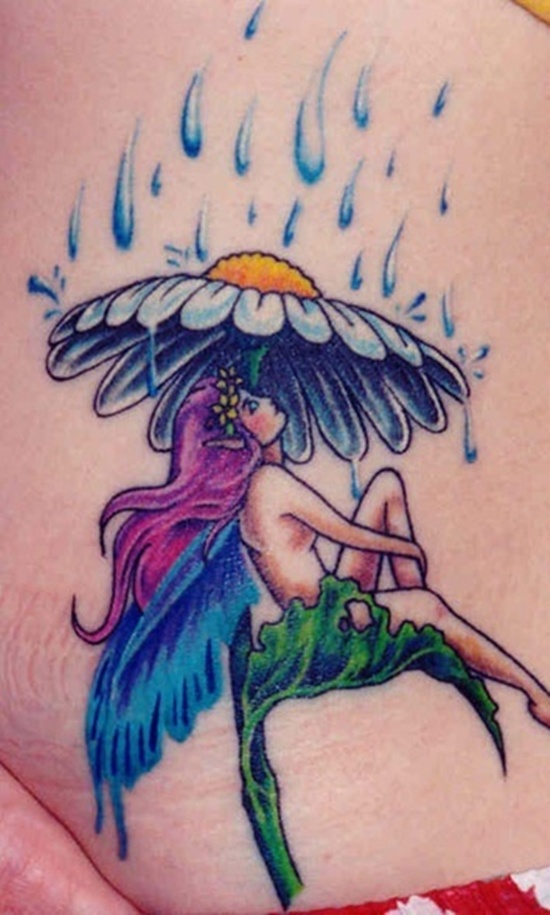 This cute little fairy is enjoying the rainy weather by taking shelter under the flower. Quite dreamy, right?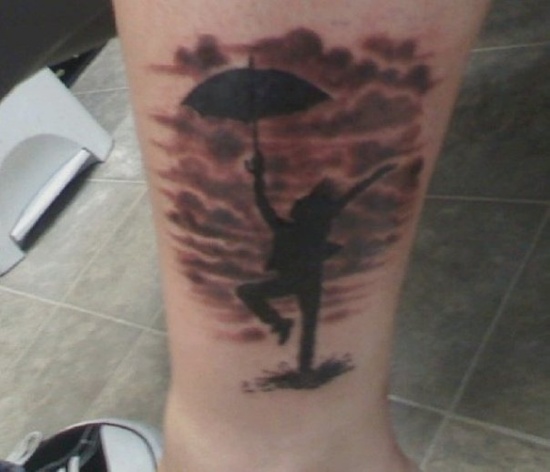 The guy is so excited that he is dancing in the rain!
Pig Finding Shelter Tattoo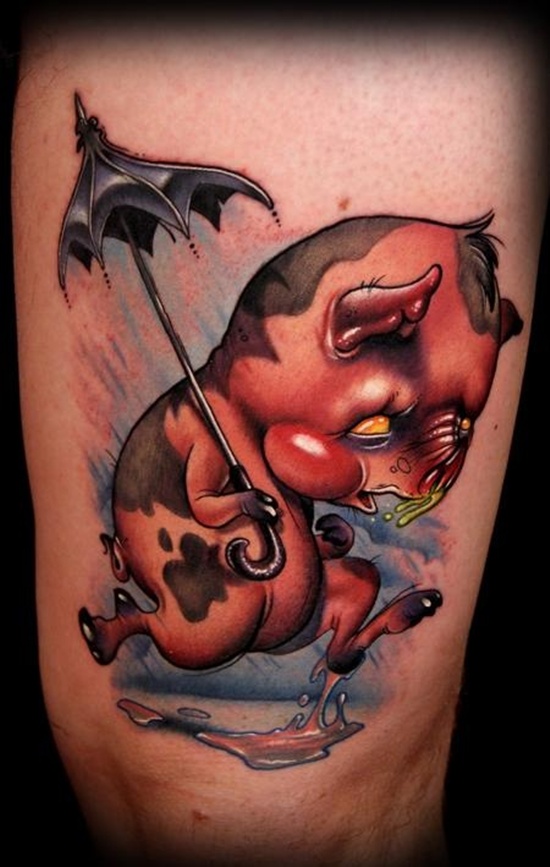 I don't really know what does this pig stand for the wearer, but sure, it looks ill and in desperate need of shelter.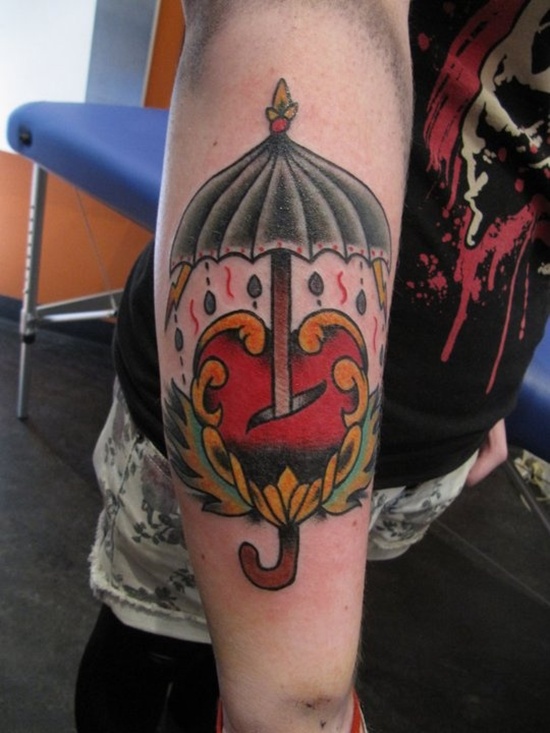 This heart probably needs to be protected from the rain…or the storm of the outside world.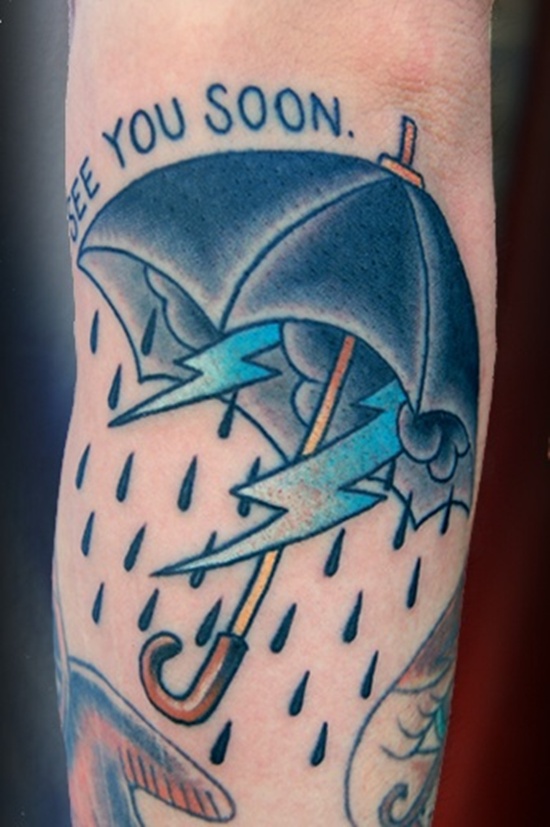 This is probably a message for the bad times symbolized through the rain to leave and for the good times to roll.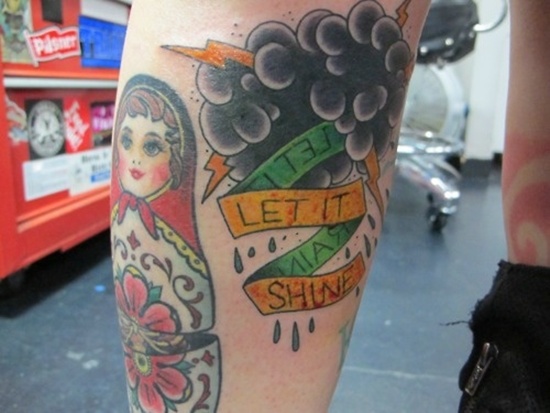 Again, quite a good one! This tattoo has a positive meaning behind it. The wearer has kept the banner as a reminder for it to let shine.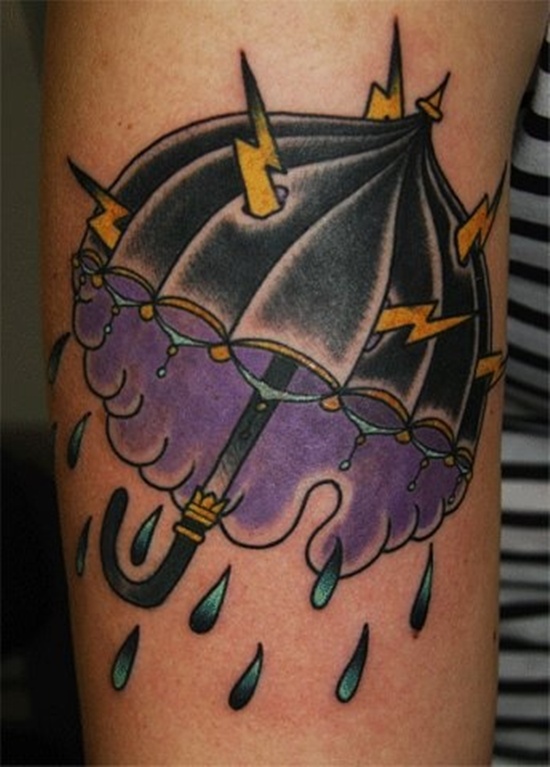 This purple cloud looks as if it has a lot of tears to hide. But now, it is showering.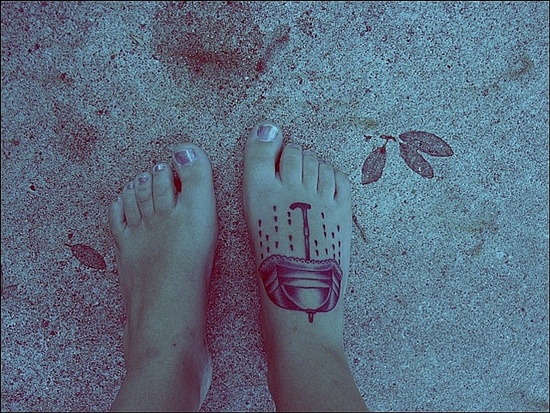 Feet are a good place to get your tattoos done. It is quite an unusual place for getting inked and it can even be hidden under a shoe or socks.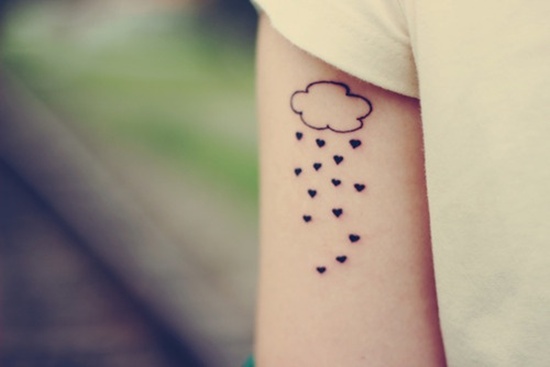 You might have seen clouds pouring, but is it normal to have the hearts fall off a cloud?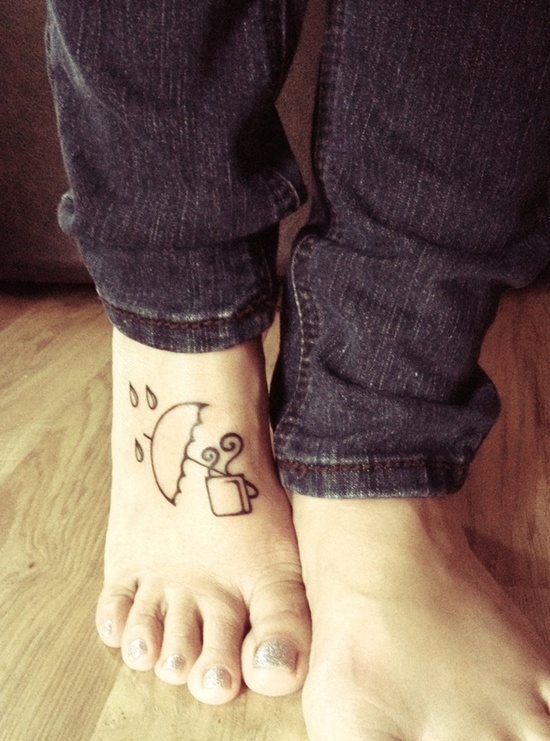 For all the people who can't wait to get a coffee mug ready as soon as it rains!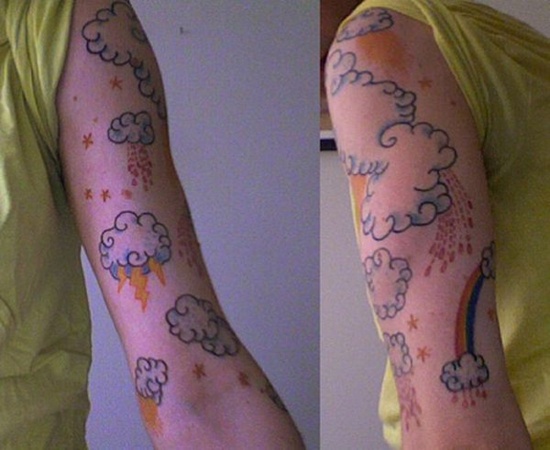 This full arm is encompassed with all-weather-y things. It is quite a themed full-arm design.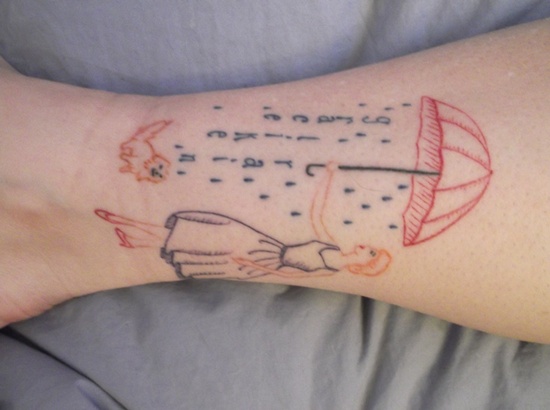 The clouds are pouring "grace like rain". Probably she loves them! If you are a rain lover like Grace herself, you know what to get.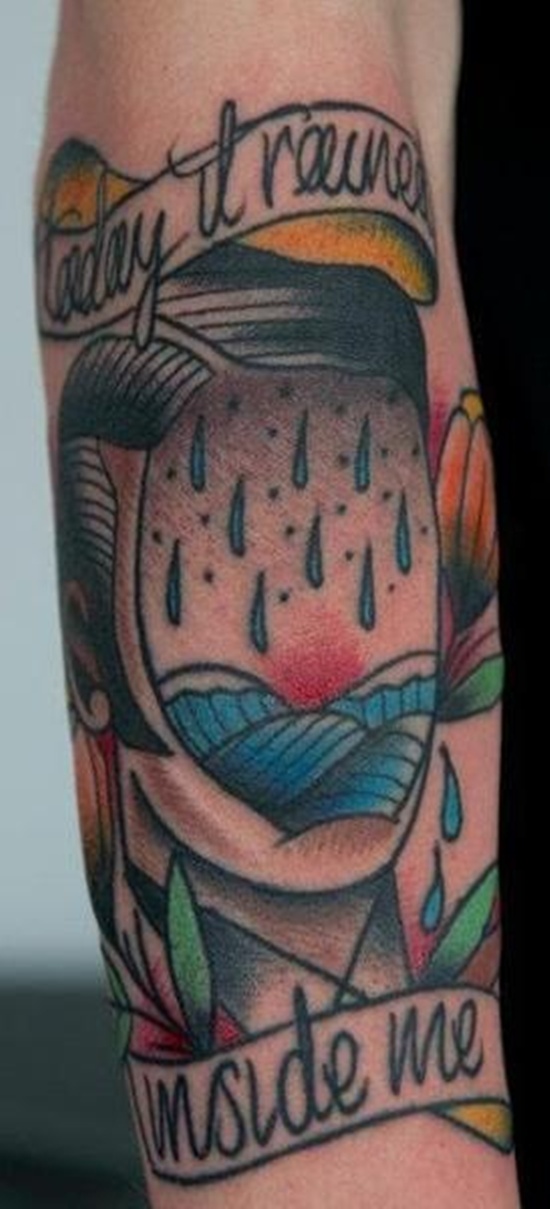 This design is very poignant. Just have a look at the banner. It might've contained some deep significance for the wearer.
Standing Under the Rain Tattoo
A shadowed tattoo pattern is great for forearm.
Like feet, the palms are another great placement idea. Besides the clouds, umbrella, and rain, the wearer has got some letters imprinted on each finger. This is such a cool idea, isn't it?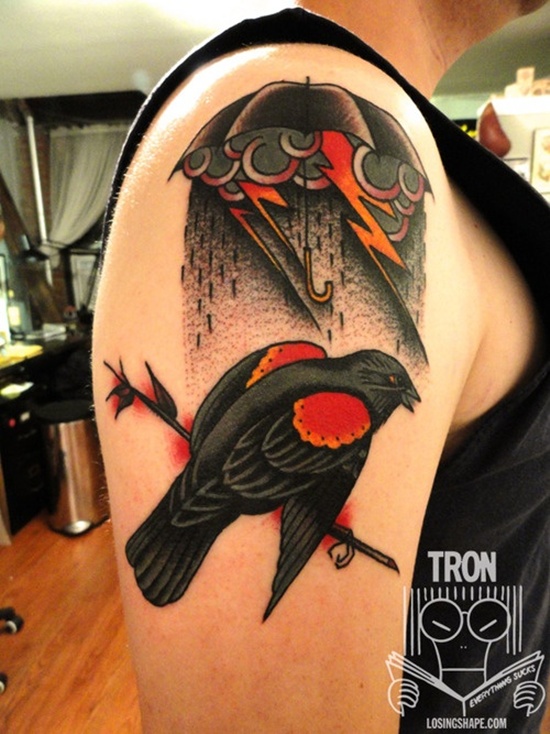 Here is a raven probably waiting for the rain to end. Or maybe he has a message to deliver.
This tattoo confirms the fact that it rains in heaven too. But beside jokes, it means something more significant. It implies that bad things can happen to good people too.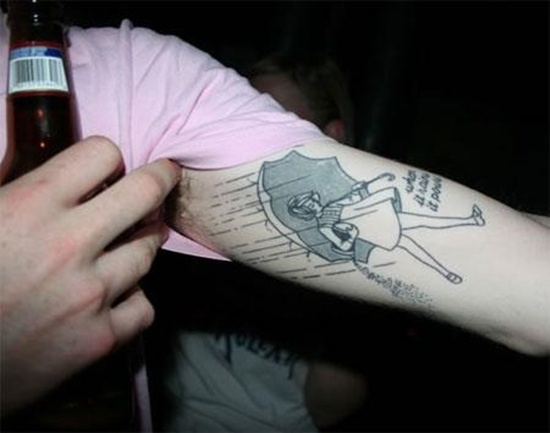 The inner arm is a great placement idea for a tattoo.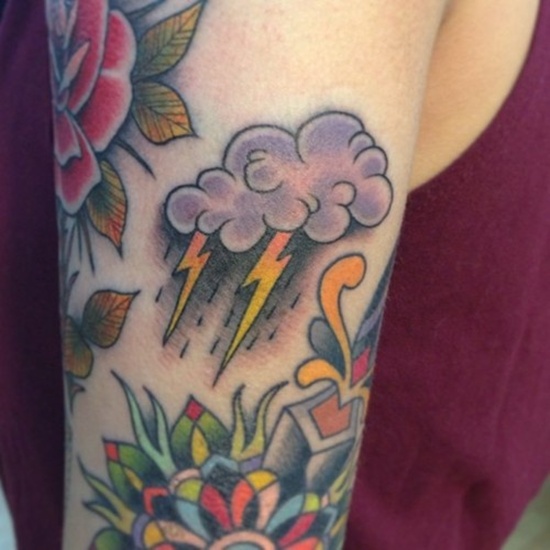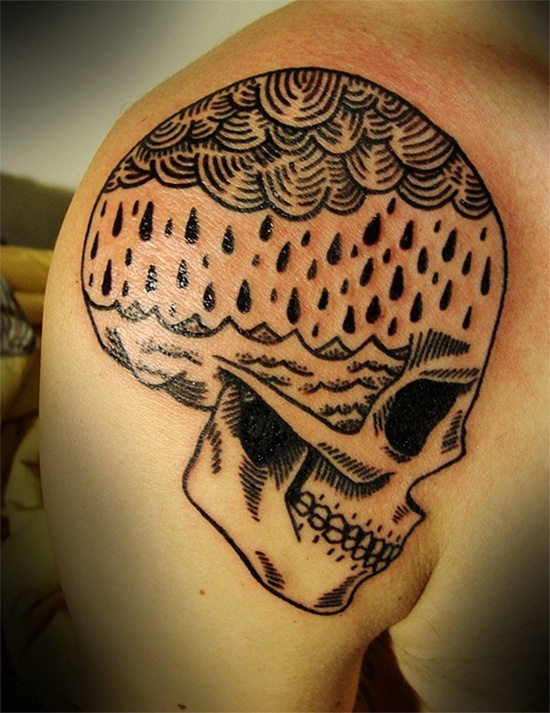 This shows a unique design where it is raining inside the skull. Probably it implies something distressful or the inner workings of a mind.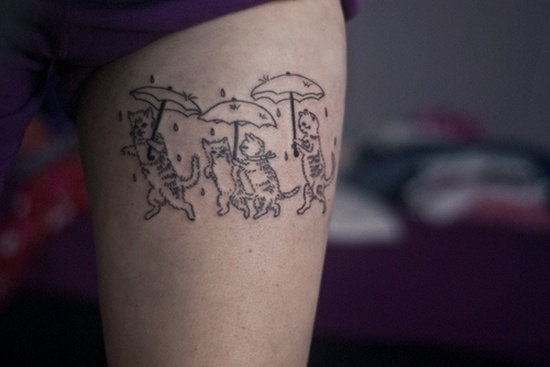 That is quite a bunch of cats protecting themselves from rain. Well, why not? It's raining cats and dogs after all.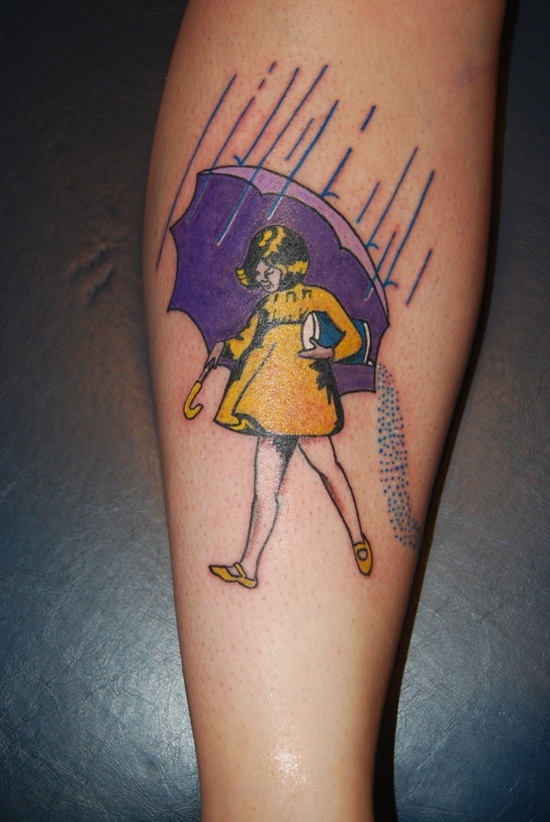 This girl in a yellow frock looks quite mysterious in the rain.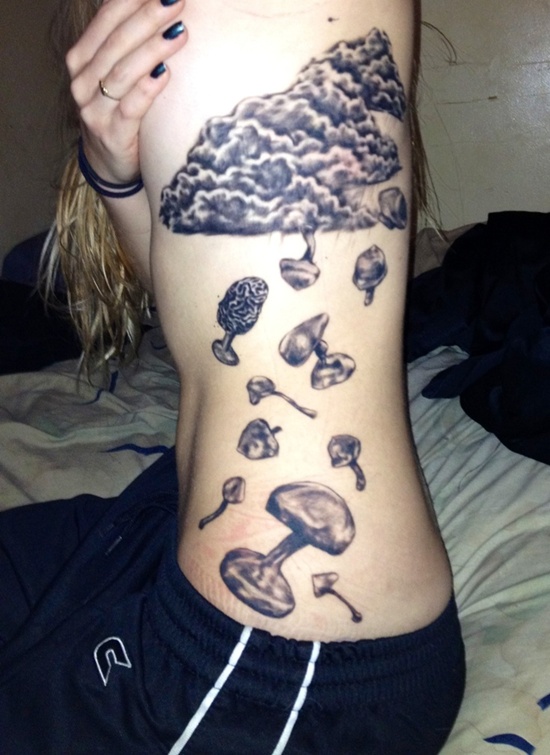 This cloud is throwing much more than water on earth.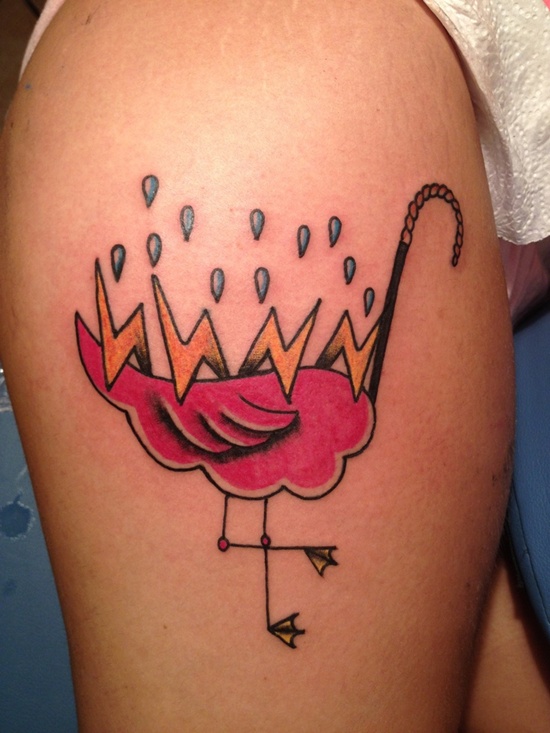 This is such an abstract design. It resembles a flamingo but also an umbrella upside down.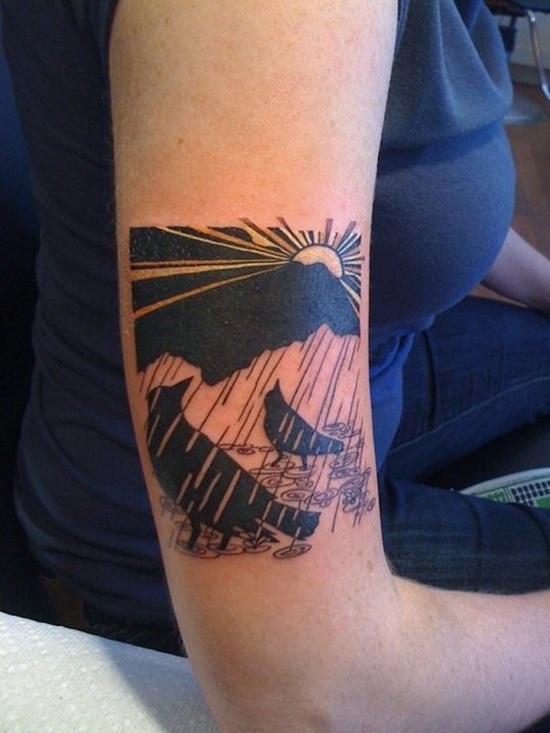 The crows are probably waiting for the sun to shine through the storm.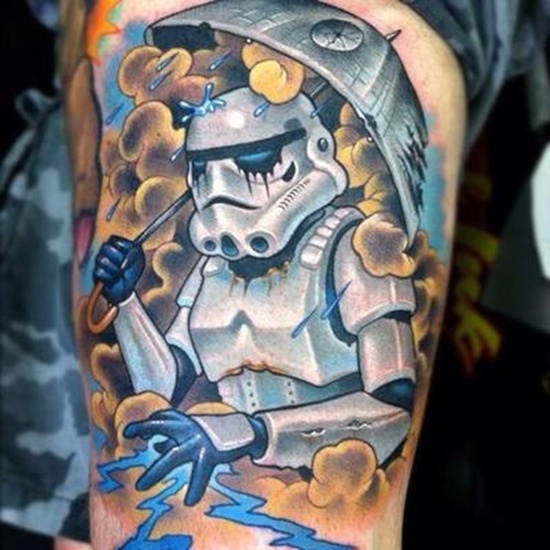 Even iron man needs some shelter from the rain. He doesn't wanna get rusted, you know?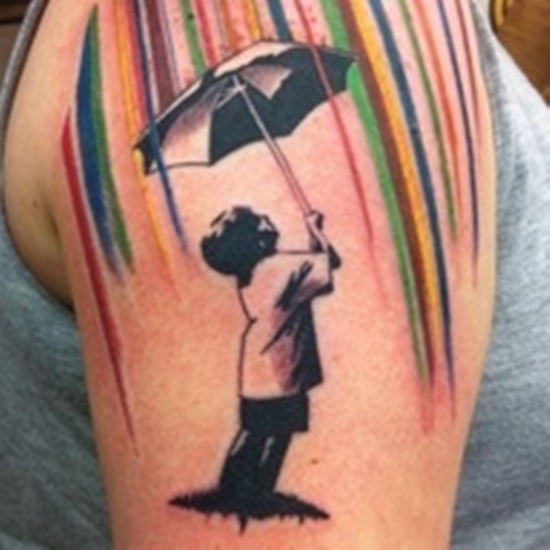 I wonder why this little kid needs shelter from the rainbow rain?
Aw, seems like this cute little cloud is crying but he is still happy. Probably because he is aware of the rainbow after a little pouring.
Can't Rain Forever Tattoo
There's definitely gotta be sunshine after it has rained. Right, guys?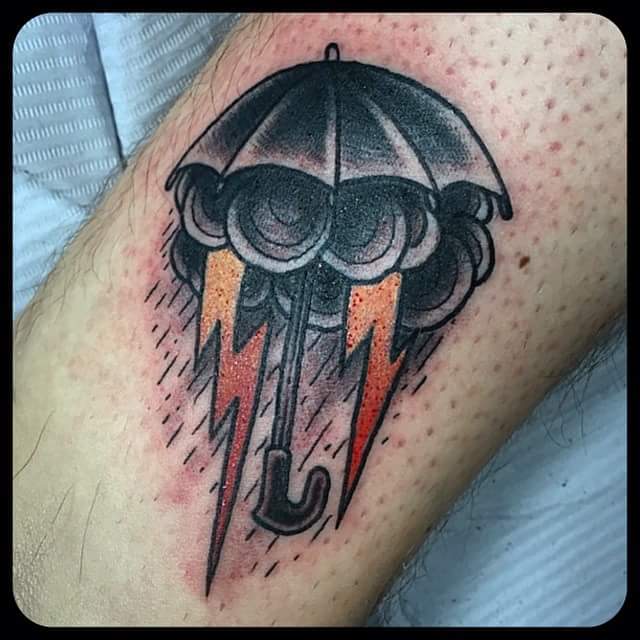 Sometimes we all feel like a black cloud day.
The sound of the waves is definitely colliding with the thunder of the clouds.
You and your best friend can get a cloud tattoo, quite similar to each other but with different color patterns.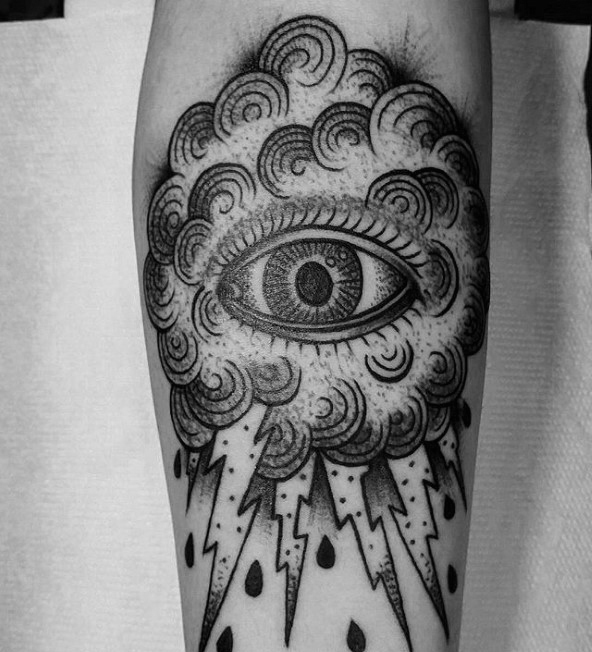 This cloud has a constant eye on everything.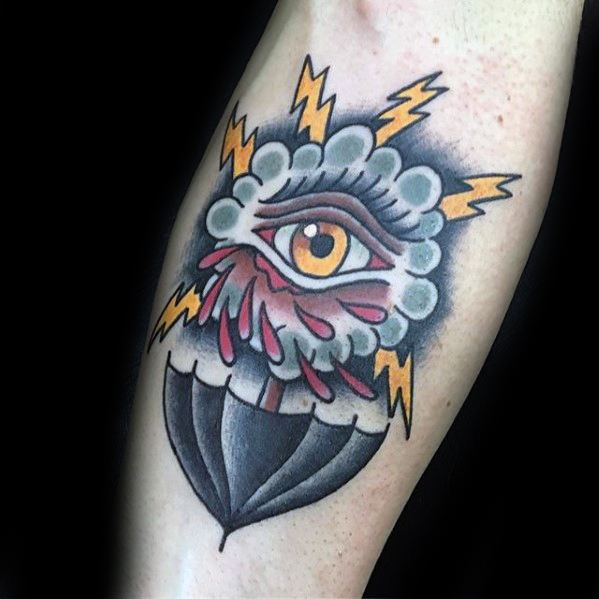 This is definitely a sad tattoo, probably the pain hidden in the soul of the wearer.
Just look at this relaxed cute little cloud who is showering all his love to everyone underneath. It's drenching everyone in love.
You can notice a beautifully colored moon and setting sun behind this black cloud.
This is quite a simple rain tattoo featuring clouds, rain, thunder and an umbrella encompassing all the elements.
Isn't this frog having the time of his life underneath this leaf?
This cloud is quite mysterious and magical. The tiny stars add to the appeal of the whole design.
Such a tiny tattoo is super adorable and I think the wrist is the perfect placement option for such a petite tattoo like this one.
The wearer's mind is clouded probably. The somber weather of rain is just inside his mind so it doesn't really matter to him if it is sunny outside or not.
This cloud is extremely sad and probably it is pouring tears.
You can get two contrasting tattoos, where one represents something awful, but on the other hand, the umbrella represents the positive side of it.
This is quite a neat couple's tattoo. Both people can get something similar if not exactly the same. It might represent two personalities of them.
A string of colorful raindrops falling from a cute cloud looks adorable on the shoulder.
Looks like someone forgot to collect their freshly washed clothes!
This is such a positive tattoo because it represents that the girl is swinging despite the weather outside is stormy. Probably she knows that the sun is gonna shine soon.
It is a great contrasting tattoo on the opposite legs.
This cloud is more stormy than being rainy.
You can get a full black tattoo done on your body. In fact, the raindrops do not need to be shaped like drops. Some lines would do!
It is a thundering cloud above the sea. Seems like it is about to rain.
This Japanese cloud design look immensely cute. The raindrops are done quite beautifully and they look rather ornamental than realistic.
This is a very modest cloud made out of simple lines and curves.
The girl's head is clouded with a million thoughts and the raindrops probably represent that they are not as good at the moment.
This shadowed guy is trying extremely hard to catch that cloud. It is a great representation of being a free soul.