Kerry King is a famous American musician best known for being the co-lead guitarist and songwriter of thrash metal band, Slayer. Kerry is the co-founder of the band, which was formed in 1981. Kerry is quite famous for his tribal arm tattoo. Not only this, he has got ample inks on his body. Let us see what meanings do they hold to him.
Kerry began practicing guitar when:
"It was a lot harder for me to get into trouble because I was the golden child. Me getting into the guitar at 13, that was because my dad was trying to get me out of the wrong circles and give me a hobby."
1. Left Arm Piece 
Tattoo: Kerry's left arm is dedicated to intricate designs of an eerie atmosphere depicting multiple faces of demons and devils. Demons and devils are the symbols of showing your own personality of EVIL AND HARSH NATURE and to keep away wrong people by portraying the wrong, rather the strongest side of yours.
2. 'GOD HATE US ALL' Tattoo
Tattoo: On the inner side of his left bicep, Kerry has got the short writing inked that can be read, 'GOD HATE US ALL'.
Meaning: This tattoo had attracted a lot of controversy for Kerry but, as we know, he is known to be one crazy champ and this tattoo choice proved it all. The writing actually represents the name of the ninth studio album by American thrash metal band Slayer. It was released back on September 11, 2001, by American Recordings.
"I was in a band with my guitar teacher, and he was in a band with Tom [Araya, Slayer frontman]. That band fell apart and Tom was available and he lived a block away from my parents' house so I tried to put a new band together, and once I got a couple of guys together who would make it worthwhile, I got Tom and we started playing. Everything began from that point."
3. Left Hand-Demon Tattoo
Tattoo: Kerry's left hand and forearm are covered with the face of a demon.
Meaning: A demon tattoo is the symbol of evil and death. It is rather a way to depict the underlying demonic forces that are bound to connect people. Demon tattoos are a common choice among spooky tattoo lovers. The tattoo on Kerry's hand shows a big tongue of the demon that hangs out. The main motive of getting such a tattoo that too on a position like his hand is nothing but a means to inspire fear among his competitors and enemies that he is strong and they need to be away from away. The demon face on Kerry's hand is designed in such a way that the looker standing opposite Kerry gets the intimidating look of the demon.
4. Skeleton Hand Tattoo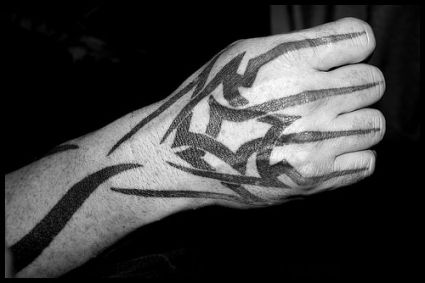 Tattoo: On his right hand, King has got the skeleton bones tattoo done.
Meaning: A skeleton bone tattoo is a statement tattoo and another one of the famous tattoos among crazy and spooky tattoo art lovers. It is rather symbolic of fearlessness, protection, and death. To be specific, some people also consider it as the symbol of showing your strength of accepting death whenever it has to come.
5. Leaf-Man Tattoo
Tattoo: On his head, King has got a masterpiece ink that shows a leaf man tattoo. Kerry gained all the limelight after he got it done from the popular tattoo artist, Paul Booth. Apparently, the tattoo took around 4 hours to complete and the leaf man seems to be named Chronos.
Paul, his tattoo artist said:"I can honestly say, not just because we're friends, but he sat like a rock," Booth said about Kerry in the chair. "Better than most, really. I think it was a three-and-a-half, four-hour tattoo. Of course, you're going to get some wiggles with anybody, but he sat solid. He made it through, no problem."
6. Tribal Design on shoulder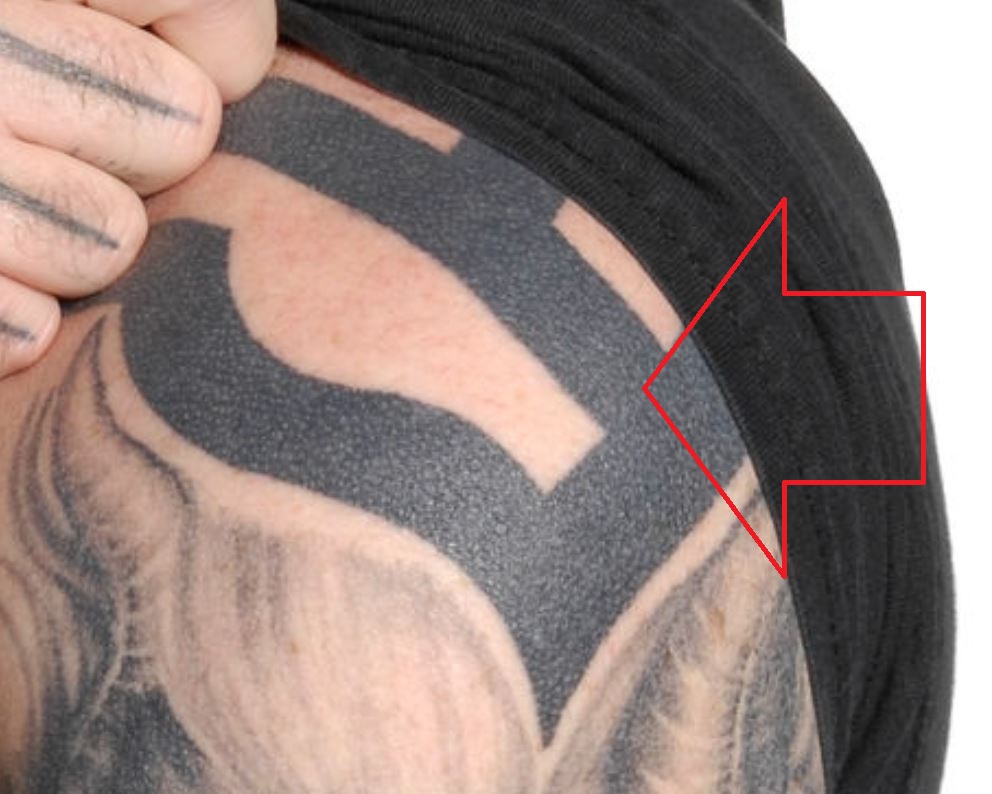 Tattoo: On his left shoulder, not much seen is his other tribal design. tribal tattoo is symbolic of his outgoing personality, daring nature, strength, and not ignoring the idea of reflecting his rich culture and heritage.
7. Star Tattoo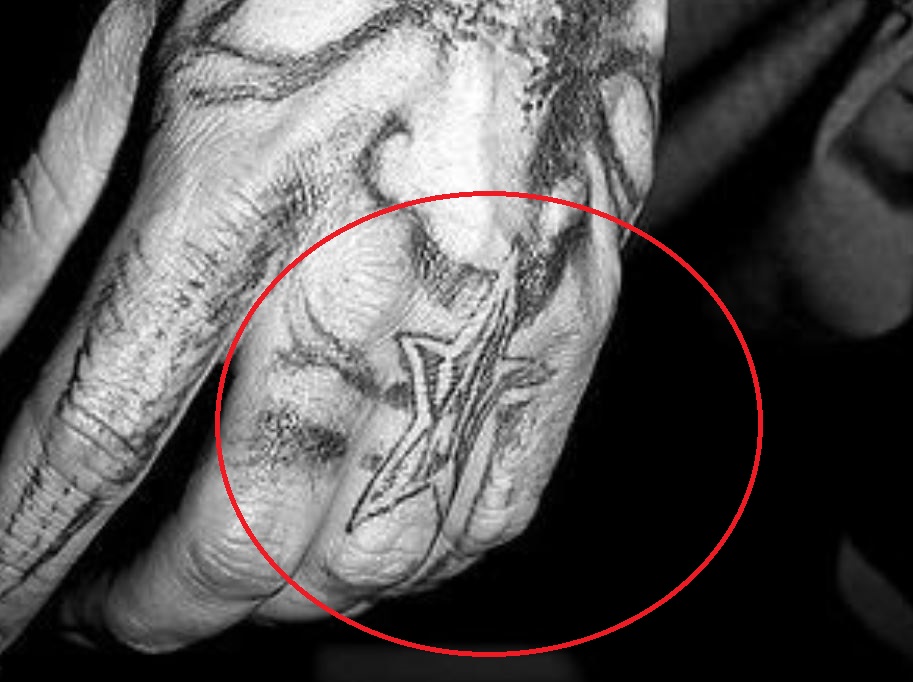 Tattoo: There is a five-pointed star inked on Kerry's left hand.
Meaning: A five-pointed star is believed to be the symbol of direction, hope, wisdom, and guidance. It is an important tool of protection es[ecially for the sailors who are set to begin their journey in an open sea tour. Some people get star tattoos and keep on getting the additions done to mark various accomplishments of their life.
8. Tribal Arm Tattoo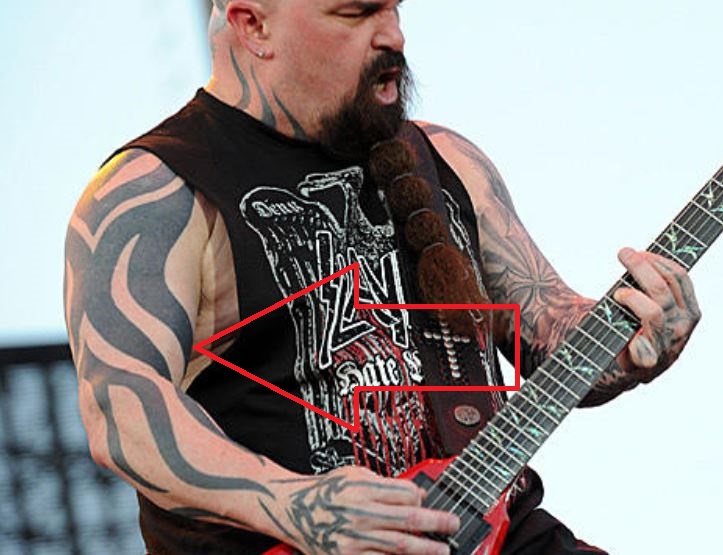 Tattoo: Kerry's right arm is wholly inked in tribal ink. The tattoo has always been talked about and is also one of the reasons that Kerry is famous. The meaning of a tribal tattoo differs from culture to culture but most importantly it stands for the wisdom, strength, power, and the reflection of individual courageous attitude. Kerry has often talked about his tribal tattoo and he sid that he is not even shameful to boost it off again and again.
9. 'Devil Nails' Tattoo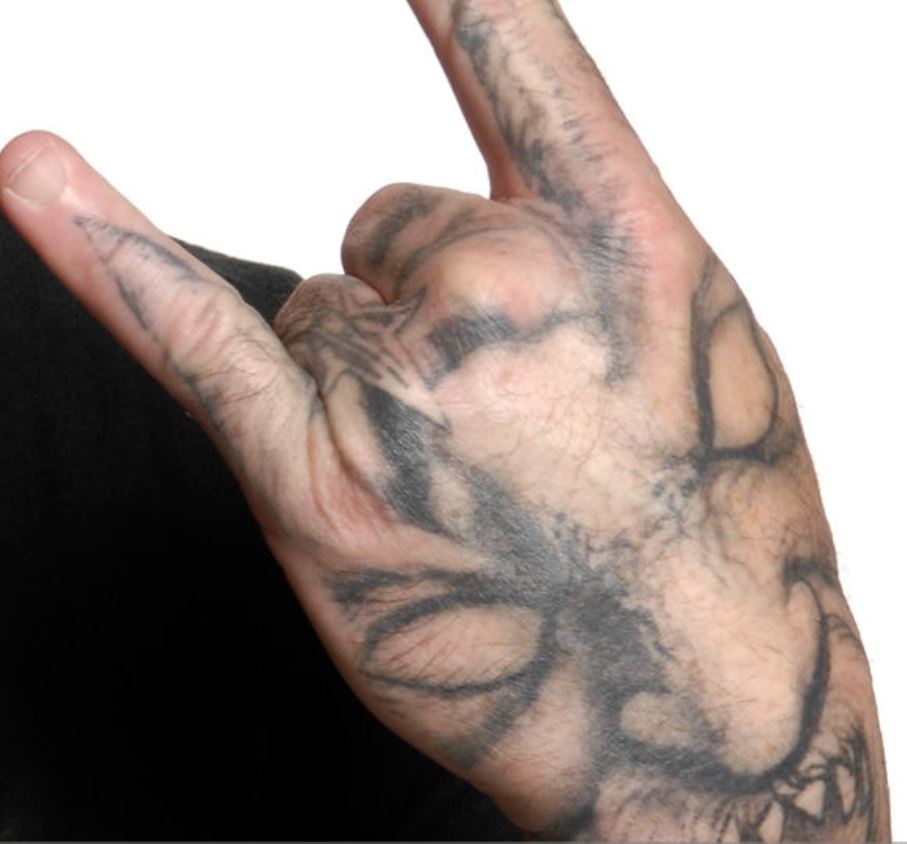 Tattoo: Kerry has got the tattoo of devil's nails tattooed across his fingers on his left hand. The tattoo was done by his favorite artist, Paul.
10. Black Tooth Tattoo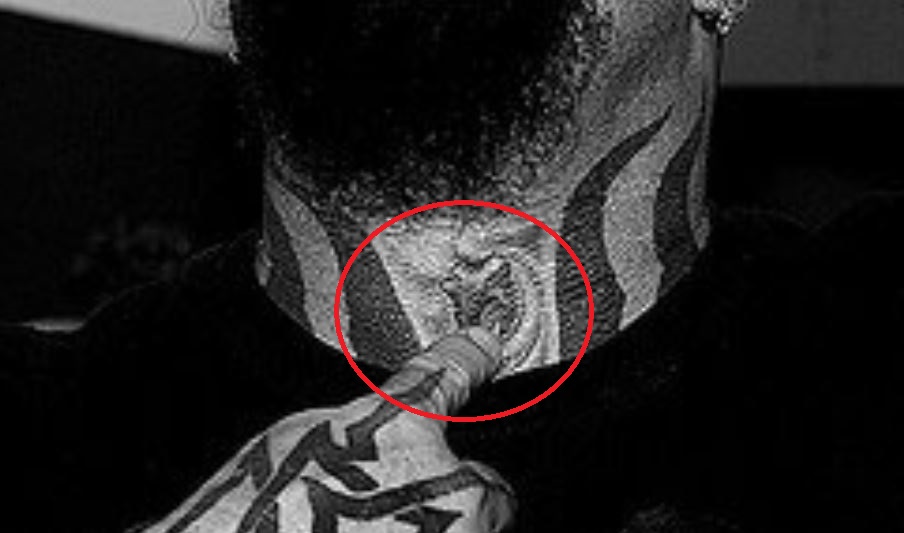 Tattoo: There is a black tooth inked on the center of Kerry's neck.
Meaning: In an interview, Kerry had revealed that he got the tattoo on the second death anniversary of Dimebag Darrell, the famous American musician who passed away in 2004.
11. Devil on Left Arm
Tattoo: King's left arm is inked with multiple devil faces. The faces have been inked in such a shape that they can seem to be the portrait of Christ from some angles and demon, from a few others.
12. Dinosaur Tattoo
Tattoo: On the inner side of his left ear, there is a dinosaur inked.
13. Lizard on Head Tattoo
Tattoo: On the inner side of his right ear, there is another dinosaur cum lizard inked.
14. Slayer Eagle Tattoo
Tattoo: Behind his left ear, King wears the tattoo of the Slayer eagle. He got it done in 80's considering the times when a person would shave a part of his hair, either on the left or right, and thus, this tattoo would suit his look. The Slayer Eagle is the logo of the Slayer band which was released in one of the albums in 1990 i.e. "Seasons in the Abyss". Owing to its design, the band was also accused of holding nazi principles.
15. Devil's Eye Tattoo