DeAndre Cortez Way, better known by his stage name Soulja Boy is a well-known American rapper and record producer. Soulja was born in Chicago and shifted to Alaska at the age of six years. It was at this age that he found his love for rap and music and ultimately grew to the level where he released his first independent album named Unsigned & Still Major: Da Album Before da Album in 2007. He has also been listed at number 18 on the list of Hip-Hop Cash Kings of 2010 on Forbes. Soulja is highly famous for the fact that he carries a heavily tattooed body. Let us explore his inks and their meanings.
1. Superman Logo on Stomach
Tattoo: Green-colored superman logo on the left side of his stomach.
2. '28' Tattoo
Tattoo: On the left side of his left hand's wrist, there is a tattoo of the number 28.
Meaning: Soulja got the number inked to mark the release of his album, Slide, on 28 July 2020. Also, his birthdate is 28 July, as Soulja was born on 28 July 1990.
3. 'JULY 1990' Tattoo
Tattoo: Across his knuckles, Soulja has got a tattoo that says, 'JULY 1990', the month is inked across his right hand's knuckles, and the year is inked on the left.
Meaning: It signifies his birthdate as he was born on 28 July 1990.
4. Tattoo on Right Arm
5. Dollar Symbols Tattoo
Tattoo: Dollar Symbol on the backside of his left upper arm. Dollar symbols are believed to symbolize the monetary perspective of the tattoo wearer, but it is not so!!
Many people get money bags and symbols tattooed just to keep themselves reminded of the fact that money is an important means to survive, and thus, they should keep working hard towards their life goals.
6. Back Tattoos
Tattoo: On his upper back, Soulja has got multiple tattoos with overlapping designs. We can see some stars, a half-moon, some more stars wrapped in a banner that takes a circular shape around his underarm, and also, we can see a pyramid-like structure on the left side.
Stars are the ultimate symbol of direction and guidance, whereas a pyramid structure is often used to reflect unity and determination.
As per the typical interpretation of these tremendous energies, as emitted by stars and the moon, it is believed that they provide light in the night sky and might express spirituality or hope. The moon is often regarded as a mother figure and the stars as her offspring.
7. Left Bicep Tattoo
8. Birds on Shoulders 
Tattoo: Soulja has got a pair of dove birds inked on either side of his shoulder blades.
Meaning: The dove bird is frequently associated with victory, God's will, love, and peace. As per the ancient myth, Noah and the Arc, dove birds also signify new beginnings.
A pair of dove birds is the most preferred choice of tattoo lovers, and they symbolize the caring and passionate relationships that exist between loved couples.
9. 'Soulja Boy' Tattoo
Tattoo: On his lower abdomen, Soulja has got his own name inked as 'Soulja Boy.'
10. Buildings on Stomach
11. Writing on Left Pec
Tattoo: On his left pec, there is extensive writing that says, 'Grind Hustle Invest Sleep 10% Save Get Money."
Meaning: The lines are a source of encouragement for any being; however, what makes it special is the fact that they have been inspired by Soulja Boy's song, 'Grind and Hustle."
12. 'Chyna' Tattoo
13. 'Diamond' Tattoo
Tattoo: Towards the center of his stomach, there is a huge diamond inked.
Meaning: Diamond symbolizes inner beauty. Some people also get diamonds inked to reflect their richness and wealth.
14. Dice Tattoos
Tattoo: On his right forearm, there are some rolling dice tattooed. Some of them are inked in red, while others are transparent.
Meaning: Rolling dice are believed to be the universal symbol of good luck. They also represent the risk-taking capability of the tattoo wearer. The people, who believe in the ups and downs of their lives, and the instability of luck, as the player of destiny; certainly choose such tattoos that are said to hold luck factors within them.
15. Dollar Symbols on neck
Tattoo: Towards the left side of his neck, Soulja has got a few money symbols tattooed in the form of dollar signs.
The dollar symbol is the way to push up and motivate the self toward achieving the goals in life. Not many people are aware of this deep belief. It is usually regarded as the money symbol but the fact that money cannot buy happiness, and thus, we should hustle to reach heights of success.
16. Left Arm Tattoos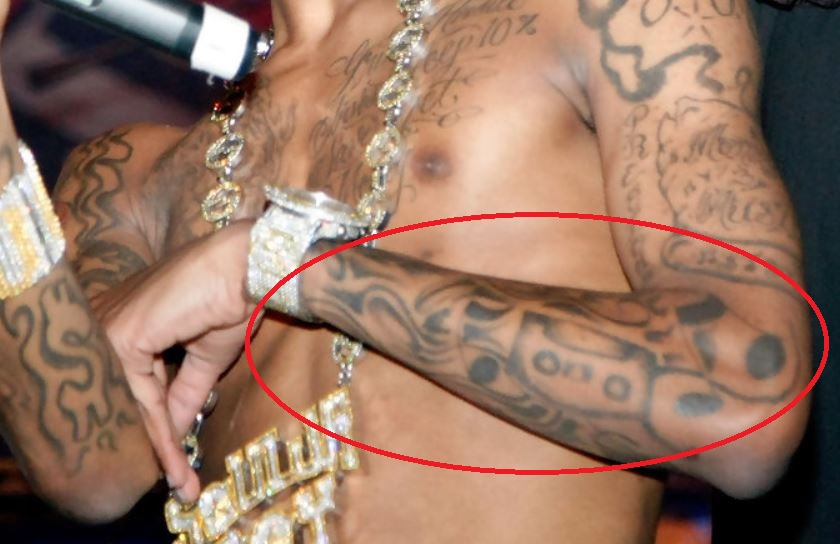 17. 'Musical Notes and Ying Yang' Tattoo
Tattoo: On his left arm, there is a tattoo of musical notes and a ying-yang.
Meaning: Musical notes represent his love and profession, i.e., music but ying yang tattoos, which are based on an old Chinese concept, strive to represent the unity and oneness in opposites.
The origins of Yin Yang tattoos may be traced back to some of the earliest philosophical, which points it to be the reflector of the fact that the person wishes to live a balanced existence. It serves as a powerful reminder to embrace and appreciate both the good and the bad at any point of time in life.
18. Portrait of a Lion
Tattoo: On his right pec, there is a portrait of a lion tattooed.
Meaning: Lion tattoo is to express the bearer's strength and courage. This type of lion face tattoo is also a reflection of the triumph of courage in the face of adversity.
19. 'LOVE' Tattoo
20. 'LOYALTY' Tattoo
Tattoo: On his inner right forearm, there is another bird tattoo to be found along with the word 'LOYALTY' red-inked under it. The dove birds themselves symbolize peace and loyalty.
21. 'MONEY GANG' Tattoo
Tattoo: On his upper arm, there is a tattoo that says, 'MONEY GANG,' which is topped with lots of money notes.
22. 'Money is Music' Tattoo-Left Bicep
23. Musical Notes Tattoo
24. Star Tattoo
On the left side of his neck, there is a dark colored black shaded star tattooed.
25. Musical Notes and Designs Tattoo
26. Hawk Tattoo
Tattoo: On the centre of his neck, there is a hawk with open wings tattooed. In the center, there is a huge letter 'S' inked.
Intellect, improvement, sovereignty, flexibility, balance, stability, fury, strength, safety, awareness, and transparency are just a few of the character traits that are recognized in the hawk.
27. Dollar Symbol on Right Wrist
28. 'PRECIOUS' Tattoo
Tattoo: On the inner side of his left upper arm, there is a tattoo of the word, 'PRECIOUS.'
29. Red Lips on Chest
30. Red Lips and Red Rose Tattoo
Tattoo: towards the right side of his neck, there is a red lip and a red rose tattoo.
Meaning: Red lips signify the deepest and the most passionate way of showing love for your loved one. The red rose is also a symbol of love, romantic relationships, and closeness between two people.
31. Right Arm Tattoos
32. 'SODMG' Tattoo
Tattoo: On his right shoulder, Soulja has got a tattoo of some Chinese letters surrounded by fire and stars and the acronym under it that says, 'SODMG.'
SODMG is the acronym that represents Soulja's label and stands for Stacks On Deck Money Gang. Soulja Boy founded the label in 2004.
33. Right Hand Tattoo
Soulja's right hand is covered with some name ink, a red star, and another dove bird tattoo.
34. Roman Numbers on Stomach
Tattoo: Vertical tattooed on his stomach is the tattoo of some roman numbers that can be read as 'XXVIII.'
Roman numbers here represent the number 28, which is the birthdate of Soulja Boy.
35. Stars on Left Hand
Tattoo: Soulja's left forearm and wrist are covered with purple-colored vertically aligned stars.
39. 'THE WORLD IS YOURS' Tattoo-Right Side of Stomach
40. Playing Cards Tattoo
Tattoo: There are playing cards tattooed along with a few more dollar signs.
The playing card is a mark of good luck and prosperity, but sometimes it is also regarded as the symbol of fate and death.
41. Cross Tattoo
Tattoo: In the center of his upper back, we can see a huge cross tattoo. Also, on either side, there is a pyramid inked.
Cross tattoos can symbolize your dedication to religion, i.e., Christianity. The cross is the Holy symbol of Christians and reflects the time when Jesus was crucified. Many strong faith holders get a cross inked to show their respect for Jesus Christ for the sake of humanity. Similarly, a cross tattoo might represent Jesus' unconditional love and sacrifice for humans.
Pyramids denote the Egyptian Culture, power and, thus, are meant to signify Pharaoh's tombs and a type of temple that is said to assure life after death. They are also seen as a sign of strength, solidarity, and determination.