Japanese tattoos have become increasingly popular for a few years and the celebrities hopping onto the same wagon really solidifies this fact. Not only do they have a unique appearance and looks, but they also have a significant meaning to them Probably that is why many people try and get inked in Japanese script or use the traditional Japanese style of tattooing. So, here is a list of one of the most popular Japanese tattoo designs that are there on the internet, i.e. the top celebrities who have got them inked on their skin.
List of Celebrities with Japanese Tattoos
Asian Doll's Kanji Tattoo on Arm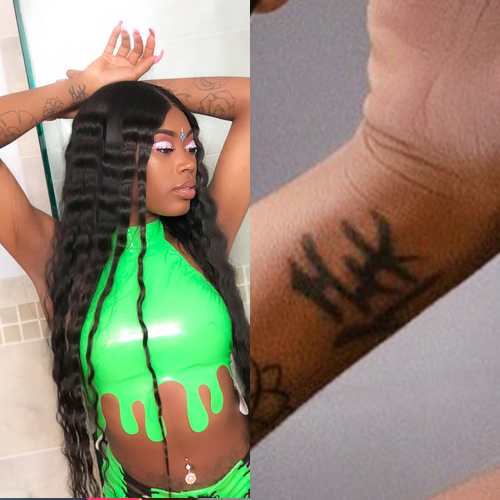 Asian Doll has a Kanji word written on her arm in black ink.
Kelly Clarkson's Blessed Tattoo on Neck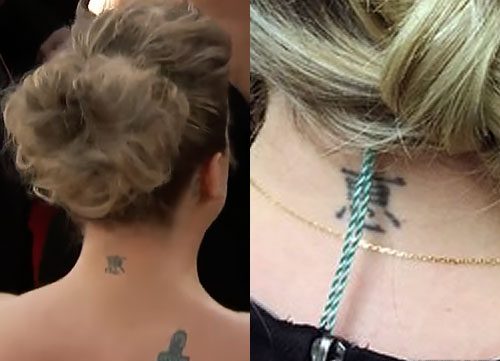 Kelly Clarkson has a small Japanese tattoo done in black ink on the nape of her neck.
Chloe Ferry's Kanji Tattoo on Ribs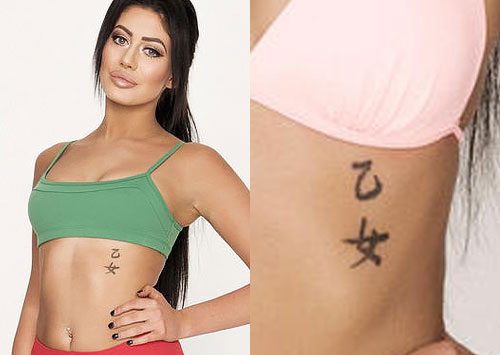 Chloe Ferry has a Japanese kanji tattoo on the right side of her ribs, right below her chest. The tattoo came out to light during the photoshoot for Forza Supplements.
Asami Zdrenka's Japanese Text Tattoo on Collar Bone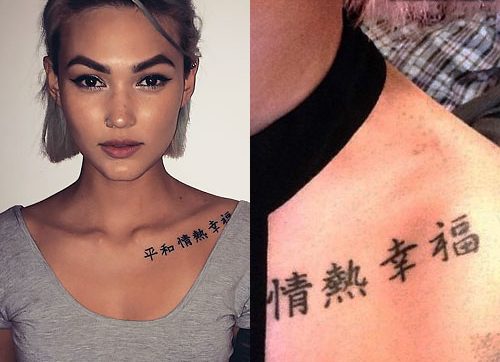 Asami Zdrenka has a beautifully written Japanese tattoo on the left side of her collarbone. She got this ink done in May 2016 and it means 'peace, passion, happiness' – a few virtues she really stands by!
Nerea Garmendia's Japanese Text Tattoo on Ankle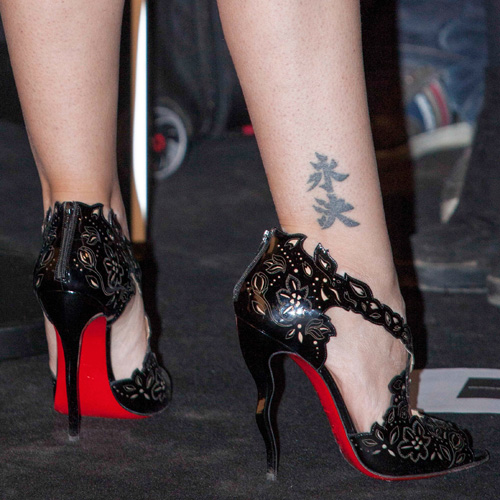 Nerea Garmendia has a beautiful Japanese tattoo right near her ankle. It is made vertically which actually looks pretty attractive.
Mila J's Seven Virtues of Bushido tattoo on Shoulder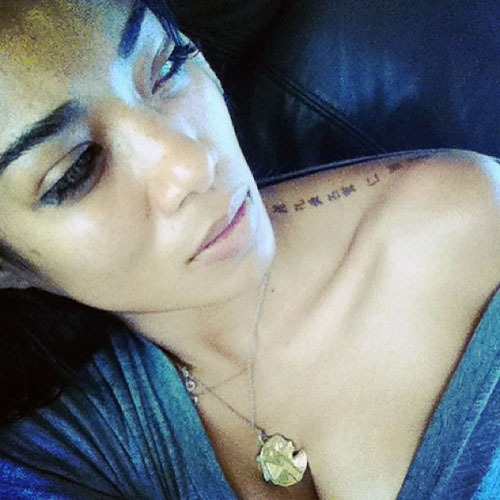 Mila J has a very significant and relevant tattoo on her shoulder. The tattoo is inked in black and starts from her neck and goes to her shoulders. It represents the seven virtues of Bushido which is the principle of Japanese samurai warriors. These virtues are righteousness (義), courage (勇), benevolence (仁), respect (禮), honesty (誠), honor (名誉), and loyalty (忠義). She got this tattoo design in the dedication of her brother  Miyagi Chilombo, who died of brain cancer in 2012. He had the exact same tattoo on his back and her other sister Jene Aiko has inked the same on her leg.
Asami Zdrenka's Family Tattoo on Wrist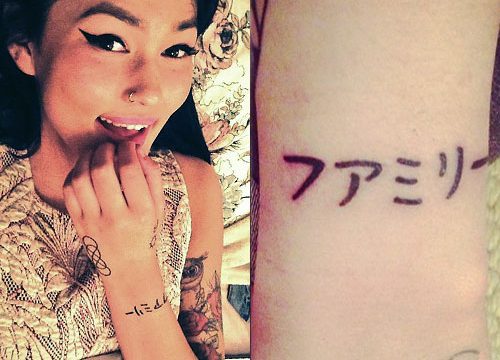 Asami Zdrenka's left wrist has a Japanese tattoo done in black ink which signifies "family."
Mary J. Blige's Strength Tattoo on Hand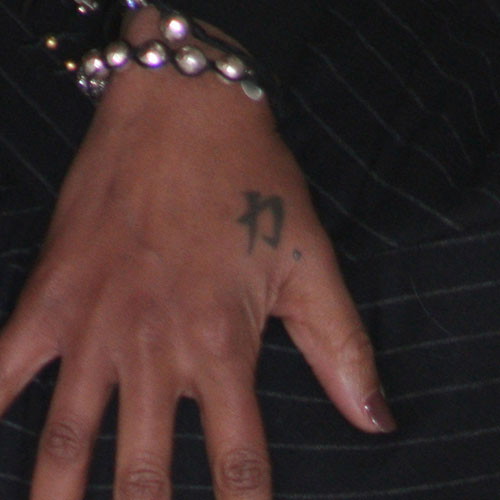 Mary J. Blige has a Japanese kanji tattoo that represents' strength.' The tattoo is inked in black ink on her hand.
Pink's Japanese Tattoo on Foot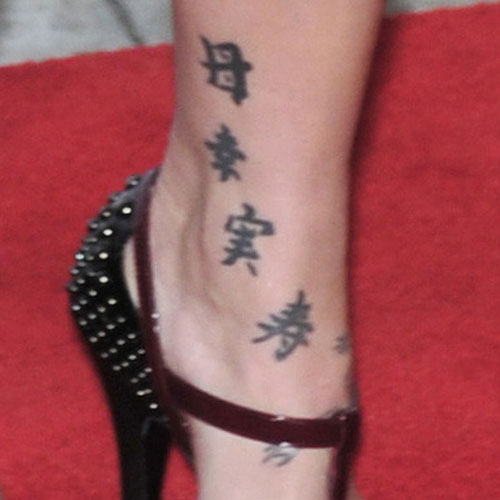 Pink got a Japanese tattoo inked on her feet which starts from her ankles and goes to her foot. It symbolizes good luck and happiness. She got this tattoo inked when she was only 12 years old. It was precisely after this that she got a knack for tattoos.
Skylar Grey's 'Save the Whales' Tattoo on Foot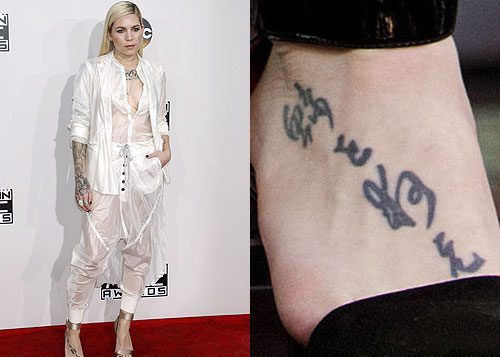 Skylar Grey has a long Japanese tattoo on her foot which represents a cause for the whales. "It says 'save the whales' in Japanese because Japanese people are the only people that kill whales," she explains.
Shanae Grimes' Keep Calm Tattoo on Wrist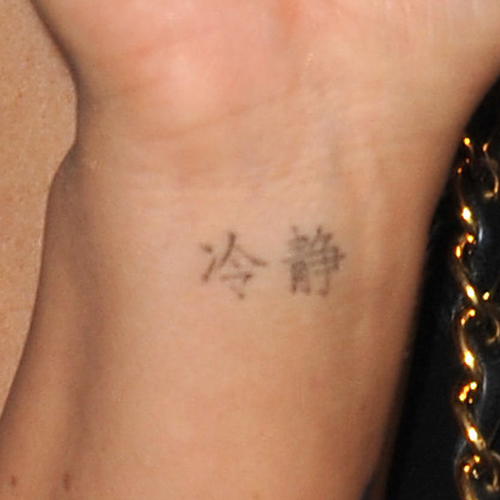 Shanae Grimes has a Japanese tattoo on her right wrist which means 'Keep Calm.' She says that this tattoo was due to her stay in Japan and because she got inspired so much by the Japanese culture that she decided to get the same. In her words, "Keep calm' was an important lesson that I learned from the beautiful Japanese culture during my terrifying experience in Tokyo a couple of months ago. It's one that I've always struggled with as a naturally anxious person leading a chaotic life growing up in the entertainment industry."