The dashing dude, Captain of Indian Cricket Team- Virat Kohli is born and raised up in heart of the nation, New Delhi. This International player is a right handed batsman, often considered as one of the best cricket players in the world. In a time span of less than 5 years, this guy, Virat Kohli, has become a legend and is one of the most reliable players in the Indian batting line-up. His wonderful performance plus smashing hot looks have earned him a million of women die hard fans. From dressing sense to hairstyle, he portrays idealism in almost everything. He has the modus operandi, the swaggering, persona, the frame of mind, the swivel, the blitz, as well as muscles. And we cannot afford to forget about his tattoos, especially when each one of them narrates a story of his life, his inspirations, desires, and his faith. Kohli has been inked 8 times. When asked, he said, "I love tattoos. And mine symbolize who I really am." Let us read and find out what his tattoos mean.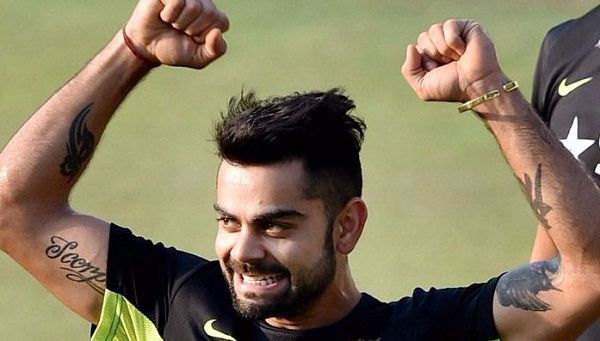 Virat has most of his inks on his arms, shoulder, and biceps.
The first tattoo on his left shoulder is 'God's eye'. It symbolizes the power of seeing and forbearing that which is incognito and untold. It is for intuition and the capability to visualize hyper obvious or maybe into the future. The eye can also be seen representing protection and defense against evil influences.
A Japanese Samurai warrior with a raised sword is tattooed on his left shoulder. He says this is one of his favorite tattoos. The Samurais were depicted as the warriors of pre-modern Japan who believed in living the life based on loyalty to one's master, self-discipline and respectful, ethical behavior. Virat Kohli believes that he gets his strength from this sword inked and has studied self-discipline and self-constraint from Samurai.
Next tattoo inked on his left shoulder is of his Test cap numbers 269 and ODI cap number 175.
Virat says his love for his parents is like no other. Therefore, he has also tattooed the names of his parents in Hindi. His late father's name was Prem Kohli and mother's name is Saroj Kohli.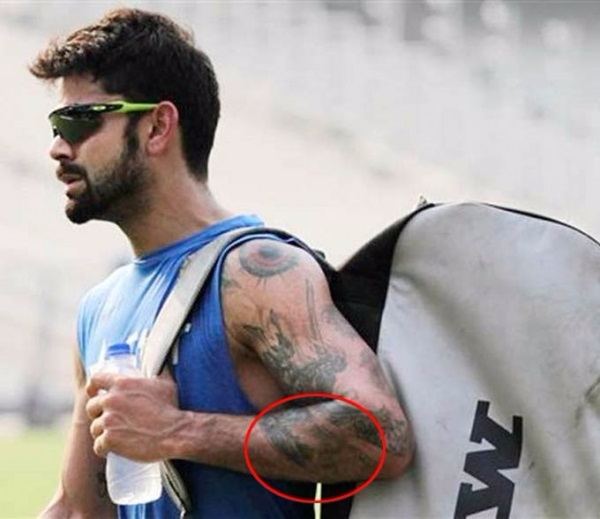 Virat is a worshipper of Lord Shiva. So, he has a tattoo of lord Shiva in meditation with mount Kailash and lake Mansarovar at the back where he used to meditate.
Virat also got inked a tattoo of a monastery on his shoulder. This is a symbol of a place of peace and power.
Virat Kohli has inked a scorpion, which is his Zodiac sign, written on his right bicep.