Charlotte Sartre, famous by the name Goth Charlotte, is one of Vegas' fastest-rising porn stars. Charlotte Sartre was born in California, United States, on December 6, 1994. Quite young as regards her age, Charlotte is now a director as well as an actor. Since February 16, 2019, Charlotte has been married to Lance Hart. Besides her career achievements, the best thing that has helped her gain much popularity is her body tattoos. Let us explore her body tattoos and their meanings.
"I went to school for a little bit and studied accounting and taxation in college. I love doing taxes, but I don't really like telling [people] how much they owe. That part was tricky. When I was 20, I started webcamming."
"No, not at all. I don't mind getting my blood drawn for testing, and I get tattoos all the time. So like the needles don't bother me, but I think something out of my control taking parts of my body".

"I really like my sleeve now that it's almost completed. I also like the big church on my leg. I also love my chest tattoo. It's hard to pick. It depends on the day."
1. Barbed Wire, Three Nails, and Cross Tattoo
Tattoo: On her right knee, Charlotte has got a tattoo of an encircled barbed wire, with three nails inked inside it. Also, there is a tiny cross inked under these.
Meaning: The Holy Cross is the symbol of Christians and reflects the tattoo wearer's deep faith and belief in Christianity, Jesus' blessings, and the power of prayer. This is the biggest proof of the fact that Charlotte is a Christian and holds strong religious views.
The barbed wire is often used to reflect the time spent by the tattoo wearer in prison however, it is not the case with everyone. Some people also get it done to represent the sacrifice made by Jesus Christ for the sake of humanity. Three nails are the reflection of the cross where Jesus' crucifixion was done.
In order to show Jesus' transcendent love for humanity and mankind, the barbed wire and three nails are the most preferred choice!
2. Fierce-Looking Eagle- A CoverUp Tattoo
Tattoo: On her right bicep, there is a huge tattoo of an eagle with a skull trapped in its hand.
Meaning: The eagle is the ultimate symbol of power, courage, dominance, and strength.
The eagle holding down the skull is the token of authority and triumph. The vibrant tattoo has a stunning appearance and sends a powerful statement. It also describes the achievement of good over wickedness.
This tattoo is the cover-up to an older ink that existed in the same place and was speculated to be the tattoo of Anubis.
3. Centi-Pede Tattoo
Tattoo: On her right forearm, Charlotte has got the tattoo of a massive centipede inked.
Meaning: She got the tattoo done by the tattoo artist, Henry Lewis on July 26, 2020. She revealed it via her Instagram handle.
Centipede tattoo is a powerful insignia since it is said that centipedes could travel between the physical world and the underworld. It is hereby, a powerful symbol in the natural world but, getting its tattoo might also relate to the love of the tattoo wearer for eerie and weird things in life.
4. Roman Numbers and Symbols on Chest
Tattoo: On her chest, towards the right side, there are some Roman numbers inked as DLXCVI, whereas, on the left, there are some stars, the letter A, and a tiny cross.
The Roman numbers represent 666, whereas the stars symbolize direction, guidance, ambition, destiny, and hope. The Cross is the symbol of Charlotte's religious beliefs and faith; Christianity.
5. Snake Tattoo
Tattoo: There is a massive snake tattooed around Charlotte's left forearm.
Meaning: The snake's phallic form is a sign of fecundity and effective life energy. A snake has the capacity to shed its own skin, due to which he is considered as the symbol of regeneration, transition, growth, or restoration.
The king cobra tattoo design, a common among tattoo lovers, is regarded as a holy icon, denoting royalty and prosperity, and is thought to protect the charmer against snake assaults.
6. Dog Tattoo
Tattoo: There is a tattoo of a dog who can be seen showing his belly and rubbing himself to the ground!
7. Flower-Dahlia on Elbow Tattoo
Tattoo: Dahlia on Charlotte's left elbow.
Meaning: A dahlia tattoo is most likely to be found on a tattoo lover who wishes to reflect the importance of change and transformation in life!
When worn as tattoos, dahlias may signify any type of transformation, but they are also frequently recognized as symbols of beauty, diligence, refinement, and respect. The flower represents richness and elegance, as well as love and involvement. It is believed to be the best one among all flowers for expressing your feelings.
8. 'Tarantula Tattoo'
Tattoo: On the inner side of her right upper arm, there is a tarantula tattoo.
Meaning: When tattooed on the body, the tarantula tattoo can be a darker symbol, it reflects the darker side of your personality. It is also believed that if a person sees a tarantula in his dream, it shows that you are in poor health or that you are dispirited. It can also symbolize battle, anxiety, and extinction, yet also inventiveness and fertility.
But, Charlotte's idea of getting this tattoo is because of her love for the insect. She has 8 tarantulas as her pets.
Charlotte stated in her XCritic column interview; "I have 8 tarantulas a centipede and two cats, Ripley and Jonesy".
9. Woman with Tarantula Legs
10. Flowers and Leaves Tattoo-Left Shoulder
Tattoo: Covering her left shoulder and bicep, there are multiple flowers and leaves inked. There are some lilies and olive branches inked, along with a few leaves on the bottom.
Meaning: Lilies are beautiful flowers that represent affection and innocence.
On the other hand, the olive is often linked with the power of birth, reproduction, and motherhood, but its most well-known metaphorical interpretation is peace. The olive tree/olive branch is used as a symbol of peace, friendship, and brotherhood as per Greek mythology.
11. Hand Tattoos
Tattoo: Across her knuckles of the left hand, Charlotte has got tiny tattoos representing the symbols of the playing cards. Also, there is a tiny cross inked on her index finger and a skull on her ring finger. We can also see the tattoo of the word 'JUICY' across the corner of her left hand.
The symbols are the logos of the black cards from the 52-card deck: diamonds (♦), hearts (♥), spades (♠), clubs (♣), as we move from her pinky to index finger. They are the symbols of good luck, prosperity, and wealth. The skull, on the other hand, is the symbol of evil, dead, death, and bad.
12. 'Bat Girl' Tattoo
Tattoo: Under her left knee, there is a tattoo of a girl with bat wings.
Meaning: Instinct, imagination, fiction, and dreams are commonly characterized with bat tattoos. Some people get customized bat tattoos to symbolize multiple aspects that can point towards deep communication with your fears, fighting with your personal demons, confronting turmoils, darkness and death, delusion, and success and happiness.
13. Bat-Upper Left Thigh
Tattoo: There is another huge bat inked on Charlotte's left thigh.
14. Left Thigh Tattoo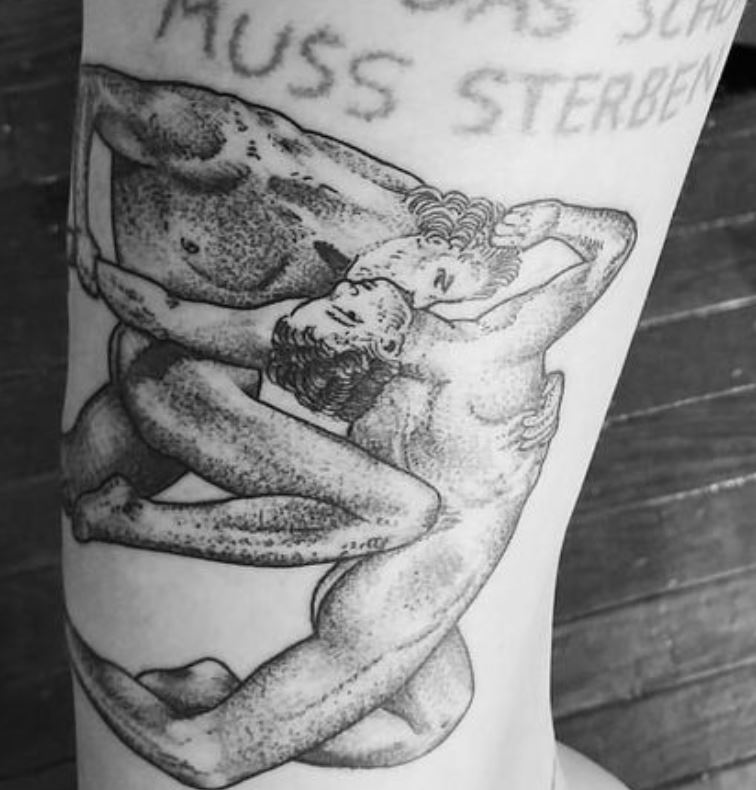 Tattoo: On her left thigh, below her bat tattoo, there is a naked couple inked.
15. German Writing 
Tattoo: Charllote's left thigh is also inked with a german script that goes like, 'Auch das Schöne muss sterben' which means "Even beauty must die" and is a quote from Friedrich Schiller's poem "Nänie".
16. 'URINAL' Tattoo
Tattoo: On the inner side of her lower lip, Charlotte has got a strange word tattoo that says, 'URINAL.'
She also claims it to be her favorite tattoo.
"I really like my new inner lip tattoo which says "URINAL" I don't really have anything planned right now, most of my tattoos were pretty spur of the moment but I'm sure as soon as I can justify spending the extra cash I'll be back in the tattoo shop very shortly."
17. Angel Tattoo
18. Rose Stem Tattoo
Tattoo: On her right hand's thumb, there is a rose stick inked.
Meaning: Rose is the universal symbol of love, admiration, affection, and romance.
19. Rose on hand Tattoo
Tattoo: There is another rose inked on Charlotte's left hand.
Rose is the universal symbol of love, romance, affection, attraction and is regarded as the best way to express love to your partner.
20. Snake on Thigh
Snake, the symbol of fertility, knowledge, patience, and transformation, is inked on the backside of Charlotte's right thigh.
21. Spider and Spider Web Tattoo
Tattoo: On the inner side of her left arm, there is a spider web tattooed along with a spider inside it.
Meaning: A spider tattoo can communicate discernment, fertility, amicability, and harmony. Spider web, on the other hand,  is a popular design to show the time which a person might have spent behind bars. Also, acts as the token of mortality and fortune.
22. Spider on Neck
23. Spider and Heart Tattoo
Tattoo: There is another spider web tattoo inked on her body; it can be seen on her left wrist. Alongside, there is a heart with the words, 'ME.'
24. Spider Web Tattoo-Left Knee
"I was 18 and was dating the punk girl. Her sister is still a good friend of mine to this day and she taught me how to do stick-and-poke. I gave her one, the black flag logo, and she gave me a spider web on the side of my knee and I kept adding into to it."
25. Thigh Tattoo
26. German Writing-Right Thigh
Tattoo: Above her barbed wire tattoo on her right upper leg, there is another german script inked that says,
'learn Leiden Ohne klage'. It stands for' 'learn to suffer without complaining' when translated into English.
27. Writing on Chest-Book Title
Tattoo: Across her chest, there is a writing, which is claimed to be a title to one of the books of Jeal-Paul Sartre. Charlotte is highly inspired by him and revealed to have chosen her last name from his name only. He is known to be her favorite philosopher.
"My real first name is Charlotte and I picked Sartre after Jean-Paul Sartre, one of my favorite philosophers. The tattoo on my chest is the title to one of his books."
28. REST IN PISS Tattoo
28. LAMB Tattoo
When asked about the total number of tattoos on her body, Charlotte said,
"Like I have knuckle tattoos, for example, and does that count as 1 tattoo or 8? And I just added more work to the sleeve on the arm so do I count that as each session that I went in or is it one big tattoo? Counting little ones all over my body, anywhere from 20 to 30. It just depends on how you divide it up."