With a global fanbase, Grammy award winner, highest albums selling artist, and the most followed rapper of this era, The Rap God, Marshall Mathers aka Eminem, is a white boy who was often bullied by African -American kids for not being black. His mentor and the greatest rapper of the all-time, Dr. Dre said that he is the most diligent and intelligent rapper in the world. Like all the other great rappers, he has added many inscriptions on his body, each of which has a special meaning for him. Every tat on his skin is based upon his life. Let's have an in-depth look behind the meanings of his inscriptions.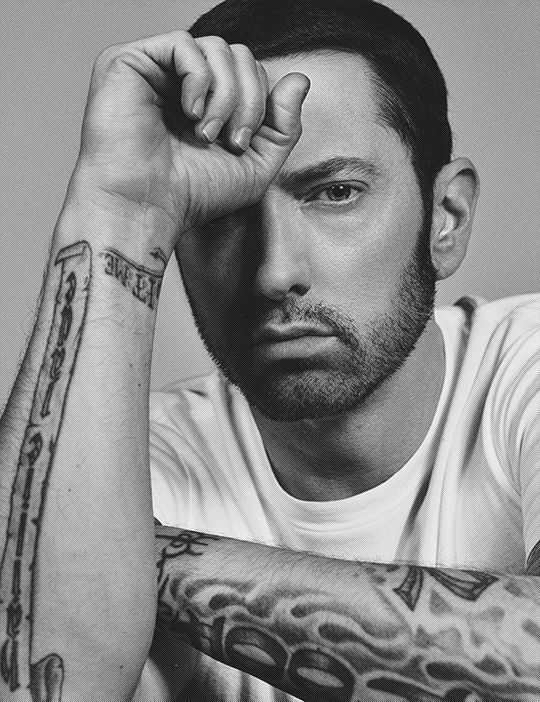 1. "Ronnie RIP and Detroit City" on his Left Shoulder
Tattoo: "Ronnie RIP" and Detroit City
Meaning: Eminem has a massive tattoo inked on his left shoulder. He got this tattoo to pay tribute to his uncle, Ronnie Polkingharn, who introduced him to the hip-hop world. Uncle Ronnie committed suicide in 1991. However, this tattoo started out simply as, Slim Shady, his other name. Eminem than updated this tattoo after the death of his uncle. He added roses under Ronnie RIP, an evil eye, and a huge mushroom. This tattoo is an artistic piece and depicts the distressing life of Detroit.
2. "Tribal Bracelet" on his Left Wrist
Tattoo: Tribal Bracelet
Meaning: Eminem has got a tribal bracelet inked on his left wrist. The meaning behind this tattoo is a mystery even for Eminem himself. In an interview, he said that he doesn't remember the actual reason behind this inscription because he got this inked when he was drunk and wasted.
3. "ROT IN PIECES" on his Abdomen
Tattoo: "ROT IN PIECES" and "KIM" on the Tombstone
Meaning: Eminem got the phrase, 'rot in pieces' inked below an open grave which has a name of his ex-wife, Kim Scott, on the tombstone. This tattoo depicts his troubled relationship with Kim and inked it after they broke up. This tattoo is inked around his belly button.
4. "PROOF" on his Left Forearm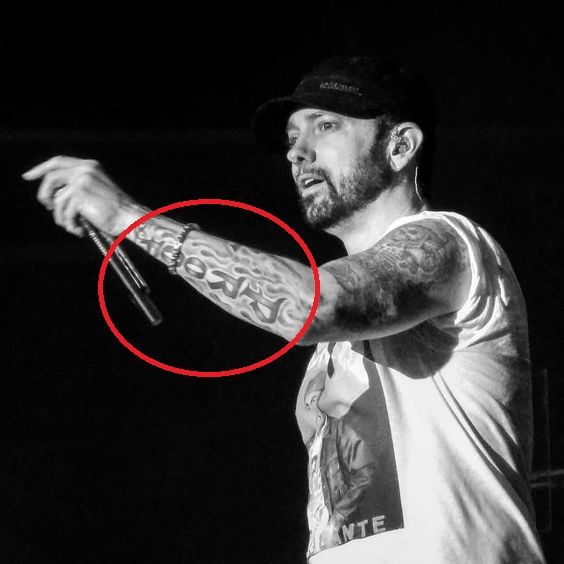 Tattoo: "PROOF"
Meaning: Eminem got this tattoo on his left arm as a tribute to his friend, Proof Adorns, after his death in 2006. Proof was a member of his band, D-12 and was shot to death.
5. "Halie Jade" on his Right Forearm
Tattoo: "Halie Jade"
Meaning: Eminem has got the name of his daughter, Halie Jade, inked on his right forearm. He got this ink tattooed after the birth of Halie, on the Christmas, 1995.
6. "Portrait of his Daughter" on his Right Shoulder
Tattoo: Portrait Of Halie Jade
Meaning: Eminem got the portrait of his daughter, Halie, inked on his right shoulder. There is a bed of roses inked below the portrait.
7. "Bonnie & Clyde and A Vintage Car" on his Right Upper Arm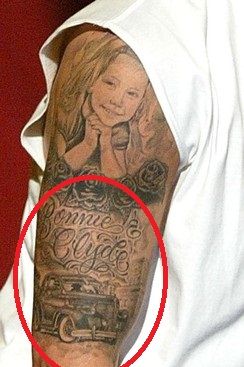 Tattoo: "Bonnie & Clyde" and a Vintage Car
Meaning: Below the Portrait of Halie, Eminem has inscribed the name of Bonnie & Clyde, dedicated to her. Bonnie and Clyde were the American criminals and a couple who robbed many banks. There is getaway 1930's Car inked underneath Bonnie and Clyde. In his song, Slim Shady LP 1997, he equated his and his daughters' relationship to Bonnie and Clyde.
8. "D-12" on his Forearms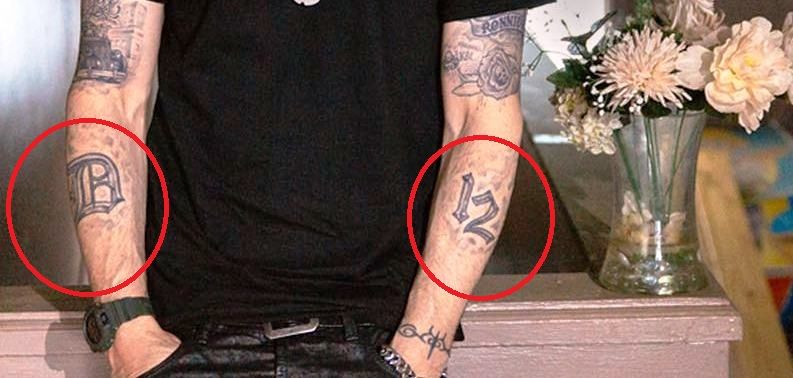 Tattoo: "D-12"
Meaning: Eminem got his right forearm inked with D and left forearm with 12. D12 are the initials for the hip-hop group, Dirty Dozen, from the City Detriot. Dirty dozen was formed in 1996 and achieved mainstream success after Eminem rose to international fame.
9. "SLIT ME" on his Right Wrist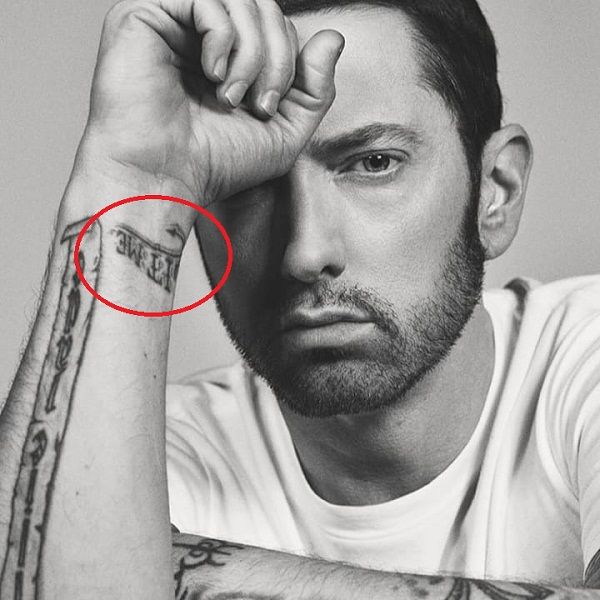 Tattoo: "SLIT ME"
Meaning: Eminem got a phrase, Slit me, inked on his right wrist. This tattoo depicts his past disturbed life and suicidal tendencies.