Tattoo stands for different things in life and it varies from person to person. It may stand for some deep belief, some religious connotations, something to remember from, or probably something personal. For others, it can be absolutely a matter of aesthetic purpose. The fact is that tattoos have increased in trend so much that almost everyone is planning to get one once in their lifetimes.
However, there are some professions that do not allow tattoos and the profession of nurse is one of them. But, wait! Before you actually discard the idea, make sure you check with your hospital policy first.
The tattoos are not necessarily for the people who have gone haywire or someone who likes to break the rules. A nurse tattoo can be symbolic of many great things because a nurse is a caretaker and a provider, an assistance when you require the most.
However, there are no strict rules that says that a nurse can not have tattoos, but it is true that getting tattoos attract attention. And the hospital is the last place where you would like to get attention. Moreover, the ink that is used in tattoos has been associated with skin cancer and things like that but it does not stop the tattoo enthusiasts from getting one. A nurse can hide a tattoo if he or she desperately needs one!
Here are some good reasons why:
To avoid offending co-workers and patients
Tattoos have multiple meanings and can be associated with a variety of things. It can definitely cause a ruckus and can ignite 'anti-whatever your tattoo stands for' feeling among people.
To promote professionalism
Tattoos are something that is associated with fashion. It can divert the mind of the nurses as well as patients. It is therefore advisable for people in such a serious profession to abstain from such things.
To encourage equality
Nurses that might have tattoos may not be treated the same way as the nurses or in fact doctors who do not have it. Of course, any trend that you follow have their own pros and cons and everything leads to judgments by people.
Here are some tattoo patterns, anyway, for the unstoppable nurses who are not afraid of the conventional rules and restrictions. Give a look!
This is one of the classic designs of the list. It represents the nurse, along with the emblematic rose and a human heart. The whole picture gives a poignant look.
It's such a sweet and pristine design. The nurse resembles Mother Mary. The innocence on her face is quite exquisite.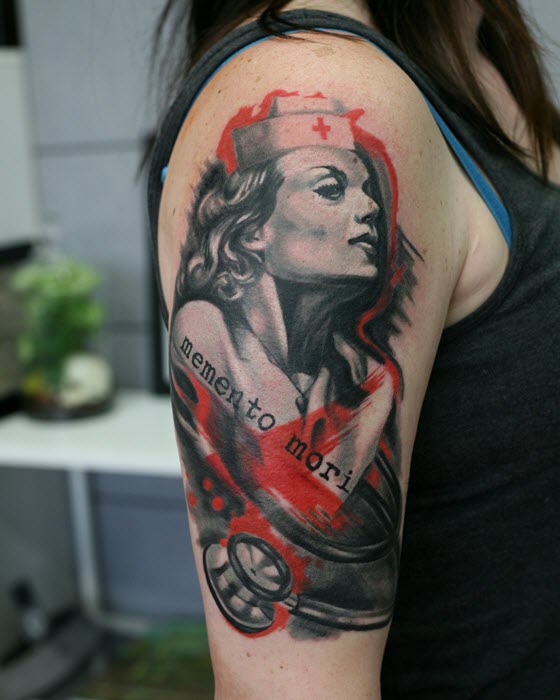 This nurse looks like a rebel. A rebel with a cause we hope so. The splash of red color enhances the otherwise black and white design.
Sometimes one needs something caricaturish to remind them that life is not all that somber. Although the medical profession is quite a grave one, this design will surely remind you of the brighter side.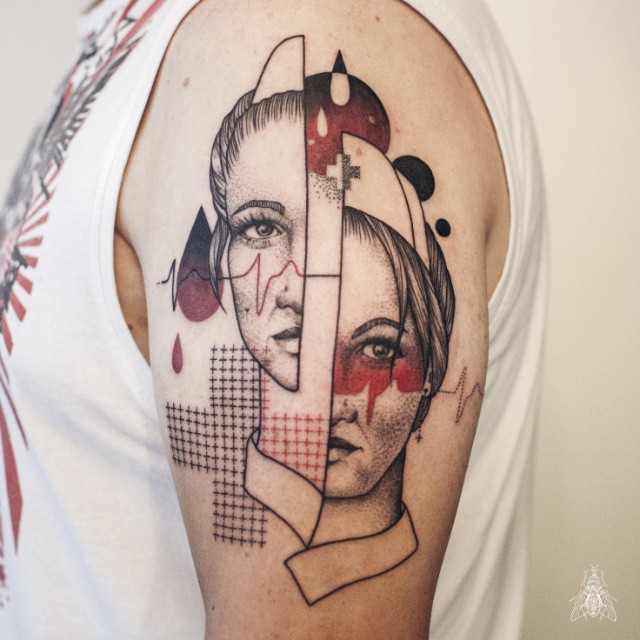 This geometric piece is quite modern. It demonstrates the contemporary art form which is quite attractive and unusual. So if you want to gain some attention, this is one of the perfect designs for you.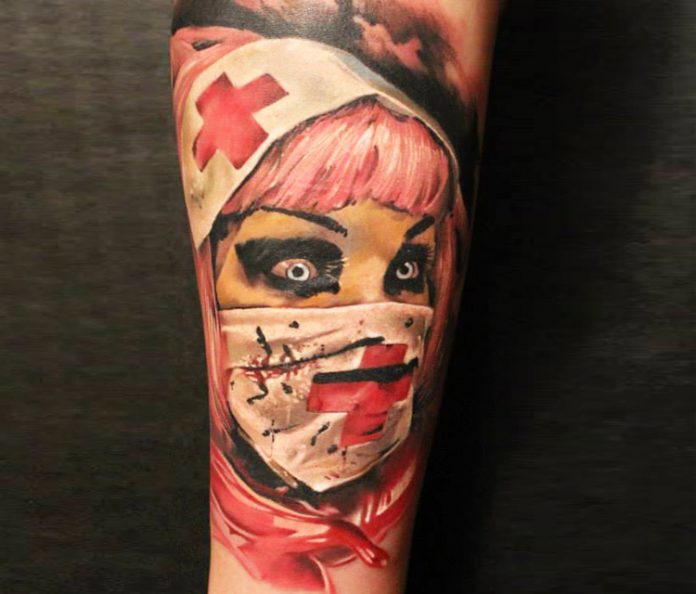 The gothic fashion has not left any stone unturned in influencing the nurse theme too. This one looks quite unusual but pretty attractive at the same time.
This design portrays the nurse in a very pensive look. She looks quite determined to do something which she'll definitely complete.
The caricature designs look really fun and basically showcases your own fun-loving nature. So if you're someone who's all about keeping things low, this design would suit you perfectly.
This particular design has a lot of detailing and intricacies to it. It is a full arm design and it definitely looks pretty majestic.
This nurse design reminds me of some classic Hollywood actor. Does it resemble someone you know? Because the face looks very familiar. The features of this nurse are quite charming and subtle and that is what makes the tattoo resonates.
Halloween is on the cusp, so if you need something scary on your frame, a scary nurse design is a deal for you. The detailing is quite amazing and it makes the design quite lifelike.
Once again a scary nurse pattern. I am guessing that evil and monstrosity are something that has aligned itself with the nurse theme. After all, many scary movies have hospitals as their locations. Scary nurse and doctors ought to be a part of it, ain't it?
This design feature quite an attractive young nurse. The connotations can be personal and intimate to your own thought process but we love how the design is quite neat and pristine.
Detailed Nurse Tattoo Designs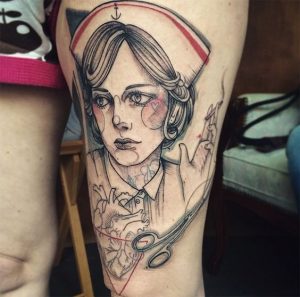 Talking about modern art, this design definitely represents the essence of it. Quite contemporary in its approach, the design is also quite attractive to look at.
Colorful Nurse Tattoo Design
Even the nurse needs some spark and color in her life. This tattoo does exactly the same. The nurse is depicted in a collection of beautiful and vibrant colors which enhances the beauty of the whole design altogether.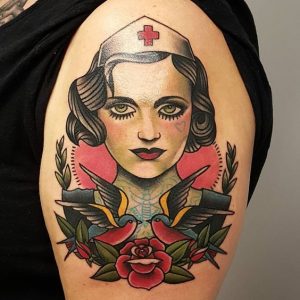 It has such an uncanny look about it. The design is quite well-made, thanks to the tattoo artist, but there is something quite attractive about the nurse's eyes. You can almost fall for those eyes. Do you feel it's something sinister too?
Divine Nurse Tattoo Design
The nurse resembles something divine like she straight away fell from the heavens. This is such a blissful design to look at. The colors are not too harsh on the eyes. Such a perfect design if you are looking for something mild.
This design has a lot of blood in it, doesn't it? More than being evil, this nurse looks greatly possessed. Quite a spooky design and perfect for this time of the year when Halloween is around the nook and the corner. It needs a lot of courage to showcase something like this on your frame. I mean, Halloween is alright, but what about the rest of the year?
Apart from the obvious nurse designs, there are many more design patterns that are associated with the medical profession in general. The caduceus is one such thing. It is a symbol for the people who have served in the medical profession. However, it can be used to create cool tattoo ideas because it incorporates interesting elements that you can also alter as per your taste.
This black and white Caduceus looks quite magnificent and royal. It'll definitely cater to your purple blood.
An ode to the medical profession doesn't really require a full-blown design. Rather a pretty little emblem is quite sufficient.
You can choose what kind of color combination you would like your design to be. It would be great to fill in your favorite color, but you can experiment with various other color palates.
You know that a stethoscope is the ultimate symbol of the medical world. So… what's stopping you?
As you can see, this emblem is quite detailed. We loved the fine lines it contains.
Once again a geometric design steals the show. It looks quite creative on the forearm and gives a unique feeling.
This design is apparently too majestic. So if you can handle all the flamboyancy, go ahead. What's stopping you?
You can always mix and match two different patterns to form a unique one. Ultimately, that's what creativity is all about, isn't it? So go ahead and make more such creative designs and be proud of it later on when you receive those appreciations,
This is such an attractive piece. The placement is quite appropriate for such an enormous piece. It looks like this design was only made for the upper back.
This pattern has all the primary colors embedded in it. Quite a simple design, but still classy.
Now, this is one such watercolor effect we're talking about! The beautiful hue of the pattern makes it different from all the other patterns on this list. Don't even think twice before getting this one tattoed on yourself.
On the other hand, the Rod of Asclepius is the correct symbol for the medical profession. The most obvious difference between the rod from the caduceus is the number of snakes illustrated with the staff. The Rod of Asclepius only has one snake while the caduceus has two. If you are to survey the world to what they feel is the correct symbol, you'll probably get a 50-50 score favoring both Caduceus and Asclepius. No one can blame the world though since the mistake became a convenient tradition. Either way, the purpose of their symbolism is still felt. People still recognize the level sacrifice and dedication of a medical professional once they see any of the symbols tattooed on human skin.
This design gives a very classic touch to the look. It has such an antique feeling.
This is a basic design of this symbol. The Rod of Asclepius in its most fundamental form.
Unusual and Rustic Design
This design can symbolize many things other than just being The Rod of Asclepius. It highly resembles the Christian cross with the snake signifying death. It is such a profound design.
This snake looks like it is just about to attack, and so beware, it can be at any instant. However, the color scheme is quite bright and attractive.
This The Rod of Asclepius is quite floral and thus gives a distinctive look to the whole theme. Even without the addition of any colors, it looks quite vibrant. Probably it's nature's touch. What do you feel?
So, with a tattoo like this, who really needs ornaments? This can be your permanent bracelet. And the best thing about this is that unline any regular jewel, this one will have a significant meaning attached to it. Of course, you can't change it later on, but it will surely do its job of reminding you of its significance.
In addition to the tattoo ideas below, here are some more creative nurse tattoo designs that might suit your taste. So go ahead and have a look but always remember that there is forever a room for change.
What we love about this design is the hue of blue in the backdrop. Quite enthralling!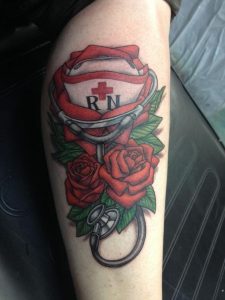 This is a masterpiece if you ask me. The symbolic elements of the medical profession are all embedded in the bed of roses. What a picturesque view, isn't it?
This is such a creative idea to show your love for someone. The heartbeats are perfect to show that the special someone resides in your heart. Even if it's just a profession.
You can always get some really nice quotes imprinted on yourself. It is never a bummer.
This the basic emblem of the nurse tattoo. It looks quite dainty and cute too, doesn't it?
Here is everything a nurse needs right in one place.
There is so much going on with his design. So if you are not afraid to jump into the complexities of this pattern, go ahead and get this one done because the colors look extremely pretty.
Aww, such a pretty design! This piece would be more suitable for the girls because of the delicacy of the pattern.
Detailed Nurse Tattoo Designs
This is for someone who is looking for something detailed and intricate.
This is quite a message to remember. Always inculcate great habits. A beautiful reminder to behold.
Inspirational Tattoo Design