You are probably reading this because you spent last night scrolling through your Pinterest looking at cool piercing fashion and now you can not stop thinking about which piercing you must get. With so many places to choose from and multiple piercing ideas, it is normal to drool. In fact, even some of your favorite superstars get them as a statement to their personalities. Right from the ears to nose and navel, many have bizarre places where they have themselves pierced, like between the thighs or cheeks! Piercings have been in trend all through the 90s and it has risen up once again. There is no doubt about the fact that whenever we need beauty advice, we often turn up to our favorite celebrities and so, piercings must not be any different. We have endless nights stalking them on their social media and getting a screenshot of whatever trend they are following. There might be some amazing hair cuts and colors and extremely attractive makeup skills, but you must know that some celebs just love to get pierced In the recent past we have seen even models like Gigi, Bella, and Kendall getting piercings!
You can decide if it is just a single piece of earring that you want, either a hoop or a stud, or are we talking multiple earrings? The more the merrier, right? Many celebs, either permanent or temporary, have their ears pierced in trendy and cool looks! We have made up this list of 60+ celebrities who are rocking earrings, including your favorite ones, whether it is a girl or a boy so that you can take that step ahead towards your piercing guy. But once you go through all these cool trends, you gotta make sure and choose one that will feel like a total badass! It is important that you make up your mind completely because one hole can transform the way you look- whether it is studs, hoops or barbells! You gotta take a look at the kinds of piercings that can be done on your ears first. Take a look!
Kinds of Ear Piercings
1. Lobe
This is the David Attenborough of all the piercings that you have ever seen. It is there like a very normal person, it's probably the okay-ist piercing that everyone has heard of and probably your nana has it too! In the olden times, the ears were pierced right in the fleshiest part of your ear, that is, the center portion. However, a little on the higher side is also popular these days so that you can add a bit more to your ear later. The upper lobe has begun to gain immense popularity and a much asked for hype. It is the place where the cartilage begins. There is definitely an increasing trend of getting two or even three piercings there, just because getting a higher lobe piercing leaves room for other ones.
2. Helix
Helix piercing is one of the most trendy ones and quite a badass design that you can get. It is the girl next door piercing and is pretty standard. It could be seen very commonly while walking in the street or in a concert. The best part is that you can either wear a stud or a ring in it because both are equally fashionable. The helix piercing begins at the upper cartilage.
In the second picture, we can see Kylie's throwback pic where she has added a bunch of cute ear piercings with hoops on them. She has her whole ear covered and even though the pain might be excruciating, the final look is worth it all. The first pic is a little later in her life when she reopened all her piercings. She added three silver hoops above plus one black hoop a little below that is standing all by itself.
The first pic is from the 2019 Grammy's where Miley kept her outfit rather simple just for her precious jewels to shine through. She had a piece of seven-piece jewelry on her ear which looked quite grand! And although she had mellowed it down a bit in the second look, her short hair lets all the attention to her jewelry and other face piercings that she has. Her ear-piercing matches with her nose piercing.
She is full of piercings on her face and it is probably the reason she has her time on Instagram and other social media websites too with her viral looks! She has a daring septum piercing along with the multiple ear piercings. Among the styles and kinds of earrings that are explained above, she has a daith, helix, and outer conch. You can see a silver theme going on in the second picture. Obsessed with accessories, it is not surprising that she has decorated her plaits too.
The 'Only Girl in the World' singer has one of the baddest attitudes when it comes to daring fashion trends. She not only has a multitude of piercings on her ear, but also has a cute flower tattoo too. She has all kinds of ear jewelry, right from the studs to bigger and fancier hoop earrings! She has almost every area of her ear holed. Just like her tattoo says, "rebelle fleur". She is exactly the one.
Zoe Kravitz has five piercings on her ears. She has mellowed it down to studs instead of over the top and extravagant hoop earrings. Her sparkling diamonds are adorned in some peculiar places like her conch and auricle.
Emma Roberts has kept her piercings very low key and that's because it suits her much better. Her style is simple and classy and so she looks amazing with the star that is studded on her lobe.
Emma Watson or our beloved Hermione Granger had a very badass attitude throughout her Harry Potter days. Although, no one really anticipated that she will showcase that in her fashion sense too. She as two piercings on each ear and makes sure that she flaunts it well.
With her nine piercings, Scarlett is surely the one who loves to have a lovely earring arrangement. With her lobe having the biggest earring, she has multiple studs and hoops throughout. That pixie cut is a plus because it lets her flaunt those sparkling stones.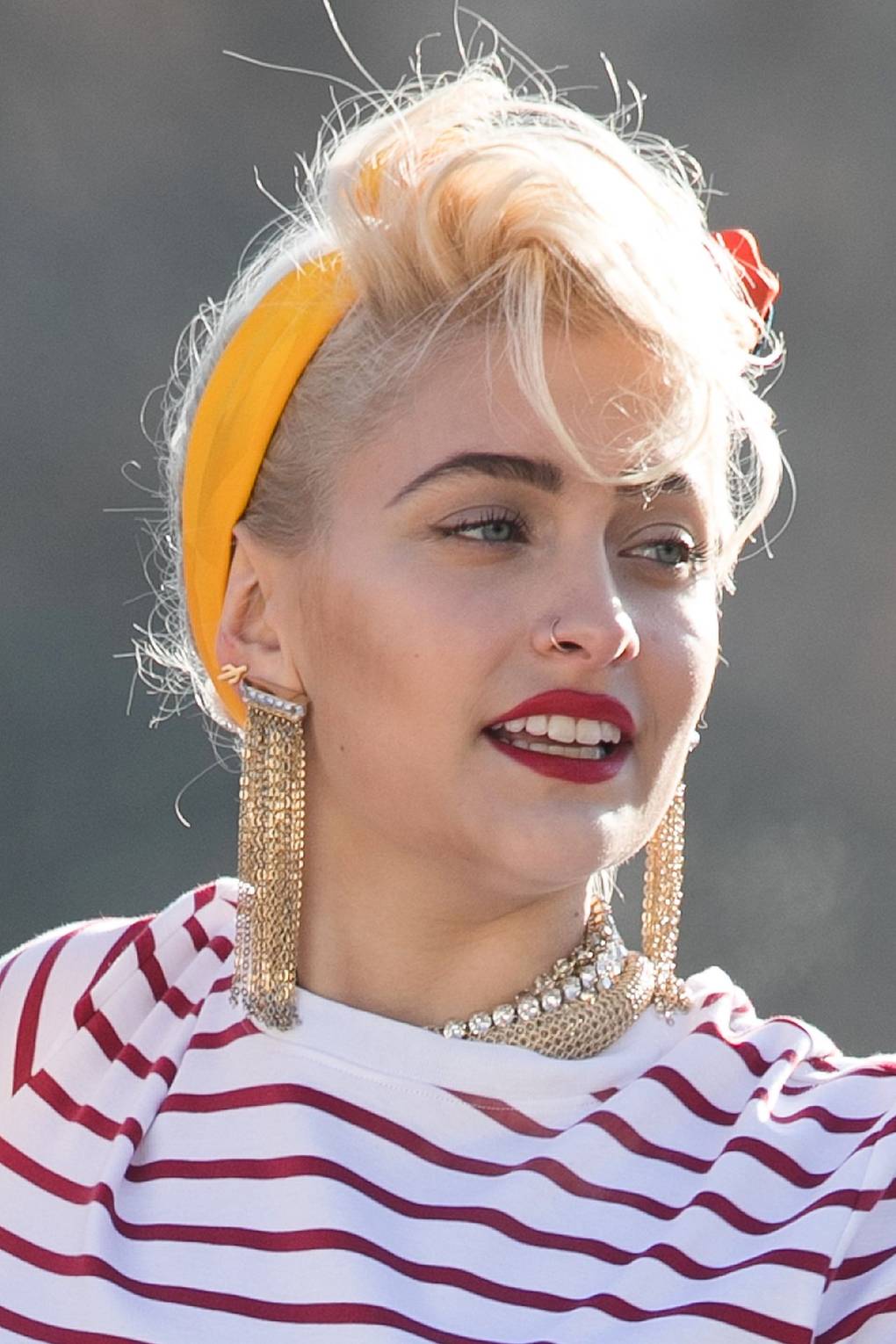 Paris Jackonalways had had a pretty laid back and nonchalant look about her and she is rocking it well with those oversized earrings.
Liu might be a tough one in Charlie's Angels but she has a feminine side too. Her flowery earring arrangement is in contrast with the badass piercing trend which just enhances the beauty of those glittery jewels.
Although Angelina Jolie is known for her tattoos with different scripts, this is really a daring earring that she is flaunting.
Emma Stone has three cute little studs on her ear and we love how adorable they look!
Fergie has experimented with almost every fashion trend that has taken off and piercings are one of them! Have you seen these many earrings wat a single place ever? But damn, she is pulling it off very well Besides the ear piercings, she also has other face piercings like her eyebrow barbell. She got her navel pierced too. In an interview, when asked about her unique fashion style, she said, "I've always been really into piercings. There was a time that I really felt naked without the piercings. And, you know, it was time for a change."
Justin Bieber has multiple tattoos on his body yet he keep it simple with two beautiful fair-sized studs on his ears.
In the first pic, we can see Kate Moss flaunting six black hoop earrings. However, she opted for glimmering studs in the second look which is totally opposite to the former design.
Katy Perry is known to have a great fashion sense and she loves to experiment with her style. It is very apparent in her music videos too. She got to have ear piercings without keeping it low key!
She might be in this industry when she was very little, but she has quite daring fashion sense. Nothing less can be expected from this diva who can rock any bold fashion style. She has piercings in her lobe, cartilage, and tragus. That is not an excuse for missing out on the septum, though.
Zayn Malik has always had a certain cool vibe to him and we can not forget his piercings and tattoos because it has been there for as long as we can remember. He got himself pierced on the cartilage and the lobes. He also has a nose piercing which looks super cool.
If you want to rock an oversized earring, Beyonce is your girl!
Drew Barrymore was in the news for her tongue piercing, but that's not it. She has her ear pierced too and she rocks it with some oversized earrings.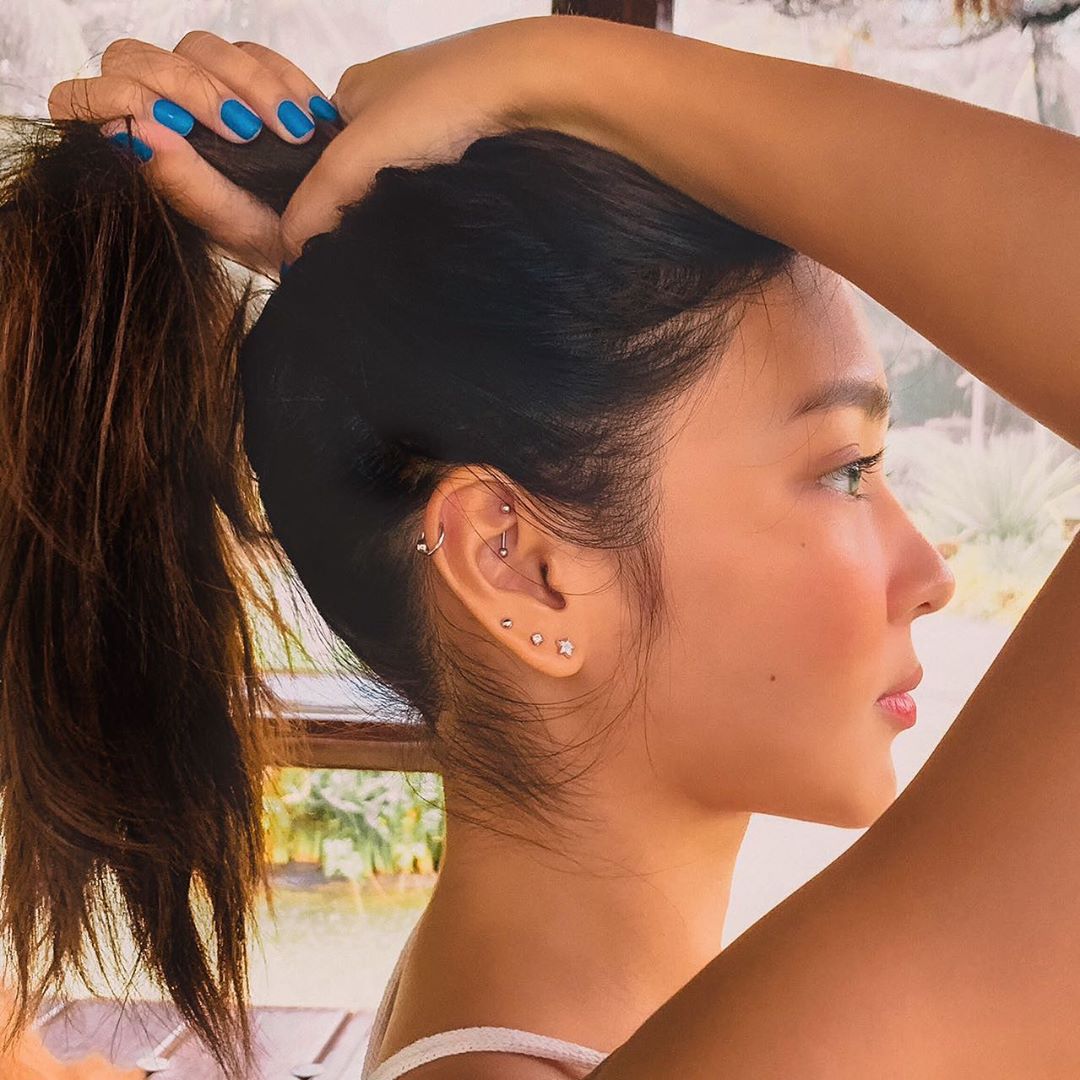 Kathryn is totally rocking this look with a combination of both hoops and studs. I especially love the star-shaped stud on her lobes. It is an amalgamation of chic and a little badass piercing choice.
Nadine Lustre might have had multiple piercings but she has kept it to minimalism by wearing three normal-sized studs. According to my opinion, this simple-looking style is way more than enough for her.
Sue Ramirez has tried not to make her earring look gothic. Rather, she has kept it on the minimalistic side. Both her studs are the same in color and that adds to her aesthetic value.
Kim has exactly two hoops and two studs on her ear. I like how she has tried to wear them in a symmetrical pattern.
Loisa Andalio is adorable and has a chic fashion sense. Her three piercings look glimmering and compliments her shimmery look. I think accessorizing appropriately is the key to rock any style.
The supermodel loves her outfits and she certainly can not do without her accessories! It seems like Gigi Hadid is a huge fan of piercings and so she loves to flaunt them once in a while. This earring arrangement compliments the rest of her jewelry.
With beautiful pearls dangling on the ears accompanied by glimmering stones and the Christian Dior initials, we will have to agree that Heart Evangelista is a true fashion diva. The look of her ear arrangement is quite magnificent.
Shawn Mendez was spotted with two ear piercings on his left ear which he has adorned with a stud and a hoop during the BRIT Awards in 2019.
Austin Mahone has been rocking these glittering studs ever since we have known him!
Niall Horan
Jacob Sartorius looks quite dashing with his black square studs.
BBT
If James Charles can not rock this piercing look then I believe no one can! He looks absolutely stunning with this look and he often keeps changing the pattern in order to spice it up.
Harry Styles has been a heartthrob for millions of teenage girls and while some come to terms with the changes, others find it rather hard. Luckily enough, Harry Styles' Met Gala look with his pierced ears in 2019 looked quite fabulous. The tiny studs on his lobes gave him a distinct look.
Rosie Huntington-Whiteley
Rosie Huntington looks quite posh with her earring arrangement. The glimmering stones steal the show!
Sienna Miller has two piercings in her left ear. She wears a ring jewel on the top one.

Nicole Riche has a cartilage piercing on her left ear along with both her lobes pierces. As a matter of fact, she carries the look pretty well.
Seems like Chiara Ferragni loves her accessories and that is why she is seen laden with them all the time! Her earring arrangement looks especially appealing.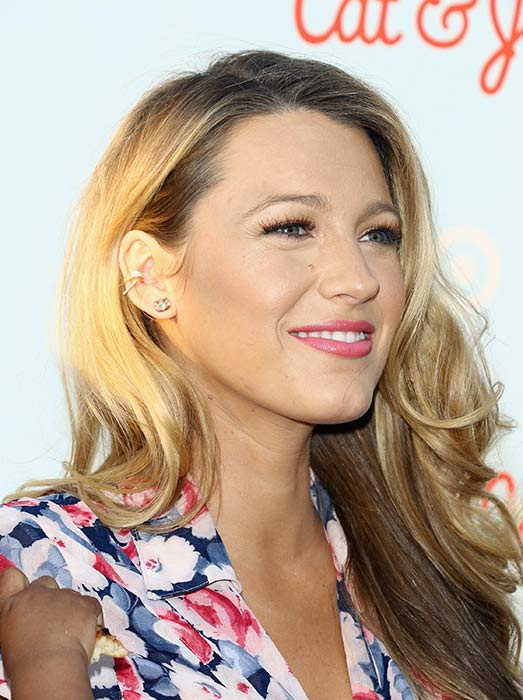 Blake Lively has kept her earring piercing very simple and quite sober.
The multiple piercing style on her ears suits Kat Graham very well.
Stella Maxwell has a bunch of piercings and she has decided to adorn it with tiny studs here and there.
Elton John would not be who he is without his ear piercing. It is unique and stylish and what makes it a statement piece is the fact that it is not your regular piece of jewel. The stud has another jewel dangling below it which makes it far more attractive.  I think customizing is the key to a great fashion style.
He is a tall and handsome basketball player who can be spotted on various occasions rocking a suit and tie with some fine hoop earrings! What else does a man need to be attractive?
Before Justin Timberlake just had one piercing on his left ear but he got both his ears pierced and he rocks it with some glittering diamond studs!
Age is just a number for this guy because he is getting younger with each passing day. That's exactly what his style tells us too. His little black studs look stunning and definitely make him look (and probably feel) younger too.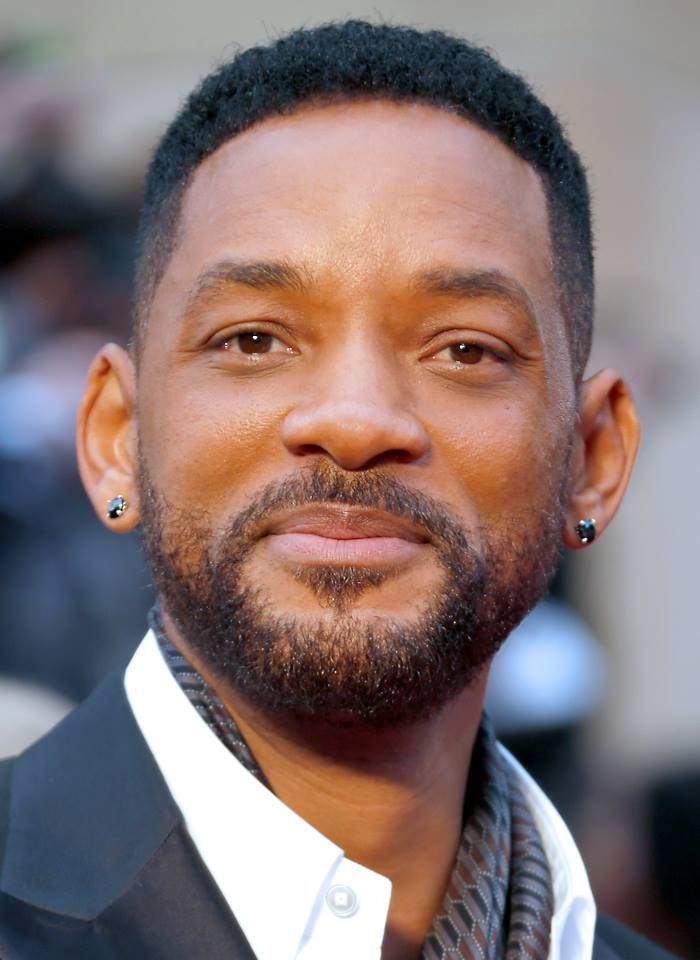 Will Smith has always had his ears pierced and adorned it with glittering black jewels. The combination of black and gold looks pretty classic.
The square diamond studs on this heartthrob look quite attractive and hard to miss.
Chris Brown has always been a ladies' man and we're guessing that it is probably because of his diamond studs.
Almost all the rappers have an attraction with the studs and Ne-Yo is no exception. This guy mesmerizes everyone with his musical skills and his big glittering studs on his ears.
Reggie Bush has rocked black diamond studs for a long time which was distinctive as compared to the clear diamond one. However, he does not mind mixing it up once in a while.
Jewelry, whether it is big gold chains or any sort of face or body piercing, is a part of Wiz Khalifa's personality. Diamond studs are a part of the hip hop industry and this fashion trend looks great on Wiz too!
Jamie Foxx is never spotted without his diamond studs so much so that it has become quite a trademark of his look. And there's absolutely no harm because he looks quite fabulous.
Ludacris has both his ears pierced with diamond studs and he carries them pretty well.
George Michael can not keep his piercings empty and he loves to wear big dangling pieces on his lobes.
Snoop Dogg, just like his choice of the stage name, does many unexpected things in his life. Surprisingly, people find it entertaining so much so that they rather love when he wears a dangling turquoise on his left ear which he got pierced. Well, I think that if you can carry it well, then what's the harm?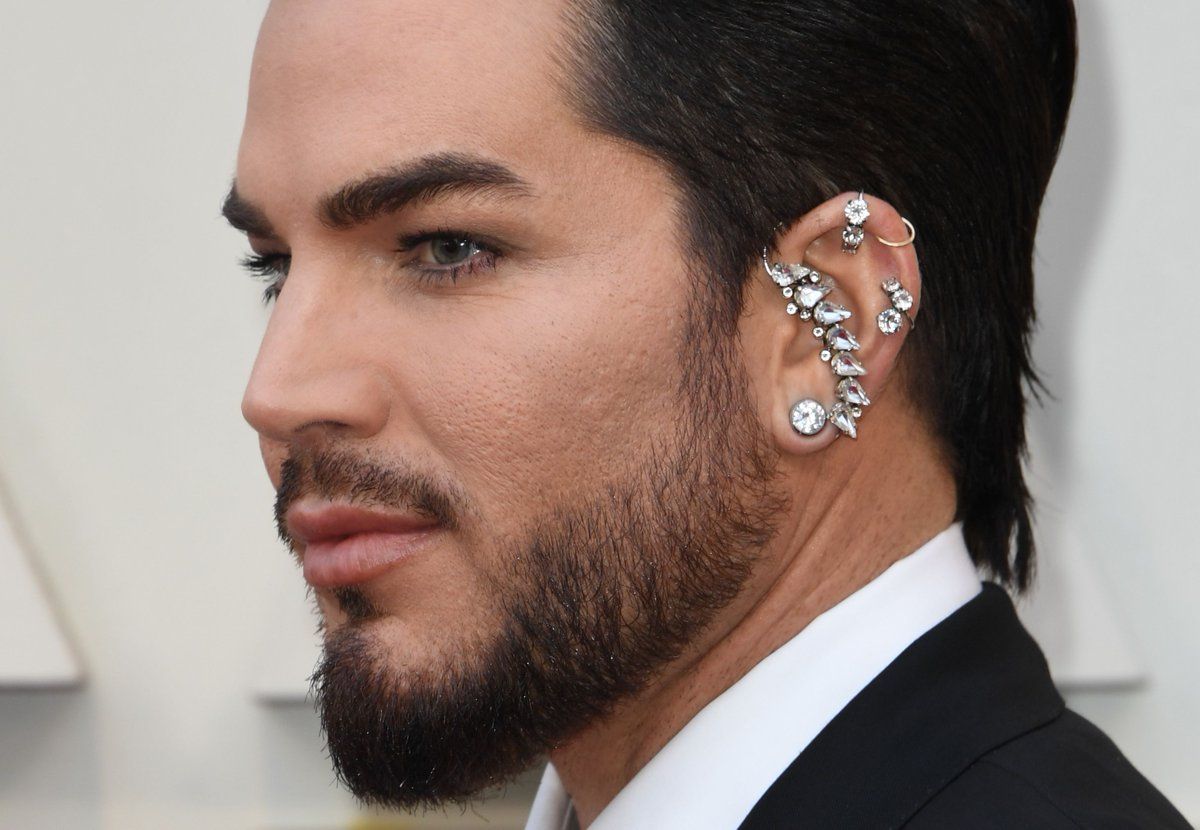 Adam Lambert tends to go over the top every time and this is the case with his top-notch accessories too! The deal is that it suits him pretty well.
Omarion, in this picture, is featuring a huge chunk of square jewel on his lobe and a medium size stud on his cartilage. It is a matter of handling when it comes to fashion, isn't it?
Coleen Garcia's studs look very chic and pretty. She has multiple piercings but she has chosen the right accessory for the arrangement.
Chie has added some adorable and tiny jewels to her ears in addition to her lobe piercing.
Gillian Jacobs got her ears pierced in front of the whole world on live television. Well, quite a feat, I must say.